So, I promised some affordable places that deserve either fame or notoriety. Here's one of them. Being a UP Student since birth, and being a grandchild of a former UP Diliman employee who lives in the Campus, Rodic's is practically my Thursday diner. I've experienced Rodic's since it still served its signiture silogs (fried rice with egg) on their signiture metal plates when they were still just over 20 Php. If you're a UP Diliman student and haven't eaten here or at least heard of it, you're either a freshman or a liar.
Rodic's haven't changed much. Present day, they still serve said silogs on their metal place at the same two-floor location at UP Diliman's Shopping Center. They still proudly hang the cartoon poster of ancient UP Diliman featuring hallmark landmarks including their place. They still take orders weirdly, shouting over the counter, remembering every order, and serving you on your table. While they've expanded quite a bit, now accepting catering orders, this place stayed almost entirely the same aside from a few staff changes and, of course, their prices. Now, their silogs cost 70 Php per plate. But is the quality the same?
When I was younger, I fancied their Jumbosilog, which is a plate of a lone but huge natural-casing hotdog with the usual fried rice and sunny-side up. Nowadays, I order either their Baconsilog, obviously with bacon, or their Campus-famous Tapsilog, which has their original dried cured beef that many people would agree to be their specialty. Today, I decided to order both.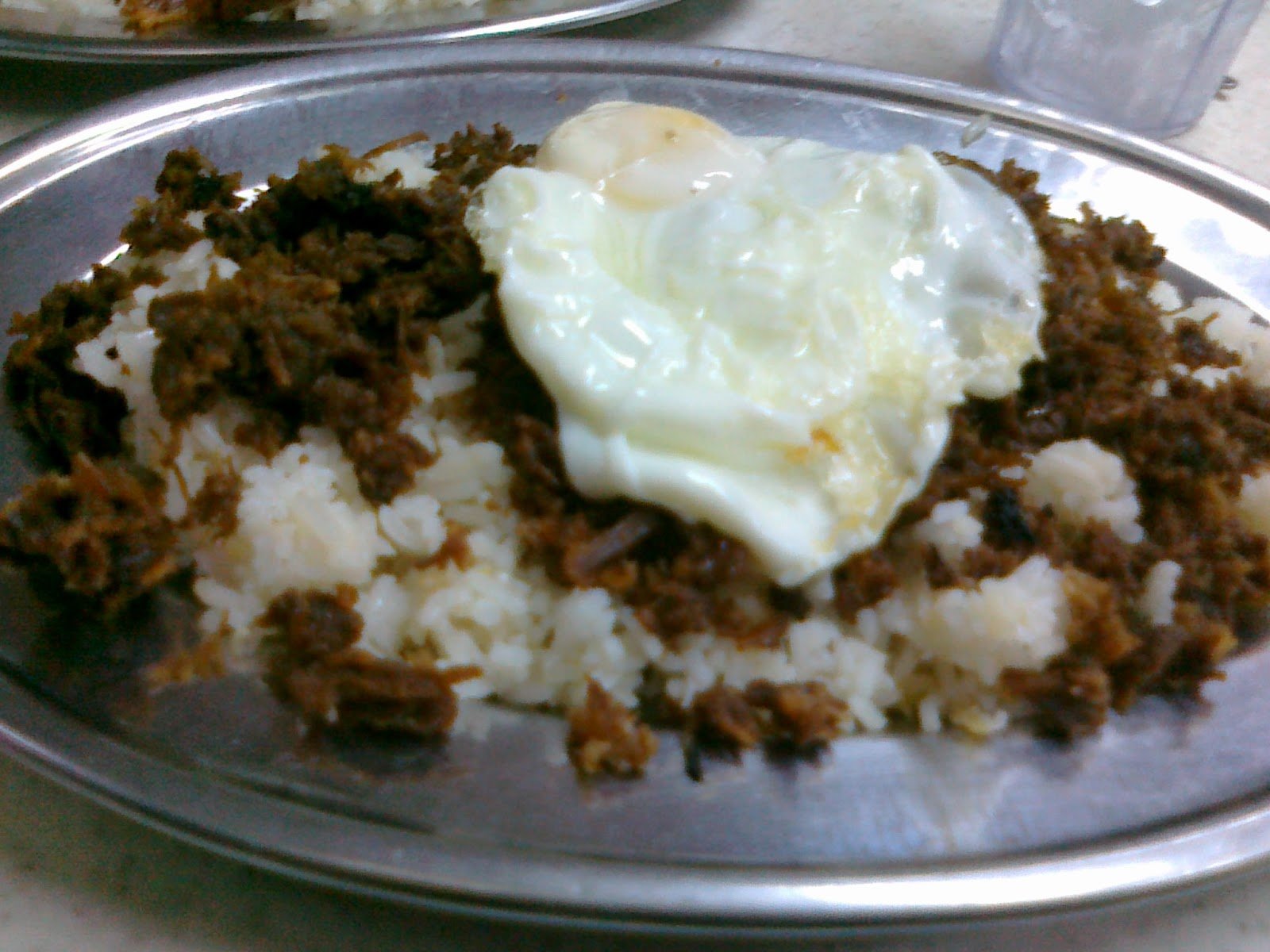 The amount and look of their Tapsilog hasn't changed. It's still the shredded cured beef over a bed of rice topped with a fried egg. I really like their rice, which seemed to be fried on the same pan with the egg that it has bits and pieces of egg incorporated with it. It also has a distinct garlicky smell and taste that stimulates the appetite. However, the real star of this plate is their tapa. It's not salty and hard like your usual tapsi. Instead, it's shredded to solve the tough, hard texture tapa usually has. As for the taste, it has a mildly sweet taste different from the norm. And, yes, it's still the same, delicious plate that many come back here for.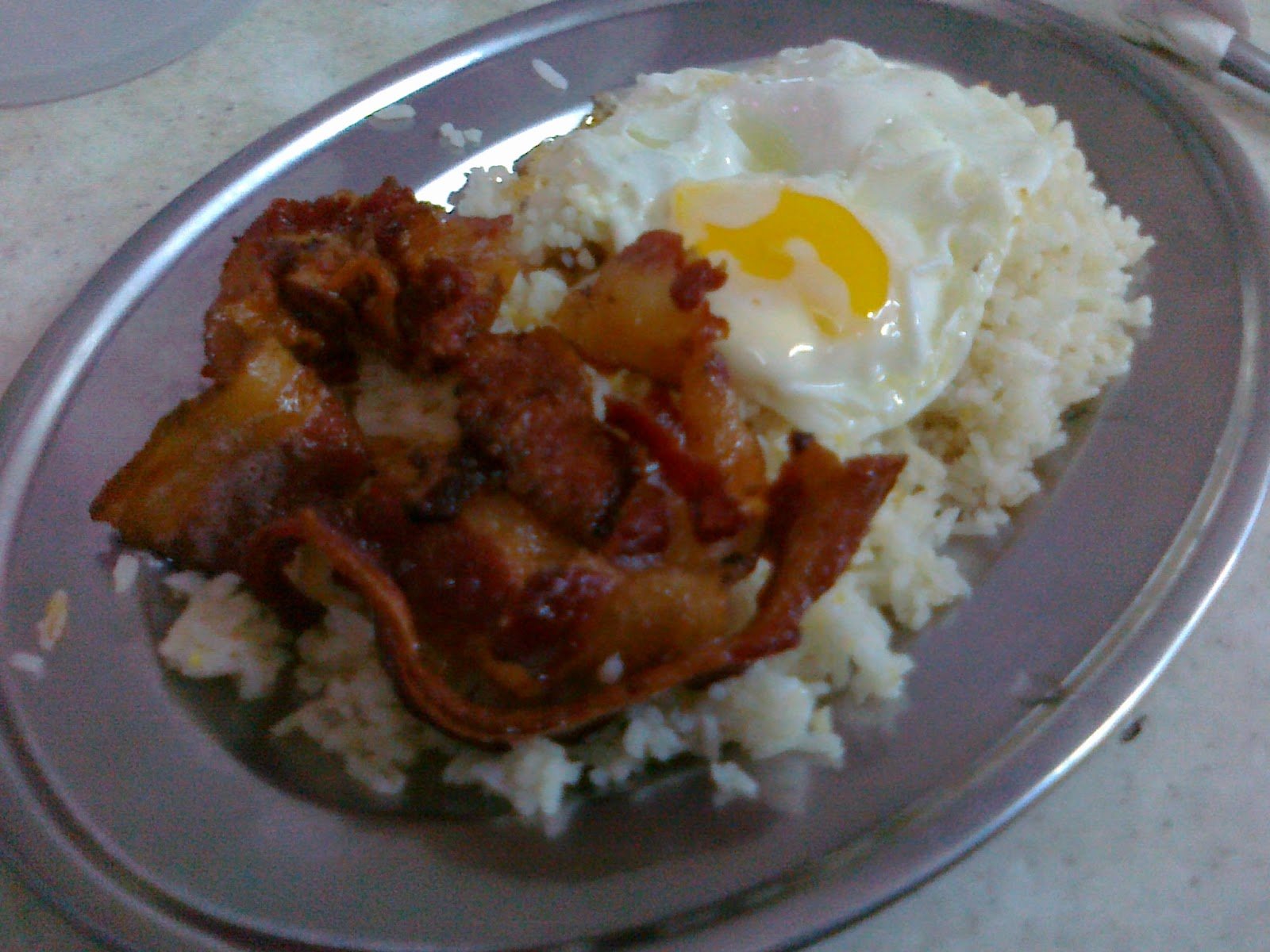 My personal favorite is this one, though. Nothing's fancy here. Their Baconsilog is your no-frills Filipino version of bacon and eggs. Because I'm naturally a bacon lover, it's not difficult to please me with this simple plate. What makes me love this plate is their rice and egg. The runny egg, when mixed with their still hot rice, makes for an appetizing side to the delicious strips of pork.
Other schools and universities probably have their version of Rodic's. You know, the usual turo-turo you always go to once a week because it's affordable and fills you up pretty good. Rodic's is probably no different from that place, except they serve their stuff on a peculiar metal plate, their specialties consists of silogs, and their place is most famous for their tapsi. While there are now many other eateries at UP Shopping Center, Rodic's is still looking strong and here to stay.