Beloved and I ate at Mr. Chow last night. This Chinese Chowking clone can be found at a somewhat hidden corner where Sbarro and Red Ribbon is located, at the first floor of the City Center of SM North EDSA just across the Hypermarket. This place used to be where Mann Hann was, if I'm not mistaken, and I find it a bit funny that it's replaced by another Chinese resto.
Admittedly, this is no Mann Hann or Hap Chan or whatever usual Chinese tea house, where orders come in more than a hundred pesos good for two to three.  This is more like Chowking, where every order is portioned individually. A good thing that comes from this is all their menu items come in sub-100 Php prices. These items are your usual Chinese fast food stuff, basically everything that Chowking has, from dimsums, to noodles in soup, stir-fry, and even crispy varieties, to viand-topped rice. The last one is somewhat special in that they come with eat-all-you-can Yang Chao Fried Rice at 98 Php, and that tag includes a viand of your choice.
Even though I wasn't a rice lover, I was pretty hungry considering I haven't eaten yet that day. Also, 98 Php seems like a fair deal even if the rice-all-you-can wasn't to be taken advantage of. So both of us ordered one of each. Mine was their Pork Asado Rice Toppings and Beloved's had their Beef Brisket Rice Toppings at 98 Php each. Because of the price tag, I wasn't expecting a whole lot.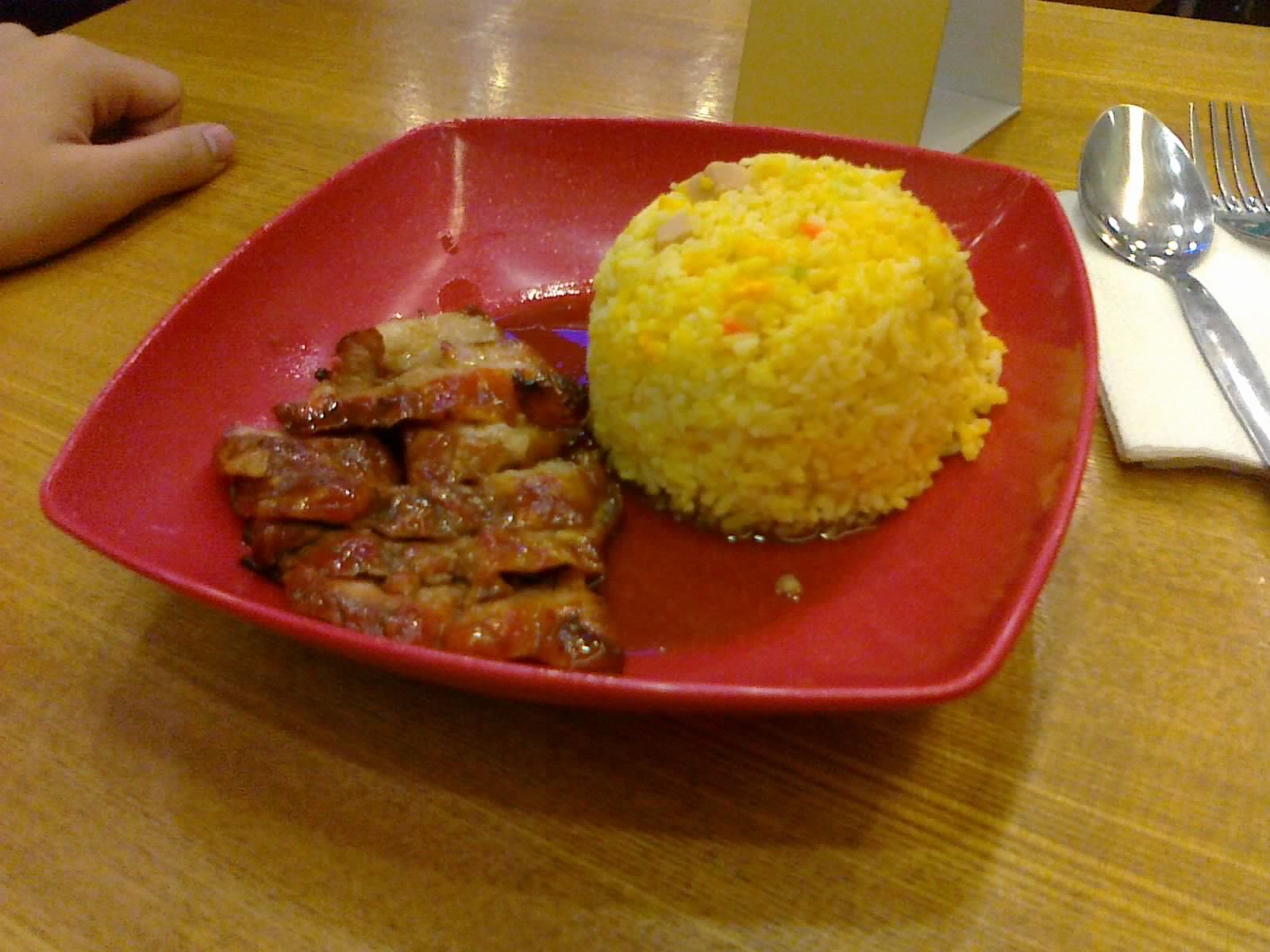 And good thing I didn't. They pictured their Yang Chao in their posters packed with the bits and goodies the fried rice comes with. While the Pork Asado that comes with the rice was a bit more than I'm used to (Chowking serving), the bits and pieces that comes in the Yang Chao rice was sparingly in quantity. Not that it mattered, the rice was pretty good even for a non-rice lover like me. And even though the bits and pieces were pitiful in quantity, the overall quality of the rice did not disappoint. Of course, I was setting my bar pretty low. But for a sub-100 plate, it was a great deal.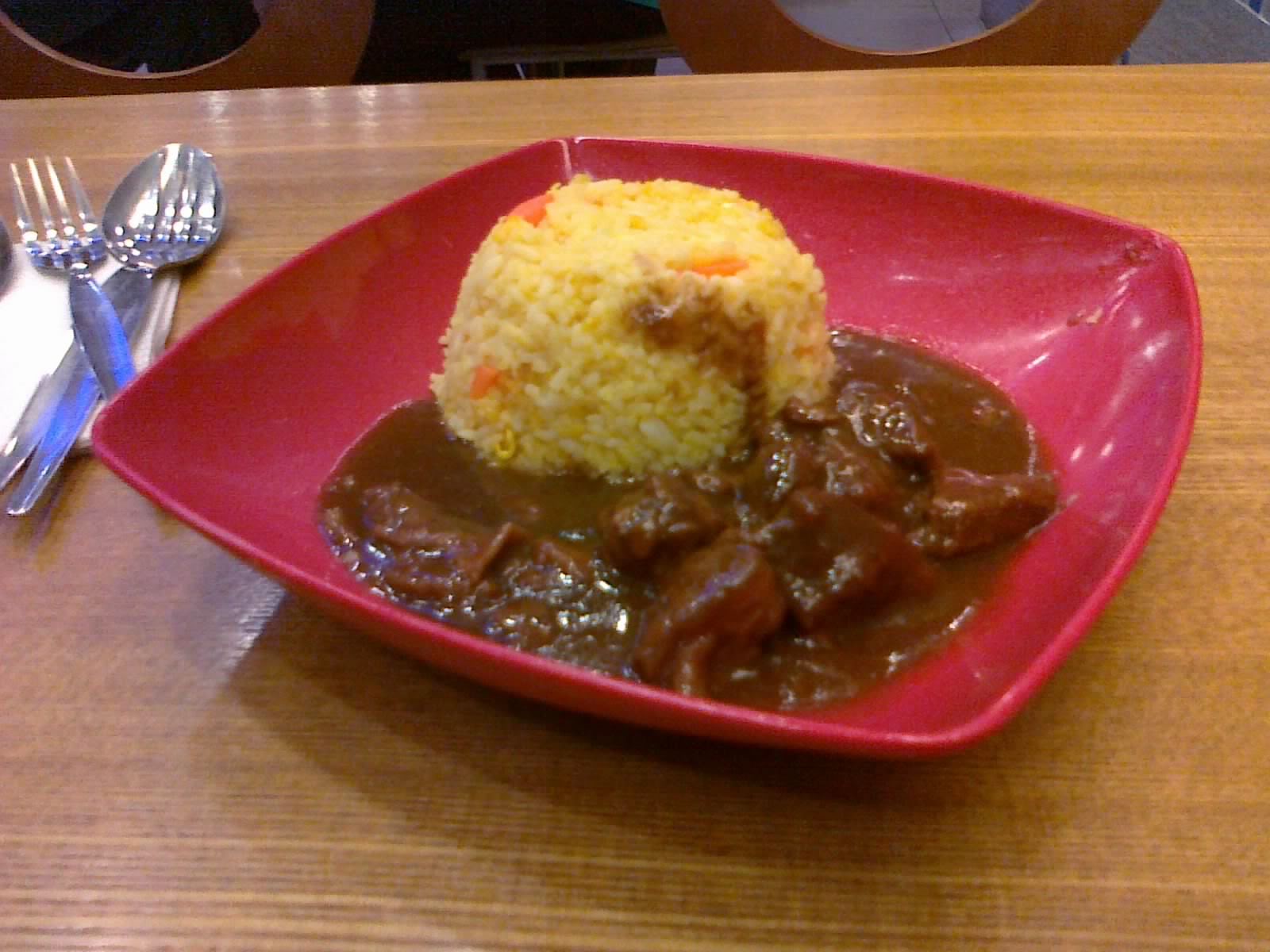 I managed to down a couple of servings of rice. I decided to savor the decent portion of pork that came with my first serving. It tasted pretty much as I expected—sweet savory pork cuts. Beloved's Beef Brisket wasn't bad as well. It's pretty much like saucy beef pares from your usual pares place. And, yes, I actually do enjoy those kind of food joints.
Maybe I'm cheap, but I actually enjoyed this place very much. I notice other tables that ordered their noodle bowls and crispy noodles, and the servings were pretty decent as well. I'll say it up front, this is better than Chowking. I'll call this a Chinese-themed pares place with eat-all-you-can Yang Chao rice that's not bad at all. Or maybe I was just too hungry to taste the bad stuff. Still, a sub-100 Php with "eat-all-you-can" in its offer is not a bad deal no matter how I look at it (unless I get food poisoned, which I didn't).