Before I begin, please note that this was a Valentines promo, and I'm not sure if this will be available in the future. That aside, read on.
Beloved and I celebrated an early Valentines at Old Oven Art Cafe. Honestly, this was done on a whim. Beloved had "liked" their Facebook page because she was interested in their cheesesteak sandwiches. She then saw them advertising this special menu for two starting February 12. Since it included risotto (which Beloved wanted to try) and rib-eye steak (which I wanted), it was pretty much a done deal and we made a reservation, despite knowing this place is a bit inaccessible for commuters like us.
When we got there, I noticed that it's not really as un-commutable as I thought it would be. It was actually in a walkable distance from the Santolan-Katipunan intersection. However, it was a bit hidden, so we almost passed by it while riding a cab.
You have to climb a flight of stairs to get to the actual dining area. The place itself reeks of artsy. It was lit dimly to add to the vibe and they feature artworks made by deaf people. We find our table ready when we got there, and then our candlelit four-course Valentines Dinner for Two (1000 Php) began.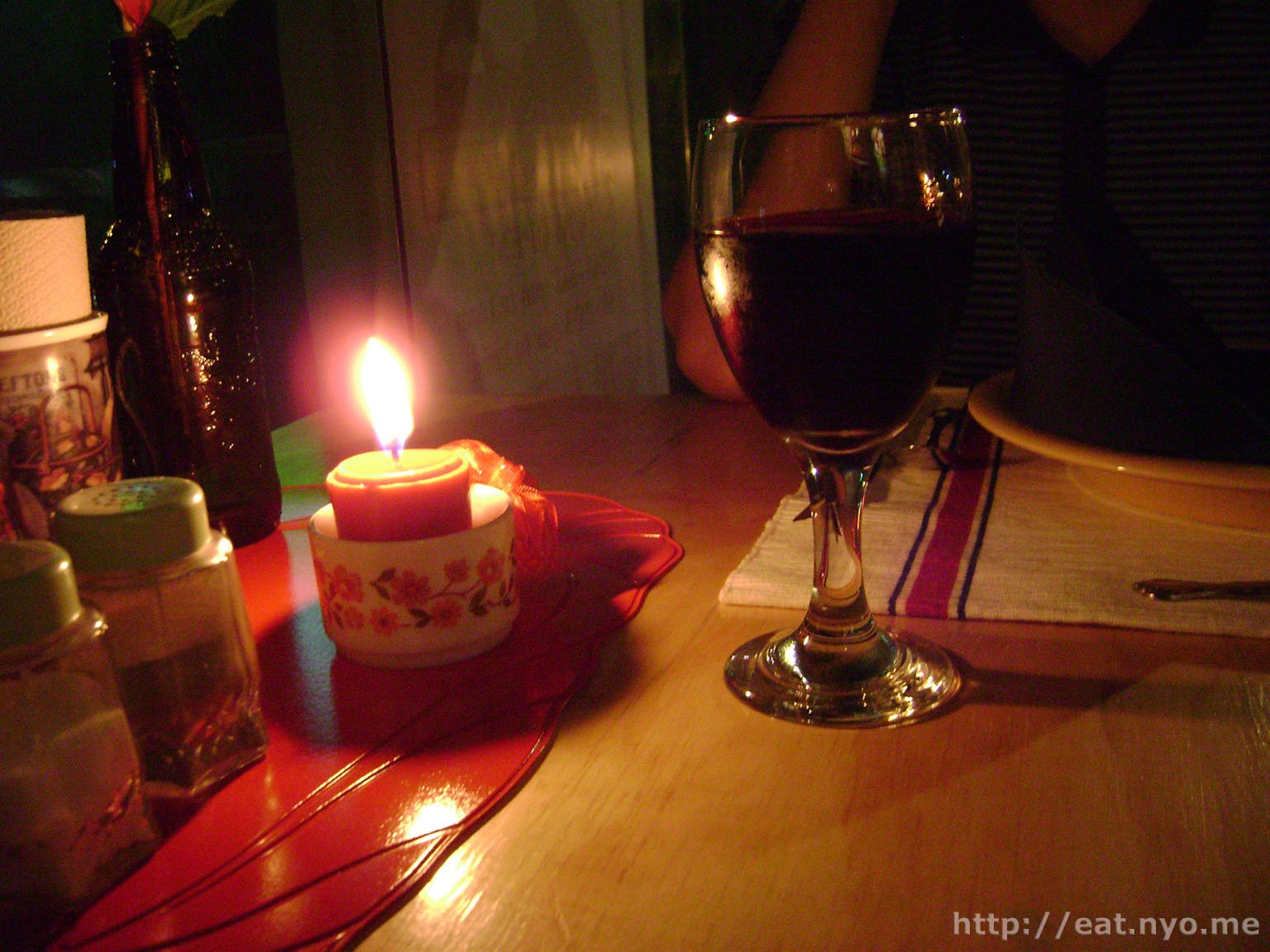 It started with a glass of Red Wine. I honestly cannot say much about this as I'm not really an alcohol person. However, I must admit that it was a pretty good complement to our meal.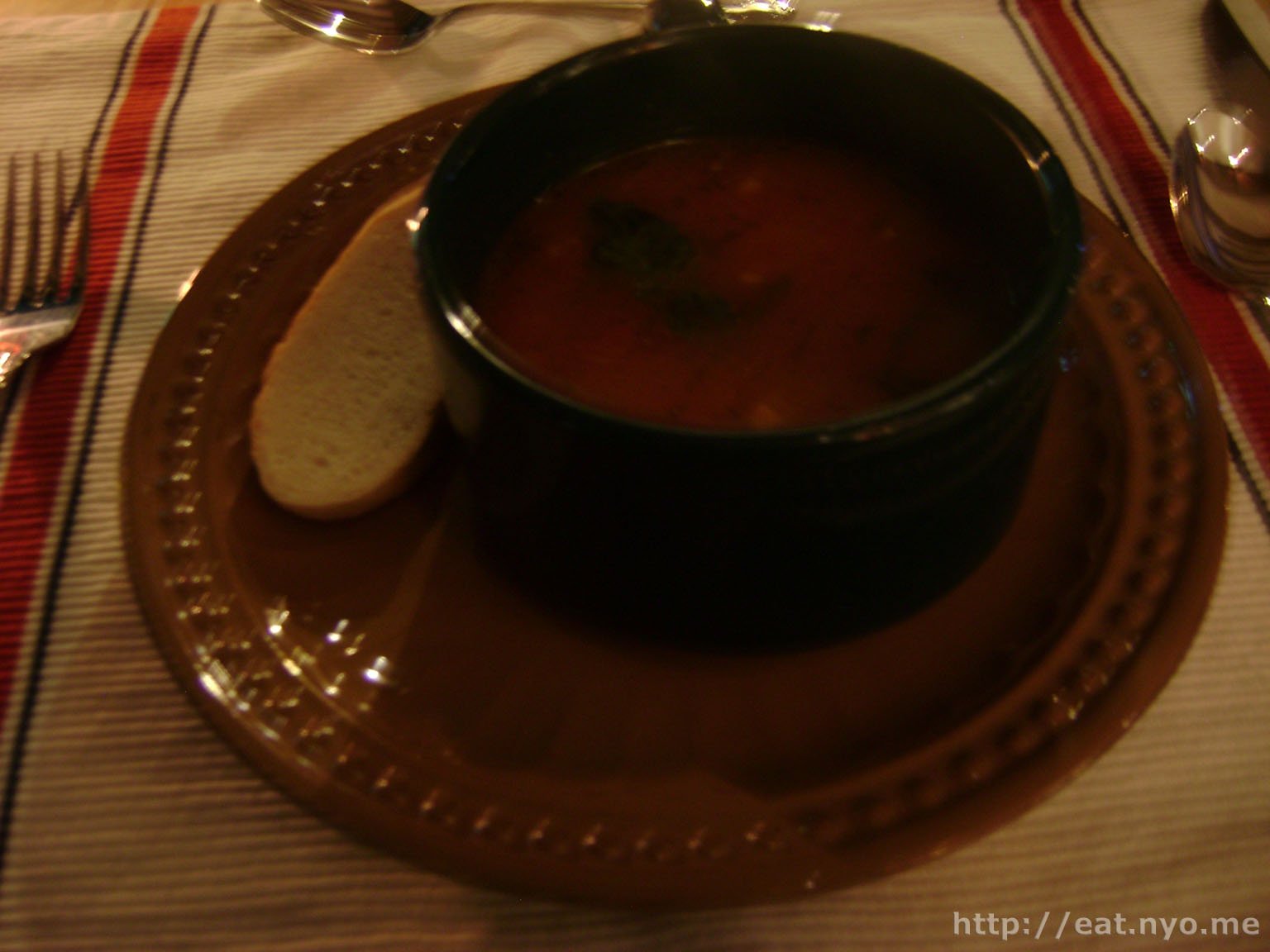 Our first course was soup. To be specific, it was Tomato Basil Soup. It was very tasty even with just the simple tomato-basil-garlic combination, and its hot, but not scalding, temperature was a wonderful start. I also like the fact that it was chunky.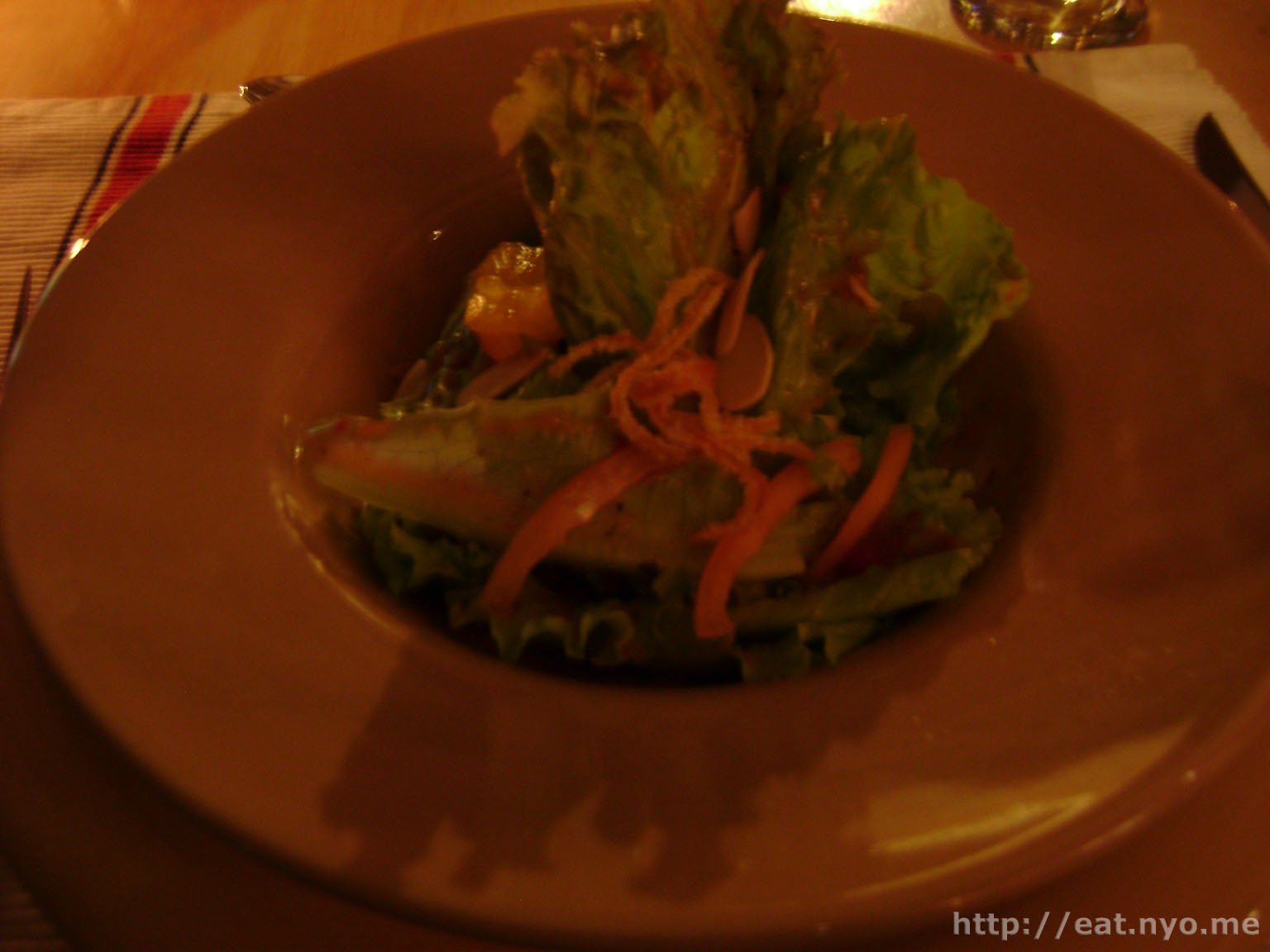 Next is our salad course. According to the menu, this was a Mandarin Almond Salad with Raspberry Vinaigrette. It was as advertised. It had mandarin, almonds, and the usual greens, lightly sprinkled with the slightly sour, slightly fruity vinaigrette. Pretty nice follow up to the hot and chunky soup.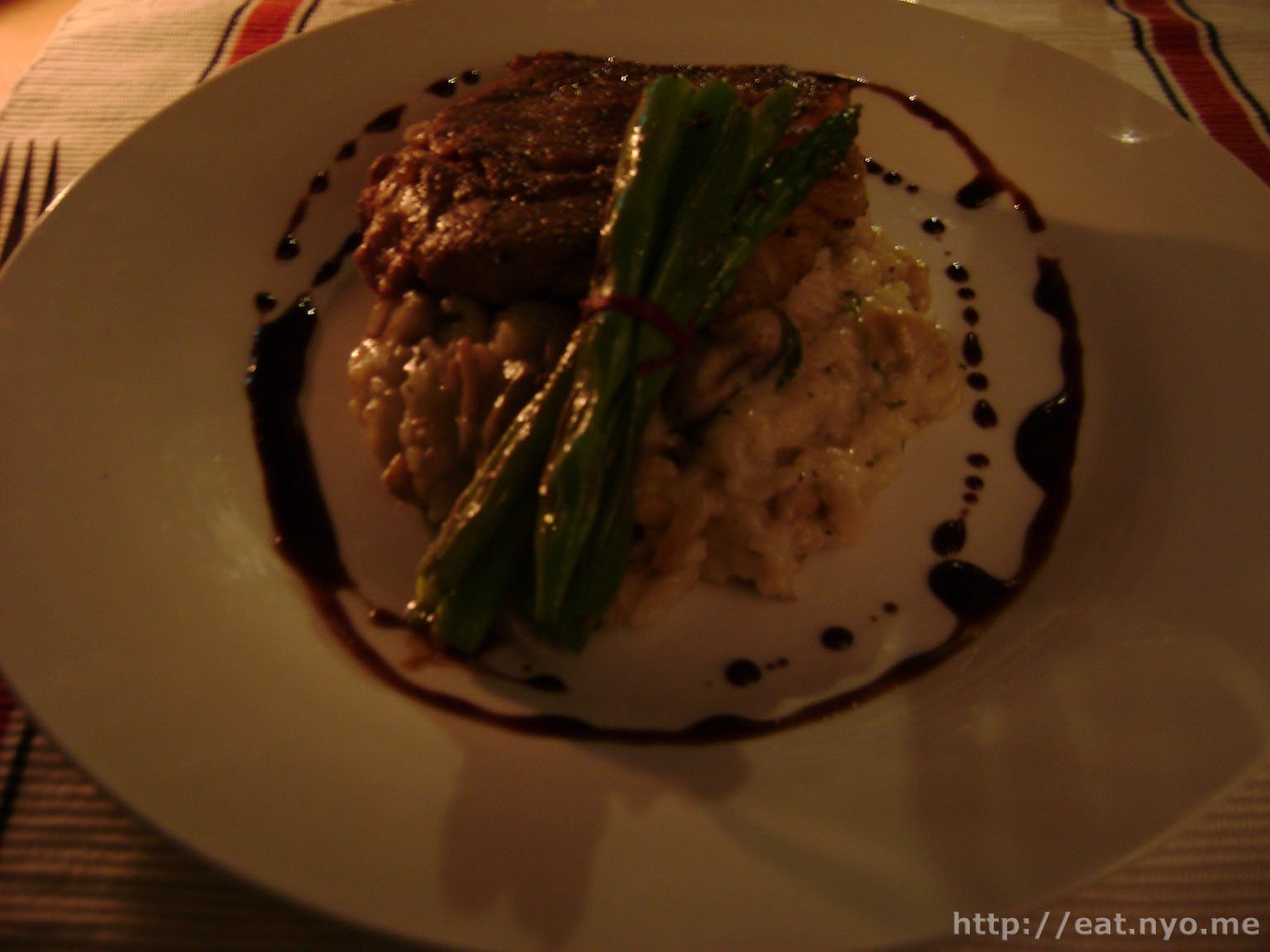 Finally, well not in the sense that it's last, but because it was what we went here for, our main course. This was the Grilled US Angus Rib Eye Steak with Wild Mushroom Risotto, Grilled Asparagus, and Red Wine Reduction. Again, it was as advertised. However, I was very pleased to learn that it was one of the best dishes I've ever tasted. The steak was grilled just to medium rare, maintaining its soft, tender, and juicy meat. Its fat was creamy and quite edible. And, of course, I must praise the size of the thing. This was among the thickest cuts of steak I've ever had in this price range. The sauce that surrounds it gives it a slightly fruity taste, not that it needs it, which was also quite good.
The wonderfulness of the steak doesn't take anything away from the risotto—it was just as wonderful. The risotto had the consistency of a chunky mashed potatoes, only much, much tastier. The added meatiness from the mushrooms accentuates the subtle taste that makes it a perfect accompaniment to the wonderful steak. And, like the amount of meat, the amount of rice was pleasantly plenty.
The greens that accompany it was grilled as nicely as the steak—not at all burned, but still having a charred flavor. Also, it wasn't just asparagus. There were also some green beans with it. Sadly, this part of the dish prevents me from saying this plate is perfect, as it still had the thread they cooked it with for presentation. Because of that, I can only say that this was a wonderful plate, just a tad short of being perfect.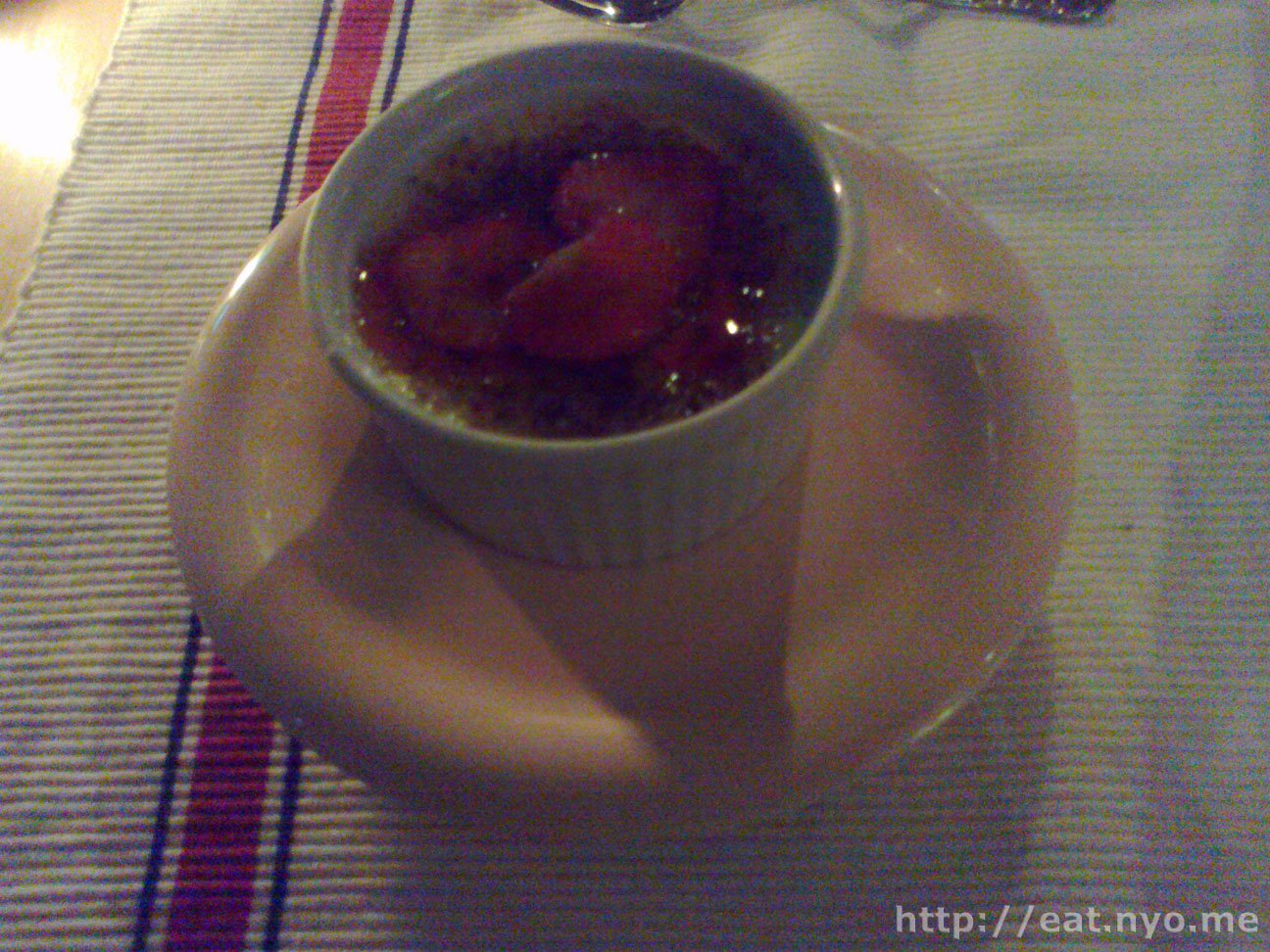 Of course, if you know how to count, you know that's not the last course. This is dessert: their Strawberry Creme Brulee. It was a decently-sized ramekin filled with custard topped with torched brown sugar and sliced strawberries. Beloved didn't care much for the strawberries, but she enjoyed the custard very much. And she had plenty of reason to—it was a very rich, creamy, and not-too-sweet custard and every bite is practically guaranteed a burst of sweetness from the caramel. And while Beloved didn't like the strawberries because they were a bit sour, I found it to be a nice topping choice for the sweet dessert. To put it in poetry, it was the exclamation point to a wonderful meal.
This was honestly our first candlelit dinner in the almost four years we've been together, and the first full-course dinner we actually reserved for. And I must say, it made for a wonderful memory. The dishes were all delicious and the tag that came along with it felt like the best 1080 Php I've spent for dinner. Thank you, Old Oven Art Cafe. And I apologize that our lousy cameras and camera skills don't really do the justice your food deserves. I hope the extra "thumbs up" makes up for it. We'll make sure to come back to try out your sandwiches.