Beloved and I had dinner at the Ramen Bar last night. Since we're Japanese food lovers, this is a restaurant we didn't want to miss. However, the visit had to wait a while because we had little reason and funds to go to Eastwood. After solving the fund problem, we decided to ignore the lack of reason and just go for it.
The place itself felt very welcoming, especially with the table layout that encourages communal eating. Tables weren't separated per table, but rather by row. Although the separate chairs provided some distance, it's as good as being put in a long table with benches. Another clever thing I noticed is their menu, which doubled as their placemat. Obviously, it's dominated with Ramen, although there are some donburi and Japanese appetizers. Also, I noticed a board near the chef's window which contains some items not listed in said menu-placemat. Anyway, their ramen ranged from 120 Php to the more expensive 380 Php. The waitress explains that the cheaper ones are smaller than the over-200 Php bowls. The toppings and soup base also differed. I got their R.B.S. #01 (380 Php) and Beloved got their Sapporo Miso Ramen (320 Php). We also ordered their Chasyu Boat from the menu board.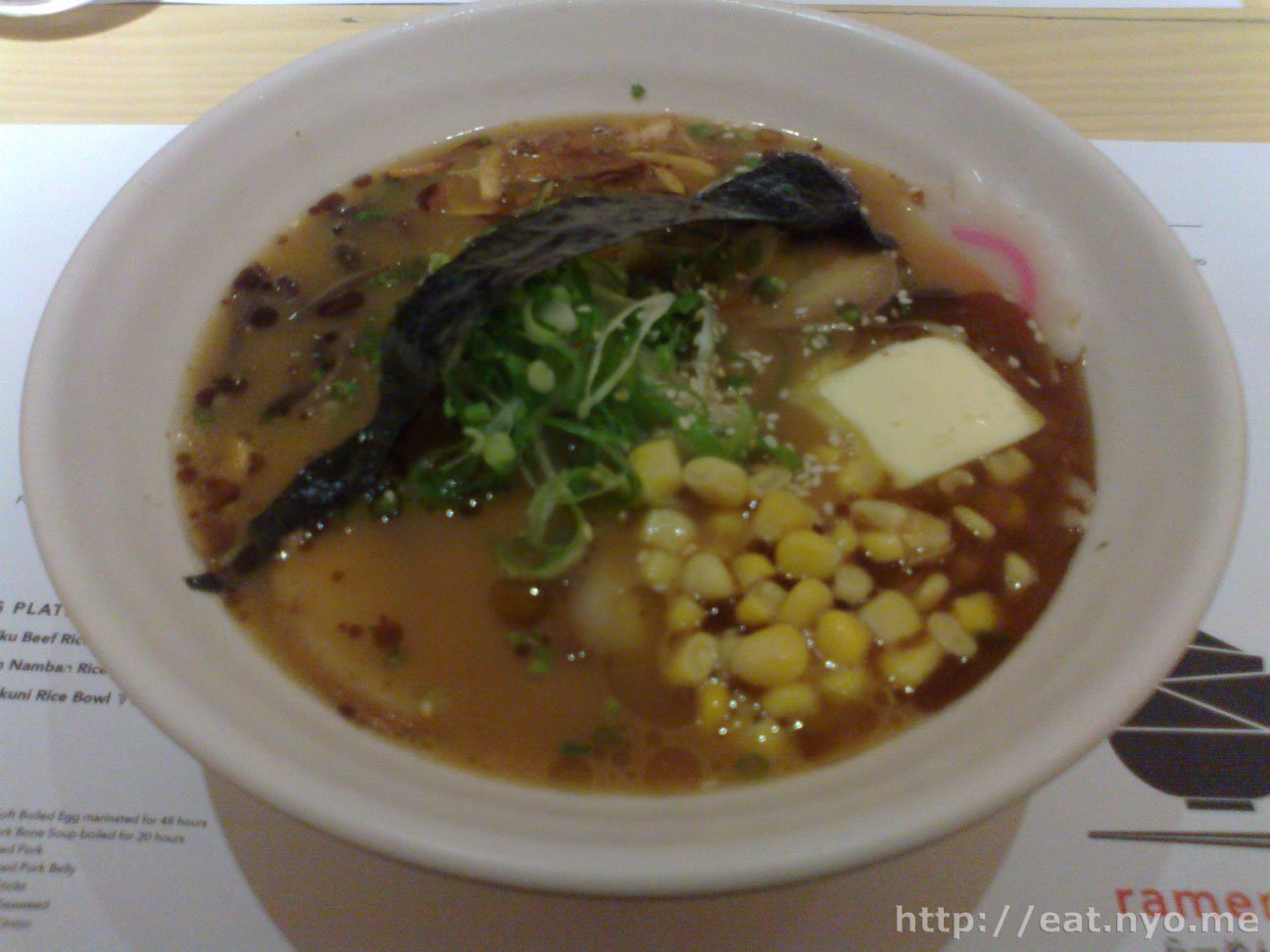 Beloved's Sapporo Miso Ramen was first to arrive. This huge bowl of noodles had miso and tonkotsu (pork bone) as its soup base, giving it a hearty miso flavor. The toppings inside it were hard-boiled egg, narutomaki, spring onions, pork, butter, and corn. Yes, butter and corn. I won't comment about the noodles and toppings, since they are mostly included in my bowl, but I guarantee miso soup lovers will love the broth of this one.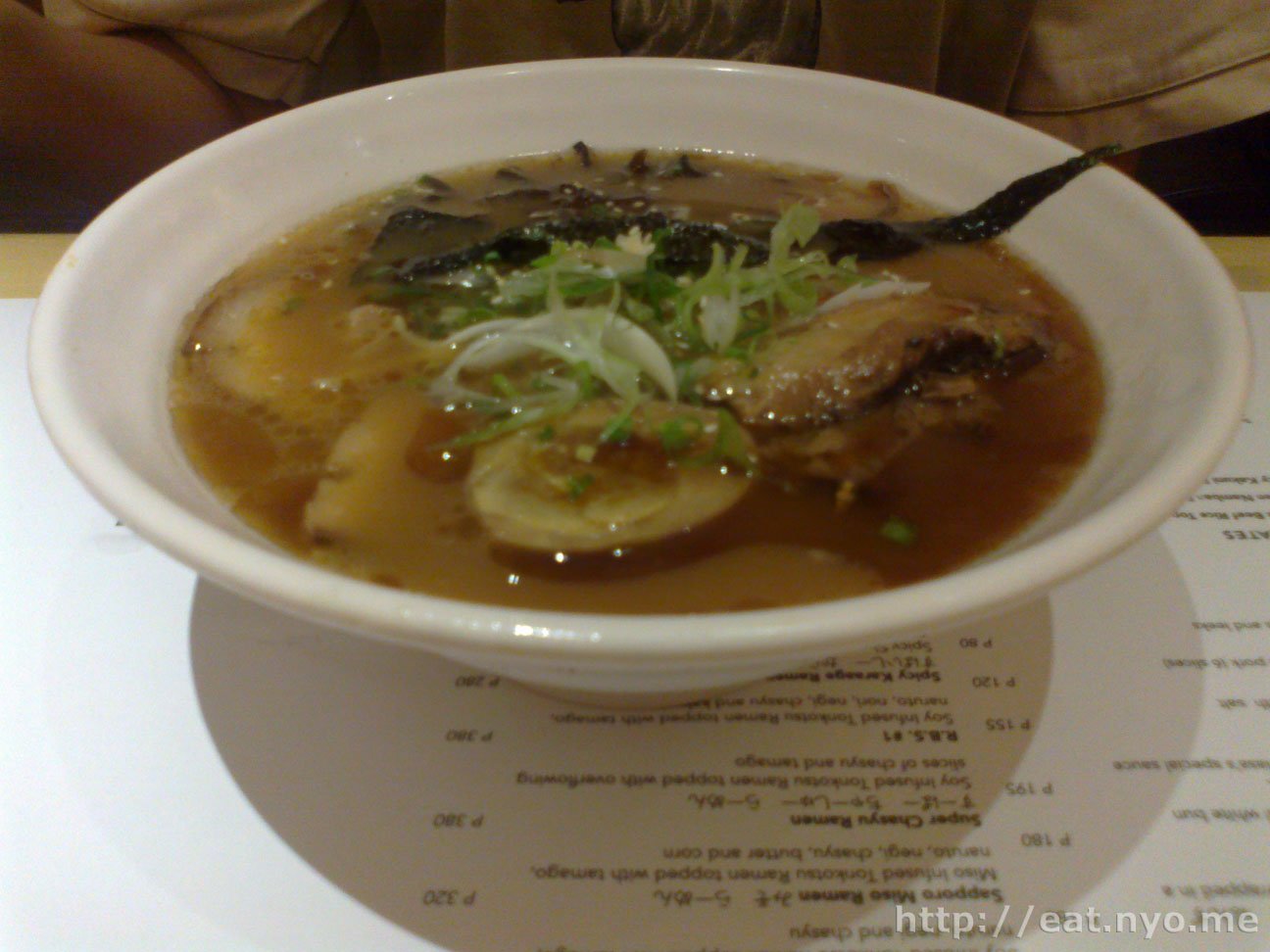 I'm guessing R.B.S. #01 stands for Ramen Bar Special #01. This similarly huge bowl contains similar toppings to Beloved's bowl, just replace the butter and corn with kakuni, or braised pork belly and the soup to a shoyu or soy-infused one. The main difference with the broth is that mine is much more savory.
Now, let me talk about the noodles and toppings. Well, it's not really the most delicious noodle I've eaten, but it's among the firmest. What makes these bowls worth it are the toppings. The pork—the *chasyu—*is boasted to be cooked for 20 hours, making it the most tender, melt-in-your-mouth piece of meat I have ever eaten, making each strand separate from each other as you eat. However, the best meat here is the kakuni, unique to my bowl, which similarly is extremely tender and the fat very gelatinous and delicious. I would also like to praise the egg, whose yolks has similarly hardened to a jelly like consistency and absorbing most of the flavor of the soup.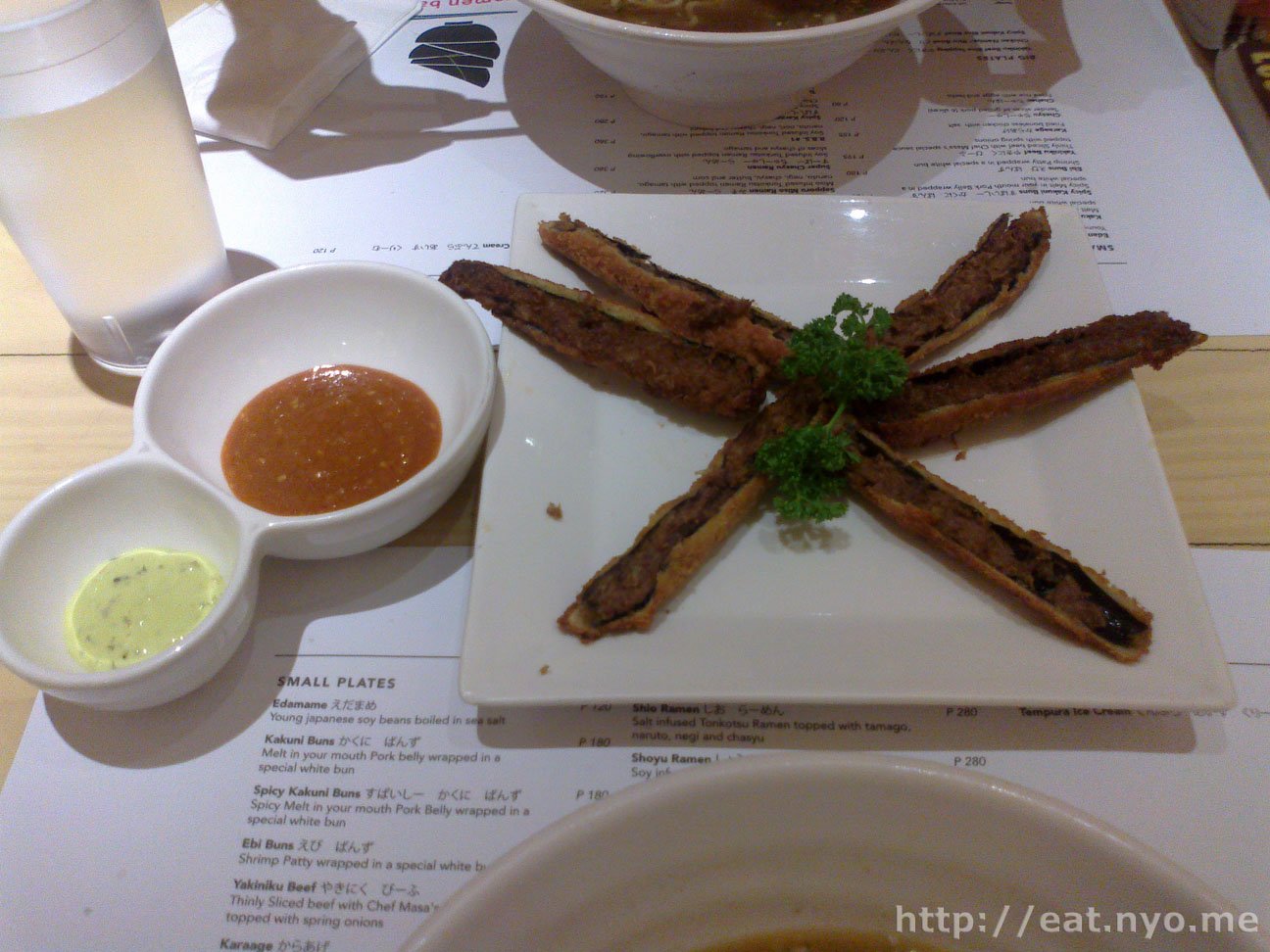 As for the Chasyu Boat, well, it's good. It's practically shredded pork inside nori and deep fried into strips and cut into two to form a boat-like shape. Sadly, the greatness of the pork in our bowls simply made this lose any story to tell.
Unlike most other ramen or noodle places I've been to where the star is either noodle or broth, this place has its toppings… well… it's pork, at least, to boast. The pork in these noodles are the best ones I've had. Period. For a pork lover like me, I found the tag worth it, despite being one of the more expensive bowls of ramen we've had. The amount of everything isn't too shabby either. If you pride yourself as a ramen lover, or a pork lover, for that matter, Ramen Bar is a place you mustn't miss.