This last Tuesday, me, Beloved, and friends ate at Joey Pepperoni. I mentioned the exact day because it's somewhat important. We were supposed to take advantage of the Tuesday-only all-you-can-eat pizza at Papa John's. When we got there, there was a mob waiting for the 6pm starting of the once-a-week promo. Surrendering, we decided to find someplace else to eat and found ourselves at a different pizza place, which, while does not offer unlimited pizza, still offers the same type of menu, and, humorously, has the same initials only in reverse.
The place is located at SM North EDSA's annex, at the first floor, very close to the SaveMore supermarket. My friends have taken advantage of their unlimited pasta offer, which they do not serve anymore. They do, however, offer two pizzas out of four choices for 199 Php, and most of us decided to take on that offer. Beloved and I got their Beef Bacon and Garlic Gamberi pizzas (199 Php) and, since according to my friends, the pasta here is good, we also got their Bolognese Pasta with Mozzarella Sticks for 170 Php which we added 20 Php to upgrade the iced tea to bottomless that came with it.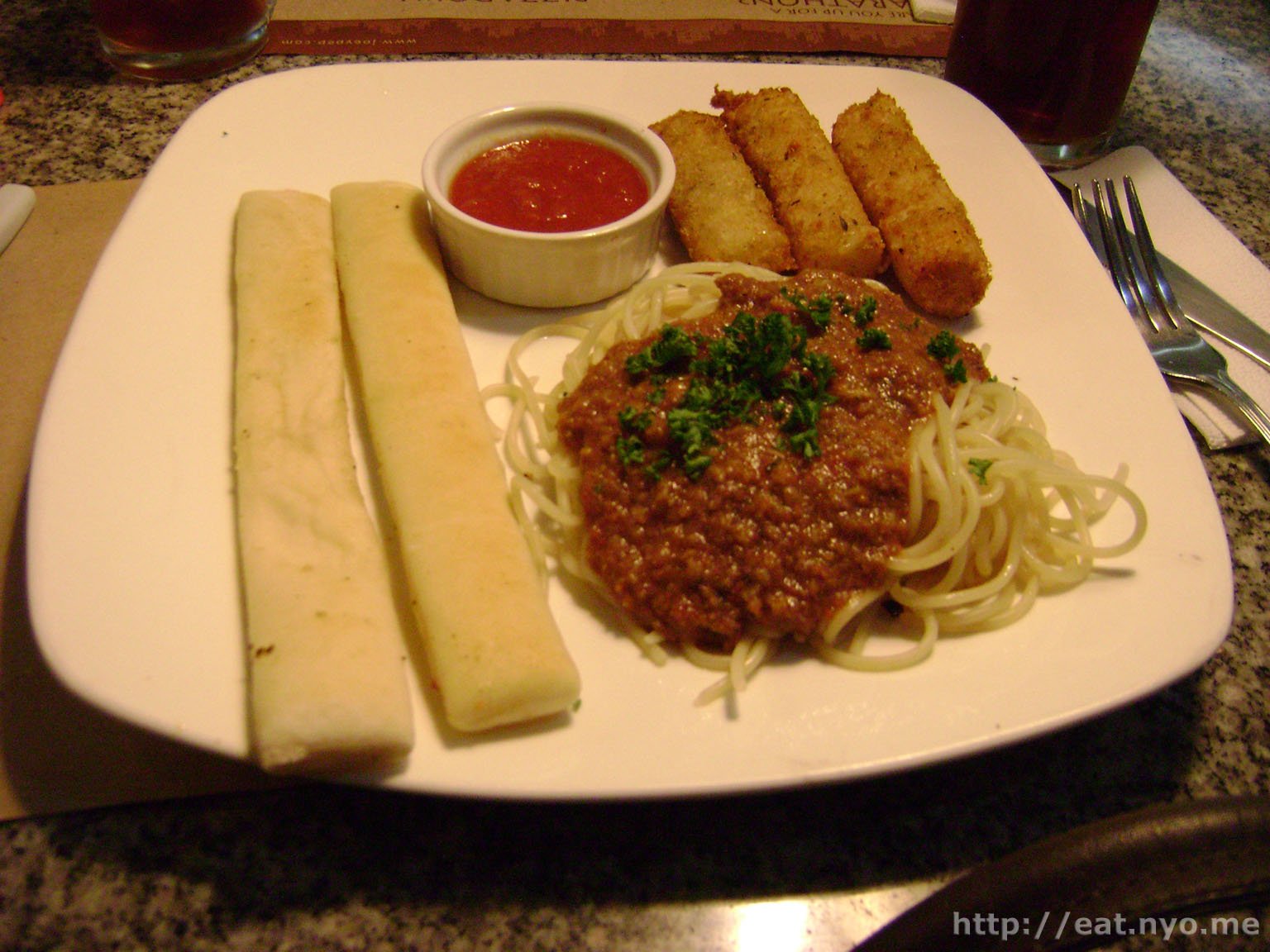 Our Bolognese Pasta with Mozarella Sticks arrived first because they said the pizzas would take almost 30 minutes. At that point, we didn't care anymore. Anyway, the pasta, well… it's not plenty. For the price, this is the most ungenerous portioning I've been served. However, the sauce tasted really, really good. It was pretty meaty and quite savory, and I'll admit that despite not being a pasta person, I enjoyed it taste-wise. and I believe Beloved enjoyed it as well. The mozzarella sticks were as expected, but, similar to the amount of pasta, the size of these weren't quite agreeable. The only thing generous on the plate were the bread sticks, but I would've rather had more pasta.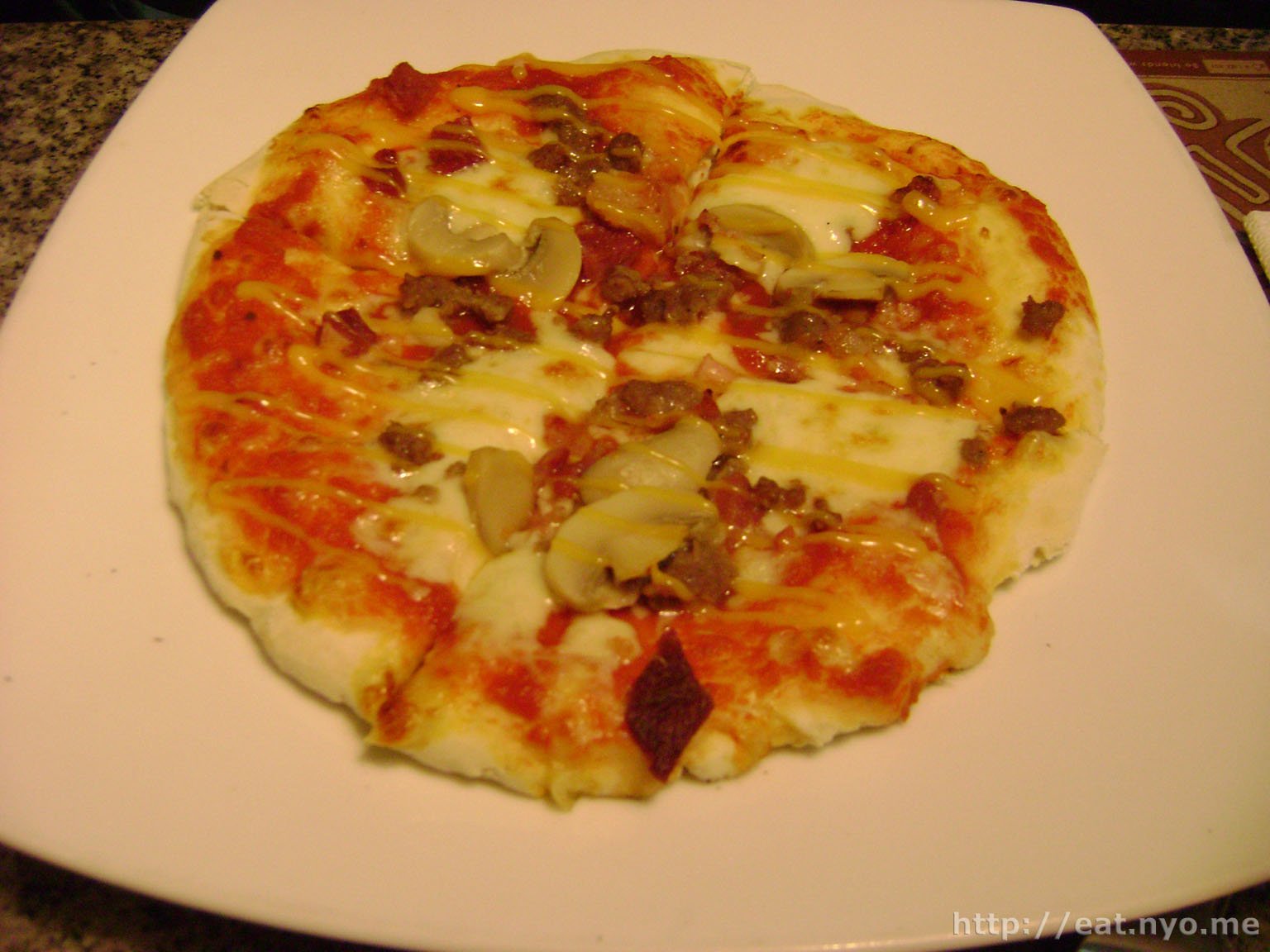 The pizzas arrived in around 30 minutes as promised. However, similar to the pastas, they were disappointingly small. They were around eight inches, and although we got two of them, I found it lacking in both size and toppings. Yeah, I mentioned before that it's not always about the amount of toppings in it, but this one's just tad too little. Anyway, this is their Beef Bacon Pizza. It had chopped up bacon, beef, and mushrooms, over sauce, cheese, and additional cheesy sauce drizzled over. While these selection of toppings are among my favorites, I found nothing special aside from the stringy cheese. It was good, yes, just not very generous in amount and not very special in taste.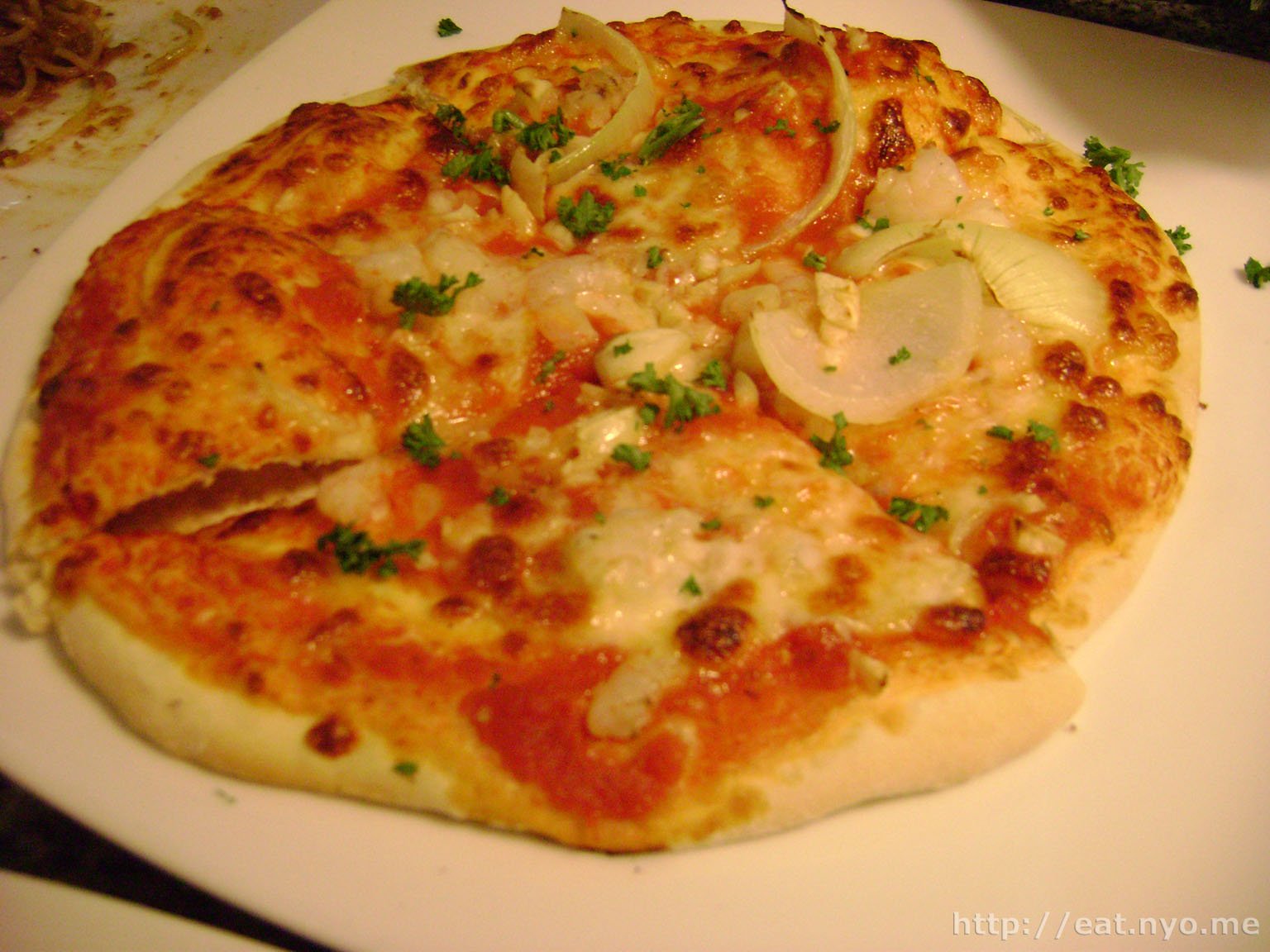 This pizza, their Garlic Gamberi Pizza, I enjoyed a bit more. It had shrimps, garlic, onions, and herbs. However, I didn't enjoy it because of the amount of toppings, since there were less than ten tiny shrimps on it. I enjoyed it because I found it tastier.
Now, don't get me wrong. The food's pretty good tasting. Maybe the disappointment that we only got to eat two pizzas instead of twenty had a part in it, but I found nothing special in quality and quantity. However, just because it's not special, it doesn't mean that Joey Pepperoni is not worth the try.