Beloved and I had dinner at Kogi Bulgogi last night. This Korean restaurant is found at the second floor of Eastwood Mall's alfresco area. We honestly didn't plan this one, but Beloved wanted Serenitea and didn't want to walk on Katipunan because of the summer heat, so we just took the cab to Eastwood, the second closest one from home.
Anyway, since this was Korean, I expected two things: hot stuff and barbecued stuff. My expectations were correct, but I was also surprised to find quite a handful of Japanese dishes, such as sashimi and tempura. Of course, the Korean stuff still dominated the menu, and practically every Korean dish I know of is in the menu. They also have samgyupsal, as the one served unlimited of in Don-Day. Here, though, everything's on a per-order basis.
I did find the prices of most of the dishes fair, but the one that caught my eye wasn't. I ordered their Tuk Bulgogi (320 Php), which was essentially a Korean sukiyaki. Beloved had their Yuk Hoi Dulsot Bibimbap (188 Php), a rice bowl with raw beef and raw egg, to be cooked as you mix. Finally, we also ordered their Nude Kimbap (188 Php), just because of the name. Oh, and we also got a couple of their Iced Tea (65 Php), which comes with one free refill—a smart offer, I thought.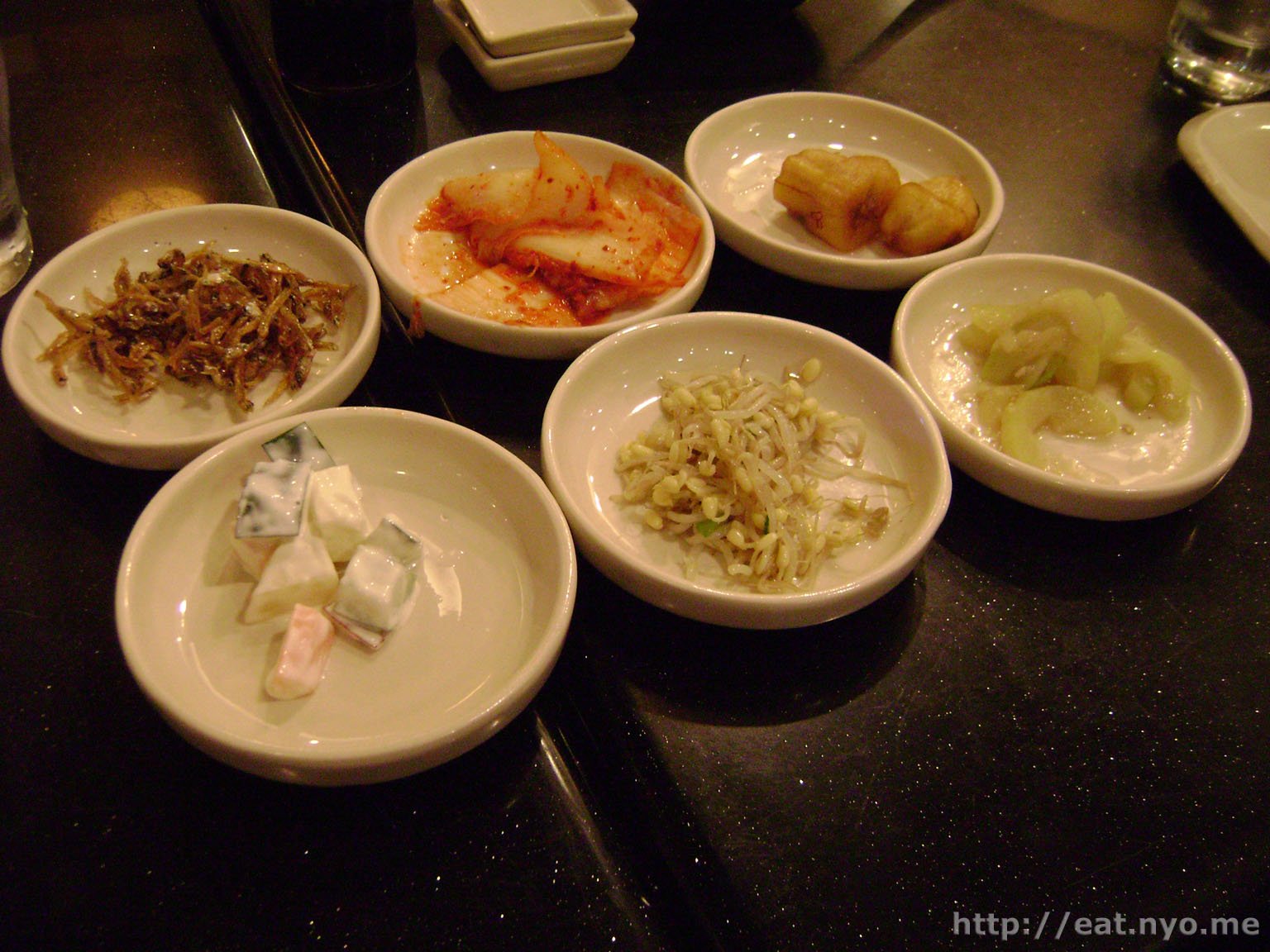 Beloved was against us ordering appetizers. I find out why shortly. Every table is served complementary Banchan, or side dishes, as with most Korean resto's I've been to. And these were pretty decent amounts of them too. They served the staple anchovy, kimchi, and bean sprouts, and also the not so usual banana, cucumber salad, and an unknown veggie dish that tasted pretty neutral. I found the kimchi to be not as hot as I'm accustomed to, which made me actually like it.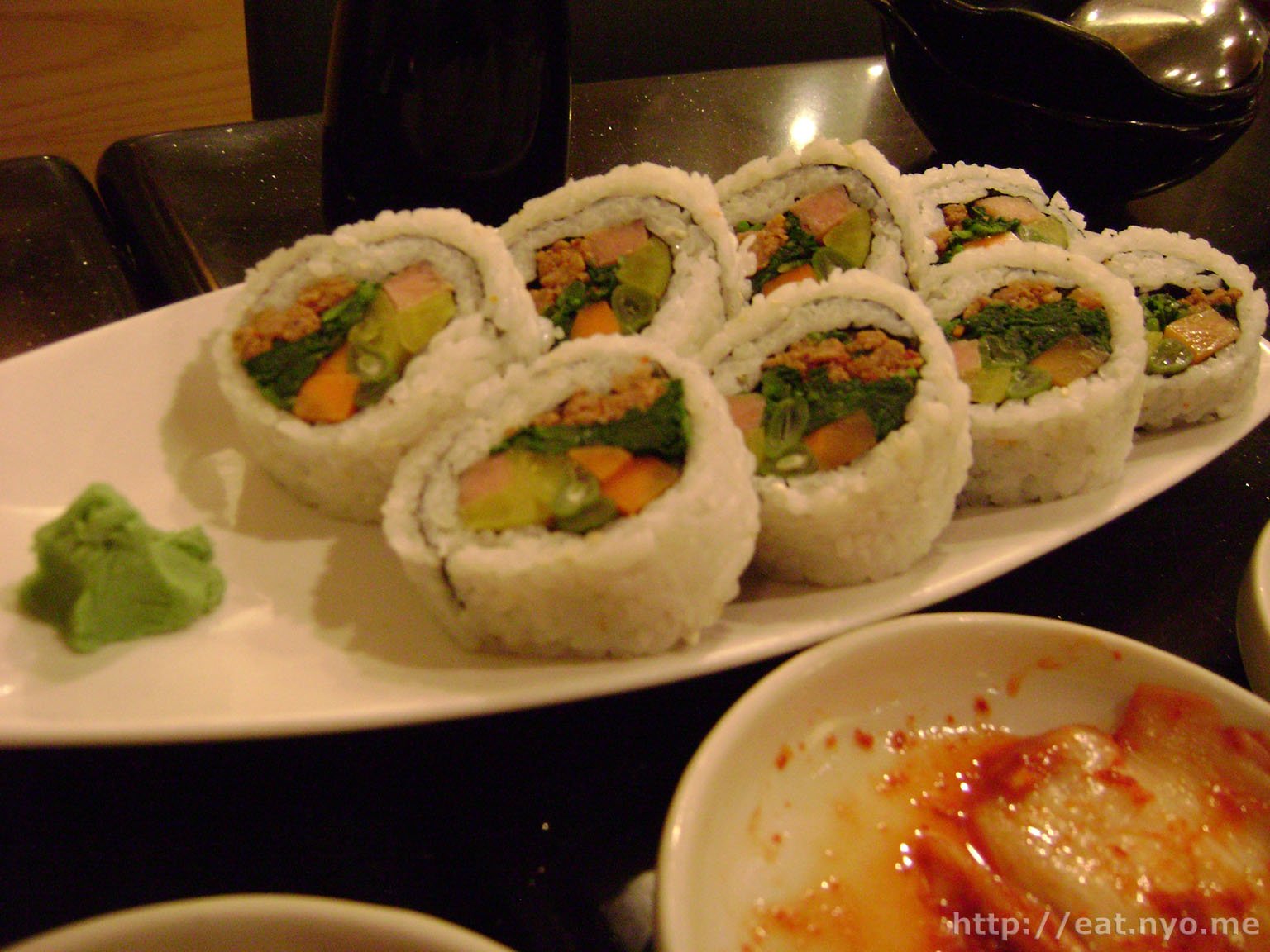 The Nude Kimbap, which we ordered solely for the name, was essentially large rolls of the kimbap we're used to ordering. I learned the reason it's called nude is because the seaweed is on the inside, and the rice on the outside. Aside from that fact, the contents were the same—carrots, radish, greens, and meat. Each roll was a huge bite, and practically an entire meal. I found it very good, especially with the myriad of textures and the juicy meat it contains.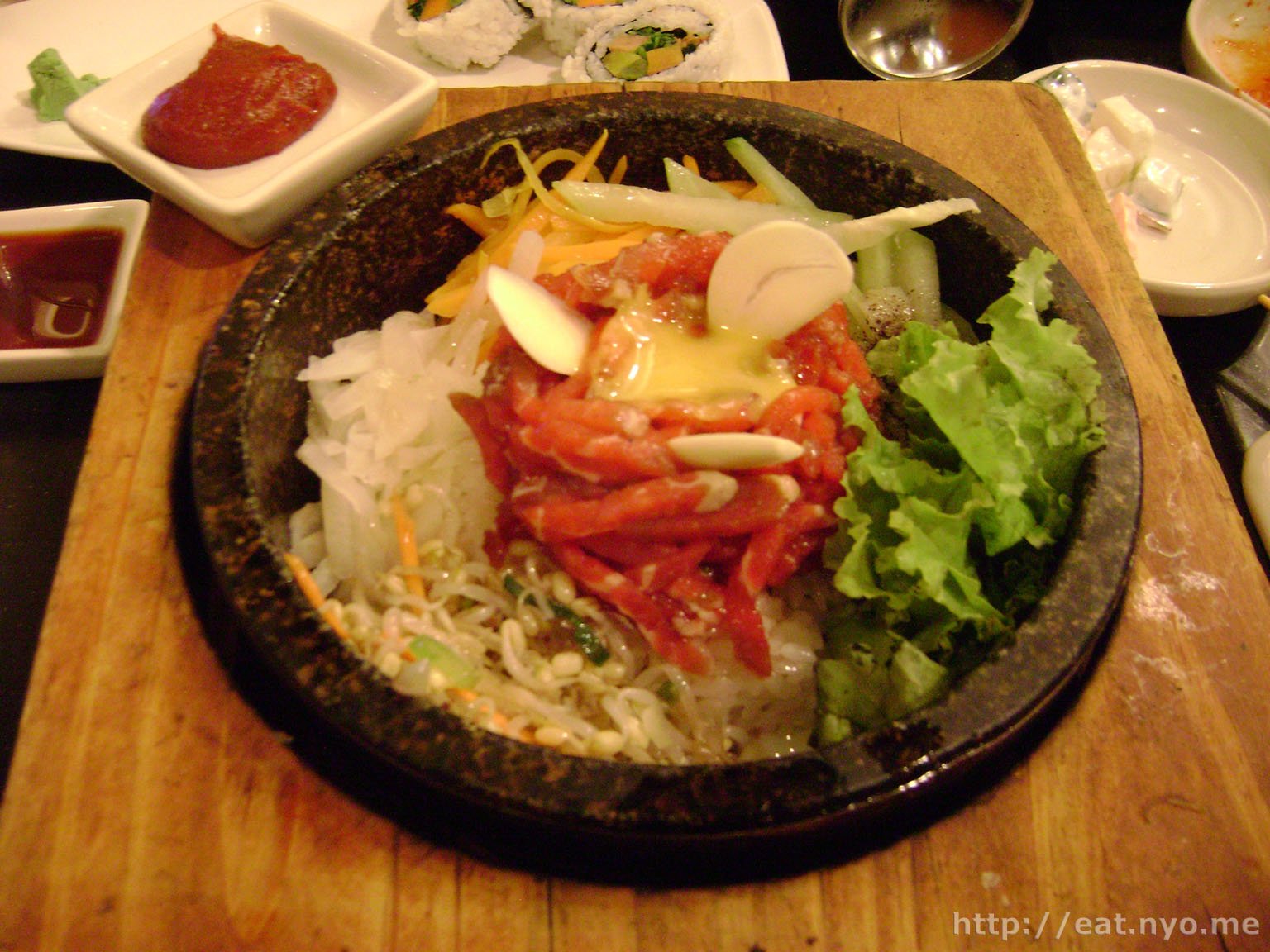 Beloved's Yuk Hoi Dulsot Bibimbap arrived next. It was served in a very hot stone bowl on a wooden container to prevent customers from getting burned, which I thought was pretty smart. As for the dish itself, it was a very generous amount of rice topped with very generous amounts of veggies, and, of course, the star of the dish, raw strips of beef and egg. I found the beef very appealing visually, and, yes, I ate one strip practically raw, before Beloved mixed and cooked it all up, and I found it very, very good and made me a bit impatient for my order. I also found the fact that they didn't mix the hot chili paste in so that those who dislike hot food can order this safely. However, even putting it all in didn't make it as hot as most bibimbap I've eaten, similar to their Kimchi, which was a huge plus for me and a minor minus for Beloved. She didn't hate it, though—in fact, she enjoyed it as much as I did… while there was still meat in it, at least.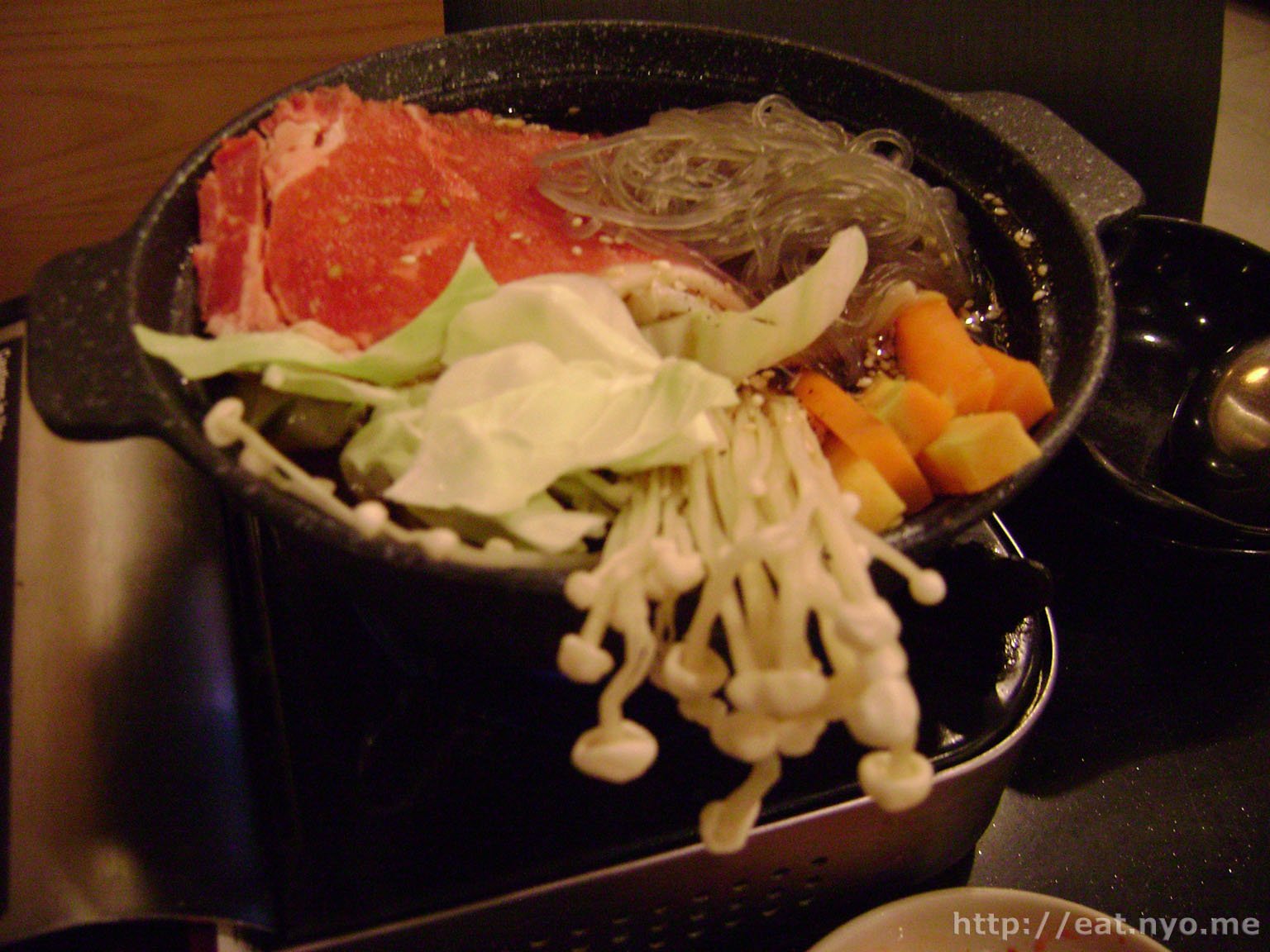 My order finally arrived, but it still had some cooking time on the table. My Tuk Bulgogi, as I've mentioned, was essentially Korean sukiyaki. What made me order this was the color of the meat—a beautiful marbled red. It came in a smaller stone bowl, which made me slightly disappointed. It was, however, filled so much that the mushrooms were dangling out of it, as if teasing me and Beloved before it cooks. They placed it on top of a portable stove and it started boiling up. Once it boiled, the beef was cut into strips and as it simmered, it was ready to eat. I didn't want to ruin the beef, so I asked them to stop the fire. And, although no longer red, the meat was very delicious and made it all worth every centavo. The soup, although sweet, was not as sweet as the Japanese version I'm used to. And the veggies that came with it made it complete. My only two complaints: not enough soup and the flat bowl made ladling out the last bits impossible.
All in all, we were pleased. As with most Korean places, the amounts were larger than accustomed to, except for mine, which had a premium due to the beautiful and delicious beef. I also like the fact that the tastes involved, both hot and sweet, while prominent, were not excessive. Yes, Beloved's bibimbap and the kimchi was hot, but it was bearable and you can actually taste the flavors the heat was coating. Same goes for my bulgogi's soup—sweet, but not to the point that you can no longer taste the meat and veggies. The bang-for-the-buck dish here was Beloved's bibimbap, so while the place is called Kogi Bulgogi, make no mistake of ordering bulgogi exclusively. This is one all-around very good Korean place certainly worth a try.