Beloved and I had "breakfast" at North Park near Tomas Morato yesterday. I say "breakfast" with quotes because it was our first meal of the day. However, it was already nearing night time. This Chinese restaurant is actually pretty common in that most malls have one of these. We never tried the place, however, for since we don't usually crave for Chinese, and when we do, it's usually just the dimsum. Anyway, being one of the few restaurants at Tomas Morato area we've yet to try, we went there for the heck of it, and also because I felt the need for something hot and soupy due to a mild cold.
The place isn't exactly on Tomas Morato. This place can be found behind Alfredo's Steak House, another restaurant we haven't tried yet. Anyway, we were led upstairs, and on the way, I got a glimpse of their noodle offerings. They actually serve six types of noodles. I cannot remember all of it, but luckily, it was also displayed on their menu-slash-placemat. While choosing our orders, they served us hot tea, which was what I expected from any decent Chinese restaurant or tea house. Their menu have the expected dishes, such as noodles, dimsum, rice, and various Chinese mainstays. Of course, we went here for the soup, specifically their noodles. Beloved got their Nanking Beef Noodles (163 Php), and asked for their Flat Shanghai Noodles. I ordered their Ultimate Noodles (249 Php) with their Hong Kong Noodles. Finally, we also asked for their Prawn Dumplings (223 Php for 6 pieces), and had them steamed rather than fried.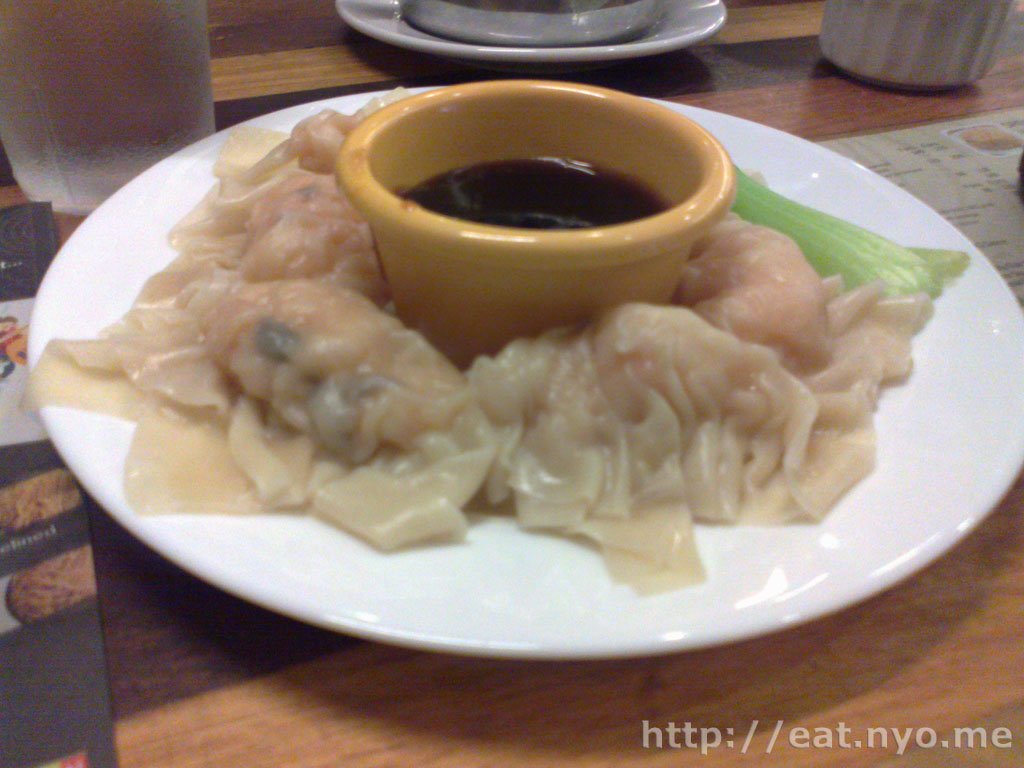 Our orders practically arrived all at once. Their Prawn Dumplings was served with a lonely stalk of Chinese cabbage and thick, sweet sauce. Alone, it was scrumptious. Still steaming hot, it was among the better tasting shrimp dimsum I've had. The sauce made it a bit too sweet for my tastes, but luckily, there was soy sauce and chili and calamansi provided.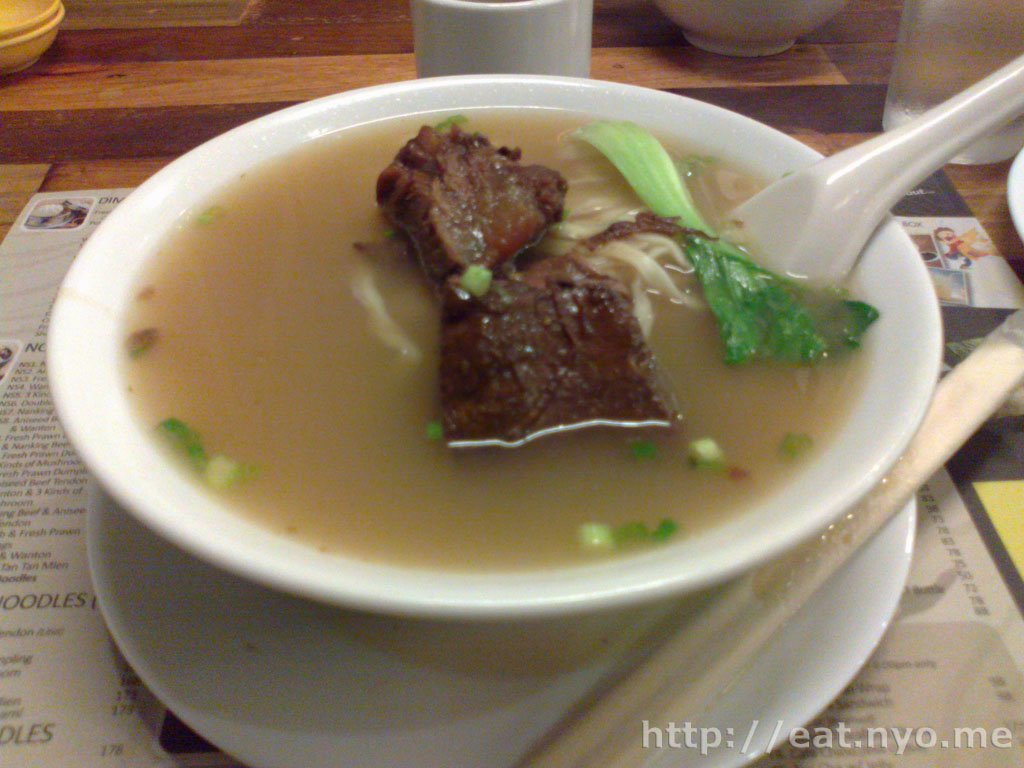 Beloved's Nanking Beef Noodles was a pretty generous serving of noodles, beef, and broth. Both beef and broth were sweet, and the beef was quite soft and tender. Unfortunately, like the provided sauce for our dimsum, Beloved tired easily from the sweet taste. She did enjoy the chewy, flat Shanghai noodles that she asked with it.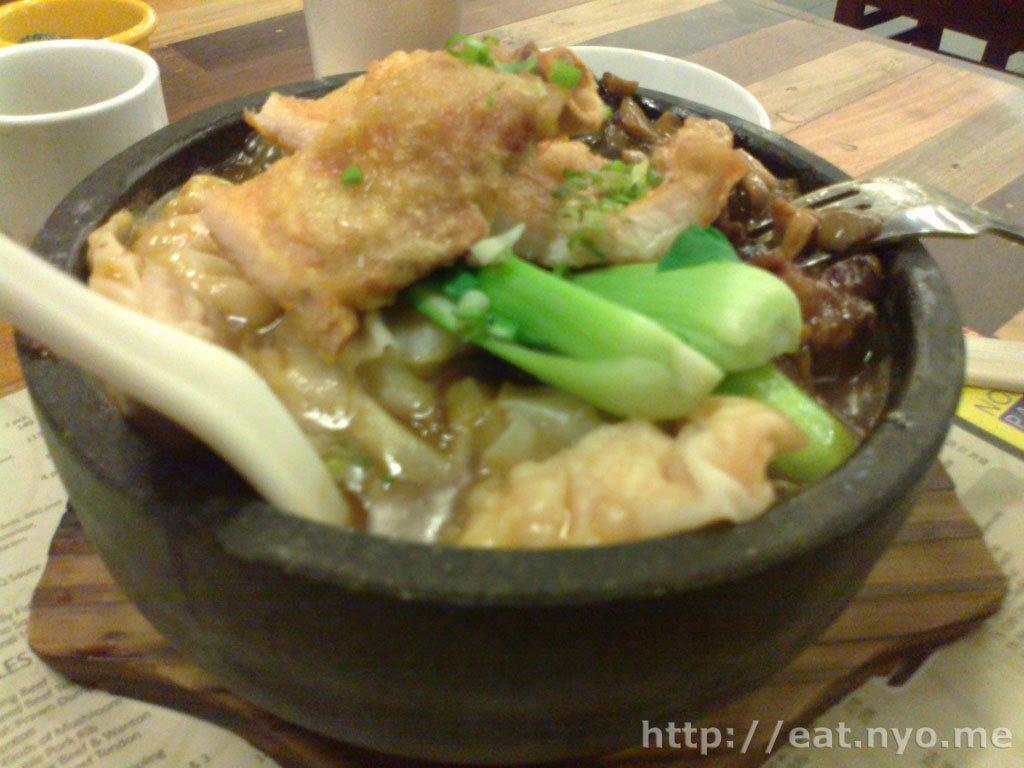 My Ultimate Noodles arrived still boiling in a stone bowl. One glance and I understood why it was called "Ultimate". It was practically all their noodle toppings combined—it had shrimp dumplings, beef same as Beloved's bowl, beef tendons, fried pork, different kinds of mushrooms, stalks of bok choy, and a lot of the thin, yellow Hong Kong Noodles I asked in thick, sweet broth. Well, you can call it broth, but the amount of stuff in the bowl practically made it a sauce rather than a broth. They did say it was good for two to three, and I agree. This is, by far, the most ridiculous 250 Php bowl I've had toppings wise. Taste wise? Same complaint. After a while, the sweet taste, despite the myriad of textures provided by the various toppings, make it a bit tiring. Also, I also wish the toppings where a bit smaller so that they were much more managable. I didn't get to finish some of the stuff, namely a lot of the noodles, some of the beef, and some of the tendons. I must applaud the tendons, though, as they were very gelatinous.
Our food was okay. Sweet, but okay. For the price, just below 650 Php for the lot, it was okay. All in all, our visit to North Park literally sweet and literally okay. It was probably just our choices, since I saw some words like "XO sauce" and "Schezuan" in the menu, so some of their dishes are probably hot and spicy. I can't imagine craving for this place, but when we do pass by again, as I've mentioned, I'll probably still order the Ultimate Noodles as I did, but this time, share with my Beloved.