Beloved and I had dinner at Pho Hoa last night. Some back-story is required: You see, I've been in this place before. Now, being a food blogger, I frequent threads on community sites that are related to food. Often, when "what is a food that you must eat at least once in your life" question pops up in these sites, one of the most frequent answers was "pho". Now, as I've said, I've had pho before from the said place, but as I recall, or, more appropriately, forget what made it special. In fact, I vaguely remember it being quite awful. Nevertheless, this has been one of my food adventure missions after being a food blogger and hearing such comments. Last night, we finally made the decision to try it out.
Their menu consists mostly of the specialty Vietnamese noodle soup. A page is conveniently dedicated explaining the basics of enjoying the dish. After reading it, I opted to order their Pho Nam, Gan, Bo Vien, which is basically beef flank, tendon, and brisket soup, To Lon size, or large for 295 Php. Beloved ordered their spicy Pho Bo Kho, or beef stew, also To Lon at the same price. For our starters, we ordered their Gui Cuon, or vegetable spring rolls with pork and shrimp (129 Php), and we also ordered their Chien Dau Hu, or tofu steak in mushroom sauce (240 Php).
That's not a very large slice of carrot; that's eight small slices of our starter, the Gui Cuon. Served with peanut sauce, it reminded me of a cold version of lumpiang ubod, only much more crunchier on the inside and much more chewy and stickier on the outside. Most of the veggies are served as is, cold in fact, even the meat that came with it. I thought the thick and nutty peanut sauce went well with it, as it really didn't have plenty to say flavor-wise if you eat it as is. Wonderful texture, though.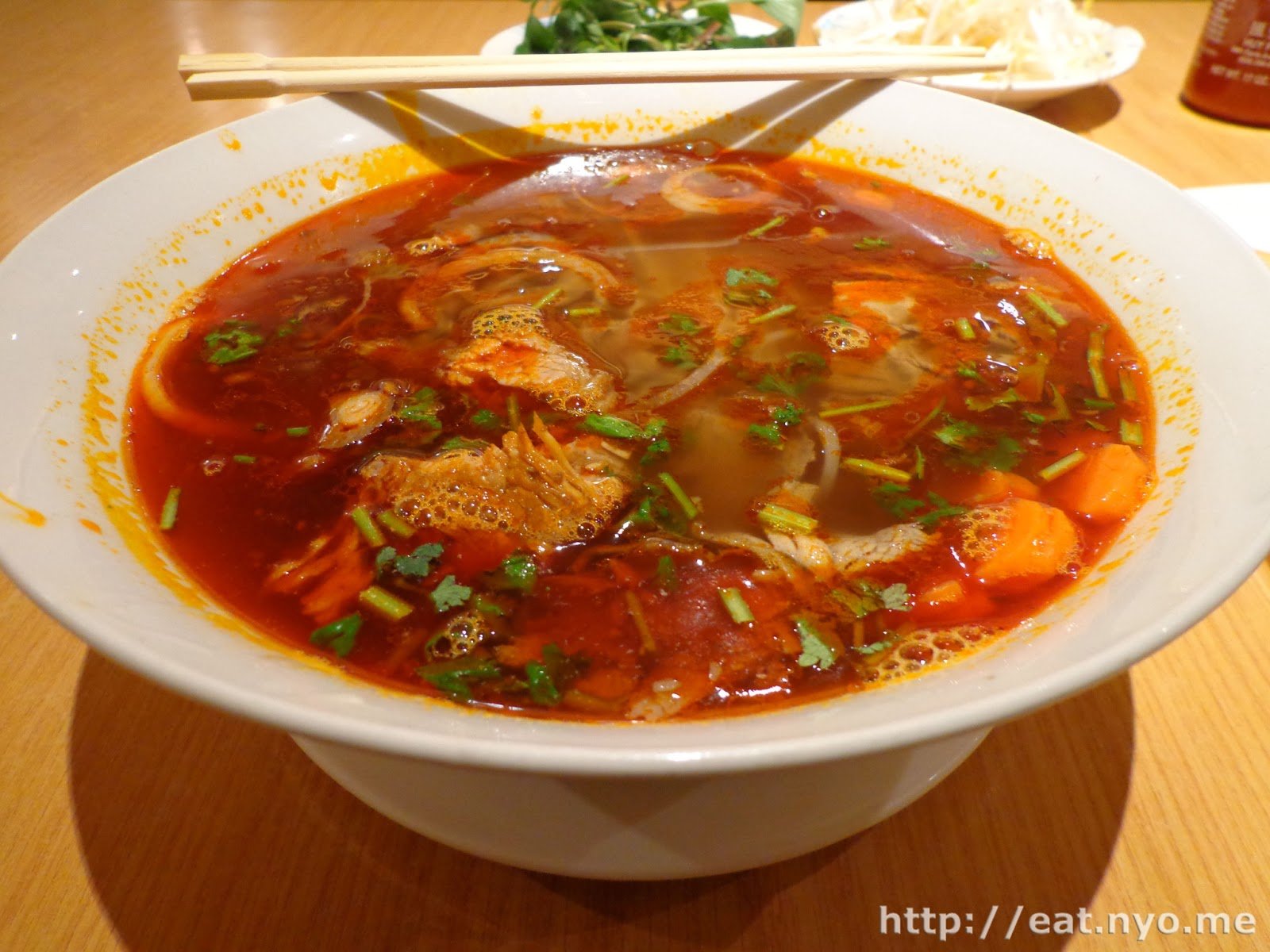 Our main orders arrived shortly after. Beloved's arrived a bit faster than mine, but only by a few seconds. Her Pho Bo Kho had a menacingly red broth, which reflected its hotness in both temperature and flavor. However, according to her, it wasn't extremely spicy, and it was just right. Similarly wonderful was the soft and delicious chunks of beef. She added a few bean sprouts and a basil leaves to boost both texture and flavor, as recommended by the provided "beginner's guide" in the menu, though she commented they weren't really needed. Oh, and did I mention this was a huge bowl? It was among the biggest bowls of soup we've had, though it's also one of the more costly. I thought it was relatively at the correct price range.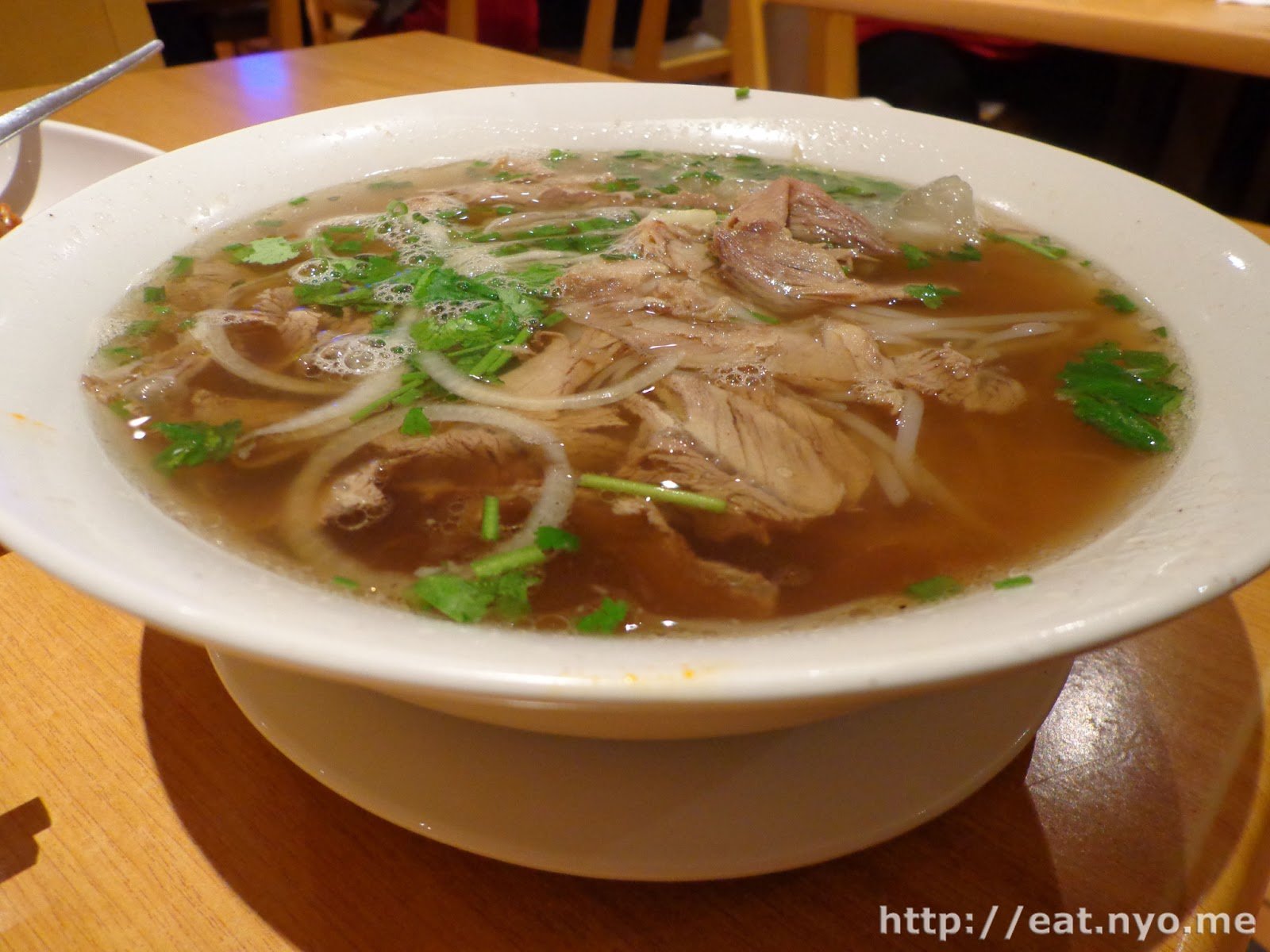 Coming in a similarly large serving, my Pho Nam, Gan, Bo Vien didn't have a foreboding color. Instead, it looked like your regular beef noodle soup. Aside from the color, mine had three parts of beef. The brisket, which is actually quite common in beef soup, was very soft and sweet, probably due to the method of cooking and the very thin slices. The flank was similarly cut thinly, but I thought it was juicier since it did still have some fat in it (I hope I got these two cuts right). And last, but not the least, scattered throughout the bowl are nuggets of gelatinous tendons, which Beloved scorns but I enjoy very much.
The soup had a savory, earthy flavor. I thought it was perfect on its own. The guide mentions I should add basil, lemon, and bean sprouts. I only added the last, since it did provide for a crunchy contrast to the rest of the dish. The guide also said to adjust the flavor using either the addictively sweet Hoisin sauce or/and Sriracha hot chili sauce. I added a few douses of both, and I sort of regretted it, as I found the natural taste much better. I did find the Hoisin a great dip for the beef and even noodles on the side, and the Sriracha did provide a hot aftertaste in my throat that I have a love-and-hate reaction to.
Now, the noodles. I believe this is what makes Pho special. The rice noodles had a sweeter, "fresher" taste, despite presumably not being fresh. Maybe it's because we've gotten used to and tired of the wheat-based ones we have in our mami and ramen. These rice noodles has the perfect firmness to carry the dishes flavor and provide a balanced texture to the bowl. They "trap" the broth and condiments as you eat. My first bite, or, more appropriately, slurp was divine… until I bit a cilantro leaf.
I was immediately reminded why I hated my first try of Pho. The soup had a ton of this herb in it. Unfortunately, I happen to be among a minority of people who has an adverse reaction to cilantro (and in my case, whole black peppercorns as well), which I discovered in a previous food adventure. To me, cilantro tastes very stingy and sharp and it lingers in my mouth for a few unpleasant seconds. This is a sensation to me that is much worse than the hottest food I've downed. Luckily, the offending herb was easy to remove. I did have a couple more unpleasant bites, but other than that, the rest of the dish was excellent.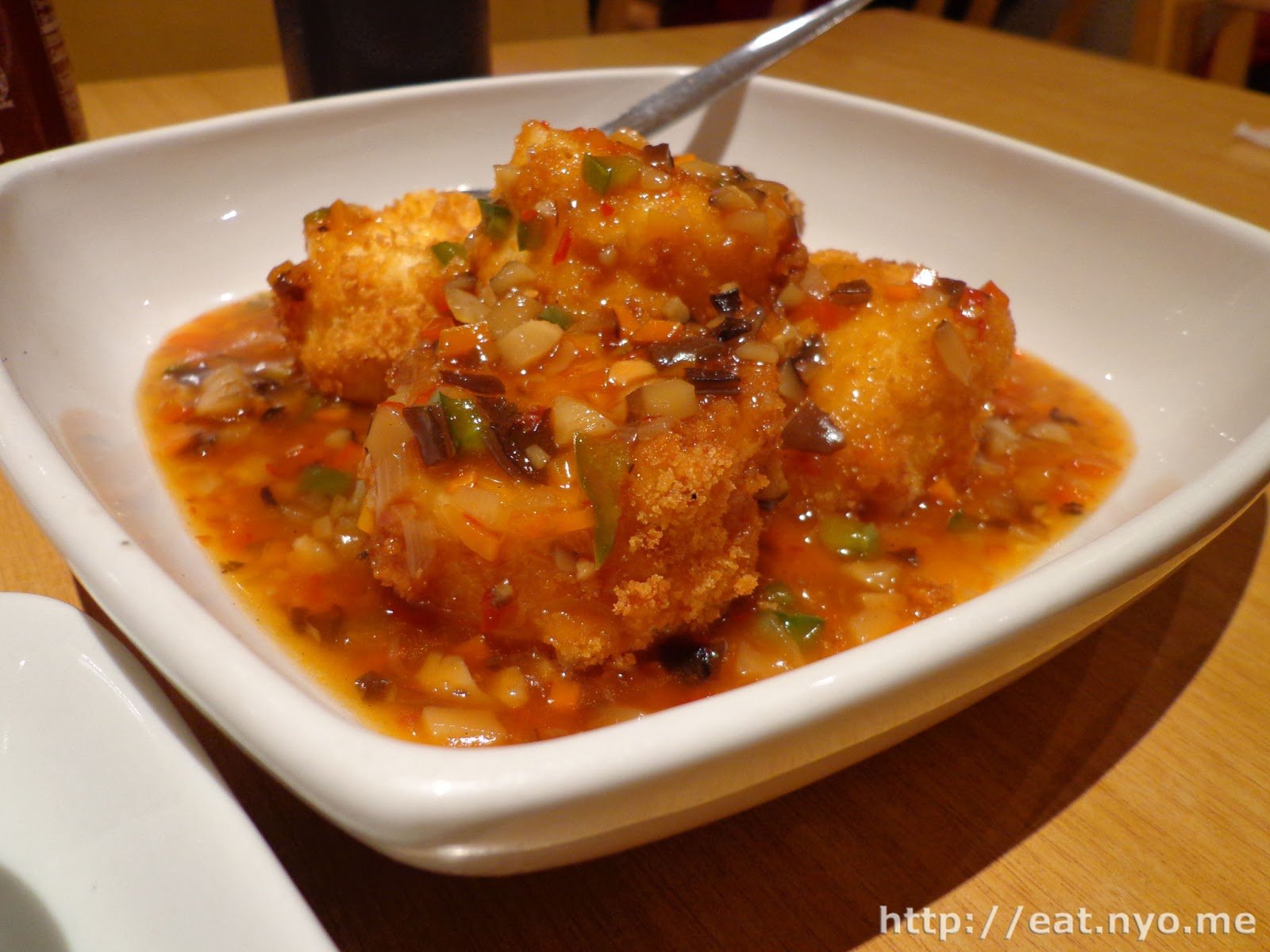 I guess I wrote a pretty long essay detailing my Pho experience. Sadly, or maybe not, I cannot say as much for our Chien Dau Hu. No, they're not bad. These huge cuts of fried tofu are covered in sweet mushroom sauce. After biting into the crunchy exterior, you are greeted with a very soft, almost liquid tofu. In fact, it's so soft that it's almost impossible to eat using chopsticks. I had to use my soup spoon, and I can only fit half of the tofu steak in it. I did sort of wish that the mushroom chunks were larger, though.
Anyway, it was a successful mission. I found out why I hated Pho. And the answer was, I didn't really hate Pho: I hate cilantro. This was definitely one of the best noodle soups I've eaten, minus the cilantro. Every ingredient seemed to have played a vital role in the wonderful flavor and aroma of the dish, except for the cilantro. I also thought it was a pretty fair value, not great, but pretty okay, but not the cilantro. If you haven't tried out Pho before, you're definitely missing out, except for cilantro. Okay, it's highly likely you won't experience the same adverse stimulus I get from cilantro, so Pho Hoa might be a better experience for you—and we actually did have a pretty good one.