Beloved and I had an afterbrunch at Cafe Via Mare a few days ago. Beloved noticed that there's a lack of Filipino restos in our blog. That's really not the reason we went here, though. We were deciding on a place to eat at that we haven't written about yet at Tomas Morato. This happens to be one of the places left. We also found out that their prices were not as steep as we originally imagined. Craving for Filipino food wasn't really the reason, but we rarely do. Since we had a lousy time on our previous adventure, we were hoping this place delivers.
I'm not really fond of the stew dishes of Filipino cuisine, which majority of their menu is. I do, however, like the grilled or deep-fried dishes. We got something from both: Inihaw na Liempo (265 Php) for me and Ensaladang Bagnet (175 Php) for us to share. Beloved ordered their Tortang Alimasag (185 Php). She also asked for their Puto Bumbong (65 Php) with Quezo de Bola topping (23 Php). We also ordered some special drinks: Iced Cafe Mocha (95 Php) for Beloved and Calamansi Juice (65 Php) for me.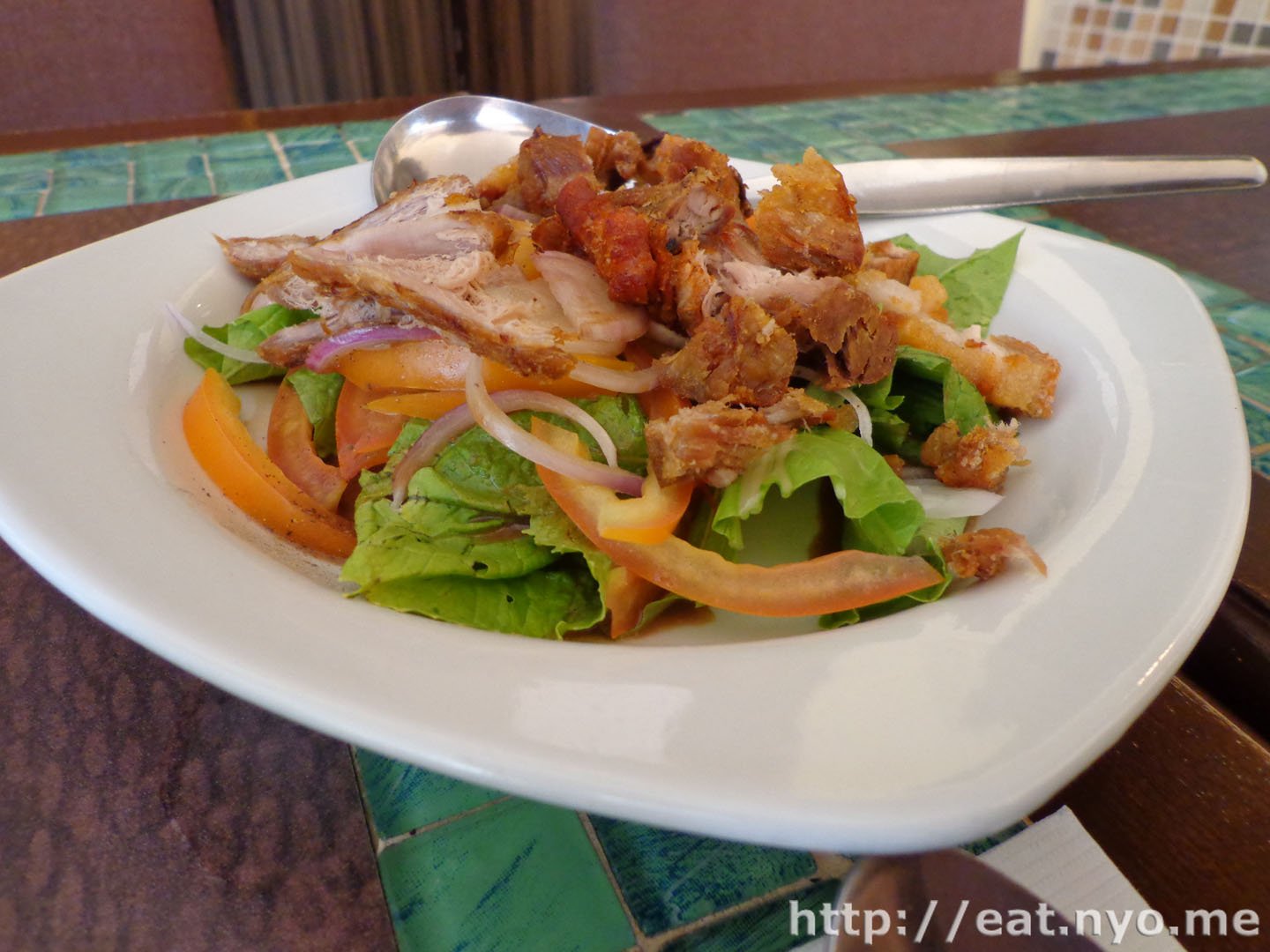 Beloved had a funny face when she tasted the Ensaladang Bagnet. I told her it was a salad, which it really was, hence the salad in ensalada. It might have been a bit too sour, though. This particular salad had mustard leaves instead of your usual greens, which I believe was my first time trying, in addition to the mainstay of tomatoes and onions. I must say it was surprisingly nutty and aromatic. Of course, the real star of the dish was the bagnet, or deep-fried pork belly. The crispy, scrumptious pork goes really well with the veggies. Now, what made Beloved wear that funny face was the vinaigrette it was swimming on—which was extremely sour. I believe this was a kind of calamansi mixture. It was also just a bit too sour for me, but the good stuff it covered made it worthwhile.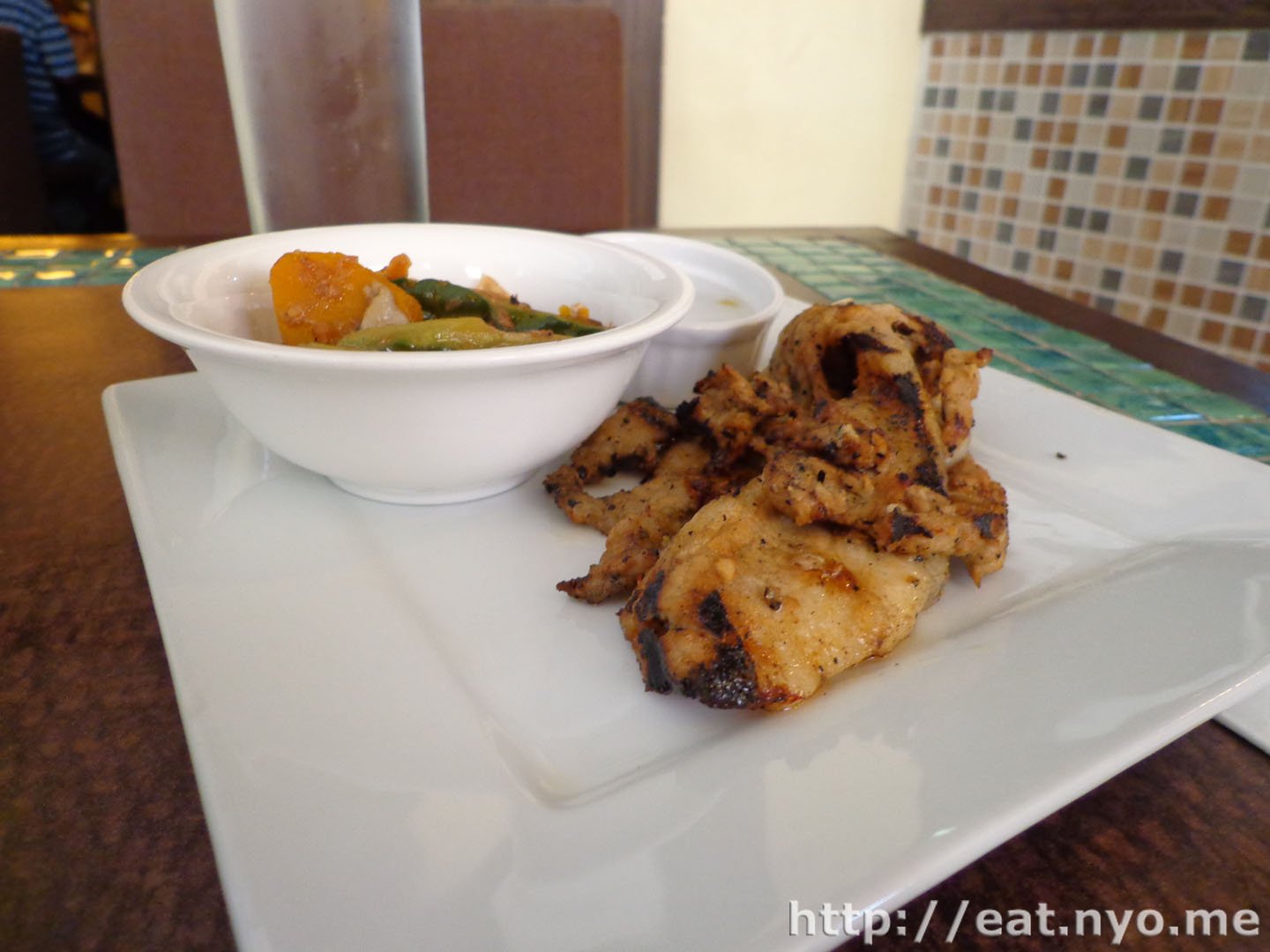 My Inihaw na Liempo was served with a side of *Pinakbet*—a bitter Ilocano salad dish. I had Beloved taste the ampalaya, and she had an even funnier face than what she had tasting our ensalada. It was a very generous strip of meat, and it was a bit fairer-colored than what I'm used to. However, it was also much more tender and savory than I'm used to. None of these are bad things. In fact, together, they made it awesome. Not pictured, it was also served with a cup of rice, making it a complete meal sans dessert in its own.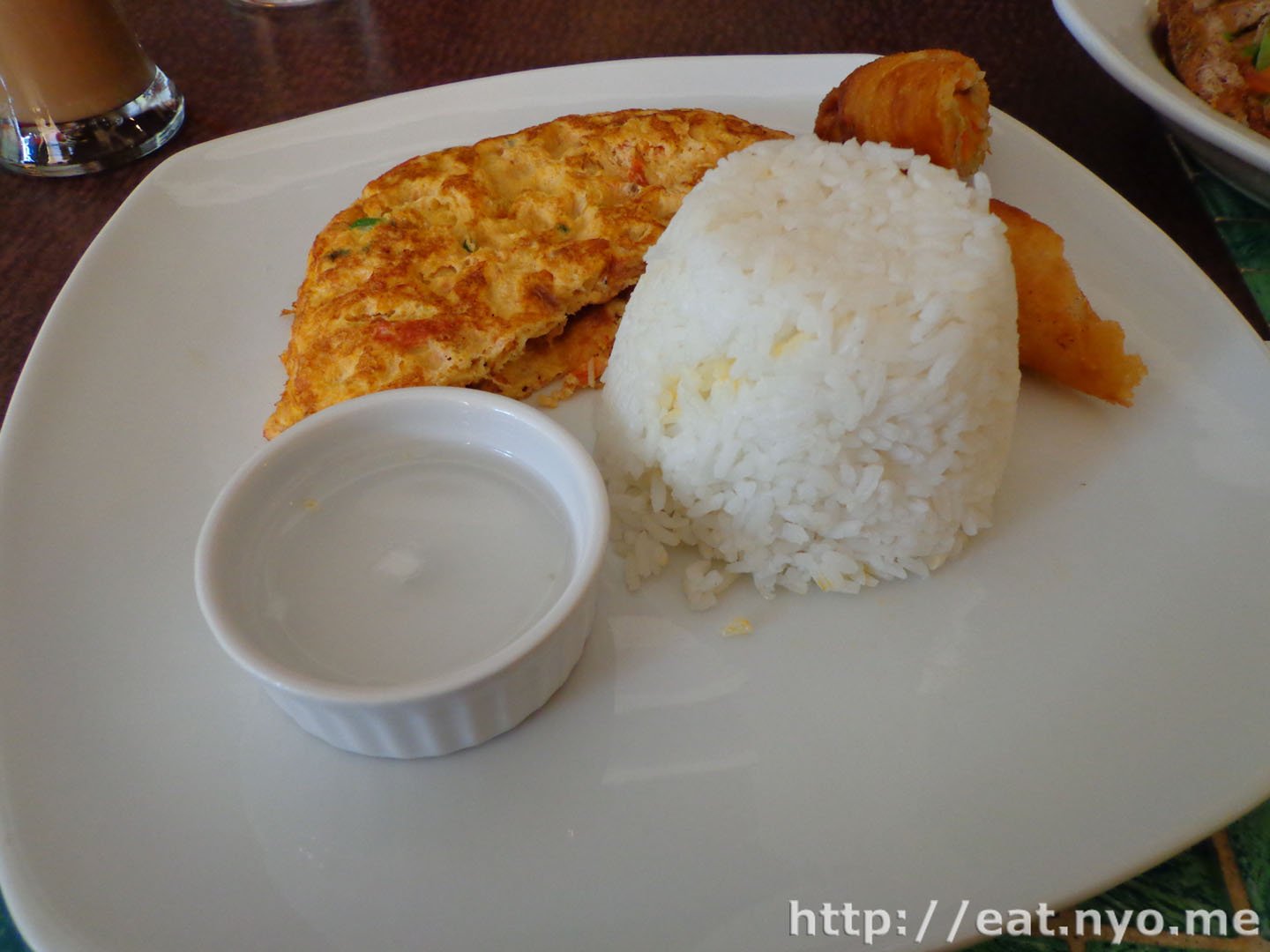 Beloved's Tortang Alimasag was a similarly complete meal. Her veggie side was a lumpia, fried spring rolls, cut in half. The main part of the dish, the omelette, had a generous amount of blue crab meat in it, not to mention that the omelette itself was sizable as well. Since Beloved loves both crabmeat and eggs, she enjoyed this dish a lot.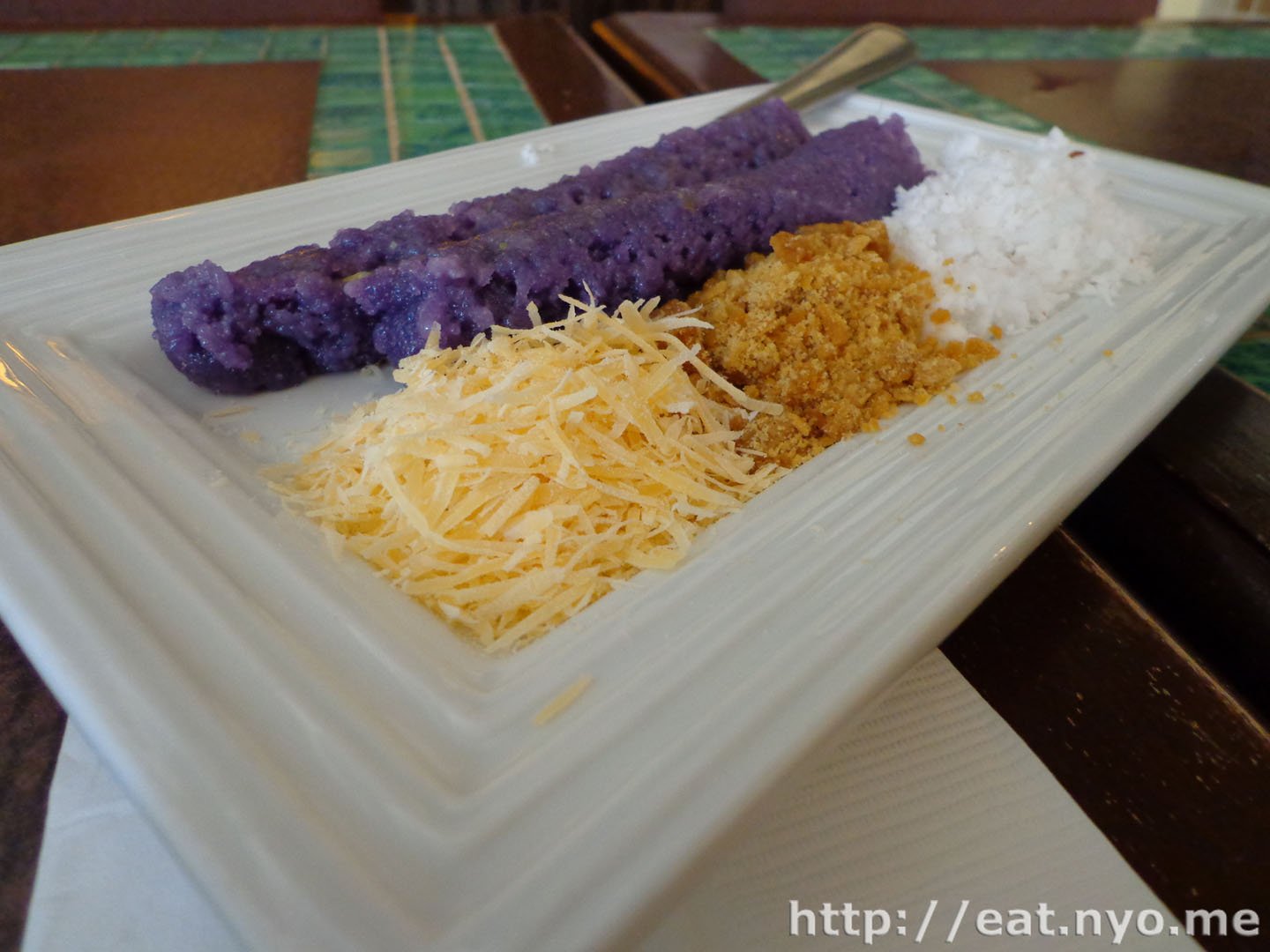 Of course, there's still our snack-turned-dessert order, their Puto Bumbong. This kakanin or rice cake had the trademark purple color, elongated shape, and crumbly look. I guess it's not really unlike any other puto bumbong I've tried, but I'm quite happy there's enough for the two of us. The shredded quezo de bola Beloved asked to come with it didn't really add much, but since both of us like this kind of cheese, we found worth in it.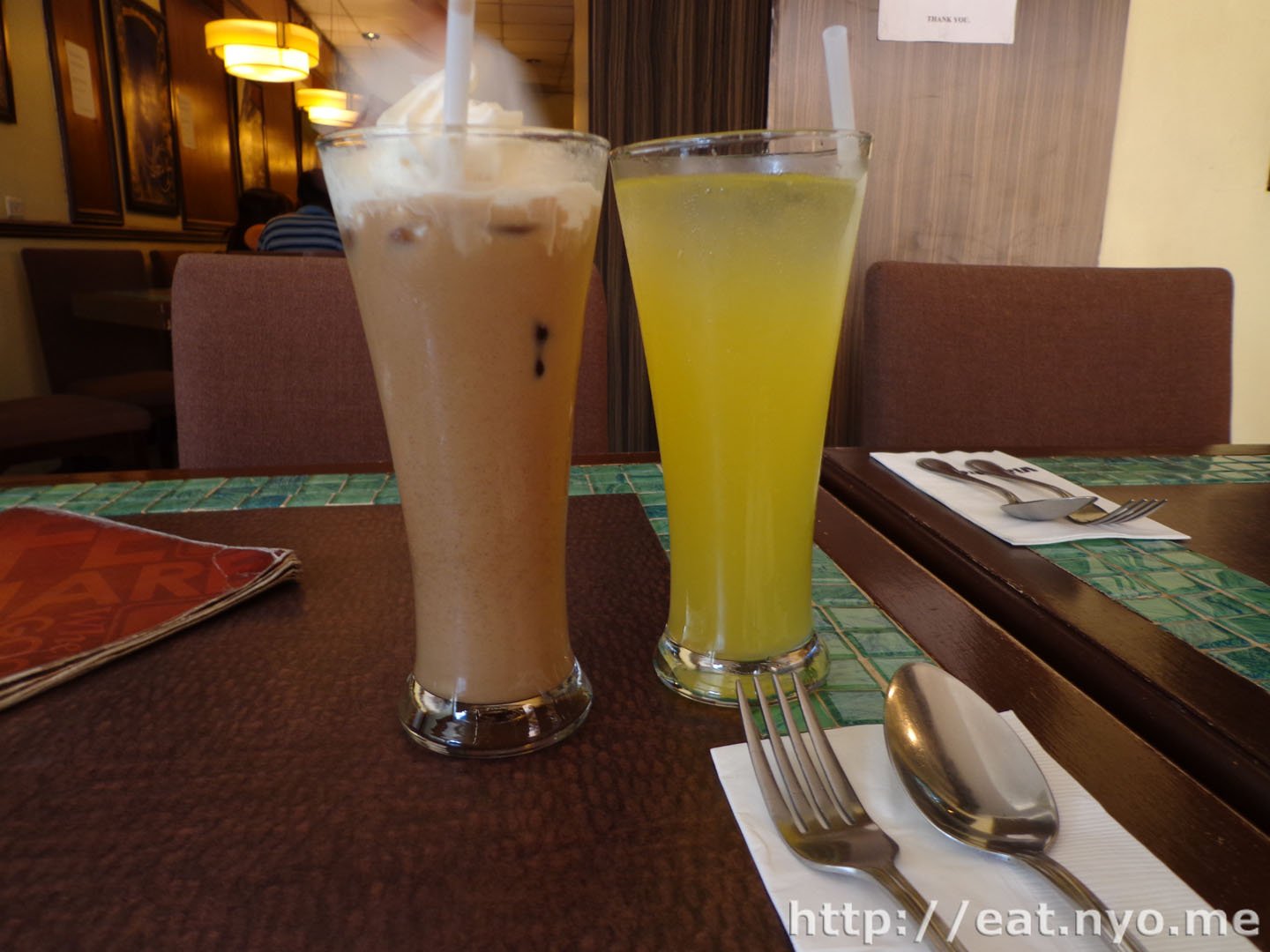 Overall, it was a rebound from our last adventure. Our dishes was filled with different tastes, from the sour ensalada, to the salty-savory liempo, to the bitter pinakbet, to the mildly sweet alimasag, and to the well-balanced puto to bring it all together. Our orders might have been a bit dry, but since we had our specialty drinks, it felt evened out. This makes me wonder why we don't go out for Filipino food as often, but then I remember that we usually have Filipino food at home, hence the preference to dishes from other cultures. Anyway, it was obvious that we had a great time, so it's easy to say that Cafe Via Mare was worth the visit.