Beloved and I had dinner a couple of times at Eton Centris Walk's Yang Chow. If you know your basic food knowledge, you know that this is a Chinese place just from the name. Beloved has been here a couple of times before, but these were my first two times trying it out.
Our first visit greeted us with a full house, and we had to wait a couple of minutes for a table. Luckily, since there were just the two of us, we got seated before a big party that came before us. It's apparent, though, that their setup is your typical Chinese tea house meant for big Chinese families. Their menu consists of the usual and slightly unusual Chinese fare, conveniently printed on the paper placemats. It was actually a pretty difficult choice due to the huge list of dishes available and the somewhat lower price tags compared to the competition. We settled for the following: Hakaw (90% Shrimp) (75 Php), Shark's Fin Dumpling (65 Php), Sesame Fried Butchi (45 Php), Yang Chow Fried Rice (180 Php), Seafood Vegetable Soup (200 Php), Mixed Seafood with Beancurd in Clay Pot (200 Php), and Abalone Mushroom with Broccoli (220 Php). Beloved also ordered their Chinese Milk Tea (60 Php), and I got their Chinese Lemon Tea (70 Php), which was essentially iced tea.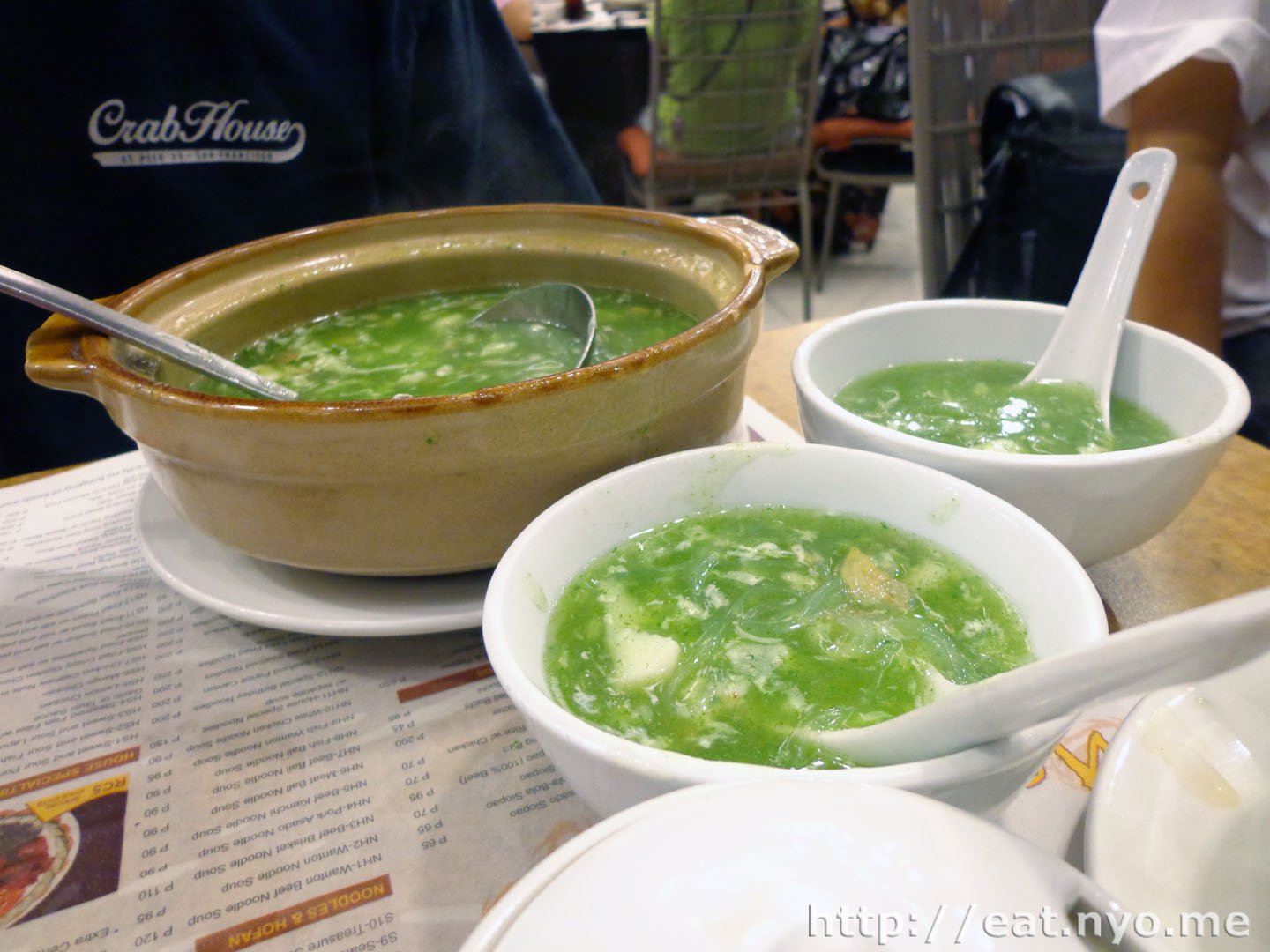 While I'm mostly interested in the Hakaw (90% Shrimp) because of the phrase in the parenthesis, especially since they also serve 100% Beef Siopao, our Seafood Vegetable Soup arrived first. Comparing it to Hap Chan's, it was almost identical from its contents down to the price. However, there are a bit less meat here and a bit more rice noodles. It similarly could easily serve at least four.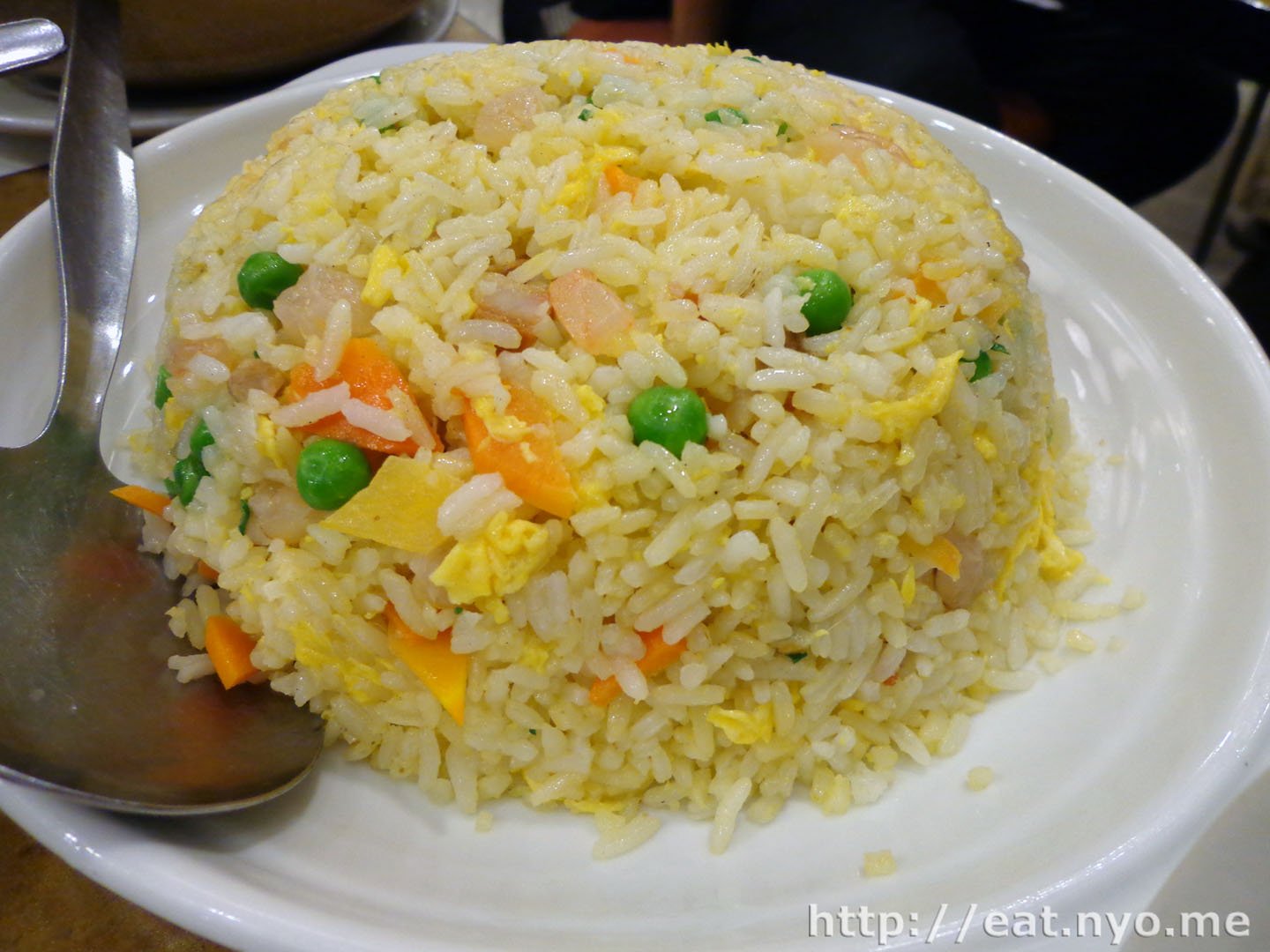 I guess this is what the place was named after. Their Yang Chow Fried Rice might look deceivingly small with the picture above, but, trust me, it can easily serve four. Their version is the classic yang chow recipe of eggs, carrots, peas, pork, scallions, and shrimp in, of course, fried rice. It has a slightly soy-salty taste to it, but still mild enough to enjoy as a staple with added bits. Not the greatest I've tasted, but it's certainly filling.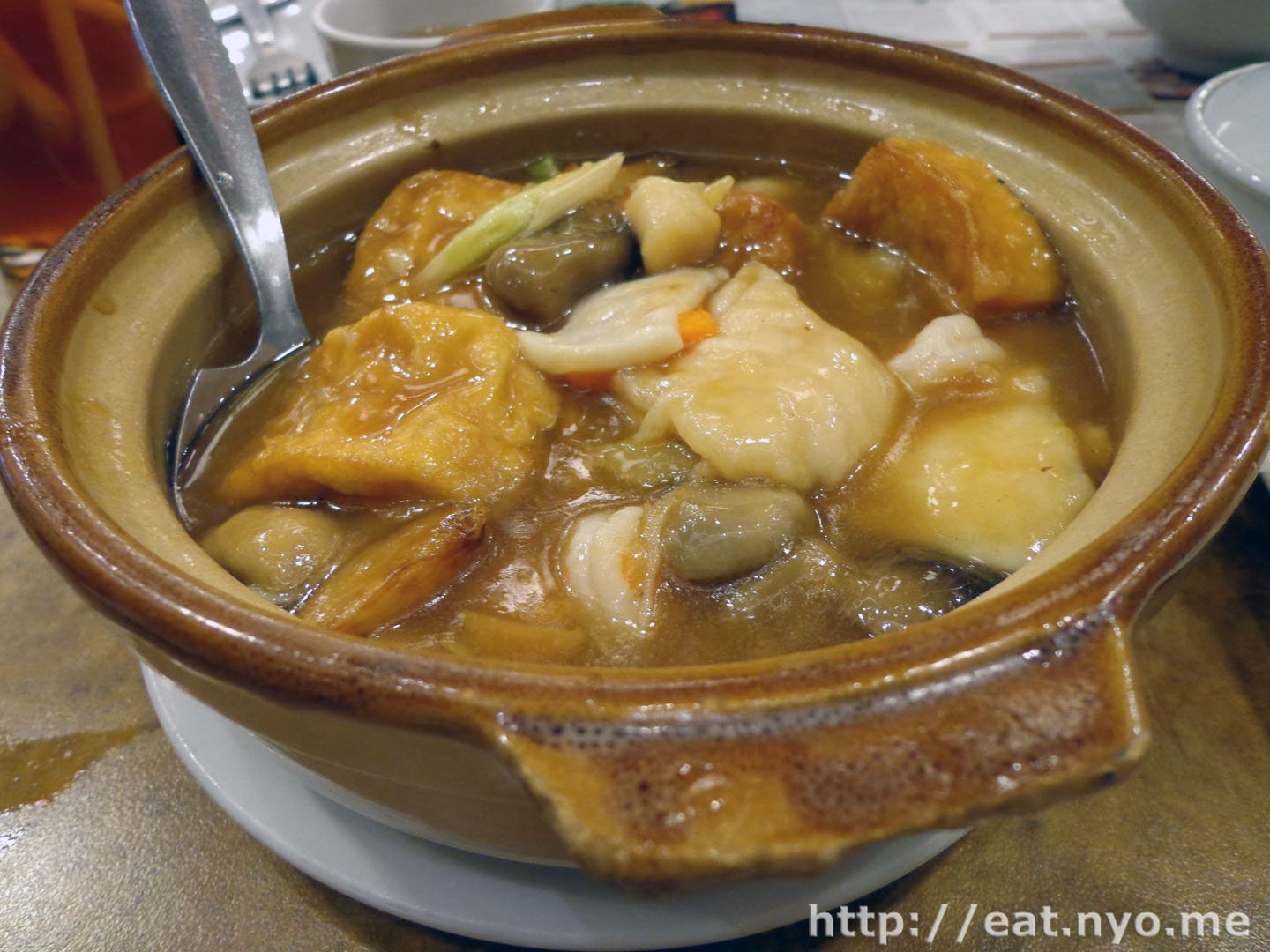 Our first ulam, the Mixed Seafood with Beancurd in Clay Pot is literally just that. It's not exactly a boiling hot pot, but it's definitely not cold. It's definitely a kind of hot pot dish with a sweet and slightly tart and quite savory sauce. Among the seafood was shrimps, fish, and scallops. There was also the promised fried beancurd which I liked a lot, especially with the firm exterior and soft interior. What Beloved and I enjoyed the most, though were the mushrooms that they included and was not in the description. Wish there was more, though.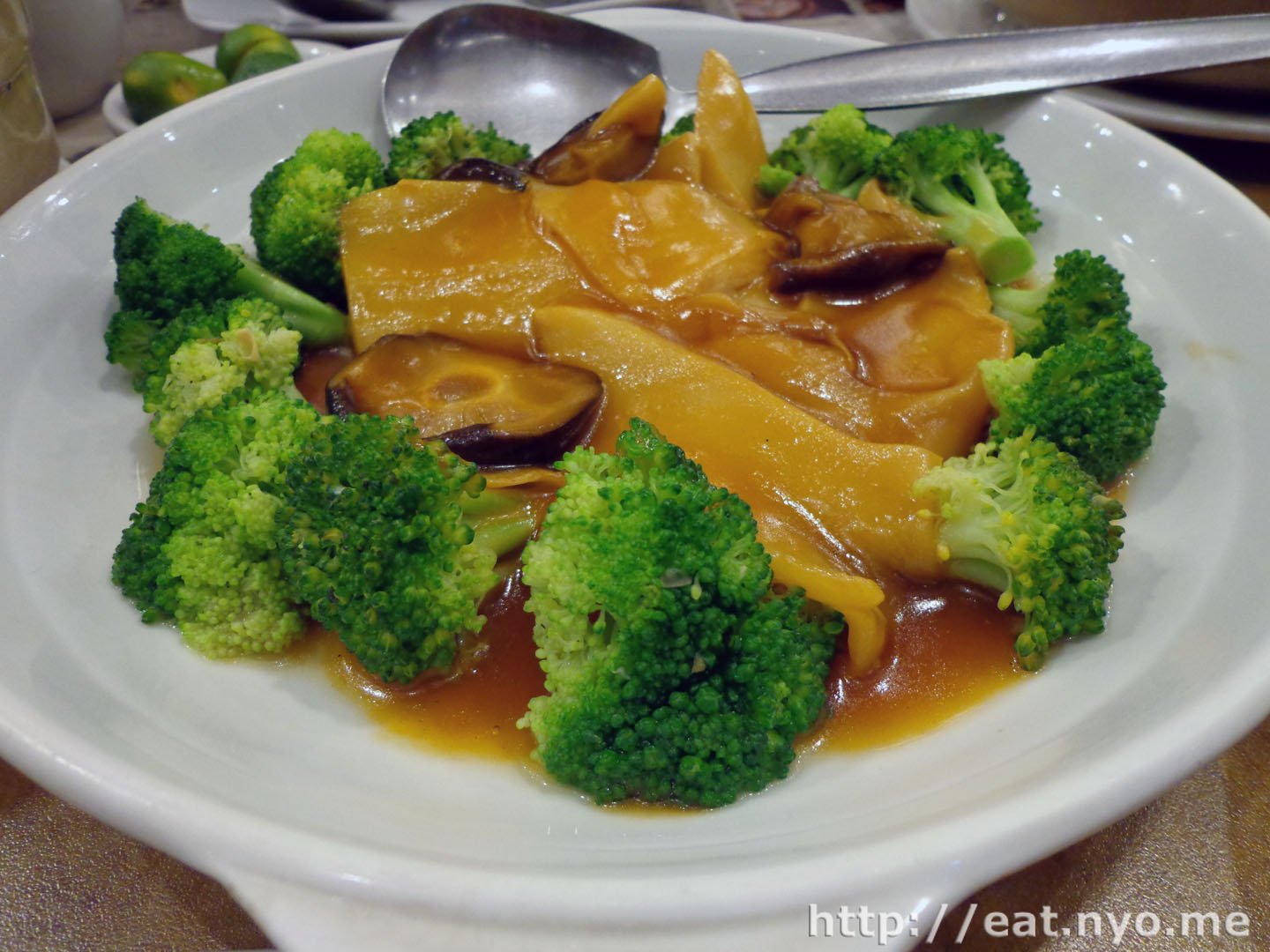 Ulam number two was their Abalone Mushroom with Broccoli. Beloved thought it was abalone-comma-mushroom. Obviously, it didn't have the comma. They used big-capped, soft-stemmed and flower-like abalone mushrooms smothered in some sweet-savory sauce. She didn't complain, though, since they were still quite meaty mushrooms. I must comment, however, that the broccoli was definitely undercooked and still had a raw, bitter taste to them, despite being quite firm and not soggy.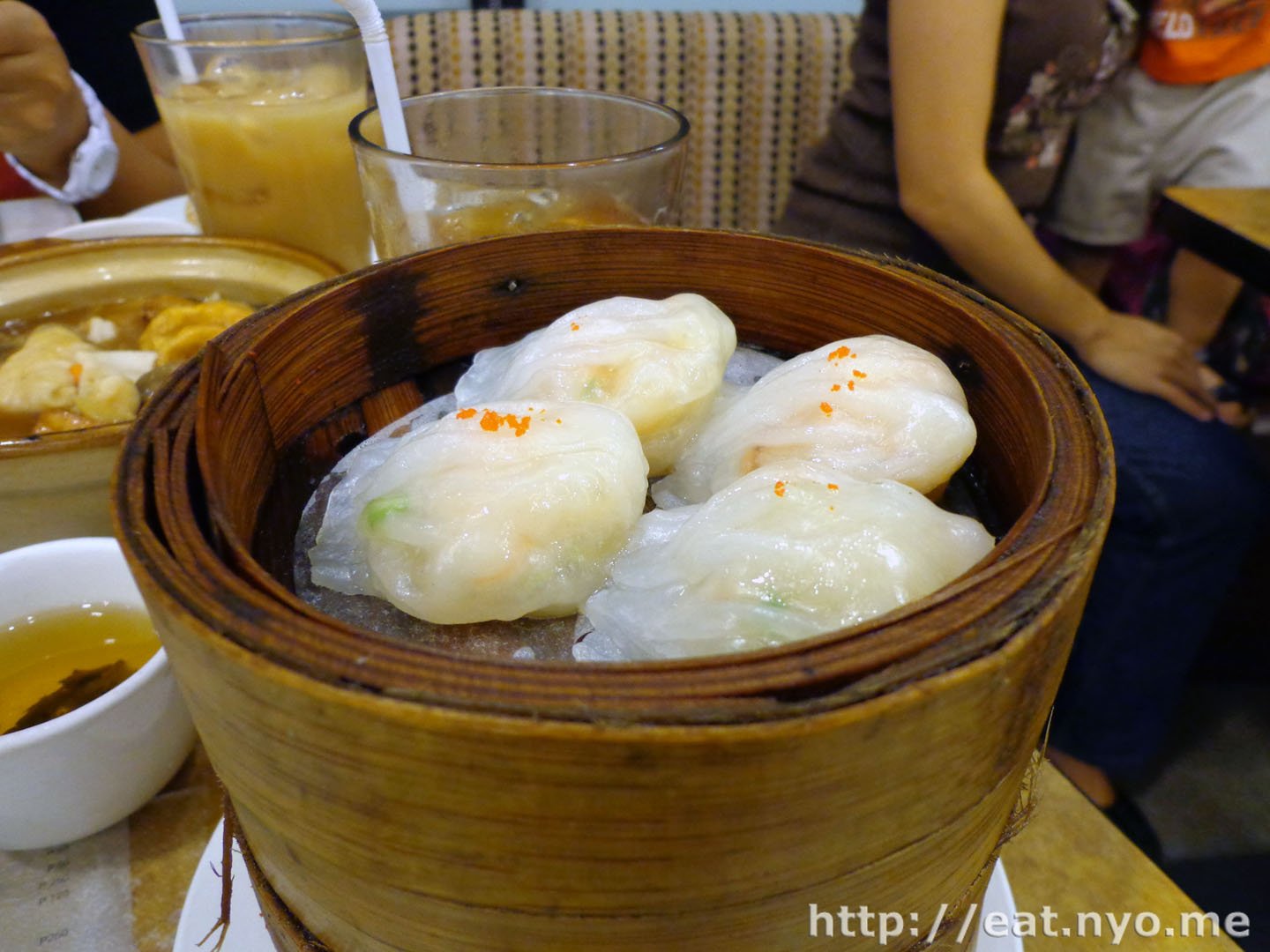 Now, what I was most excited for arrived quite late. Their Hakaw (90% Shrimp) was quite large. Now, I thought it meant that 90% of its weight was shrimp, and the rest was the soft rice wrapper. Admittedly, it had something in it that wasn't shrimp but added a bit of aroma to it. I found it unneeded, though, because the shrimps were scrumptious and plenty enough. And I really do hope that whatever that was provided the 10%, as I'm still curious of their 100% Beef Siopao—unless it is made with 100% beef, including the outer bun. Now that would convince me that this is a 90% shrimp dumpling.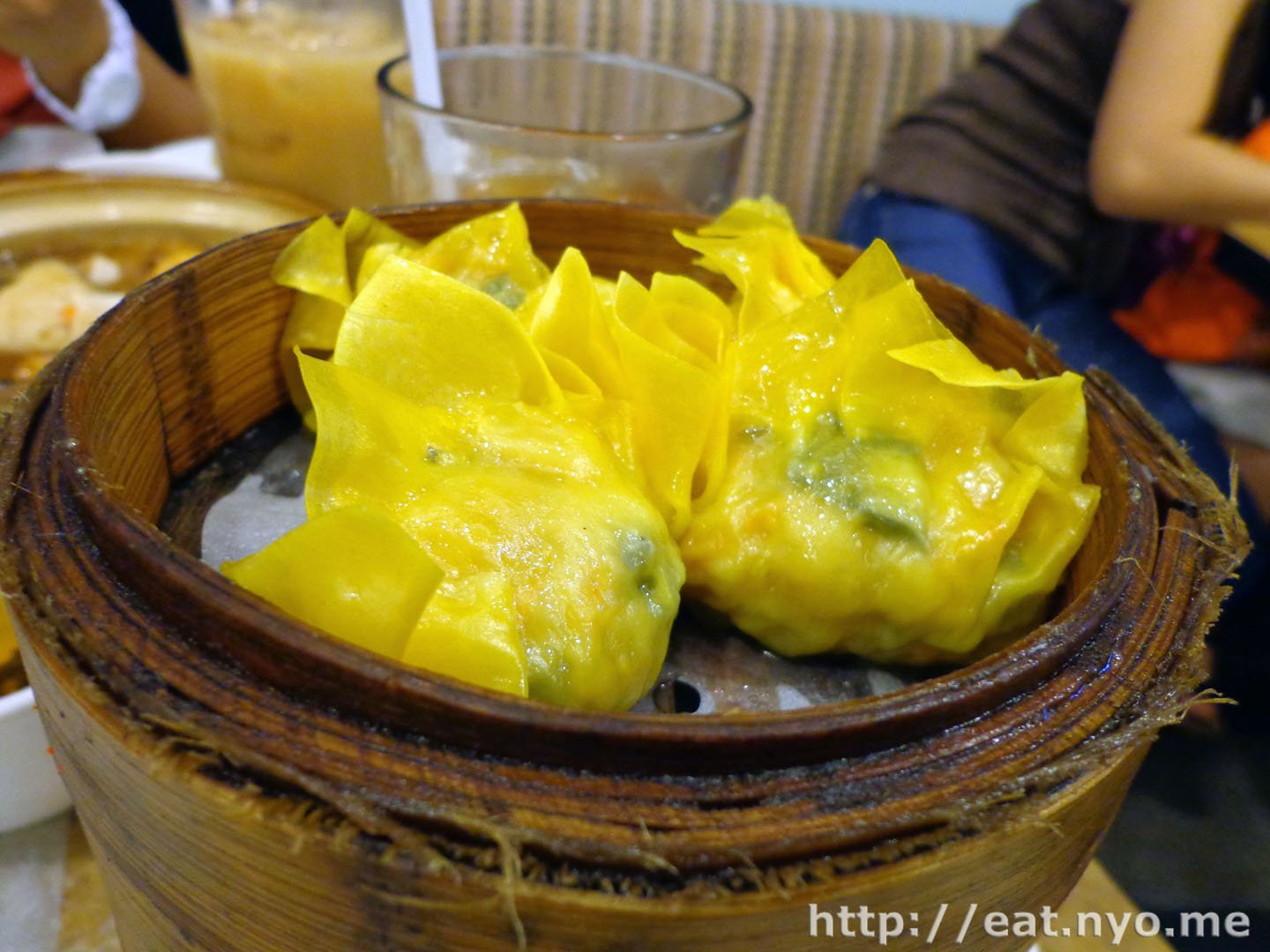 Our other dimsum order, their Shark's Fin Dumpling, was quite forgettable compared to the hakaw. This was definitely not authentic shark's fin as it tasted quite porky and shrimpy—which is basically, and thankfully, what most imitation shark's fin siomai is in the nation. It's not much different from shark's fin siomai you get from the streets, though it's certainly much larger.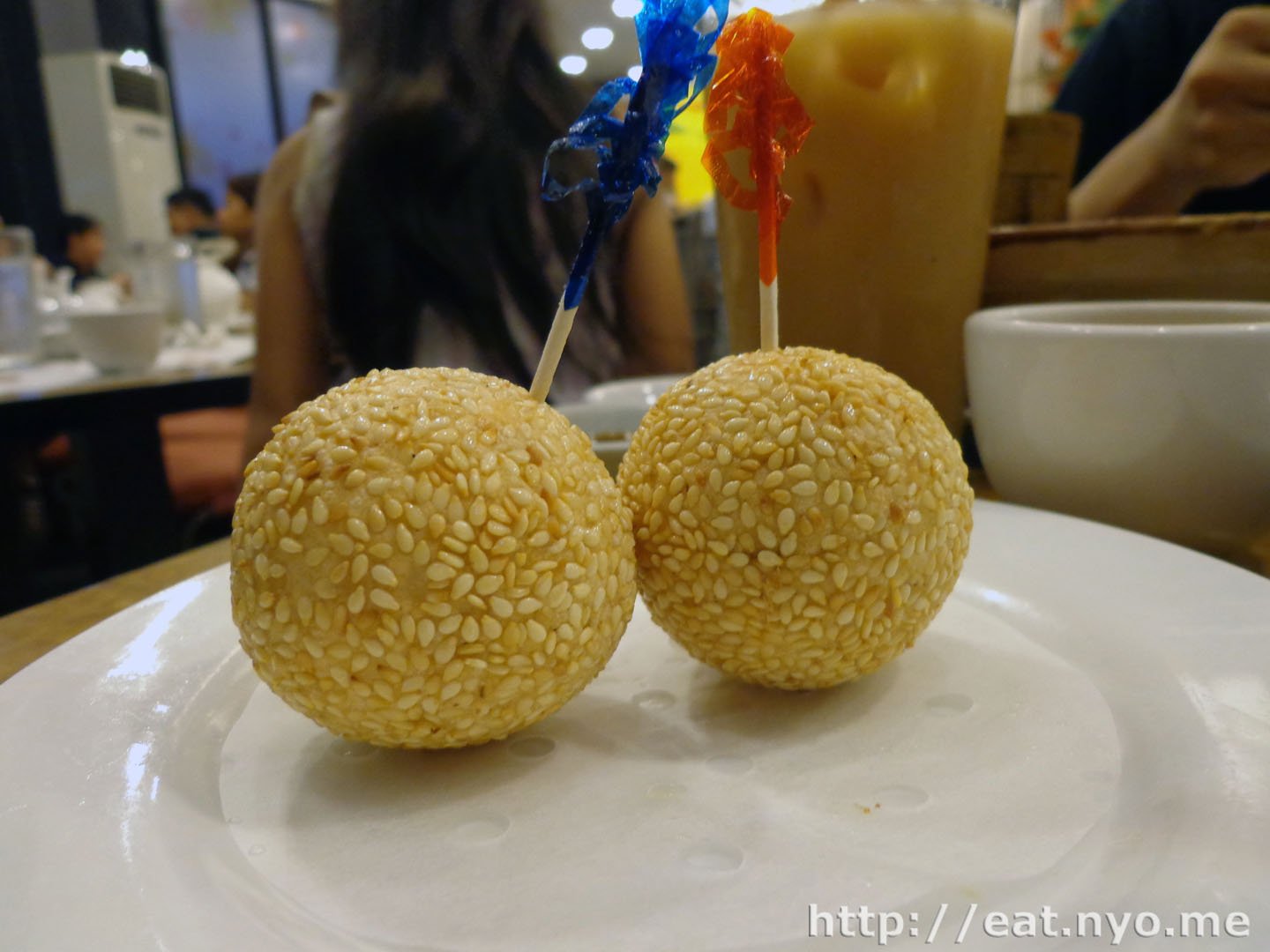 Finally, our dessert consisted of two balls of Sesame Fried Buchi. This time, they served the "original" mung bean paste kind inside, unlike the ube/taro-flavored we had before. She still didn't like it, though. I was satisfied with the dish, but wasn't quite sure with the price, considering the rest of our orders felt like a much better value.
So, that was for our first visit. It cost us more or less 1K Php; not bad for the amount of food we had. We even had leftovers that we took home and still tasted the same after a few seconds in the microwave, which may or may not be a good sign. The only qualm I could remember was the uncooked broccoli. They even served us house tea, although we did ask for it. The next time we went, we didn't ask for any and I was still expecting that they serve us some. They didn't. Oh, well. The next visit's order consisted of the following: Shrimp Siomai (65 Php), Salted Fish Fried Rice (180 Php), House Special Noodles with Separate Soup (150 Php), and Mixed Seafood with Brocolli (250 Php).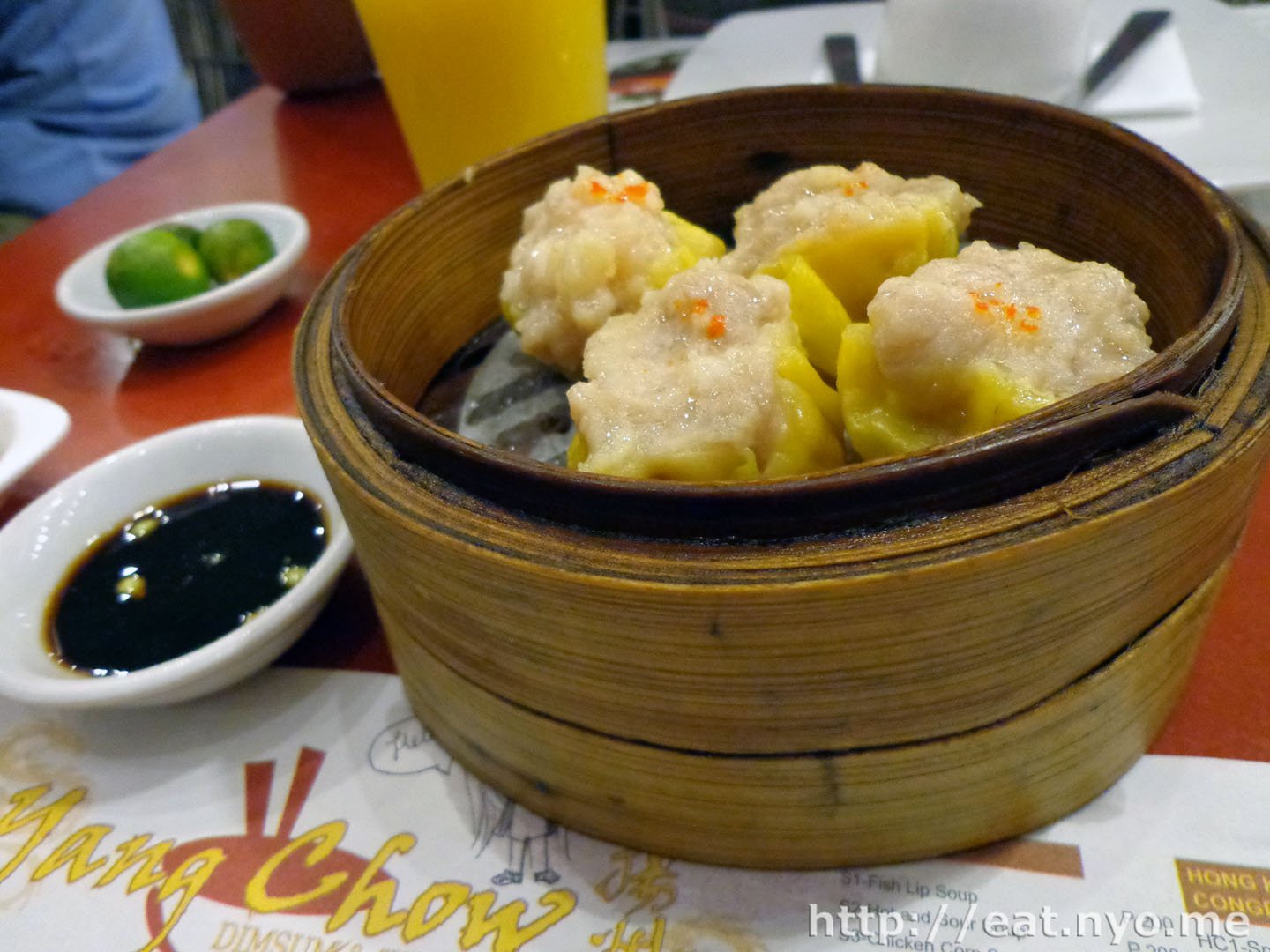 Similar to their Shark's Fin Dumpling, their Shrimp Siomai was a bit forgettable. It's basically a larger, more compacted version of the street shrimp siomai you can get for a third of the price. It's certainly not bad, but, like their other dimsum, it's among the more neutral-valued dishes they have compared to their main dishes the last time we ate.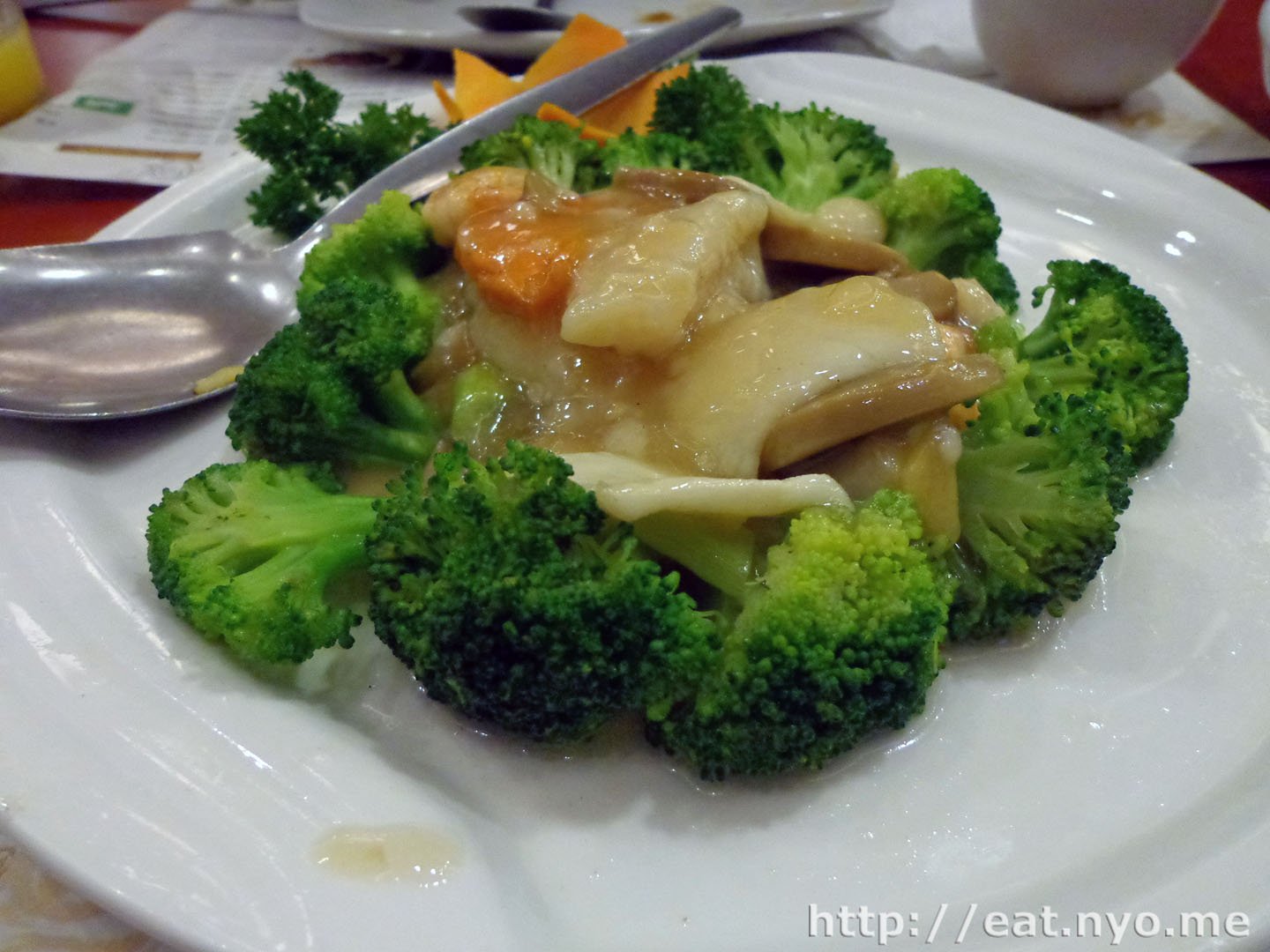 I said the "last time we ate" because our main dish this time looked pitiful. Above is their Mixed Seafood with Broccoli (250 Php). It's more expensive than any we've ordered before but it certainly looked and felt much less. It's essentially the lovechild of what we ordered the last time—take out the abalone mushrooms from the broccoli dish and replace it with some of the mixed seafood in sauce. It also tasted eerily similar, down to the undercooked and bitter broccoli. One noticeable difference was the shrimp this time was not as delicious and felt a bit dry and gummy, as if it wasn't freshly made.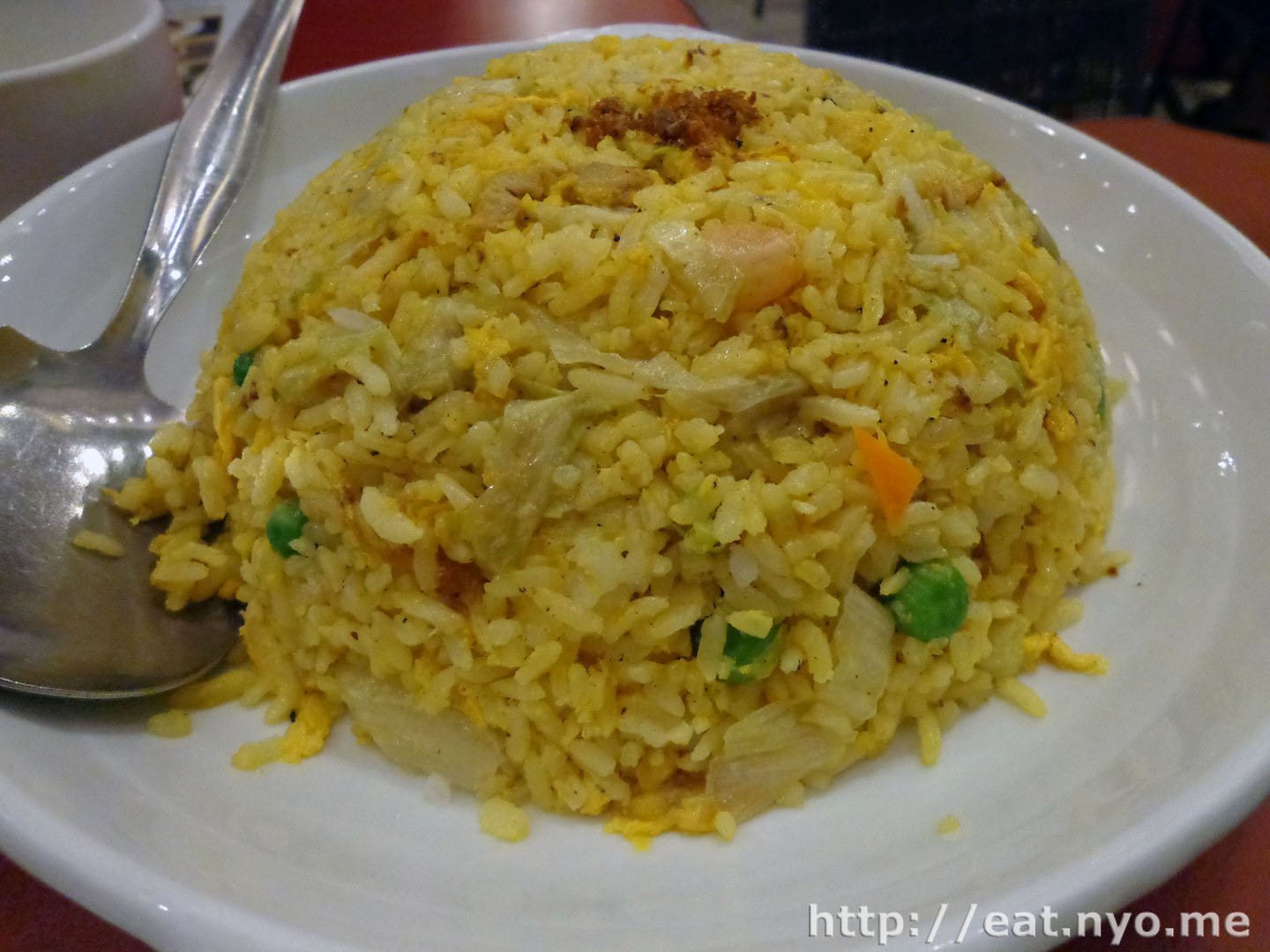 The rice, specifically their Salted Fish Fried Rice, had a similar degradation in quality. And that actually means something since their yang chow fried rice wasn't exactly spectacular. Sure, the salted fishy taste was the dominant one here, but this was a bit drier yet felt a bit greasier, if that makes sense. Still, I can't the serving size for its price, which was a bit cheaper than their yang chow, although the same amount, would appease any usual customer, especially those with nothing to compare against.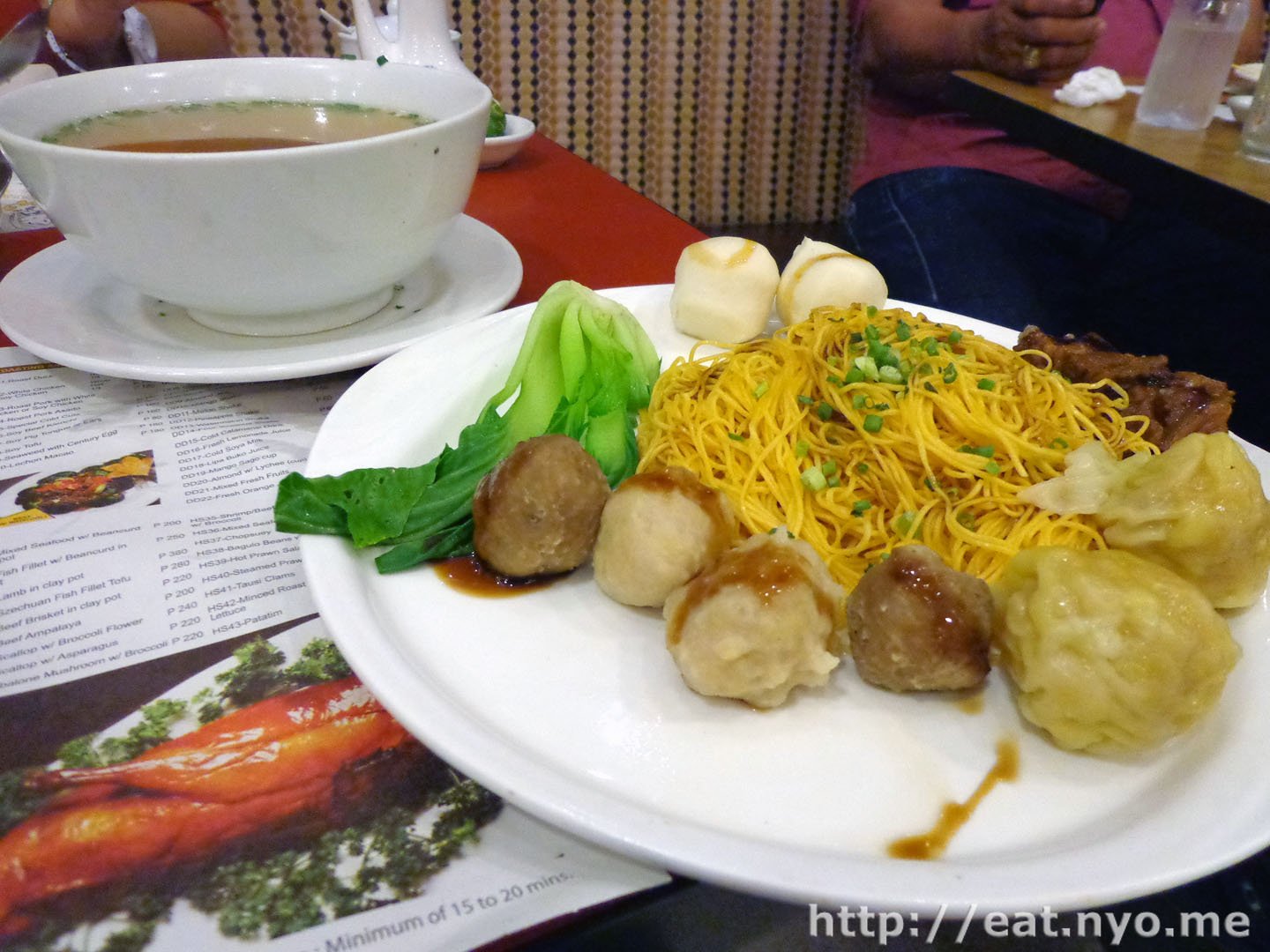 Finally, here's their House Special Noodles with Separate Soup. This was actually one of the more expensive noodle dishes they have. The soup really is separated from the noodles, and, like everything else, there's actually plenty of soup and noodles. There's also plenty of various stuff it came with: braised beef brisket,  shrimp balls, squid balls, meat balls, wanton, and a stalk of Chinese cabbage. Like our main course this time, it was presented uninspiredly. I did like the firm, chewy noodles though. The broth tasted a bit too sweet for me. Beloved liked it I think. As for the balls and stuff it came with, all's okay except for the meat ball, which tasted like it was made out of meat parts you don't usually eat.
Our first visit certainly left the better impression. Beloved suggested that since we went a few days before the general elections on our first visit, they wanted to leave a good impression as they were campaigning for some party list candidates by giving out materials when we got our bill. However, our second visit was certainly more wallet-friendly and perhaps a more fitting combination of amount and variety. While I have many qualms on our second visit versus the first, the food was still quite edible, save for the repulsive meat ball, and we still had some leftovers to take home.
You usually get what you pay for. This is very true here in Yang Chow. Their prices certainly won't hurt your wallet, but you probably also won't get any gastronomic pleasure. If it weren't for the very affordable tag, this place isn't really worth going to at all. But since it does, I understand why so many people go to this place. While certainly more recommended for larger groups, individuals can enjoy (belly-filling wise) their quite affordable but plentiful noodle dishes. That said, stay away from Yang Chow if you're not very hungry or are very picky.