Beloved and I had dinner at Little Tokyo's Oishinbo a few nights ago. This restaurant is among the "inner" places here, meaning you can optionally eat outside and have communal orders from any other place there. However, we chose to eat inside and was offered a seat beside the counter. We happily obliged.
Now, Oishinbo, unlike the rest of the places in Little Tokyo we've been to, is a bit different in that it doesn't have a specific Japanese food specialty. However, I found their menu to be practically complete. This was specifically good that night because we weren't really fancying anything in particular. In fact, the reason we went to Little Tokyo was because this was what came up after putting possible choices at decideforme.com. Like Hana, it was a bit more casual than Urameshi-ya and Seryna, having a homely Japanese family-owned home restaurant appeal to it. I smelt tempura on our way in, so I decided to order that in Japanese dinner box form: Ebi Tempura Bento (390 Php). Beloved ordered their Cold Ramen (380 Php). We also got their Salmon Sashimi (390 Php) and a couple of different yakitori, similar to what we had at Seryna, because the grill was just in front us and looked appealing: Shiitake Yakitori (90 Php) and Enoki Bacon Yakitori (120 Php).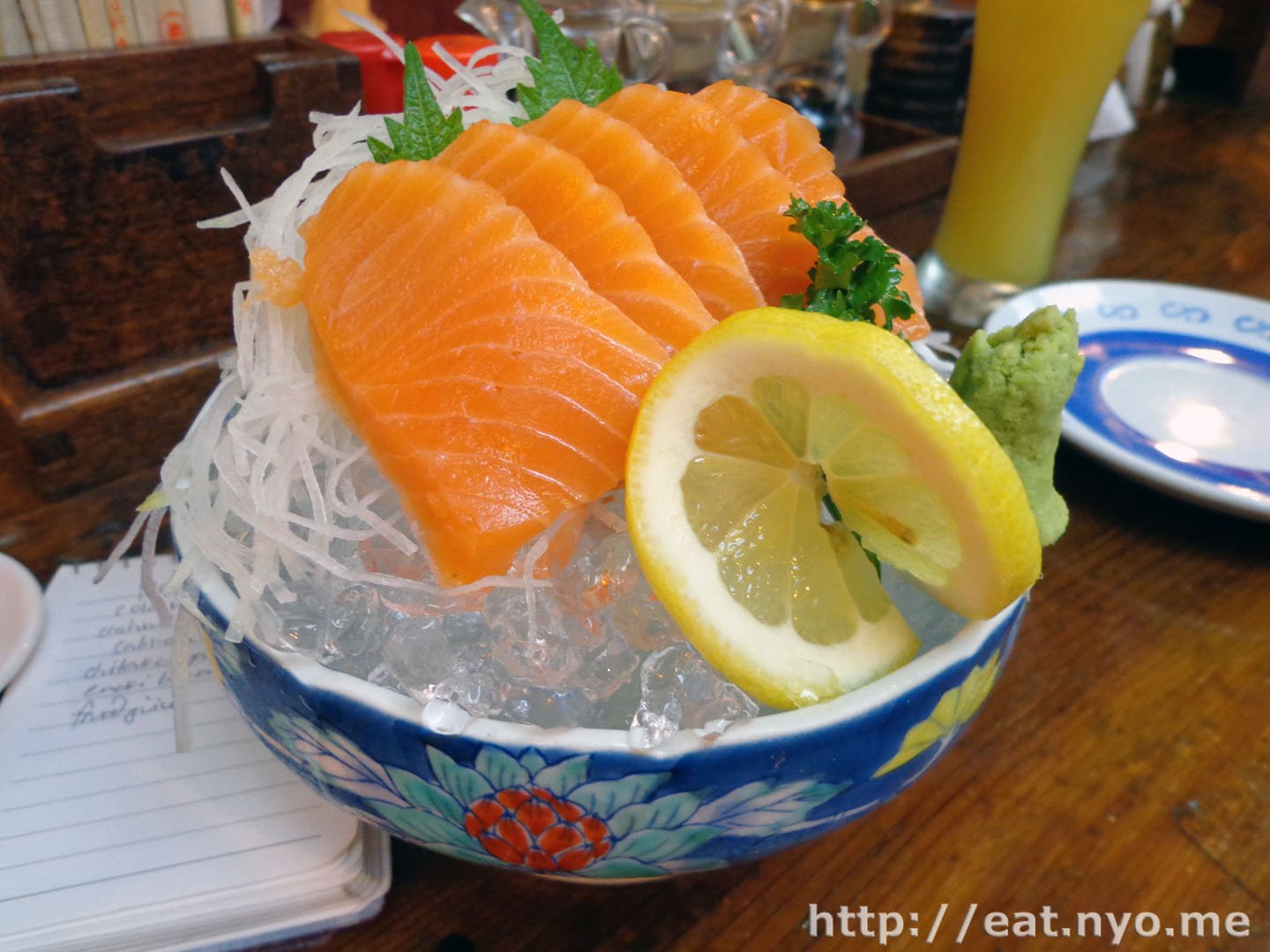 Our Salmon Sashimi order had me arrive at a simple conclusion: all the places in Little Tokyo use the same salmon. The only major difference I could find was the slightly thicker cuts and the very appealing presentation. Plus points for the ice, making sure the fish is fresh, although it really wasn't needed for me and Beloved in particular since we devoured the six pieces almost immediately. The fresh, delicious taste and the same butter-like texture was there. I guess I can finally recommend that if you want the best sashimi in the Metro, just go to Little Tokyo and choose any place that serves that. So far, all of the places we've been to do.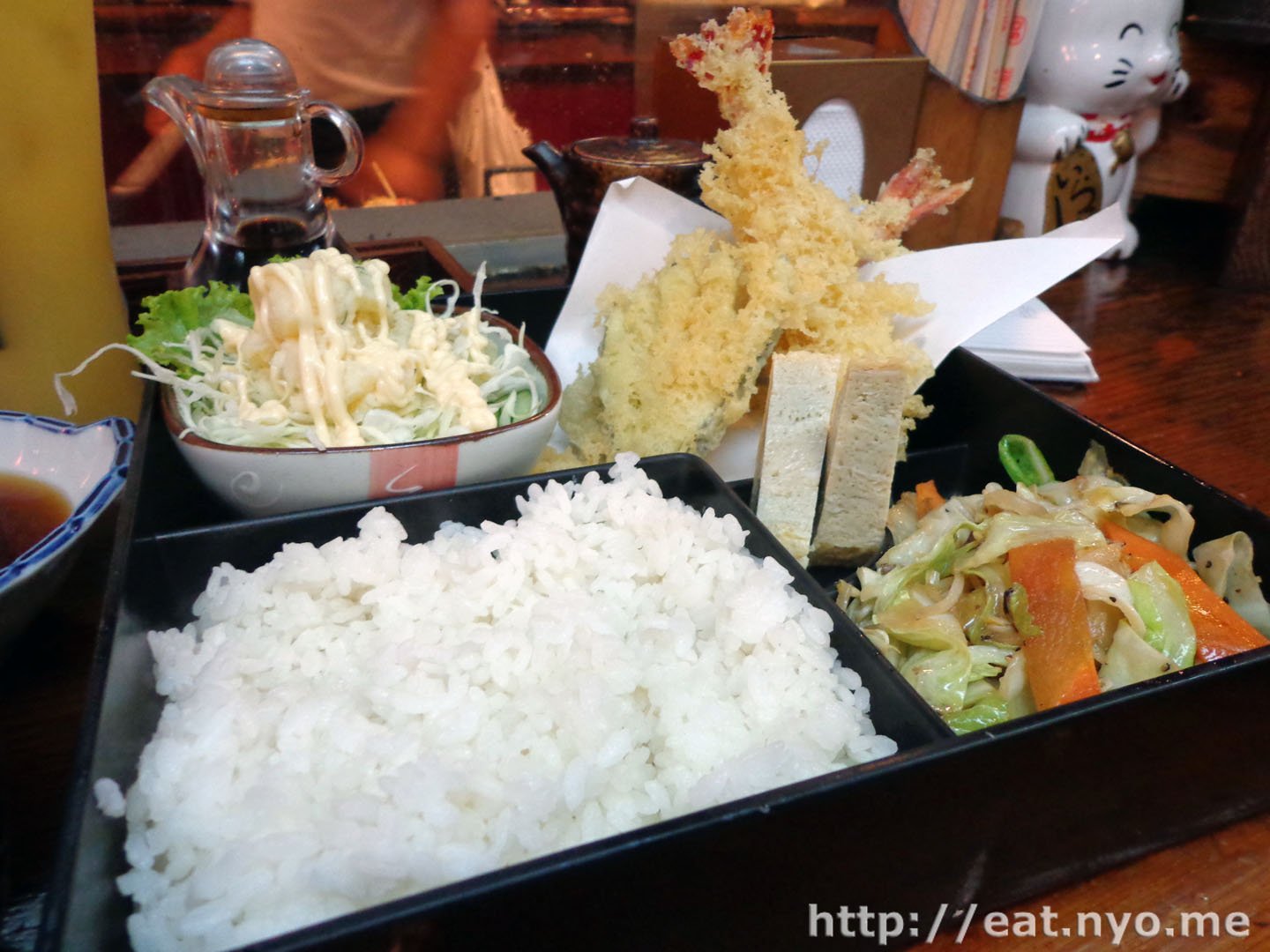 I was served miso soup along with my Ebi Tempura Bento. The rest of the contents, aside from the obvious shrimp tempura and rice, consists of some sort of potato salad and stir-fried vegetables. The veggies are similar to what you find with yakisoba, of course, minus the soba. While I did like it, I enjoyed the potato salad much more. It had a very smooth texture and a very creamy taste, something I haven't tasted before in potato salad. Of course, the main star of the dish sparked my curious palate as well. While it tasted, not exceptional, but better than your average tempura, the strangeness comes from the texture. It's very crunchy on the outside, but just between the crust and the meat is a mushy mantle that doesn't taste undercooked. Of course, the firm shrimp core was there as well. It's not bad—in fact, it's quite interesting that it somehow works.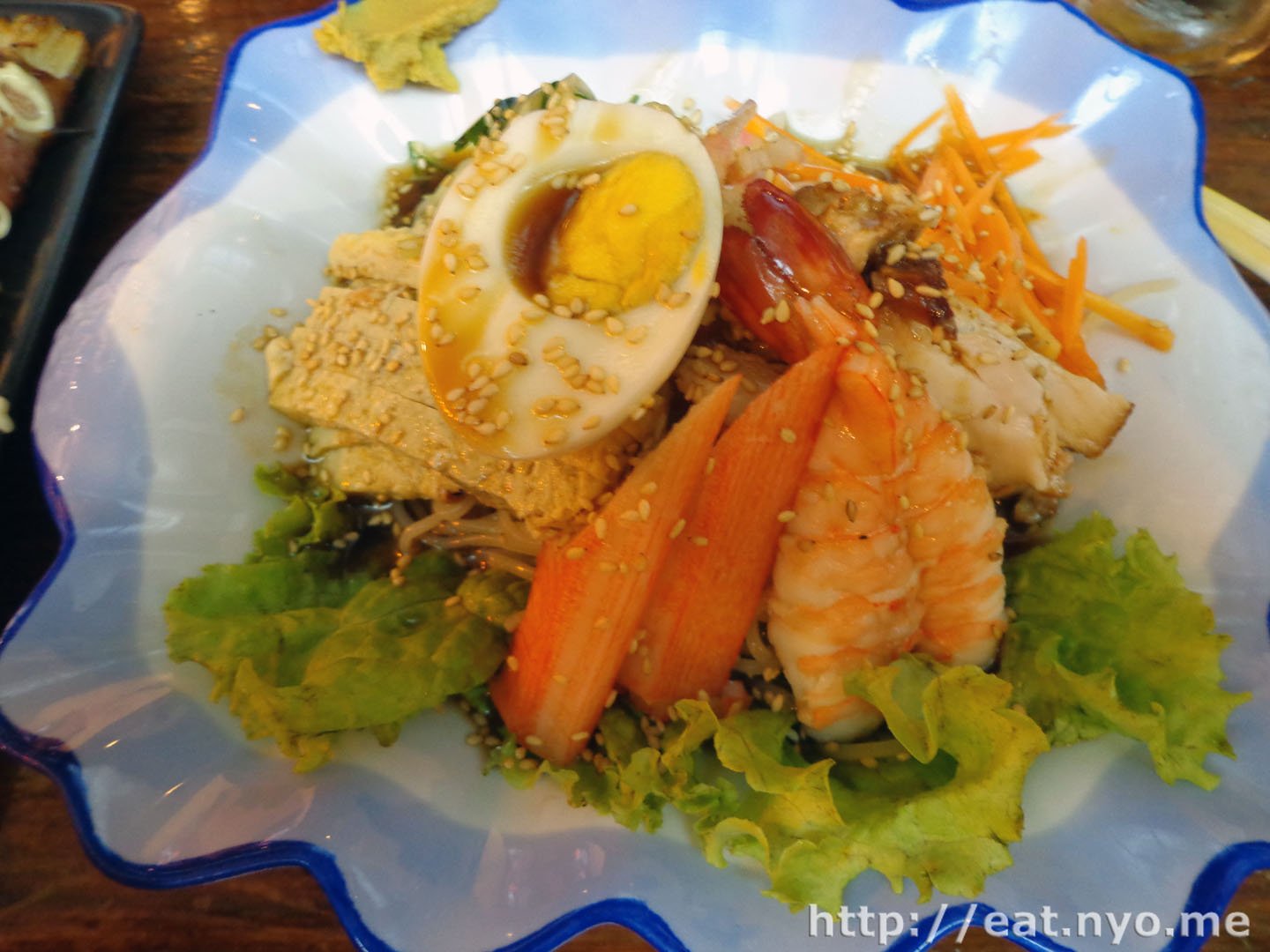 Beloved was also more than satisfied with her Cold Ramen order. It's technically hiyashi chuka, which Beloved often orders when we go out for Japanese. She claims this was among the more refreshing and delicious ones she ever had. Contents, aside from the ramen and sauce, are your usual ingredients—carrots, crabsticks, shrimp, cucumber, and egg, the last of which came in both tamagoyaki or Japanese omelette and hard-boiled egg form. Ramen noodles are of course al dente. I think what made it special over others is the sauce which tasted like some sort of ponzu sauce, I think, for its tartness.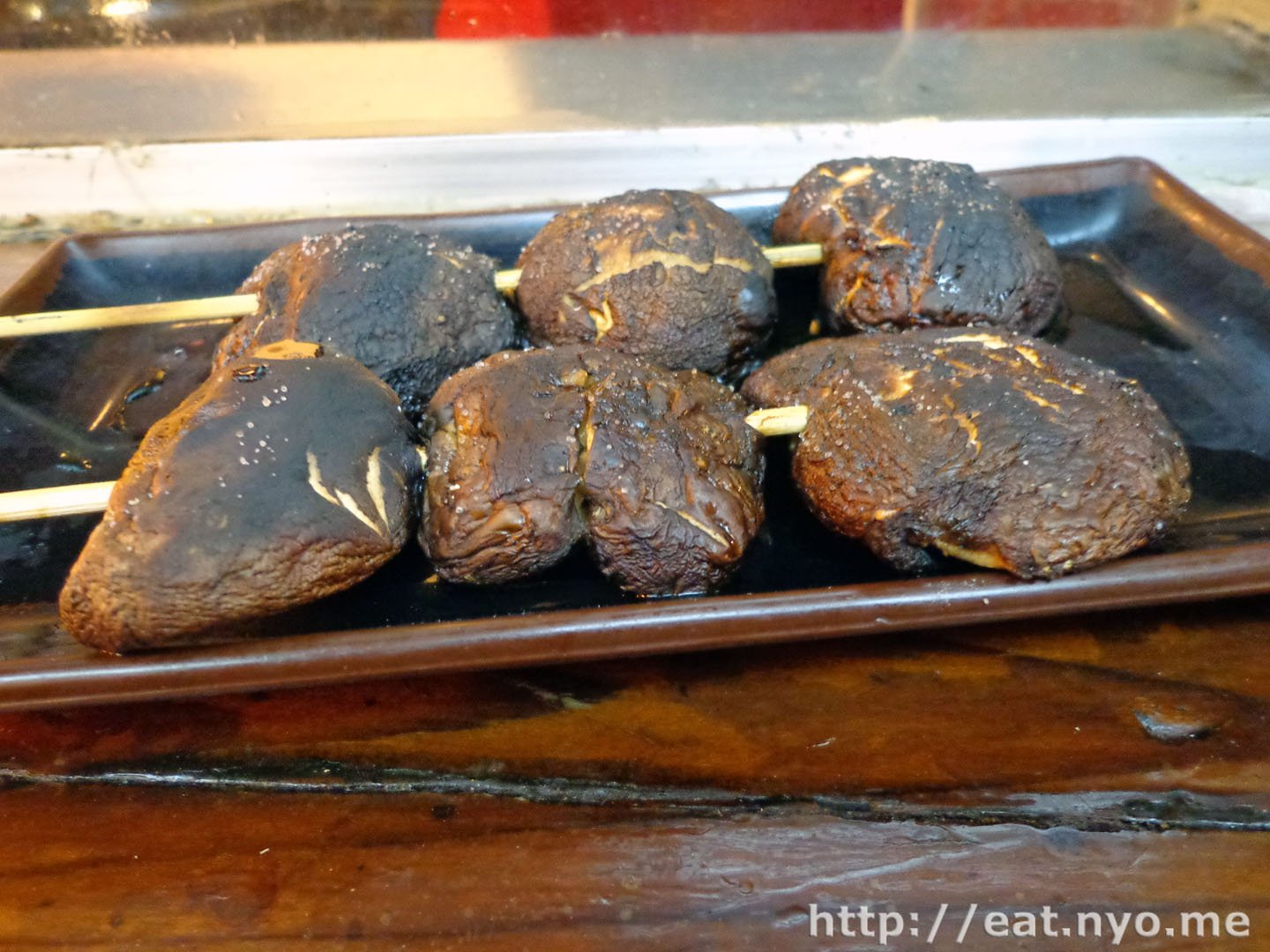 Our yakitori orders are more expensive than the ones at Seryna. However, I think they were also relatively just as large. The caps of the Shiitake Yakitori we got were huge. They were also seasoned just lightly, so we got mostly the mushroom texture and smoky-mushroom flavor, which Beloved and I both enjoy a lot.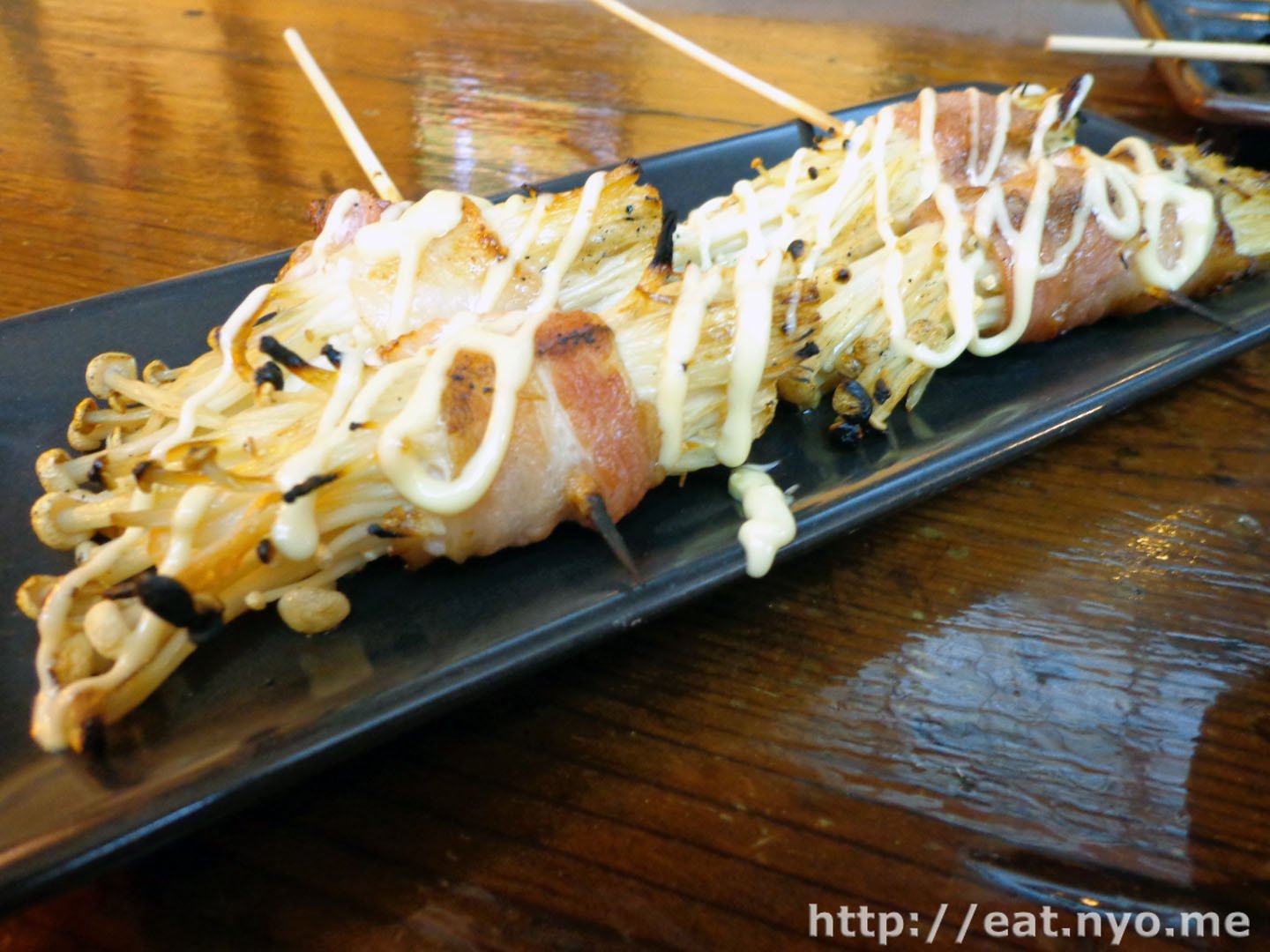 However, the Enoki Bacon Yakitori was my personal preference. Again, these were also much larger than the ones we had before. They were also much more juicier, the mushrooms. The bacon, however, didn't get bigger. I guess the bacon was there just to hold them together. I might have preferred this without the umami-rich mayonnaise, just so I can enjoy the taste of bacon and mushroom more, but it also works with it.
Our bill amounted to almost 1.8K—another not-so-normal dinner for us. Was it worth it? So far, we haven't had any bad experience in any restaurants in Little Tokyo. Oishinbo included. Now, don't get me wrong with the rating. It's just that way because, sadly, as I've mentioned earlier, this place lacks a particular "go-here-for" specialty. Or maybe it does: their yakitori, for me at least. But, if you're going out for Japanese and ordered grilled stuff in sticks, I think you have priorities mixed up. Sure, Japanese yakitori is delicious, but they're really quite simple and relatively expensive for what you could have gotten. Yes, it's perhaps a bit more affordable than the other places we've tried, save for Hana, but let's just say this is one of the instances that I wish I give out half thumbs and don't round down my ratings for consistency… Ah, what the heck. Two thumbs up.