Me, Beloved, and some friends visited relatively new (-ly transferred) food fair Mezza Norte at Trinoma's Mindanao Ave. Parking Lot. This used to be located at UP-Ayala Technohub, but moved here. I was convinced by many not to visit while it was still at Technohub due to the lack of space over the amount of people there. I did not receive the same complaints when it moved to Trinoma about a month ago.
Unlike the "usual" food fairs, this one opens relatively early from 4 p.m. up to 3 a.m. from Friday to Sunday, or, more accurately, until Monday morning. When Beloved and I arrived, at around 7 p.m., the place was already packed full. Although there were arguably a larger amount of tables and chairs compared to food markets I've been to, almost every one of them was occupied. Luckily, our friends arrived earlier and had a table reserved for us.
The best recommendations I've had were the steak from Juana Bowl and a sausage on bun dish from another stall. Sadly, the latter was no longer a tenant. So we went for the former place first. Although we originally went for their U.S. Rib Eye Steak (190 Php), the salmon they were cooking alongside with it smelled wonderful. So, Beloved ordered the steak and I ordered their Norwegian Salmon Belly (190 Php). It rained heavily moments after our order. Luckily, most of the fair was tented. Unluckily, it flooded some parts, making them inaccessible. The walk here from our table was among the flooded parts, so it was a bit of a nuisance, especially since my shoes weren't really waterproof.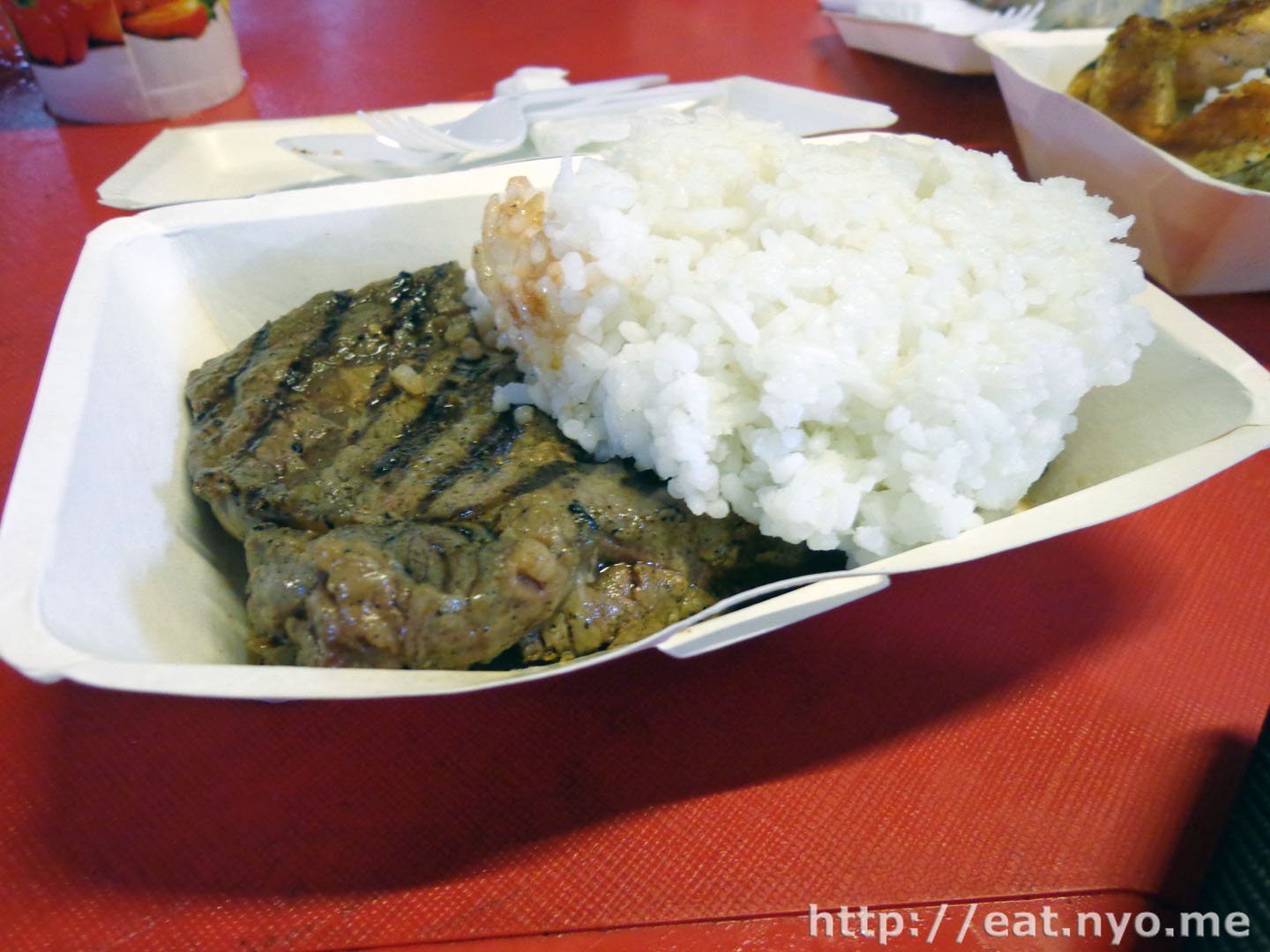 One good thing, though, was that our U.S. Rib Eye Steak order managed to rest because I ordered their salmon, which took a bit longer to cook. This made sure the juices had rested and the steak was very juicy. Sadly, perhaps because of the sudden drop in temperature because of the rain, only the first few bites were ecstatically tender. The last bits became a chore, though I must admit for the price we paid, it felt worth it. They served gravy alongside it, but the first few bites didn't need it. When it started to dry, though, it was a lifesaver.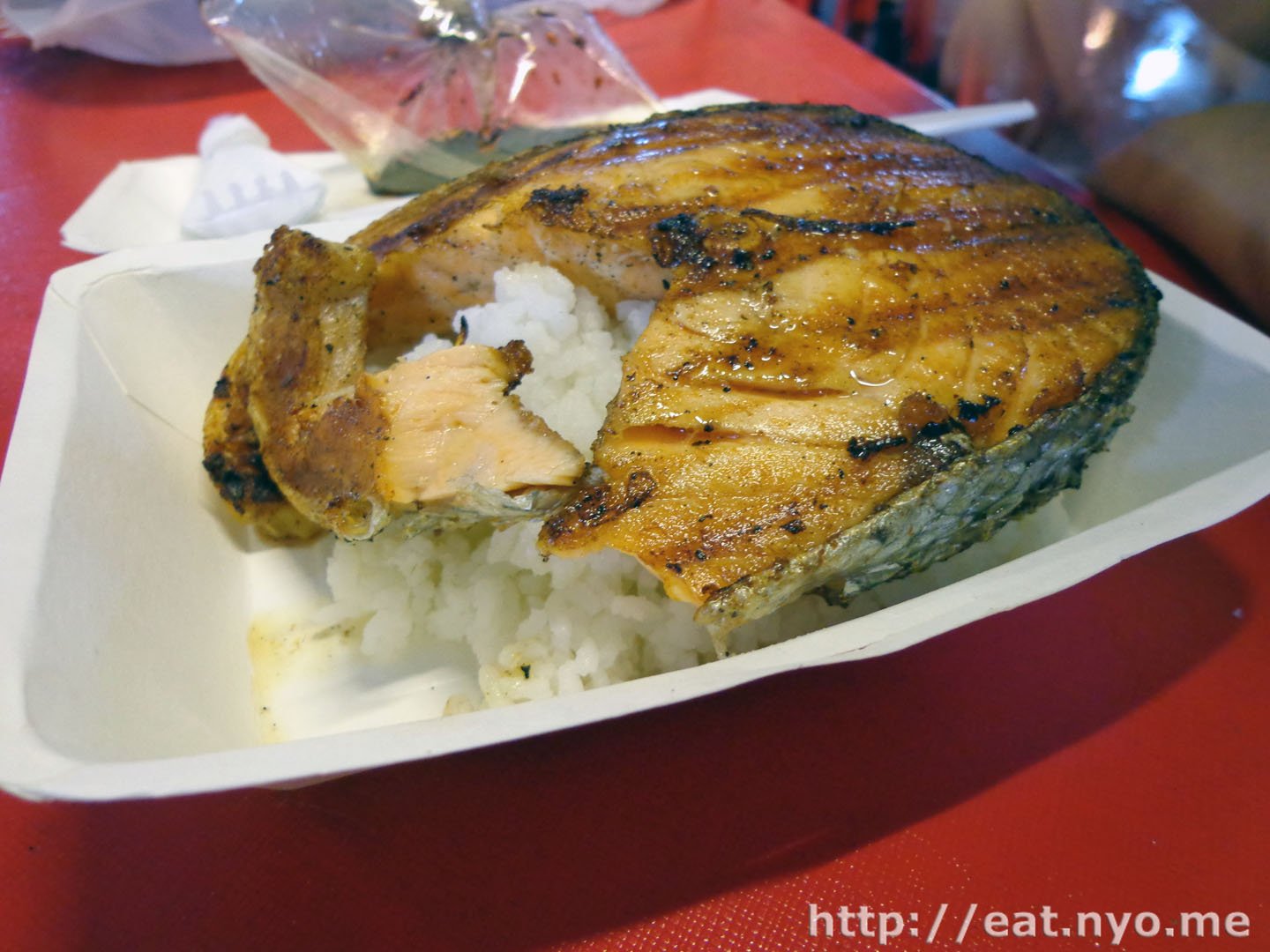 I did not regret ordering their Norwegian Salmon Belly over the rib eye. Its flaky texture was filled with the taste of smoky salmon. They served soy sauce alongside with it, but since it didn't dry as easily, I thought it was unneeded. The only complaint I have here is the amount of bones expected from the belly part of fish that's left alone after cutting into steaks.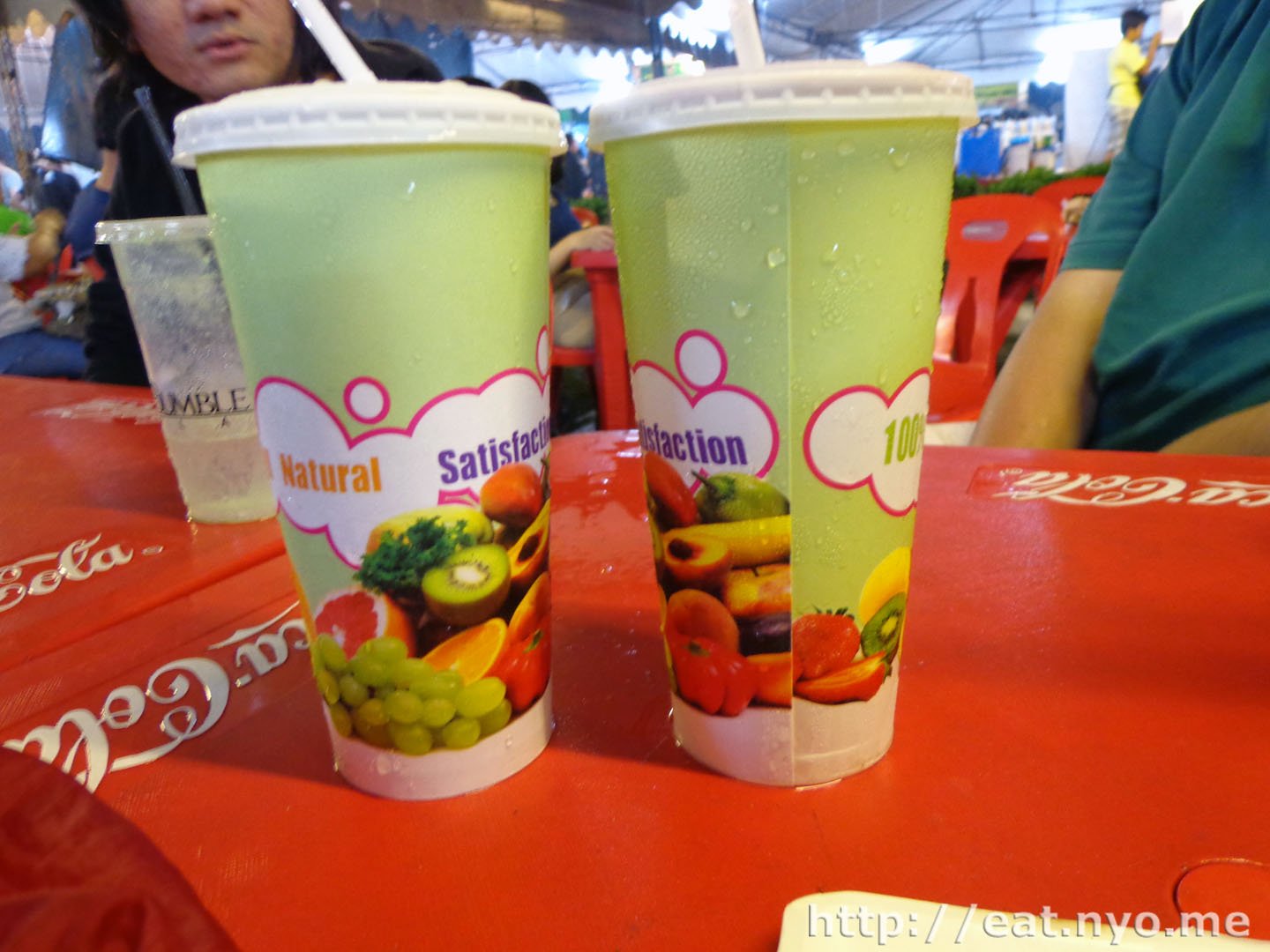 Since we needed something to wash it down with, we decided upon the closest available one, which happened to be the Juice Bar. I ordered Green Mango Juice and Beloved had their Watermelon Juice (70 Php each). Although they were, as with most drinks in any retail establishments, quite pricey, they were large enough to last the entire night.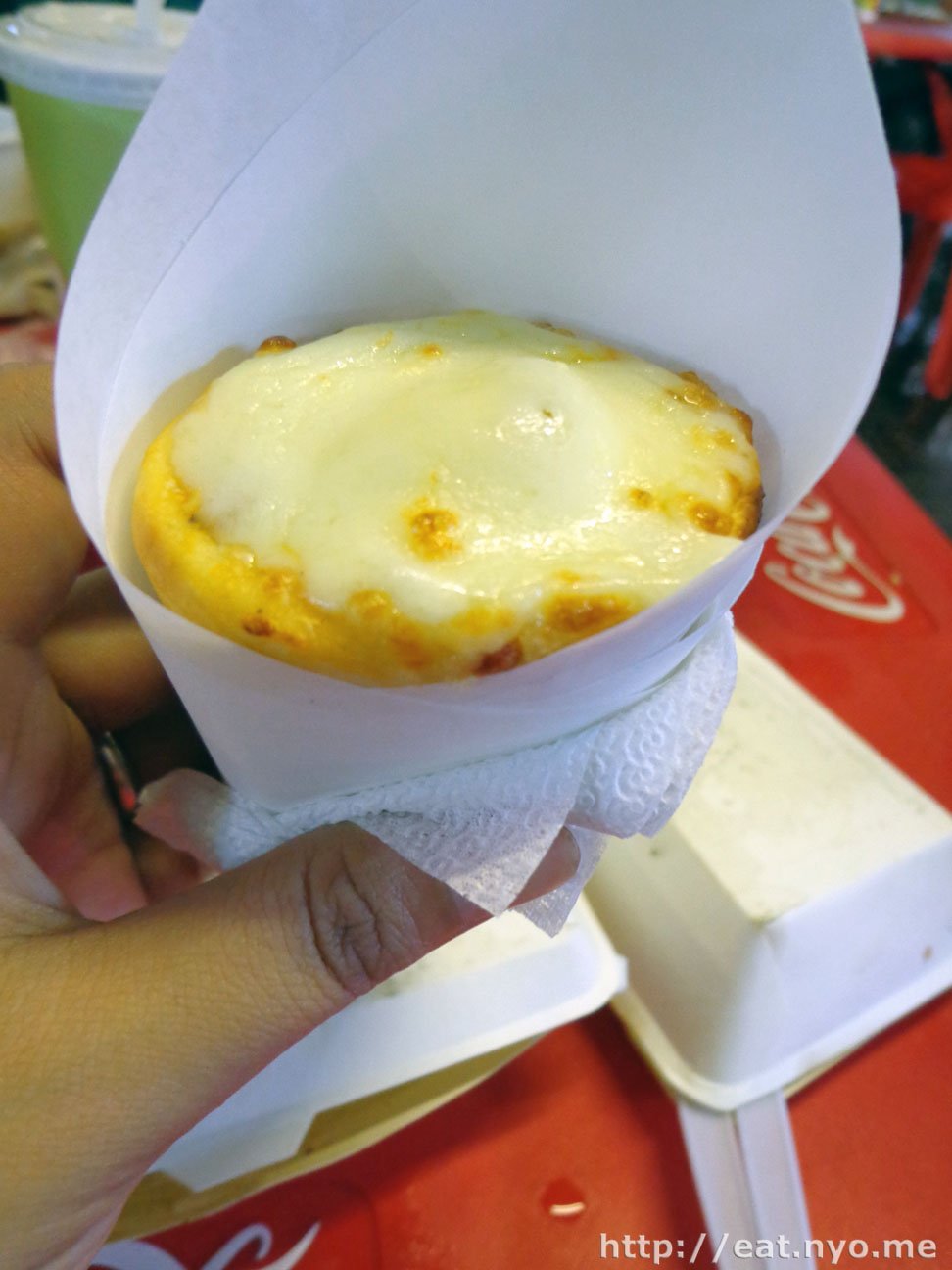 It was still raining, so our choices became a bit limited. However, it was still a tough decision. We went for the next most interesting food Beloved saw, which as the Amazing Cones that served pizza cones. Beloved chose their Bacon Mushroom Melt (60 Php) because she wanted mushrooms. I pointed out that most of them had mushrooms. Anyway, our friend who tried this before told us that it contained a literal one long piece of bacon. I was doubtful. It did not. It was in chunks. It was interesting, and I thought it was worth the price, especially with the amount of stringy cheese it had. Careful, though, it's hot!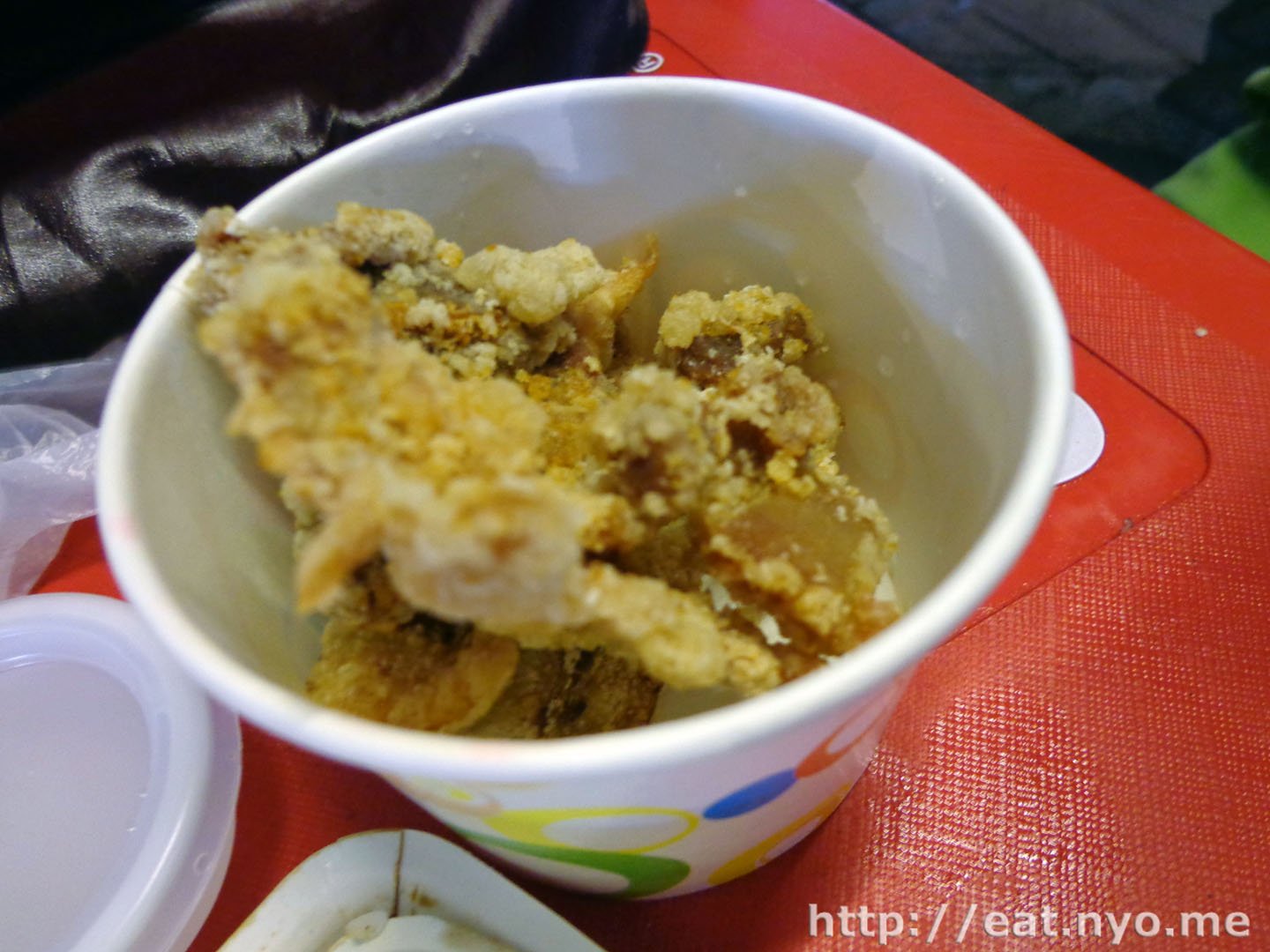 Another interesting stall that caught my eye was Crunchy Belly. They serve Crunchy Belly (120 Php). In the end, I regretted spending for it. It was no longer crunchy, perhaps because of the weather or the amount of time they were left in the open. Even then, it was pretty bland.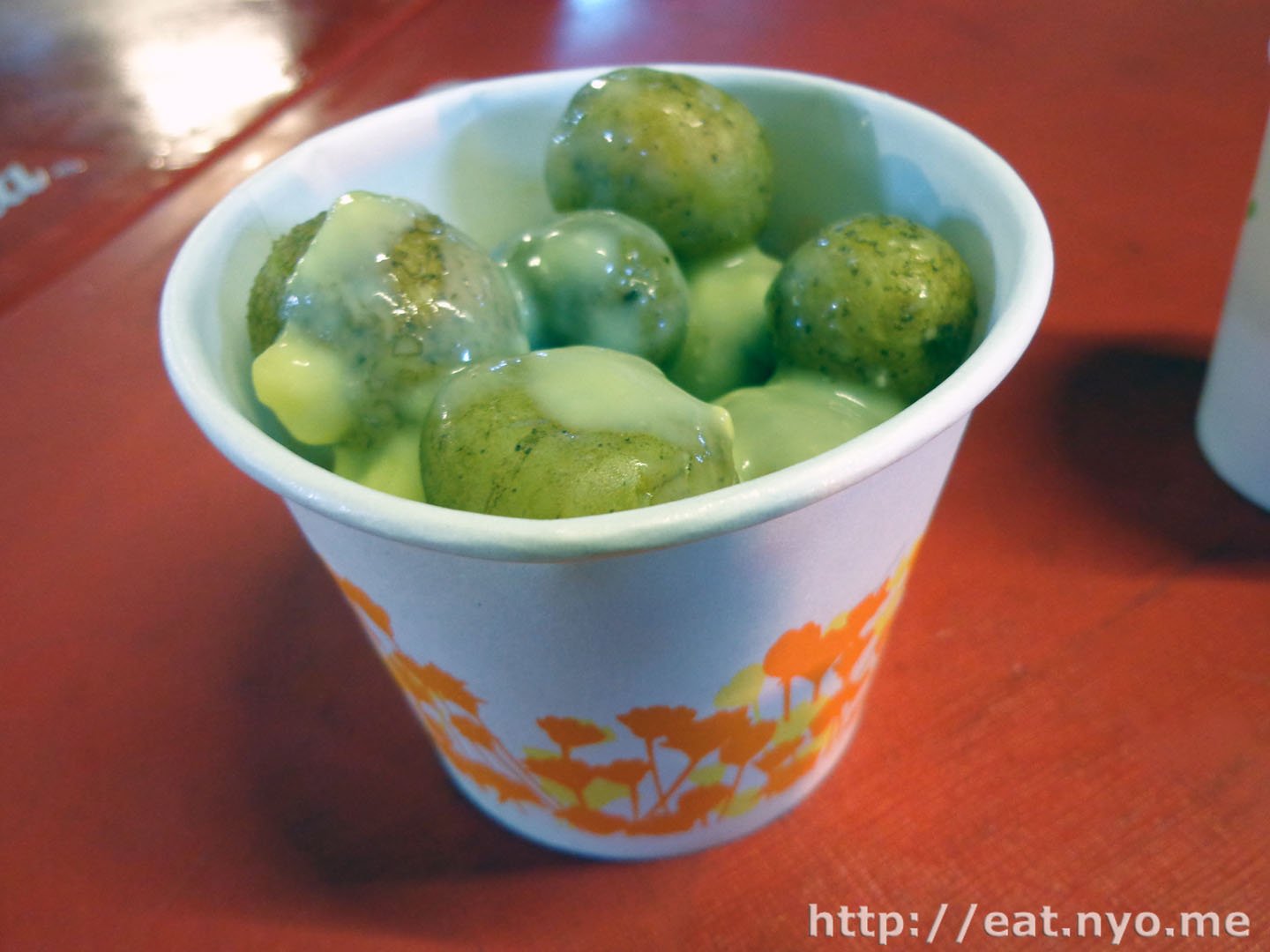 Polland serves various foodstuffs. What interested me were their Baby Potatoes with Cheese (80 Php). While admittedly there was plenty of potato, I found it under-seasoned. If it weren't for the cheese, it would've been unbearably tasteless.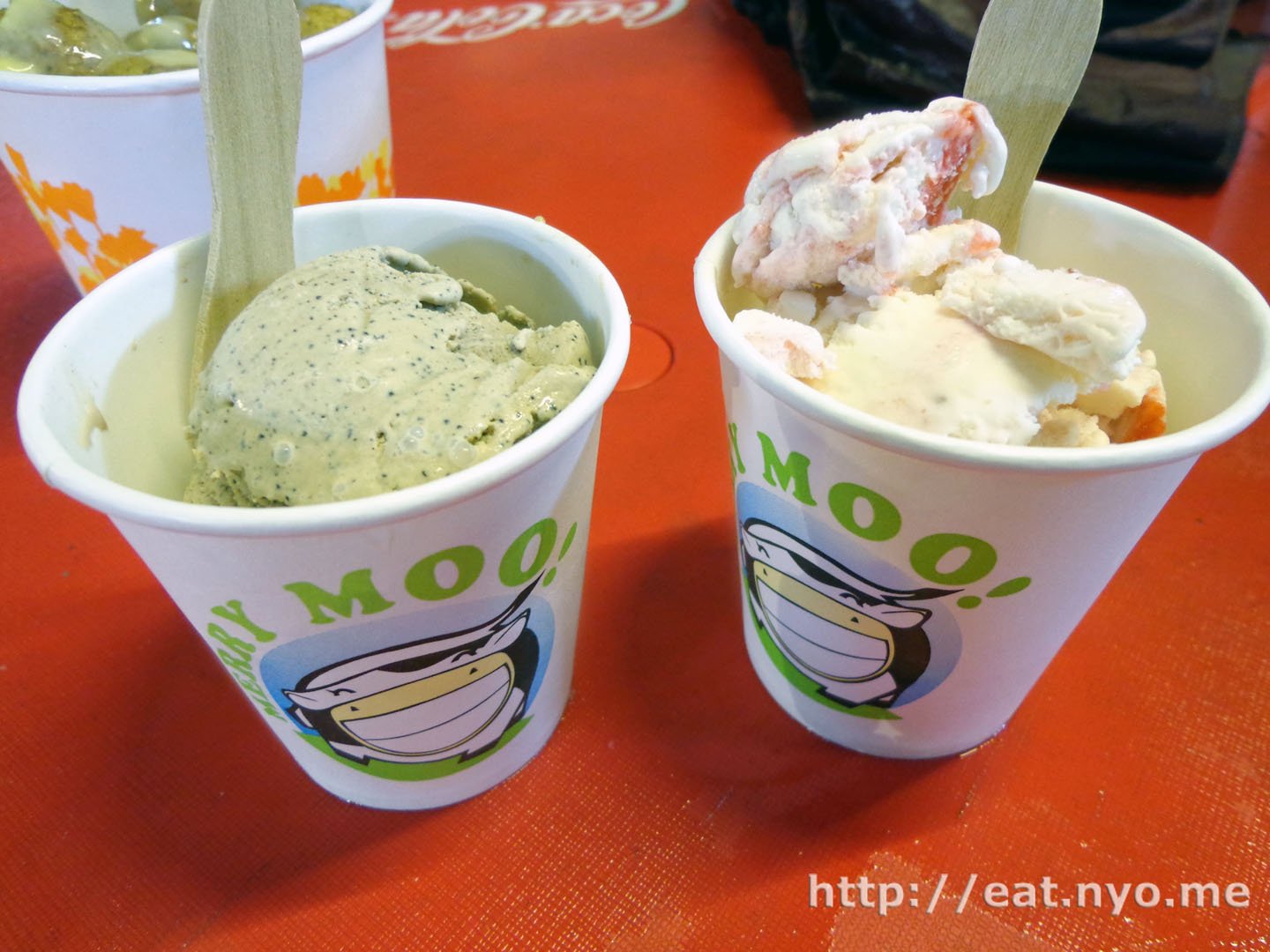 Frankly, among what we had for the night, Merry Moo, which we've had the pleasure of trying out before, proved to be the most interesting. Beloved had their Coffee Kahlua (75 Php), which tasted like a vanilla-coffee ice cream, though it's supposed to be of some sort of coffee-flavored rum. I had the most interesting order of the night, which was their Strawberry Basil (75 Php). It tasted literally like strawberry ice cream, if it weren't for the literal basil bits included. Yes, real basil bits in strawberry ice cream.
There were many grilled and seafood choices in other stalls, but I opted not to try them out because they didn't look as fresh or clean as I would've wanted them. We did go back the next day, this time a bit earlier. When we arrived, which was around 4:30 p.m., some of the stalls were still setting up. Our first order of business was to find something to drink. One of the first one we saw was Edgy's Foodrip's bottled juices, so we bought three of them since they offer either 35 Php each or 100 Php for three.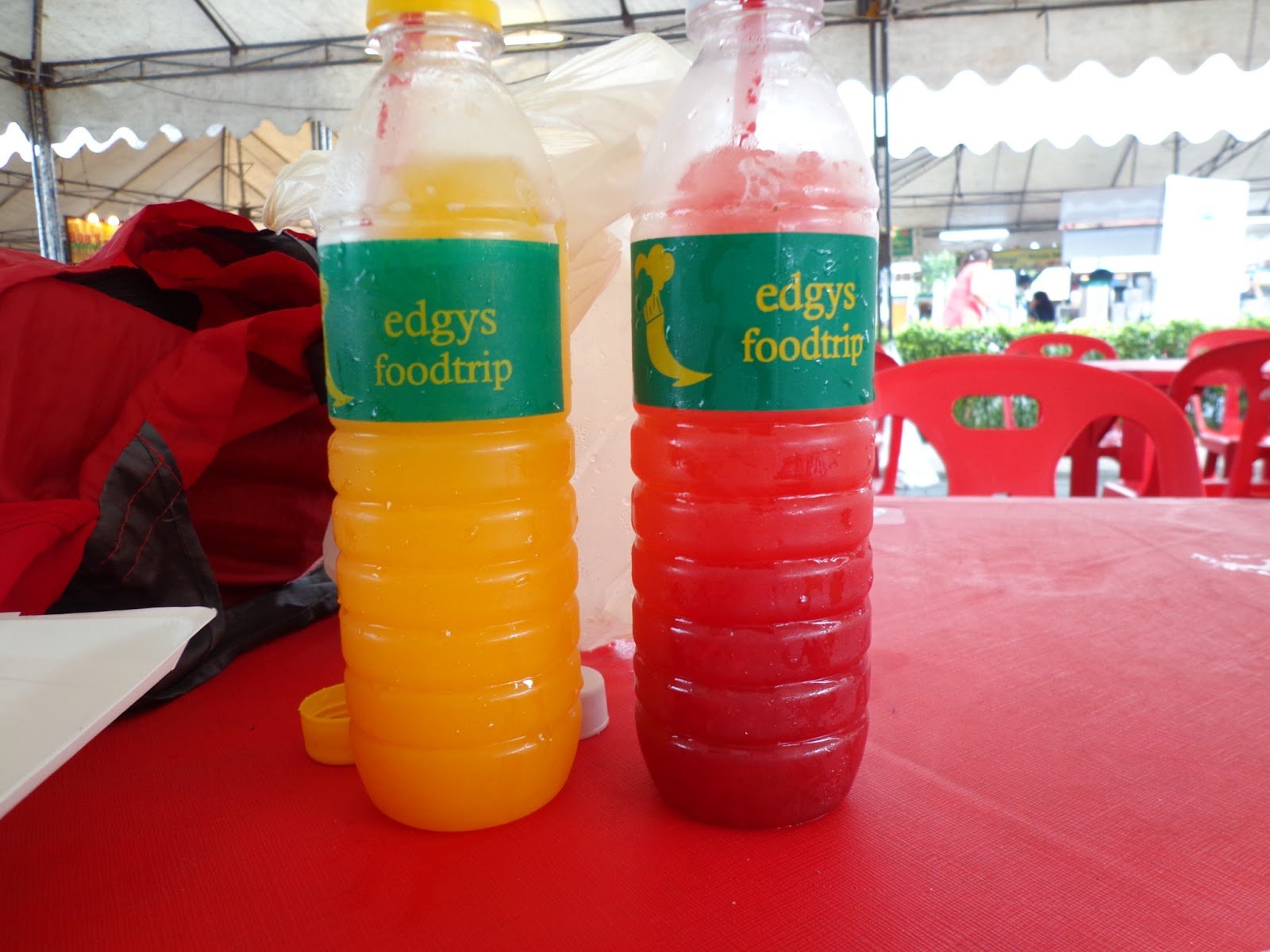 We got their Mango Juice and Strawberry Iced Tea. Little did we know that they were almost completely frozen, so there was little liquid in it. This is actually quite clever, since we got them to last until we got home, slowly waiting or forcing the tasty juice turn from solid to liquid. And because it was frozen, it was cold throughout the afternoon.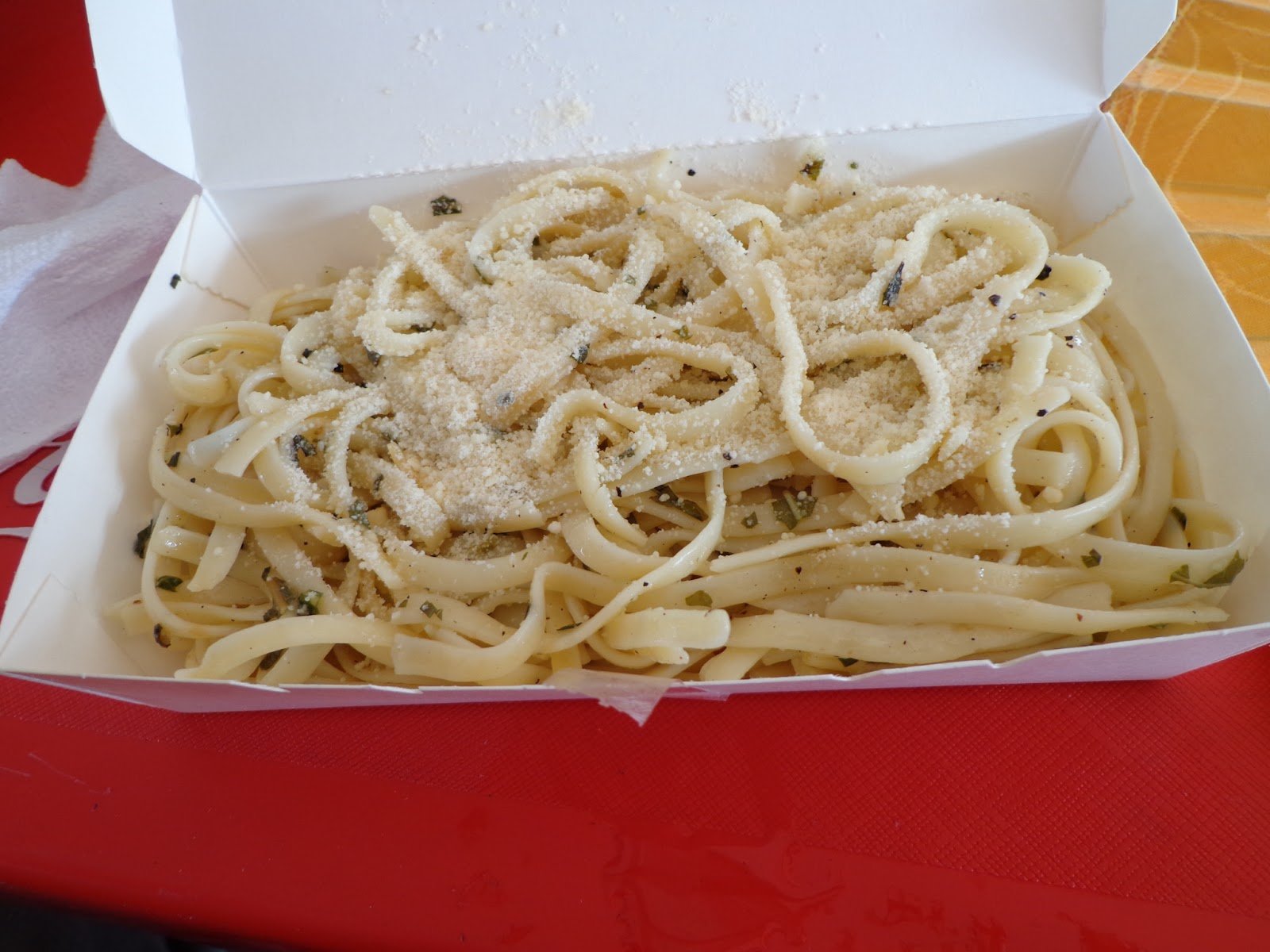 Beloved's afterbrunch was The Sultry Chef's Pesto Pasta (99 Php). Beloved liked this one since it used fettuccine noodles instead of the usual spaghetti. Admittedly, I frowned when I saw processed Parmesan sprinkled on instead of freshly grated, but since it was a food fair, I thought it wasn't a big enough complaint.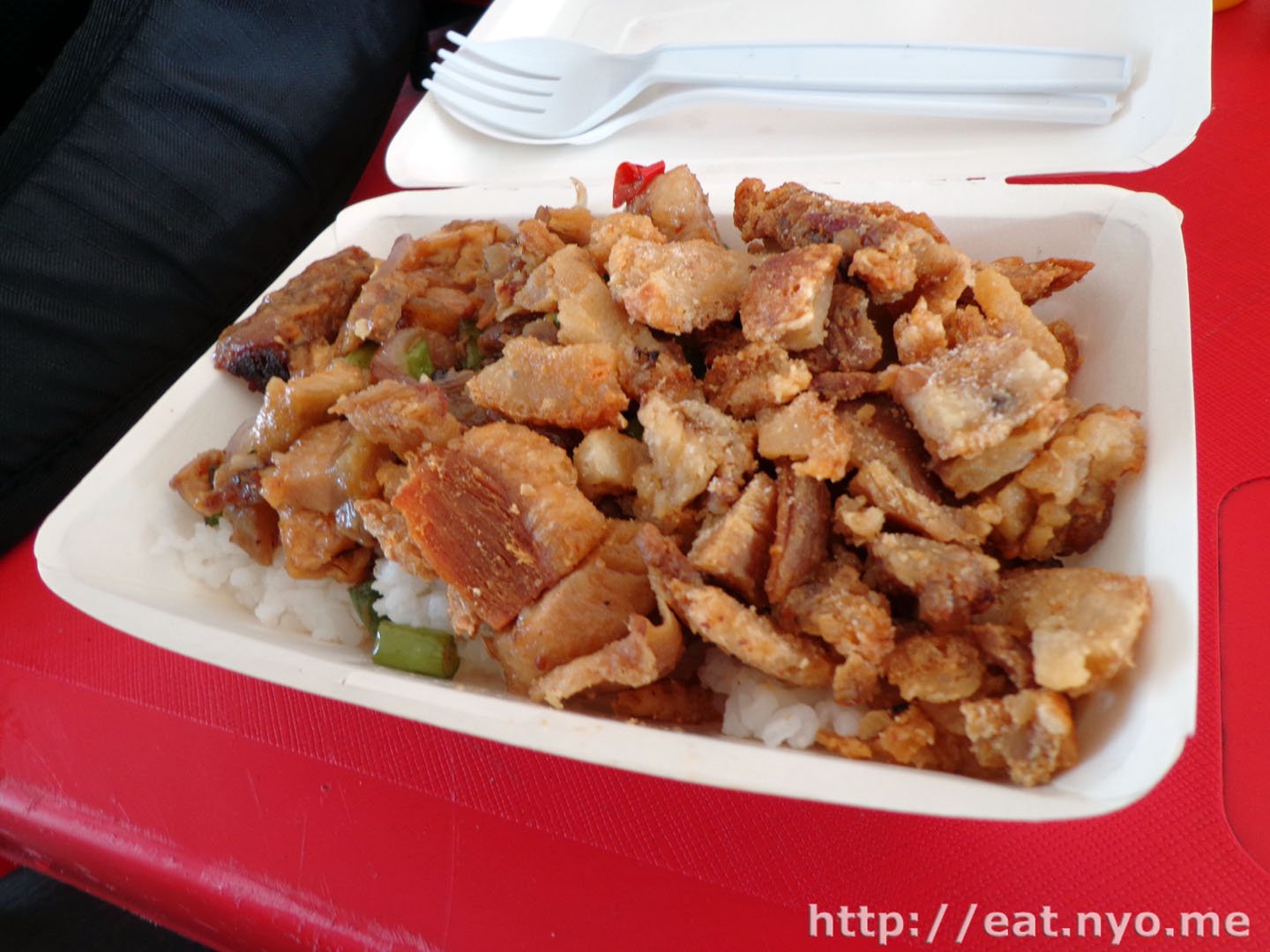 Although I had a bad experience with yesterday's deep-fried pork belly, the only open stall that offered something I fancy was Dom's Bagnet, which served Double Bagnet (110 Php). This meal, two kinds of bagnet or twice deep-fried pork belly. One plain and one stir-fried with bitter Ilocano veggies. Although I don't usually fancy bitter veggies, I thought this one was almost void of bitterness, and the veggies just provided a nice balance to the crispy but quite fatty pork.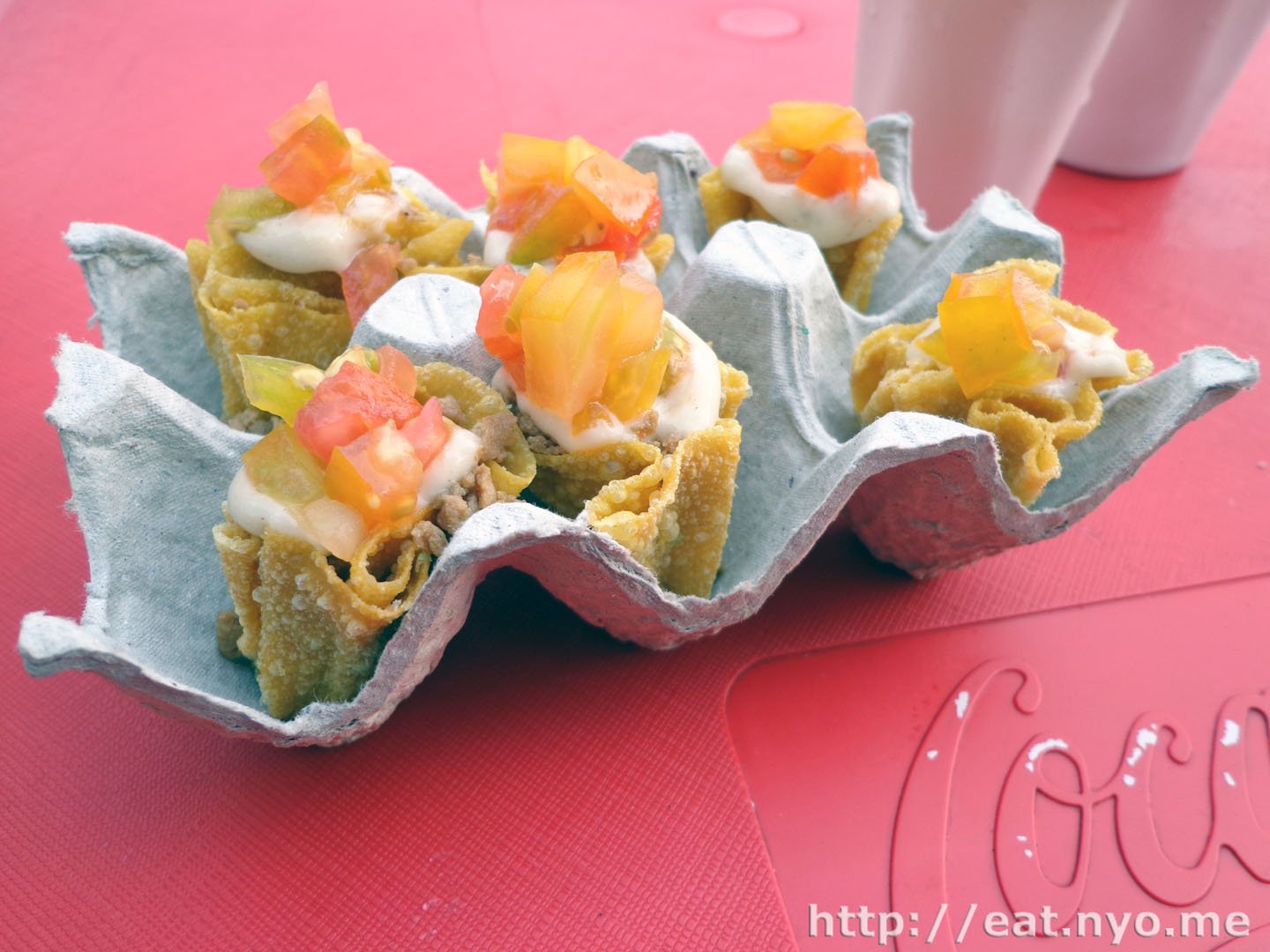 We weren't completely sated, so we ordered the next interesting thing we saw, which happened to be Tacolette's Mini Tacos (70 Php). These bite-sized shells were cleverly designed to hold the usual stuff you find in tacos—ground beef, onions, tomatoes, and lettuce. Their offering had cream which went well with the bite. The only regret I have with this one was not asking for the green shells, which was apparently made from malunggay or moringa leaves.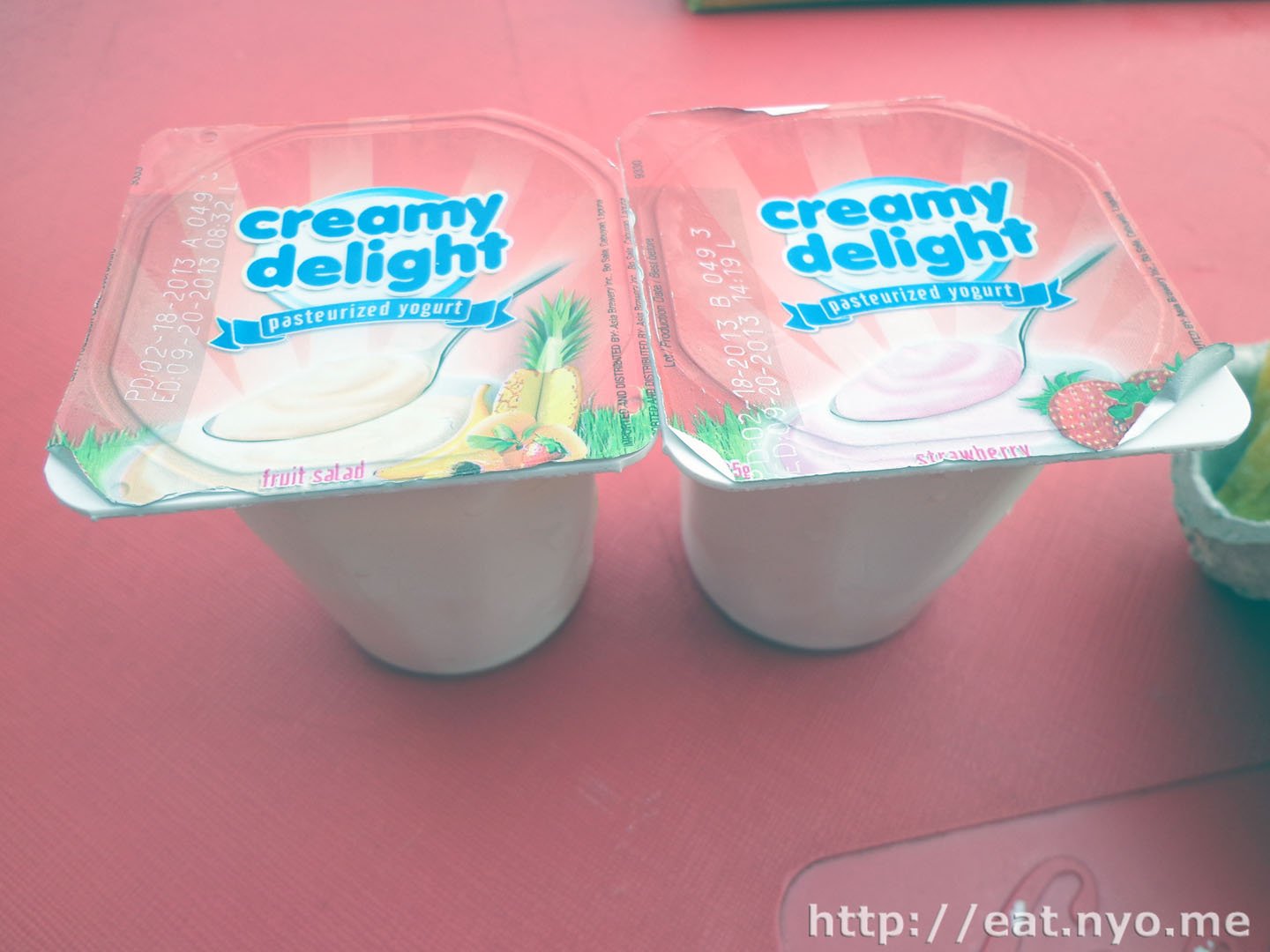 Finally, we had a nearby food truck selling only Creamy Delight Pasteurized Yogurt (15 Php each). The flavors were mostly some sort of strawberry, but one was fruit salad. Beloved didn't like the mostly sour creamy concoction. I liked the first one as a dessert. The second one, which Beloved gave to me because she didn't like it, was too much.
Our second visit was certainly much better, and mostly hits, unlike our first night where we did eat some unpleasant stuff. Again, maybe it's just the weather. Anyway, there are already a lot of food fairs at various locations around the Metro. Mezza Norte might just be the most accessible for me and my friends. Honestly, though, you shouldn't expect gastronomically special dishes here. Most of the stuff are per-prepared or easily prepared, and freshness is definitely not a guarantee. Basically, anything you order is either a hit or a miss. However, for the two days we went here, we only spent a little more than 1.2K Php, and we got to eat a lot of various foodstuff. That's the basic goal for anyone going to a food fair: variety and value. Honestly, we didn't even go for the best-value food, but still got a lot of variety. So if you want to pig out or are hungry in an inconvenient time before 3 a.m. of Saturday, Sunday, or Monday, and are close to the area, Mezza Norte is a quick fix.