Beloved and I had dinner at Nomama a few weeks ago. We've been here before, and although we went here because they boast their "artisanal ramen", we were more pleased with their artisinal non-ramen dishes. You can read more about that here. Anyway, why did we go back here? I don't really know, but for some reason we ended up here.
Luckily, in fact. The day we went, they had a promo wherein we buy a large bowl of Prawn Ramen (445 Php), and we get a free junior bowl of any of their other ramen for 1 Php. We did just that and asked for their Ox Tongue Ramen. Since we were quite pleased with the appetizers we ordered the last time, we also asked for their Tuna Spring Roll (320 Php) which was the only one left that we haven't tried and wanted to. Finally, we also asked for their Miso Salted Caramel Ice Cream (150 Php).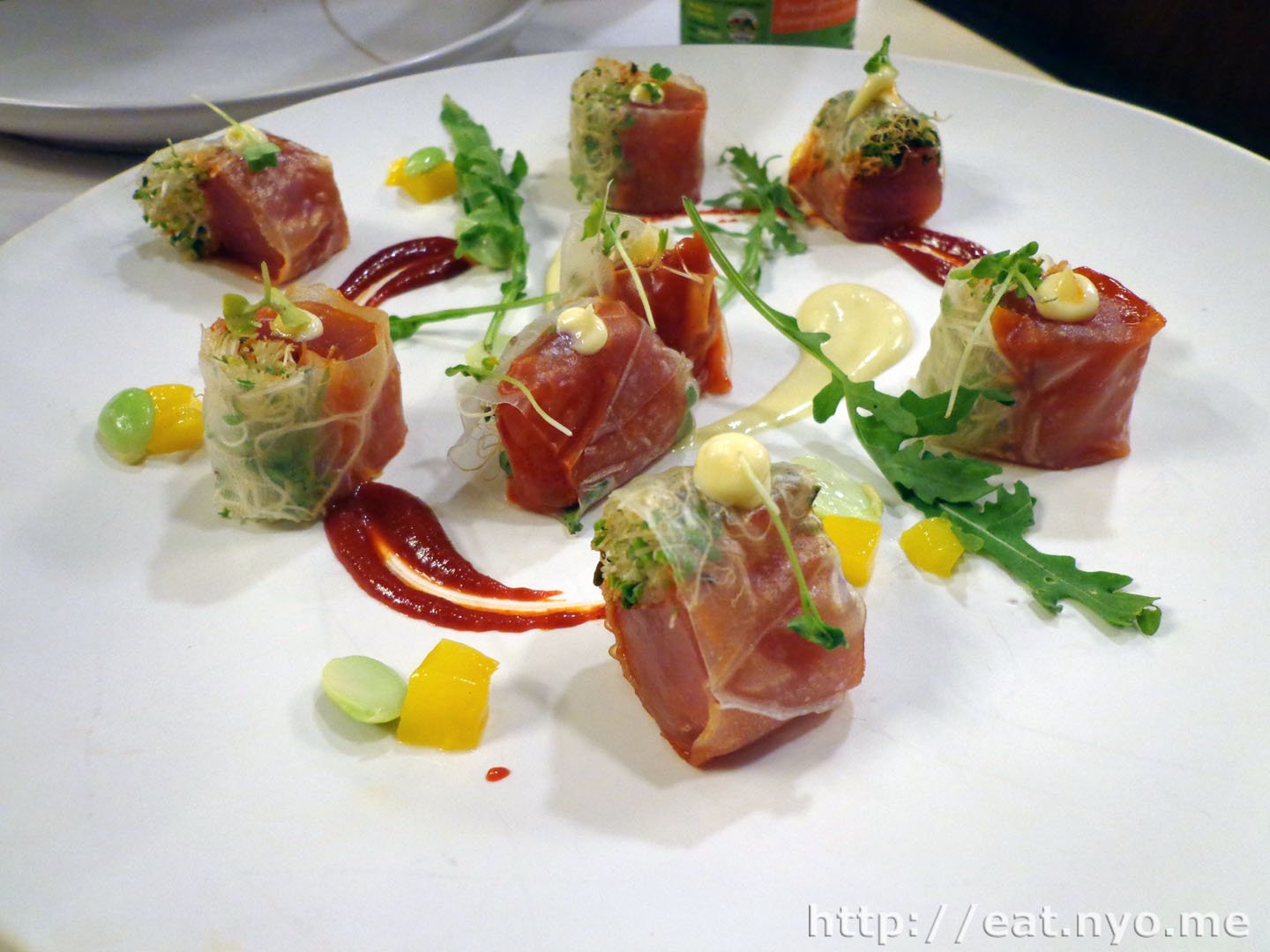 Our appetizer arrived shortly—their Tuna Spring Roll. It's a pretty simple dish ingredients-wise: sashimi-grade tuna wrapped in rice paper and arugula with two kinds of sauce: a sweet mayonnaise and a spicy red sauce. It's also presented in a pretty artsy way, like an artist's pallet. Similar to our previous experience with their appetizers, this was just exquisite. Yes, it's a bit on the more expensive appetizers we've ever had, but I found it well worth for the tongue—a pallet for our palate. Oh, and there were bits of edamame and mangoes too, though I think that's just to make the dish more colorful.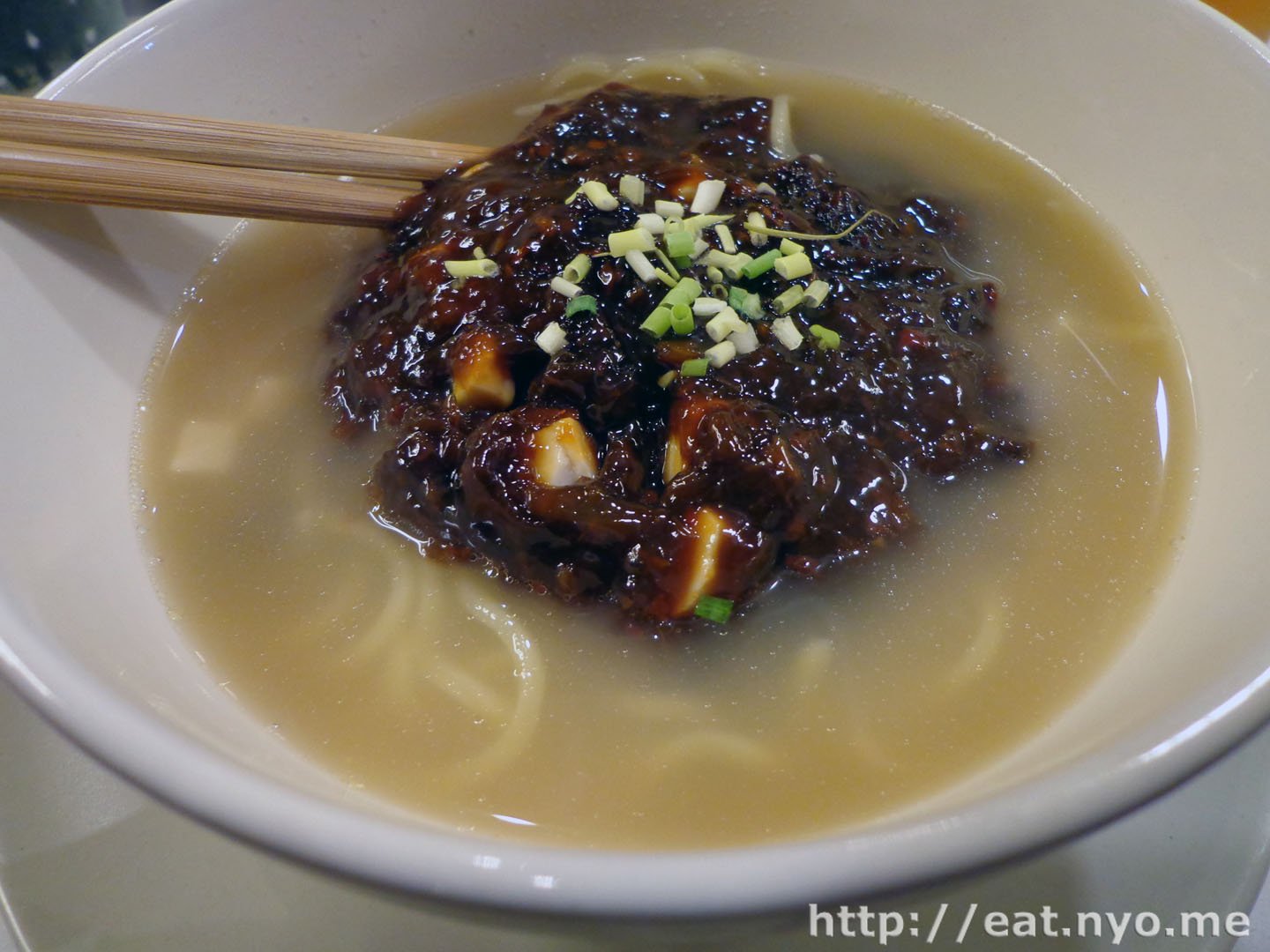 Beloved's smaller Junior-sized Ox Tongue Ramen. This was one of the weirder noodle dishes I've seen. There's basically a meaty paste on top of noodles that has tofu, beans, and the said ox tongue. The broth itself, well, honestly, we didn't get to taste it since Beloved mixed it all up and it turned into a slightly thick, spicy soup. Although she liked the spiciness of the soup, she didn't like the fact that the ox tongue was not as tender as expected and that there were only two of them. Then again, this was a 1 Php deal so it's not that fair to complain. Noodles have little to complain about, but also does not have much story to tell.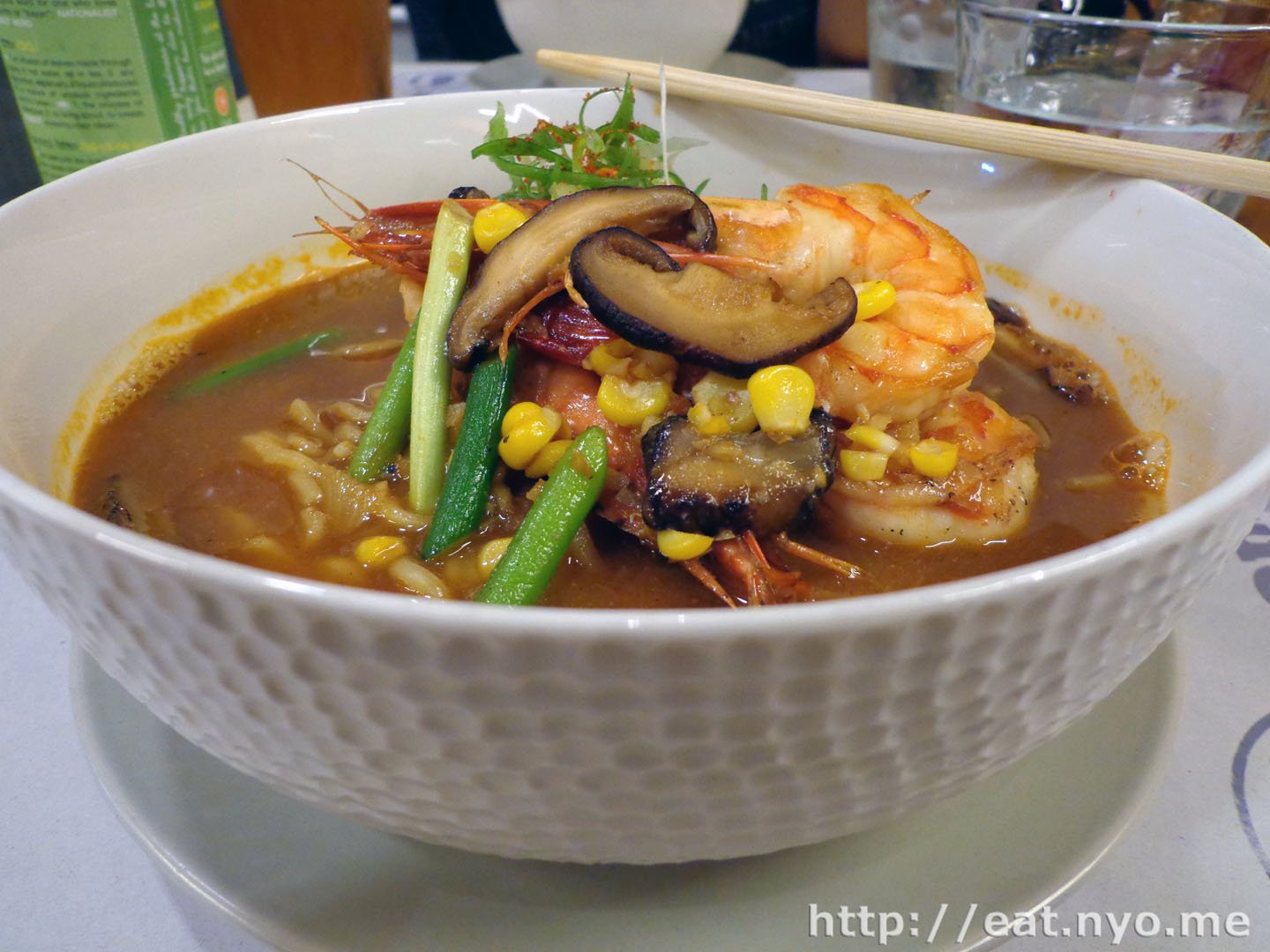 What we can complain about is my order, their large Prawn Ramen. Now, I've had my share of seafood ramen, tempura ramen, et cetera. This was honestly the first time I've had a prawn dish wherein the prawns were not peeled. True, they were quite large shrimps, and there were three of them. But I really don't understand why it's unpeeled. The rest of the ingredients include mushrooms; shiitake, I believe; string beans; and corn. The soup is a bit different too from the usually light miso or salt or soy based broths I'm used to having. This one tasted very sea-like, almost similar to a seafood bisque. Although I didn't really enjoy the fact that I had to peel my prawns, I did like the rest of the dish. Noodles were plentiful and cooked nicely, but, like Beloved's, have little more to tell.
Our dessert, the Miso Salted Caramel Ice Cream had a much more interesting story than the noodles. If you've ever tasted salted caramel ice cream before, you know that it's not sweet and it has a pretty unique, salty-creamy-mildly-sweet flavor. This holds true with this one, except it provides an even more salty sensation, perhaps due to the miso. The addition of bits of their specialty flour-less chocolate cake was a welcome addition to the already interesting dessert. Oh, and I believe this was part of their daily menu, so I can't promise it's available all the time.
We were lucky that we went in without knowledge of the promo and manage to save quite a lot from our usual pricey dinners. We were unlucky that after our dinner, it poured cats and dogs and half of Tomas Morato was flooded. But, that's not really this resto's fault. This place often gives out these promotions (order one and pay for another for just 1 Php) for different reasons. Following their Facebook keeps you informed of them. It's a pretty good deal if you do manage to impart of them, since, admittedly, this is a pretty unique place and relatively affordable when talking about such artsy food. However, I still stand for my opinion that this place isn't really all about the ramen. Although their ramen dishes were also unique, I'm much more partial to Nomama's hors d'oeuvres and desserts.