A few weeks ago, Beloved and I had dinner at Akira. On a no-deadline mission to try out most, if not all, of the restaurants in Shangri-La Plaza's East Wing, this was our next restaurant on the list. We actually have no idea what to expect here. Feeling adventurous, we carried on.
According to their signage and menu, they specialize in teppanyaki and sushi. Unlike Ikkoryu, this place was devoid of any waiting queues. However, I noticed a couple of tables were large, and perhaps communal, for the teppanyaki patrons, which is done by the chef beside the table. It was a bit late, so there weren't anyone cooking on said tables.
When I looked at the prices, I was turned off and surrendered to the fact that I will not be able to afford their teppanyaki offerings on my meager income. Instead, I decided to settle for some of the more interesting and relatively affordable pieces on their menu. I ordered their Chicken and Bacon Mozzarella Ramen (348 Php). Yes. Mozzarella Ramen. I also decided for me and beloved to share their** Blow-Torched** Maki (289 Php). Beloved ordered their Bento Salmon (458 Php). Finally, we ordered their Miso Clams (78 Php) just because it looked unique and was pretty unpricey.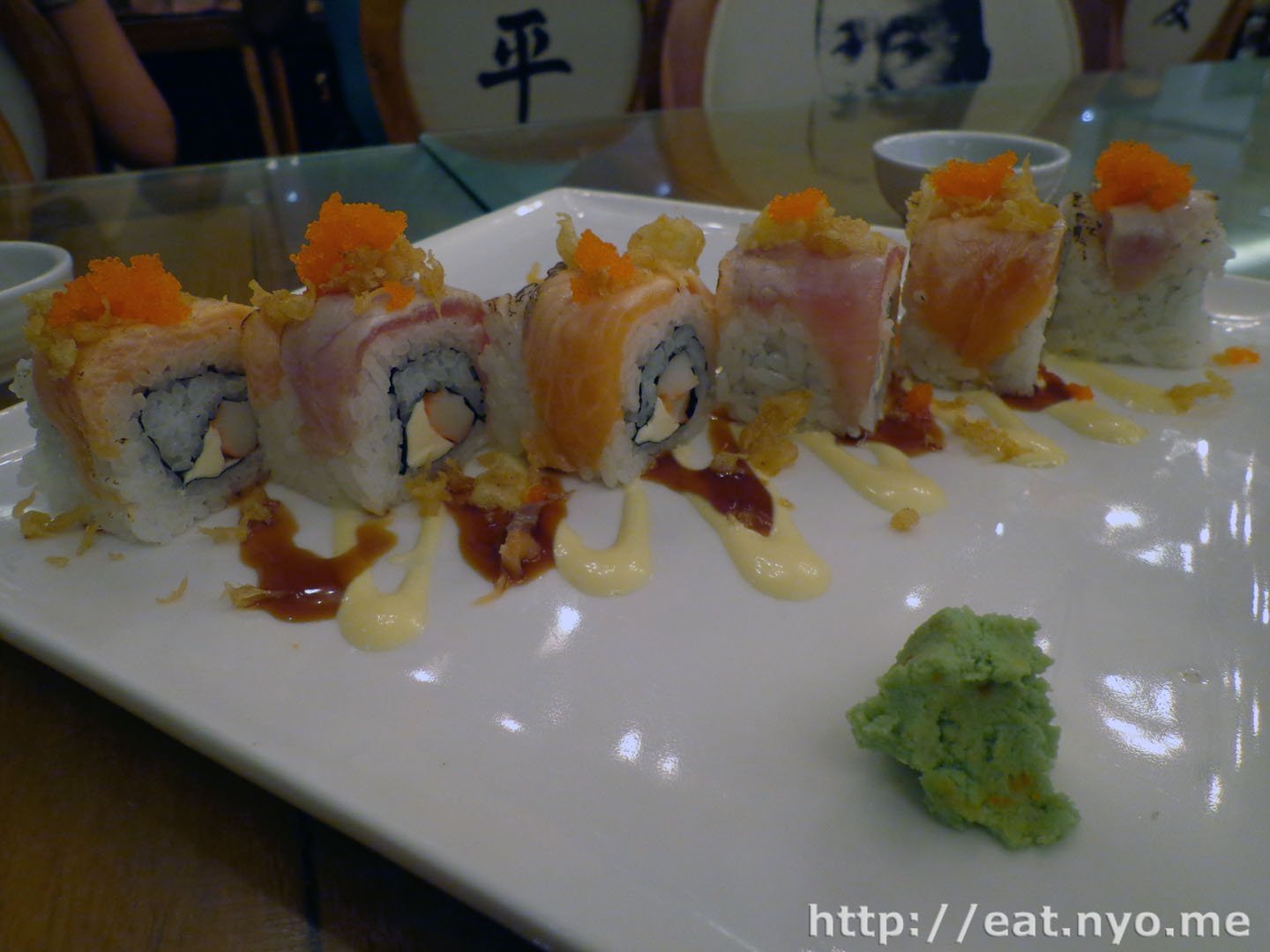 I was a bit disappointed that the Blow-Torched Maki arrived already seared. I guess I should've paid attention to the verb tense. Anyway, these were alternate rolls of tuna and salmon with kani or crab sticks and cream cheese inside, and ebiko or shrimp roe and crunchy tempura batter on the outside. Although it looked like a scrumptious offering, it wasn't exceptional, just your typical sushi roll. It's good, yeah, but maybe I wanted more from the "blow-torched" part. The fish wasn't seared enough to provide a wonderful crispy texture, nor was the cheese melted as I would've expected from the name of the dish. Also, it was cooked just enough for me to not enjoy the rawness I love with these fish. Again, it's good and Beloved enjoyed it. I'm just being critical.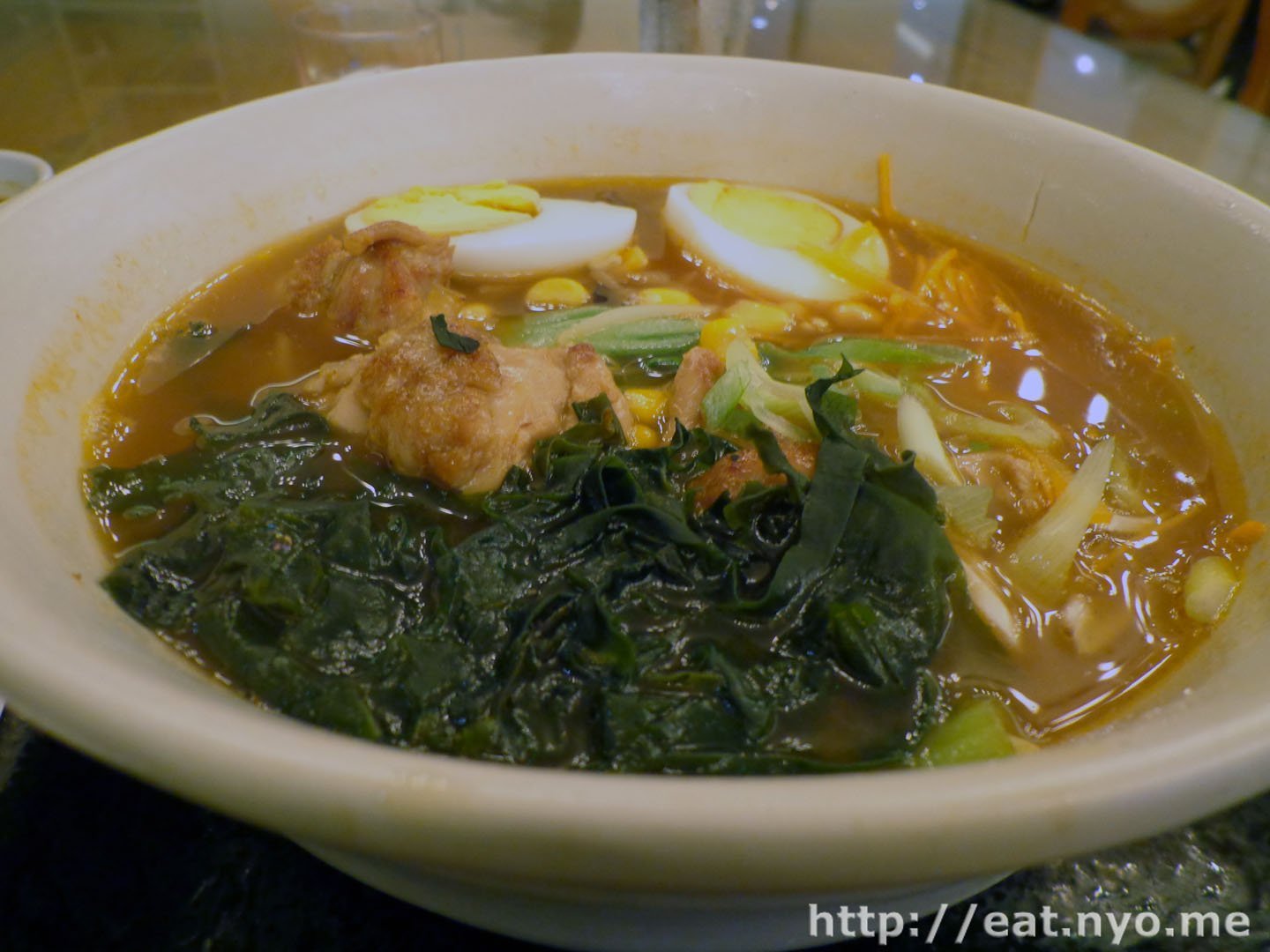 Now, my weird order, their Chicken and Bacon Mozzarella Ramen. Aside from the aforementioned ingredients, ti also had hard-boiled egg (not soy-marinated, as I would've expected), seaweed, and greens in a somewhat light broth with nicely cooked ramen noodles. The most prominent feature here was the cheese. There's no way you can ignore the stringiness that attaches to the noodles. I can't tell if it was a good thing or bad, but I do know I disliked the fact that I did not recall tasting any bacon in here. Chicken, yes, there were plenty. But what happened to the bacon? The menu actually only said Bacon Mozzarella Ramen, but I was told it also had chicken in it. Were they wrapping the chicken cuts? If so, they weren't at all noticeable.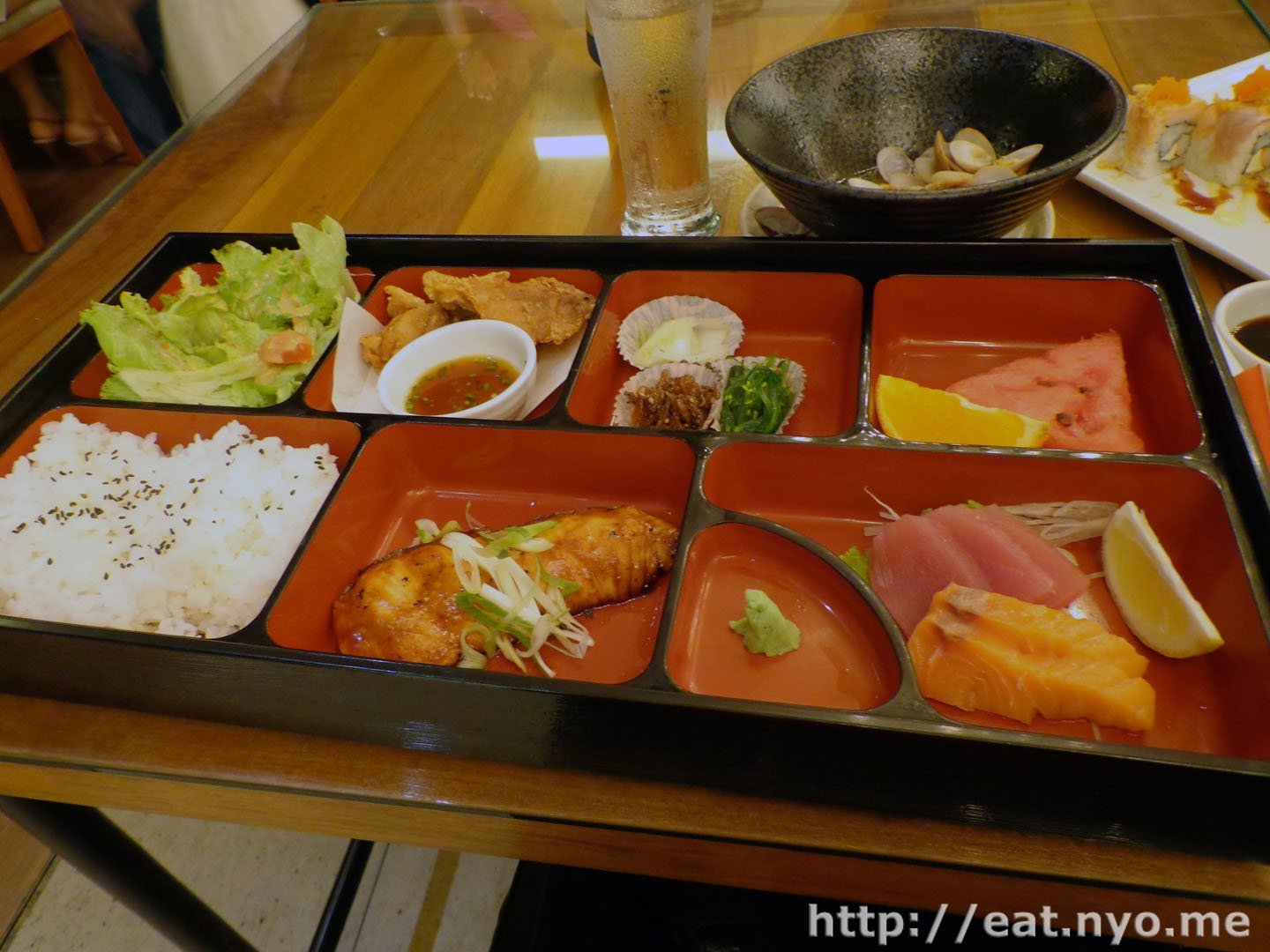 The biggest order of the night was Beloved's Bento Salmon. It had plenty of stuff in it. From the top left clockwise, there's salad, chicken karaage, a sampler of appetizers, fruit, tuna and salmon sashimi, the star grilled salmon, and rice topped with black sesame seeds. Beloved let me taste the salmon, and I kind of liked the seared and flaky texture with the pure taste of salmon. Beloved disliked it, claiming it was dry, and she let me finish a quarter of it. She did like the sashimi, though, particularly the soft tuna.
Plus service charge, our bill amounted to almost 1.4k Php. Because of that, this won't be a two-part review. There were some criticism with all of our orders, but they weren't all that bad, so I'll give them that. I'm reserving final judgement, though, since we didn't get to try their teppanyaki. Sadly, it's a bit out of reach for us, for now. Maybe I'll do a revisit when we strike it rich. However, until then, Akira will be a low priority on our "must revisit" list.