Beloved and I had dinner at Wee Nam Kee. This Singaporean-Chinese restaurant opened its doors at the topmost floor of Trinoma. Most Singaporean places we've been to specializes in Hainanese Chicken Rice. This place offers similar specialty as well as one dish I've wanted to try since learning about it. After learning the prices were fair, we took our seats.
The menu was actually not as varied as most Chinese places we've been to. Most of their menu is dedicated to the said Hainanese Chicken Rice dish. In fact, there were two kinds of said dish: one yellow and other white. According to the waiter, the yellow one used imported chicken from Vietnam raised specifically for this dish. As such, it's priced at a premium. We decided to get that—their Yellow Chicken (388 Php). Beloved also ordered their Chicken Rice (40 Php). As for the dish I mentioned earlier that I wanted to try, if you've been reading my blog, you know that a couple of blogs ago, I was quite interested in the Cereal Prawn (395 Php) dish from Wangfu. Since this place offered that, I ordered it. I also ordered their Chicken Noodle Soup (215 Php), because it looked nice in the menu and I didn't want to eat rice.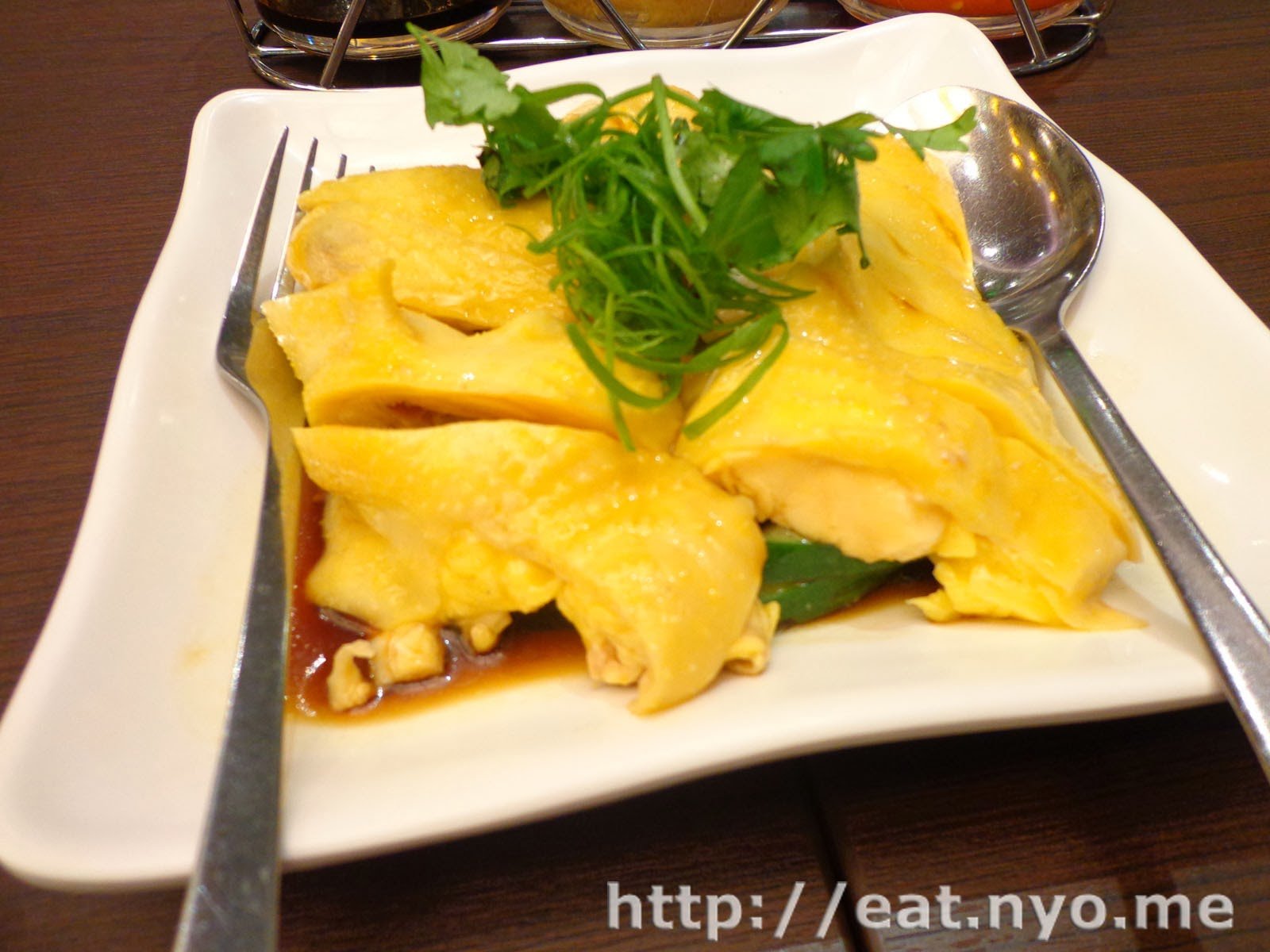 The Yellow Chicken really was yellow. We've had our share of Hainanese Chicken Rice, and we know what taste and texture to expect. Of course, we were expecting a bit more since this is different. It had the usual gelatinous skin as well as tender meat. It was, however, a bit blander than we expected. It's not tasteless, just less chicken-y than what we're used to. The tangy soy sauce it was swimming on was pretty much a requirement.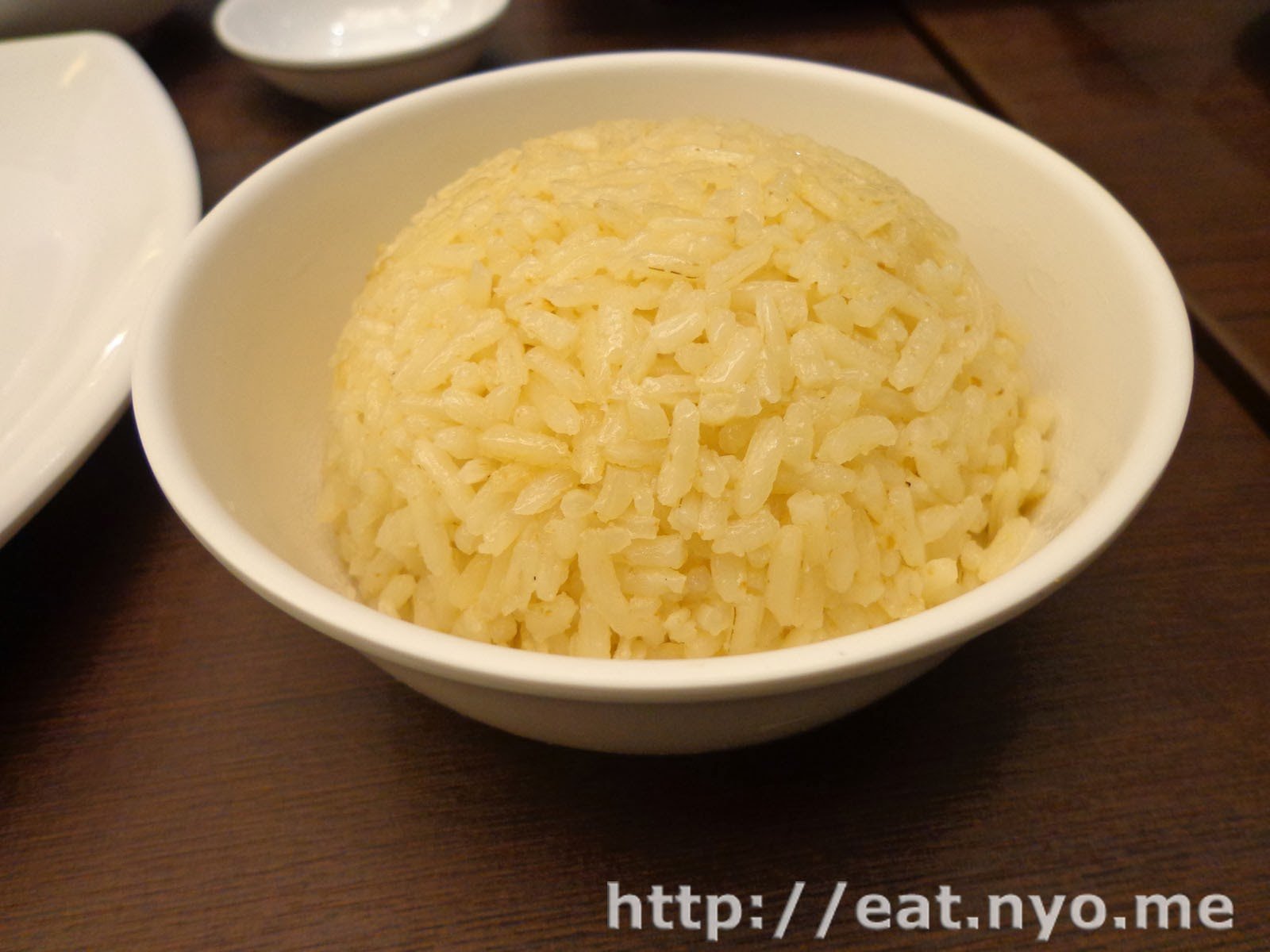 However, the Chicken Rice was quite the opposite. This cup of rice was filled with delicious chicken flavor. Perhaps all the flavor of the meat went here?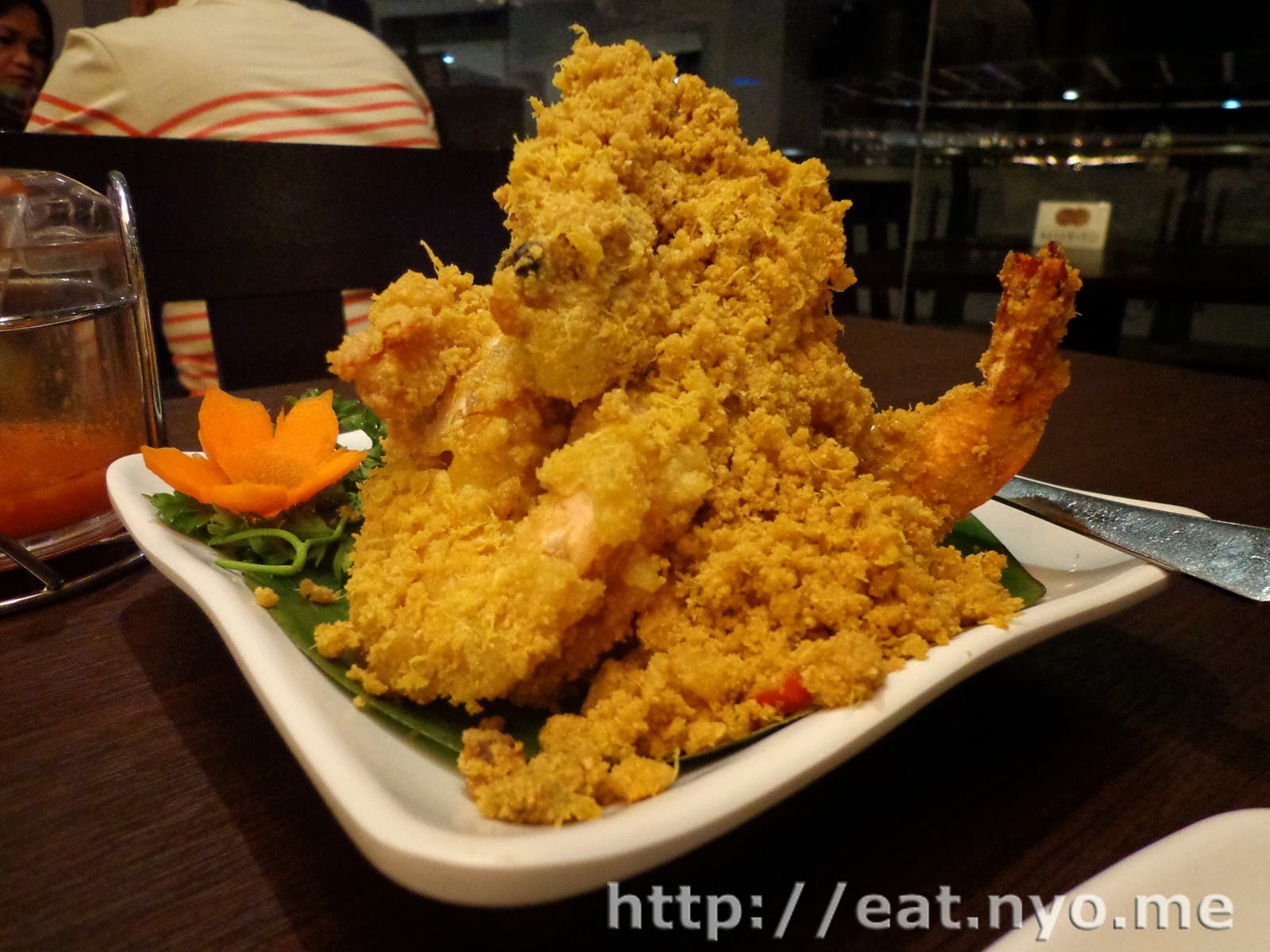 The Cereal Prawn certainly looked interesting. Four huge prawns were coated in and buried in ground cereal. The "cereal" part was certainly something, as I quite enjoy the taste of grainy cereal. However, the "prawn" part of the dish was questionable. They had their shells on, and I certainly doubt that you eat this with the shells on. I tried, and it's just not possible. It's quite messy, since they're all buried in cereal. And, finally, when you do get to the prawn, the meat's all toughen up as expected from these larger prawns, and has actually dried up quite a bit. Oh well, at least my curiosity was sated.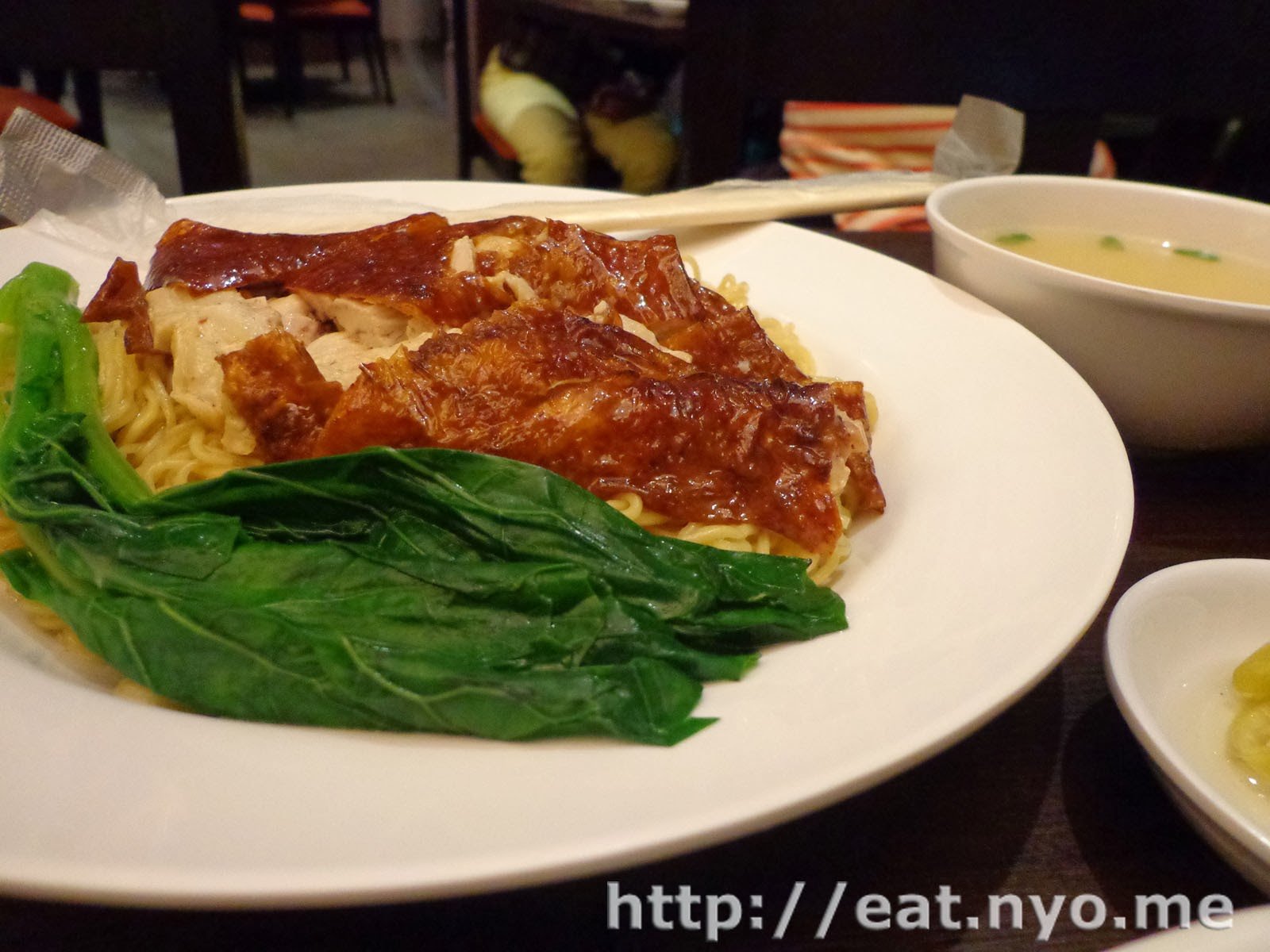 Our last order, their Chicken Noodle Soup arrived in a fashion I'm starting to get used to but still does not fancy. All the dry stuff is separated from the broth. Unlike the Yellow Chicken, I assume they used local ingredients for this one. The chicken here was tastier in my opinion, though at the same time, a bit less tender. Still, chicken in itself is quite tender when cooked properly, so it's not really a big difference. The taste, however, is quite noticeable. Perhaps it's augmented by the fact that the soup is among the best tasting chicken soups I've had in a while. There's no bullion or powdered artificial taste in here—it was rich purely natural chicken broth. The "noodles" part of the dish was okay, but nothing to write home about.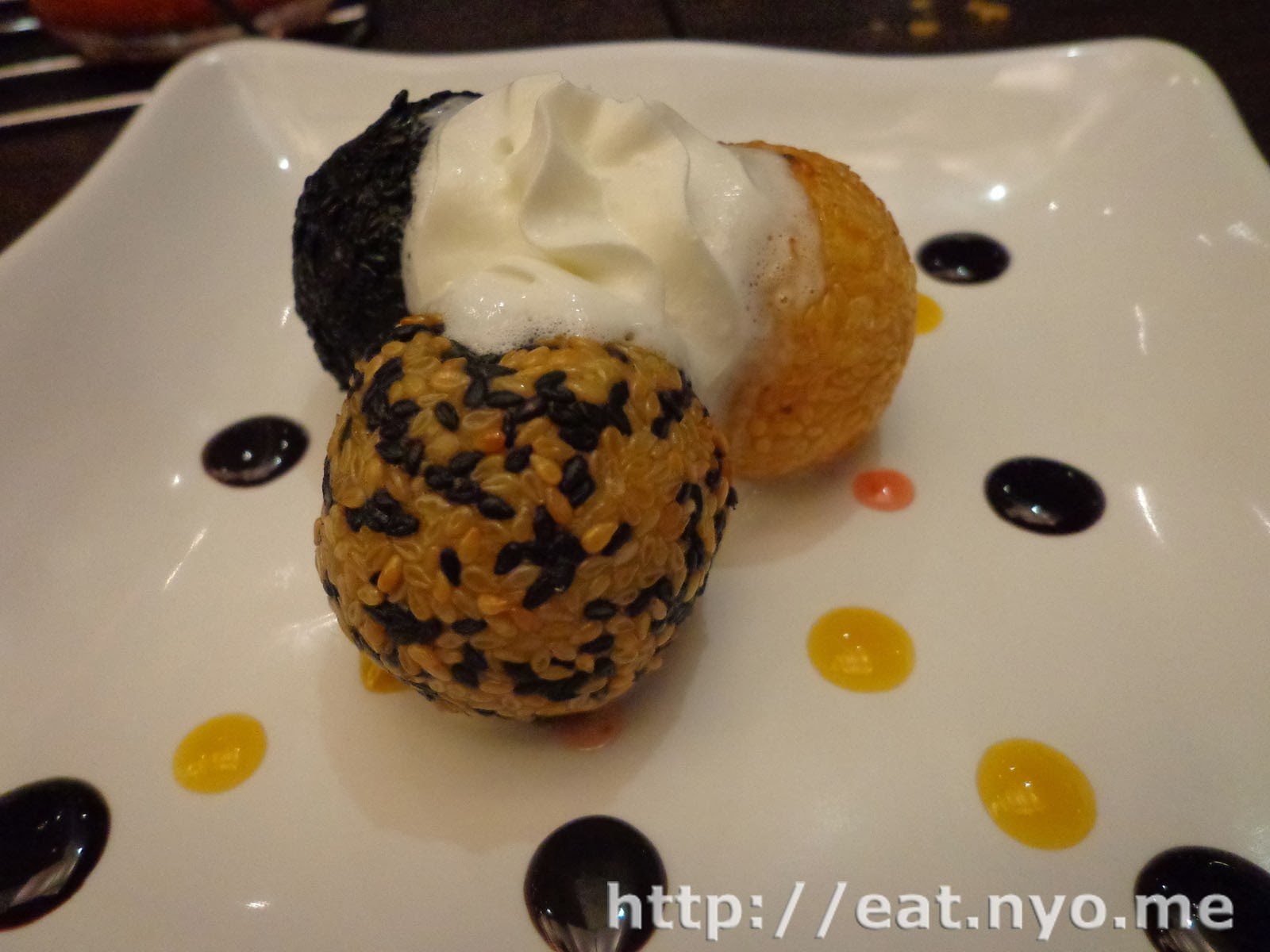 We weren't quite sated with our orders, though we already got plenty. We needed dessert, and they had one that ticked our fancy. We got their 3 Kinds of Truffle Buchi (88 Php). Of course, this meant chocolate truffle, and not mushroom truffles. This was probably our favorite order of the night. It wasn't too sweet, and they had a rich, chocolate taste. I don't suggest doing as we did where we cut them in half as the insides are melted truffle chocolate. They are best consumed in one bite. Each one of them is unique in both outer, where one was pure black sesame, one mixed, and one pure white sesame; and inner, where one had white, one had black, and one had a somewhat in-between filling all varying in sweetness and choconess.
Our bill amounted to a little over a thousand after service charge. Of course, we did order two of the more expensive stuff in their menu. However, some of their stuff was relatively affordable. I'll say it up front—the yellow chicken isn't that special. Same goes for the cereal prawn. That said, the broth they served us was quite superb. Also, the chicken rice and the chicken in the noodle dish were quite delectable. I guess the better dishes in Wee Nam Kee doesn't necessarily translate to the more expensive choices.