Because we were dissatisfied with Ginza Bairin, we found ourselves craving for great katsu. Since it has been tried and tested personally a couple of times, we know that Yabu serves just that. Since our last blog on this place more than a year ago, Yabu has expanded to many places, mirroring their success and perhaps starting a fad. One of their newest branches opened up in SM North EDSA, which is a more accessible place for us.
The events on this blog happened a few days after disaster struck in Eastern Visayas, and Yabu offered to donate all of their proceeds to the victims for one day only. Sadly for us, when Beloved got there on the day it was offered, the reservation list spanned until closing.
We insisted on going to Yabu, though. So the Friday following that, we went again. I was quite surprised that their prices have not changed by a lot, and it's now a better value since they offer unlimited miso soup in addition to the already unlimited rice and cabbage for no matter what set you order. Now, our dillema was I wanted black pig and Beloved wanted seafood curry. They did not have a seafood curry set or a separate order of curry sauce. We compromised by having Beloved order their Kurobuta Curry Set (595 Php) and I ordered their Seafood Katsu Set 2 (545 Php). We also had an extra à la carte order of Salmon Katsu (150 php). We were immediately given the ceremonial sesame seeds on a bowl with a pestle to mix our tonkatsu sauce in.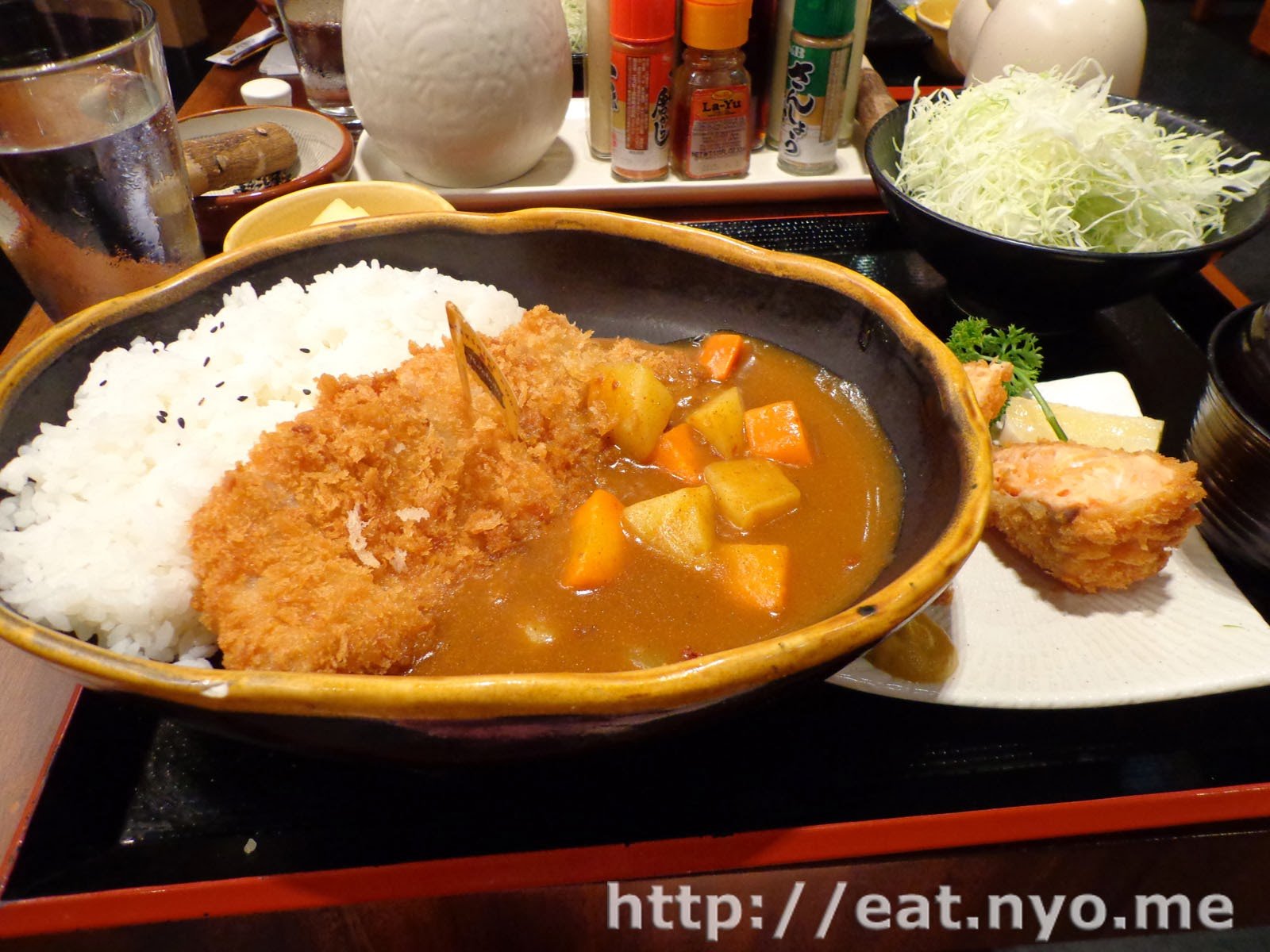 The plan I was to give her some of my seafood and she was to give me some of her pork. It seemed like a great plan. Our sets arrived at the same time with Beloved's Kurobuta Curry Set arriving on a shallow but wide bowl filled with Japanese rice topped with sesame seeds and the star of the plate, the black pig tonkatsu, which, in turn, was covered in the Japanese curry sauce Beloved wanted. In addition, the set included a bowl of pineapples and pickled veggies which seems to have become a staple for this kind of set.
Beloved commented that the curry sauce had a delicious spiciness to it. The important part of the set, the black pig tonkatsu, was still as soft and tender as our first visit was. They definitely cooked it to take advantage of the marbling it claims to have, turning each bite tender-juicy down to the last strings of meat. And, of course, the katsu breading made each bite delectable with the sharp contrast in texture without any cloying greasiness.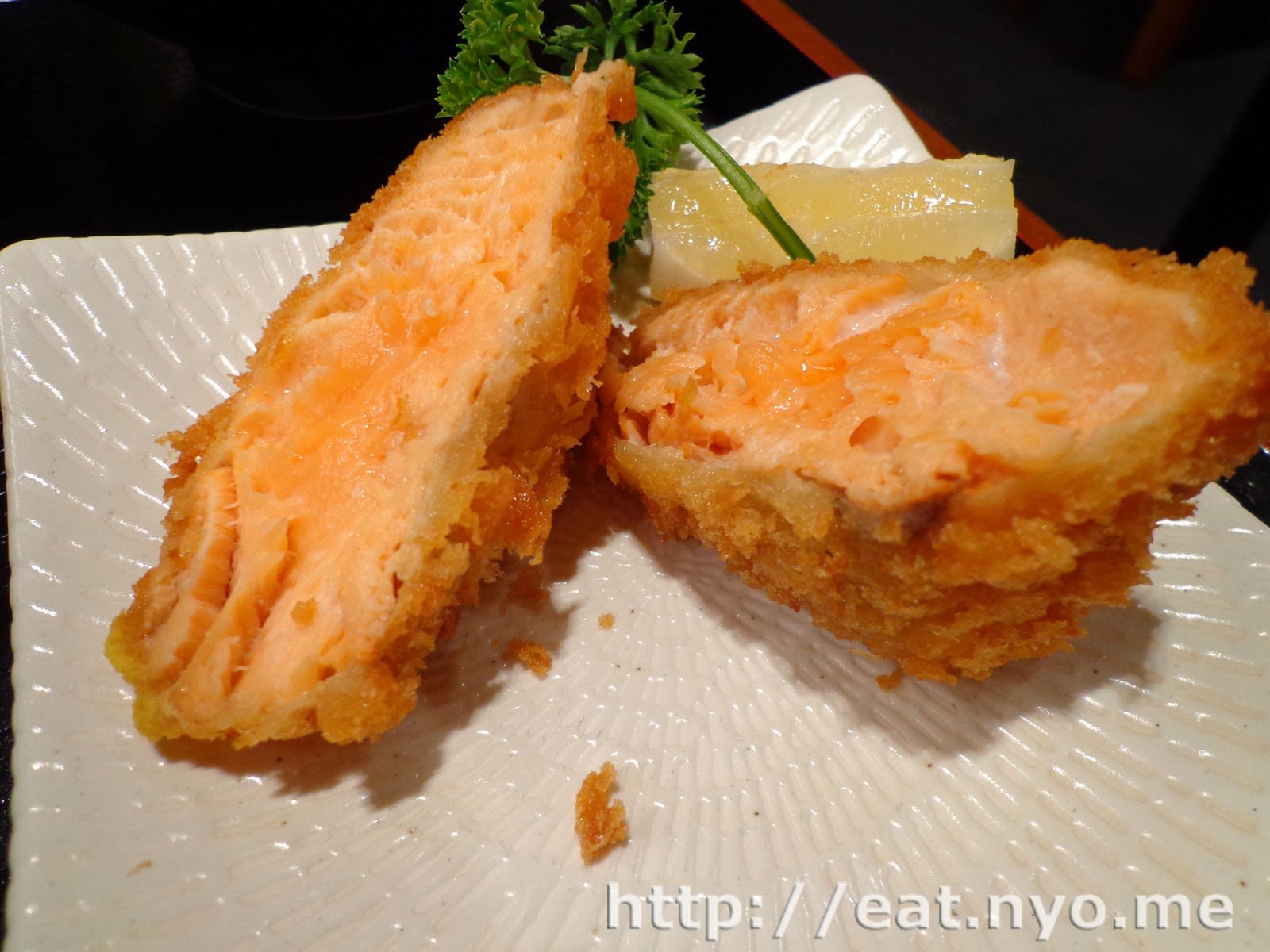 The Salmon Katsu was cut in half, and I liked it the moment it was brought to us, as it still had some pink at the center. Beloved confirms that it was indeed cooked just right—no dry meat here, only delicious salmon. The crunchy outside receives similar praise as that of their kurobuta.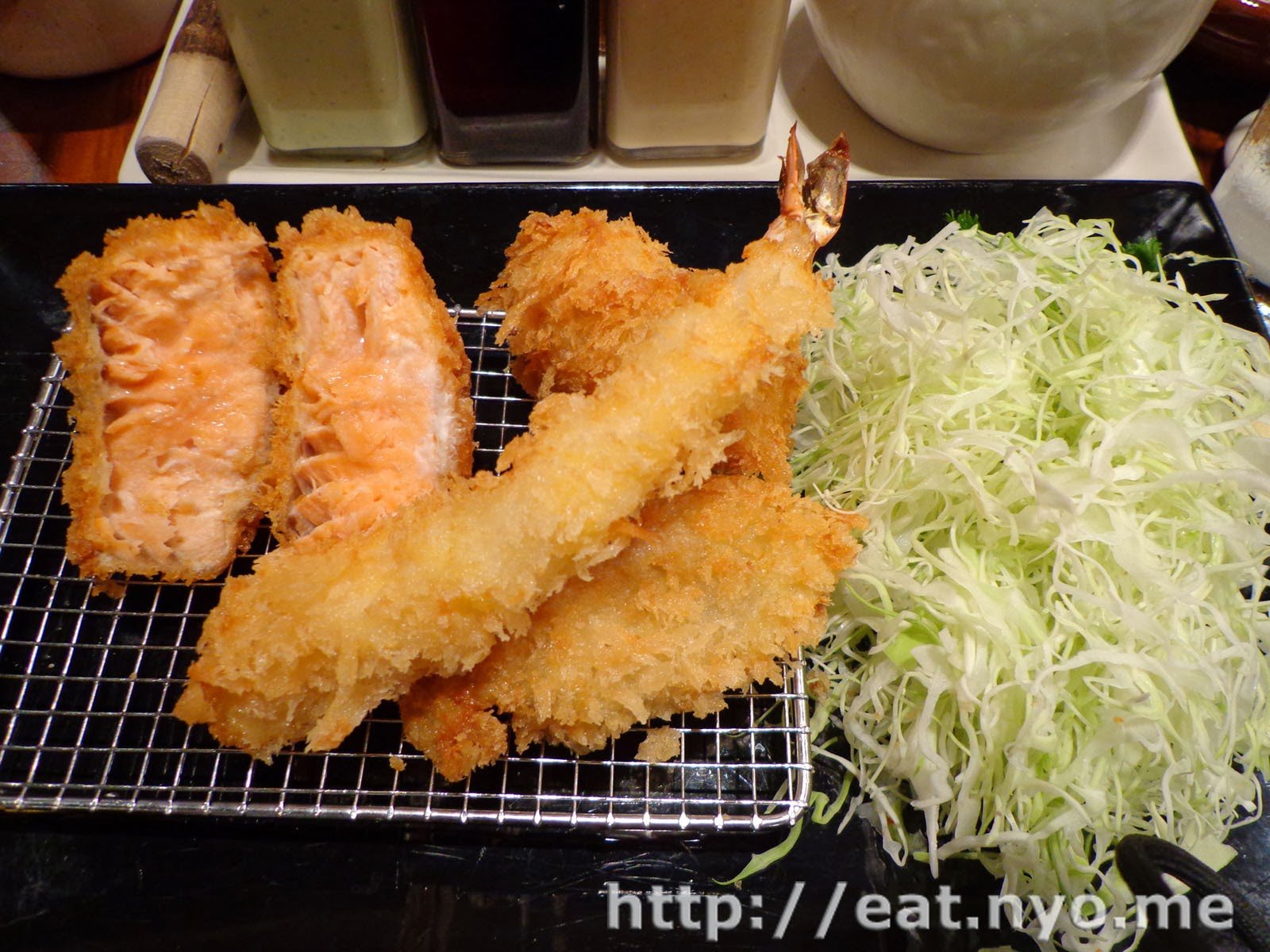 Finally, above is our Seafood Katsu Set 2, which consists of a salmon, shrimp, crab, and oyster katsu on a cooling rack alongside the mainstays of rice, cabbage, miso soup, fruit, and pickled veggies. By the contents alone, this set is one piece better than the competition that we tried earlier this week. However, I must say that I prefer my seafood as fresh as possible, so the katsu kinda ruins it for me. I did enjoy the shrimp, though. Beloved loved everything except for the crab, which tasted the driest among the choices above. They gave a ramekin of tartar sauce which was great on all the seafood compared to the provided sauces.
I'm kinda happy that Yabu was able to maintain its quality across different branches. However, I still think that places like these are quite expensive, with value masked in the unlimited side dishes. True, the rice and cabbage and miso soup were spectacular, and with the right sauce (I prefer the sesame dressing), you can fill yourself up with just these. Still, think about it, it's a hundred grams of meat costing you over five hundred, and if you're gonna fill yourself up with cabbage and rice, you have your priorities mixed up. What's the point of my argument? Well, our dinner cost us nearly 1.5K after service charge. And with that, we could've eaten at YakiMIX or even Vikings or at Don-day two and a half times, which are definitely places to pig out.
Of course, Yabu, while specializing in pig, is not such a place. Here, you enjoy the wonderful taste and texture of black pig cooked correctly. Is it worth the price? Perhaps. But based on my complaints above, perhaps it's apparent that despite my well-satisfied palate, my stomach remained hoggish.