Beloved and I visited Barkin' Blends Dog Cafe earlier today. This newly opened cafe is one Beloved has been excitedly watching out for. Not because of the "cafe" part, more because of the "dog" part. Beloved is a big dog lover, having two dogs of her own. Here, you get to drink the usual cafe beverages in a room filled with dogs. No, you can't bring dogs in. I also skipped "eating the usual cafe food" because I believe it's not allowed in the presence of dogs.
We were a bit conflicted going here today since it was the opening day. However, Beloved insists that she must see and pet the pug. We went at lunchtime and, as we expected, it was packed with other guests forced to just watch outside while waiting. We decided to grab something to eat nearby and go back.
We got back with the place still full, as expected. There were two rooms, one for the cafe area where you can eat doggie-shaped cupcakes as well as impart with their small menu of coffee- and tea-based drinks and another called the Dog Zone where the dogs reside and only sealed drinks are allowed. Luckily, there was still some space for us in the Dog Zone. To entice us, we were shown a menu of not food or drinks, but of the dogs that you can see and cuddle with inside the dog zone. They charged 180 Php for the entrance to that place inclusive of their most affordable drink. They charged a bit of extra for their more premium drinks. Beloved ordered their Iced Caffe Mocha (180 + 25 Php) and I got their Iced Caramel Macchiato (180 + 25 Php). I wanted to order their Matcha Frapp, but it didn't have whipped cream so I passed.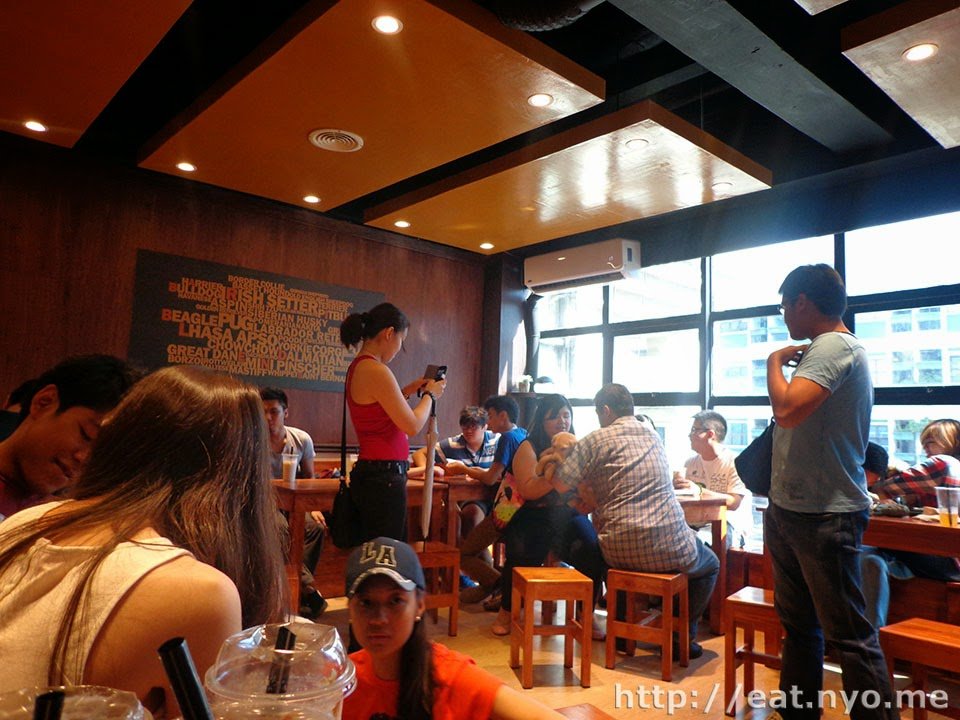 The Dog Zone was packed with people. There is definitely no one-to-one ratio of doggie to human here. It's like six to eight humans for every dog. All the dogs were initially preoccupied, but Beloved confirmed that the reason we went here, Smile the pug, was present. We both found the name ironic as the pug wore a big frown. There were other dogs present, but I don't think the entire menu was. There was a golden retriever, a labrador or a labrador retriever or another golden retriever (not sure on this one), a couple of shih tzus, a small maltese, a siberian husky, a beagle, and a sleeping shar pei on the corner of the room. Disclaimer: the breeds were according to Beloved, as she's the dog expert between the two of us, and even she is unsure due to the quantity of them.
We sat at a table, shy at first being the introverts that we were, and observed the crowd. Beloved was immediately appalled with the way some guests mishandled the puppies, carrying the retriever by the arms and, as a result, it yelping in pain. Luckily, I observed, that the staff, perhaps the owner, immediately attended to both the guest and dog.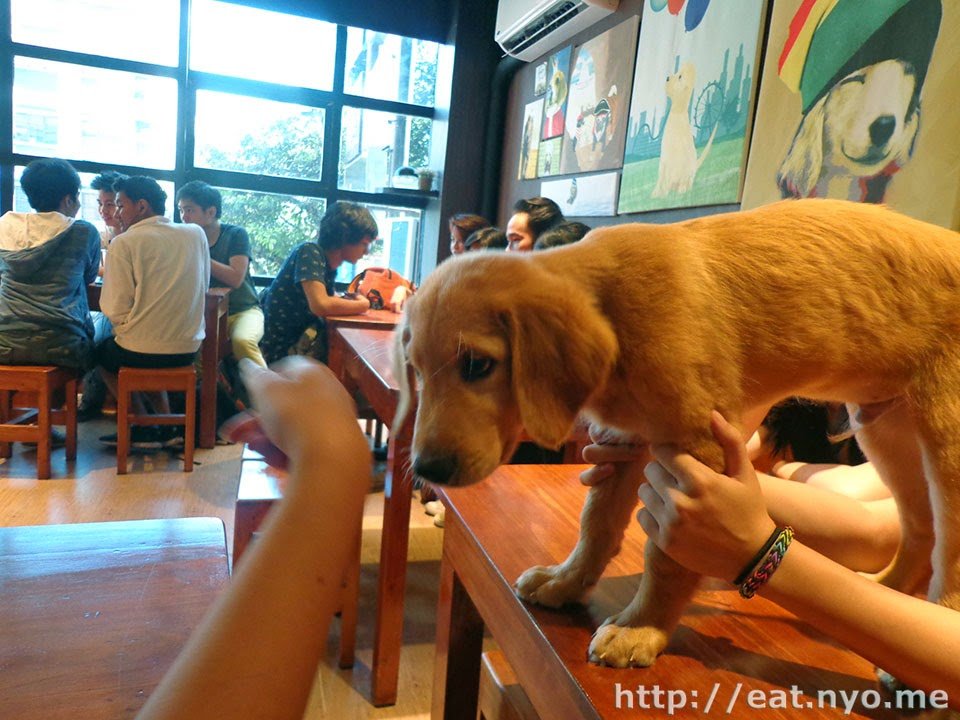 The couple of ladies on the table beside us managed to borrow said dog after a few long minutes. She (the pup) was obviously tense being high up on a table and she was trying to either jump down or jump to ours. Luckily, she didn't. However, she loved to nibble on paper and our camera case that she mistook for a chew toy. It took a minute or two, even with the help of the staff for her to release it.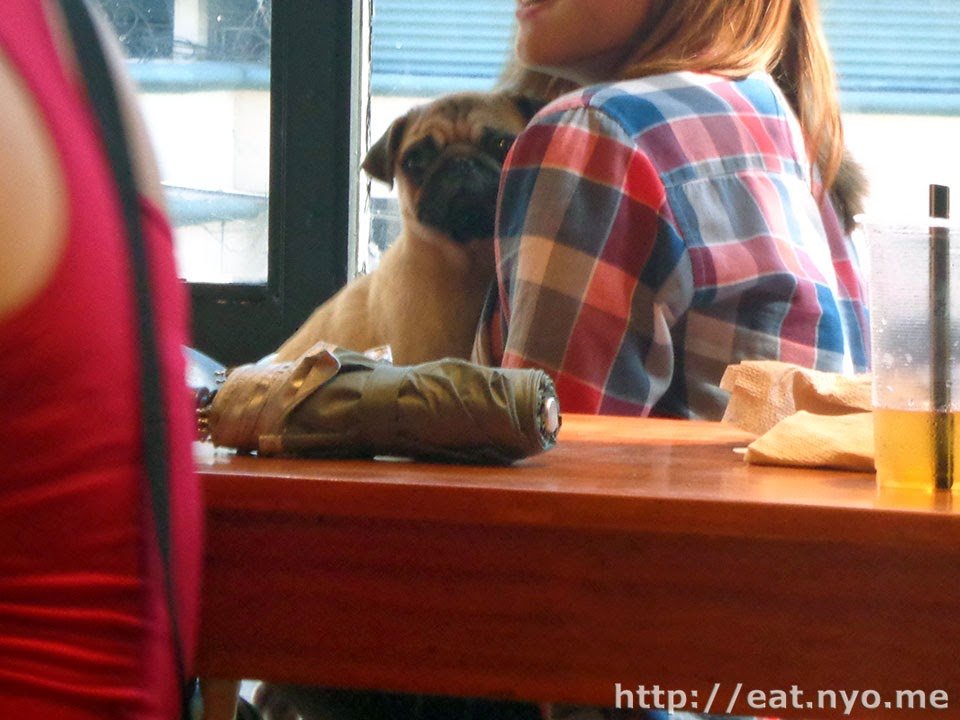 The pug, meanwhile, was still far from us and all we can do was observe and take zoomed-in photos.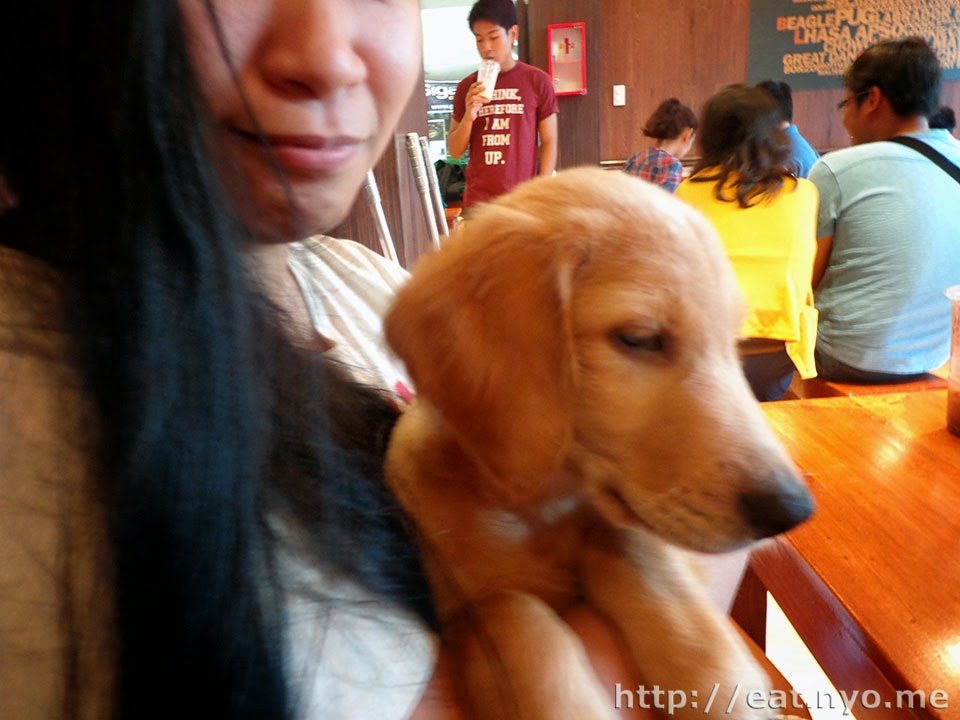 A tip from Beloved to those who want to cuddle the puppies here: do not pull or carry them by the fore-arms (legs?). Instead, hold them as you would a baby by the lower body.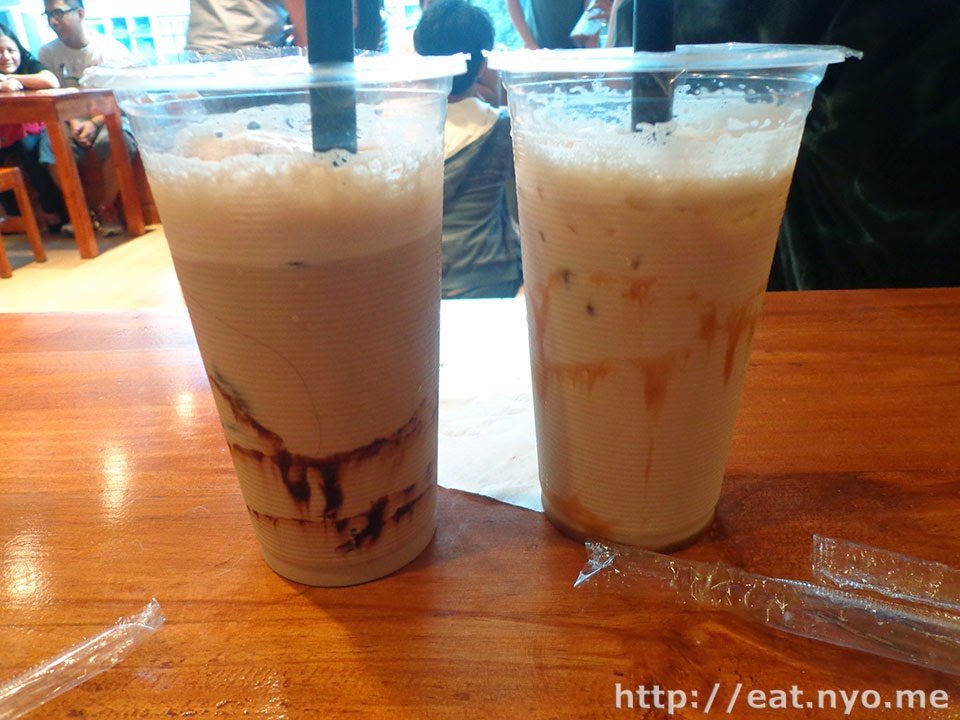 It took a very, very long while for our drinks to arrive, maybe almost an hour. Beloved immediately sipped her Iced Caffe Mocha when it did as she was very thirsty before we managed to snap the above. All she commented that it sort of tasted like mocha, but definitely lacks caffeine. My Iced Caramel Macchiato tasted more like a weak caramel drink on a backdrop of similarly weak coffee. They honestly weren't the best tasting coffee blend we've had.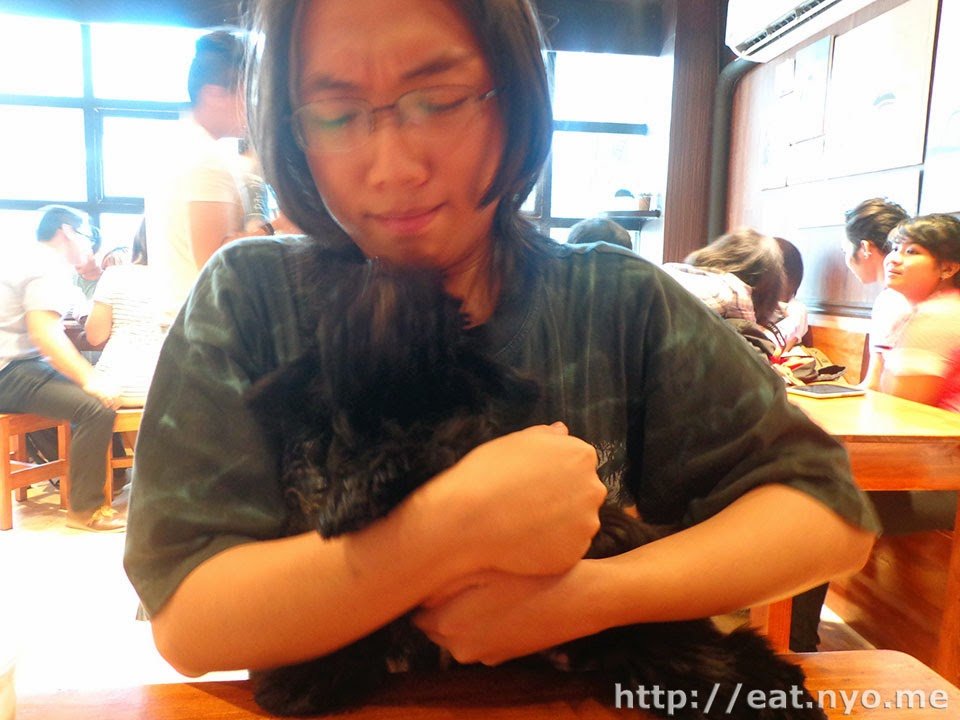 Over time, the crowd somewhat grew friendlier and noticeably more careful with the pups. One of them passed me a black dog. Beloved is unsure if it was a shih tzu or a maltese or a lhasa apso, but we both agree that it was the most hyperactive of all the dogs we had the privilege of holding.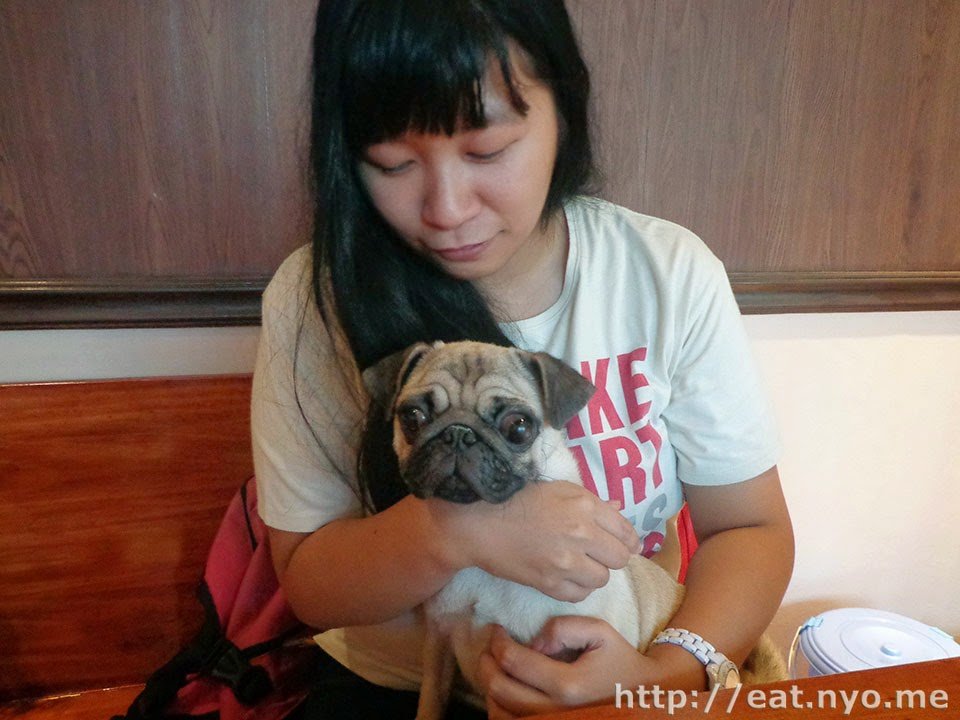 And, after a long time waiting, we finally got our turn with Smile the pug. She wasn't very active compared to the other dogs we've been given. Also, while she's named "Smile", she definitely didn't smile.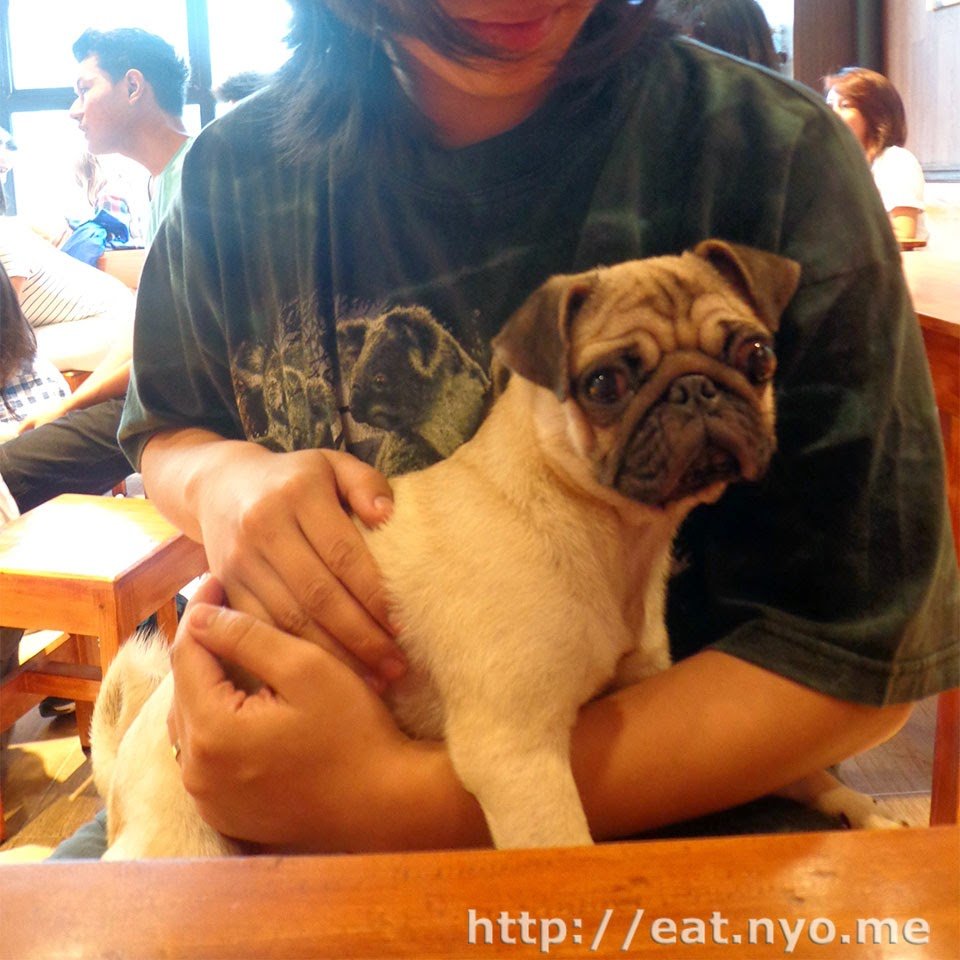 She also doesn't respond to her name. However, she looked at us when we called her "pug".
Beloved was ready to leave as she let Smile mingle with the other people in the crowd. Before we left, we were given a fat shih-tzu. It was also not very active as the other dogs, but this one seemed tired-slash-sleepy. Or maybe it just preferred to be on the floor?
We went in conflicted because of the amount of people in the place. We went out conflicted because of different things:
First, many of the guests didn't handle the dogs correctly, and one of them yelped painfully. However, I must applaud the staff because they attended to the dogs' needs almost immediately. Also, while Beloved thinks there was a lot of them, I found only a few isolated cases and many guests were friendly enough to both the dogs and other guests.
Second, we first thought this was animal abuse, charging money to see puppies that seem unused to large human crowds. This was apparent because none of them were wagging their tails, according to Beloved. But then, she finally got a turn with their pug.
Third, they claimed that this was a place to release some stress through friendly doggies without the hassle of feeding and cleaning up after them. While the part after the word "through" in the previous sentence holds true, Beloved felt a bit stressed due to the first reason I mentioned. But, then, she finally got to play with a pug.
Fourth, this was definitely not the best tasting coffee place we've been to. But then again, you probably go here for the doggie experience. Also, we didn't try their pastries, which might be good?
Finally, I expected a larger number of the female (human) gender. There was about an even male-to-femaile ratio in there. I have no further comment on this last observation.
And despite of all the negative observations we had, Beloved finally got to see and cuddle a pug.
Maybe it will get better, and the dogs will finally get used to the crowd. Also, we would like to see stricter rules where the dogs were supervised more carefully and the guests are taught how to handle the animals correctly. The drinks and the time it took to make need improvement as well. But, really, this place is all about the dogs. I guess the staff was expecting that people come here for the dogs, which is mostly true, and wouldn't mind their drinks served late, which just means more time with the dogs.
Maybe all the observations will go away once the dogs get used to the crowd, or the crowd lessens. Or maybe this experiment will fail. I'm sure Beloved wouldn't want that as we'll surely revisit Barkin' Blends Dog Cafe to play with Smile the Pug again in a few months time. Maybe by that time, she'll finally live up to her name.