Beloved and I had merienda at St. Marc Cafe. We've actually been to this place a couple of times on their Megamall branch. In addition, Beloved has already visited this particular branch by herself, so we were quite aware what this Japanese-style cafe offers. They don't really offer traditional Japanese dishes. They have pastries, desserts, coffee, and tea—usual cafe food and beverages. However, most if not all of them has that Japanese touch, such as incorporating matcha and having an inordinate variations of parfaits.
We come here not for their desserts nor for 90% of their pastries. We come here for the unique pastry they carry called the "Chococro". A portmanteau of chocolate and croissant, this confectionery essentially combines chocolate filling with flaky croissant. They are placed in self-service containers in front of their baking area, making them fresh most of the time. However, after our second or so time here, we always ask for them to be reheated even if it will take a bit more time.
Aside from the classic chocolate-filled Chococro (55 Php), which we ordered one piece of, they also offer other variations of the pastry, some only seasonally available. We basically got at least one of what was available that day. In addition to the classic one, we also got their Salted Milk Chococro (65 Php), a pair of their Chococro Marble (60 Php), and one White Chococro (65 Php). For our drinks, Beloved ordered their Iced Vietnamese Coffee (140 Php, large) and I got their Hot Matcha Latte (170 Php, large).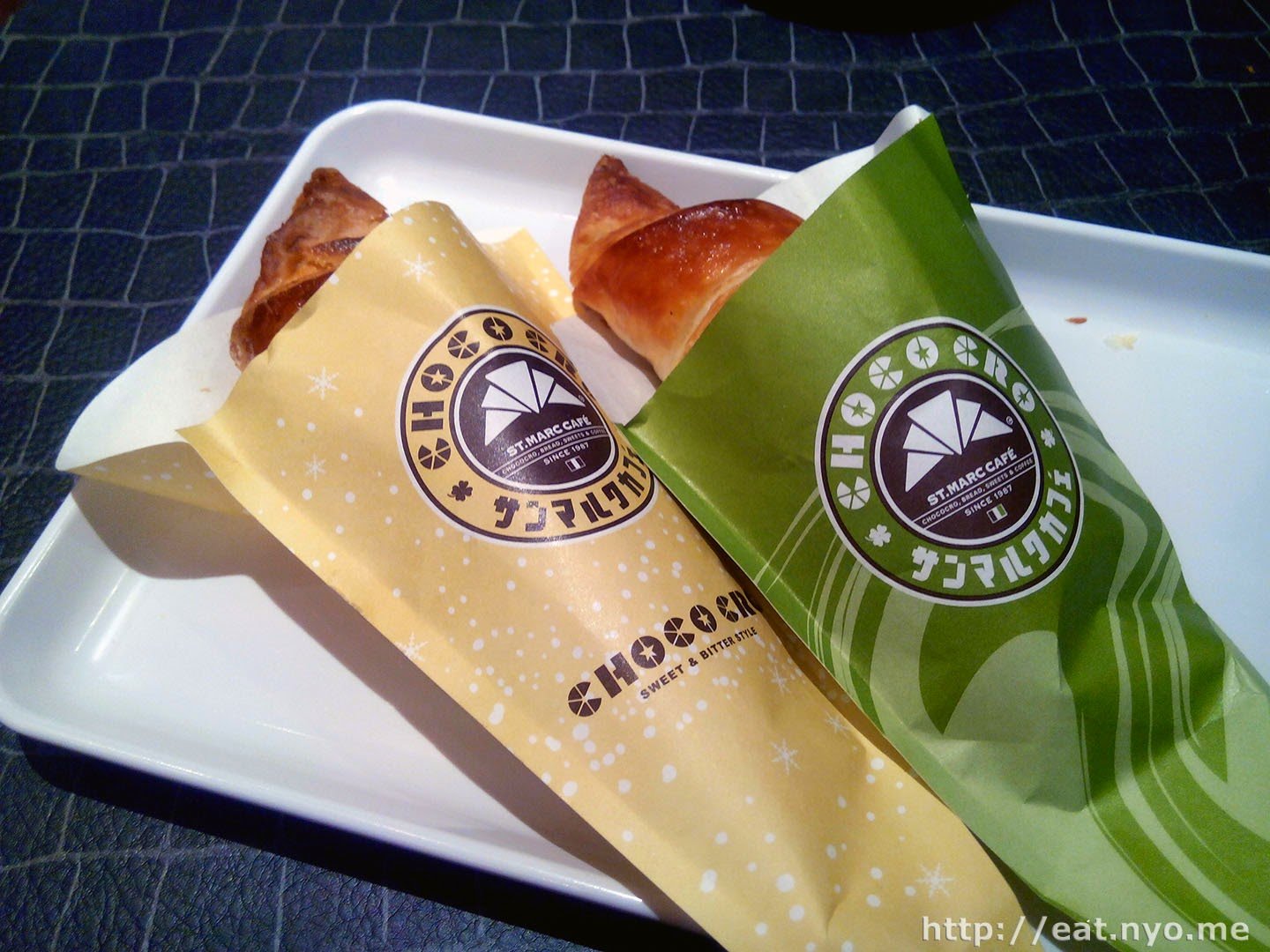 The Chococros come in their own pocket envelopes. I think it's an attempt to make you have them to go. We opted to dine in, because we have five to share between ourselves. The left one in the yellow pocket is the Salted Milk Chococro and the right one in green is the Chococro Marble.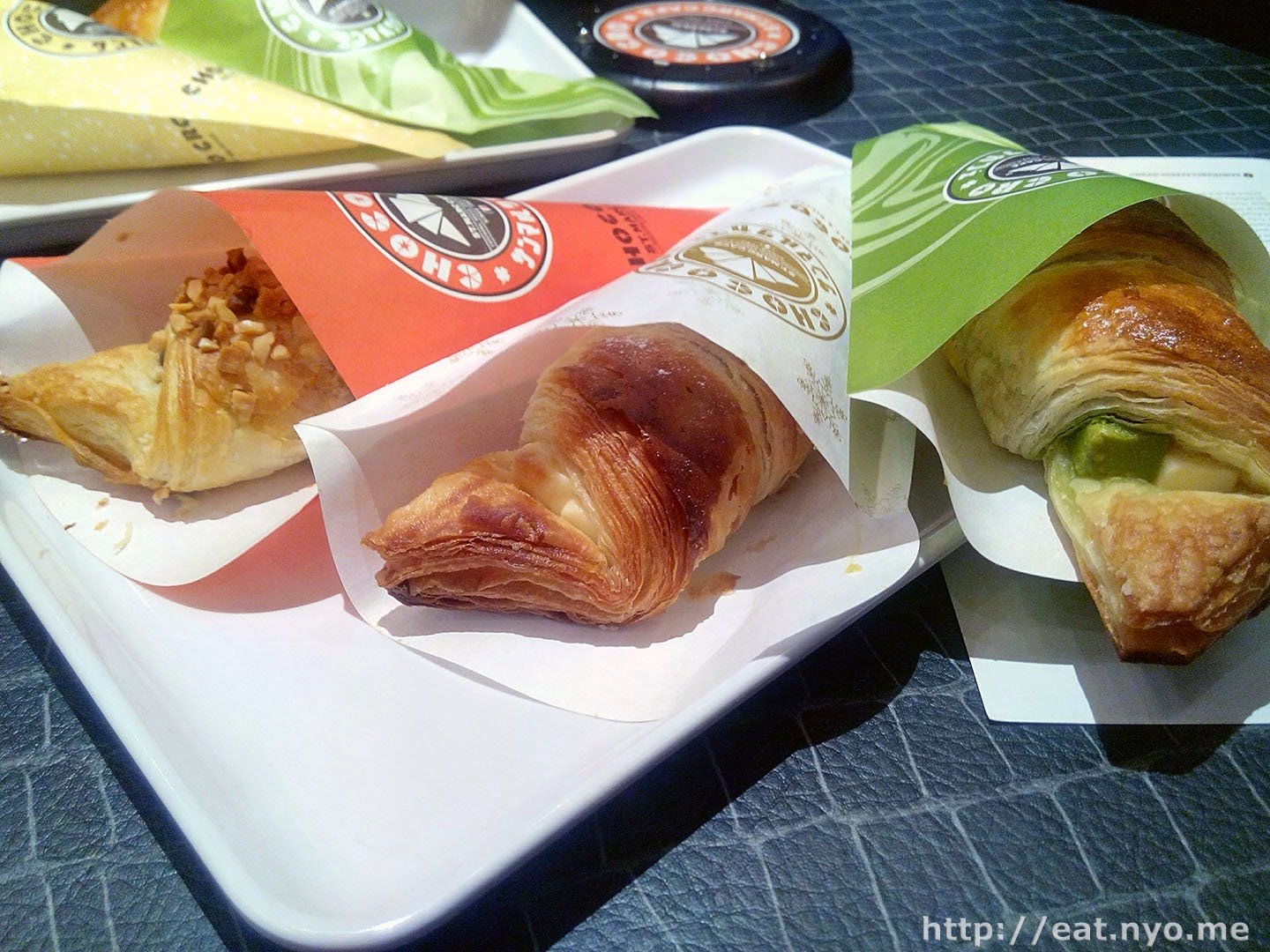 On our plate number two, we have, from left to right, the classic Chococro in orange, the White Chococro in its appropriate white envelope, and another one of their Chococro Marble in green.
If you love (unsweetened) chocolate and croissant, I guarantee you'll love this confection. The Chococro promises a flaky, lightly buttery bite followed by a gooey chocolatey filling. The dark chocolate is more bitter than sweet, which is the way I like it.
The White Chococro was not really my favorite. This basically replaces the chocolate filling with a white chocolate one. This makes the pastry much more sweeter. Those who have a sweeter tooth than myself might enjoy this more.
The reason we got two of the Chococro Marble was because it's our favorite. This mixes white chocolate with matcha, green tea filling. I find the matrimony between the rich, bitter, leafy taste of matcha combined with the sweetness of the white chocolate almost perfect. The flaky croissant part of the chococro completes a wonderful threesome.
It was the first time for me trying out their Salted Milk Chococro. I found it more milky than salty. Heck, I cannot sense any saltiness in it. But I think it just carried "salted" in its name similar to salted caramel. I believe the "salted" part was just meant to accentuate the milkiness which was promintent indeed.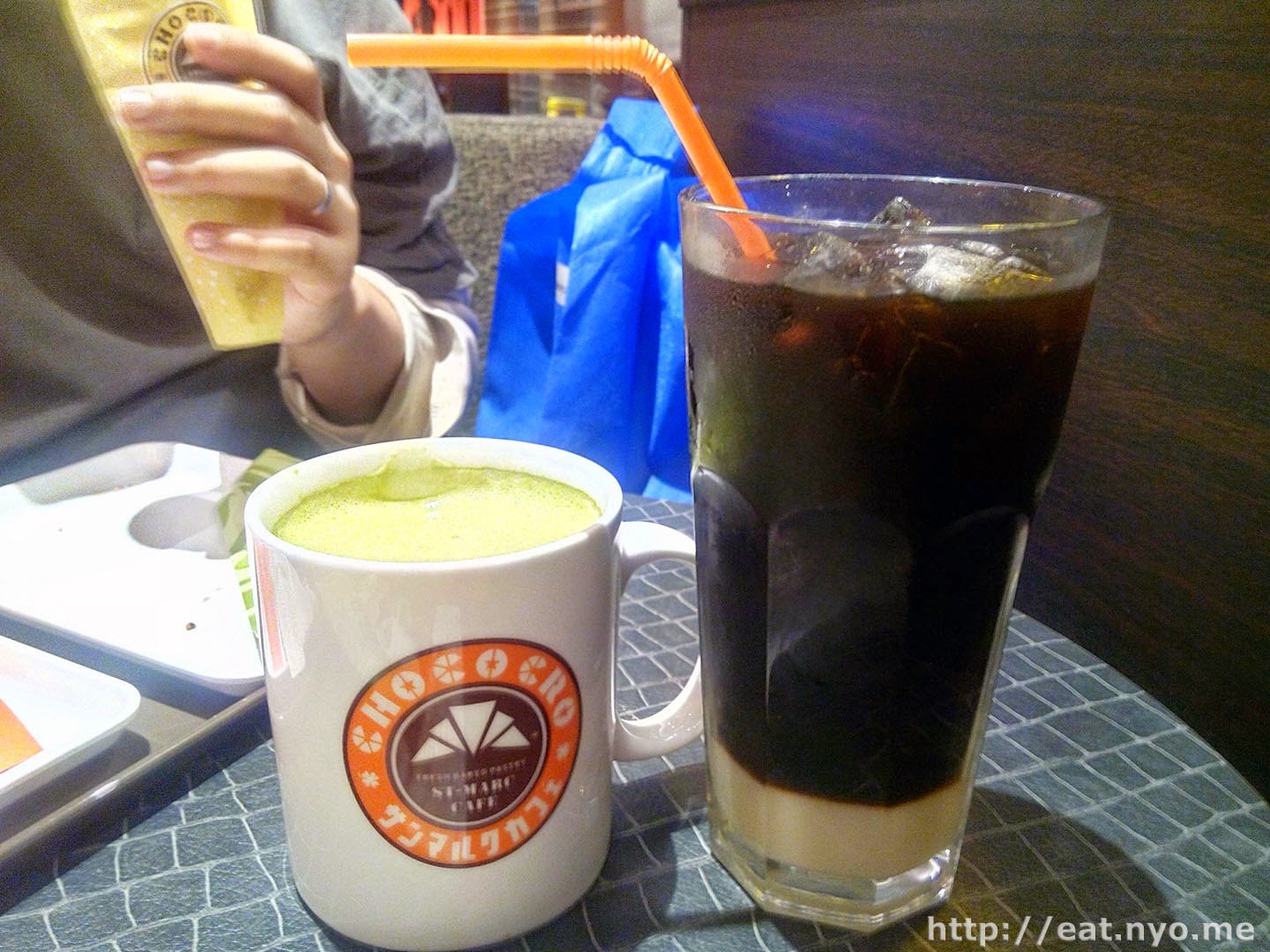 Matcha lover me enjoyed my mug of Hot Matcha Latte. I find the balance between the bitter, refreshing matcha taste and milk enjoyable. Also, I believe the price over volume of this mug is competitive over other more popular cafes. The amount this large order has is also the "just right" amount for me.
Beloved's Iced Vietnamese Coffee was bitter! Even after adding a sachet of sweetener, it was still as bitter as a single-since-birth after seeing their long time crush (which they haven't made a single move on) change their relationship status from "Single" to "In a Relationship" on Facebook. I guess it was partly because we forgot to mix the condensed milk at the bottom well. It was a challenge, though, because their mixers barely reached half of the tall glass. Their knives helped a lot with this predicament. Still, even after mixing the milk with the coffee, it was still as bitter as a lonely soul on Valentines day, with milk added.
We probably won't review their desserts or other pastries simply because I can't see ourselves going here and not ordering their Chococro. But I'm pretty sure that this is their specialty. This is the first pastry they have on their self-service area. Heck, their logo is a chococro. So, aside from their drinks and chococro, the former of which we have mixed feelings with and the latter we thoroughly enjoyed, we probably won't be the people to ask. But if you ask us is it worth going to St. Marc Cafe for their chococro, I'll confidently say yes.