Beloved and I, together with Const, ate at Tsuta yesterday. This famous Michelin-Starred soba place recently opened its doors at Taguig's Bonifacio High Street. We watched BuzzFeed's Worth It feature this place in Japan as their mid-range option for their Ramen special a few weeks back and the experience they had seemed divine. That, along with the fact that it's original branch was granted one Michelin Star, gave us pretty high expectations of this place.
Friends and reviewers who went before us, however, didn't have good things to say about this place. One of Beloved's friend exclaimed, and pardon the French, "Tsutangina". This didn't defer us from coming here, though, since it was one of the rare chances we had going to Bonifacio High Street which we rarely go to, and this was one of the unique places to go to here. Also, we knew for the fact that this place serves soba ramen instead of the usual tonkotsu or pork broth ramen that many Filipino gourmands have taken liking to.
We expected either a long queue due to the prestige the place carried, or no queue due to said recent reviews. The latter was true for the day we went. The first thing that I noticed, wide-eyedly, was the price of their bowls. Their most "basic" bowl was priced at 390 Php—and this was already near a "special" for their competition. What bothered me was their specials, which had the complete toppings, was priced from 620 Php to 670 Php, and the difference was just three additional slices of pork and one egg from the basic selection. I usually order the most expensive item in the menu, especially for places that I feel I won't go to again. However, I just cannot justify the difference of toppings, especially if we're supposed to enjoy the soba, which seemed to be the same across all bowls.
Anyway, I got the Ajitama Shoyu Soba, priced at 440 Php. Beloved got the slightly more expensive Ajitama Miso Soba at 450 Php. Both these bowls have a piece of chasyu/char siu, a piece of flavored egg, and, aside from the obvious difference of broth, also have slightly different toppings. This variant is a step up from their basic one, adding the egg (the ajitama part), but two steps down from their upgrades—the next one having four slices of pork (Char Siu) and no egg, and the final form having four slices of pork and egg (Char Siu Ajitama). Const also got the same order as I did.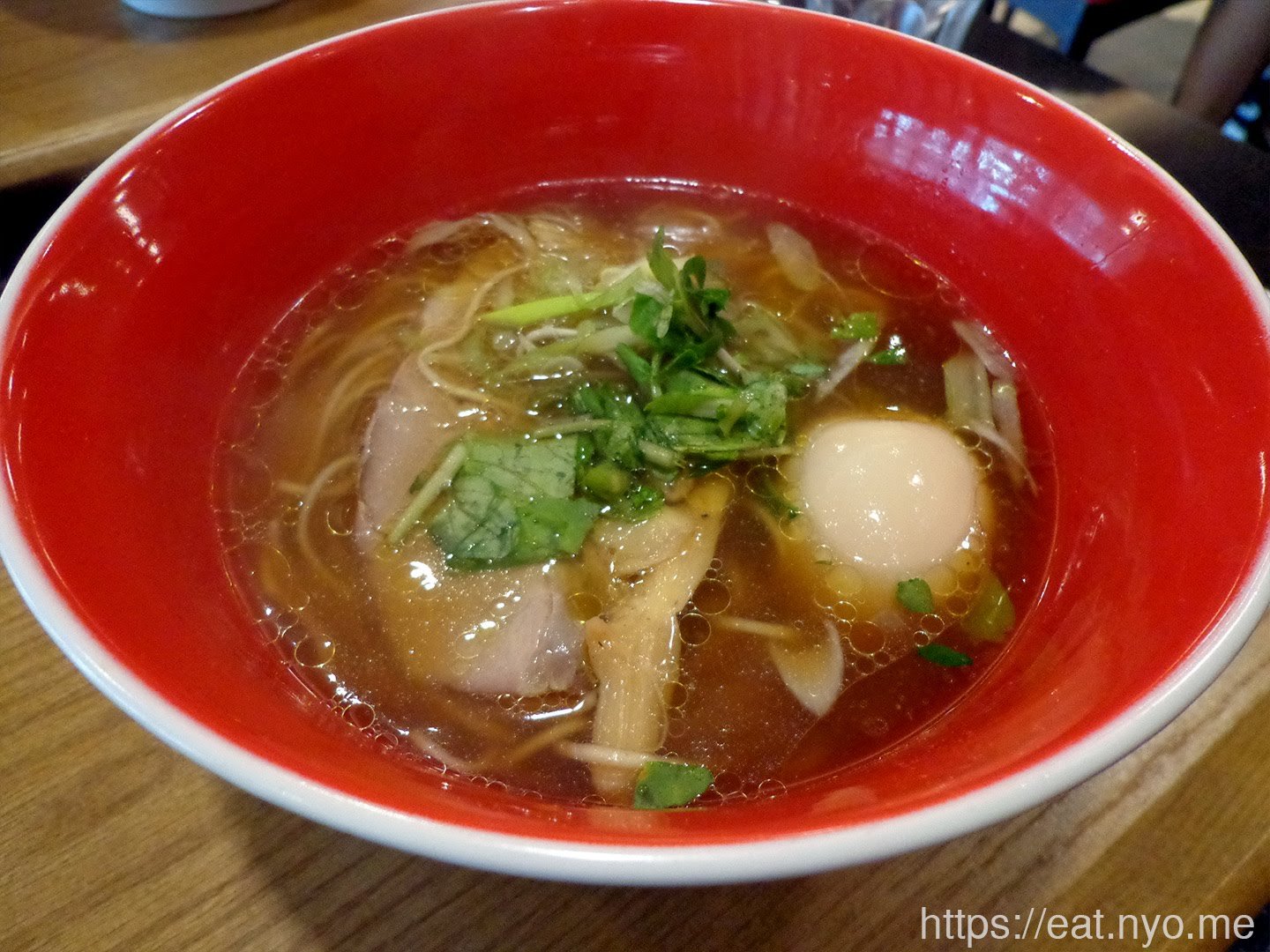 My Ajitama Shoyu Soba arrived in a big bowl, but only half-filled with almost transparent soup. There was also slightly less soba than I expected, basing from the menu photo. Perhaps the photo had extra noodles. Anyway, it had the promised one piece of pork and egg as well as bamboo shoots and leeks. Also, there's supposed to be truffle oil mixed in here.
Sadly, I didn't get Andrew-of-BuzzFeed's-Worth-It's "primordial soup, flavor colliding in space until life is born" feeling. What I got from the broth was a slightly refreshing, mildly soy-salty, familiar feeling of a very light sea breeze. This, along with the pork, was forgettable, especially comparing it to their flavorful tonkotsu-refined cousins. If there was truffle oil in here, it didn't feel like it did anything special. The real star of the bowl was their thin noodles. It was indeed earthy soba or buckwheat noodles that went well with the mild broth.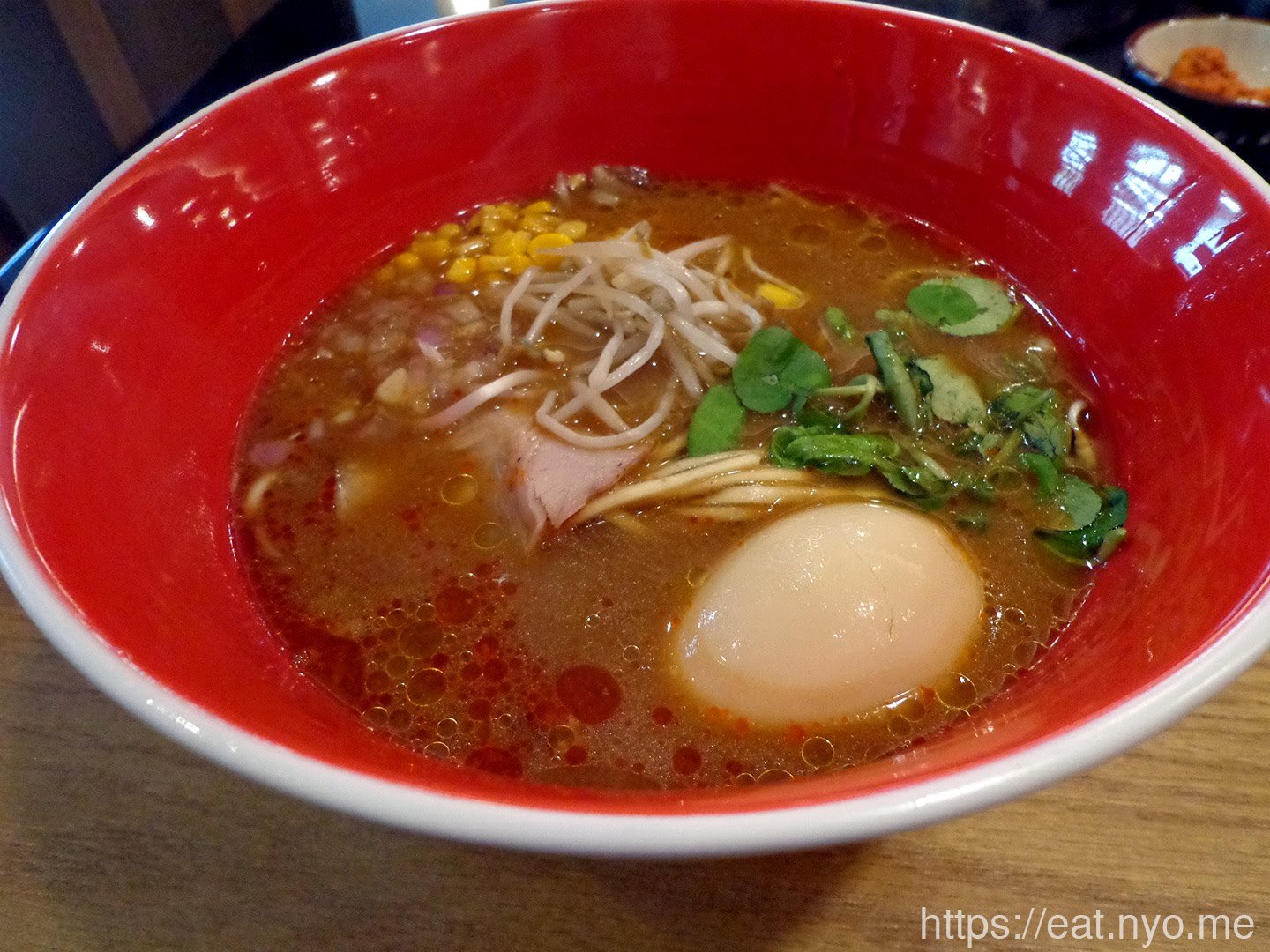 Beloved's Ajitama Miso Soba was, as she describes, "nothing special". Her miso bowl was less transparent due to the miso and also had corn, beansprouts, red onion, and watercress. The promised egg and chasyu remains the same. The soup was less mild and a bit more hot than mine but still relatively milder than the competition.
All of us did not appease our appetites. Refreshed slightly, maybe, but this was definitely just an appetizer. And it's not the good kind where you have that want-to-eat-more-after-eating-a-lot-already feeling that we usually do when we go to Ippudo, no. Our stomachs really did feel empty, and that's why you're getting another couple of restaurant stops for this same day. Also, our pockets felt as empty as our stomachs after our table of three spent almost 2,000 Php which includes service charge.
The main problem of Tsuta, I feel, is an identity problem. I deliberately did not put "ramen" in the title because even though they serve soba ramen, their specialty is soba, not the ramen. The flavors are too mild to be able to compete against the favorites of Ippudo or Ramen Nagi. That and it feels too expensive for what you're getting. However, I think it's still worth a try if and only if you like soba, which Const and I do. Two votes against one, I'm giving this a weak thumbs up.