Beloved and I had dinner a couple of times this week at Caffé La Tea. This café has actually been here in Anonas quite a while and we've been here a good number of times already. While we do have some pictures from our previous adventures here, we decided to just revisit since it's not really an expensive place and also not far from home, so this is like a mix between #2 and #4 from my site revival news.
Caffé La Tea is actually a big franchise that started at Nueva Ecija, I believe. It's now grown from that province and started opening up branches here in the Metro. Of course, we never had the chance to visit the original, so we can't speak if it's true to that. Anyway, like most cafés nowadays, they serve both coffee and tea—milk tea, specifically. Apart from that, they also serve the usual café fare of sandwiches, pasta, finger foods, as well as some Filipino-style rice toppings. A lot of their dishes and drinks are familiar food with unique twists.
On our first visit this week, I noticed they have something new-slash-special on their menu. They had three fish dishes that catered to the Lenten season. Sadly, my first choice of their Daing Sisig was not available, so I just opted for their Daing on a Bowl (99 Php), another one of their Lenten specials. Beloved ordered what she orders here 90% of the time, their Pinoy Sinigang (119 Php). We also got an appetizer that we usually get, their Mozza Lava Sticks (149 Php). Finally, for our drinks, Beloved got her usual Iced Mocha (119 Php.) and I got their venti-sized Mangga Milk Tea (80 Php), which I tried for the first time.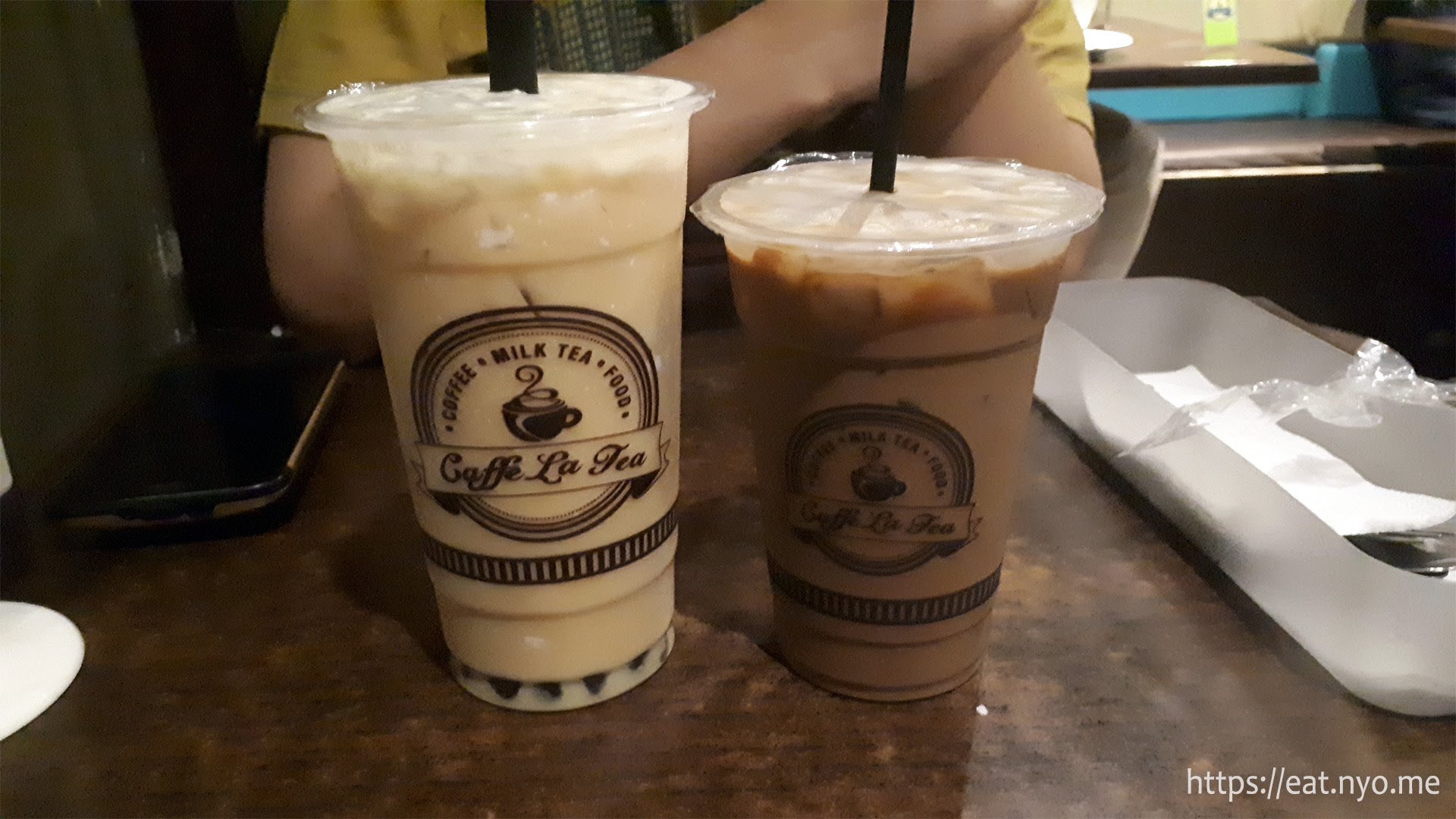 Now that I think about it, we never really got their milk teas before. This was the first time we ordered and found out that their large milk teas are larger than their single-sized coffee-based drinks. Pictured above, the left is my Mangga Milk Tea and the right one is Beloved's Iced Mocha. My drink definitely has the sourness and fruity taste of green mangoes, while also having a milky tea backdrop. Beloved hated it as much as I found it interesting. Her drink tasted the usual, a bit on the sweet side, but still had that usual coffee and chocolate undertones.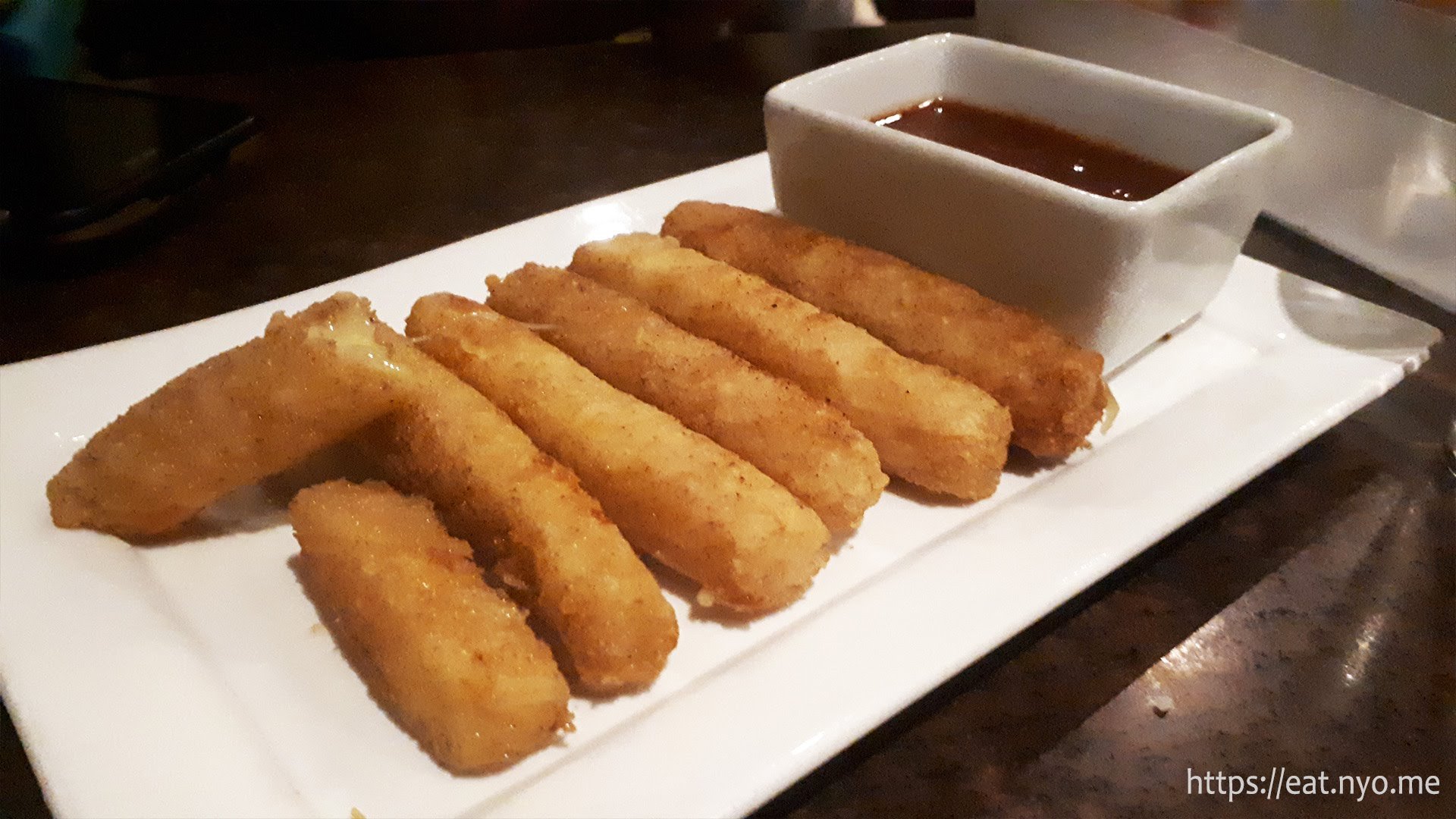 Our Mozza Lava Sticks arrived first in its usual rectangular platter with its sweet tomato sauce. These cheesy sticks are similar to your breaded sticks of mozzarella found in most other places. The cheese is not as stringy as I would've liked or expected, but good enough for six sharable sticks.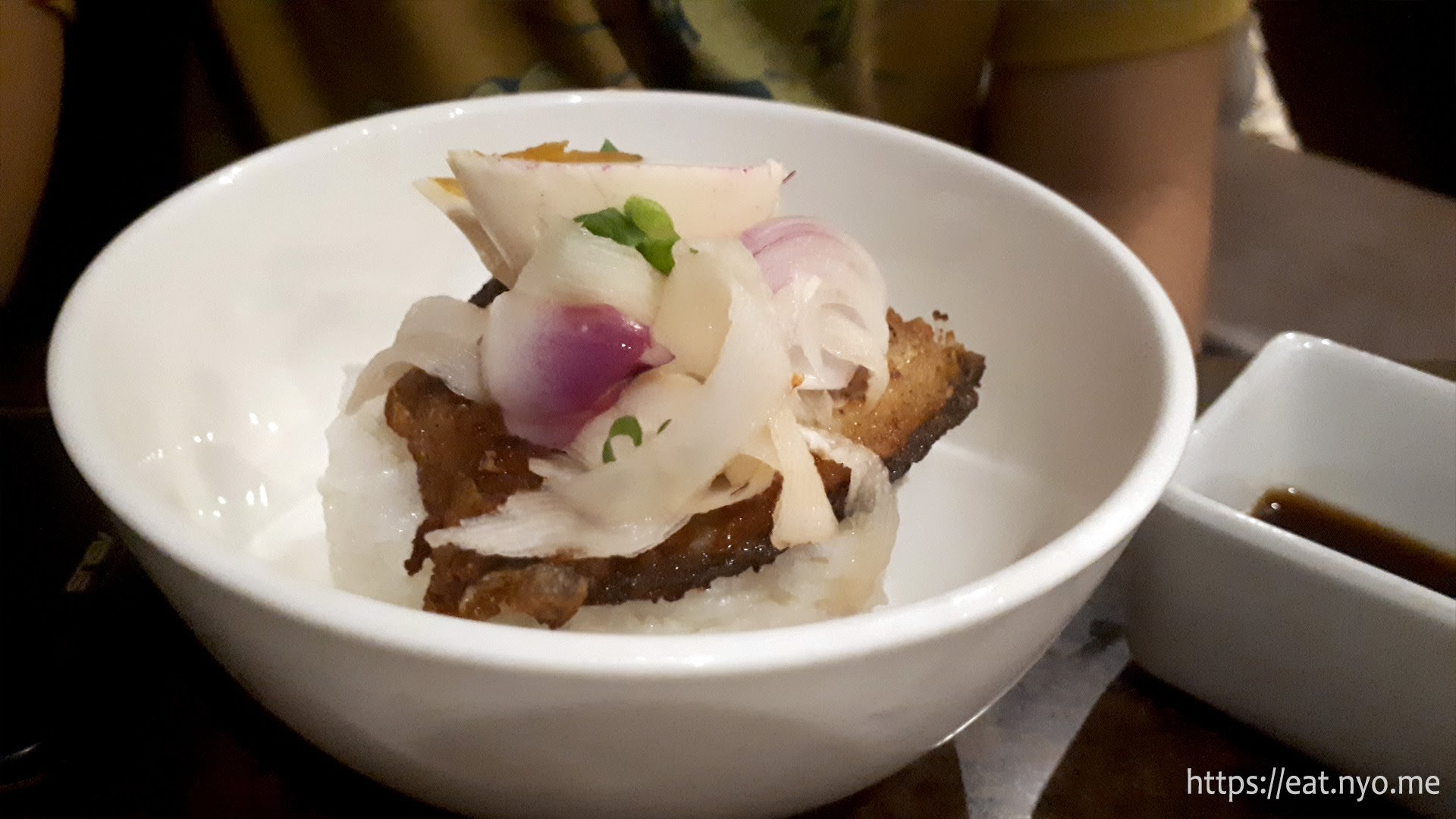 My Daing in a Bowl arrived in their usual white, medium-sized bowl. It's a cup of rice topped with smoked milkfish and some onions, salted egg, and I believe pickled radish—either that or pickled turnips; it's definitely pickled something, as evidenced by its sourness. While common, something you'll probably get in a carinderia, I found it nice since I was craving for smoked fish. Also the addition of salted egg, salt, and pickles provided a nice complement to the smoky bangus.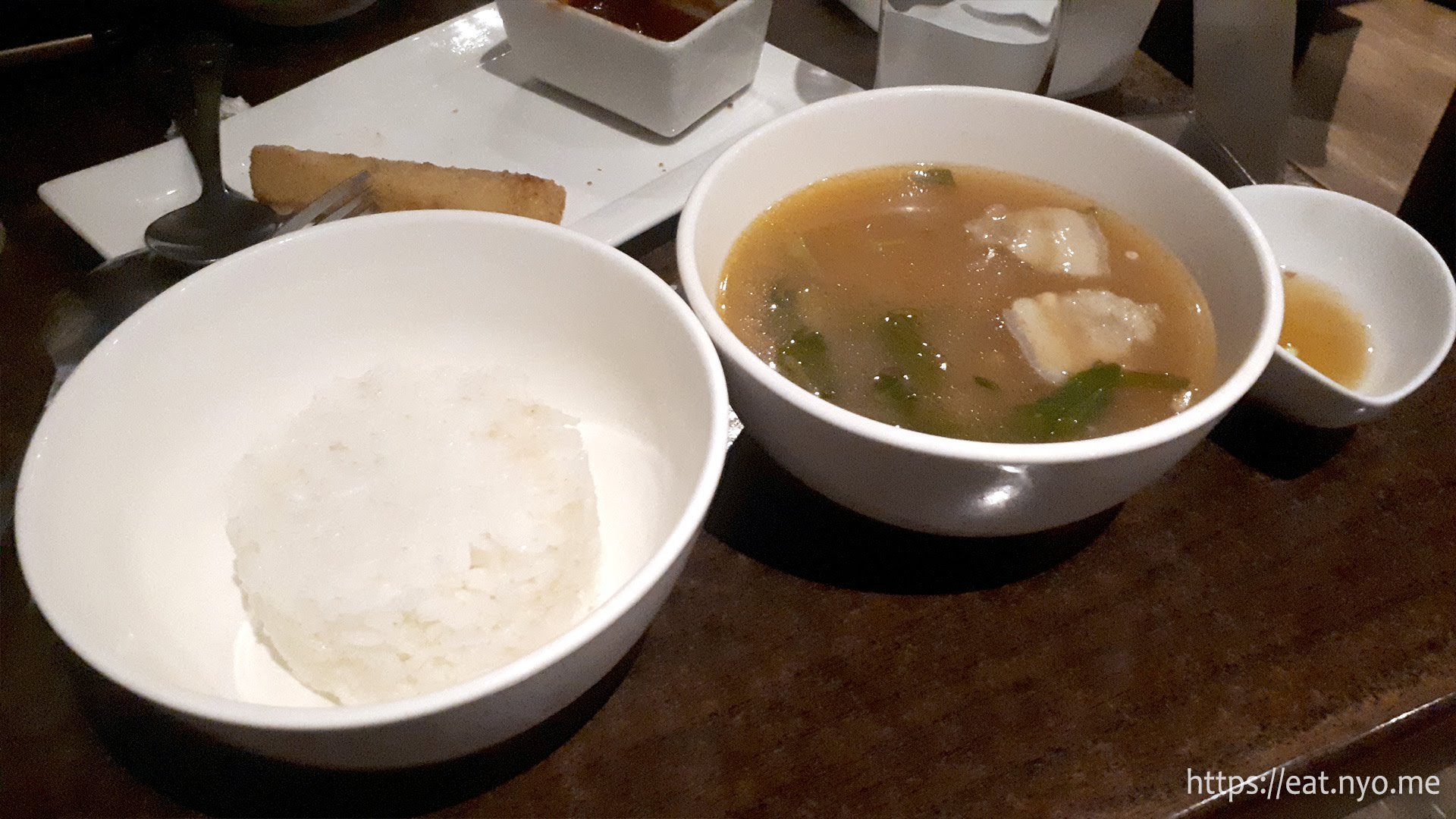 Beloved's Pinoy Sinigang came in the usual two white bowls—one for the soup and one for the rice. There's also a smaller sauce bowl for a fish sauce mixture. There's a lot of soup that can actually be shared for two and a generous enough amount of pork along with the usual greens and tomatoes you'll find in this slightly thick and definitely sour soup. Since it's one of her favorite foods, she loved it, despite not having the usual slice of radish this time around.
We went back a couple of days later because it was the closest non-fast food place (honestly, this place is better value than fast food) on my way home from work, and both of us happened to haven't eaten a proper meal for the day yet. We met at the café and this time, I ordered their Shabu Shabu (179 Php) with extra Egg Noodles (20 Php). Beloved got their Sisig Rice (119 Php). We also got their Deviled Tofu (145 Php), something of theirs we never tried before. And for our drinks, Beloved got The V, venti-sized (85 Php) after seeing how large their milk teas are, and I got their Americano Meets Tokyo, hot (89 Php), a drink I usually get when we go here.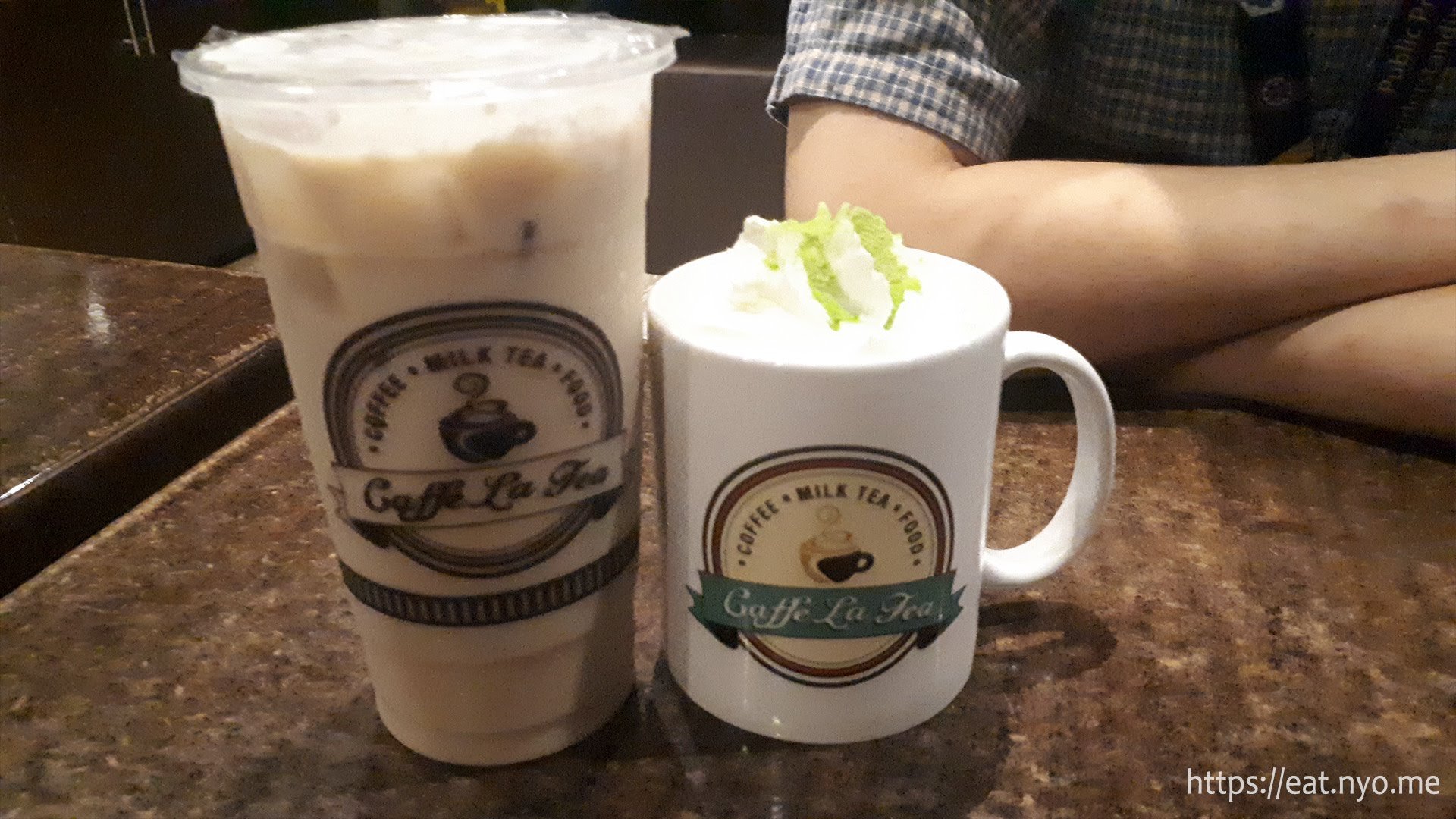 Beloved's The V, which was supposed to be black tea with French vanilla, was not that sweet and she mentioned a bit watered down. She probably won't be getting this again. My Americano Meets Tokyo is a mixture of coffee and matcha tea, topped with cream and matcha powder. The execution here is far superior than Starbuck's Matcha & Espresso Fusion Teavana. While sweeter than the usual coffee-based drinks I usually partake, this cup is among my favorite drinks here for the blend and the palpitating aftereffects I get later on.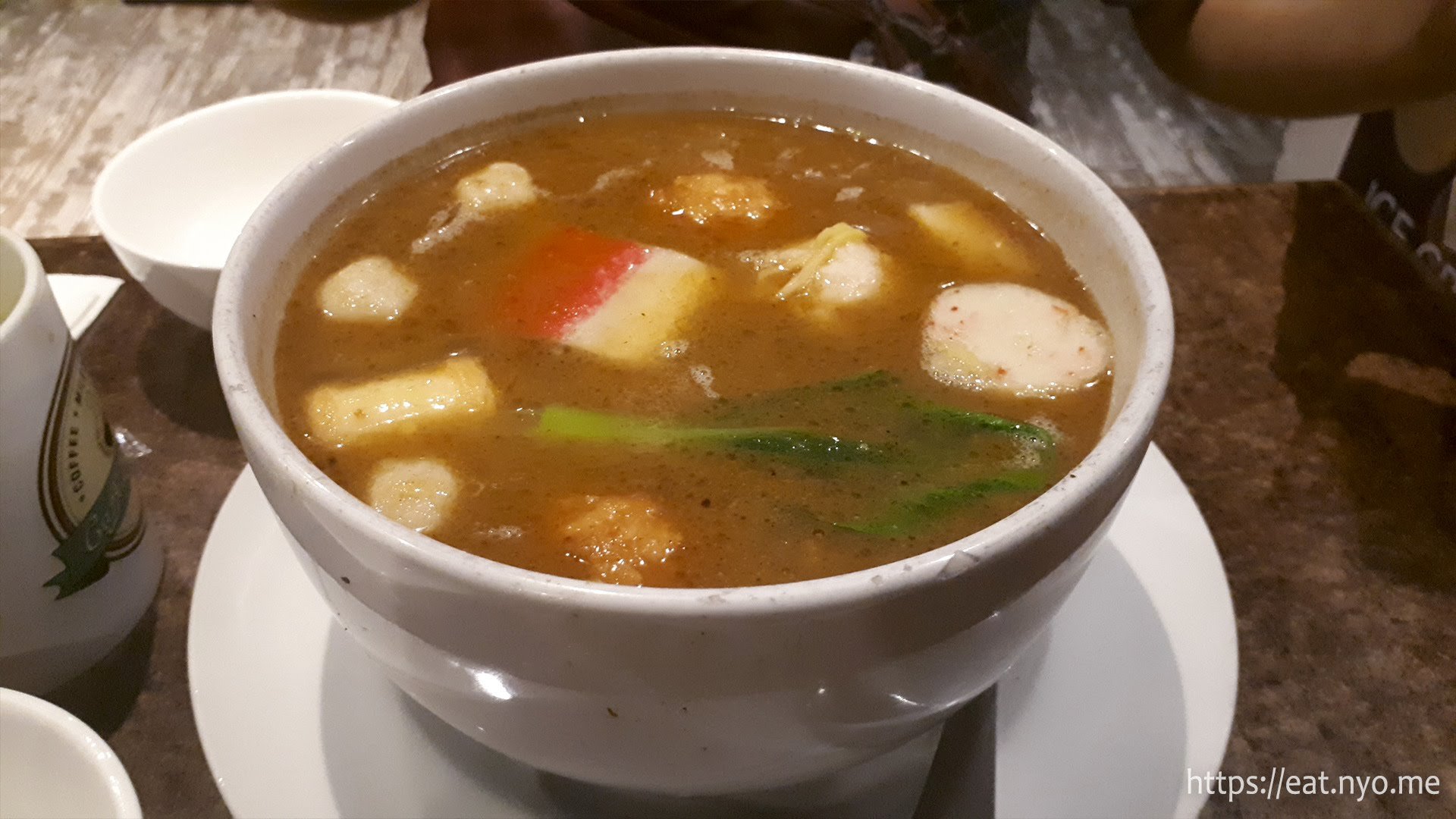 Their Shabu Shabu is among the largest bowls you can get from anywhere, especially for this price. While it's mostly soup, there's still a generous enough amount of hot pot balls to enjoy, maybe not enough greens. There's also a lot of noodles that the above picture doesn't do justice, so we took another one after fishing it out from the deep, red lake of soup: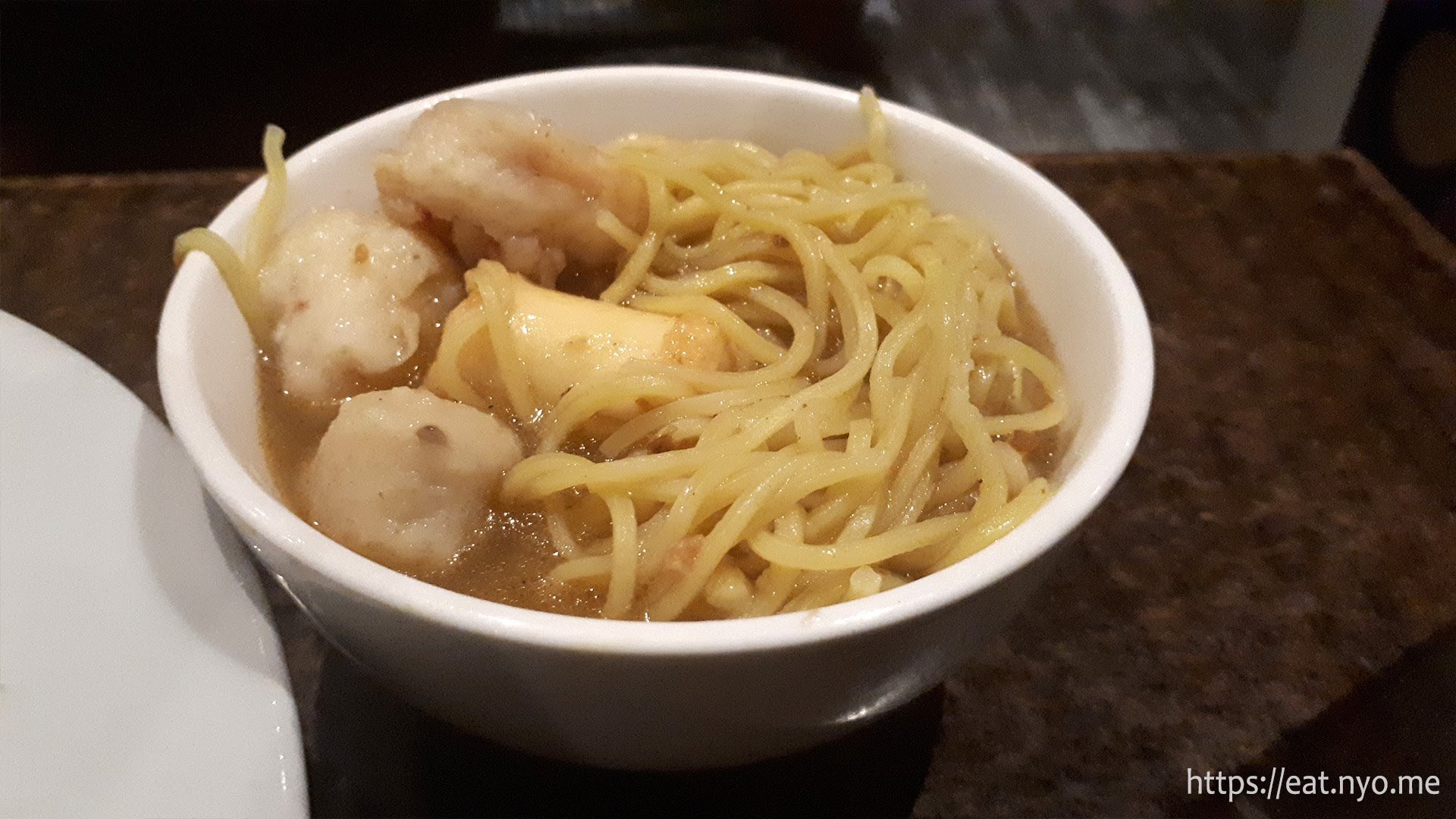 Getting this with extra Egg Noodles is definitely the smart choice. There's too much soup here that I feel is impossible to finish. The soup, still, is the dominant taste in this dish. It's on the hot side both temperature- and spice-wise and I suggest slurping the noodles and soup to aerate and avoid scalding from both.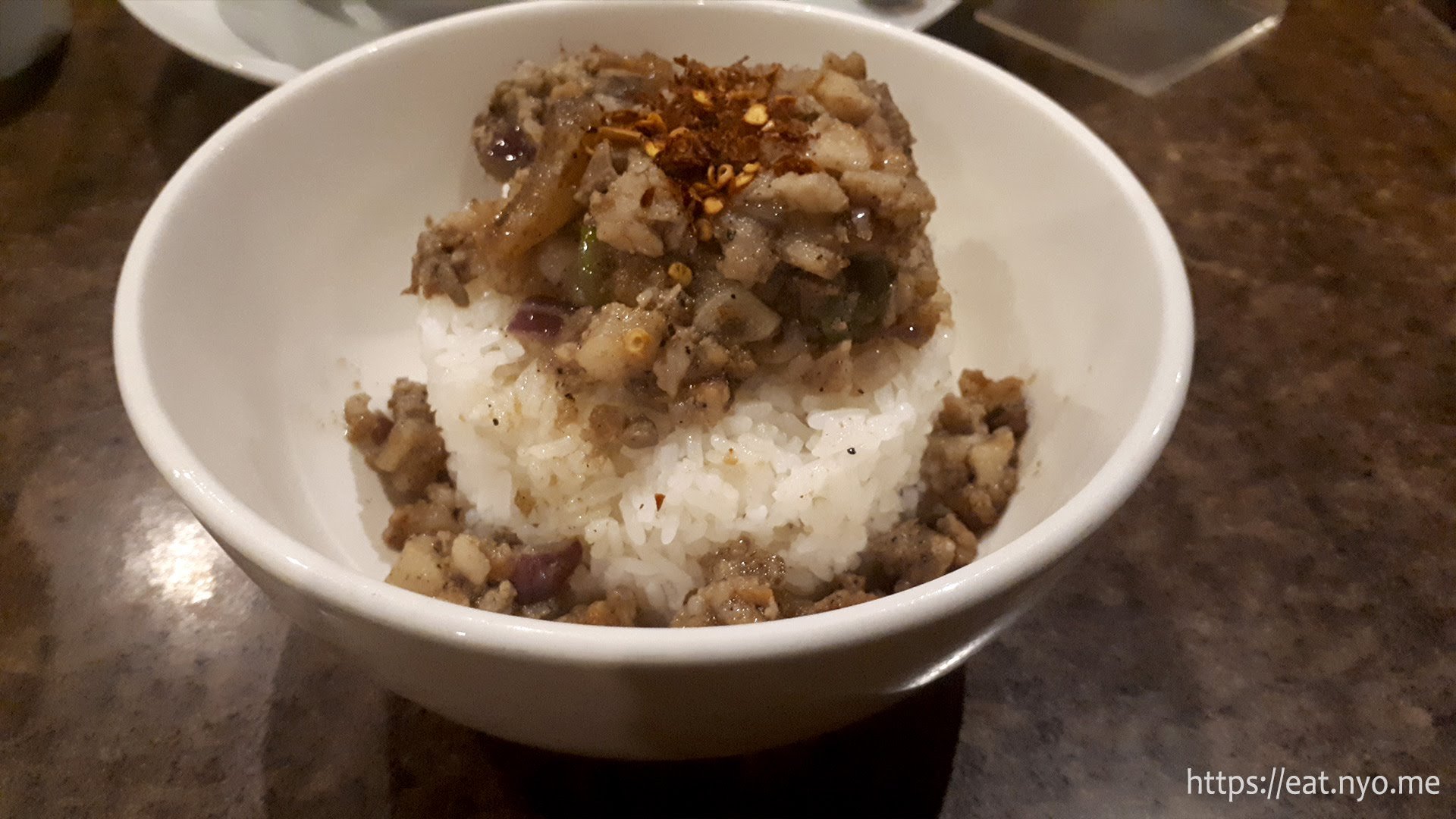 Beloved's Sisig Rice is similar to their other rice toppings, just replace the topping with sisig. Like most of their dishes here, it's spicy, but tolerable. The amount of meat is generous enough for the price. It basically meets expectations, although I'm sure Beloved would've still preferred to order their sinigang had she not been in quota for that dish already.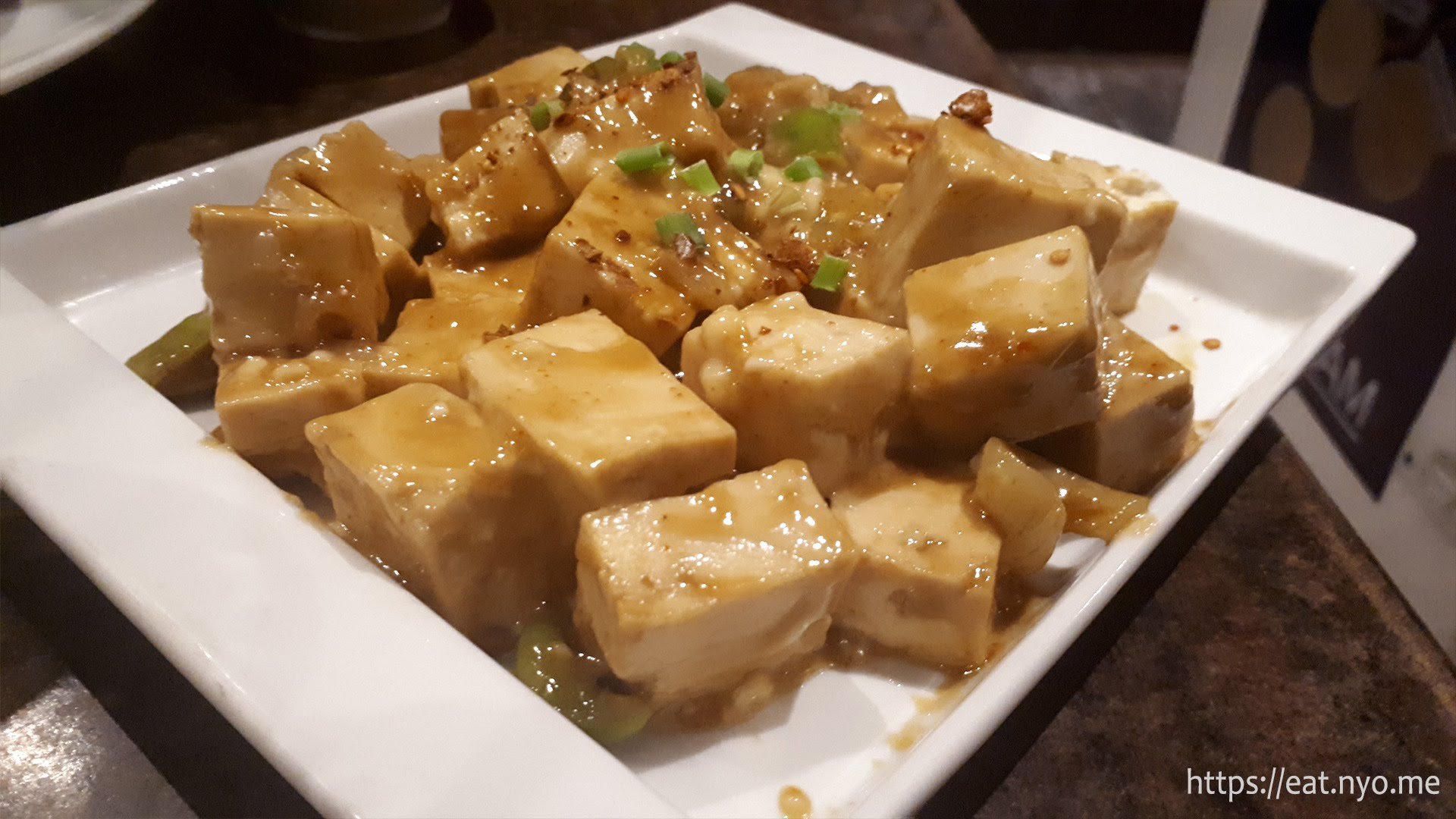 Finally, their Deviled Tofu was a surprise with mixed reactions. The good is there's a lot, which was also a bit bad because we were already a bit full. If you've had deviled eggs before, you'll find the taste and even texture similar. The tofu they used is quite firm, and had a texture similar to liver or hard boiled eggs. The sauce is actually on the sweet and fatty side, like mayonnaise and a tomato-based sauce sans vinegar. The spiciness only comes from the random bits of sili here and there, so it's not actually that hot.
The above is just a small snippet of their vast menu. What's nice about Caffé La Tea is despite this being a café, it doesn't have the expensive stigma that other cafés usually carry, especially with their drinks and rice meals. Their prices, especially for their serving sizes, are quite fair. Our bill rarely goes over 600 Php, and that's already with appetizers and drinks. While perhaps not as high quality, their food is good and definitely good enough for the impoverished. It's really hard not to recommend Caffé La Tea especially when one answers "Kahit saan" or "Ikaw bahala" to the "Saan mo gusto kumain?" question—there's probably something here for you.