After going to Kureji, Beloved and I passed by Hokkaido Takoyaki. Just a couple of steps away from the aforementioned restaurant is this small stall on the Vertis Ginza. From the name and the size of the stall, it's easy to deduce that they serve takoyaki or Japanese octopus balls. The open stall made it easy for them to attract customers as they cook the balls non-stop for passersby to smell. We were among the passersby that they managed to hook in.
What we found out was they not only serve the classic octopus balls, they also serve other ball variants. One has bacon, one has scallops, one has kani, and one has cheese. You can get six balls of the variant of your choice for 120 Php or 150 Php with drinks. We got their Original (Octopus) and Kani & Mozzarella variants, no drinks for both.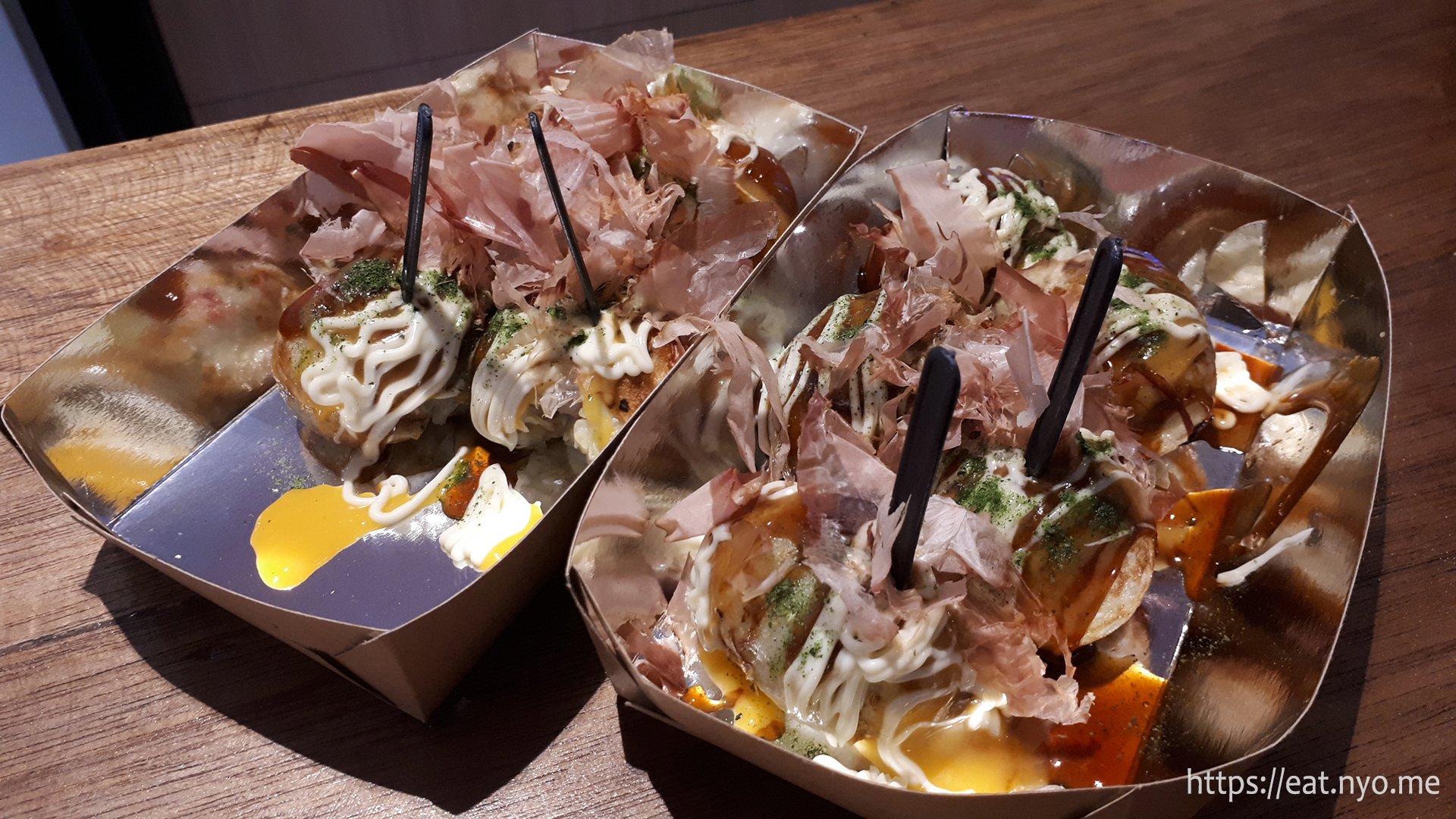 Our two orders were prepared at the same time but on separate containers. The Original Takoyaki is on the right of the picture. Biting through it initially was difficult and dangerous, as it was steaming hot inside. While they were large, I feel the takoyaki at Hana were much larger despite being similar price-wise. Taste-wise, they were similar despite having I believe cheese sauce as a difference. There's the smoky flavor from the sauce that goes well with the sweet and tangy mayonnaise. The random bits of nori powder and bonito gave it a nice balance. Sadly, there's only a few bits of octopus, unlike Hana's octopus-generous balls.
The only difference of the Kani & Mozzarella Takoyaki, on the left, were their insides—the outsides look practically the same. It's definitely got the stringiness of the mozzarella but wasn't as cheesy as I expected. It was a decent mix with kani, or crab sticks, but I prefer the octopus.
Beloved knows her balls more than I do. She used to frequent the takoyaki places you'll find at MRT stations. While she admits it's a bit fancier, especially with the variants and some toppings, it's not that different from the balls you can get for much, much less. Mall prices, specifically fancy mall prices, I guess. This makes it more fair to compared to Hana, but that place is definitely superior. Still, I feel it's not bad, it's actually quite good. If you really need the takoyaki experience, are at the area, and have a bit to spend, Hokkaido Takoyaki is worth a try.