Beloved and I had a late lunch at Kureji. This ramen-specializing place is one of the only few opened stores in relatively new Vertis North. Outside, there's a television that plays their menu items. What grabbed my attention was the fact that the ramen is served boiling, or, in their terms, sizzling. Yes—apparently, they specialize in sizzling ramen. I guess that's why they called it kureji, which essentially means "crazy" as spelled in katakana. It might also mean "courage", which sounds similar, and, in retrospect, it really is couragous to try serving something like sizzling ramen.
Their menu is very small. It's only one page, back-to-back, and almost half the page is a picture. There's a small selection of appetizers, drinks, and dessert on one side and their four varieties of sizzling ramen and three of their sizzling rice on the other. Since we were a bit under the weather, suffering from cough, we wanted something soupy. Beloved ordered their Sizzling Garlic Miso Ramen (380 Php) and I ordered their Sizzling Shoyu Ramen (380 Php). We also ordered their Gyoza (200 Php).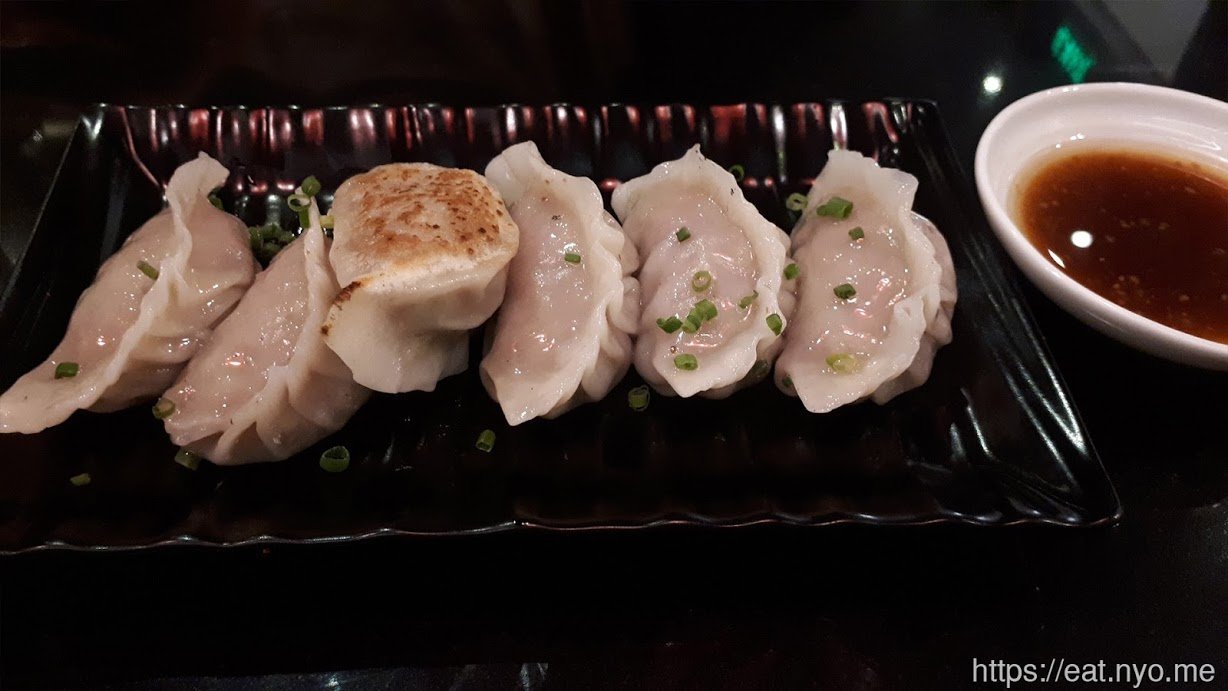 The Gyoza arrived shortly, six pieces of Japanese dumplings served with yuzu dipping sauce. This is different from the other gyozas we're used to as the charred side isn't as crisp as we would like. Still, it's quite good with a similar taste to other decent gyozas we've tried, minus the texture.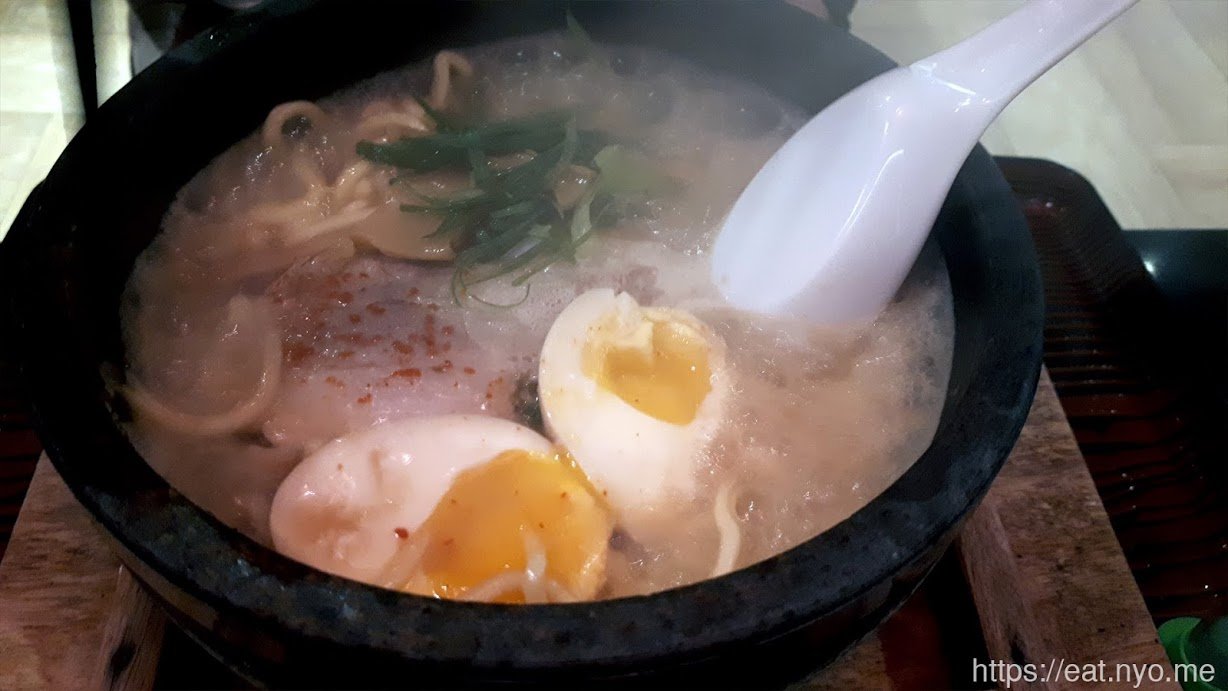 My Sizzling Shoyu Ramen arrived shortly after. It was served boiling hot in a stone bowl with the soup base on a separate pitcher. The noodles were somewere between the thin ramen noodles we're used to and an udon noodle. Aside from that, there's also pork chasyu and softboiled egg. There's also an hourglass at the side, and suddenly, the experience changed from a pleasant one to a pressuring one. Apparently, I'm supposed to scrape the noodles from the bowl to prevent from sticking as it boils, and after the timer, I'm to put the rest of the soup. Oh, and they also mentioned that the eggs included are best eaten soft-boiled.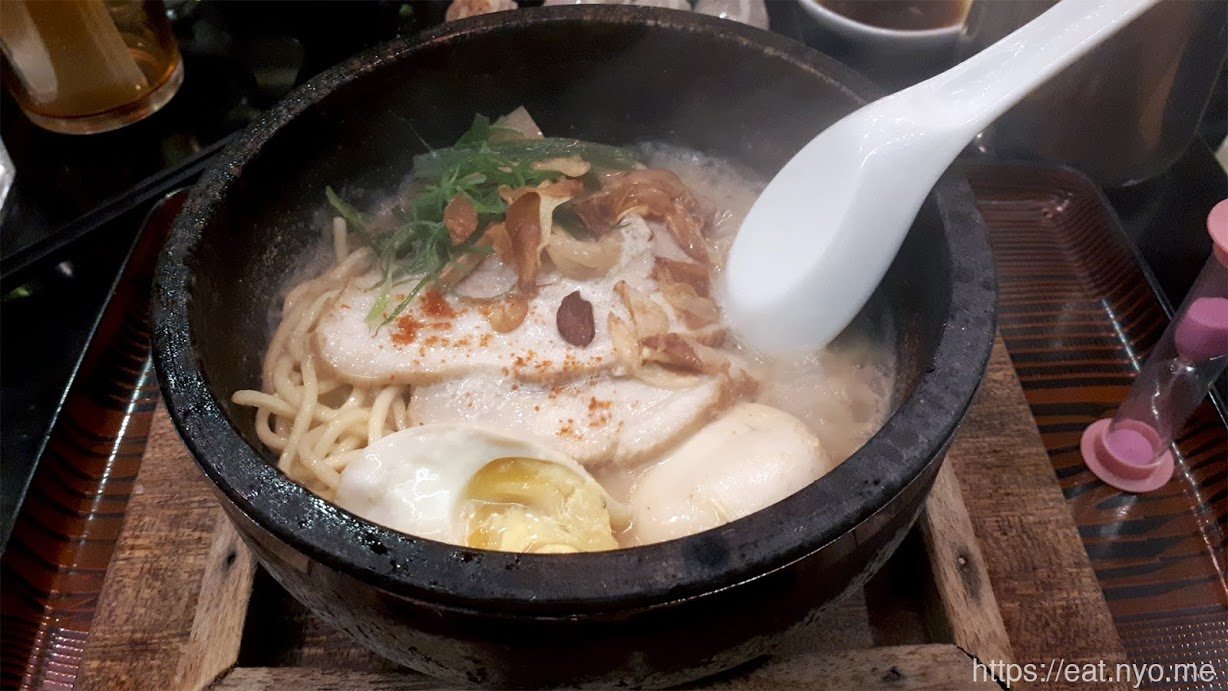 Beloved's Sizzling Garlic Miso Ramen arrived while this was being explained to me by the server, so I didn't get most of the parts, and my timer has already started. Her bowl looked similar to mine, noodles, egg, pork and all. They explained the same to her as I panickingly scrape the noodles from my bowl. The timer has already elapsed on my bowl and the server poured my soup.
The boiling subsided after a while, but it was still a challenge to eat as the stone bowl was still hot. The soup was piping hot as well, and almost scalded my mouth on the first sip. I failed in the soft-boiled egg part, which was already hard when I started eating, but, luckily, none of the noodles sticked to the bowl. The soup was much thicker than what we're used to as well, and quite sticky. It sticked well to the noodles and gave it almost all the flavor of the soup of our choice. Mine was quite salty-savory, more on the salty soy side, as expected. Beloved's soup was tasty and tasted as described—garlic miso. The other toppings were not as memorable, but decent. The pork was soft and I managed to eat the bones with relative ease.
The total bill was a little more than 1040 Php after service charge. This was slightly less than our beloved Ippudo but slightly more than the budget ramen places we go to. While it was definitely worth the experience, I can't see myself going back here. Nevertheless, I'd recommend this place a go for the curious, the couragous, and the crazy/kureji, even just once.