Beloved and I had a late brunch at Tim Hortons a couple of days ago. This Canadian chain is actually quite famous, and apparently, it beats McDonald's in Canada, according to our friends there. It's not our first time trying out the chain, actually. We've been to the Eastwood branch before and Beloved has been visiting this chain's other branches quite frequently, which has been popping up all over the Metro, whenever she has the chance to. This particular branch has only recently opened at Cubao's KIA Theatre and is actually quite close to home. In addition, it's apparently open twenty-four hours.
During the first time we tried this place, Beloved fell in love with their sweet coffees (especially my order—their French Vanilla). I didn't like it as much, as I like my coffee bitter and black. However, I do admit that their prices are quite competitive. I was also curious with their other food, as they seem to offer sandwiches at relatively competitive prices. It's basically like Canada's own Jolibee in terms of cultural similarity, replacing their soda with coffee and their sandwiches with something a bit fancier, specifically bagel or chicken sandwiches, chicken wraps, and panini melts.
Anyway, this time, we tried out their food, hoping it will fill us up as it was our first meal of the day. I ordered their Italiano Bagel Combo (270 Php) and Beloved ordered their Tomato & Mozza Panini Combo (200 Php). These combos came with potato wedges and iced coffee, which we upgraded to large (plus 25 Php each). There was also an option to change our wedges into either chicken noodle or vegetable soup for 50 Php, which, now that we know better, might have been better for me.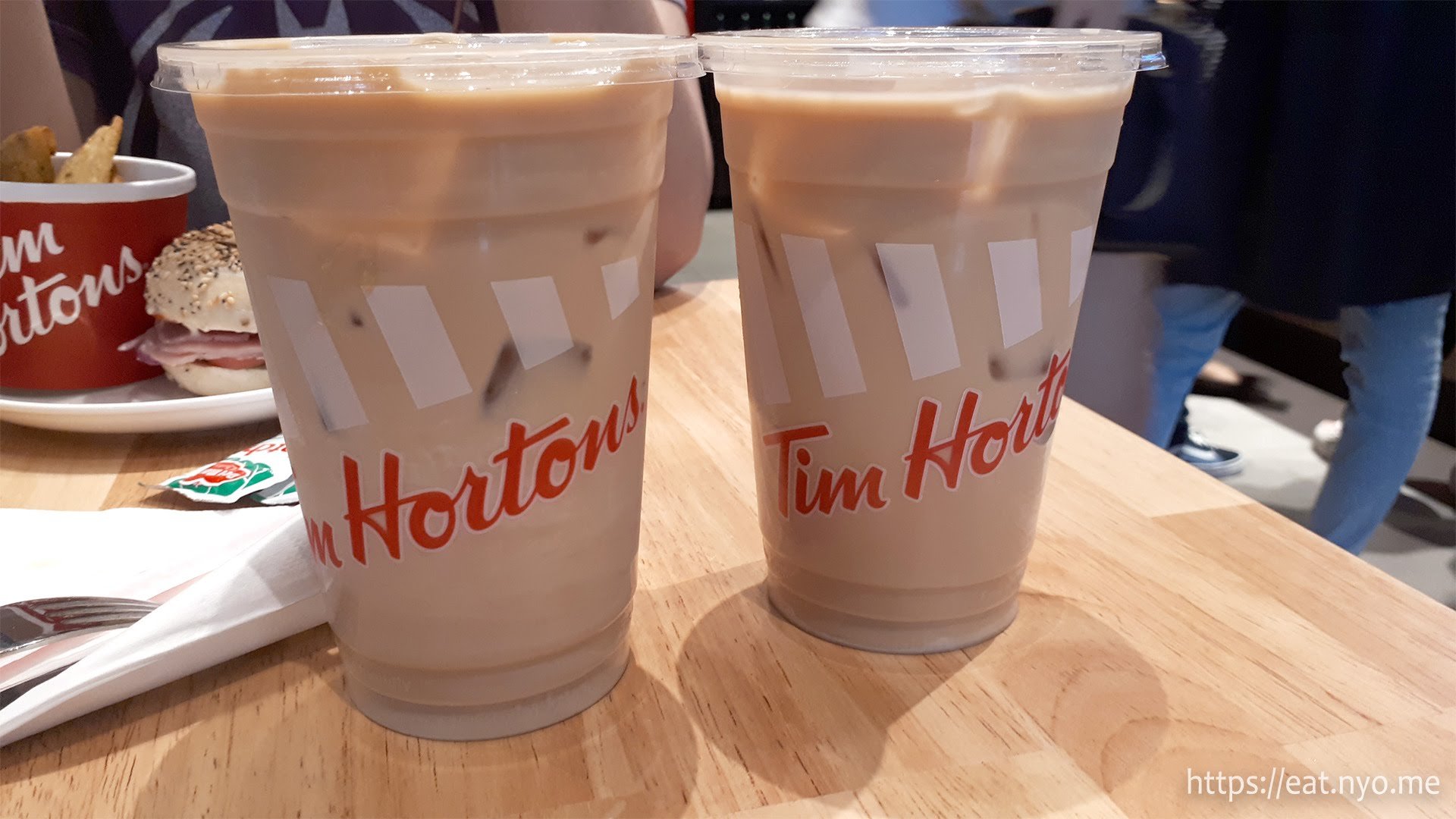 Our orders arrived pretty quick. In fact, I think the queue was longer than our wait; it's a fast food place, after all. I was unable to ask if they can change the Iced Coffee that came with our combos to something unsweetened. If it did, I might have a clearer picture if I'd frequent this place a lot more. It's sweet, even if I did not ask for it to be double-double, which apparently is how Canadians like their "Tims". This basically means double shots of vanilla and double shots of sugar. Beloved added a shot of vanilla and sugar to hers. I had mine vanilla (meaning just plain), and it's already quite sweet.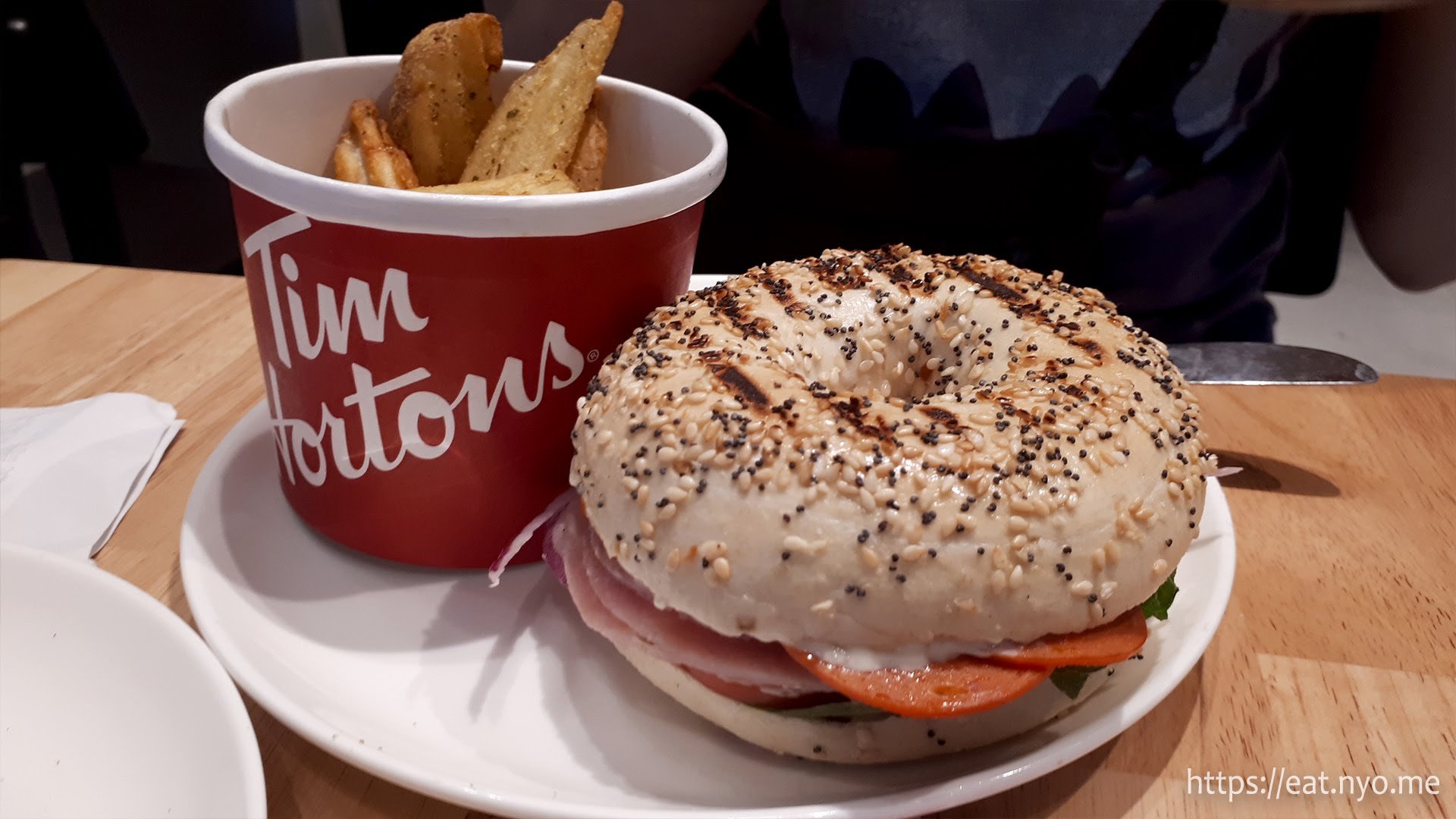 The Italiano Bagel was surprisingly good and its ingredients individually was very nice. Combined, they were even more awesome. The toasted bagel was quite crisp on the outside, and adding the aromatic and similarly crispy sesame seeds added even more texture. The bagel bun was also quite decently soft after biting into its toasted interior. Inside, you'll find a very generous amount of smoky salami, ham, onions, tomatoes, and crisp lettuce with some cream cheese.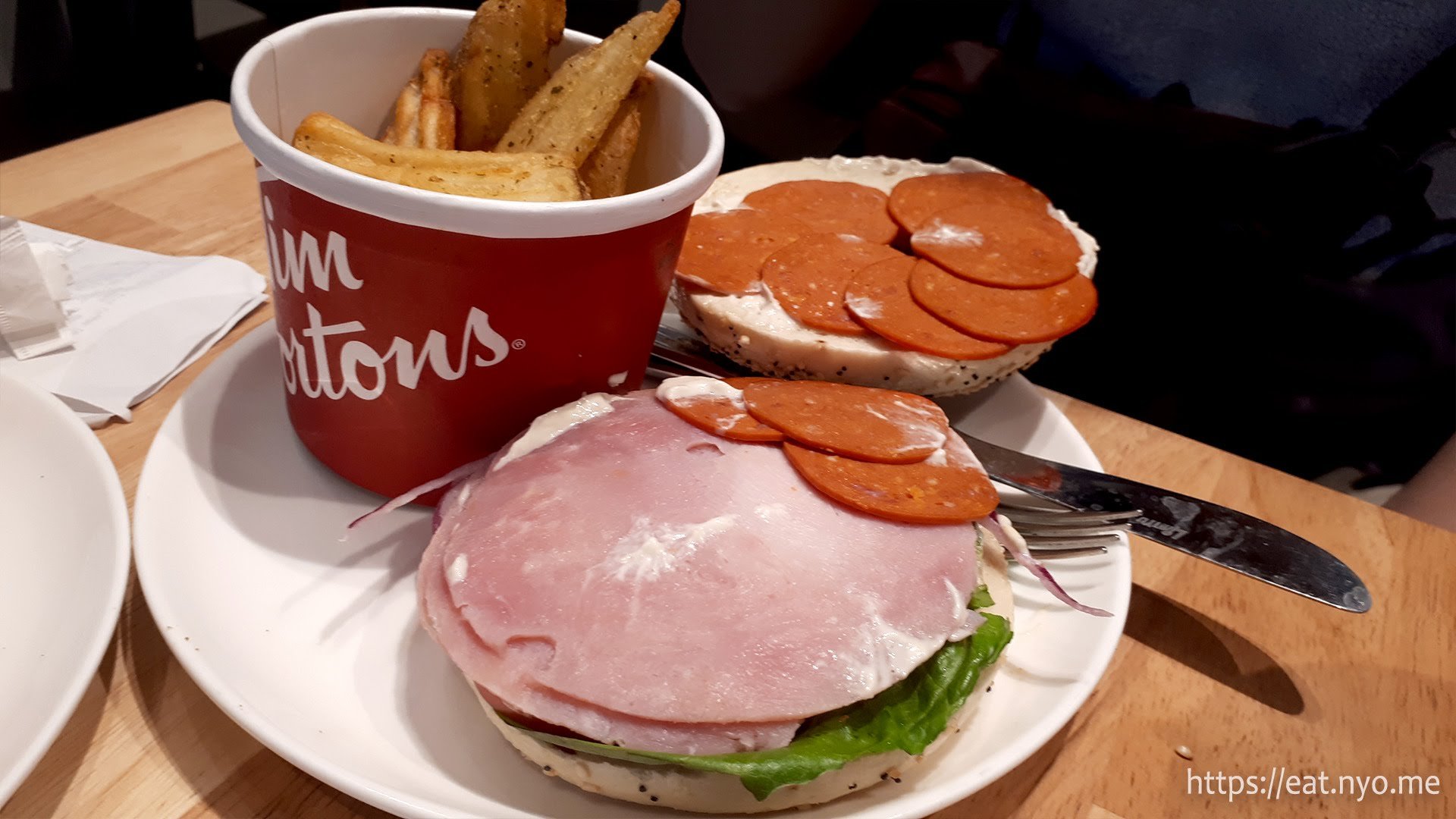 When you bite onto this bun, make sure to get all the ingredients in one go. The amalgamation of tastes and textures was amazing and this is among the best non-burger sandwiches I've ever eaten. The wedges, sadly, did not give the same satisfaction. While this crisp-on-the-outside and fluffy-on-the-inside is preferential to most, I'd rather have them thinner and crisper. Along with the sandwich, however, it's quite filling.
Their Tomato & Mozza Panini, sadly, is not as awesome as my order. While slightly bigger, the toasted bread slices were too thick, I feel. The worst part is in its insides. The mozzarella they used isn't the stringy one that I prefer, and it had a creamy consistency. There were also only three puny slices of tomatoes in the sandwich. Even if this is much cheaper than my order, value-wise, it seemed poor. Stay clear of this one!
If you're trying out the sandwiches at Tim Hortons, their Italiano Bagel is a safe bet. I'm still not sold on their coffee, as I find it too sweet. However, I'm sure a lot of people prefer their coffee this way. And it's actually quite competitive compared to other coffee places. While I feel they cannot directly compete with fast foods here, it's definitely a threat to coffee chains like Starbucks or CBTL. It's like a middle ground between fast food and expensive coffee chains, and in that aspect Tim Hortons feels like it's here to stay.