Beloved and I had dinner at Nara Kimbob a few days ago. This place is actually a place that we usually ignore in some food courts. It recently (about a year, maybe?) opened its own place at Aurora Boulevard near Anonas Station where I reside. We've also been in this place quite a few times already due to its proximity and price.
Kurzgesagt, this place is a Korean "fast" food place that offers quick meals like bibimbap, ramyun, or its namesake kimbap. They call their baps "bobs", specifically bibimbob and kimbob and I'll let you guess which is which—I don't know why they call them that way. Anyway, their prices are relatively cheap, priced at less than 100 Php for a "KR" combo meal that contains one of their kimbobs, half a serving of their ramyun and a glass of iced tea (kimbob-ramyun, I guess), and their "BR" combos with their more filling bibimbobs at 125 to 160 Php (bibimbob-ramyun, I assume), similarly having half a serving of ramyun and iced tea. These combos are what we usually get, but they do serve their food ala-carte as well.
That day, Beloved, who usually orders their "BR" combos like me, instead went for a "KR" combo as she was feeling under the weather. She got their KR2 Combo (89 Php), which offers a choice between kimchi, original, cali, or sambob for half of their kimbob variant—she got their Kimchi Kimbob variant and had hot red sauce to go along with it. As she was a bit sick, she also upgraded her ramyun to Whole Ramyun (+19 Php). I got what I usually get here—their BR2 Combo (145 Php) which serves their Bacon Bibimbob that I got with mild sauce, and I opted to upgrade the included ramyun to Pork Ramyun (+10 Php).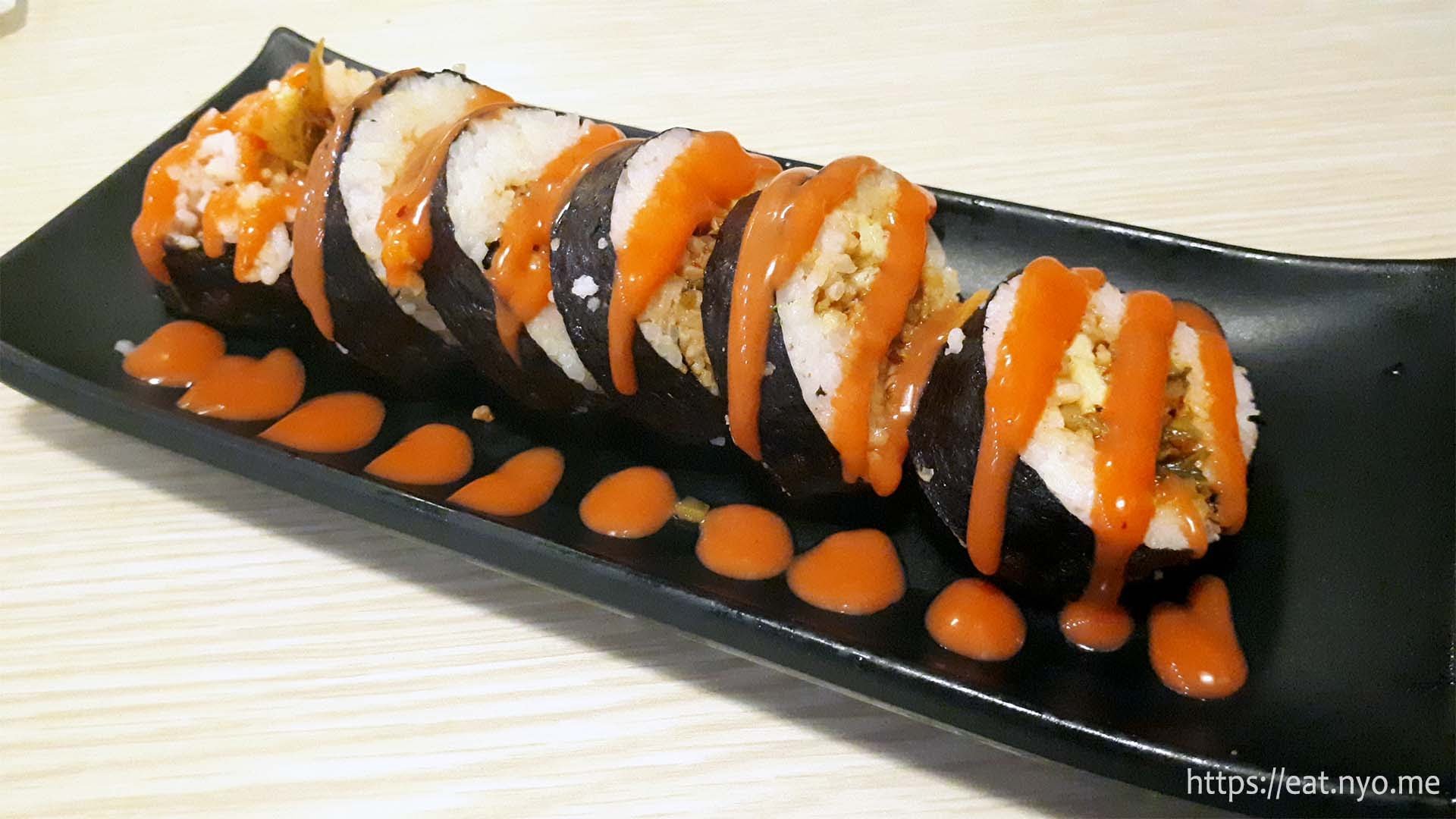 The Kimchi Kimbob that came with Beloved's KR2 Combo had 6 pieces of the aforementioned sushi dish. While the rice is not genuine Japanese/Korean sticky rice, it held well enough the mixed veggies and, in this case, kimchi wrapped with the usual nori. The dish was also smothered with the requested red sauce that gave it quite a nice spice. It was spicy enough that even Beloved admits it's got a kick.
The Seafood Ramyun that went by default with the KR2 Combo, while pretty obvious is some imported instant ramyun, was still decent enough with the added toppings. In this case, there's fried egg, chopped spring onions, fish, squid, and scrumptious albeit lonely shrimp. While the toppings aren't that generous, it didn't feel like it was a ripoff from the price, considering it's part of an already affordable combo. The broth it went with, for me, was like drinking hot chili peppers. While tolerable, I'd definitely have more than half of the soup left over. Beloved denies this fact and says it's sakto lang and is able to gulp down the demonic soup.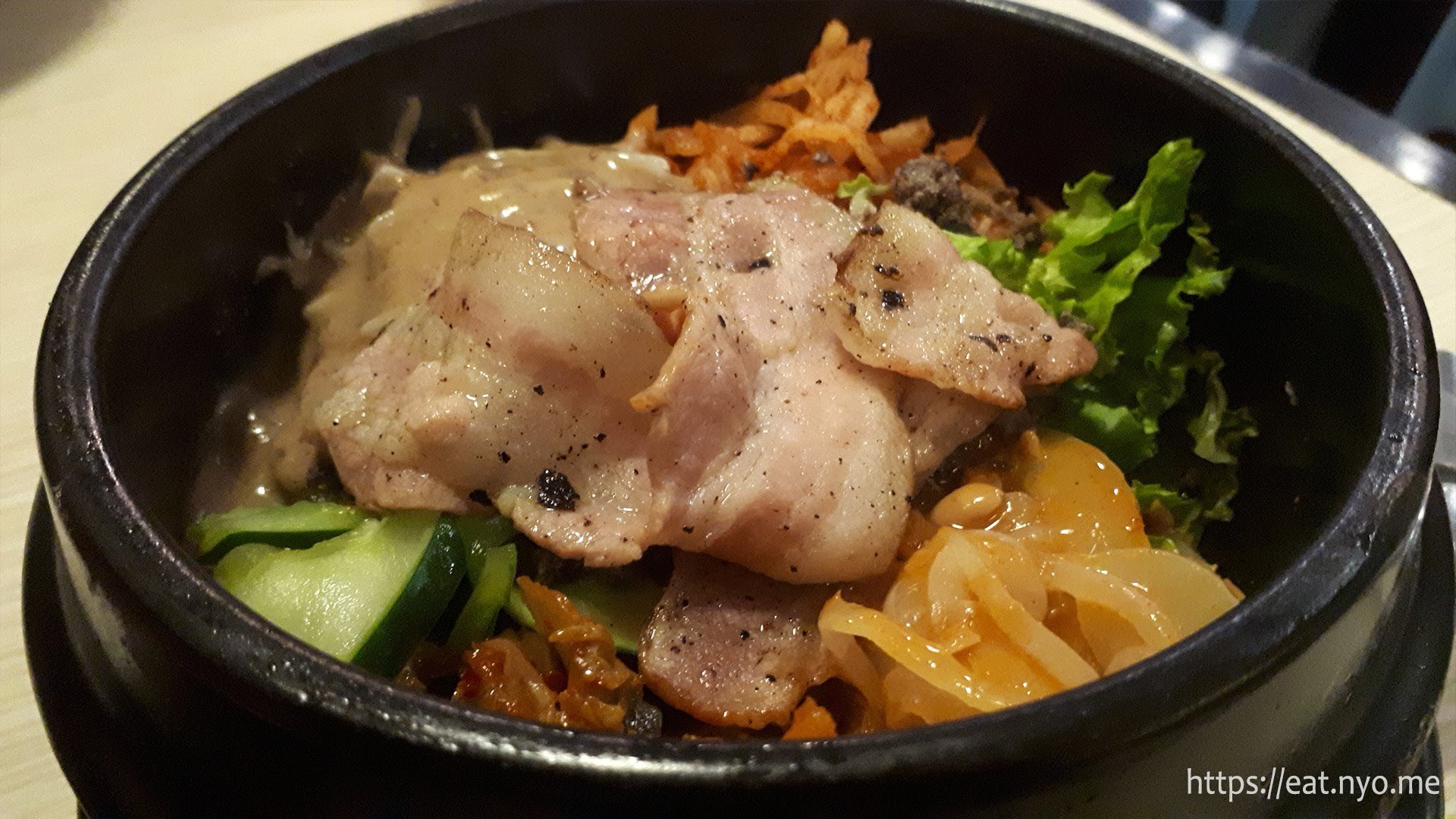 The Bacon Bibimbob that went with my BR2 Combo was it's usual rice-topped bowl of assorted veggies—cabbage, radish, kimchi, cucumber, carrots, some marinated ground beef, and the star bacon mixed with a soy dressing. The patron, me in this case, is expected to mix this all up, as how bibimbop usually is. As with the usuality, the crunchy veggies pairs well with the soft rice, giving it a wonderful gradient of textures, and the chewy, smoky bacon is accentuated by the sweet-and-spicy mixture. This passes quite nicely as comfort food for me.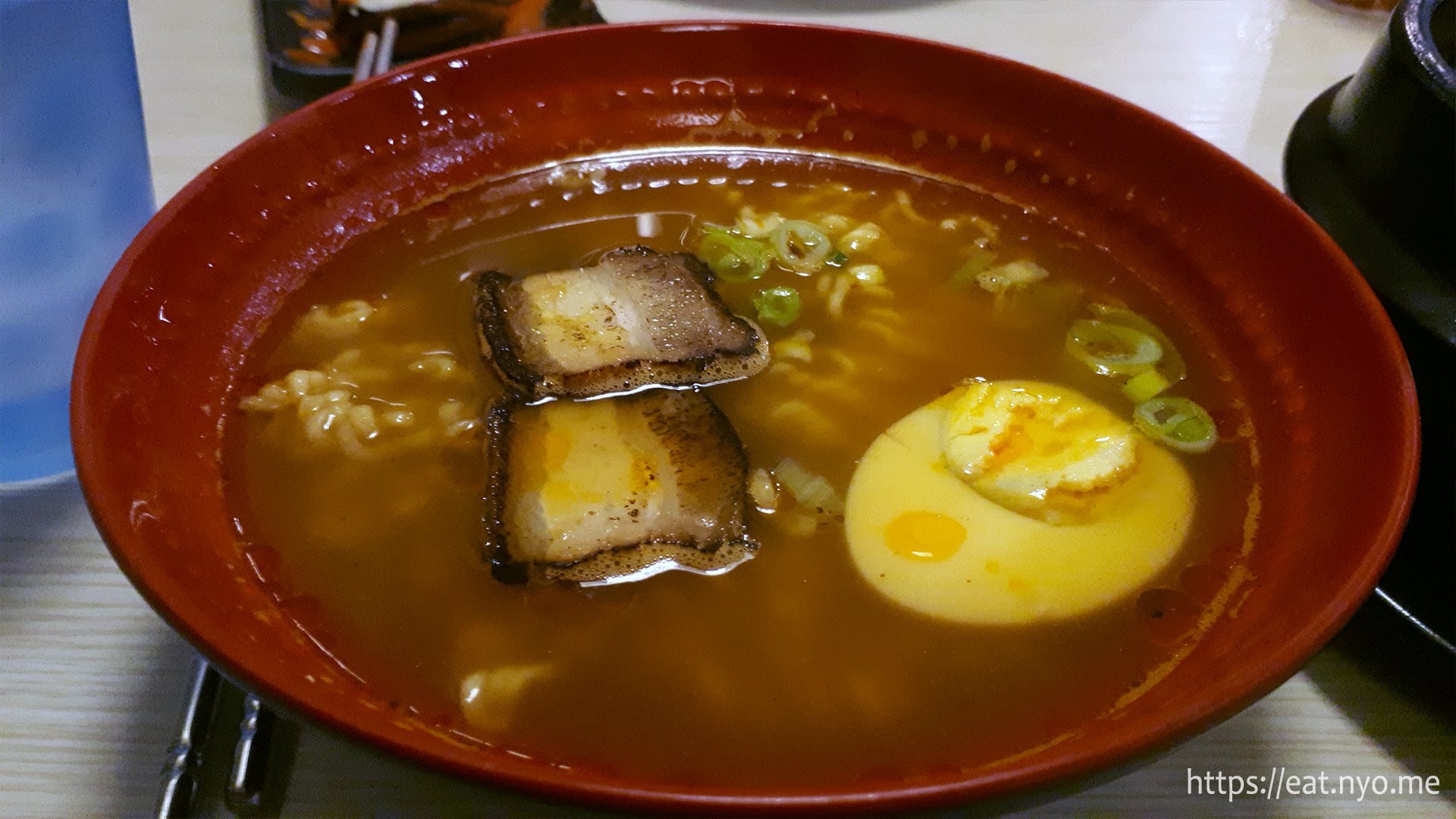 This was not the first time I ordered their Pork Ramyun, and I soon recalled why I was quite unsatisfied with it and vowed to no longer upgrade the default seafood ramyun that came with the combos. This dish is basically similar to Beloved's, just replacing all seafood with two measly slices of lechon pork belly that you can get from Baliwag or Andok's or somewhere similar and the egg with half a hard-boiled one. Also, there's less noodles on mine as it's only half their regular portion. It's not bad, but felt like a ripoff when compared to the default variant that's already alright, especially if you like seafood. Even if you like pork, this was still not worth it.
I guess the last sentence I used to describe my experience with my usual order, their Bacon Bibimbob here at Nara Kimbob best describes the place for us—this is comfort food for both myself and Beloved. Reading through my blog, I used to dislike Korean food as they're usually basically just spicy and/or sweet with very little variance in taste, especially for their marinated meats. Once I've become accustomed to the different offerings, I've grown to like the other features of Korean food, namely the variety in textures offered by the vegetables that went with most of their dishes. Nowadays, I seem to enjoy Korean food not because of the meat alone, but by the banchan that went with it, and their bibimbap is essentially banchan rice toppings. While definitely not the best-slash-genuine Korean experience as very blatant substitutes are done especially when it comes to the rice that went with their dishes, this place delivers a budget option where I can enjoy the features that I enjoy about Korean food. And for the price, it's definitely filling and worth it. Nara Kimbob is as Beloved puts it, sulit.