A foreword: we are not the best people to ask about this place. Beloved and myself are not big drinkers. Blackwood Bar & Grill is foremost a bar which Beloved, myself, and a group of friends went to celebrate a couple of friends' birthdays. This bar is one of the few places in Kapitolyo The Hub at the Greenfield District that serves alcohol. According to our more beer-drinking friends, the prices of the draft beer here was reasonable which was why they chose this place.
I was not a fan when I saw the menu of this place online as the prices were too expensive and suggested we eat before going to this place and just having drinks and pulutan. Unfortunately, schedule was tight and Beloved's event forced me to do some accounting work post-event for her just so we can get to this gathering sooner. When we got there we were famished and forced to order some of their food, not being able to "load up" before elsewhere.
Honestly, their menu wasn't similar to a typical bar menu that we've grown accustomed to that offers mostly finger foods or carb-less meals. I guess you can compare their menu to Brotzeit, substituting the German food to a variety of main courses. Their selections include steak, chicken, seafood, beef, and pork all served with some sort or rice or potato dish as well as crab dishes, pizzas, and pastas ranging from just a little below 300 Php up to 3,500 Php. We opted for their more affordable options—I got their Crispy Pork Belly with Bagoong Rice and Egg (365 Php) and Beloved got their Grilled Lemongrass Chicken with Coconut Rice (295 Php). We also got a couple of their Black Russian (180 Php ea) cocktails since we're not beer drinkers.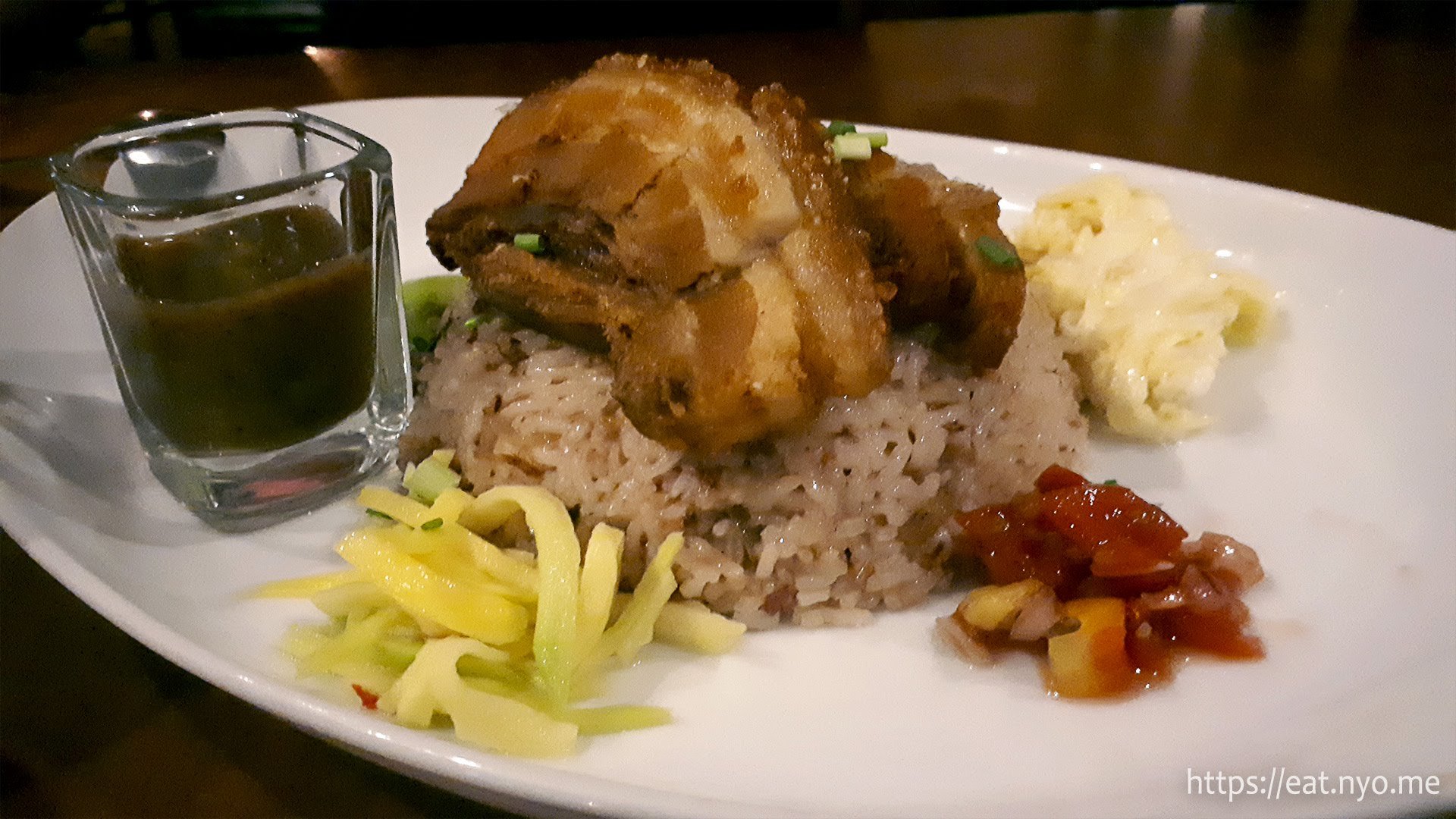 I was honestly surprised with the big plate that carried my Crispy Pork Belly with Bagoong Rice and Egg. There were two big slabs of the aforementioned crispy pork belly served on a humongous cup of bagoong rice. Beside it was scrambled eggs, pickled mangoes, diced tomatoes, and sliced green chili peppers. It also came with a shot glass of spicy Mang Tomas, or liver sauce. It's not bad, crispy and oily as expected, but it awakened a craving in me for something crispier and unhealthier.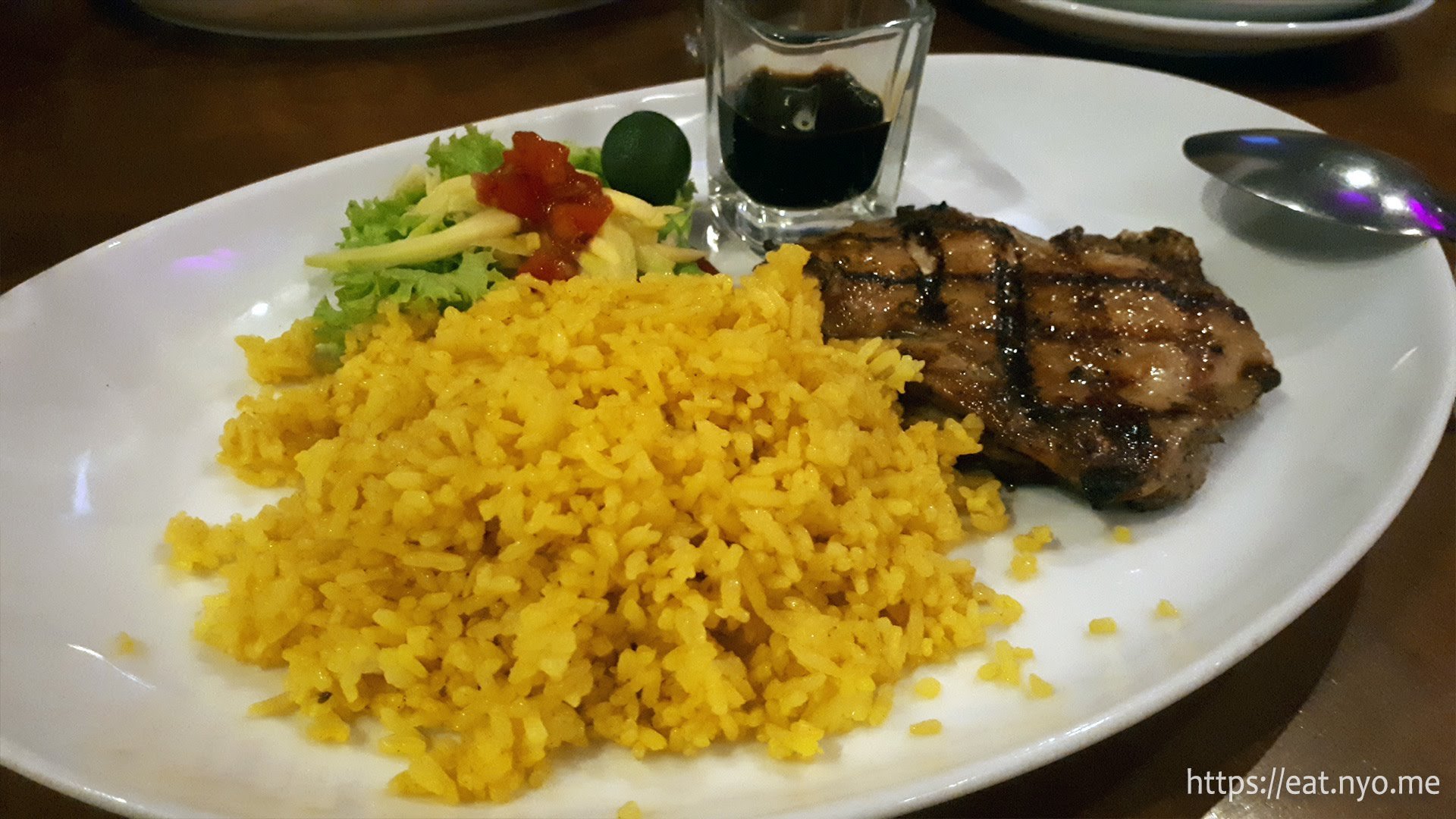 Beloved's Grilled Lemongrass Chicken with Coconut Rice also had a lot of rice with a decent enough amount of meat. It had a salad that contained the same pickled mangoes and diced tomatoes that also came with my dish. Also, instead of liver sauce, this was served with some sort of black vinegar sauce. The chicken was grilled with nice markings. Sadly, it was tough on some parts. Flavor-wise, Beloved did not enjoy it as it had a lemony backdrop to it.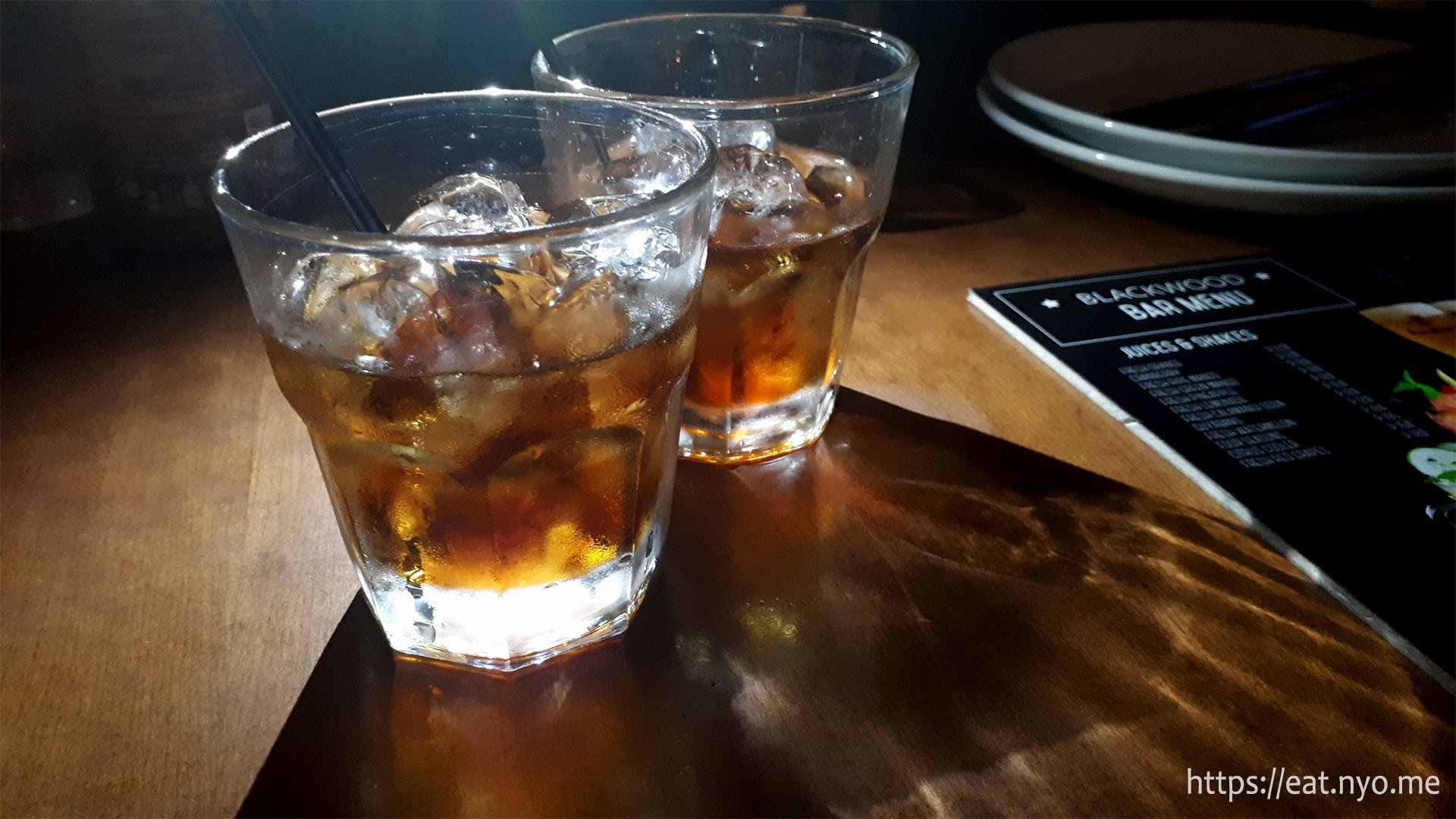 Our cocktails, their Black Russian, were probably the best order we had that night. This mixture of vodka and coffee liqueur was quite strong on the alcohol. Served on the rocks, I opted to dilute it a bit to soften it. Once it was watered down, it tasted quite like americano with a nice kick and went down smoothly. Beloved found the amount measly especially for the price.
I'd reiterate that we are probably not the best people to ask about this place. Blackwood Bar & Grill will cater more to the richer drinkers of the area, as there seems to be a lack of bars in this place. I'll also admit that the choice of music was quite nostalgic, playing songs from our generation (90's) selected by (maybe) in-house "DJ XTIAN". Aside from that, I can't speak for any other aspect of the place as I find it too expensive, especially when I know of some places that serve cocktails at a fraction of the price and beers at sub-40 pesos and places that serve similar dishes with less carbs and more meat at less price. I'll admit that their food is decent, but still priced a bit unfavorably to what you're getting.
I do concede that I'm quite curious about their pizzas, which claim to be flaky and our celebrant friend says it was like toasted croissant where it will crack as you try to fork or bite it; our other celebrant friend says it's too small. I'm also quite curious about their crab dishes, which, sadly, are also not affordable. Still, maybe once we manage to climb up in social class, we'll be able to try them. For now and for us, this place is not worth it especially for fellow non-drinking Plebs.