Beloved and I had coffee at Costa Coffee Eastwood branch last week. This coffee chain might be my current favorite among chains, not counting "third wave" independent coffee shops or fast food coffees (which, honestly, some are not half-bad). After participating in SGD Coffee's Coffee Appreciation Workshop, we feel more qualified to review and appreciate places that serve good coffee. For me, this imported British coffee chain that we frequent a lot is one of them.
What's nice about this place are twofold: one, the size of their venti-equivalent coffee; and two, their food—specifically their sandwich offerings and their cheesecakes. Among coffee chains, this place offers the second best sandwiches I've eaten, second to Seattle's Best's Smoked Salmon & Cream Cheese Panini. Their largest cups, which they call massimo, has two handles and is quite generous in volume, about as much as Starbucks's venti but priced much less. They also specialize in "flat white" coffee, that I sometimes order. Unfortunately, that particular specialty of theirs isn't served in the humongous cups, which is why I only order it every once in a while.
That day, I got my usual Americano, Massimo (140 Php) and Beloved got her usual Iced Mocha, Massimo (160 Php). We also got a sandwich, despite already having a filling meal beforehand—their Beef Pastrami with Gherkin Sandwich (170 Php). Finally, as an additional order, we also got a slice of one of my favorite cheesecakes I've had, their London Cheesecake (150 Php).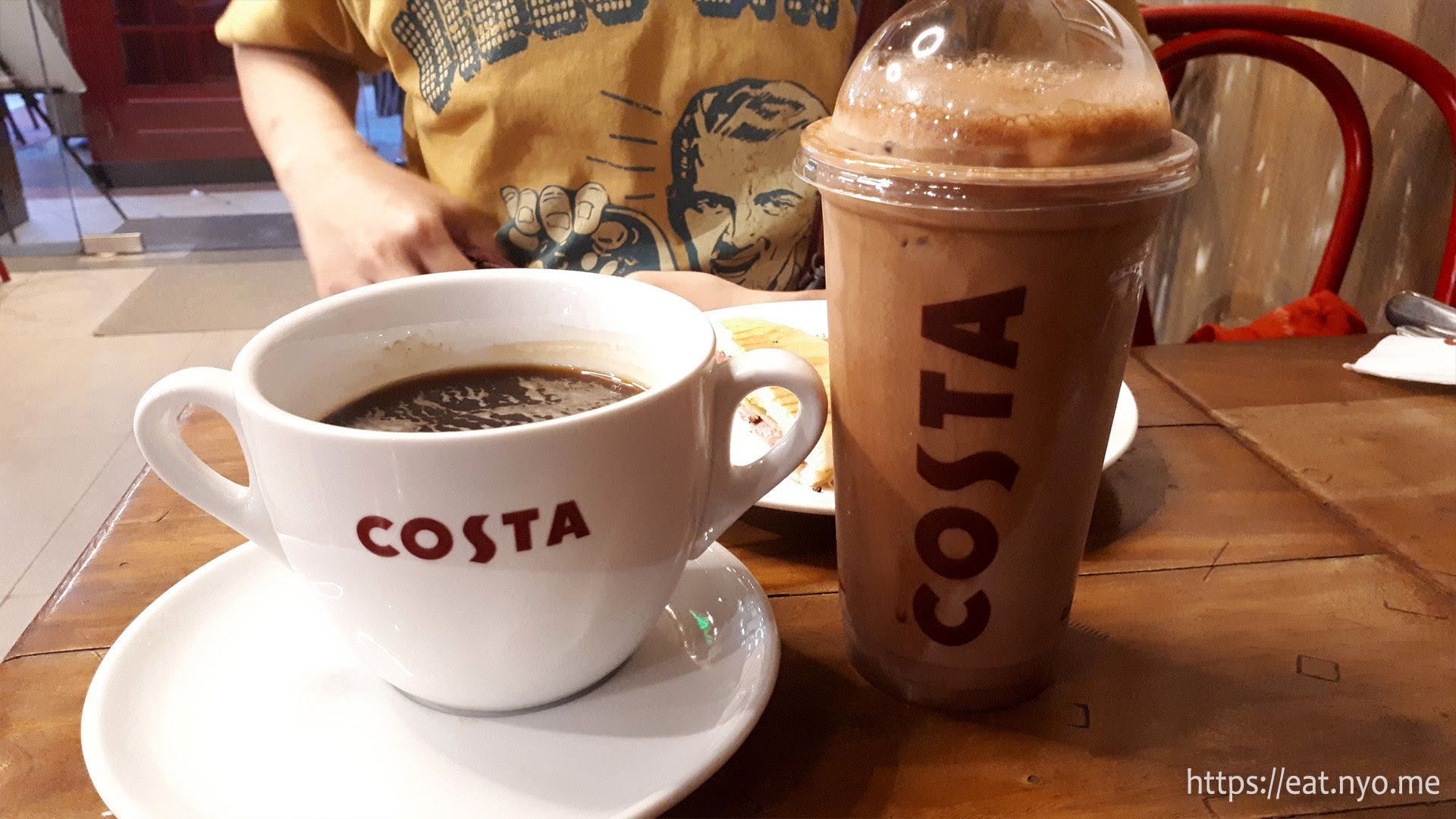 Both Americano and Iced Mocha were freshly prepared as we ordered it. Their hot drinks, served in the huge cups I mentioned earlier, can easily pass for a soup bowl instead. It also still has some of the crust, preserving it's wonderful aroma. I like the taste of Costa's coffees because they are a bit on the fruity side naturally and does not need any dairy and sugar. Beloved also enjoys her order here due to the volume, but admits it's not her favorite.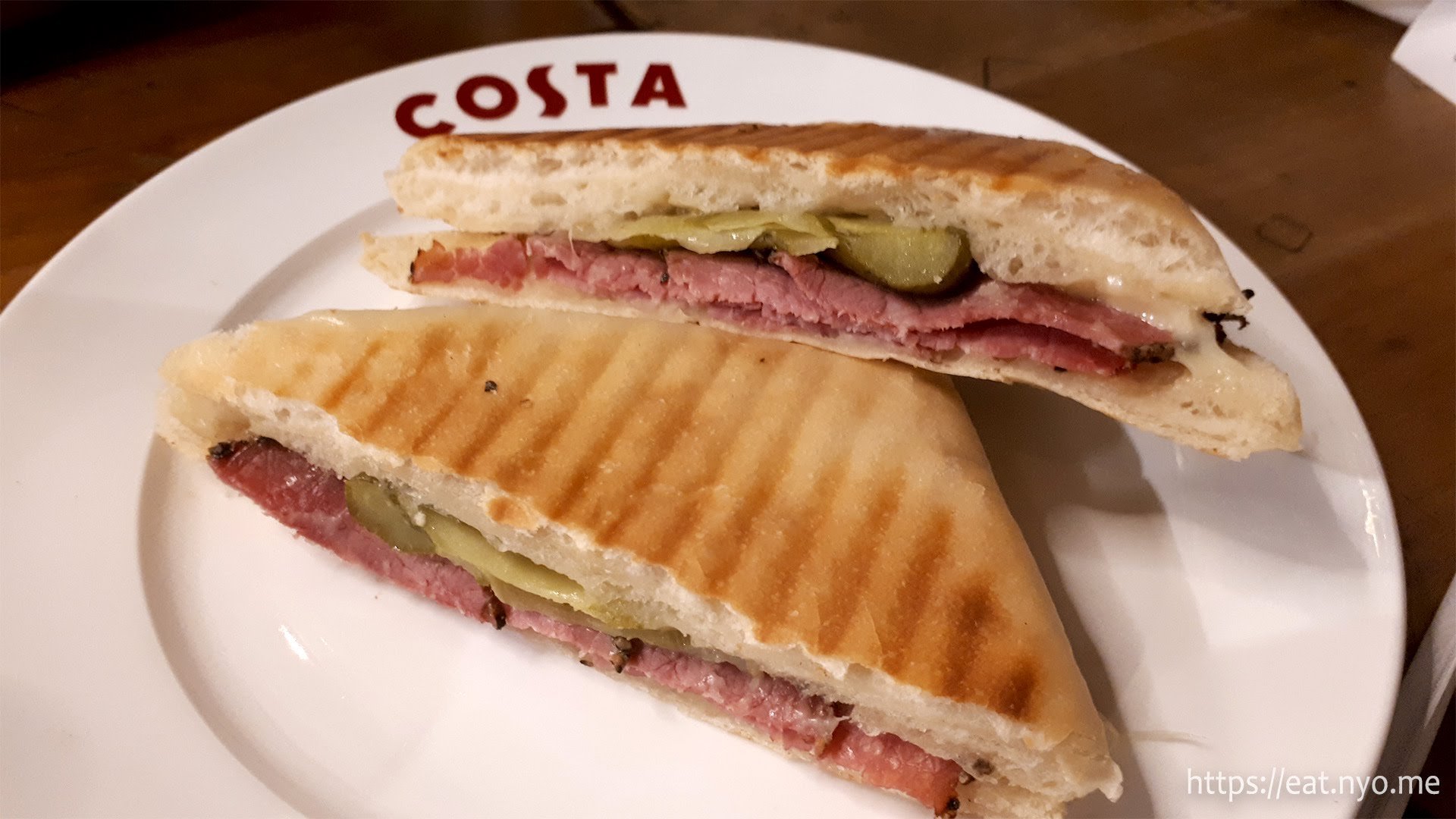 For the uninformed, gherkins are basically British for pickled cucumbers, or just pickles. The Beef Pastrami with Gherkin Sandwich is essentially a panini containing beef pastrami, or pepper-crusted cold cut beef and the aforementioned pickles. This is a weird sandwich that contains something I hate (the pepper crust from the pastrami) and something I love (the gherkins) against the opposite reaction from Beloved—she hates the pickles and loves the beef. We both agree with the bread and cheese that wraps it all together—toasted and melted respectively to have both crunch and stringiness as you bite into the crisp, sharp pickles and tender, spiced beef. It's served sliced in half as if it was meant-to-be-shared, but this can easily be finished by one hungry patron.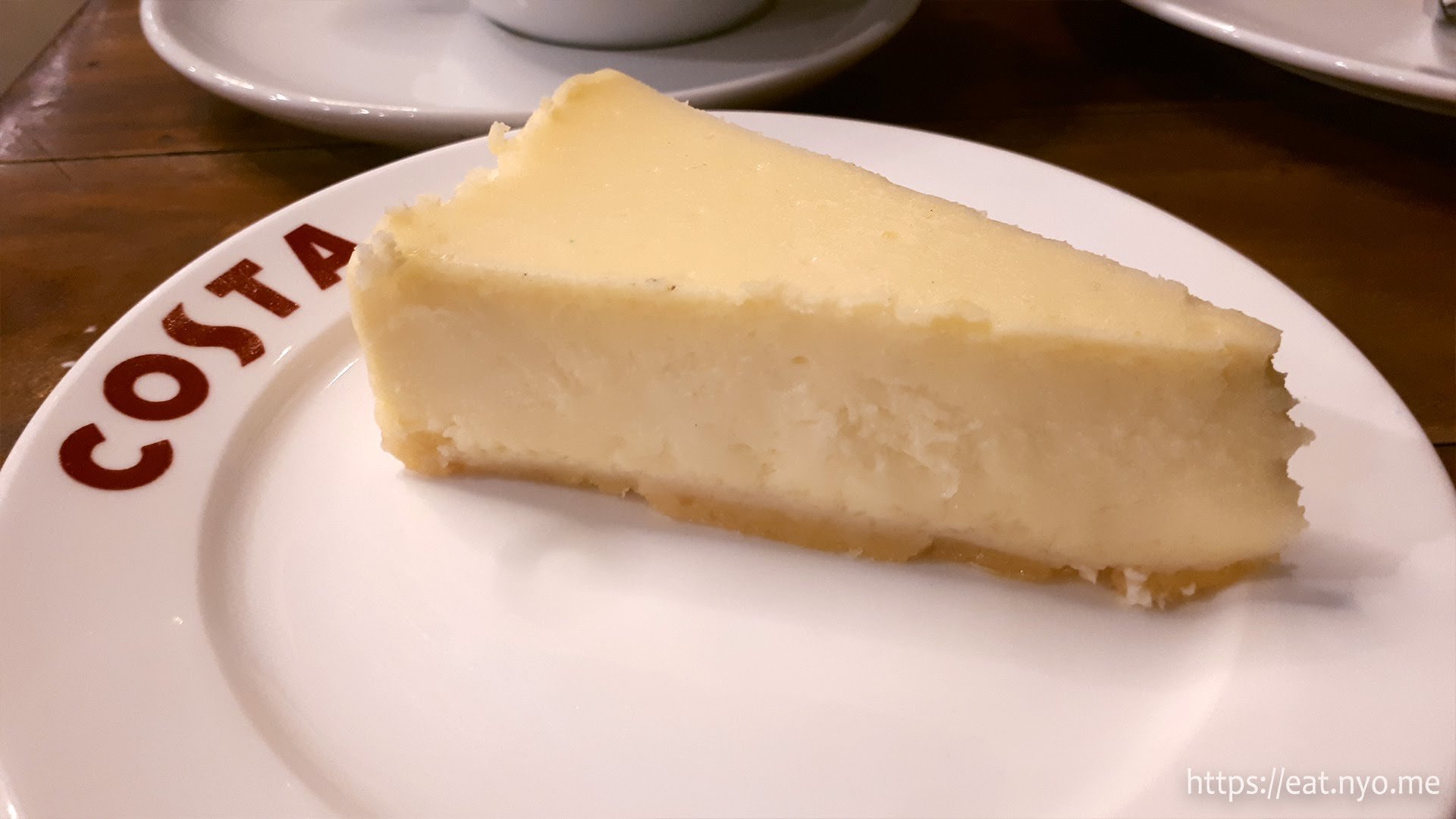 Finally, their London Cheesecake, as I mentioned, is one of my favorite cheesecakes here in the Metro, especially among coffee chains. It's a simple slice of pie—a pure cream cheese body on a very thin cookie-like crust. While seemingly plain, it's very cheesy and creamy, yet still quite dense and packed. It's quite thick that it sticks to your fork irrespective of what angle it's at. My only complaint is it's sized "regularly", unlike their massimo coffee and I wish they'd offer a massimo-sized slice of cheesecake as well.
Bottom line, Costa Coffee is my go-to coffee chain. On days that I want my coffee slightly sweeter than usual, I get their Caffé Caramella, which isn't as sweet as Tim Hortons's (aside, why do most chains end in "s"? The s-apostrophe-s looks weird) French Vanilla. When I'm not looking for volume, I get their Flat White, which is similar to macchiato. I guess Beloved will just always get their Mocha, only changing hot and iced variants when going here. Food-wise, we love it here because the sandwich fillings are packed, no matter the variant (well, at least what we've tried so far), unlike some other places. Also, their cheesecakes are divine. I'd definitely not recommend this if you're in a tight budget (as with any other chains), and this goes for both food and coffee. However, if you want good coffee at large quantities, Costa Coffee's massimo cups should satisfy.