This is a part of my Sendai, Japan trip. If you want to have an overview of my entire Japan "Food Odyssey", I suggest you start with my 7-Eleven review and follow the different links from there.
Since I got stranded for one night due to the typhoon in Japan, I needed to stay at Route Inn Hotel in Natori, the city where Sendai International Airport was located. It was only accessible by taxi if you have a lot of luggage with you, which, unfortunately, costs quite a lot, over 2000 Jpy one way. The hotel stay itself cost over 8,600 Jpy, including the booking fee by the tourist information concierge.
Natori is not the denser city that Sendai is. It's a much more suburban area, with houses instead of high rises; its food places having wide, open parking and closing well before ten in the evening; and much, much less number of people. It's still much more urbanized than, say, the provincial areas back home, though, as Natori has its own department stores, bookstores, konbinis, and even its own twenty-four hour McDonald's which I was considering to try. However, I didn't have enough yen on hand anymore that I believed I would need for my taxi back to the airport.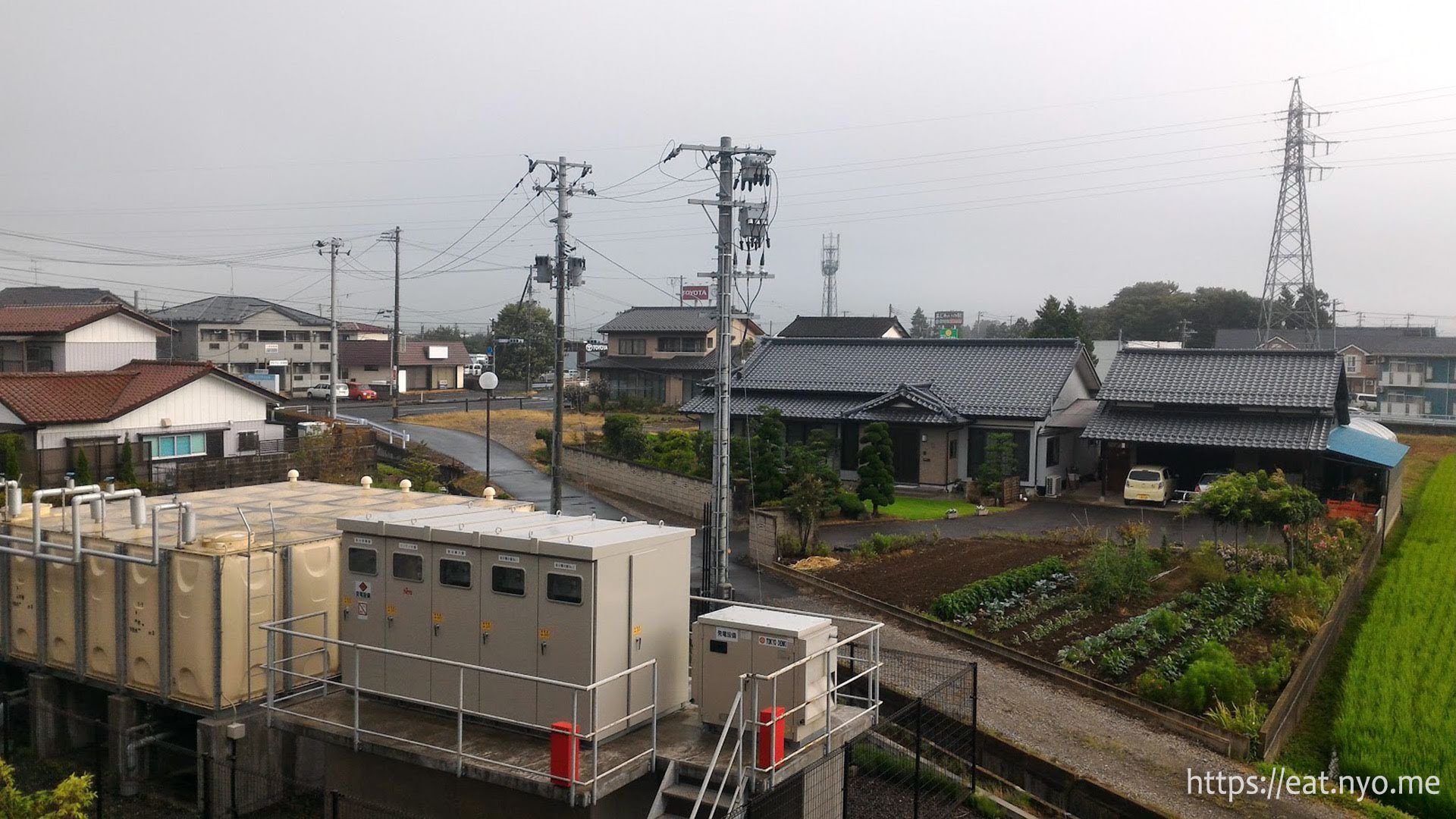 The hotel itself was wider, although shorter than Hotel Green Mark, the place I stayed in Sendai city. The room I was given was also much bigger, including the bathroom. It had its own couch which has a table, a bigger television, and a much nicer, greener view as shown above. Although I was placed in a smoking room, it didn't smell like it, and there were many aerosol sprays for freshening up the room and your clothes. Finally, accommodations-wise, aside from the free coffee that my previous hotel also offers, this place has its own gender-segregated communal bathhouse, so if you want have this experience, it's an option. I wasn't interested in that, so I didn't try it out.
Anyway, the booking had free breakfast which I took advantage of. Breakfast started at 6:30am. This was the first breakfast I've had in quite a while, now that I think about it, but I thought it's fine since I was quite tired and famished with all the troubles from the night before. Even though I went down almost on the dot, there was already a queue for the buffet which was laid out nicely in a couple of rows.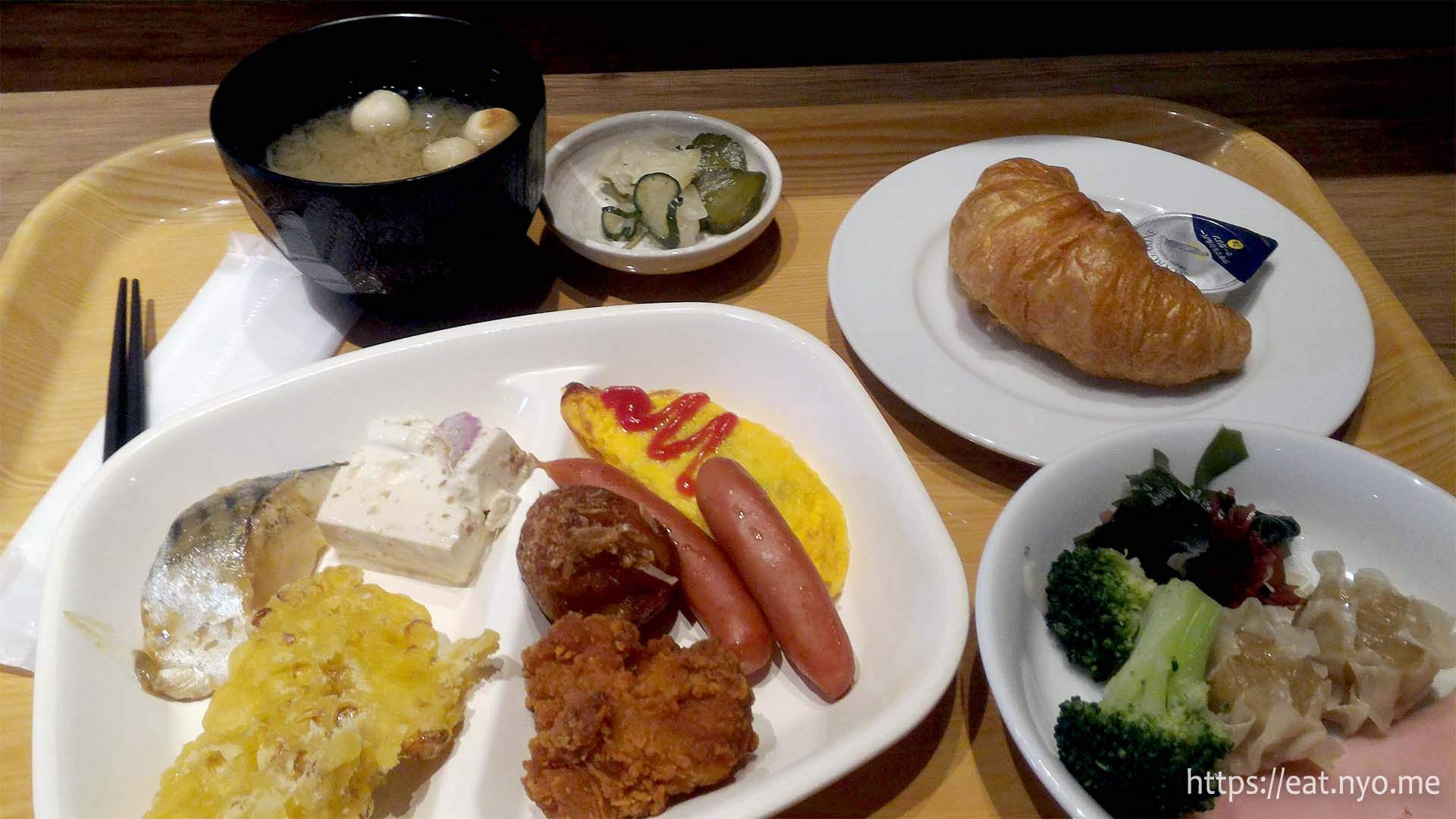 While it's your almost standard hotel buffet, there was a nice balance of variety here. There were weiners, karaage, takoyaki, omelletes, siu mai, fish tempura, some sort of tofu dish, smoked fish, a couple of different soups, many different breads with jams and margarine, various veggies including pickled ones, coffee and other drinks, and, of course, rice. There were also various condiments including ketchup, mayonnaise, and various soy- or fish-based sauces. I grabbed almost everything in my first tray sans rice, added some ketchup on top of my omelette, got a cup of coffee, and sat down on one of the communal bars in the sizable restaurant.
I guess I was just tired and famished, but I thought everything was fine. Everything tasted as I would've expected, filled me up quite nicely, and was well balanced taste-wise; nothing was too-something, as with most of what I've eaten in Japan. My favorite here was the cut of fish, which was flaky and had a smoky flavor that I enjoyed very much. Nothing else stood out, though, not even the omelette where I find the one at Bonna Luna superior. I guess a specific complaint was that they did not have butter and instead had margarine. Luckily, the croissant was made correctly and had the flaky-buttery default I'm accustomed to. After my meal, you are to bus your used tableware to the washing area, unlike most places in the Philippines.
I must concede that breakfast is mainly for nourishment. As it was included in the price tag, and the room was very comfortable, actually, roomier than the one in Sendai city that I stayed in, I felt that the overall price tag for Route Inn Hotel was worth it. I'd still recommend staying at Sendai City if you can, as the budget options are ironically cheaper, almost by half, despite being a bit more cramped simply because there are more food place and konbini options there and are much more walkable. It's still definitely a fine option for those who got stranded from the airport, especially if you have a lot of luggage that you'll have a hard time carrying back to the city.
If you came from my 7-Eleven review, you can click here to easily continue following my food odyssey in Japan from where you left.