My last day in the Netherlands also coincided with my flight back home in the afternoon. When I arrived by train to Schipol airport, I made it my mission to find a place that serves haring. After scouring almost all the food places in Schipol Plaza, I learned that the place happened to be called Happy Seafood.
Now, I could've gone out of the plaza to actually search for a food truck in Amsterdam like what I found in Wageningen. Sadly, I had a lot of luggage and just bought some stroopwafels to take back home and they were unrealistic to lug around alone. Anyway, right near an exit of said plaza, Happy Seafood doesn't really specialize in haring. It actually seems to be a fast-seafood place, with ready-to-eat seafood dishes, mostly fried, for those on-the-go, perhaps perfect for travelers like myself. However, I only had one mission—to try out their haring.
If you haven't been following my previous posts where I linked what the hell a haring is, it's basically raw herring. More precisely, it's actually more liked pickled or soused herring. Based on what I researched, it's actually a lot like kinilaw on what we have back home. Since I love pickles and sashimi, I wasn't grossed out and was actually looking forward to this dish.
Happy Seafood served the traditional haring, which was just the fish plus some onions and pickles, as well as in a bun. Since this was my second meal of the day (first being my last piece of pie from Chalet GEM), I opted for the Haring Broodjes (3.50 Euros). It was immediately prepared for me in a matter of seconds.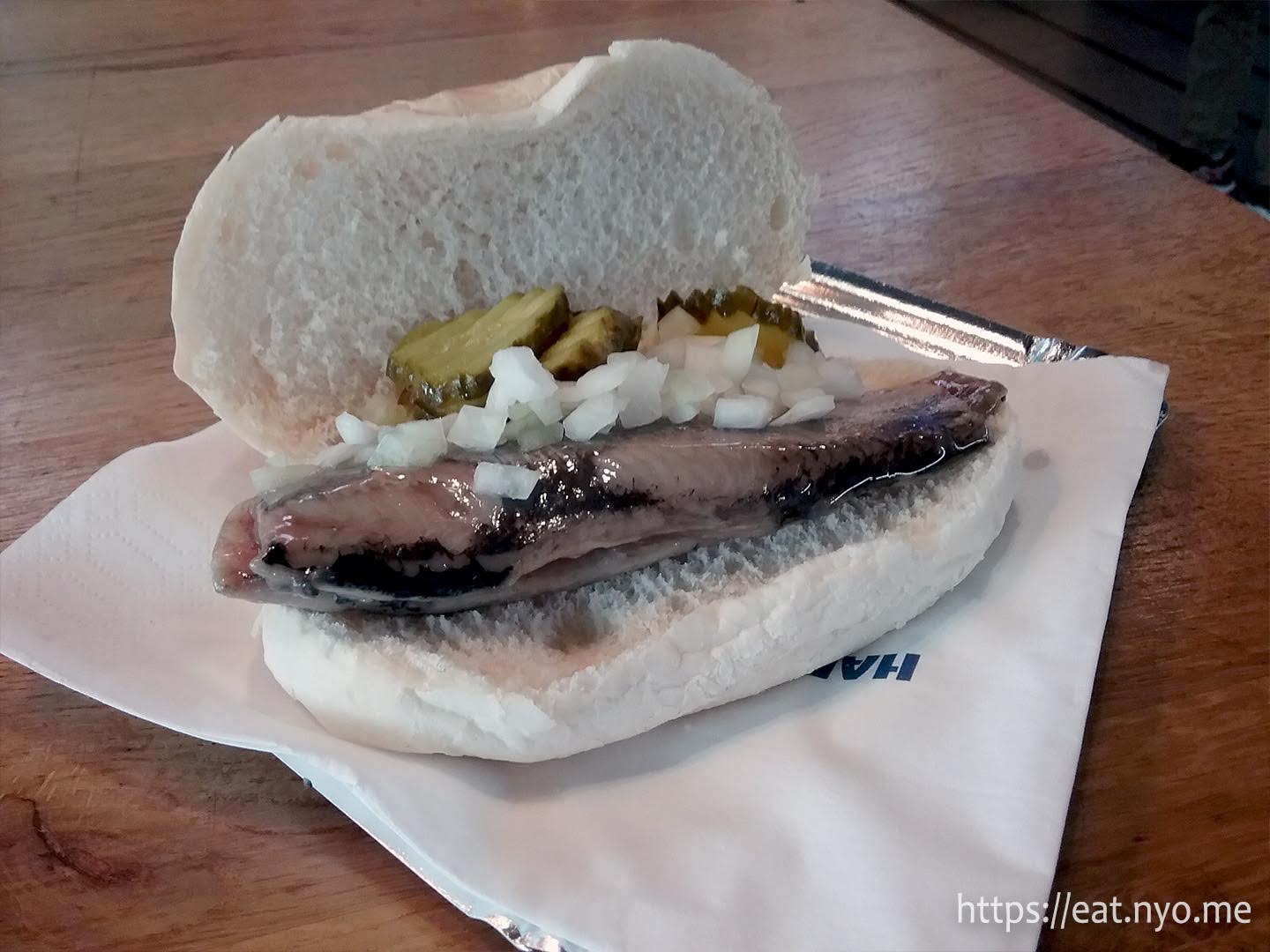 So, how was it? The Haring Broodjes, or, translated, raw herring in bread, was quite slimy. It didn't have a lot of pickling or even salty taste as I would've expected from a pickled dish and honestly was overall quite mild, mostly fishy. I got a lot more flavor from the onions and pickles, where the former must be noted for the lack of astringency that we usually have from our local onions and instead were pretty sweet. All in all, not bad, especially considering the price. I contemplated getting another one or trying out haring without a bun, but I opted to try to search for something more filling and hopefully traditional Dutch to conclude my odyssey.
Now that I've tried haring, I could call my odyssey's ultimate mission a success. Although I wasn't able to try it the "traditional" way, I guess that's an excuse the next time, if ever, I come back to the Netherlands. While Happy Seafood is definitely not the only place that serves haring in the Netherlands as a whole, from what I found, it's the only place that does in Schipol. From my overall experience, it was also one the better value places. If you're stuck waiting here for your flight like I was, Happy Seafood might be the last and only place for crossing out haring in your bucket list.
This is part of a mini-odyssey for my food adventures in the Netherlands. You can browse via this label for more.