Beloved and I stayed at Makati a week ago because of some work-related Christmas celebrations. Since it's a rare occasion that we're staying in Makati, we decided to eat at Mendokoro Ramenba. This Metro-famous ramen place is often talked about with its long queues in its somewhat not-as-accessible location in Salcedo Village, Makati. There's also the couple of scandals the venue is involved in related to celebrity patrons.
Of course, I don't care much about showbiz; I'm here to talk about food. Mendokoro Ramenba specializes in tonkotsu or pork-bone broth ramen. We've actually been here before many years ago, but I didn't manage to chronicle that visit. Anyway, another interesting feature of this place is the fact that it only accommodates a handful of people, about twenty at a time, in its round bar where the cooking area is at the middle. You place an order at the counter, choosing your ramen and any additional toppings. Then, you're assigned a number and wait for it to be called before you're seated. Although it's possible that you won't be seated with your partner or large groups, Beloved and I managed to be seated together.
We actually ordered the same ramen we did the first time we visited. I ordered their Shoyu Ramen (400 Php) with Aji Tamago (80 Php). Beloved ordered their Tantanmen (420 Php) also with Aji Tamago. Although we arrived pretty early, just a bit after their opening time, there was already a queue and there were a couple of couples before us. Luckily, the turnover was relatively quick and we were seated after about twenty minutes. However, even though they already took our order by the cashier, they only cook the ramen once you are seated, so there's a bit more wait; not too long, though.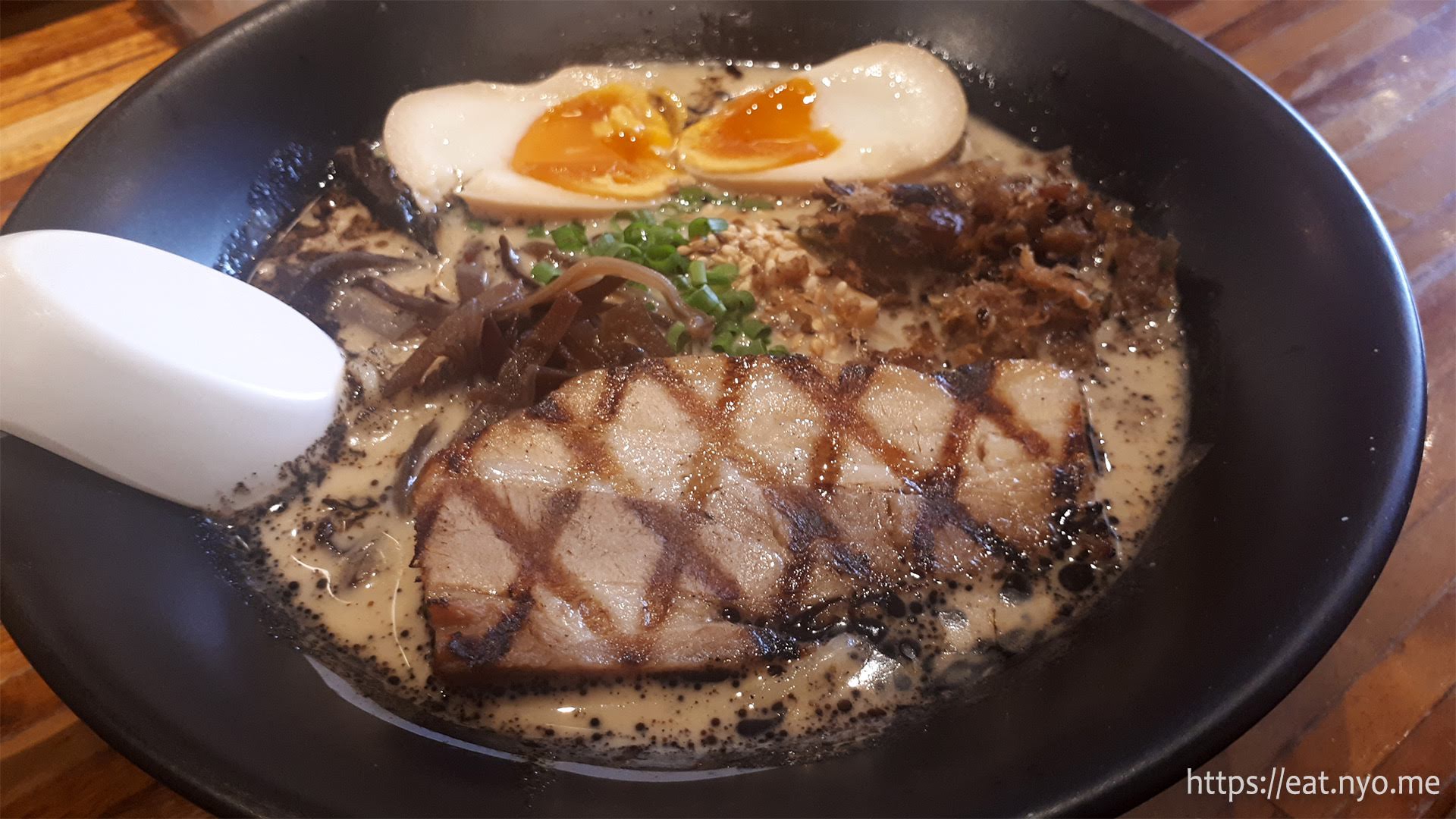 My Shoyu Ramen arrived in a black bowl and a soup spoon that has a wedge to keep it falling down the bowl. Smart, I thought. The most prominent feature was the big slab of chasyu swimming over the almost opaque milky-brown broth. Also swimming on top was the aji tamago I added on sliced in half, some additional toppings which uniquely includes some savory pork bits, and black garlic oil. Overall, this is the most flavorful, creamy pork broth I've had for the ramen. Its almost opaque attribute hides the firm but chewy, curly yellow noodles that manages to carry the broth. While, admittedly, the broth was quite rich, it's still not as bad and not too salty; I managed to down it all as I usually do when I order ramen in other places, at least the non-spicy ones.
The included chasyu was also quite soft and tender. However, I found it a bit too big in thickness and length. There's no way you can put this entire slab of pork in your mouth in one go. Okay, maybe you can, but I don't recommend it. The first time we went, I ordered extra chasyu which gave two additional slabs of pork. Knowing better, I forwent this addon and had my ramen as-it-was. I was also aware of the "super chasyu" secret menu item, with an even larger cut of pork. I'm sure I wouldn't enjoy it as well, as I look for balance in ramen. Still, I thought my readers might be interested to know that this is available if you enjoy pork.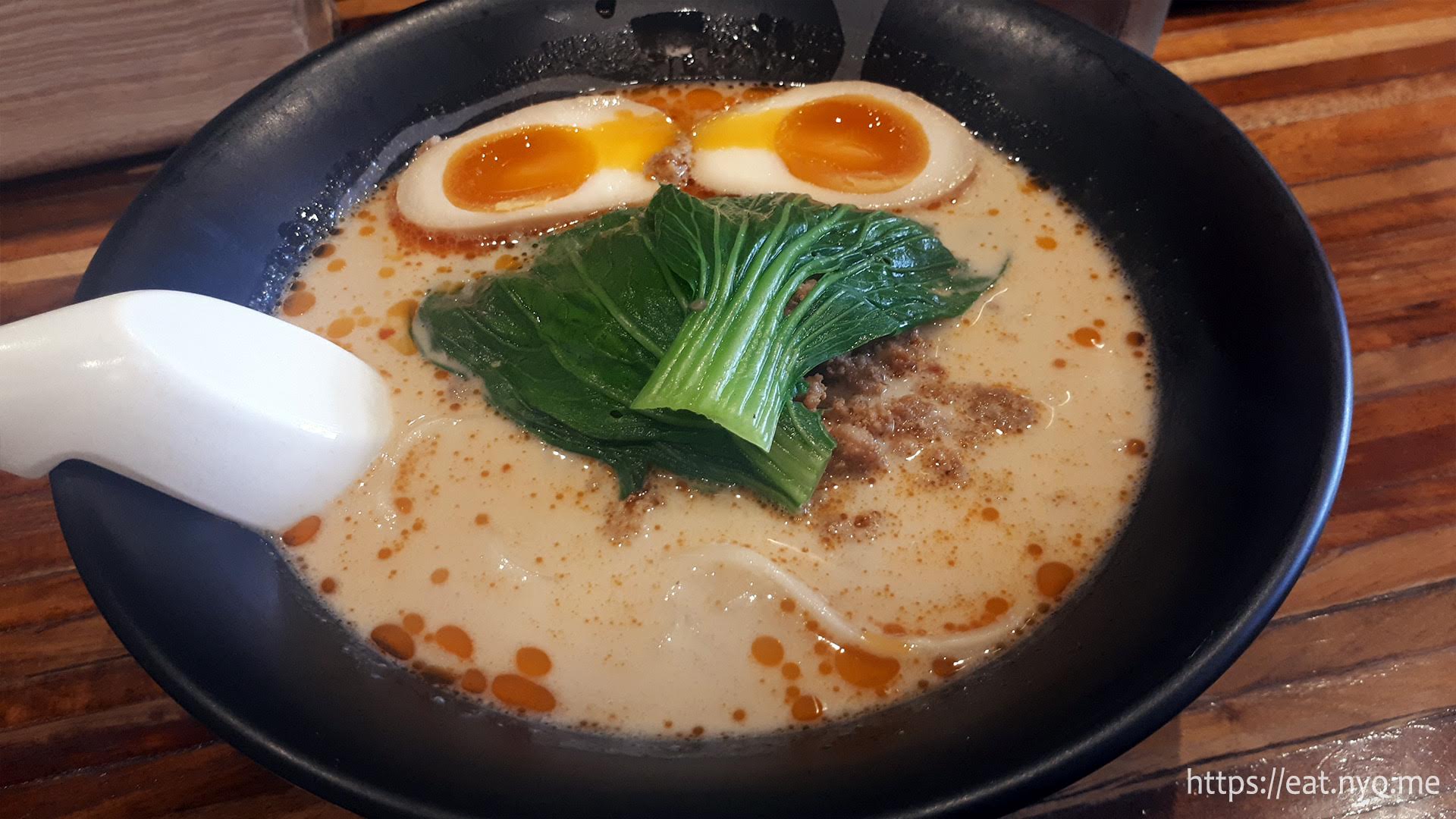 As for Beloved's Tantanmen, it's actually the similar broth but much, much spicier. Also, there's some bits of ground meat instead of chasyu. Beloved found the broth "heavy" and a bit on the oily side, so she didn't manage to finish the broth as I did. She also complains that the noodles are like "thin udon", where she would definitely prefer real fat udon noodles. For her, the best part of this ramen was the added-on aji tamago, which she wished was part of the dish by default.
Mendokoro Ramenba is not our favorite ramen. However, I truly understand why a lot of fellow gourmands and foodies rank this as the top ramen place in the Metro and why it always has a queue even on a Sunday morning. It's honestly more of a preferential thing, where Beloved and myself prefer a more "balanced" dish over Mendokoro's very rich, creamy broth with firm, straight noodles over their chewy, curly ones. I'd still give it a grade of a "must try" and leave you to judge if you'd be a frequent patron; I'd guarantee that, as long as you can eat pork, your first visit will be quite an experience. Hopefully, by then, they'd have their air conditioning fixed.