My betrothed and I had an early dinner at Sumo Niku near the end of 2018. This place was in soft opening at a new portion of already gargantuan SM North EDSA called the North Towers (except it's not really a tower; the mall is more elongated than tall and perhaps more fitting to be called North Wall). We happened upon the place while exploring the new mall section and we learn that they offer unlimited barbecue similar to most other Korean all-you-can-eat places popping up all over the place. Since the price seemed fair, we decided to try it out.
From my limited knowledge of the Japanese culture and language, I know that "Sumo" is Japanese traditional wrestling and "Niku" means meat. This was also my expectation here. Based on their menu, it seemed promising, since they do actually offer meat. There are actually two options, 449 Php for pork and chicken or 499 Php for pork, chicken and beef. Since we wanted the beef primarily due to a unique offering that makes this place a Japanese all-you-can-eat grill instead of a Korean one.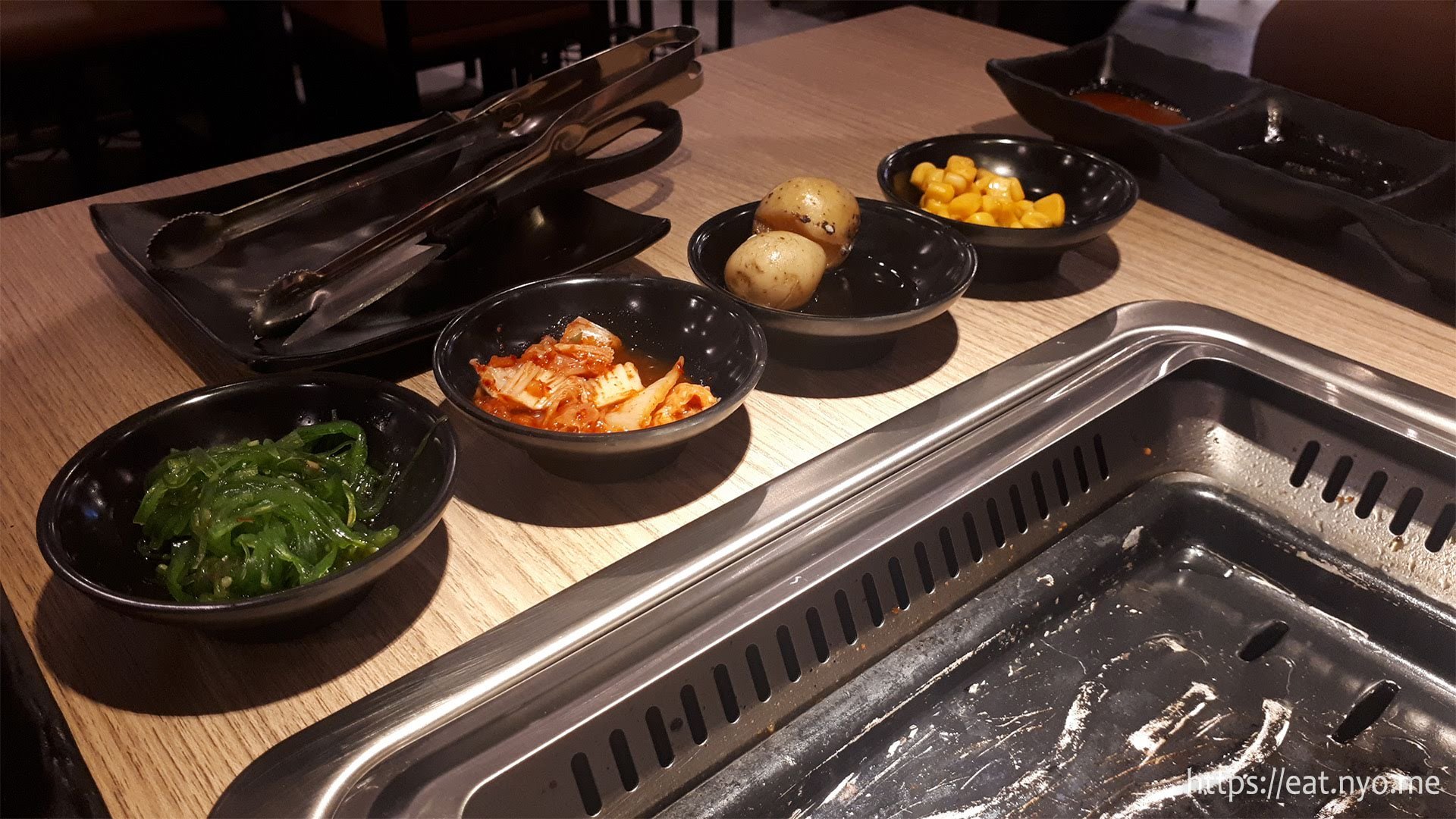 However, there are mixed signals, since we were given banchan. We were initially given seaweed, potatoes, corn, kimchi, miso soup, and rice. Since we didn't care for the potatoes and corn, we asked for one of their remaining available ones, the cucumber. Ranking them in order of how I liked them, the seaweed was the best, then the cucumber, and finally, the kimchi. The rest were unremarkable.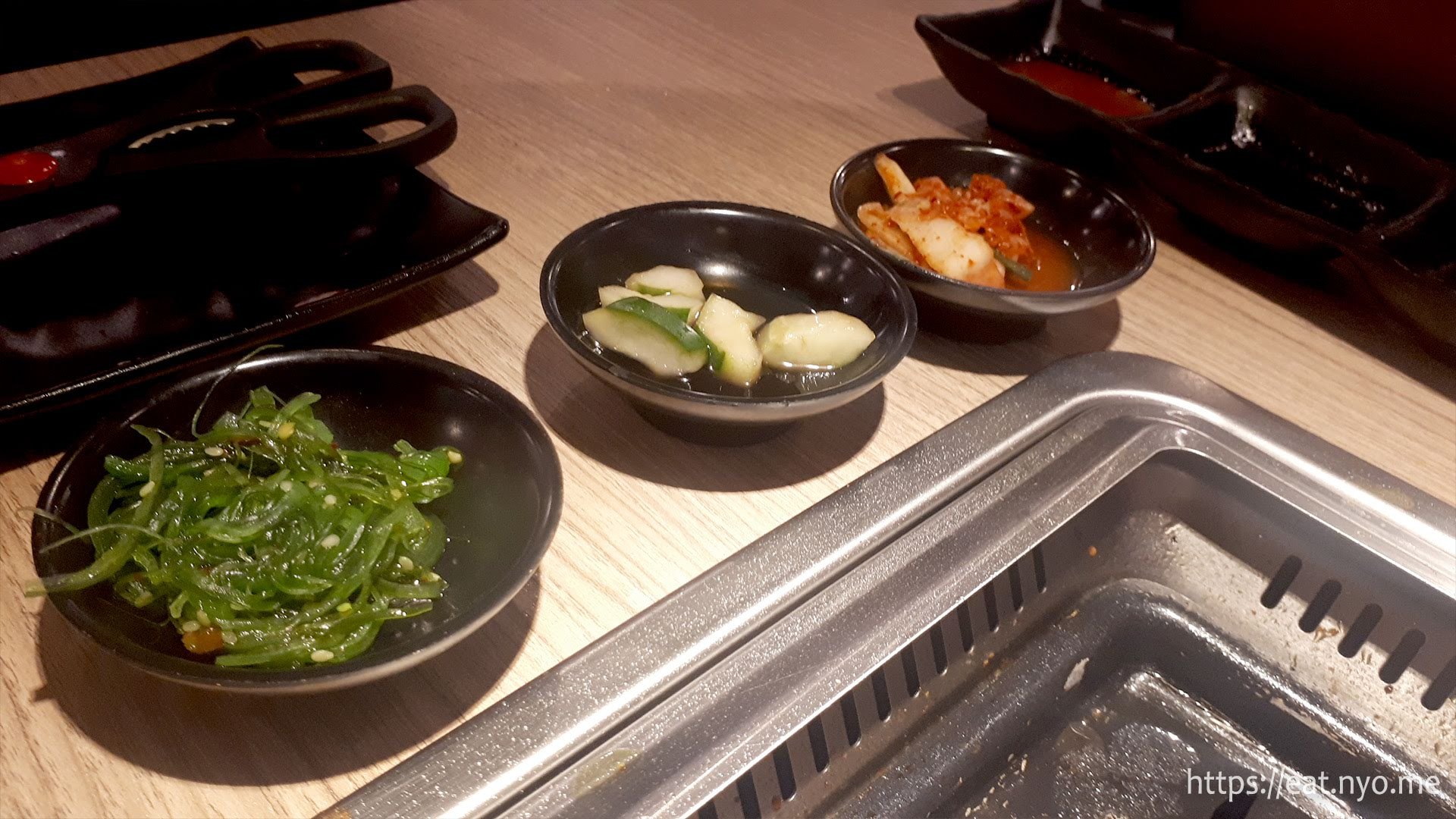 The major downside was the miniscule serving size; each of these small plates was just good for a single bite (or slurp) for me. Overall, I got at least ten plates of the seaweed, four for the kimchi, and a couple of times for the cucumber. They also gave the various sauces meant for our barbecue: a hot chili paste, a thick sweet teriyaki soy sauce, and seasoned sesame oil, further adding to the confused identity of the place.
Anyway, the banchan wasn't really the main focus of the place. The primary reason to go here is the "niku". You can get two varieties at once, so we got their U.S. Premium Beef and Wagyu Beef, the latter being the "unique offering" I've been foreshadowing.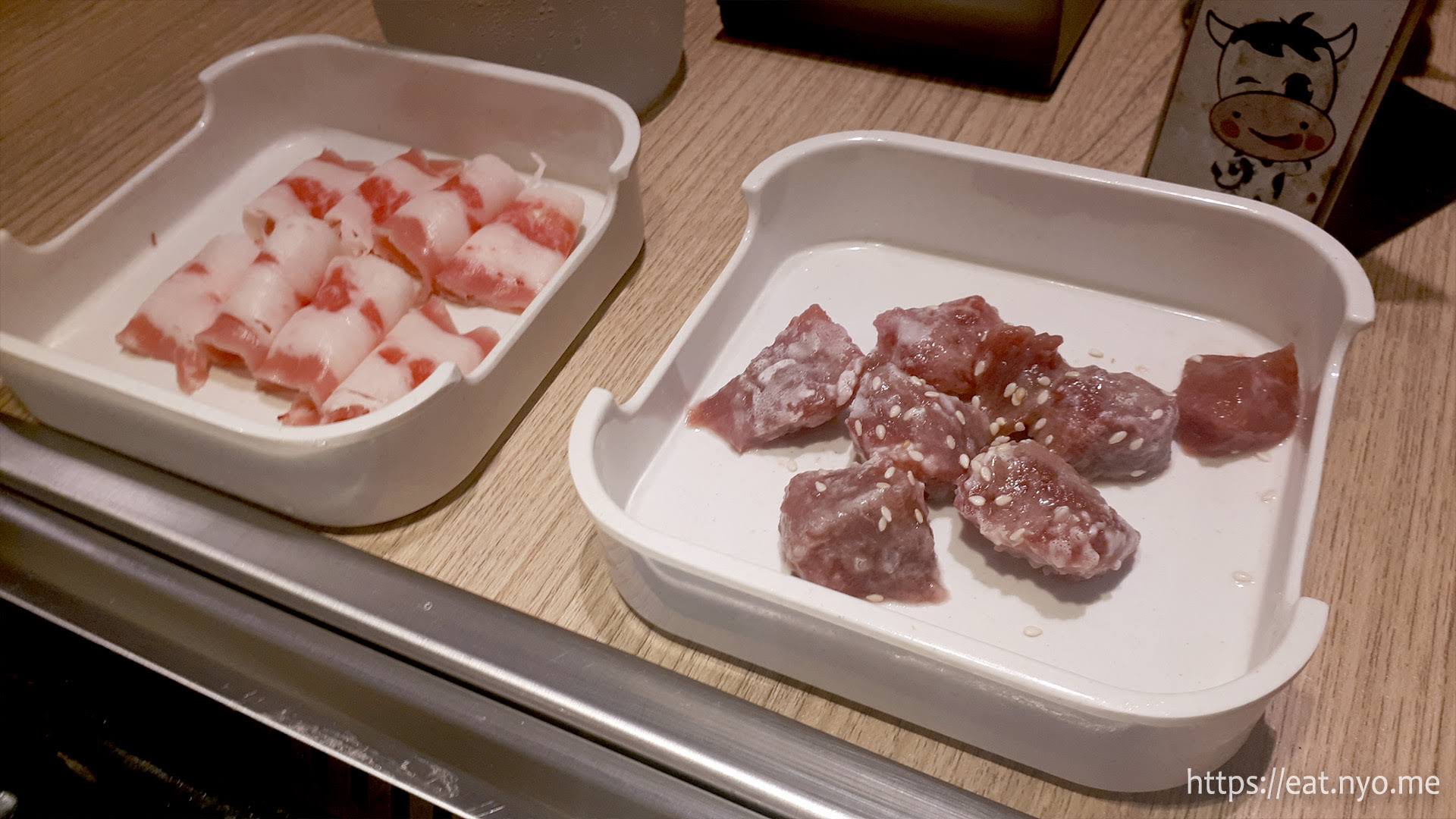 Sadly, upon arriving, there really wasn't anything "sumo" about this. The cuts of the former offering was very thin and the wagyu beef cubes were pitifully small. There were also very little in terms of amount, but maybe this is a good thing if you want to pace yourself.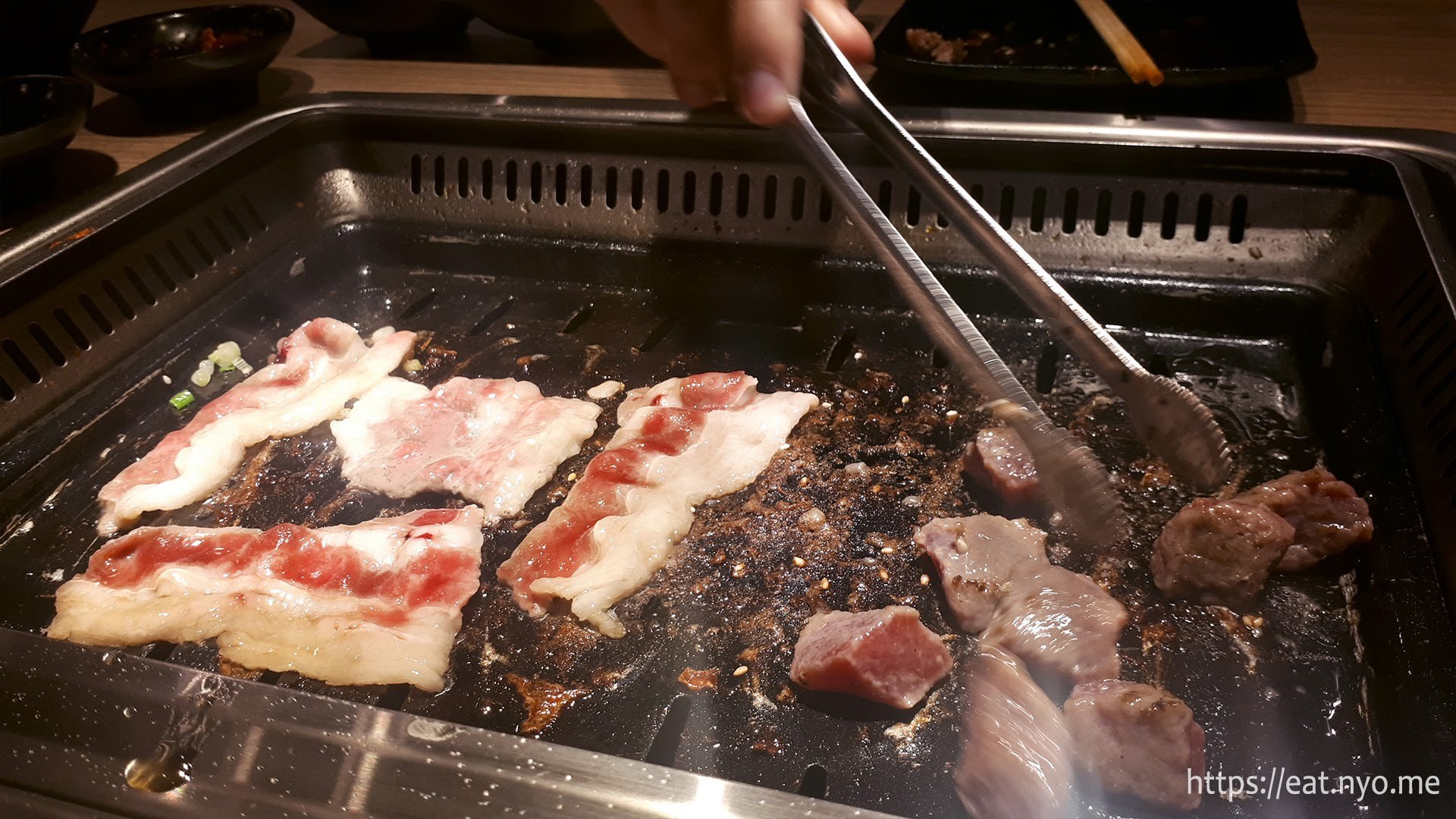 It didn't take too long for them to cook, especially the premium beef. Taste-wise, they were passable. The wagyu cubes weren't really on par with the bar I have set with Urameshi-Ya. While they were juicy, don't expect it to be a memorable melt-in-your-mouth that you'd come back for; this felt more like beef spam which most cheap wagyu offerings are. As for the former cut, it was quite forgettable and we found it similar to other thinly cut beef belly we've tried before that we didn't bother ordering again.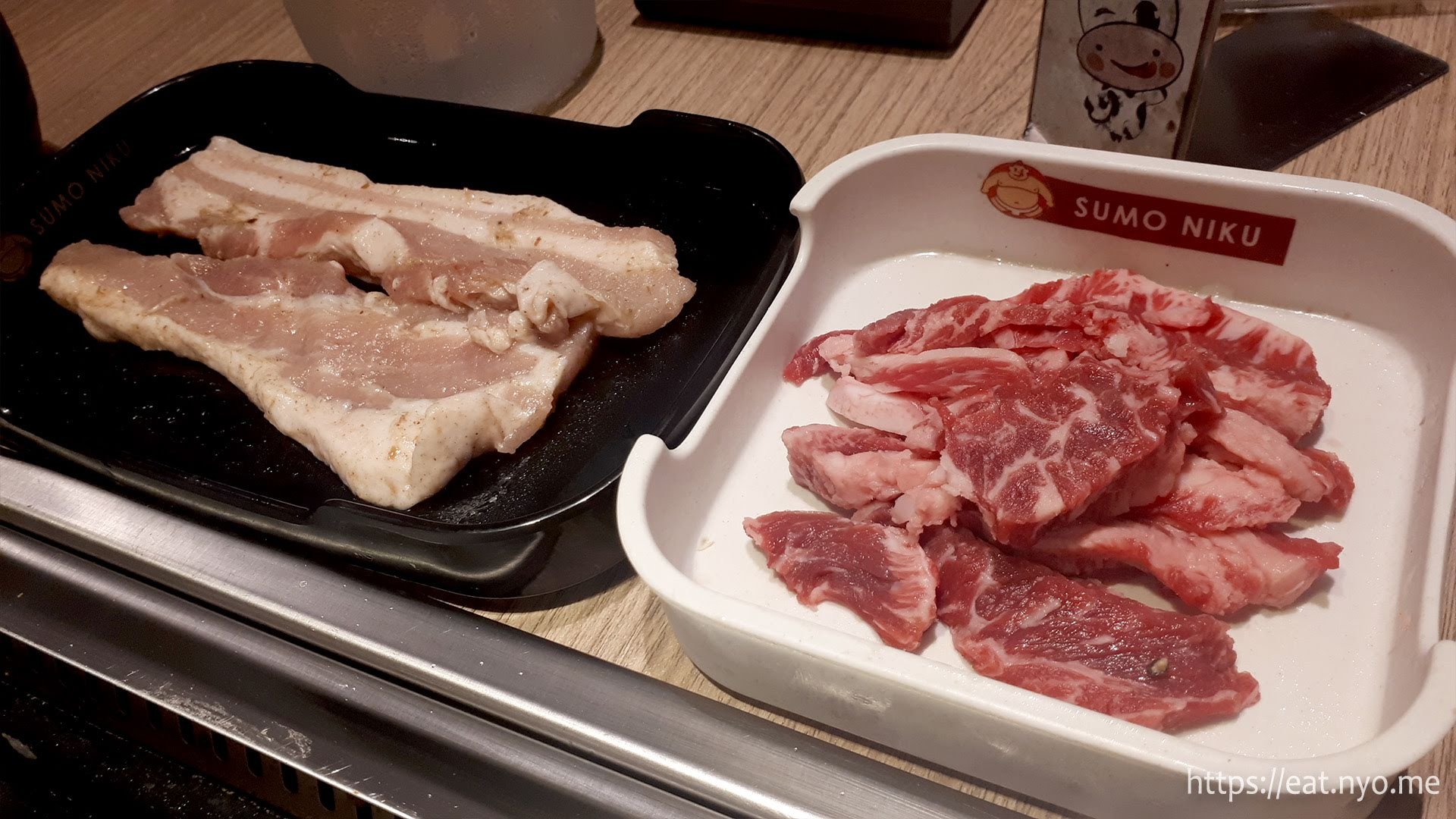 Our next victims were the Sesame Pork on the left and the U.S. Marinated Beef on the right. Quantity-wise, these cuts had a more generous amount compared to our former order, but still quite thin. This is especially true for the former order which usually was served twice as thick and almost twice as long. I guess they really portion each order good for one.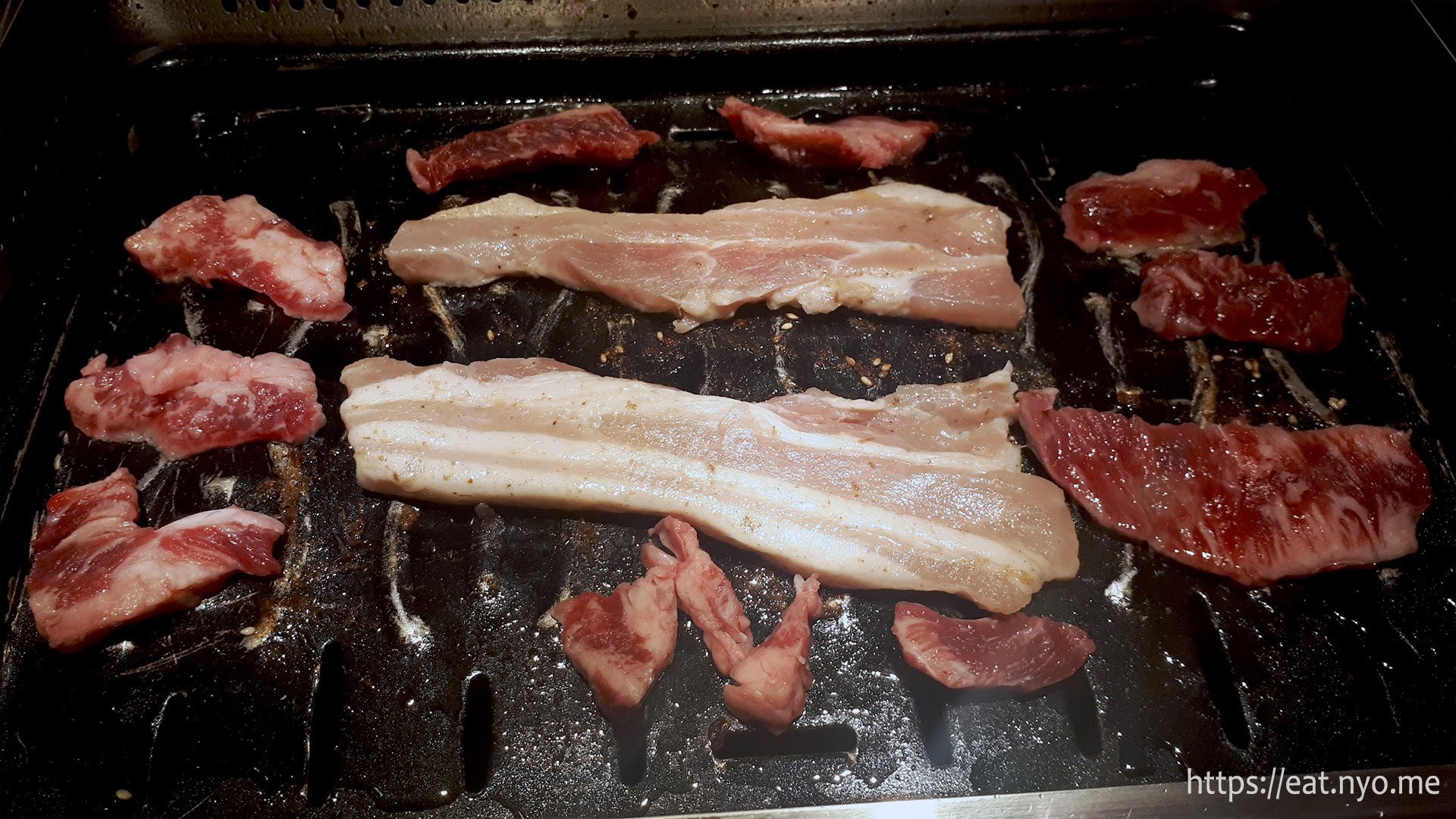 The pork belly took a bit longer to cook. Admittedly, it did have a faint herby taste, but, honestly, I'd rather use the sauces they provided. The marinated beef were cuts of ribs, I think, which also took longer to cook than the belly. These were a bit on the sweet side, but not too special otherwise.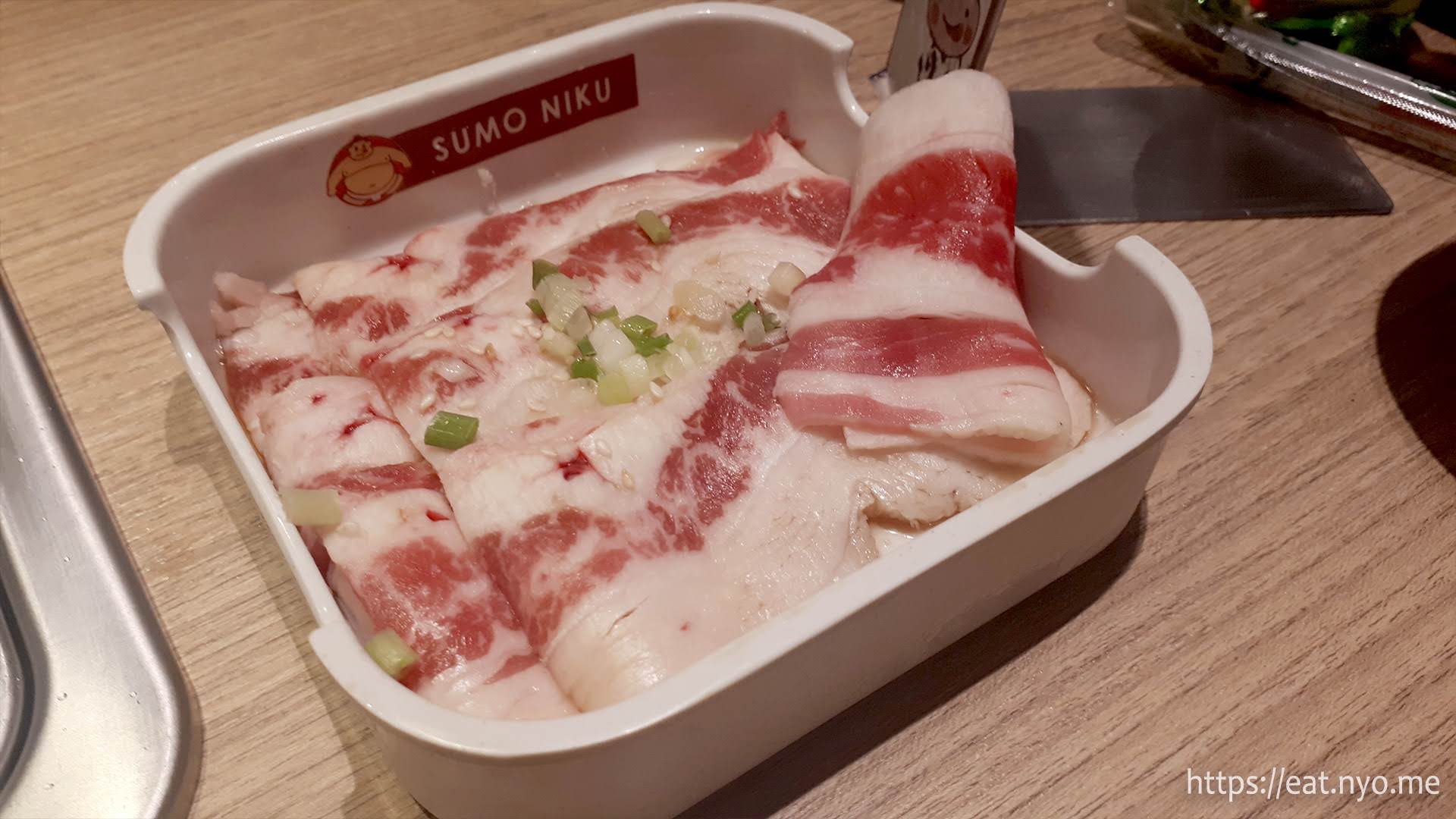 We got the two other cuts of pork that interested us along with their wagyu cubes moving forward, as I explained earlier. First, the Pork Belly Thin pictured above. These cooked faster than the thicker sesame pork slabs, but still a bit slower than the beef belly. Both my betrothed and I prefer this "natural" pork belly cut over the herby one.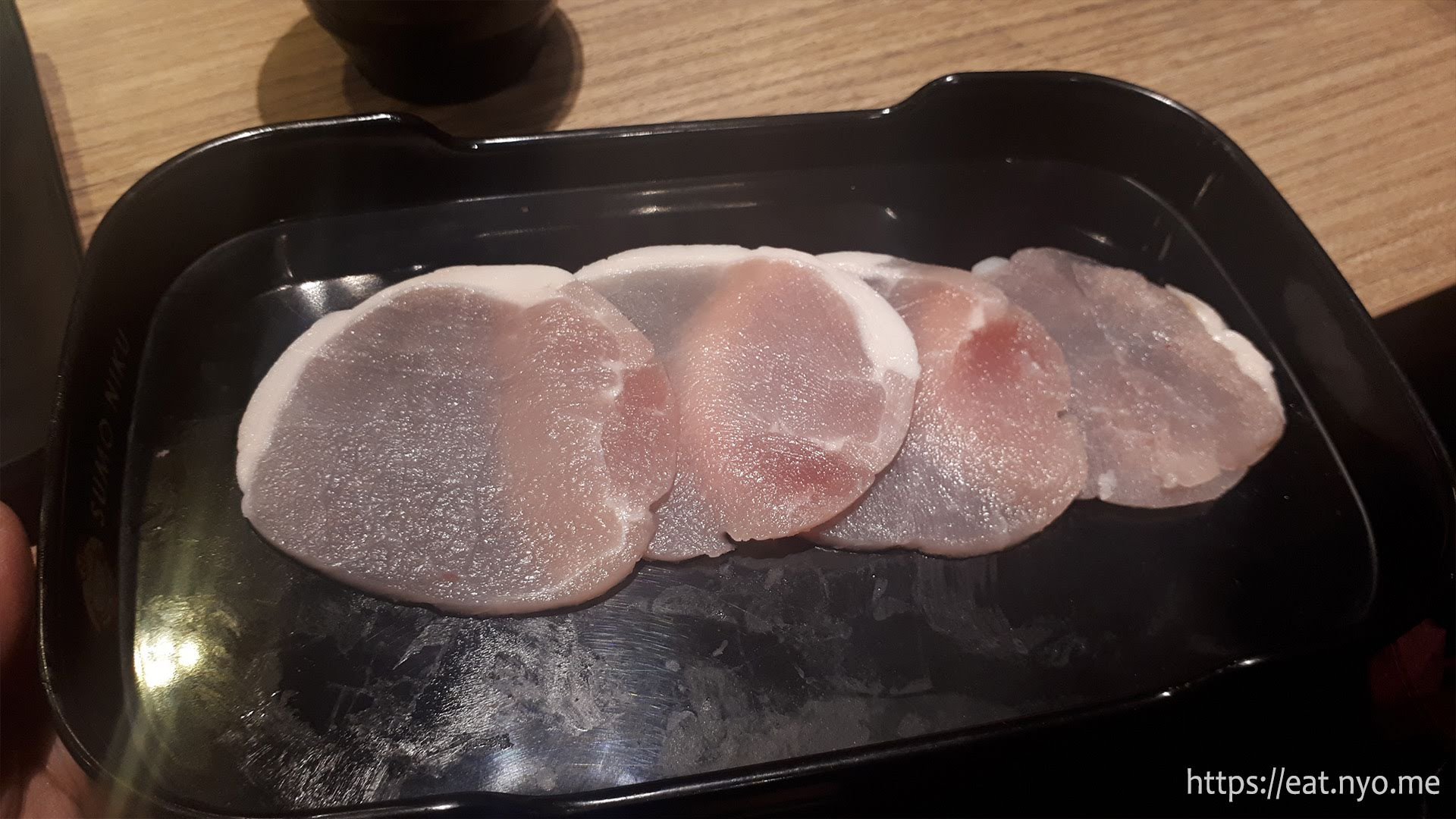 Next and finally, we got their Pork Tenderloin. This lean thin cuts of pork was quite soft after it cooked and was the second best "niku" we got this evening. We ordered this again along with another couple of more orders of the wagyu cubes.
Even though it seemed that we enjoyed the wagyu cubes, since we kept ordering it, it was honestly just so we could recoup what we paid. It didn't really feel like we got what we paid for, maybe because the serving sizes were quite small, especially the banchan. And it really wasn't the wagyu cubes that satisfied me the most—for me, the best dish for me was the seaweed banchan. In retrospect, that dish would be much more difficult to find around the metro compared to the wagyu cubes. Also, although they imposed a two hour time limit, we were already cloyed after an hour. Not to mention, the service slowed down around that time as well.
We eventually learn that this is a sort of offshoot from YakiMIX. Knowing how their parent resto has declined in quality through the years with branches closing down and reports of food poisoning, we can understand why this experience was underwhelming. While I don't believe that the sins of parents should always correspond to poor quality and service with their children, this place sadly seems to follow its roots so far. But maybe it was just because they were still in soft opening. Still, from what we experienced, compared to competition, Sumo Niku doesn't really have anything special to offer; this place just seems to follow the trend of Korean all-you-can-eat grillable cheap meat restos while wearing a Japanese facade, except the quality is subpar and they really don't deliver on the "Sumo" in the name. Maybe if they improve the serving sizes and service, it would get better. But at the state that we tried it, we definitely could've found a better deal elsewhere.