Day after Christmas, my Betrothed and I had lunch at Las Casas Manila by Margarita Forés. This reservation-only place recently opened a resort at Roosevelt Ave., Quezon City (not Manila), which is quite close to my Betrothed's home. From its name, it's easy to assume that it's some sort of Spanish place. This was easily confirmed after seeing their small but fanciful menu. Also, Margarita Forés was apparently named Asia's best female chef in 2016 who owns Cibo, which we had the chance to try before; we know that the food there is good albeit expensive. Finally, since one of my Betrothed's friends touted visiting here, we had our expectations set quite high.
The place was quite extravagant, with an antique-looking facade, marble statues, and expensive-looking furnishings. My Betrothed would probably be the better person to ask regarding its decor. Anyway, we were seated to our table reserved for us upon our arrival at noon in their relatively small, at least compared to traditional restaurants, dining room.
We already knew what our main order will be: their Chuleton with Salsa Verde and Paprika Mayonesa (1375 Php for 500 grams). Unfortunately tapas, which I have been craving since my visit to the Netherlands was not part of their small menu. They did have Alcachofa Manchego y Aceitunas con Pan Tostada (315 Php), which translated to artichoke, Manchego & black olive dip with toasts. Thinking the dip was similar to tapanede, we decided to order that. We also got their Mixed Greens, Olives, Candied Pear, Manchego Slivers, Garlic Vinaigrette Ensalada (200 Php). Finally, we ordered one cup of their Steamed Brown Rice (70 Php).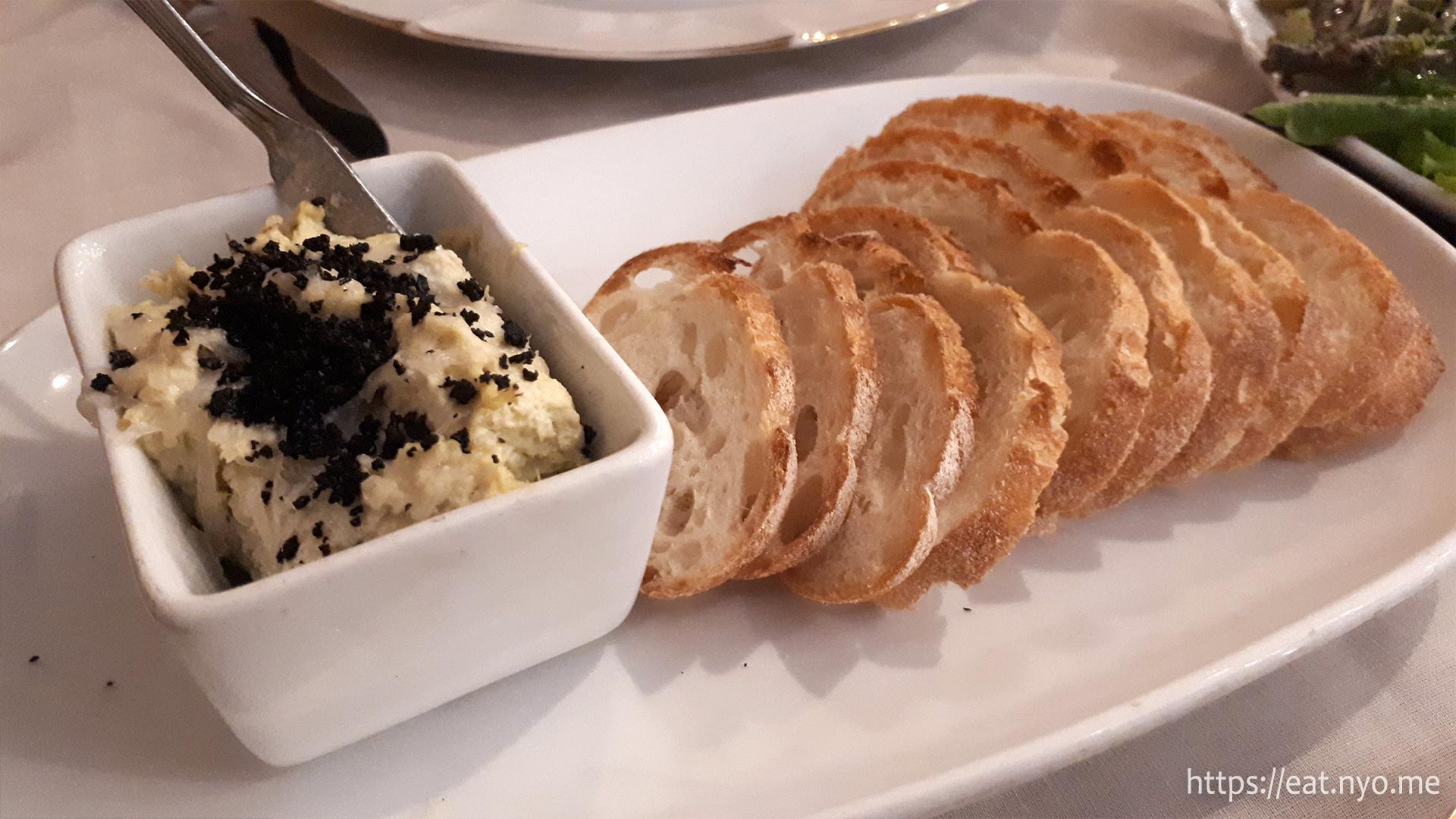 Unfortunately, we learn that the dip included in the Alcachofa Manchego y Aceitunas con Pan Tostada was literally an artichoke, Manchego cheese, and black olive mixture and not tapanede. It had a thick, sharp cheese dip topped with mildly salty black olives. While the dip was okay, I found it a bit too expensive. I guess I don't really find the exalting appeal of Manchego cheese and how it's superior to other cheeses I've tried.
The Mixed Greens, Olives, Candied Pear, Manchego Slivers, Garlic Vinaigrette Ensalada was literally that: a salad with what's listed before the word "ensalada". While it's not the best salad we've tried, it was okay. The surprising part here is the semi-sweet candied pear which went well with the rest of the salad, but other than that, it's just another ensalada.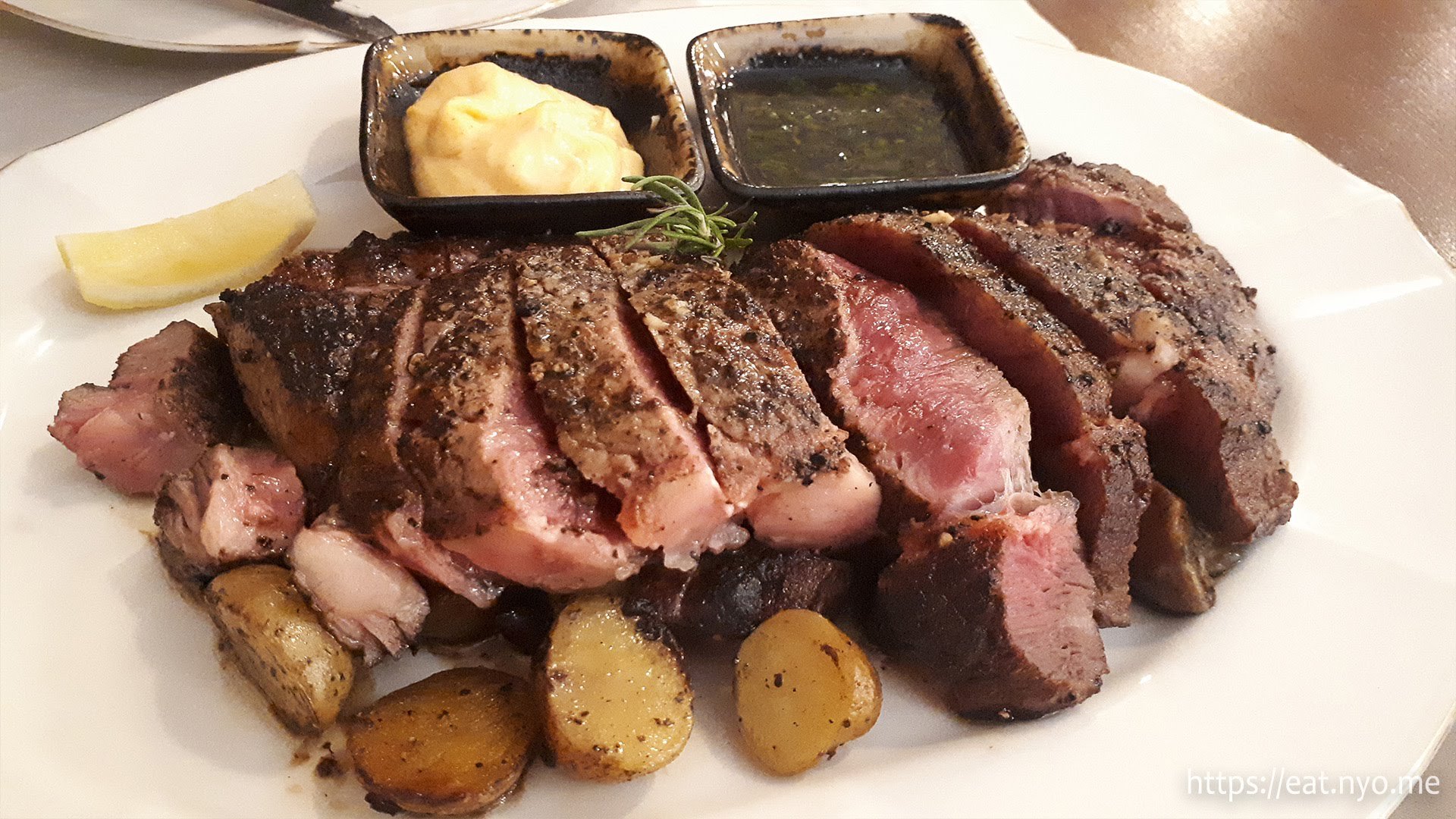 Their Chuleton with Salsa Verde and Paprika Mayonesa, which we had medium rare, was plated beautifully. When it arrived, we were in awe, my Betrothed especially. This rib eye steak was grilled quite nicely; this was a well-done (adverb) medium rare (doneness). Although it had Salsa Verde and Paprika Mayonesa as sauces, we felt it didn't need them. Each slice of steak was quite soft and delicious, with the surface having a beautiful and delicious smoky sear. Again, the sauces were not needed, but the Salsa Verde on the right did provide an herby change of taste while the Paprika Mayonesa on the left wasn't really that spicy, and was, in fact, quite fatty-tasting. The potatoes and mushrooms (shiitake, I believe) the steak smartly sat on absorbed the meat juices, so they were quite flavorful as well.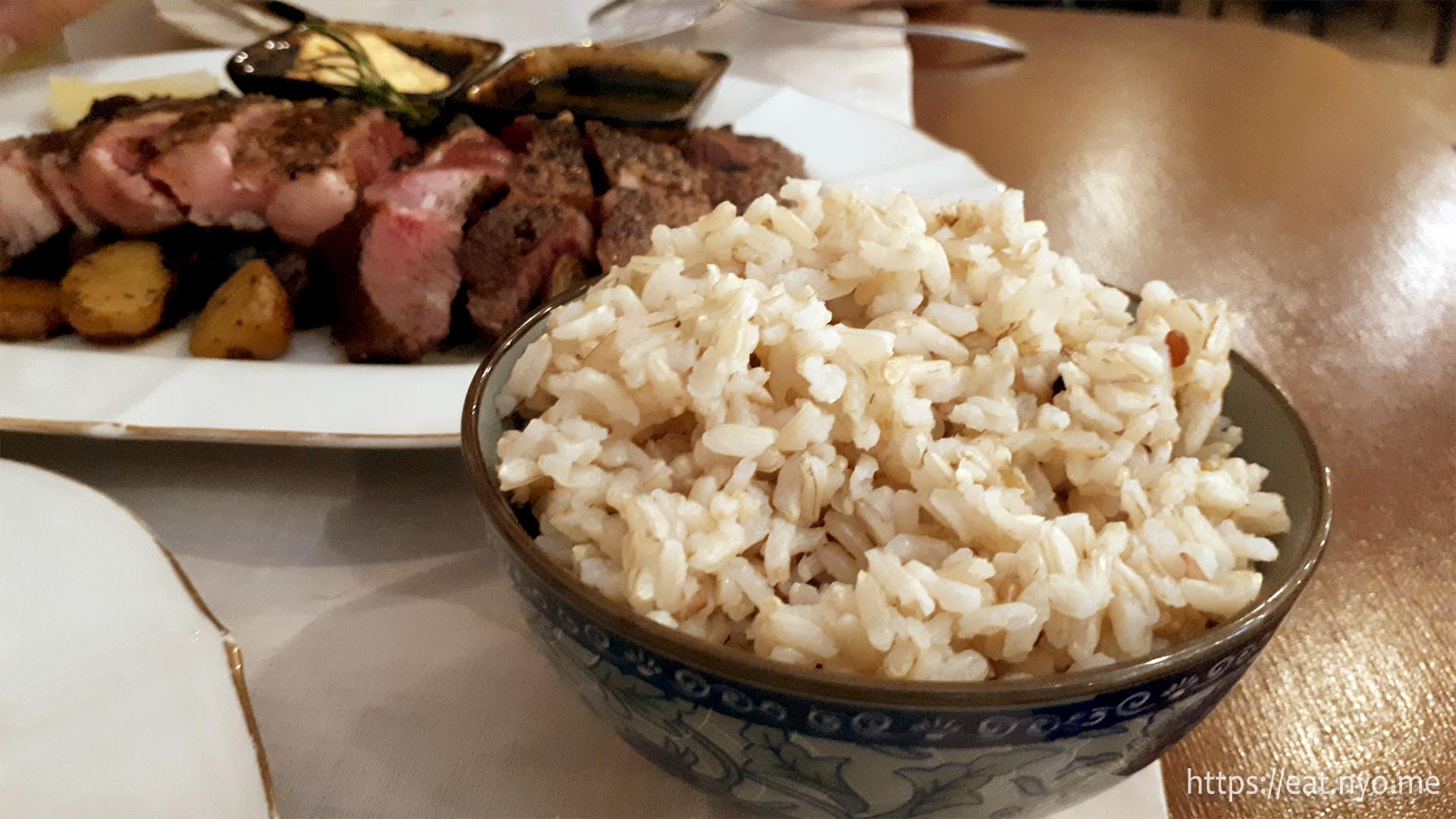 Oh, and our Brown Rice was enough to share between myself and my Betrothed. Perhaps not for a normal Filipino, though. It definitely tasted healthier albeit less tastier than the usual white rice.
Since we were probably not going back here anytime soon, being in a price range that's not really repeatable for us, we decided to have coffee and dessert. Their Americano (120 each) wasn't too different from other cafes aside from the slightly higher tab, but their Leche Flan, Laguna Cheese Foam (120 Php) sounded interesting…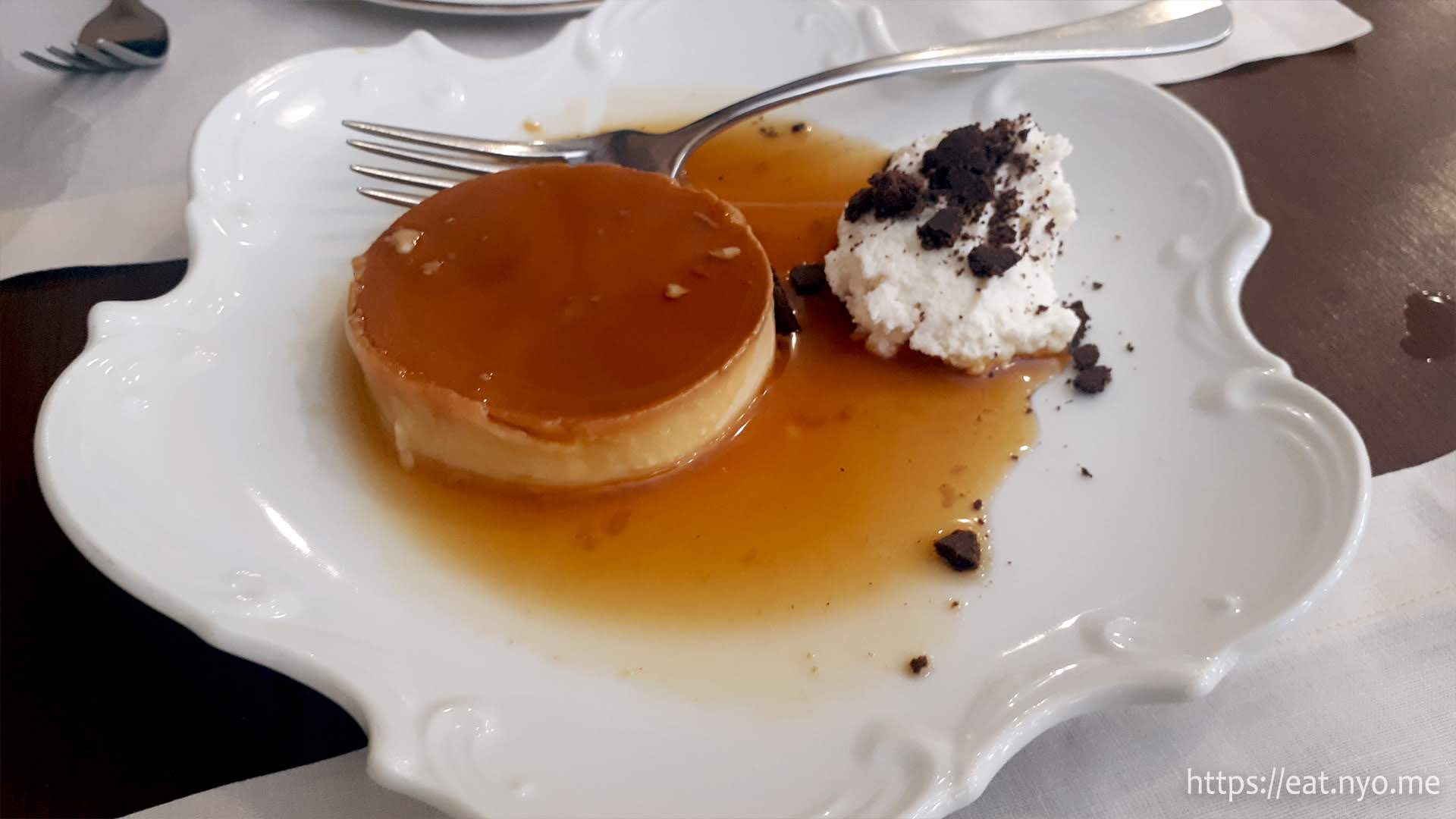 …and it was. The Leche Flan portion of our order, while similar to many of the same dish we've tried, is great on its own—quite thick, quite sweet, and quite milky. The Laguna Cheese Foam definitely took it up a notch. I find this curdy cheese much more enjoyable than the more expensive Manchego, and being topped with bitter cocoa seemed to balance the entire dish up. This was definitely a nice exclamation to our already satisfying meal.
While preparing the map of the place, I was surprised to learn a lot of 1-star reviews from Google, mostly complaining about the food taste. My Betrothed and I definitely did not have the same experience; our expectations were very well-met. I'll admit the prices were a bit on the expensive side, with a tab costing almost 2,500 Php. However, we felt that this was definitely one of the few places you should splurge at. Aside from the ambiance, this is a place definitely made for dates; an entire page of their menu is dedicated to wines and champagnes and most of their menu seems to be good for two. While we didn't partake in the former, I know some couples would find this appealing. So that's what I'd recommend this to: for special dates for your special someones, Las Casas Manila is worth the reservation.