My Betrothed and I had dinner at Unlimited Grill & Sushi by Korean J a few days before Christmas; and, yes, this is their actual store name. This was an unplanned trip and the primary reason was that I was craving for kimchi. We met at a 7-11 opposite this place and found that they had a table open for us despite the small queue, as what most Korean all-you-can-eat places have especially on a weekend. We decided to take the opportunity upon learning the price.
Basically another Samgyupsalamat clone, Unlimited Grill & Sushi by Korean J serves various meats (pork, beef, and chicken) along with the usual Korean banchan. What differs from the usual is that they also serve sushi and other Japanese dishes, although some were only single-serve. They also offer unlimited shabu-shabu or hotpot instead of grill, but with similar choice of meats, along with the banchan and sushi. The price for both of these deals are 549 Php, but they were currently at a soft opening promo, so they were only 499 Php. Since it's part of their namesake, we opted for the grill instead of shabu-shabu.
While choosing the meat is quite reminiscent of Samgyupsalamat, with ten variations and getting two choices at a time, the venue itself was more similar to Saram, with the floor and furnishings being quite oily. Heck, even the air felt oily! It's like the place is saturated with evaporated meat grease, if that's even possible.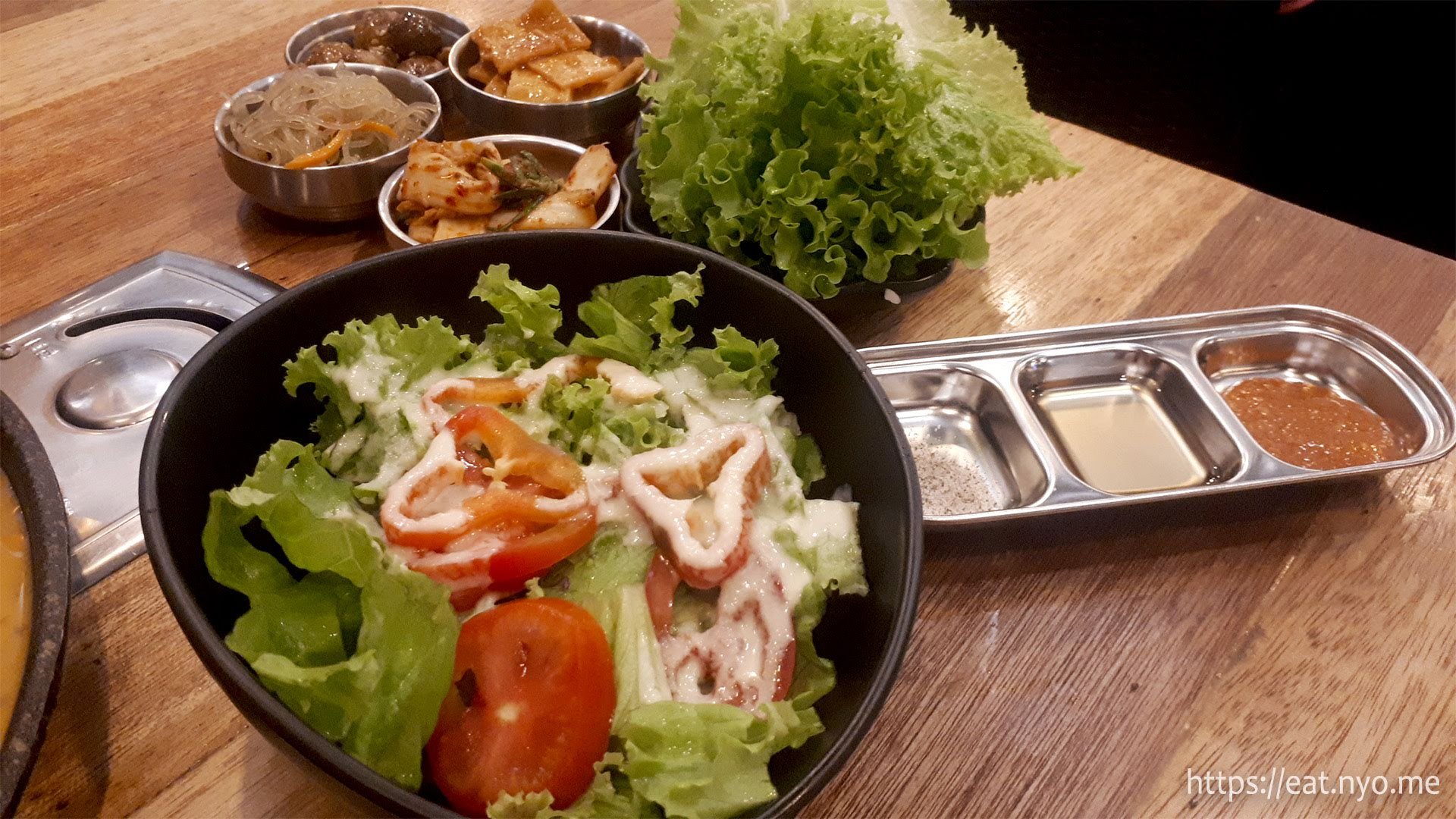 However, the service was noticeably better than the competition that we've tried. Immediately upon sitting, we were given banchan, salad, sushi, rice, and tempura. The side of the grill was also filled with scrambled egg, which was another feature uncommon, although not unique, to this place. Finally, they also put in some mozzarella cheese to another side section. Their banchan choices include spicy (although my Betrothed will argue otherwise) kimchi, sweet baby potatoes, fishcakes or odeng, and chapchae. We were also given lettuce leaves to wrap our meat in. The salad was another uncommon offering, but it's basically greens and tomatoes in Caesar salad dressing.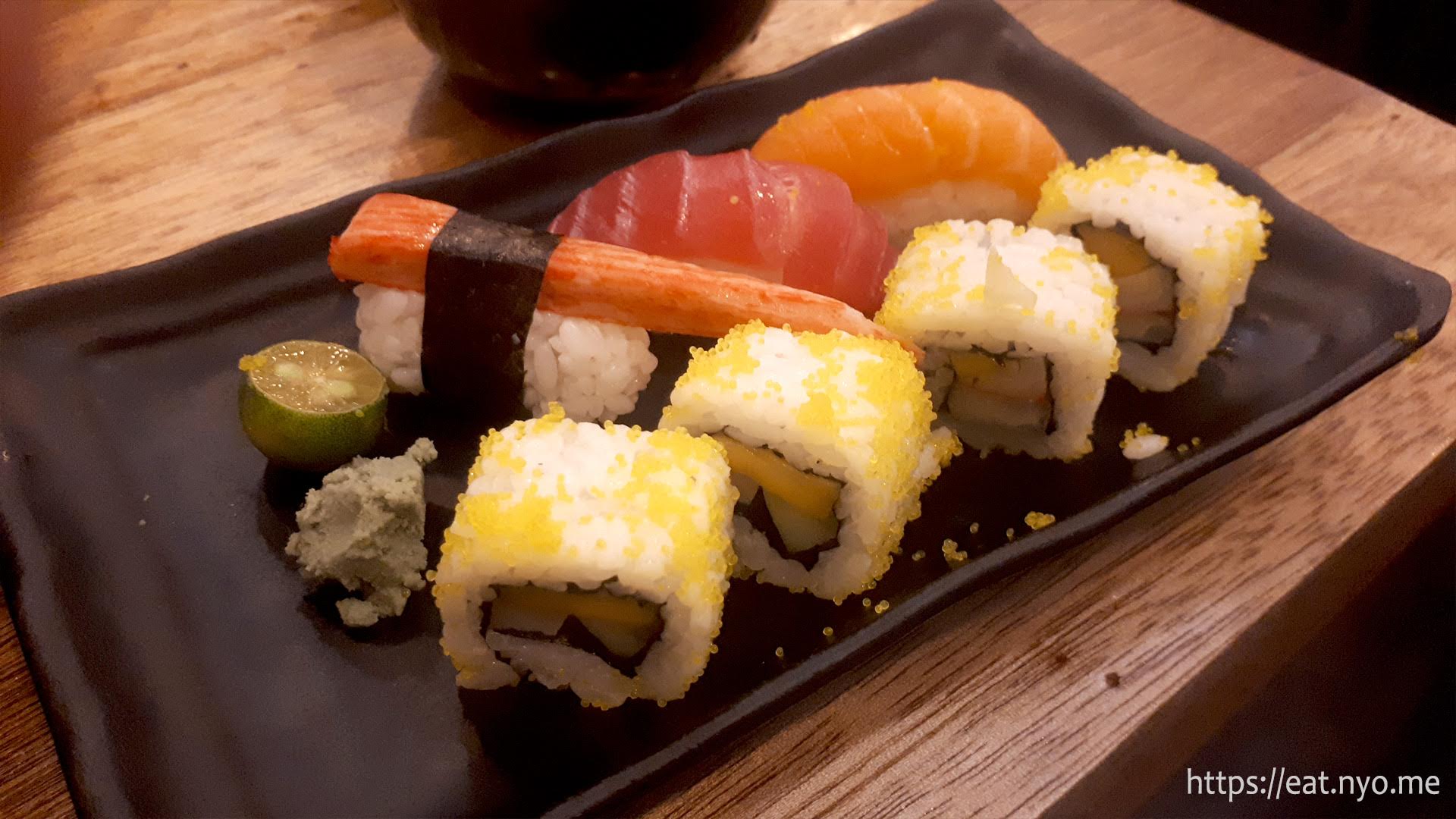 The sushi wasn't too bad, but we didn't really go here for this. It's a bit on the cold side, and I can't vouch for freshness. They were all passable, but I'd really rather not have this if possible and opt for a cheaper bill or different banchan.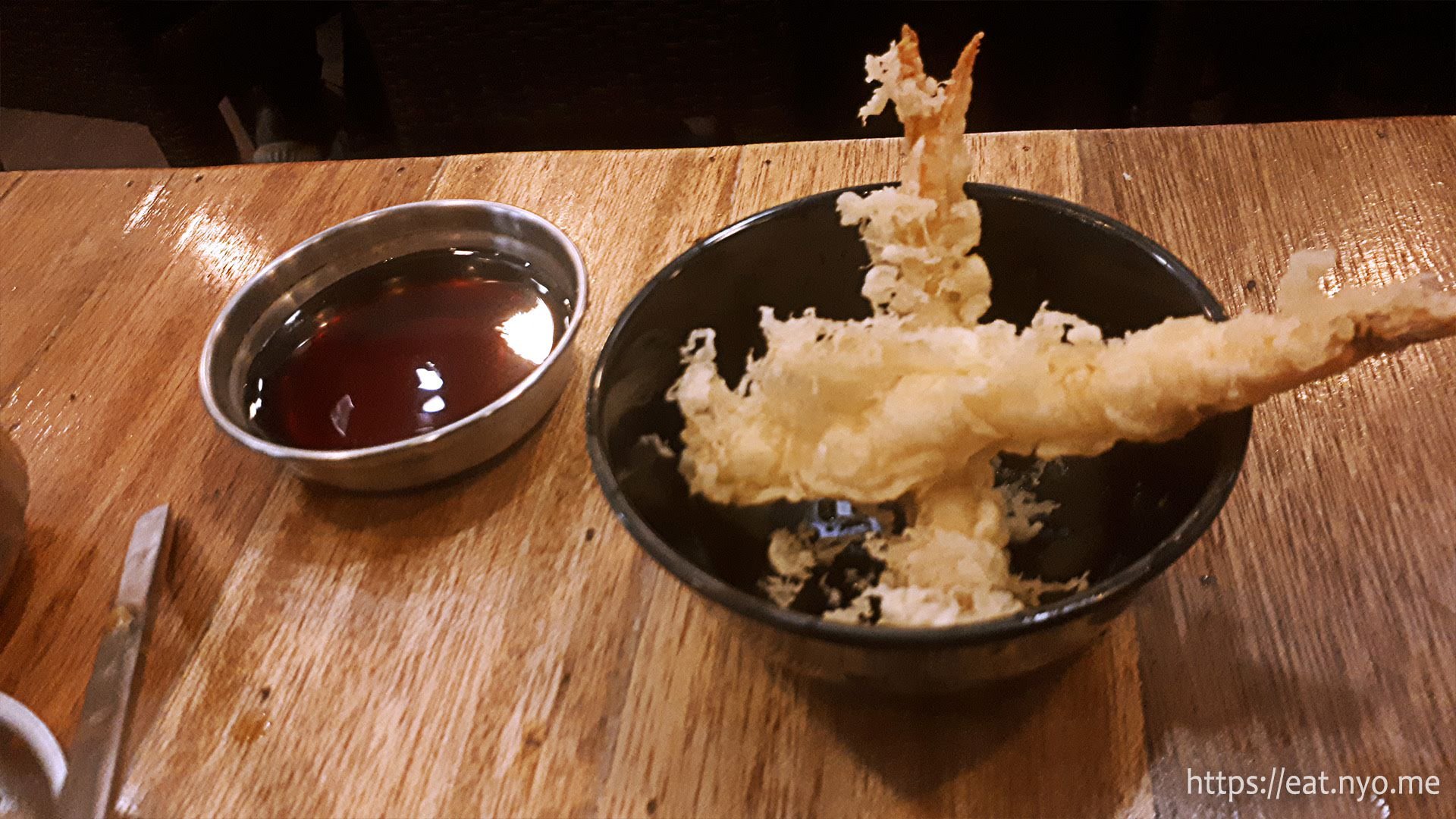 The tempura is a slightly unique offering, especially for a Korean grill. While it's on the small side—definitely of shrimp and not of prawn—it tasted okay. It's not part of the unlimited offerings, though. I'm also assuming they're giving one shrimp per person, so if you come in a group of four, I'm assuming they give four pieces.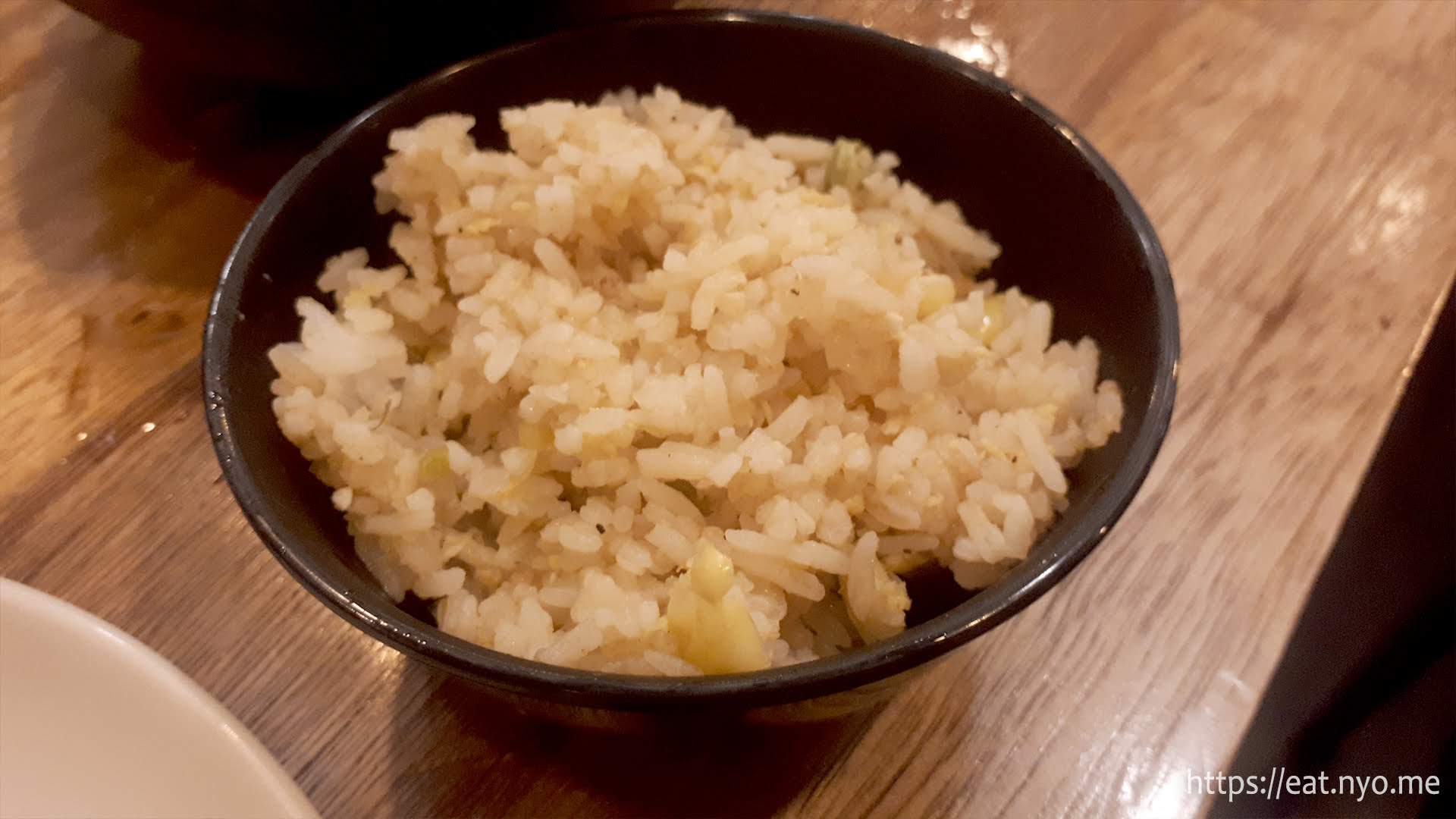 Finally, sides-wise, at least, they also served chahan. It's not great, though. The peas were noticeably cold despite the rice being warm. Perhaps it was just reheated and not freshly made?
Despite all that, I will still commend the service speed and attentiveness. I'll reiterate that these were all given almost immediately despite being a full house. In addition, our first meat orders arrived very shortly as well.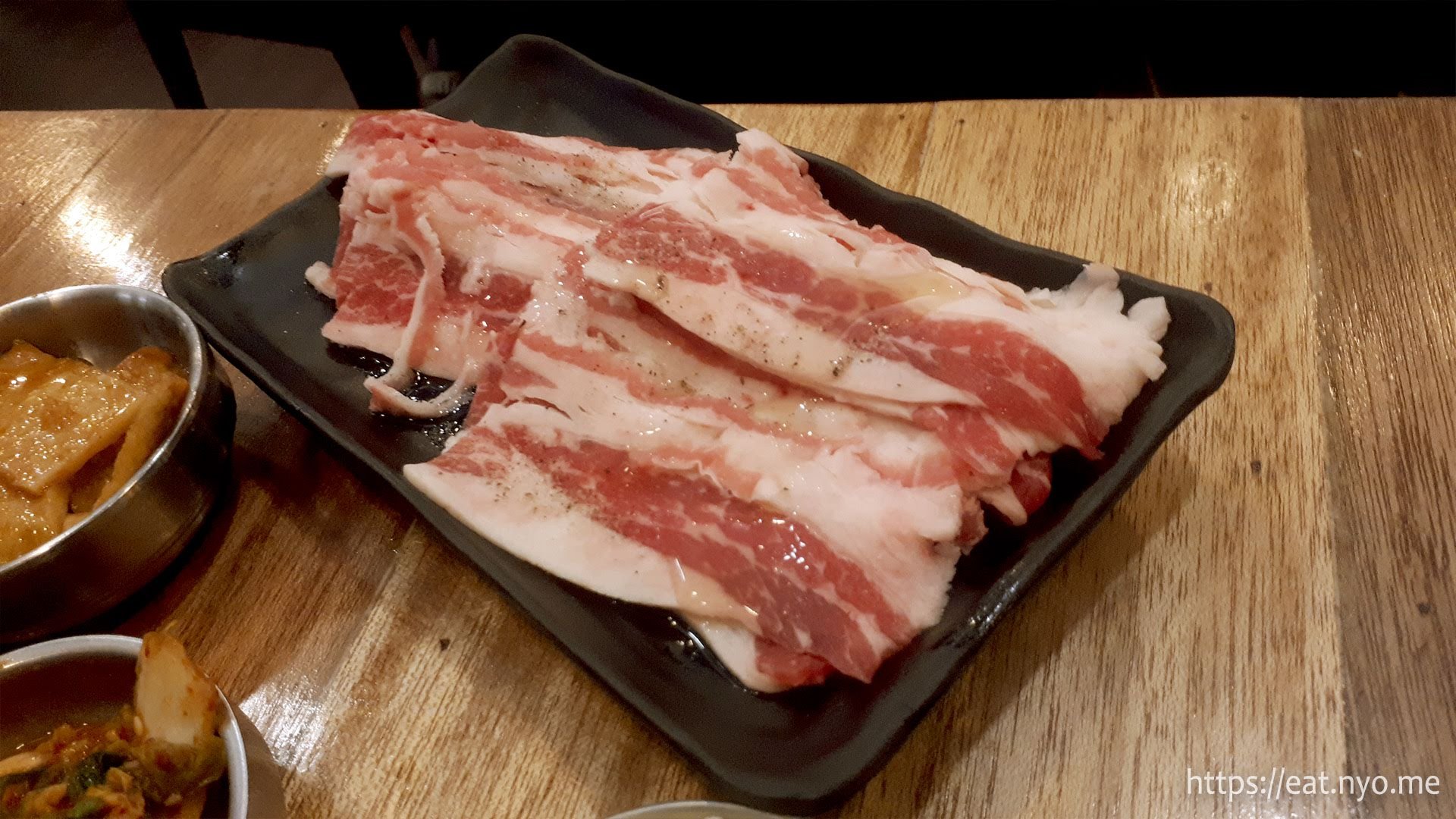 Our first choice was their chadolbagi or beef belly. While pretty simple with no marinade or flavoring whatsoever, it was definitely flavorful in terms of fat.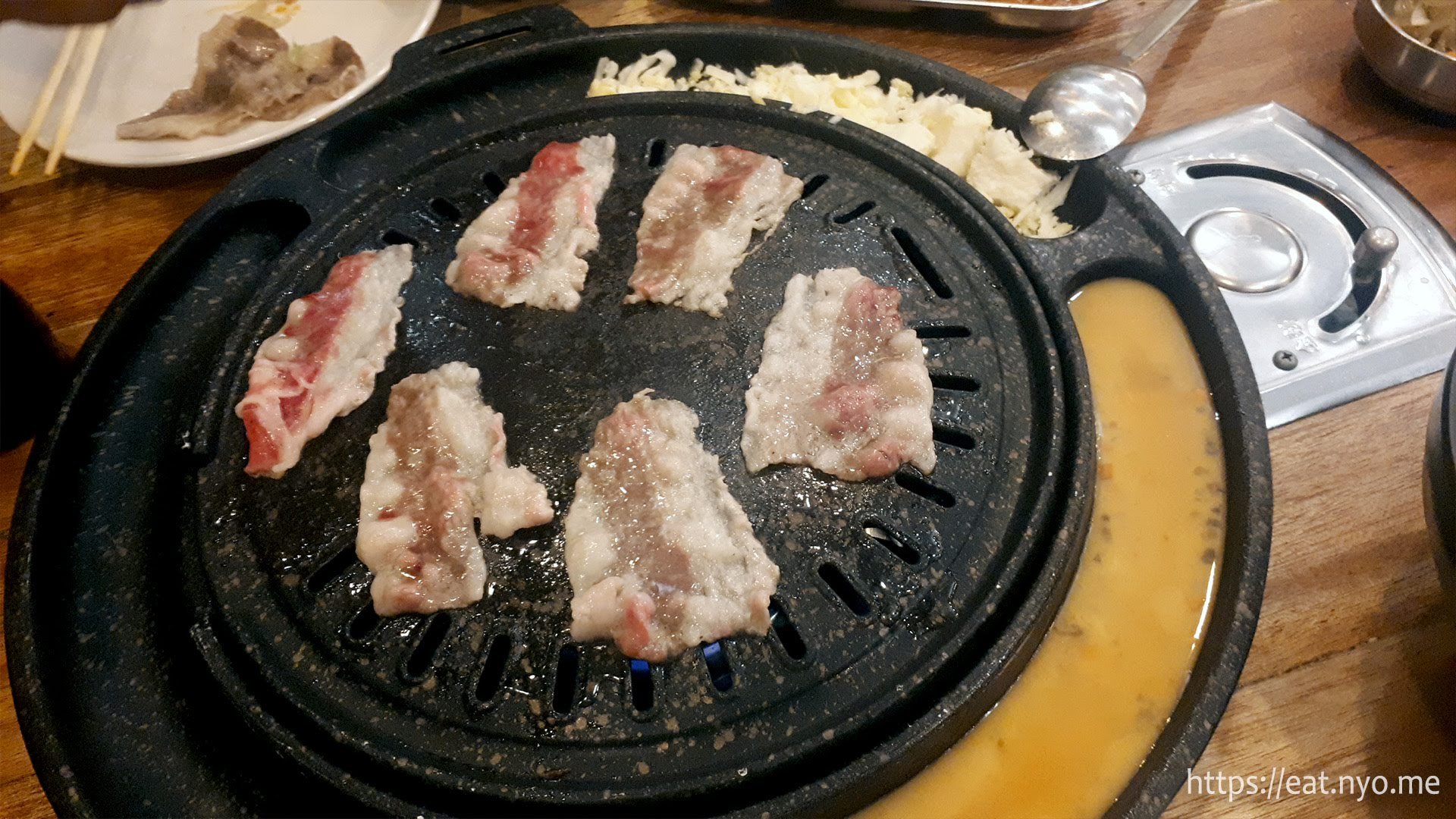 Since they were sliced thinly, they cooked quite quickly, less than a minute for both sides. Flavor was easily adjusted using the usual sauces (sesame oil with salt and pepper, soy sauce, and spicy gochujang) as well as the optional banchan (kimchi, in particular) and lettuce wrapping. This is our favorite cut of meat for the night due to its juiciness.
Our second meat order is their yamgyum galbi, which is one of the two pork offerings that sounded interesting to us. These were quite thick slabs of porkchops marinated with sweet sauce.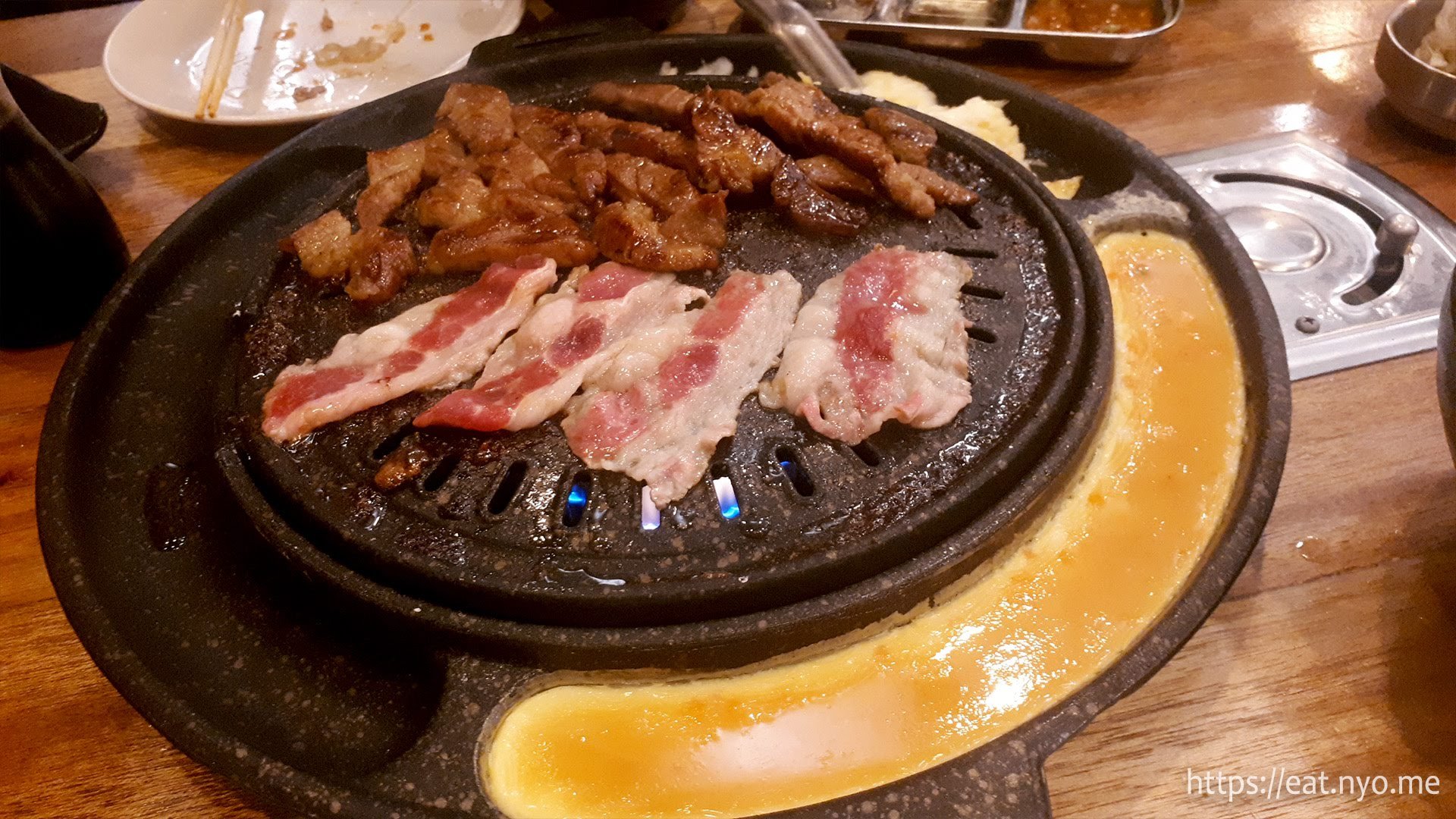 Cooking this took a bit longer. Surprisingly, it did not caramelize badly like other similar places. It seems the cookware they used was a non-stick or cast iron material that even sugars didn't stick to. We did have to cut up the porkchops to manageable pieces, but it's a non-issue as we were given the usual cooking sheers. During this time, the cheese and egg were starting to settle and they proved to be quite nice supplements to the meal—the cheese surprisingly went well with this pork cut as well as our next pork choice.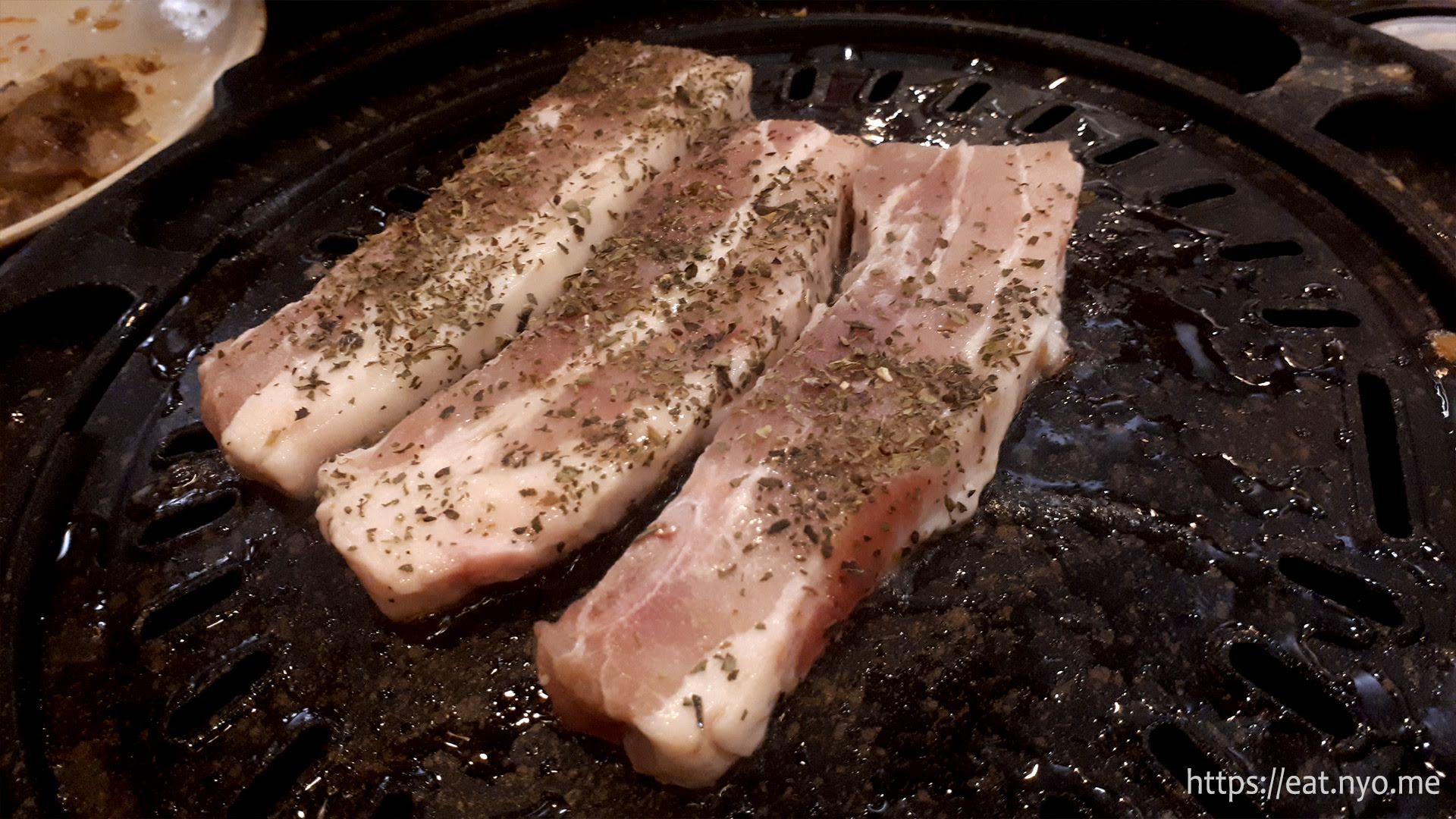 Our third meat order was their chadolbagi again, and our fourth was their herb samgyupsal pictured above; the latter being the only other pork offering from the eight that sounded interesting.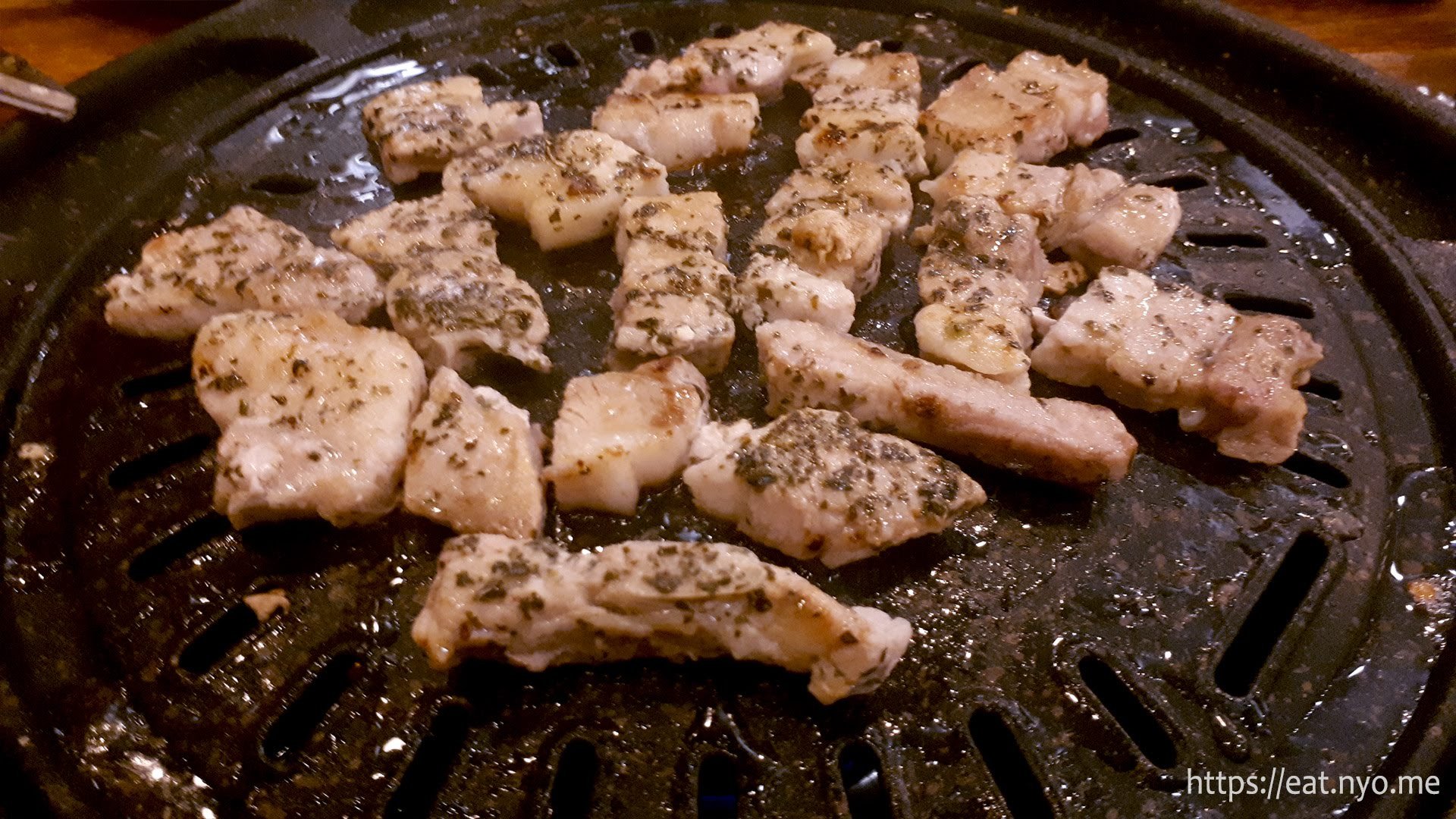 Similar to the galbi, these pork belly slabs needed to be cut further into manageable pieces. They also similarly took a bit longer to cook, around five or so minutes for a non-crispy, soft version that my Betrothed likes and almost double that for a crisp version that I enjoy. The herbs did add some aroma and I'd guess this was rosemary and/or thyme. It also did add a bit of herby aftertaste. In retrospect, honestly, we might have enjoyed the plain offering and adjusted the flavor using the sauces. Or even better, maybe provide the herbs on the side.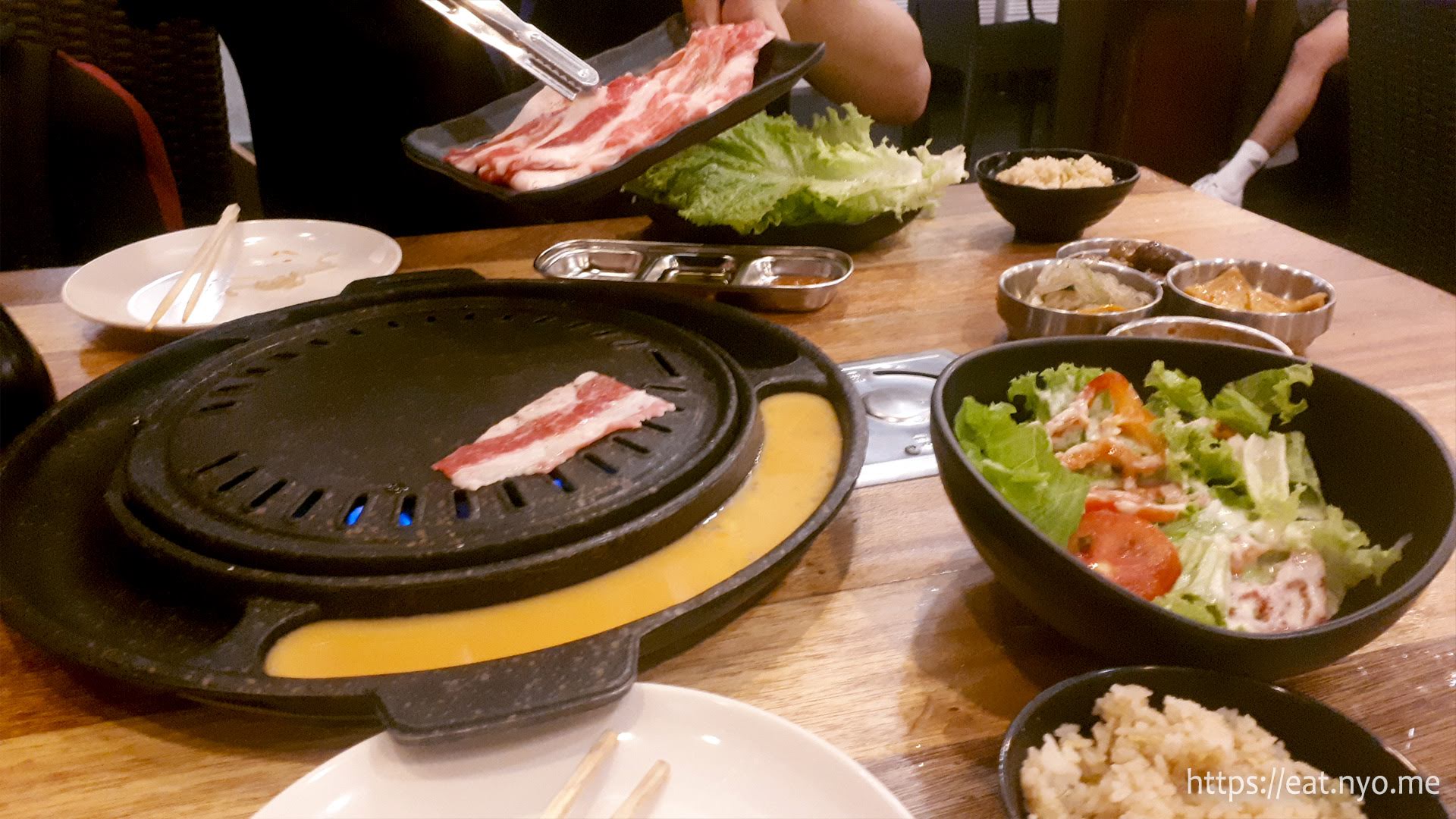 We had a couple more rounds of chadolbagi before my Betrothed got full. I didn't really get full, just cloyed. Also, both of us felt very greasy inside out. I'll still commend that throughout the two hour stay, the servers remained quite attentive and our meat and banchan orders arrived quite timely. My kimchi cravings were definitely sated.
Despite suffering from over-greasiness, and despite having an awful aftermath wherein my bowels didn't agree to the amount of grease I ingested that day, I found our perchance visit to Unlimited Grill & Sushi by Korean J worth it. While not the best, it's not the worst, and we definitely had worse. If you can tolerate the greasy feeling upon entering, while eating, and after the stay, I'd say the ~550 Php you'll spend here is fair, especially considering that other similar places in the same street will probably cost the same but most likely cost you more time. I guess, what I'm saying is, it's an option, but probably not your first. I'd probably go here again not for the grill, but for the hotpot, which is what my Betrothed and I are craving more these days.