Beloved and I had dinner with Const at Saram Korean BBQ Grill Buffet a couple of weeks ago. This newly-opened Korean barbecue buffet is located at V. Luna Extension, in the same building as Snack Shack. Meant to compete against the ever-growing number of sub-500 Php all-you-can-eat Korean barbecues, this isn't actually the first in the area. However, it's now officially the closest from our place. Since we pass this by frequently, with the advantage of no longer needing to take a tricycle, we found little reason not to try it out.
Their Korean Barbecue Buffet is priced at 370 Php per head, which does not include drinks but includes the usual banchan buffet. They do have iced tea by the pitcher, which Beloved ordered one of for our table to share. Aside from that, it's the usual experience where they bring meat to your table to grill; this place offering both pork and beef belly slices.
Oh, and be careful stepping in and walking around the buffet area. I hope they fixed this by now, but the tiles they used as well as the oily nature of a Korean barbecue makes the floor slippery. It's even worse than Hwaroro and present-day Don Day.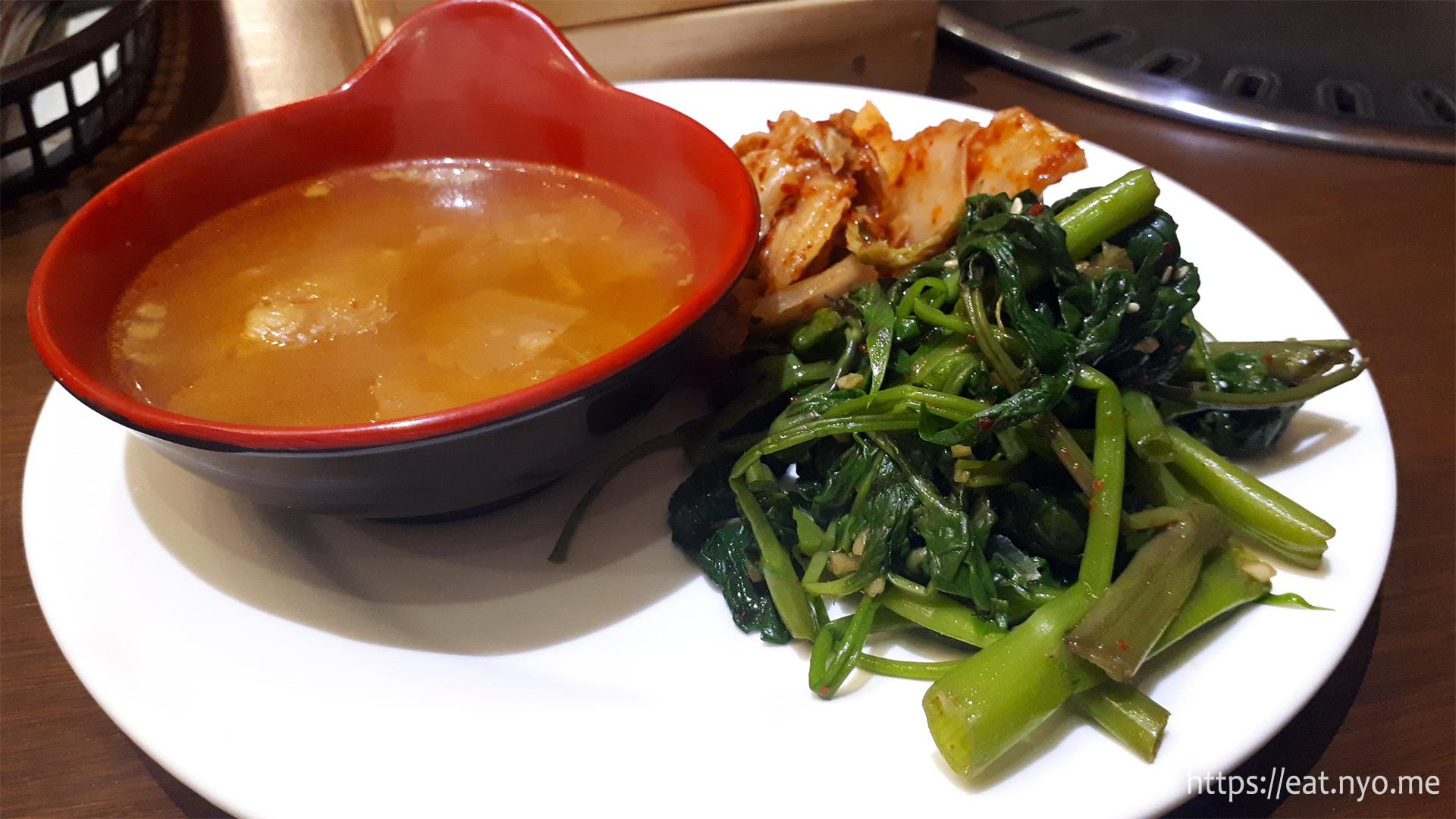 While you wait for your meat to get sliced, you can enjoy their small buffet table offering various banchan and other cooked dishes. Surprisingly, their take on sigeumchi-namul, or sesame-soy spinach, in which they used kangkong worked pretty well and I might try preparing it as such myself. Their kimchi is at the "just right" heat-flavor combination for me. I didn't try their bloody-looking soup, or kimchi jigae, but Beloved says it's fine.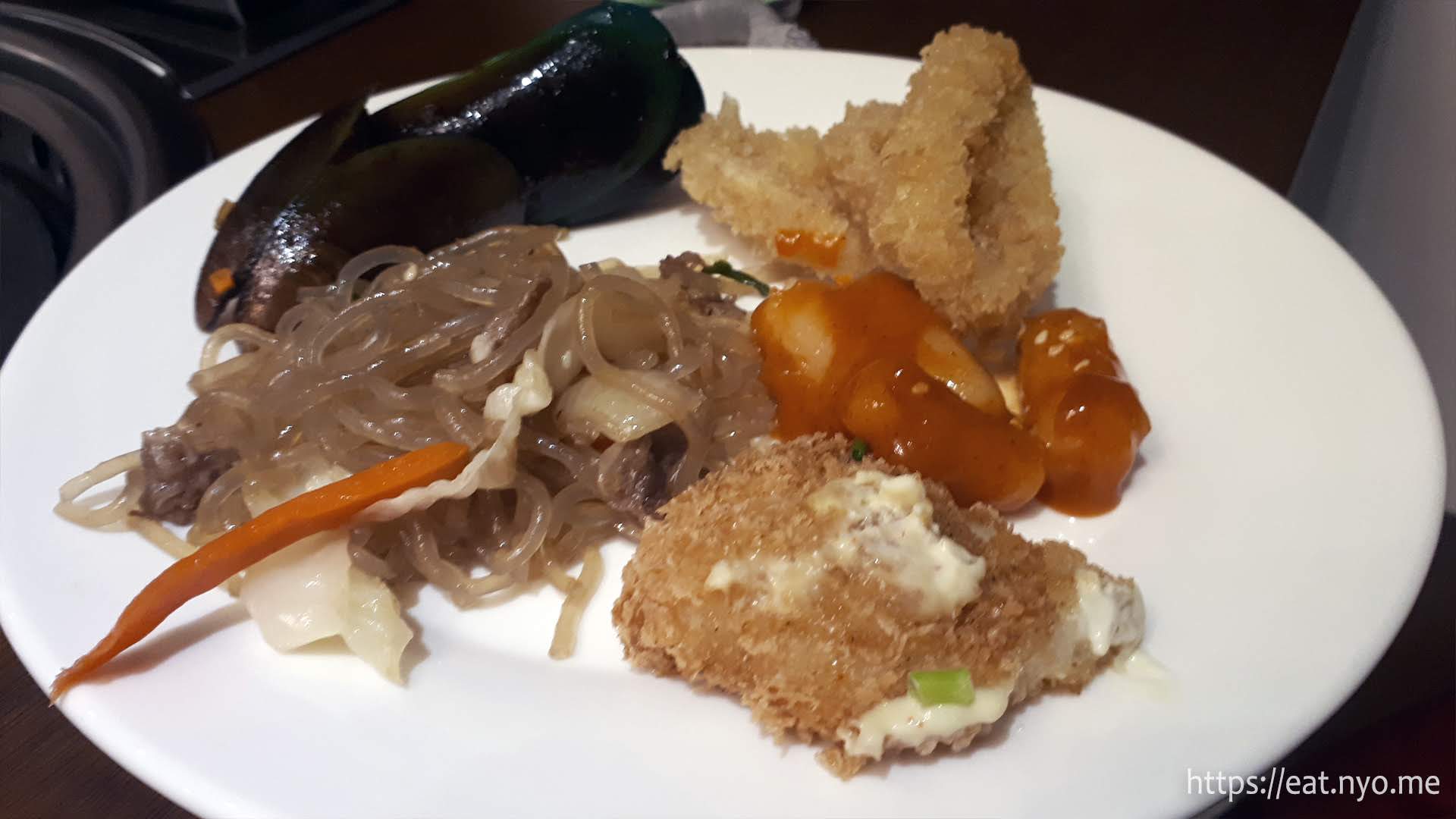 Among Korean buffets, this place offers the more unusual offerings. Sure, there's the usual chapchae, but they also offer stuff like tteokbokki or spicy rice cake. This was the first time Const tried this, and was quite surprised with how sticky-chewy it was. They also offer boiled clams, which was also slightly uncommon. Beloved loved their fried squid rings, for good reason, as they were cooked quite nicely, with a nice bite and not too chewy.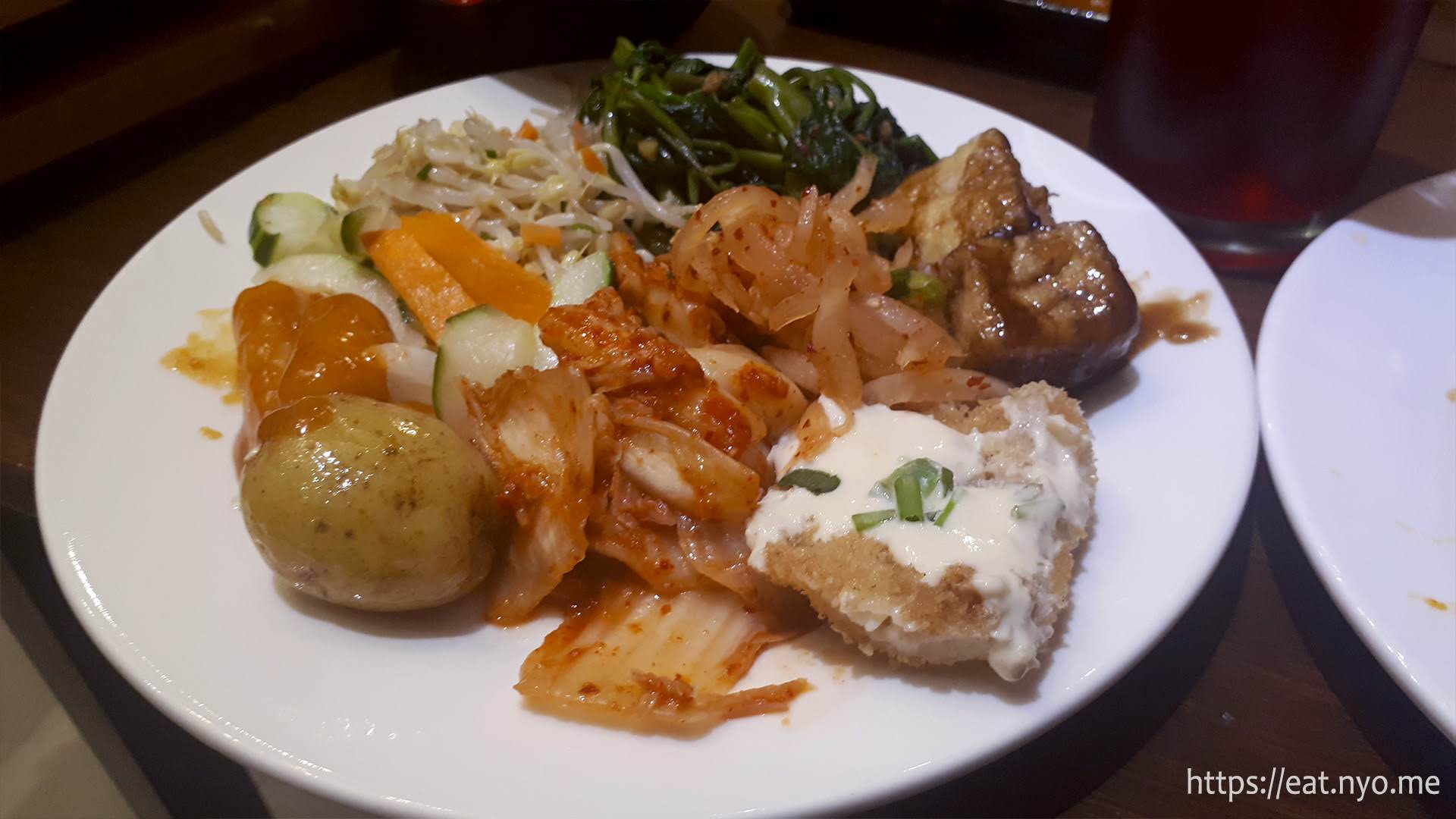 I took pretty much a bit of everthing, sans rice. Radish kimchi lovers will find solace that this place offers it. While their squid rings was definitely better, their fried fish wasn't half bad. I also liked their pickled veggies, but, really, the banchan star was their kangkong-namul.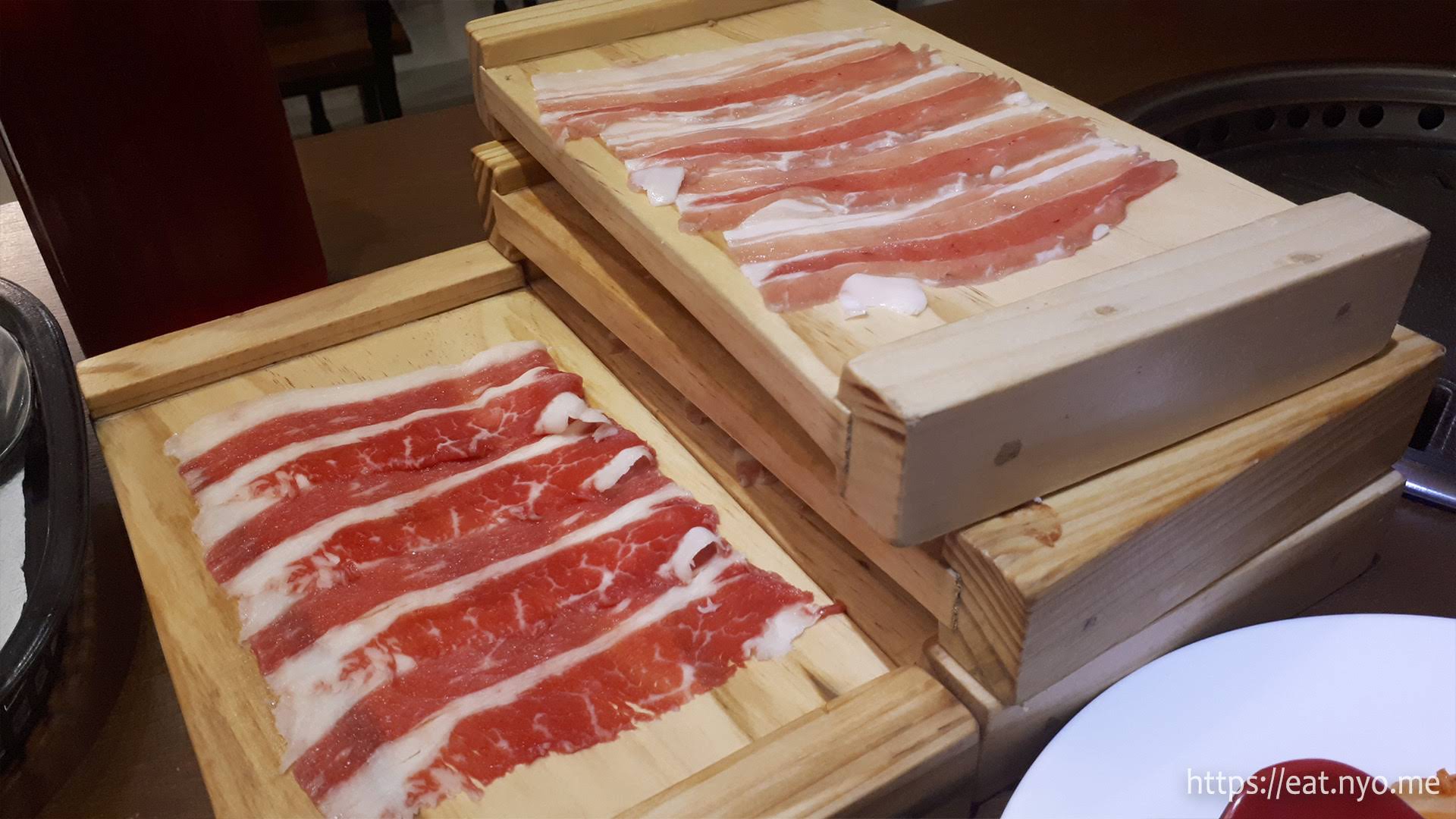 Anyway, onto the meat. Among other buffet places, this might be the thinnest slices I've seen, almost paper thin. Both pork and beef belly is served on a wooden platter, adding some nice aesthetic. Don't forget to grab some green leaves to wrap it on as well as the usual sauces—gochujang, or spicy chili paste and gireumjang, or sesame oil and salt-pepper mix—to go with it from the buffet table.
Since the meat slices are long and thin, in doesn't take long for them to cook. On medium-high heat, you can enjoy the beef in about ten seconds. The pork can take a bit more, but should be good in at least 30.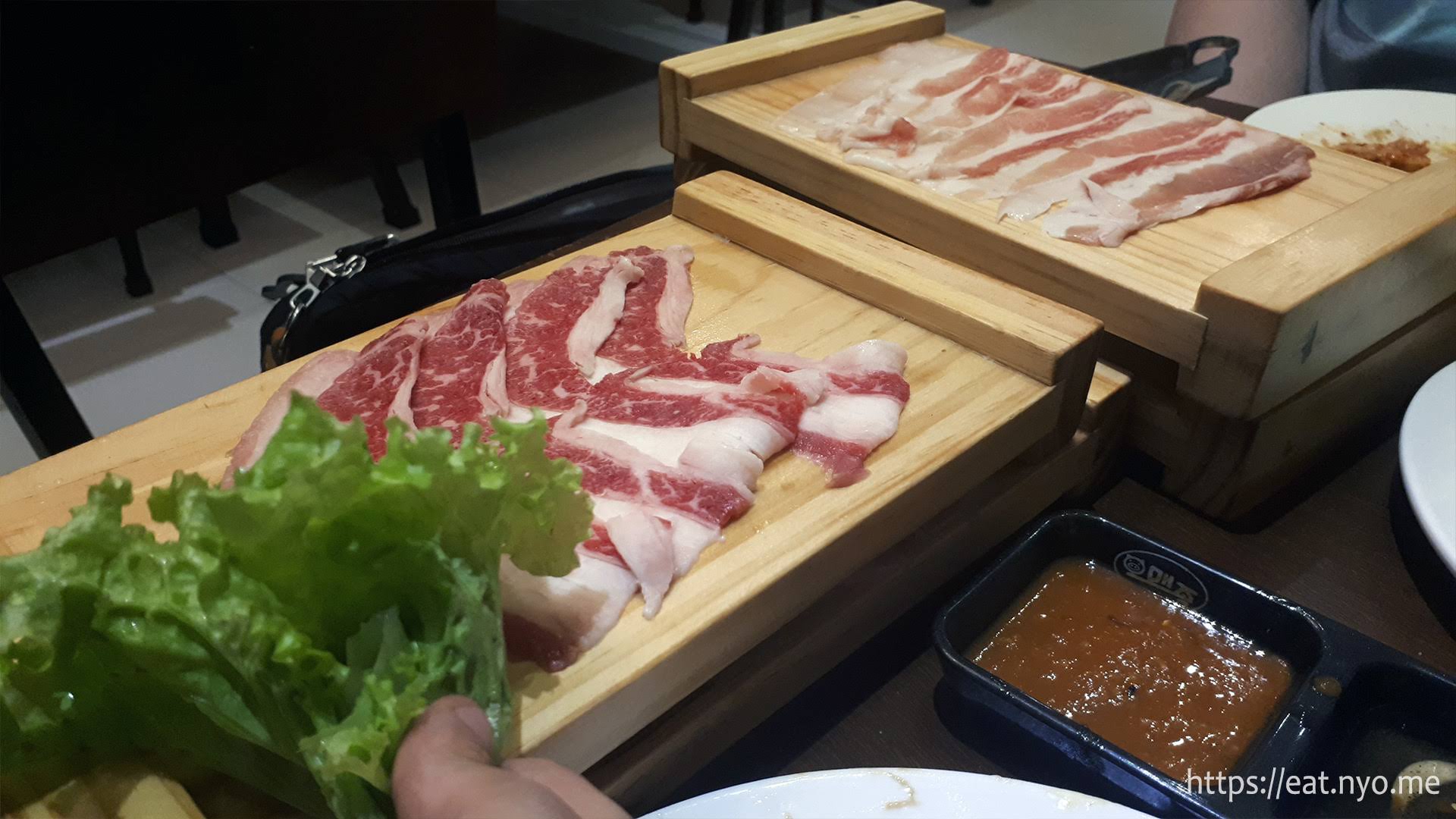 You can ask for more meat after you consume all the pallets given to you. I noticed at first, their service was quite fast. However, as the night dwindled on, the service started getting slower and it took a couple of reminders for the servers to refill our meat.
It's a good idea to take a breather once in a while from the meat. While the leaves are meant for their meat wraps, it's also a good bed for their squid rings to catch the crispy bits once you use it for your protein.
Eventually dinner has to come to an end. Sadly, there's not much here for free dessert. They do have Korean ice cream, but it's not included in the buffet tag; reasonable, I guess.
I used to rate Korean BBQ's very highly. While some definitely deserved (note the past tense) it, a lot of them was due to the fact of their rarity back then. Nowadays, it's a bit more mainstream and there's probably a sub-500 Php Korean barbecue near you. Heck, the third review prior to this one is a sub-500 Php Korean barbecue, albeit limited to pork belly and might be a timed promotion. In Maginhawa area, not considering also nearby Kalayaan avenue, there are two more all-you-can-eat Korean barbecue places nearby, namely Mokja and Samgyupsalamat, both we've already been to but are pending revisits. Honestly, these places don't differ much, including from Saram, aside from location, slight differences in meat marination, and banchan offerings.
Still, I don't know how long until inflation will disallow sub-500 Php unlimited samgyupsal, and sometimes beef belly, buffet. Until then, I'm glad that places like Saram Korean BBQ Grill Buffet exist—places where I can pig out and enjoy not just the meats, but also the accompanying veggies, at a very reasonable price. Now that this is the closest all-you-can-eat Korean place from home, I can see myself frequenting this after doing a proper review of the other nearby areas. I hope the next time we go, they fix the problem with their floor.