Beloved and I had a slightly late lunch at Saigon Pho Vietnamese Noodle House some weeks past. This Vietnamese restaurant is slightly new in Maginhawa street, and we assumed, based on its name, that it's a direct competitor for Pho Hoa. While it's not the only Vietnamese place in Maginhawa right now, it's still one of the less-represented cuisines in the area. Knowing that Beloved and I like Pho (considering they allow removal of cilantro), we decided to try it out.
The place is at the second floor of an array of food places at the bend of Maginhawa, just by the barangay hall. They have a decent selection of pho, varying in toppings and spiciness all at similar prices. I ordered their Pho Bo (210 Php) and beloved got the redder, but otherwise similar Bun Bo (210 Php). Also, we found out that they don't just offer Pho, they also offer some other Vietnamese dishes such as banh mi and Goi Cuon or spring rolls. Since we verily enjoy the latter, we decided to order it as well (150 Php). Finally, we also ordered their drinks, namely their Thai Milk Tea (95 Php) and Ca Phe Sua Da or Vietnamese Coffee (95 Php).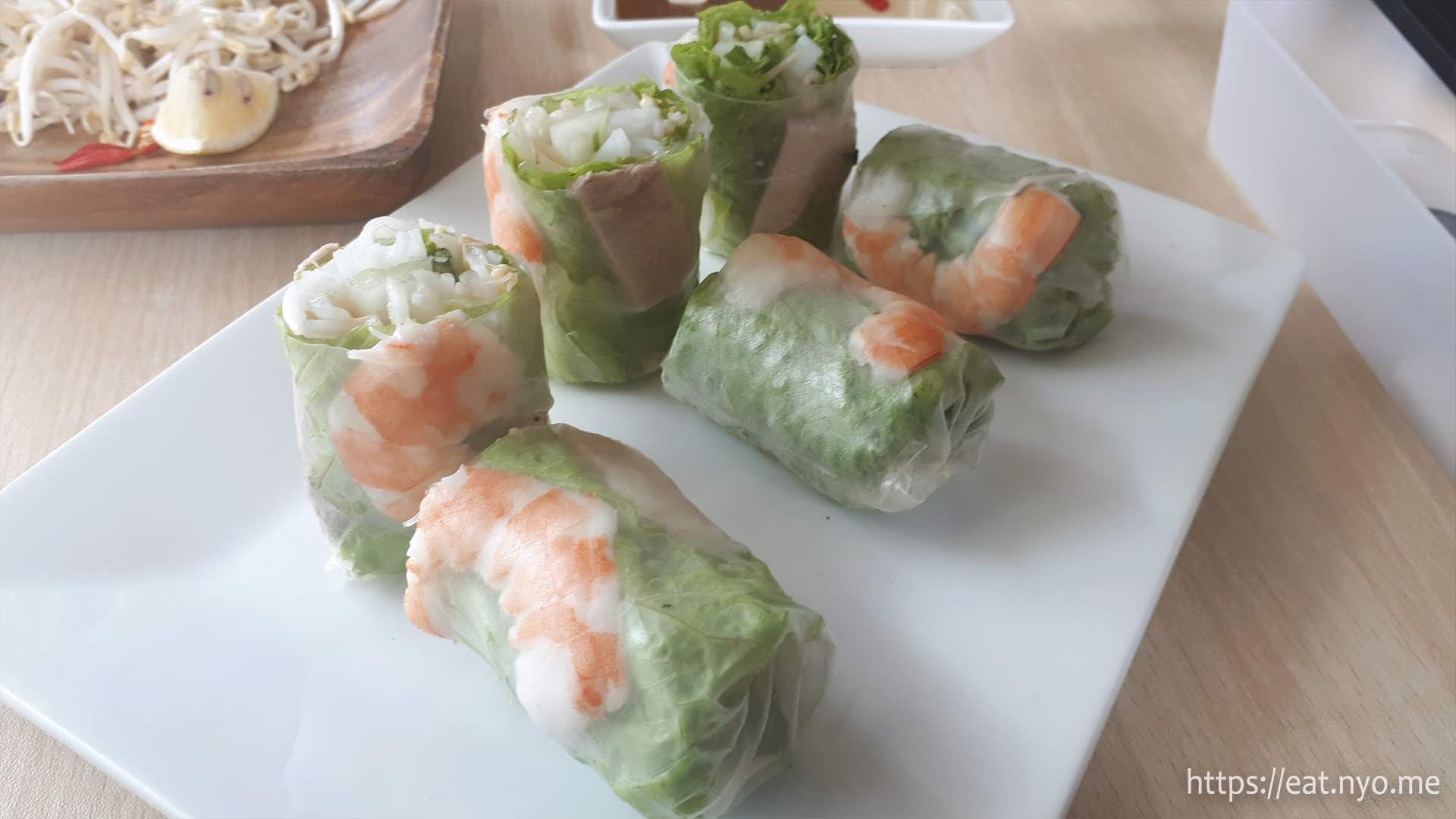 Our Goi Cuon spring rolls arrived first, well… after our drinks, which I'll expound on later. These were quite nice in the mouthfeel department—rolls of rice paper wrapping rice noodles, fresh greens, and a scrumptuous shrimp for each roll. While they didn't have much in the taste department, this was easily remedied by the provided peanut sauce and vingear.
Our Phos arrived next. I was pleased to learn that they don't put in cilantro, a mainstay for pho, in their base bowl. Instead, it comes in the side along with the other garnishes, namely the bean sprouts, chilies, and lime. However, since I asked them not to put cilantro, I think they assumed that both Beloved and I didn't want it. Oh well.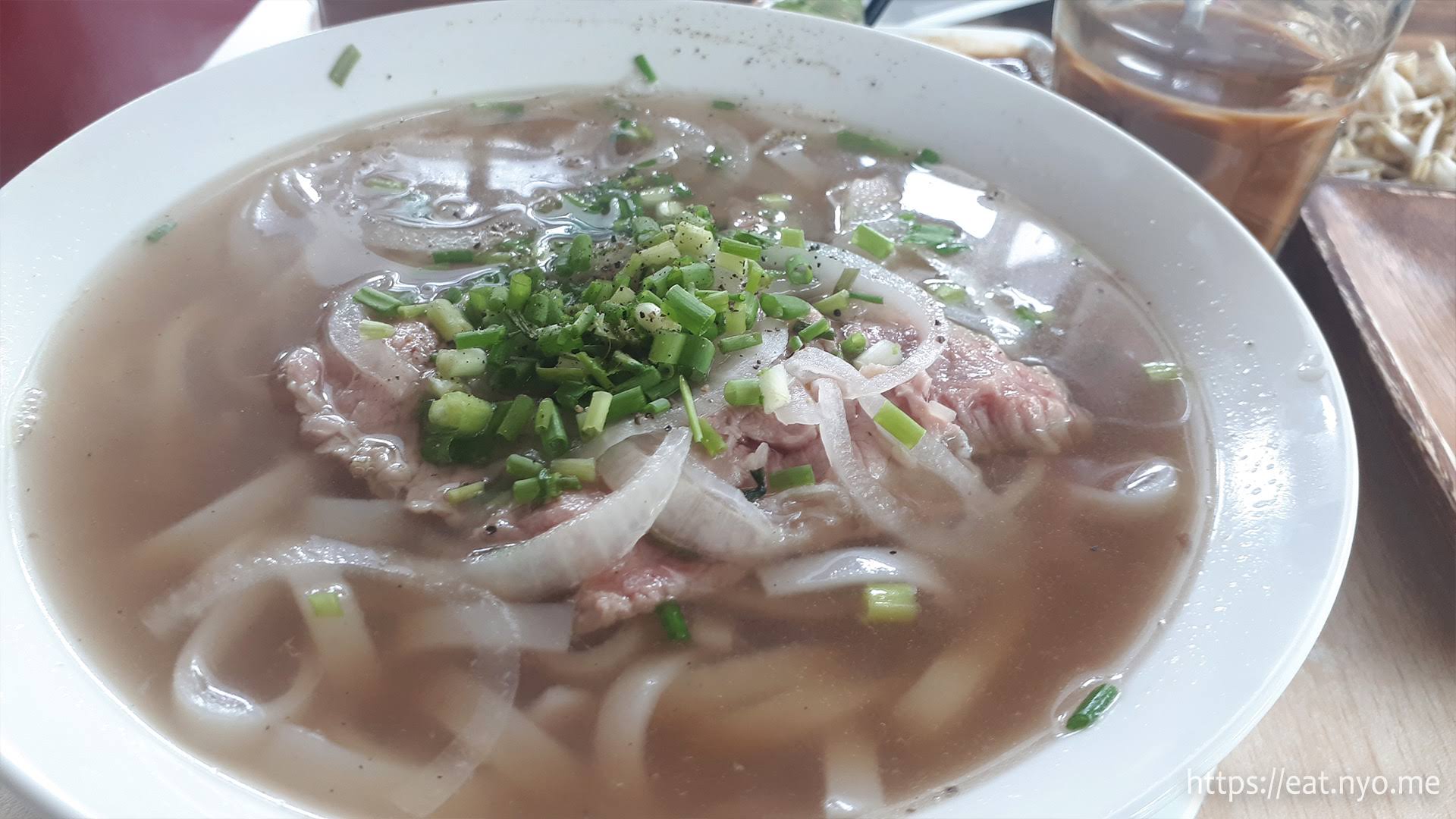 My Pho Bo had a murky clear broth with flat noodles topped with slices of beef and spring onions. As mentioned, the other garnishes are placed aside as with other sauces which includes hoisin sauce, sriracha sauce, and a spicy shrimp paste. On its own, it's a bit on the salty side. Adding a squirt of hoisin, a very, very small dab of shrimp paste, and all of the bean sprouts made the soup just right for me. A few sips, I add in sriracha for the heat, which I enjoyed. However, I made a big mistake after underestimating the shrimp paste. In small amounts, it added an enjoyable heat for me with a savory backdrop. Adding too much of it made it very, very spicy.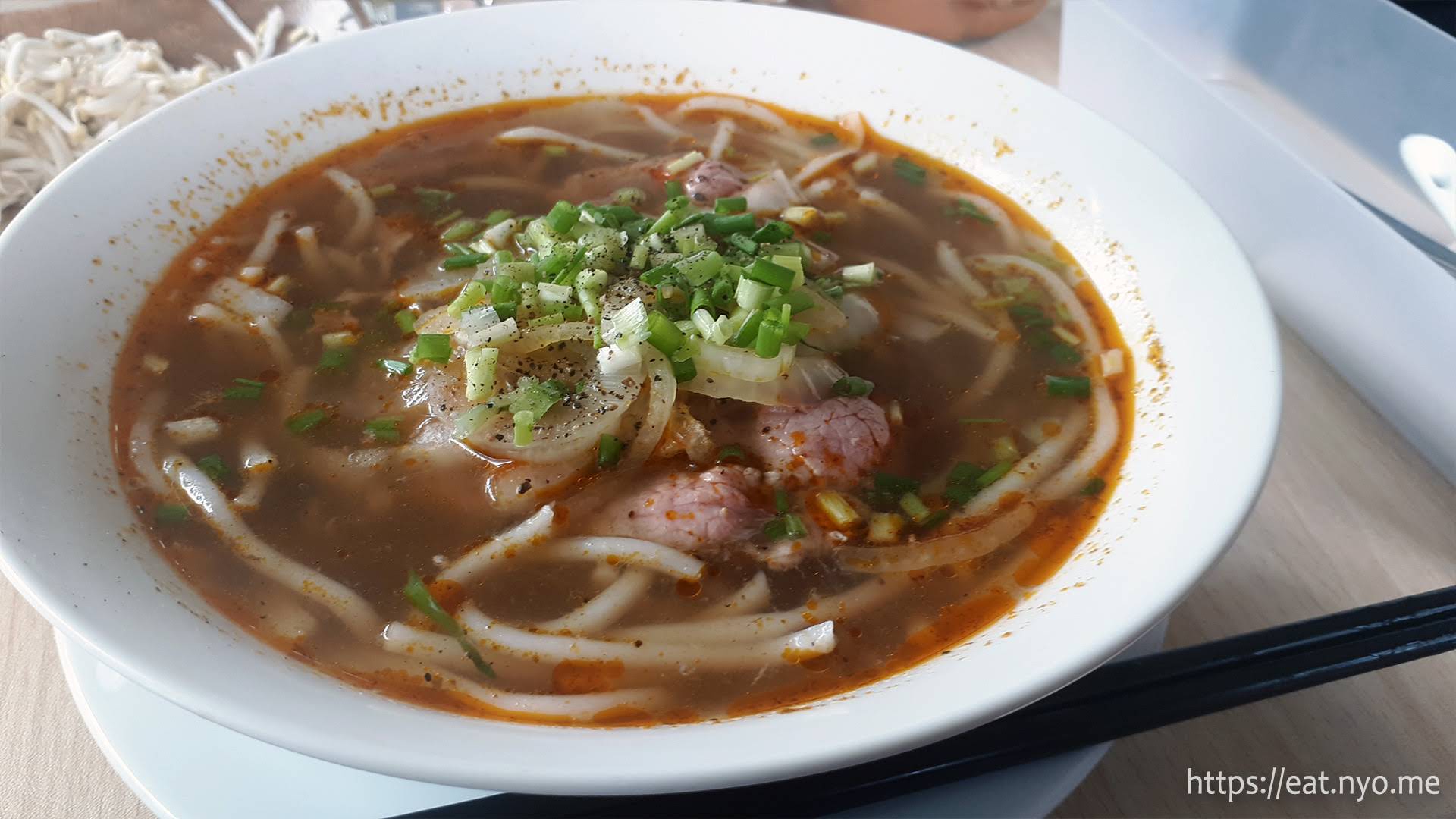 Beloved's Bun Bo was essentially the similar, albeit a bit redder. Also, the noodles had a mixture of both the flat ones that I had and some round ones. By default, it's much spicier, but not as spicy as my Pho Bo with too much shrimp paste on it. Beloved pretty much added shrimp paste as well to match the heat of my bowl. I did not enjoy this as well, but Beloved pretty much gulped it all down.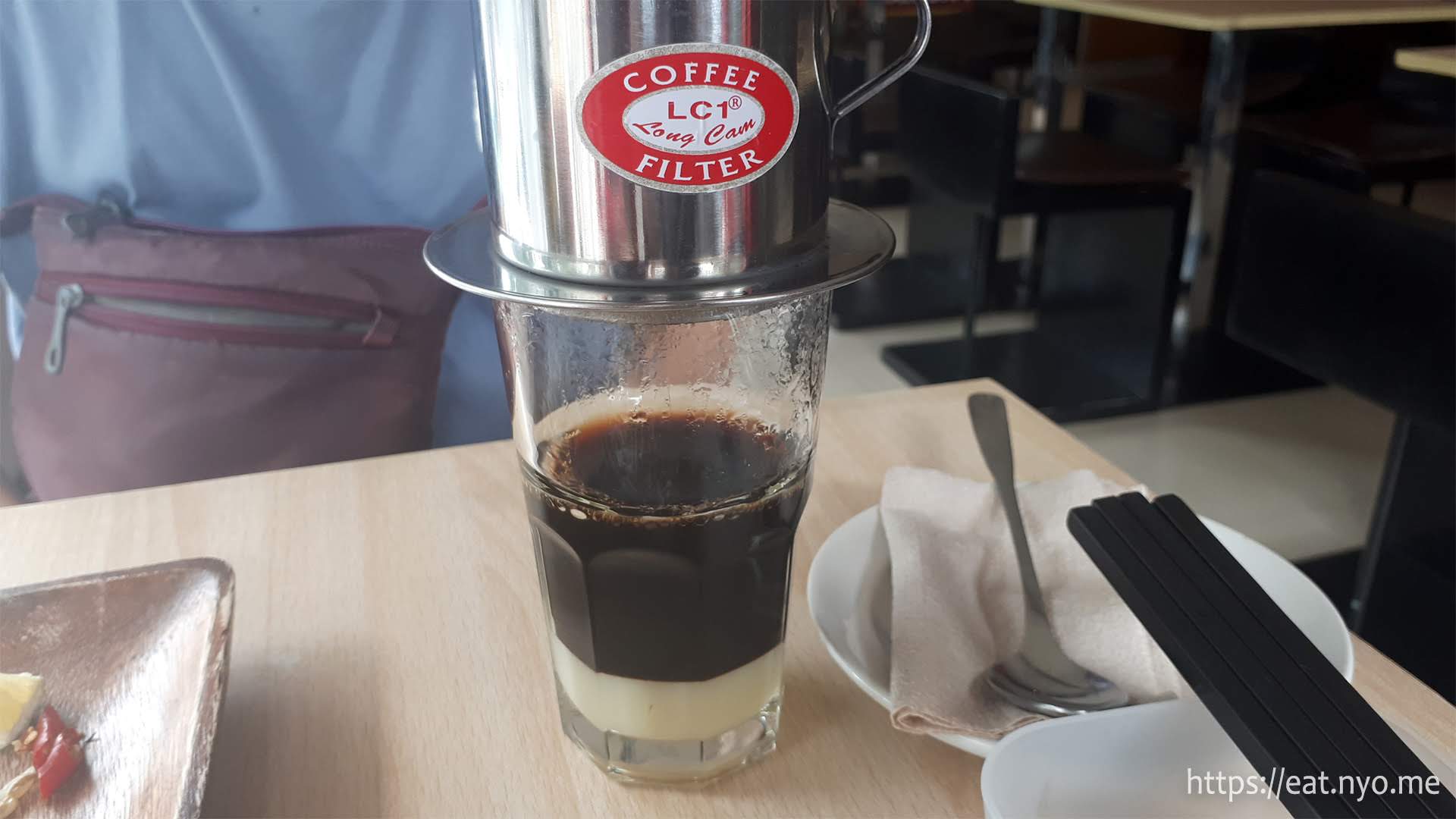 Honestly, my Ca Phe Sua Da wasn't a good match with the pho. However, as a coffee, it was pretty good. It's a essentially drip coffee using a mechanism we've seen in other Vietnamese coffee places. I found it a bit thicker from the usual coffee and had an innate sweetness to it. They gave us ice as an option to cool down the coffee, but it didn't make it a great pairing to our meal.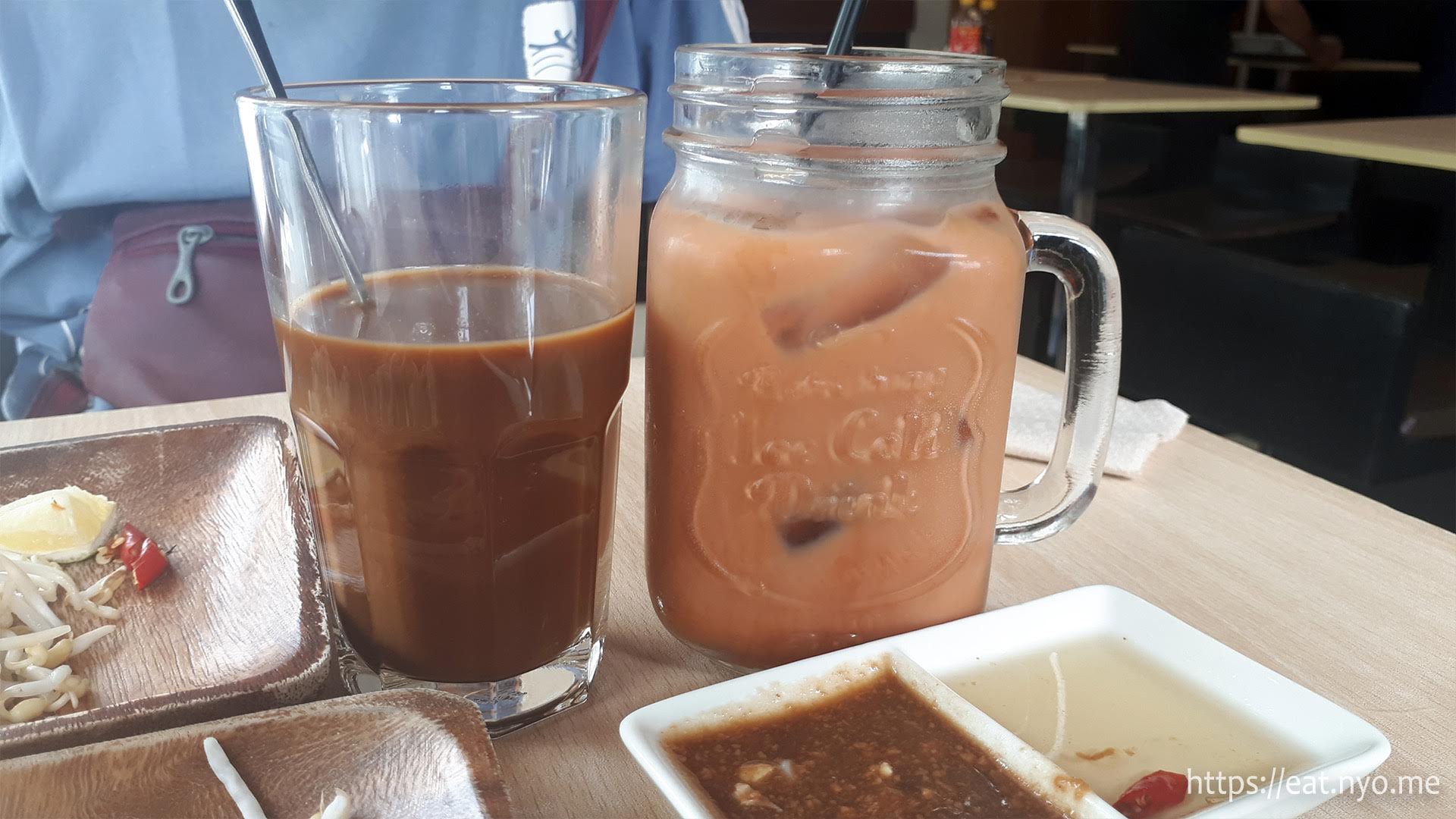 Beloved's Thai Milk Tea (right) was the better match, especially since both our pho turned quite spicy. This washed down all the capsaicin as you gulp. Sadly, there's more spicy soup than there's milk tea, so, in the end, I was still ailing from the heat.
We left with Beloved emptying her bowl and mine having a blood red pool still half-filling the bowl and Beloved quite happy and me languishing. Honestly, had I not made the mistake of putting a lot of the spicy shrimp paste to my pho, I would've enjoyed Saigon Pho. Instead, I agonized pretty much the rest of the meal, with Beloved enjoying my pain and suffering. There was even a spicy aftermath as we walked to Papa Diddi's, hoping for my recovery. Still, I know it's my own mistake and I know what to do next time. While this next time might not happen for quite a while, since there's still quite a few new places to try out in Maginhawa, we'd definitely recommend Saigon Pho Vietnamese Noodle House a try, especially for pho lovers.