My Betrothed and I celebrated lunch of our eleven years together at Food Exchange Manila. This is Novotel Manila's in-house restaurant that, as per most hotels, offers breakfast, lunch, and dinner buffet. We decided to staycation at the hotel to celebrate the occasion which came with a free breakfast for two at said restaurant. As the event neared, we found out that my Banco De Oro credit card offered a 40% discount for the place. Seeing as there's few places in Cubao to have a fancy meal, we decided to take on the offer and have lunch at the same place the day of our stay.
I actually already ate here before on a meeting with my current work. I didn't get to feast as much since it was a business meeting. Further, there seemed to have been an event during the first time I went as the place was packed. This time, it wasn't as crowded and was actually quite relaxing. We were seated in roomy couch seats with pillows, perfect for a date, especially since we were still carrying our baggage prior to checking-in our overnight stay.
The lunch buffet of Food Exchange Manila would normally cost around 1,600 Php before service charge. At 40% off, we "only" had to pay 1,056 Php. At this price, it was comparable to the usual Vikings chain of buffets we celebrate most of our birthdays in. With these places in mind, particularly Niu as a benchmark, we embarked on our feast.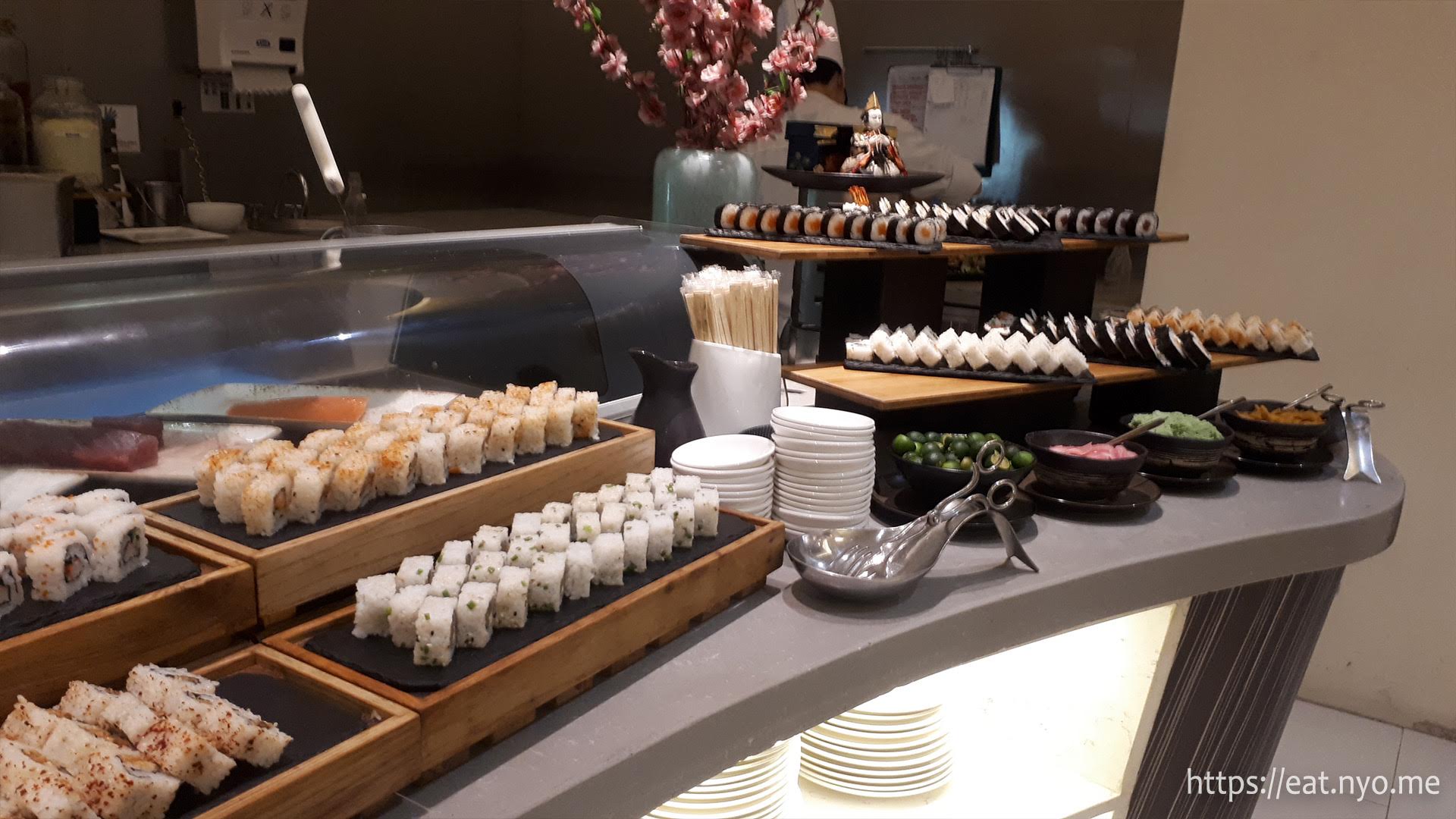 We noticed that although it's a long buffet, it's not really the longest nor the most varied. It's quite comparable to the usual Vikings spread, sans the aroma. The place seemed to be very well ventilated, but it acted against our appetites. In the far end, there's a sushi and sashimi station pictured above, which featured already made sushi rolls along with the usual condiments wasabi, pickled ginger, soy sauce, and calamansi. What's a bit unusual but I guess expected from this buffet is the addition of pickled radish. It's also unique in that their sashimi is uncut, and you have to ask the person-in-charge of this station to slice these up for you.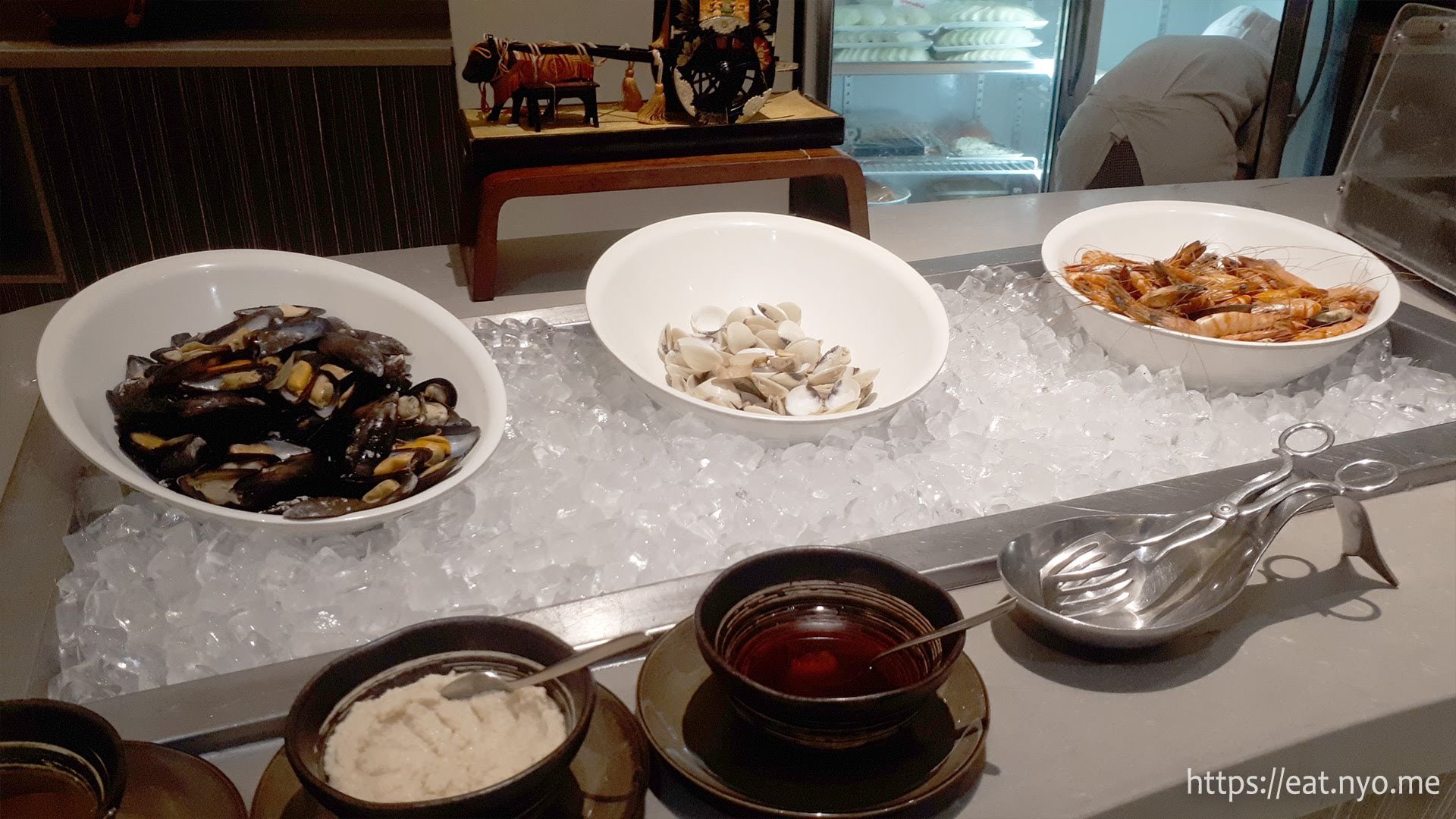 The same station also has seafood. The first time I went, they had crabs. This time, they only had some shellfish and shrimps. These are already cooked and are placed on ice-cold bowls. I'm not sure if you can ask this to be heated as we didn't bother with this station.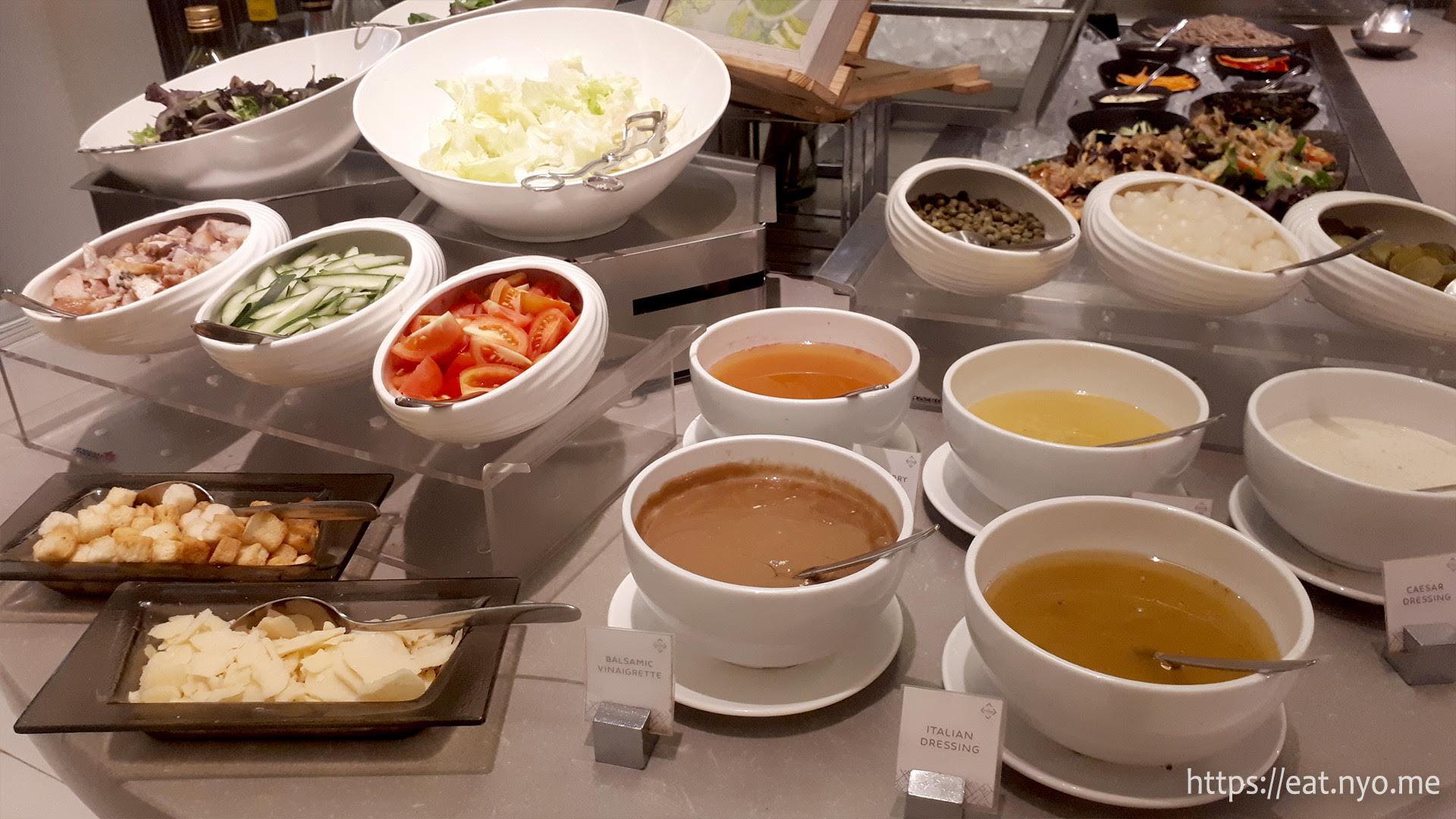 Right across is the salad and antipasti station. Looking back, this is the most interesting part of the buffet. You get to make your own salad out of many different fruits, veggies, cold cuts, and pickles with many different dressings, vinaigrettes, cheeses, and even oils.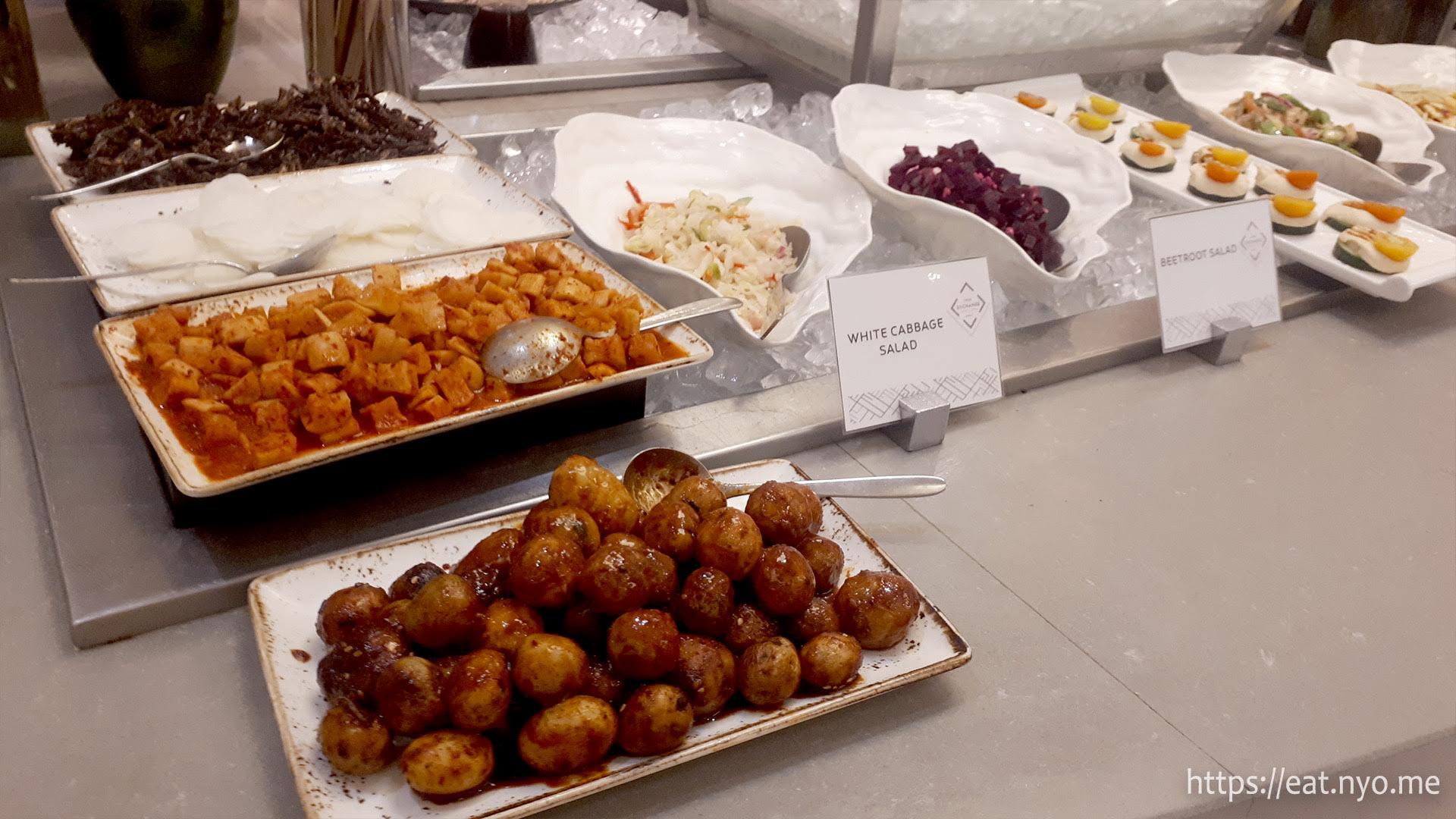 If you're lazy they have a lot of various premade salads ranging from beets to potatoes to radishes in various sauces, some spicy. Also in the same section were other interesting appetizers like ceviche, veggie sticks, and cucumber bites.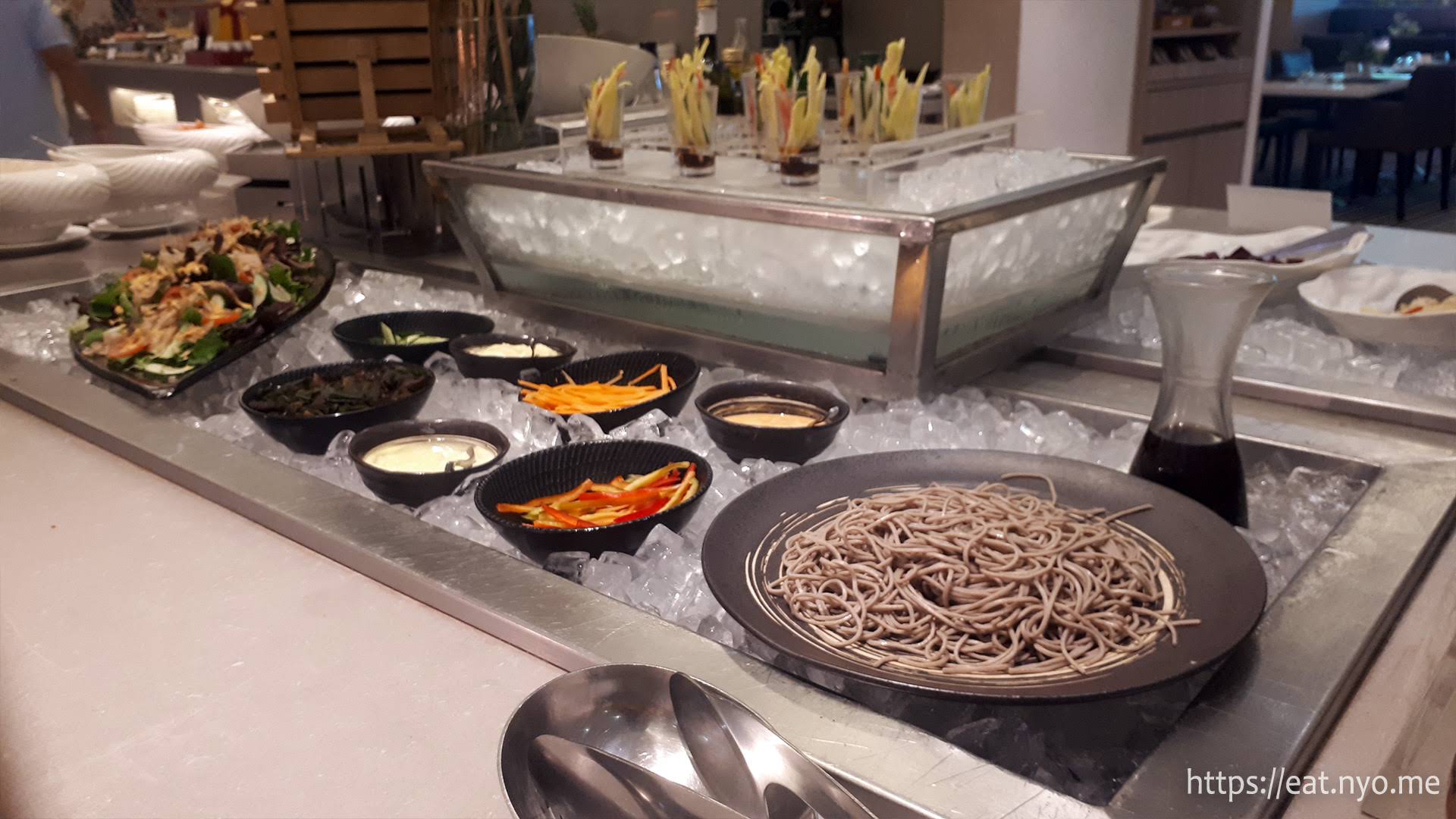 On the other side are even more pre-made salads and other sliced-up veggies, most of which you'd pair with Asian food. One interesting dish found here are soba noodles, which we didn't manage to try, but still nice to know is available.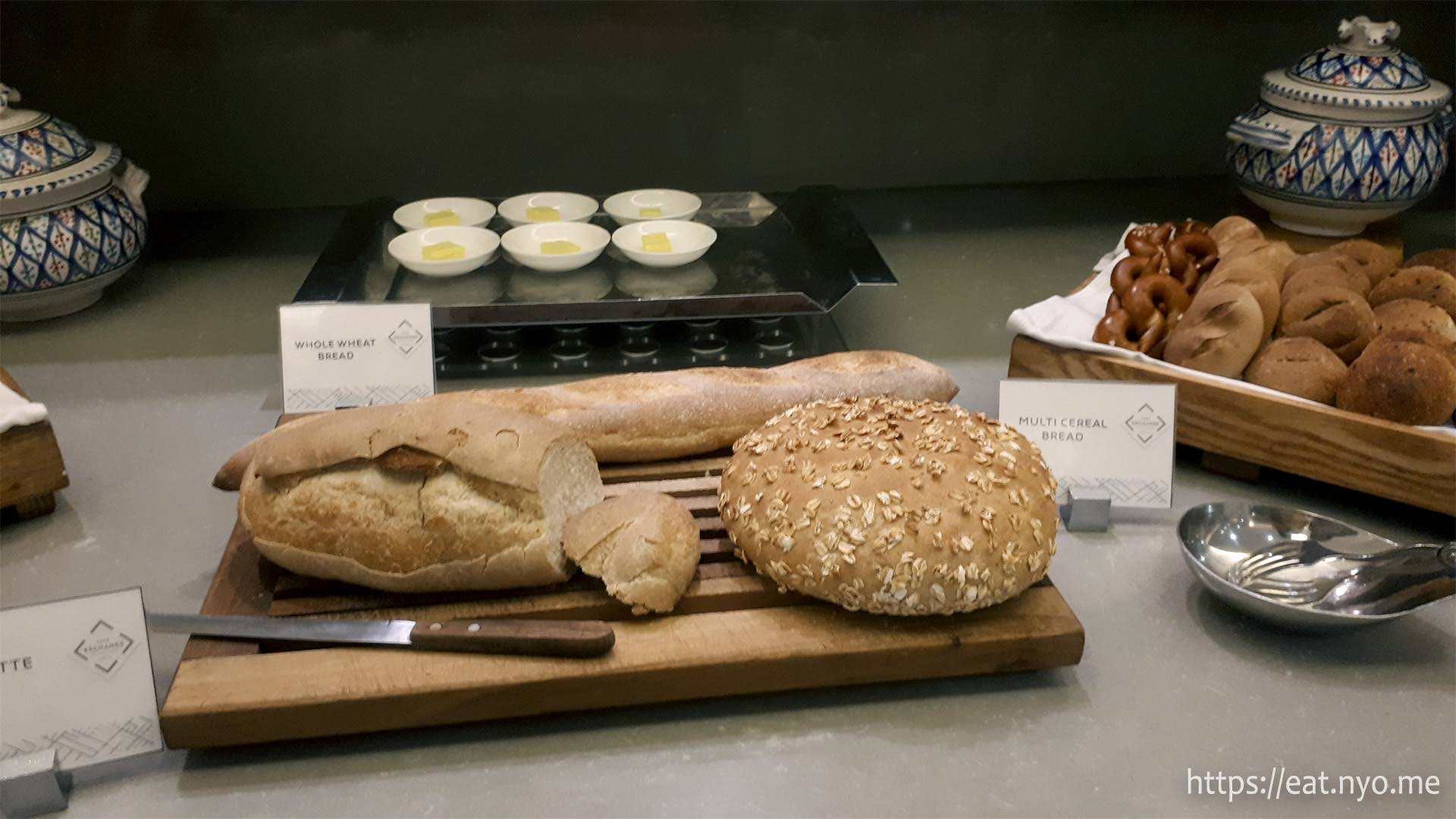 Still near the appetizers area is a section dedicated to breads of all kinds, both for single serving and meant to be sliced up. They also offer butter and cheeses for palaman or topping. The same area also has the beverages which includes various iced tea flavors and coffee, both brewed and espresso-based drinks. Strangely, there's no water here which you would expect usually, and instead is served in the traditional way to your table.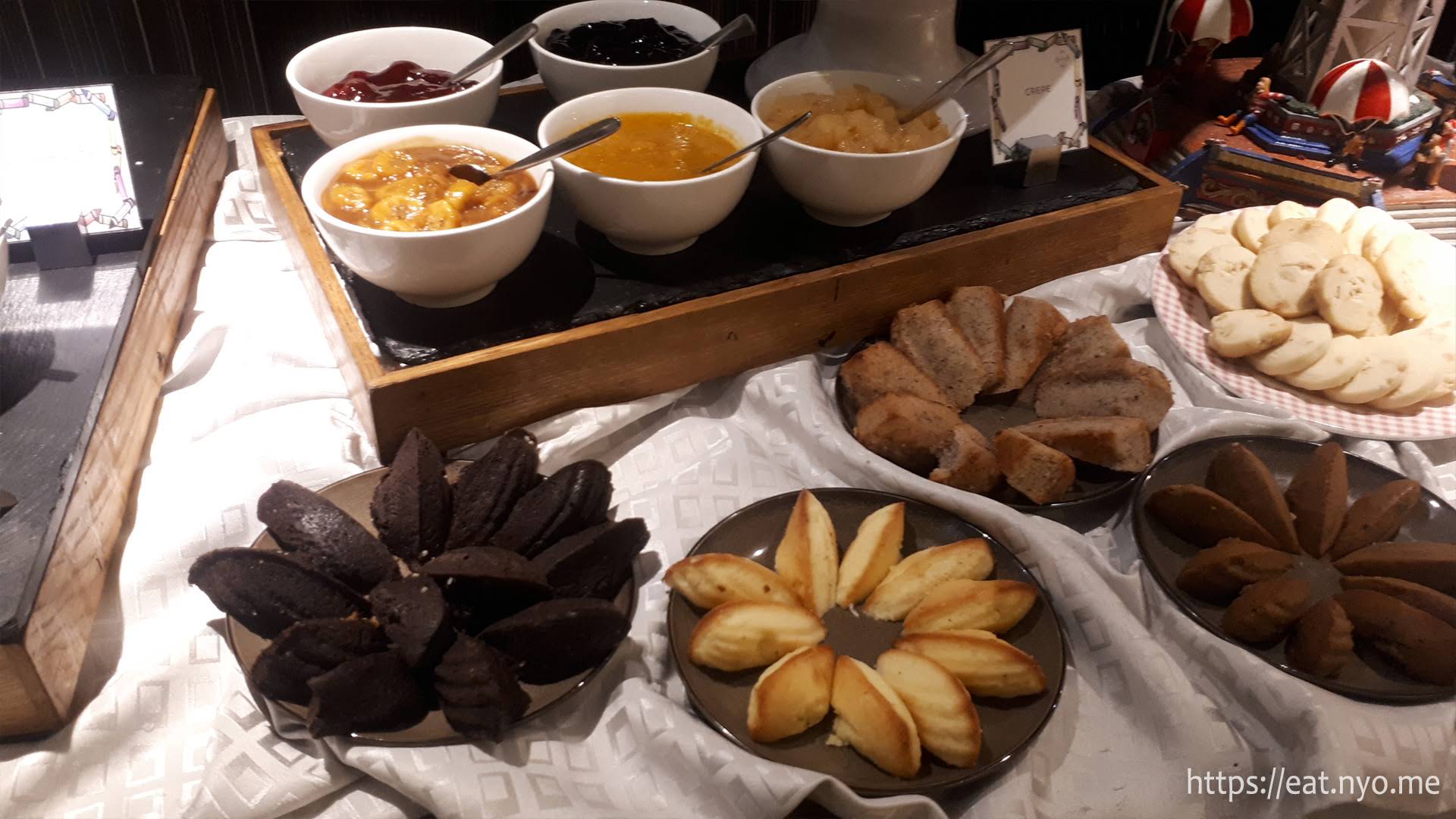 Opposite this section from the appetizers area are baked goodies like cakes (madeleines) and cookies. They also have various jams that you can use with these or with the breads in the previous section. This place is also where you can ask for freshly-made crepes to be topped with the jams and preserves.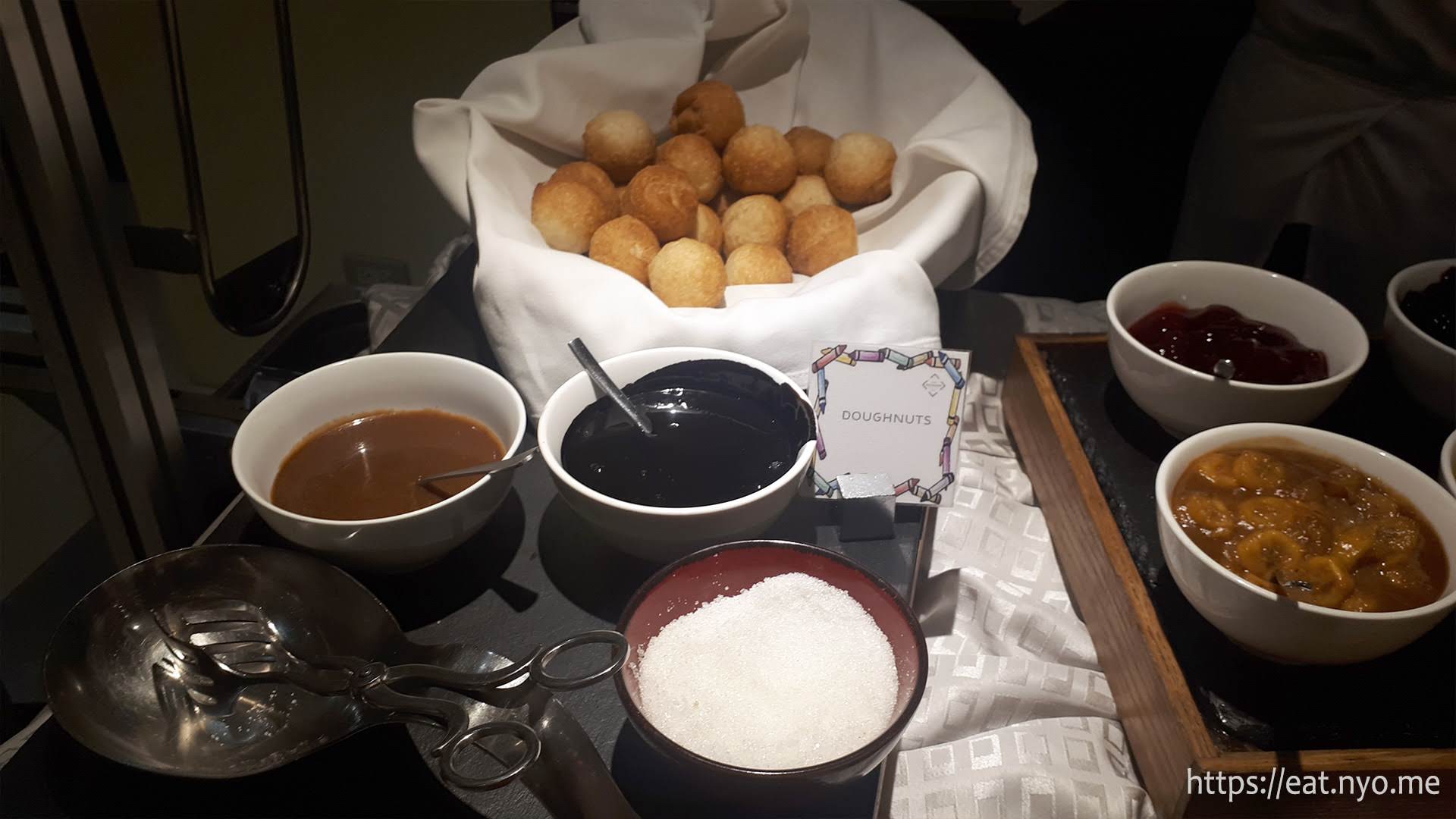 Right beside it is a doughnut section with caramel and chocolate dips as well as confectioners sugar where you dip the round fried doughnuts to your liking. Since this is a buffet, the dips can be used creatively with the other breads and pastries or whatnot.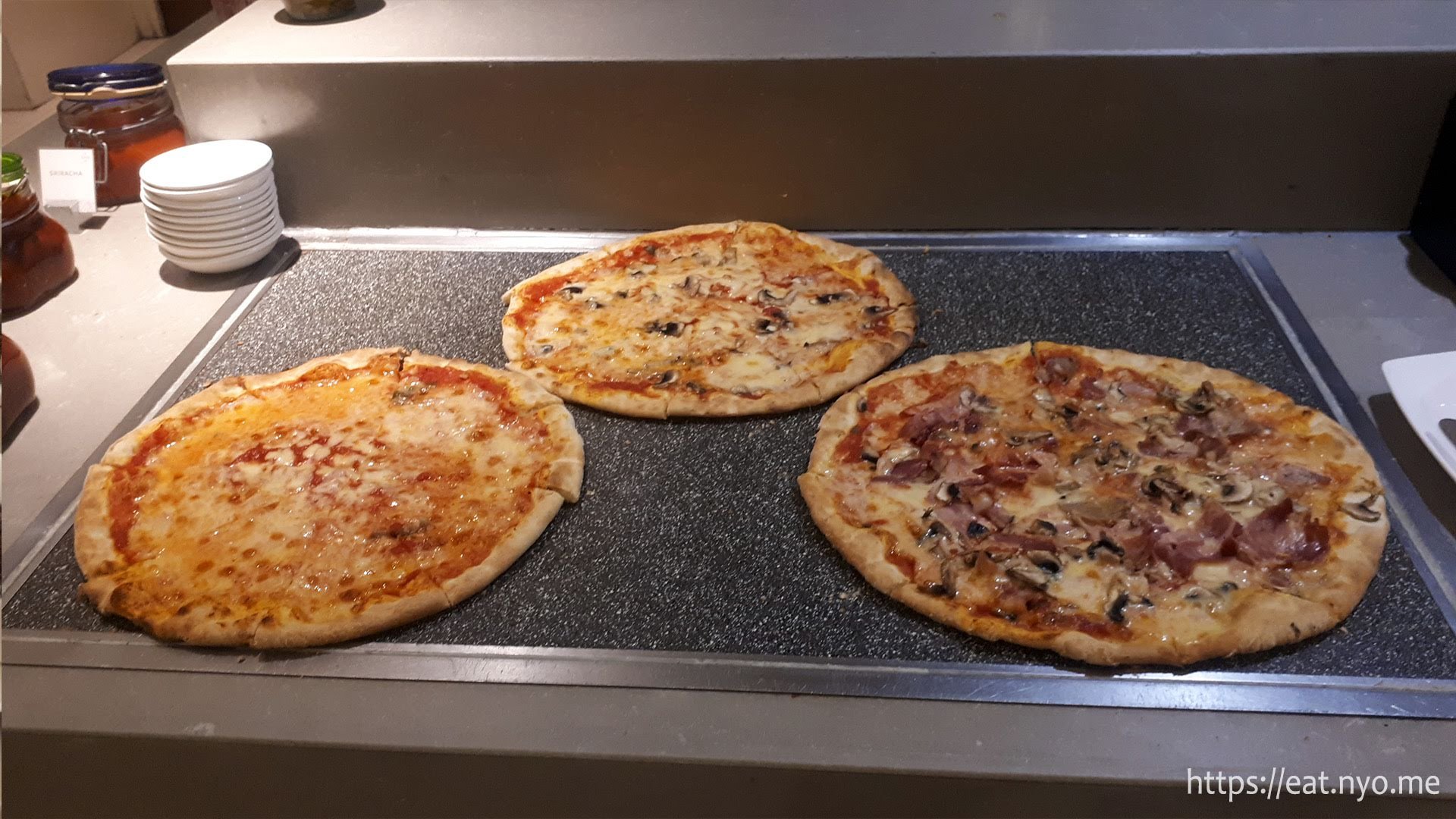 Transitioning between the appetizers is the pizza station. There were three kinds and it seems the toppings include prosciutto and looks like blue cheese? Anyway, these are definitely uncommon from the usual buffets.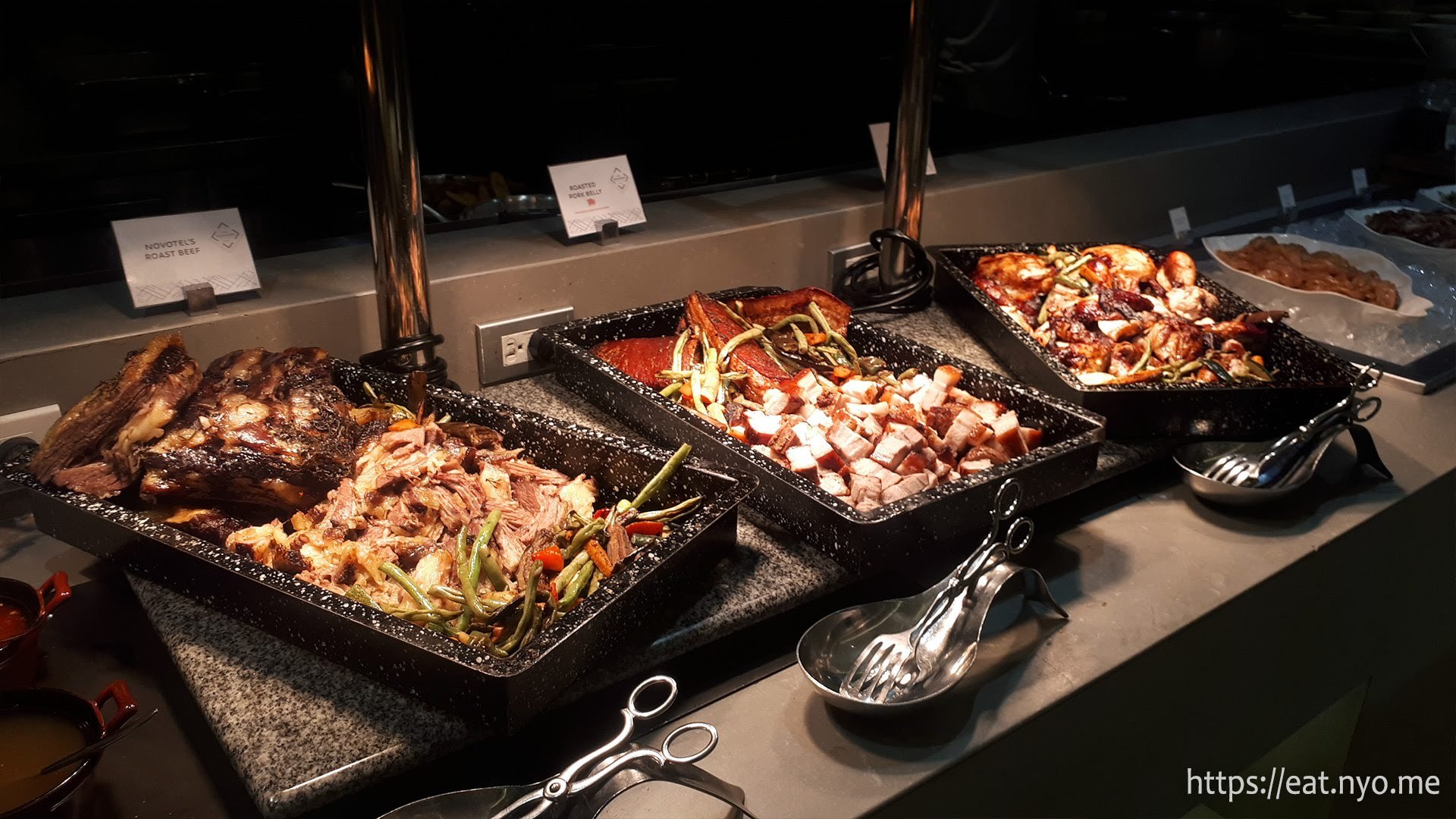 The main courses included various meats, specifically roast beef, roast pork, and roast chicken. These were roasted with vegetables which I found a nice touch. Sauces-wise, there's not much aside from the usual gravy.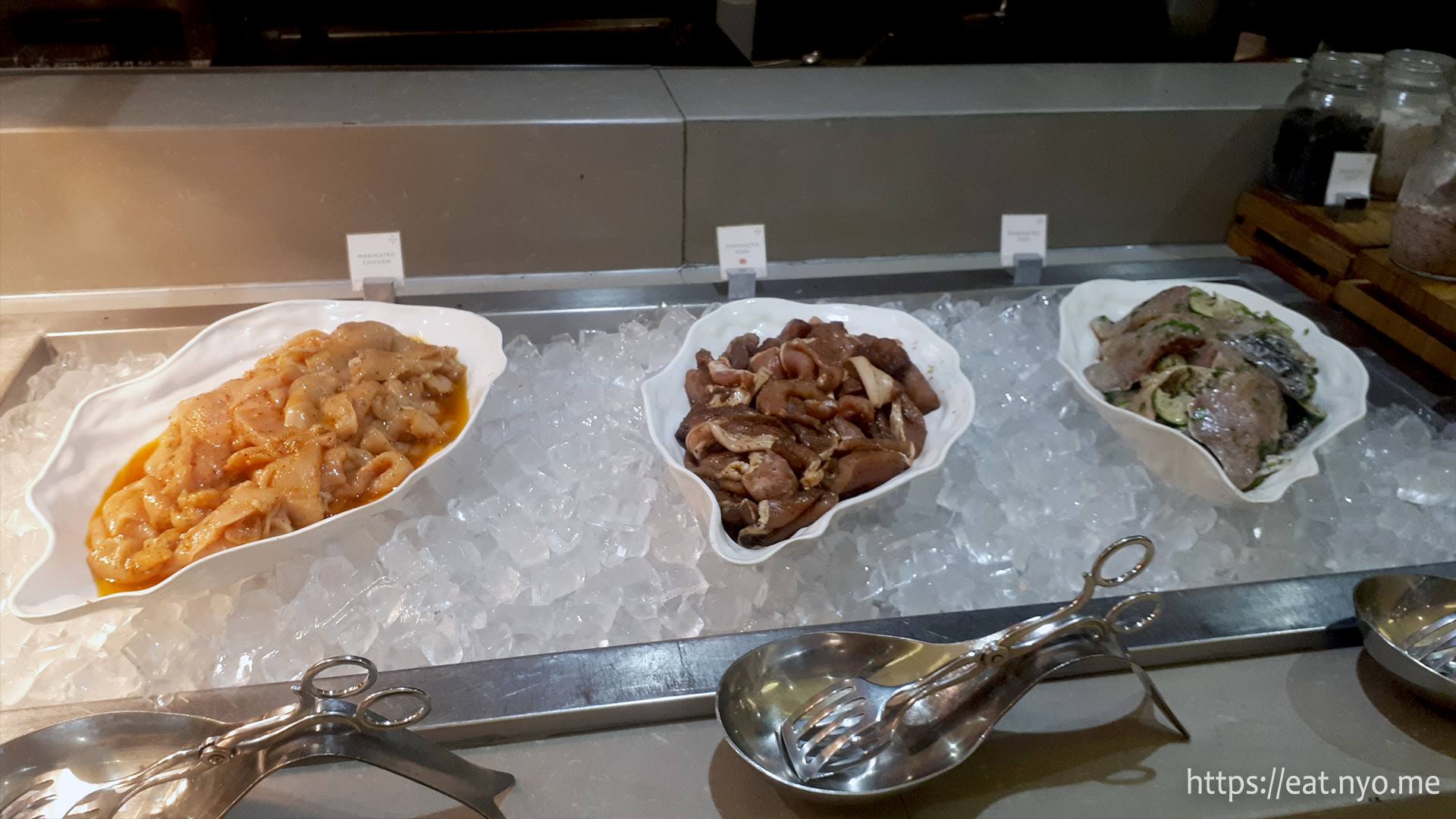 They also offered marinated meats which they grill in form of fish, chicken, and beef. We didn't bother with this in lieu of other already cooked dishes, though. I should mention here that there's many different salts including pink Himalayan salt and black sea salt.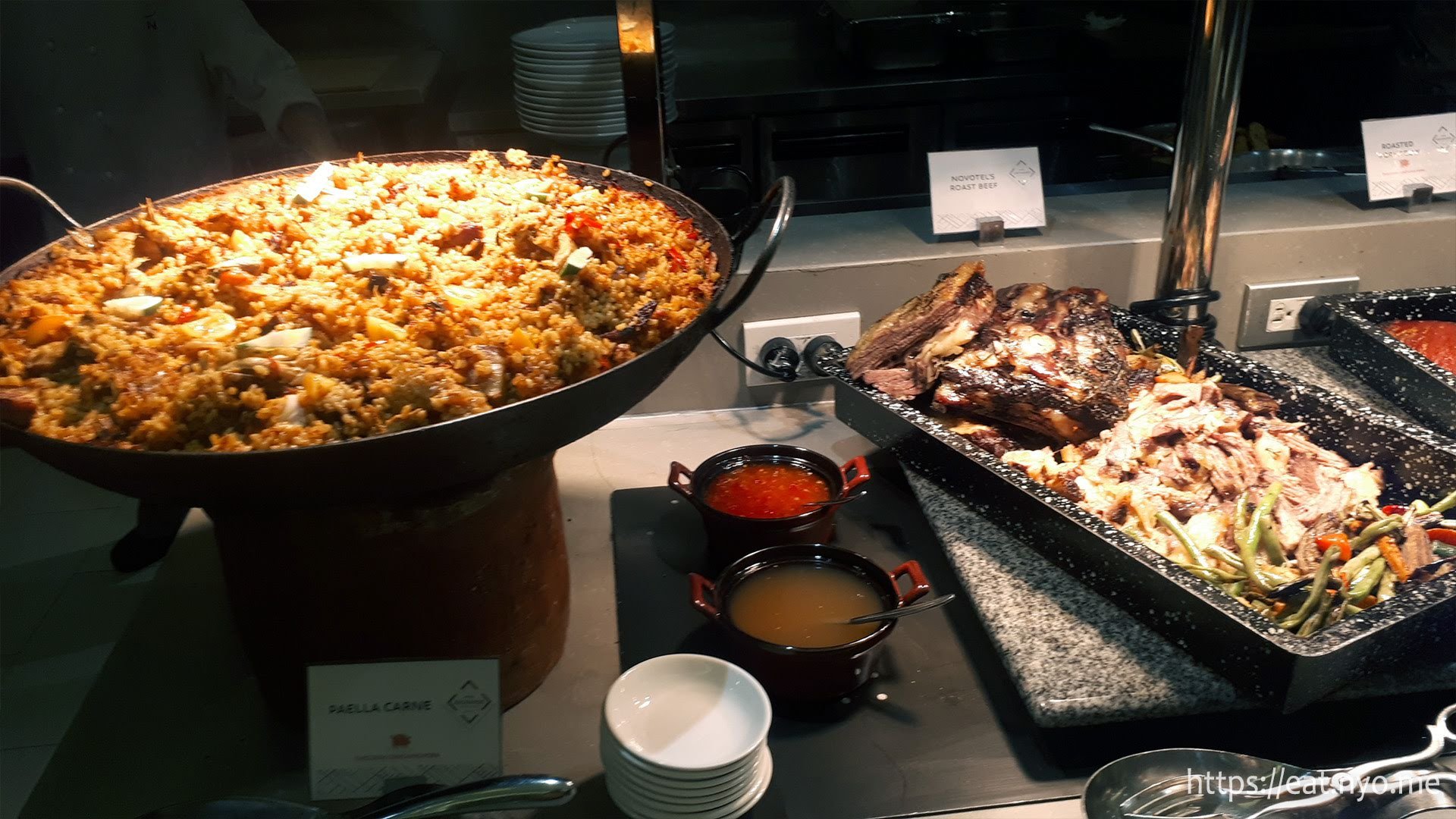 These cooked dishes included, aside from the roast offerings, rice dishes like paella and various Filipino or Chinese rice. There's also some Filipino, Chinese, Indian, and Italian dishes. There's not a lot of variation in terms of cuisine, but there's enough for most kinds of protein you'd want. Strangely, this place didn't really have many fried food aside from fried fish fingers and chicken, which is plentiful in other buffets.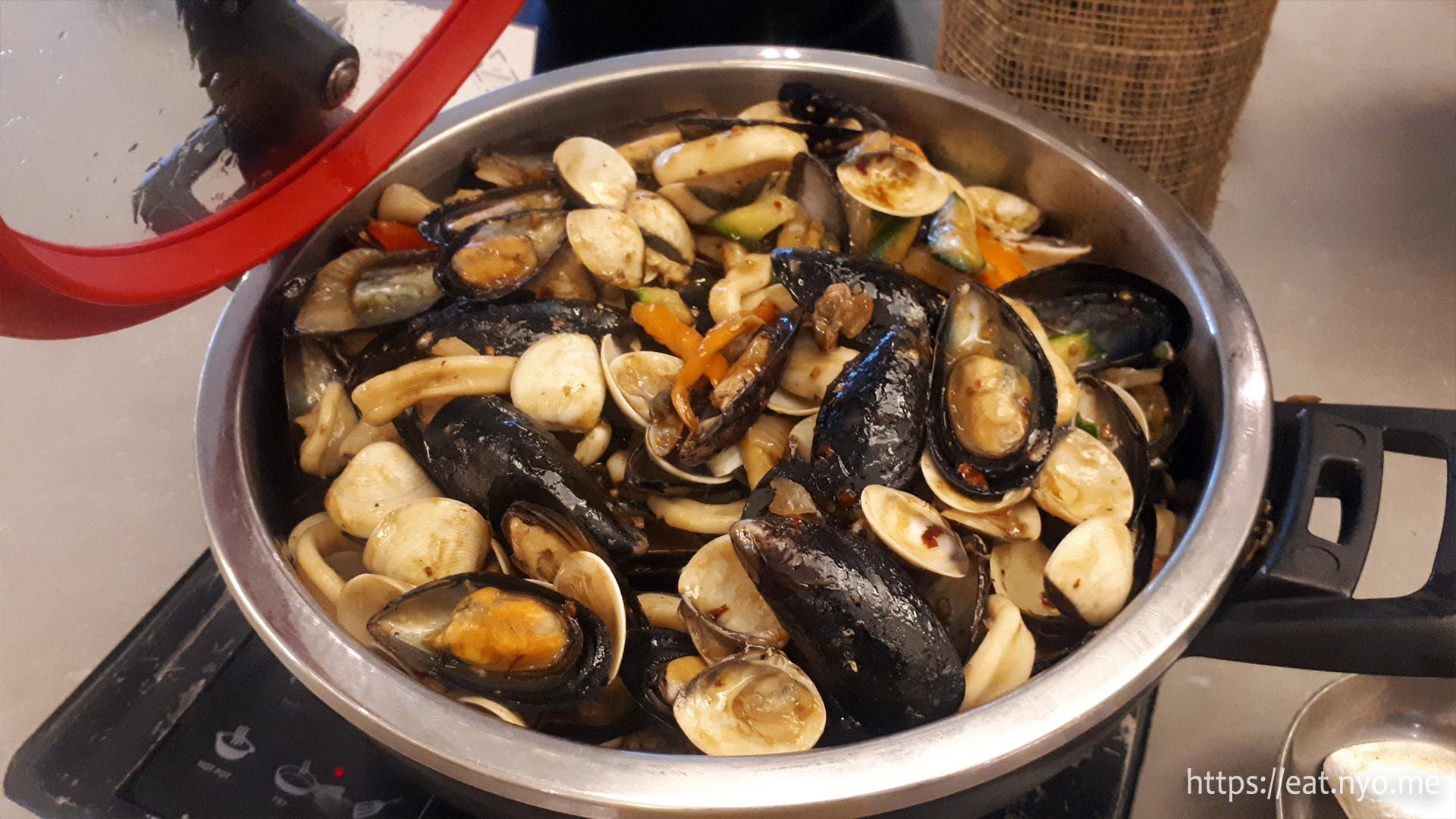 Aside from the roast offerings, we didn't find most of the food appealing. That is, except for the mixed seafood pictured above with various clams, mussels, shrimp, squid, scallops, and fish. Looking back, we've been having a lot of land meat lately and rarely non-shrimp seafood, perhaps which was why we craved it then.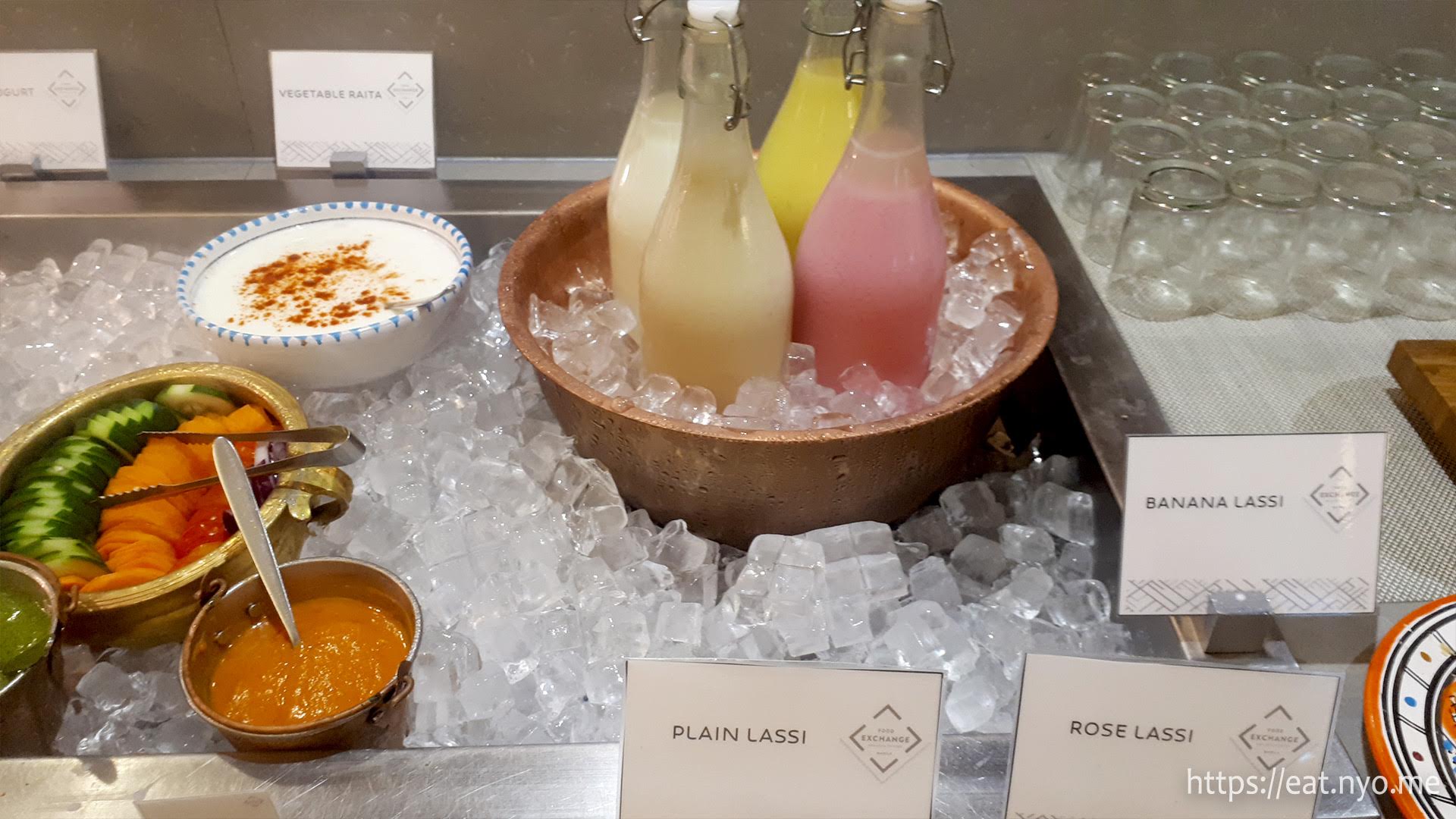 Another unique offering this place has was the amount of Indian food compared to competition. In fact, there's an entire section dedicated to Indian cuisine, including various flavored lassi, at the far end of the buffet.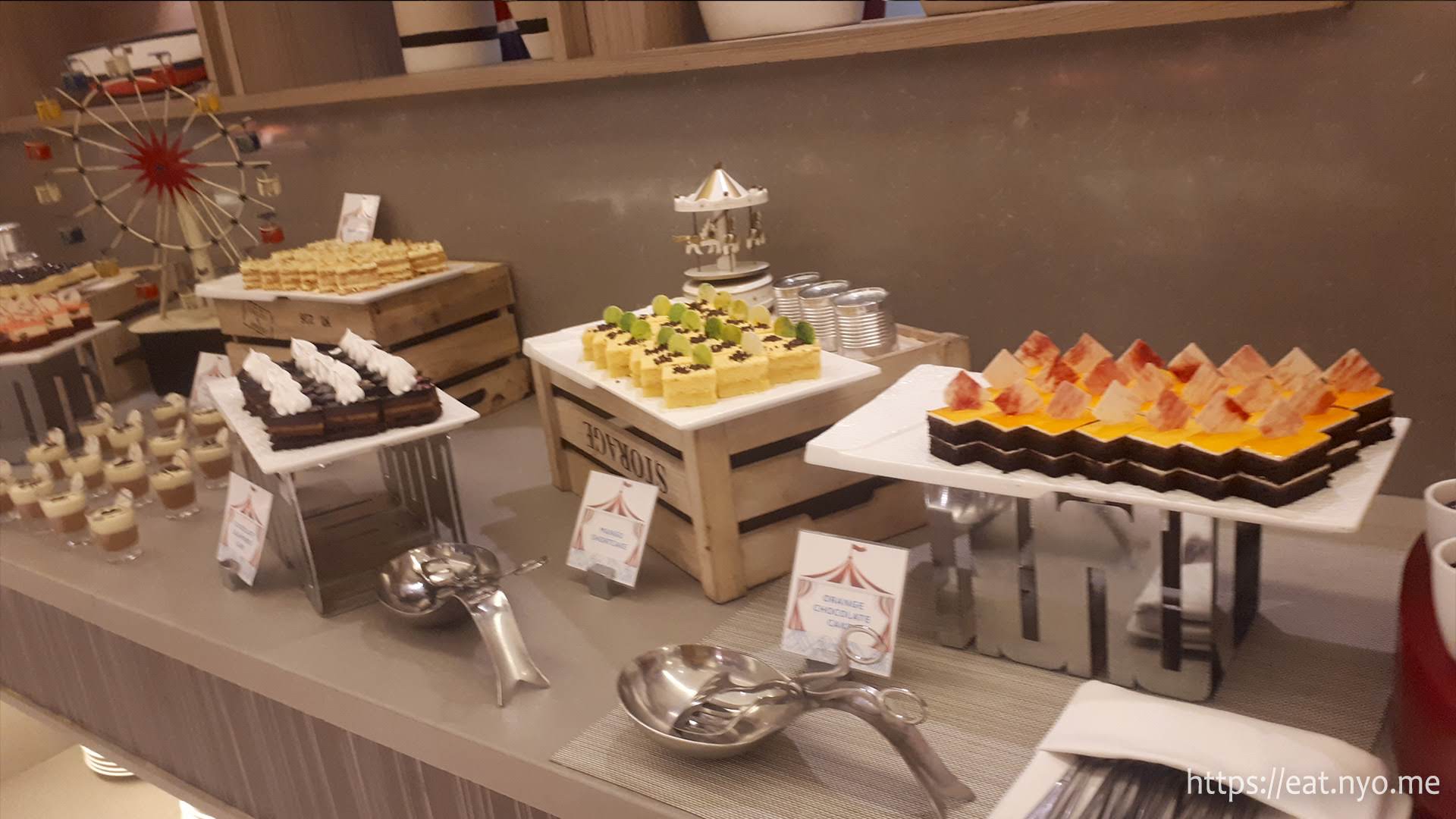 Finally, going back round near the appetizers area, you would find their desserts, mostly cakes and flans and puddings. There's also the usual cuts of fruit. A unique item here is a beehive with fresh honey.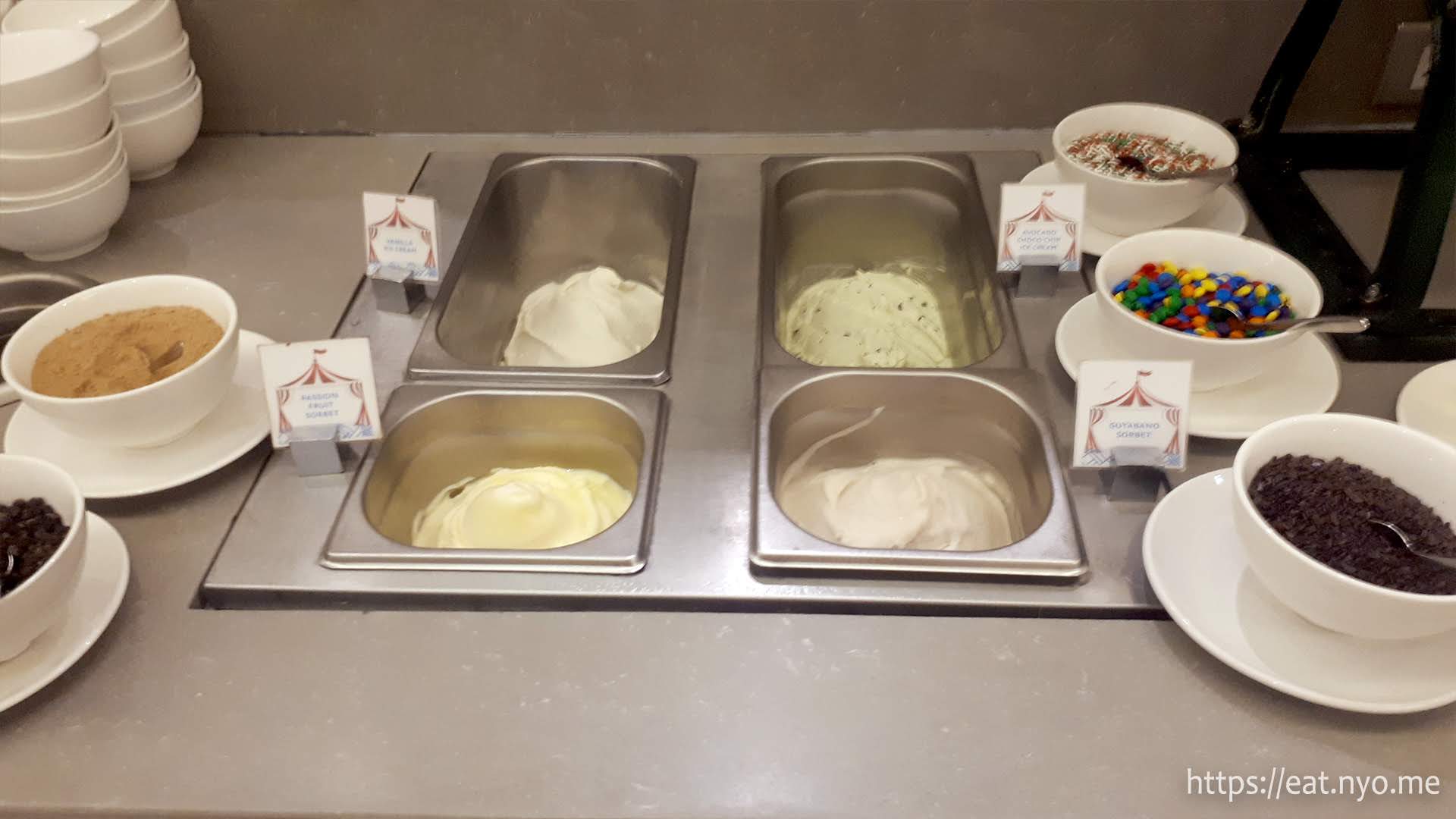 Finally, what's a buffet without ice cream? They also have sorbet which you can optionally add various toppings. Looking at it, they seem to have been freshly made in-house.
After scouting what we had for lunch, we grabbed the nearest plate and went to the most interesting areas. My first victims came from the sushi area.
I asked for slices of tuna, salmon, sardines (I think), and tamago. I also got a few of the sushi and pickled ginger and radish, where I've seemed to grow fond of the former. Among the first plate, I liked the salty sardines the most. A warning to others that the some of the sushi is spicy.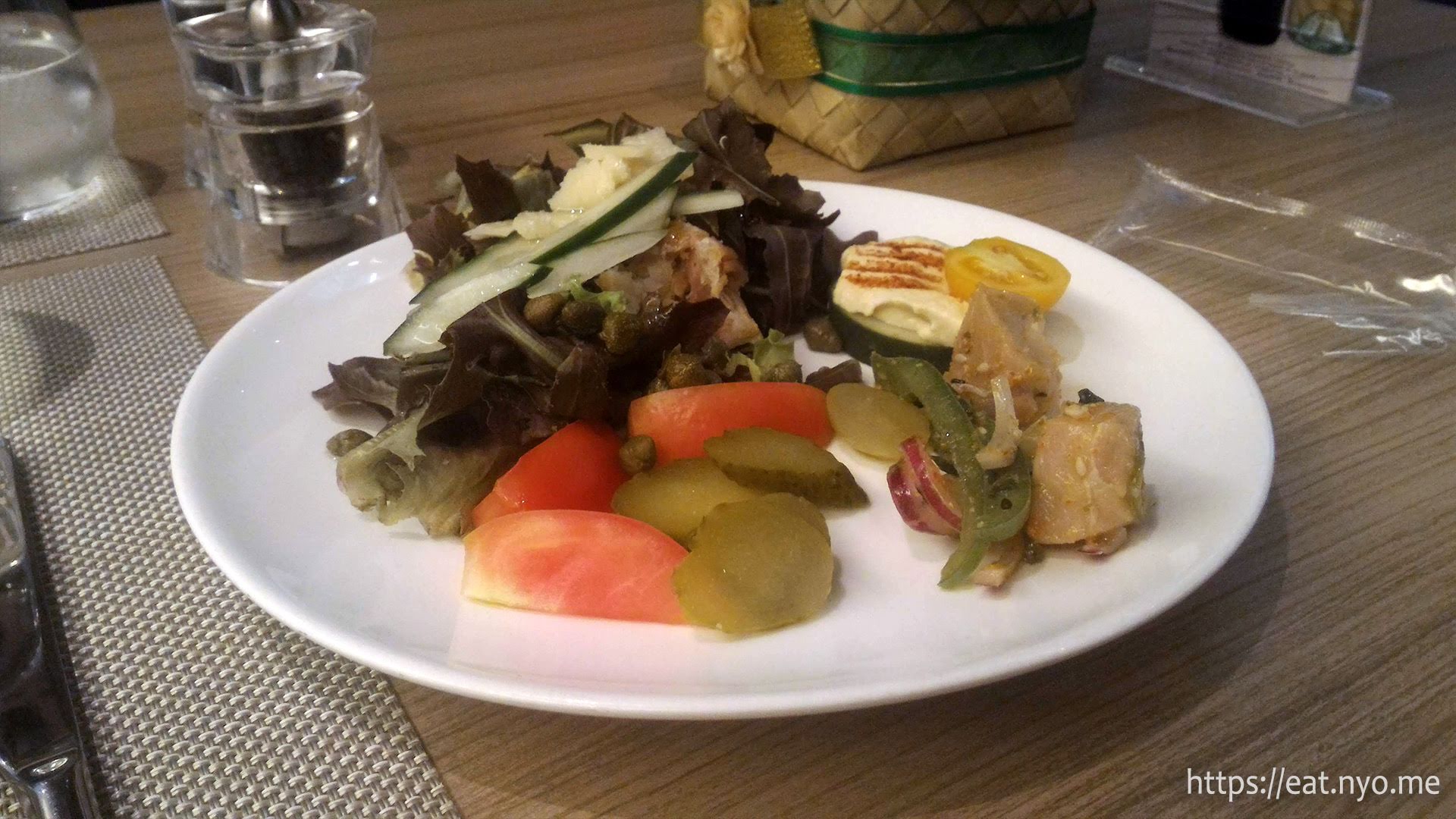 I then went to the appetizers and salad section where I got a lot of greens and dark greens and topped it with olive oil and cheese. I also got a lot of their pickled gherkins, some ceviche, and the pate-topped cucumber. The latter was quite good, creamy and yet light. The ceviche was essentially tuna kilawin, mildly spicy. The greens were okay, the dark ones a bit too bitter for my liking.
I then went to sample their paella and other meats. I got some of the mixed seafood, some steamed fish, roast beef, roast pork, and roast veggies from the roast beef platter. Perhaps ironically, I enjoyed the roast veggies from the roast beef the best as it seemed to have absorbed the beef juices. The roast beef was soft and tender, quite enjoyable while hot.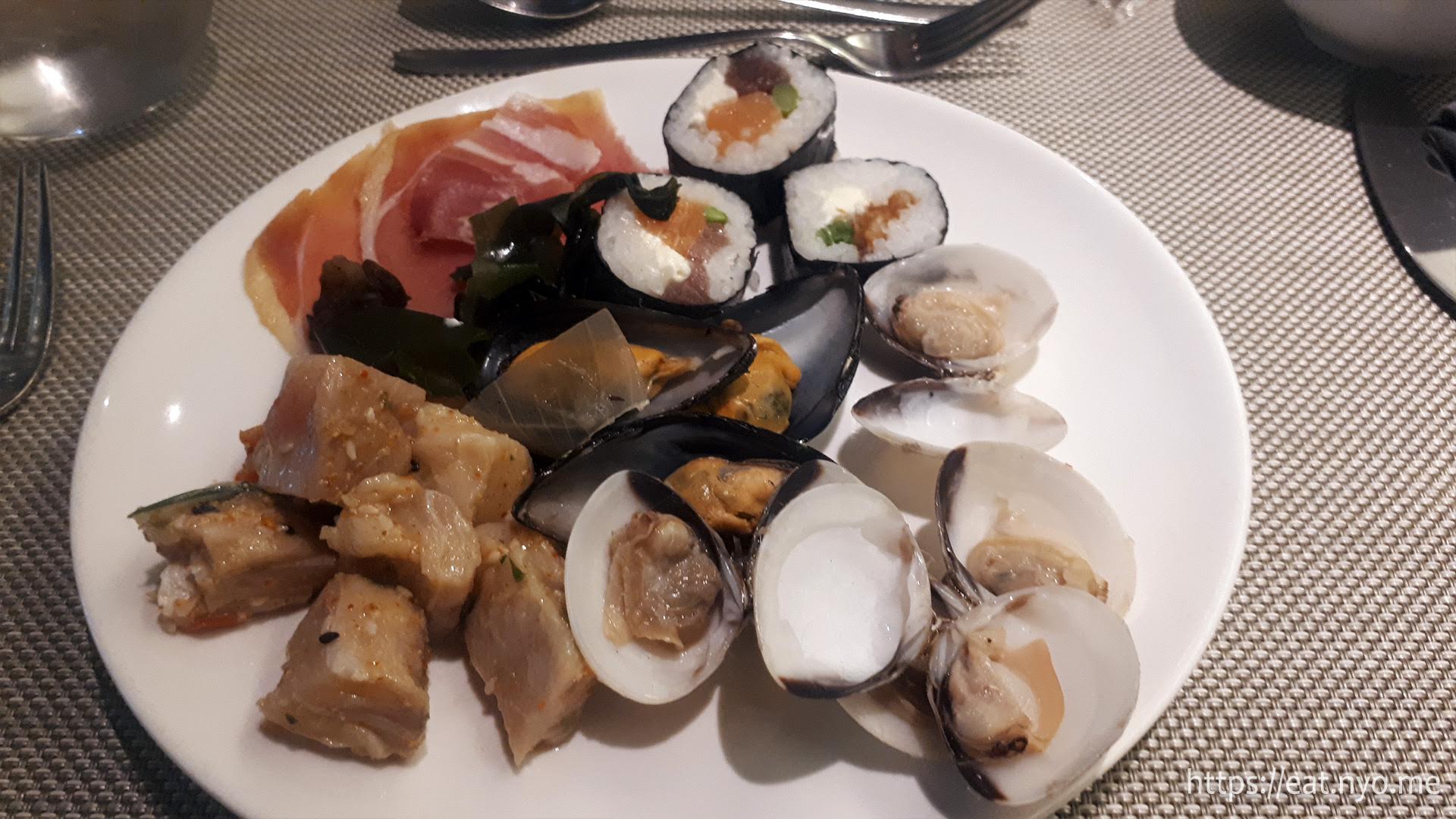 My Betrothed was quite happy with the shellfish for her first plate, along with some of the sushi. She also got a lot of the vinegary ceviche (but only the tuna part) and some cold cuts and seaweed from the salad bar.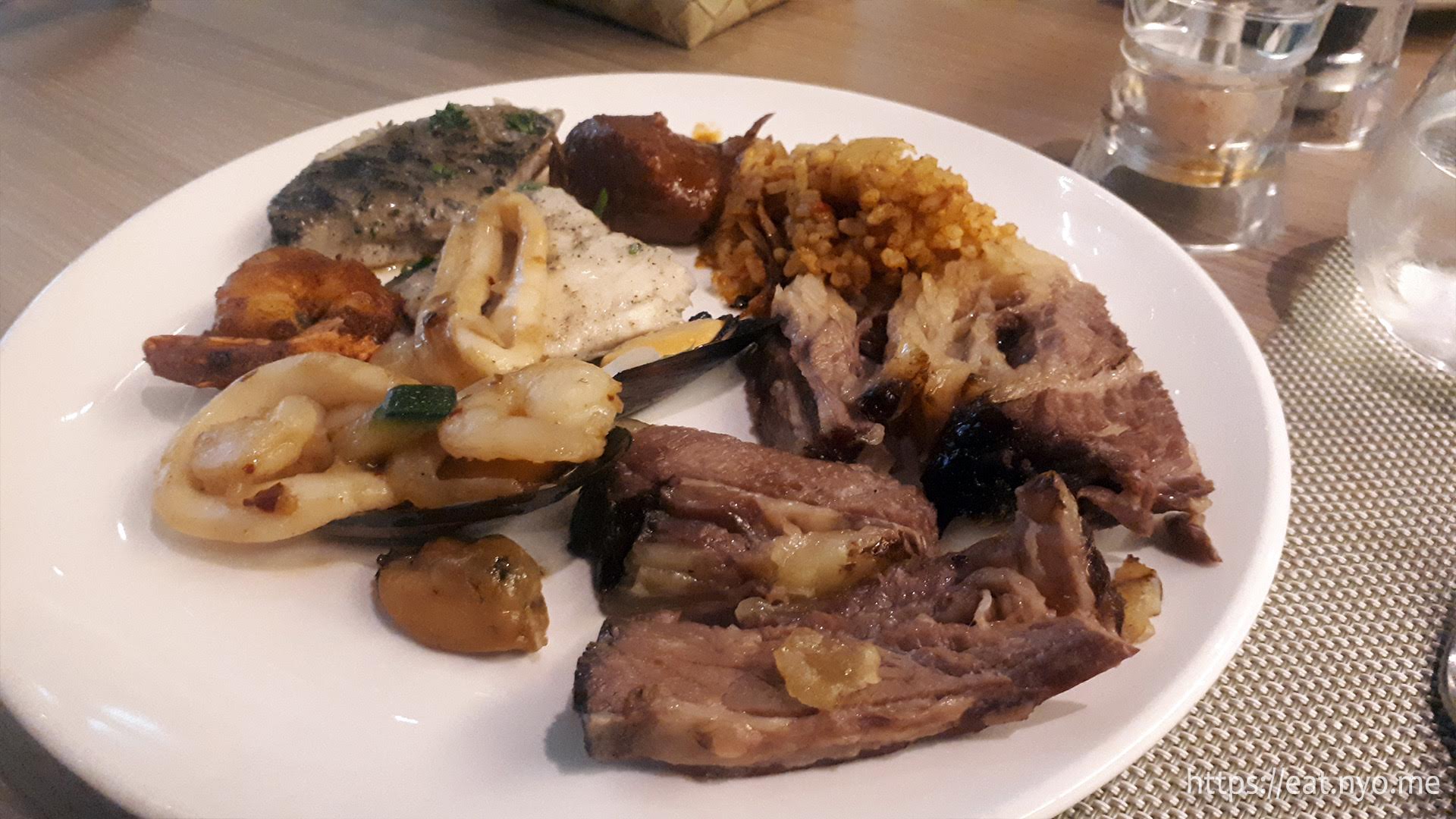 Her second plate was similar to mine, except she had more roast beef and seafood and less veggies. She similarly liked the roast beef while it was hot, at least; we found out it gets tough once it gets cold, and it gets cold relatively quickly.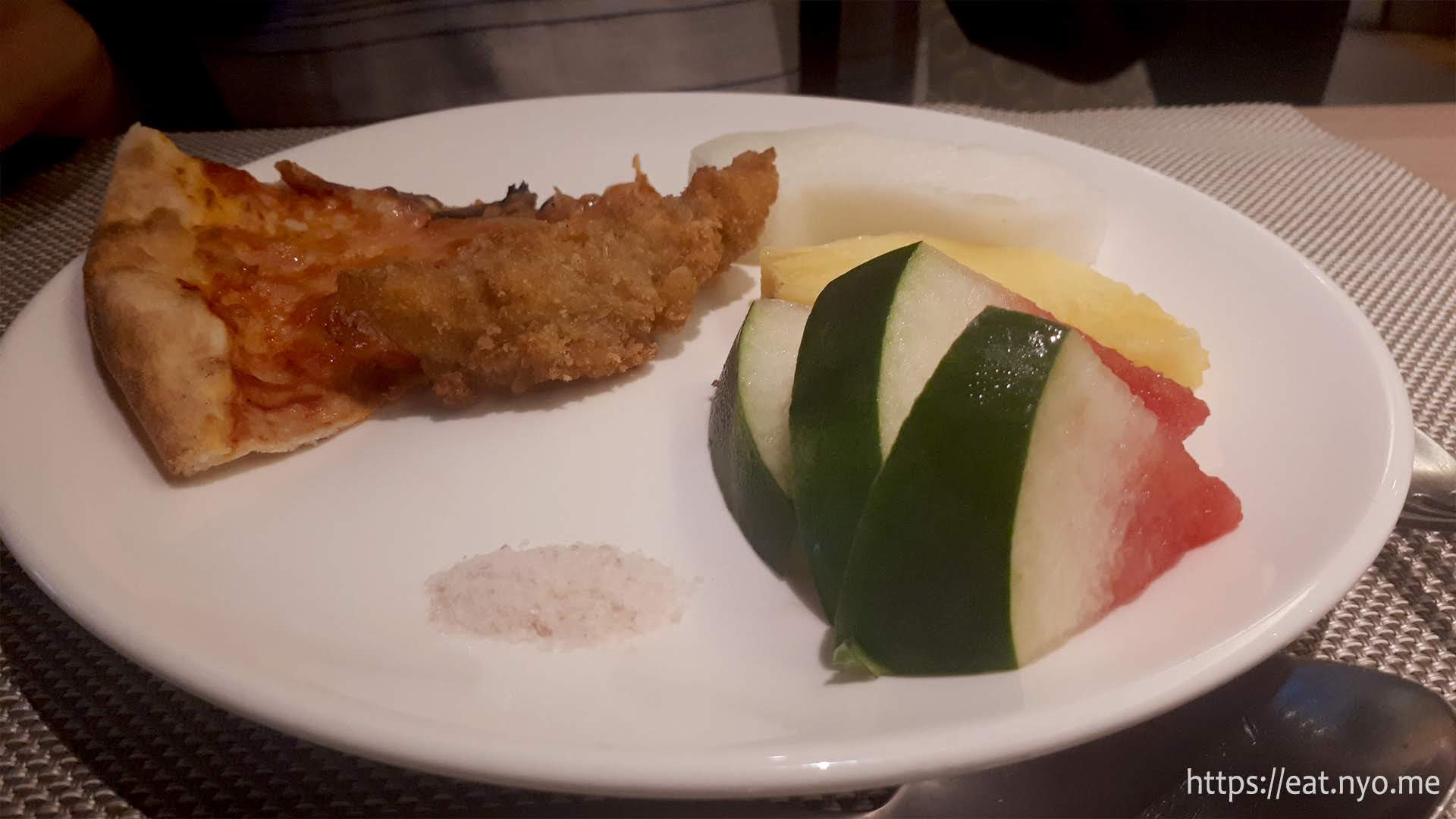 Trying to find something fried, I settled for the fried fish. I also got their pizza just to try it. This was also the time I discovered the various salts, so I got their Himalayan pink salt with the fruits. While definitely pretentious, it also did enhance the flavors of the fruits much, much better than the slightly metallic table salt.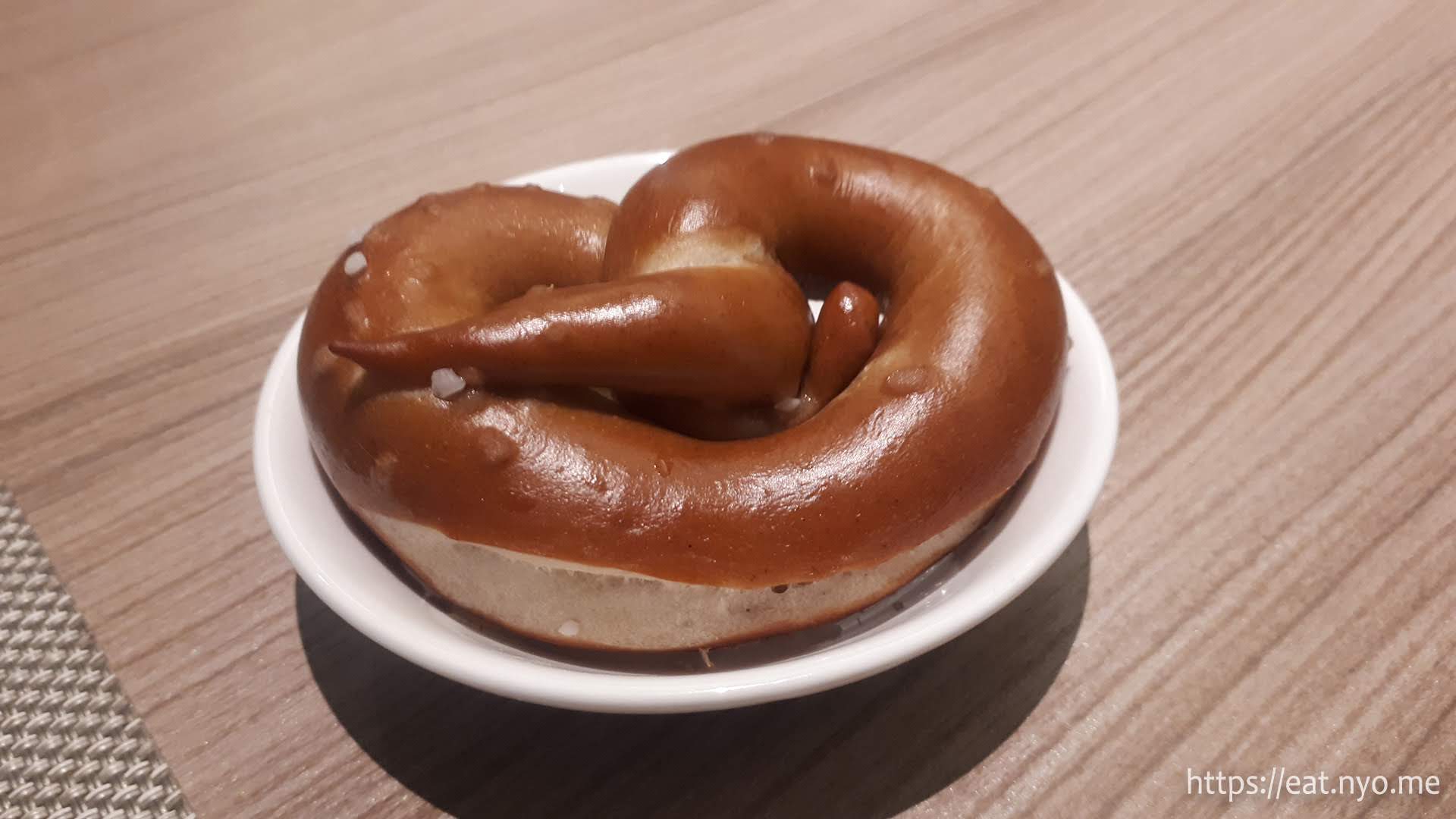 Although I generally stay away from carbohydrates, I cannot not try a pretzel when offered in a buffet. In hindsight, this does not look appealing in picture. This salty pastry delivered by its own for salty pastry lovers like me. Adding in some butter makes it much better.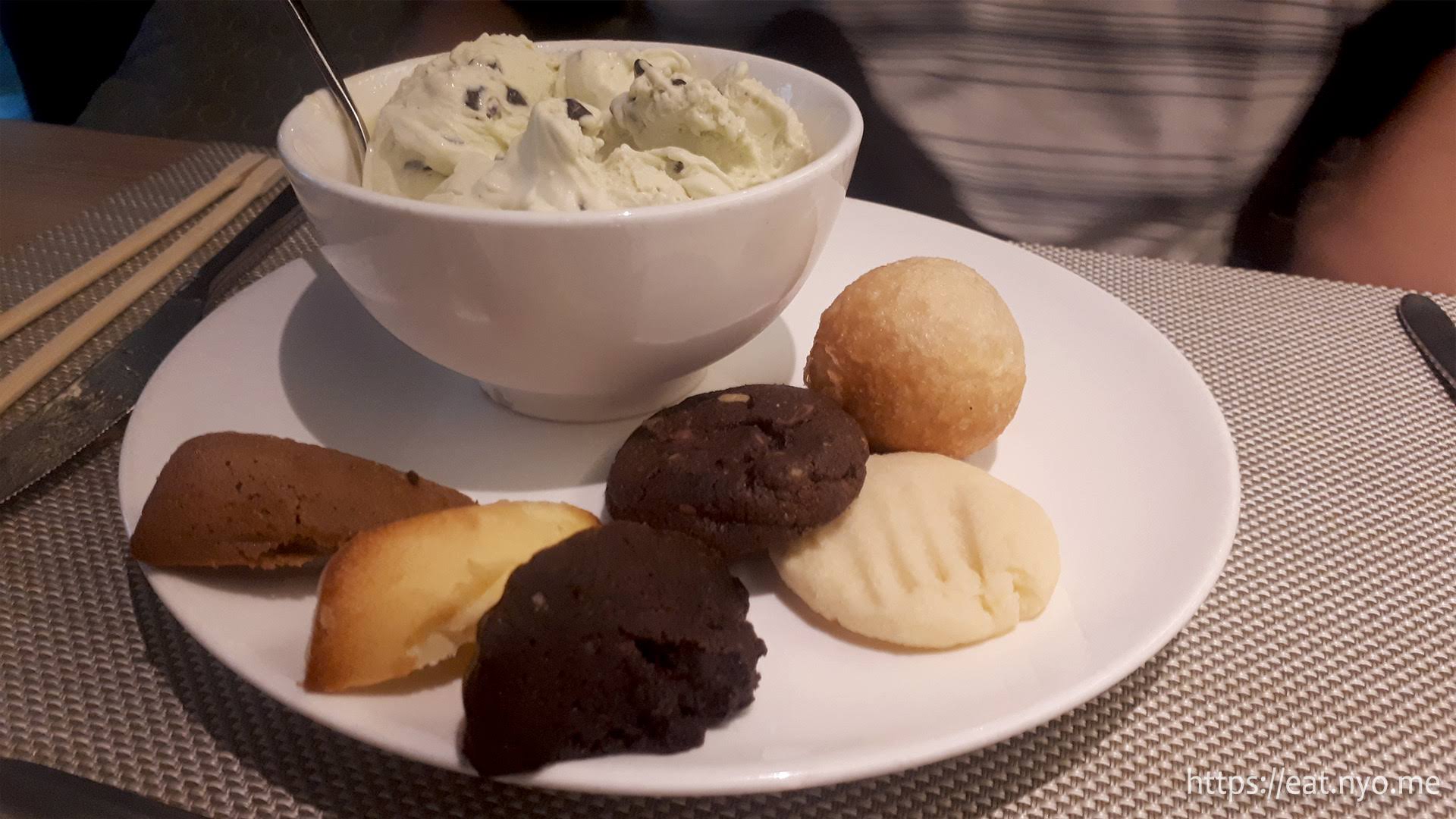 I think the highlights of this buffet is the appetizers/salads and the desserts. There's basically a ton of various cookies and pastries to try. This is the first buffet we've encountered with various types of madeleines and cookies and cakes. They definitely did not skimp on the butter in their cookies. I also had their gelato, which is sold separately outside. As they only had two offerings, I had a bowlful of pistachio and chocolate chip ice cream. It was not as great as I thought, and would've probably enjoyed the vanilla more.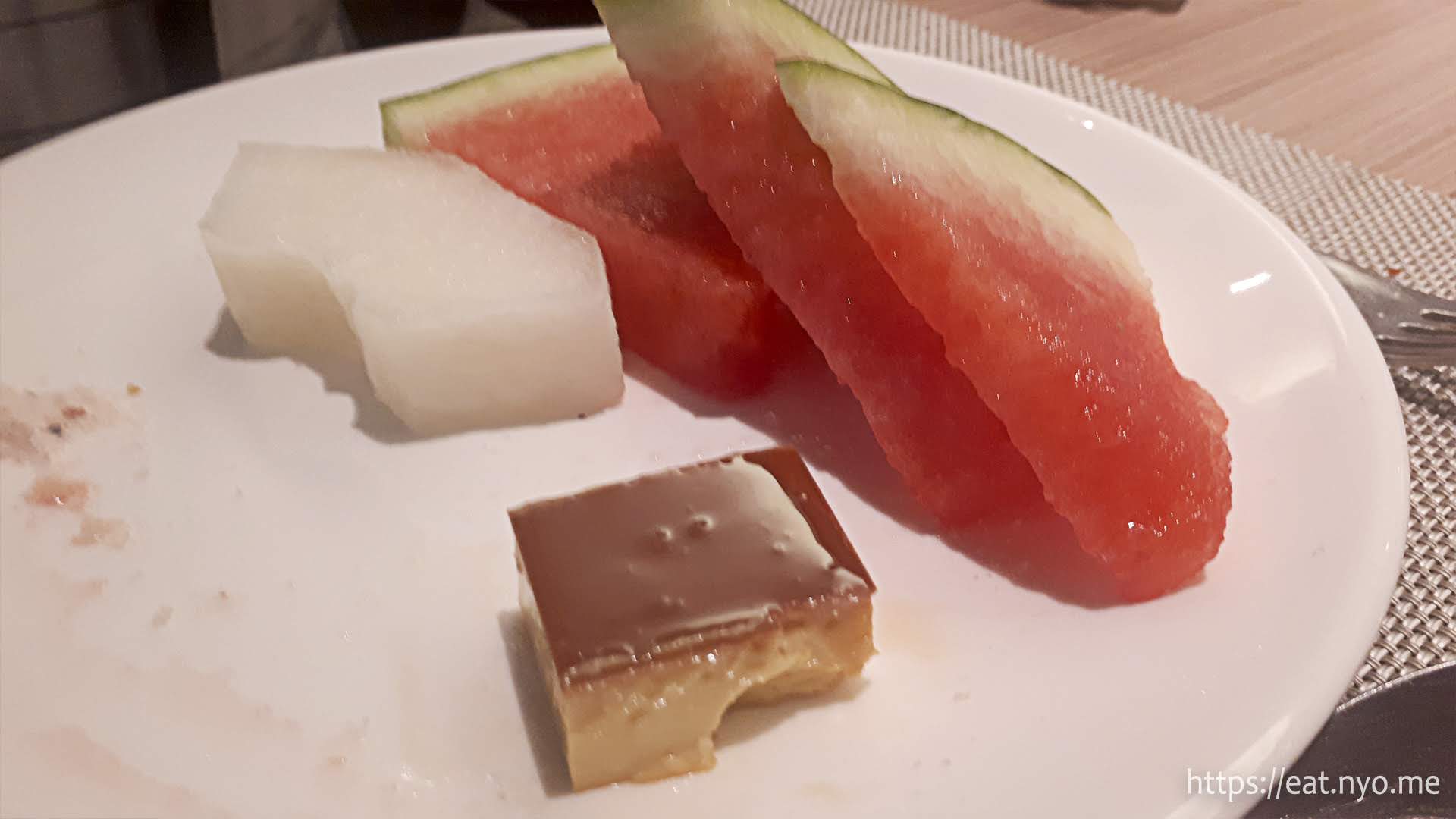 Although I still did take some plates of the same food above, mostly roast beef and seafood, my conclusive plate included more of their fruits, this time with both Himalayan pink salt and black smoked sea salt (the former was better), and their leche flan. The latter was not too sweet but definitely milky.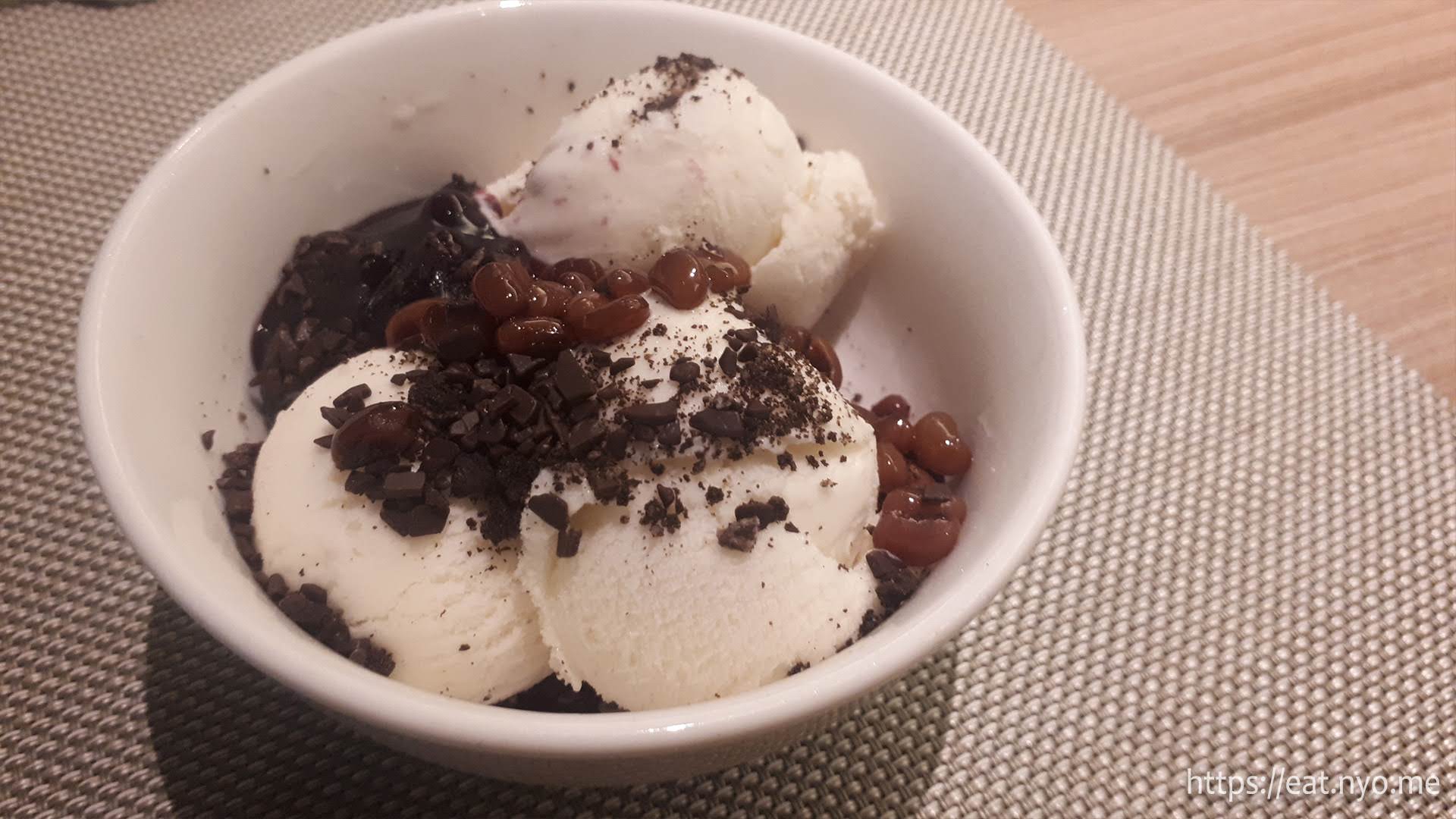 As for Betrothed, her first dessert consisted of the vanilla ice cream/gelato topped with red beans, cookie crumbles, and honey. Surprisingly, it's not as sweet as you would've thought, where most of the sweetness came from the honey.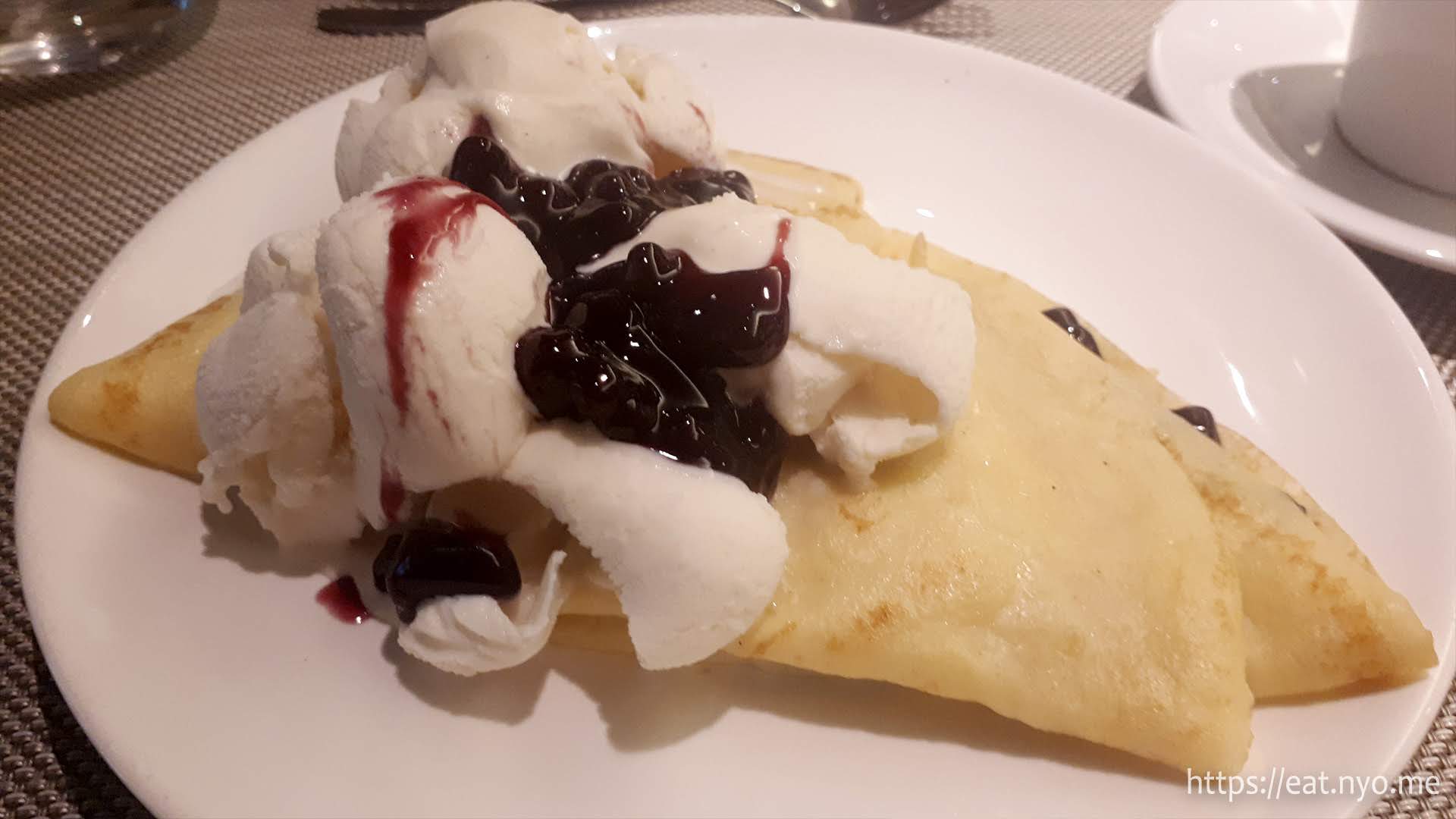 Her second dessert was blueberry crepe from their crepe station, which was in demand. Then, she went back to the ice cream station and topped it with two scoops of vanilla ice cream. Finally, she went back to the crepe station and had it topped with blueberry syrup. She was quite proud of this creation.
Because we still have breakfast the following day, I'm cutting this post into two entries (also as an excuse in lieu of not having enough time due to work and school). So… stay tuned for Part 2 and the overall conclusion to our experience in Food Exchange Manila Soon™.