Beloved and I ate at Kimono Ken last night. This is a Japanese resto, which you can probably guess from its name, at Tomas Morato. We didn't plan on eating here, but the restaurant we were planning to go to was closed on a Monday, and so was the next one we were planning on going to. It also wasn't the first time we ate at this restaurant, although this was the first time at this branch. I don't really remember anything spectacular from this resto apart from their expensive (although somewhat good) sashimi which I vowed never to try again even if I have cravings. In addition, I cannot remember what else I've ordered here, so I guess it'll be pretty fresh apart from the sashimi fiasco. Anyway, due to the circumstances and hunger, we ended up here.
Seeing their menu, I find out that they haven't changed the prices and servings for their sushi and sashimi. Their sushi costs over a hundred for two pieces and their sashimi two hundred or more for a measly amount. That fact in mind, we didn't order any. Their other menu items seemed decently priced in contrast. Beloved ordered their Beef Curry (200 Php). After a hard time deciding between tempura, which looked very good seeing all the other tables having them, and their ramen, the latter won just because I wasn't really craving for rice. So I ordered their Shoyu Ramen (195 Php) and their Bacon Asparagus Maki (170 Php) to compensate for the hunger. For our drinks, beloved had their Kimono Ken Special (75 Php), and I had their Iced Tea (40 Php), both non-refillable drinks.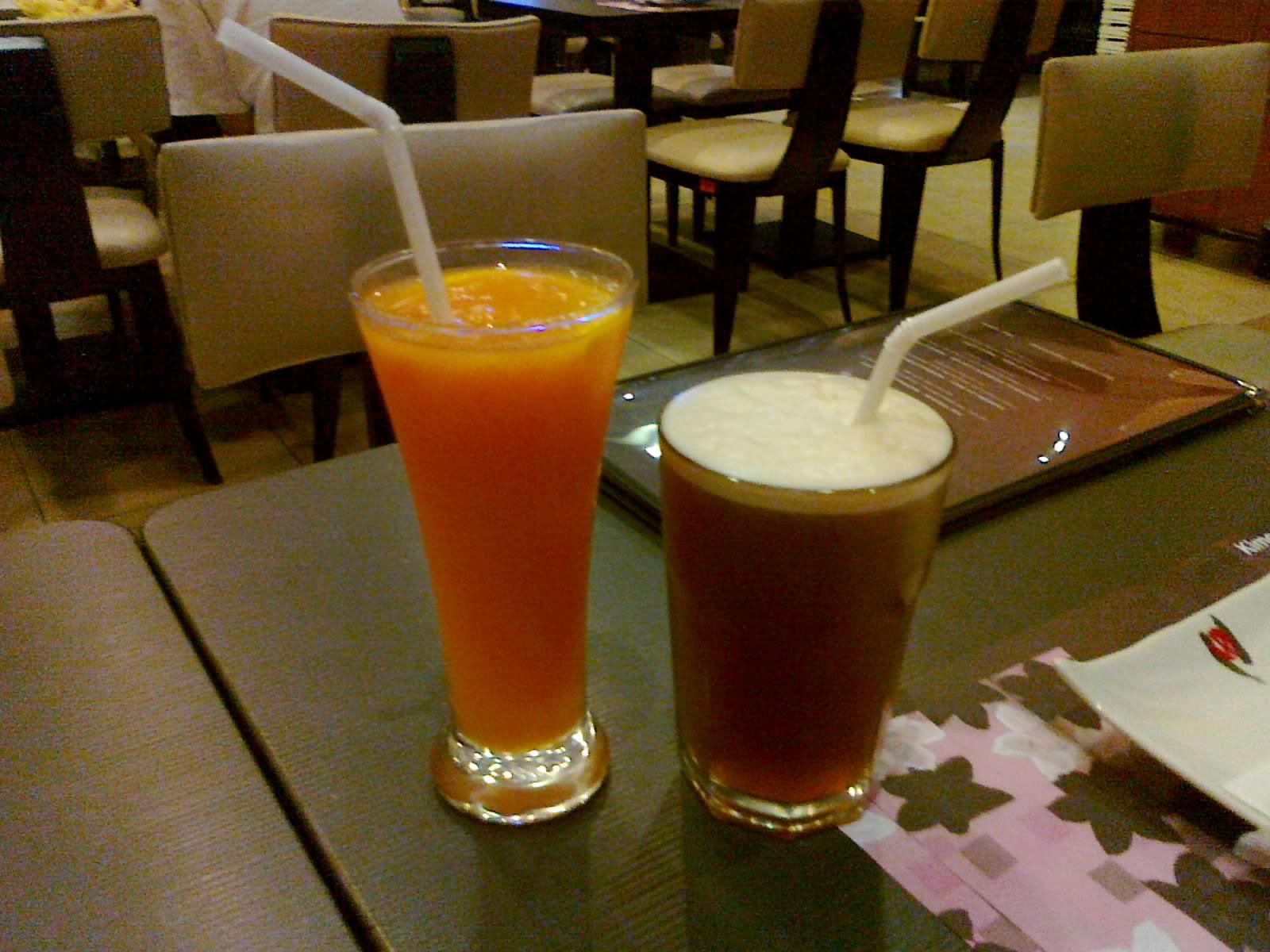 The drinks, although non-refillable, were okay. Of course I frown a bit from their prices. But when your iced tea has frothing on top, you know it's not your usual too-sweet instant one. And it wasn't—it had that distinctly bitter tea taste that I like on my tea with just a hint of sugar. Beloved's drink was weird. It was sweet, sour, tart, and bitter depending on which part of your tongue it's on. Apparently, it's a mixture of fruits; what fruits exactly, they don't say. But it's good in its own way. To compensate for the lack of refillability, we asked for hot tea which they serve on the house. This one's good too, like the iced tea I had only hot and much more refreshing.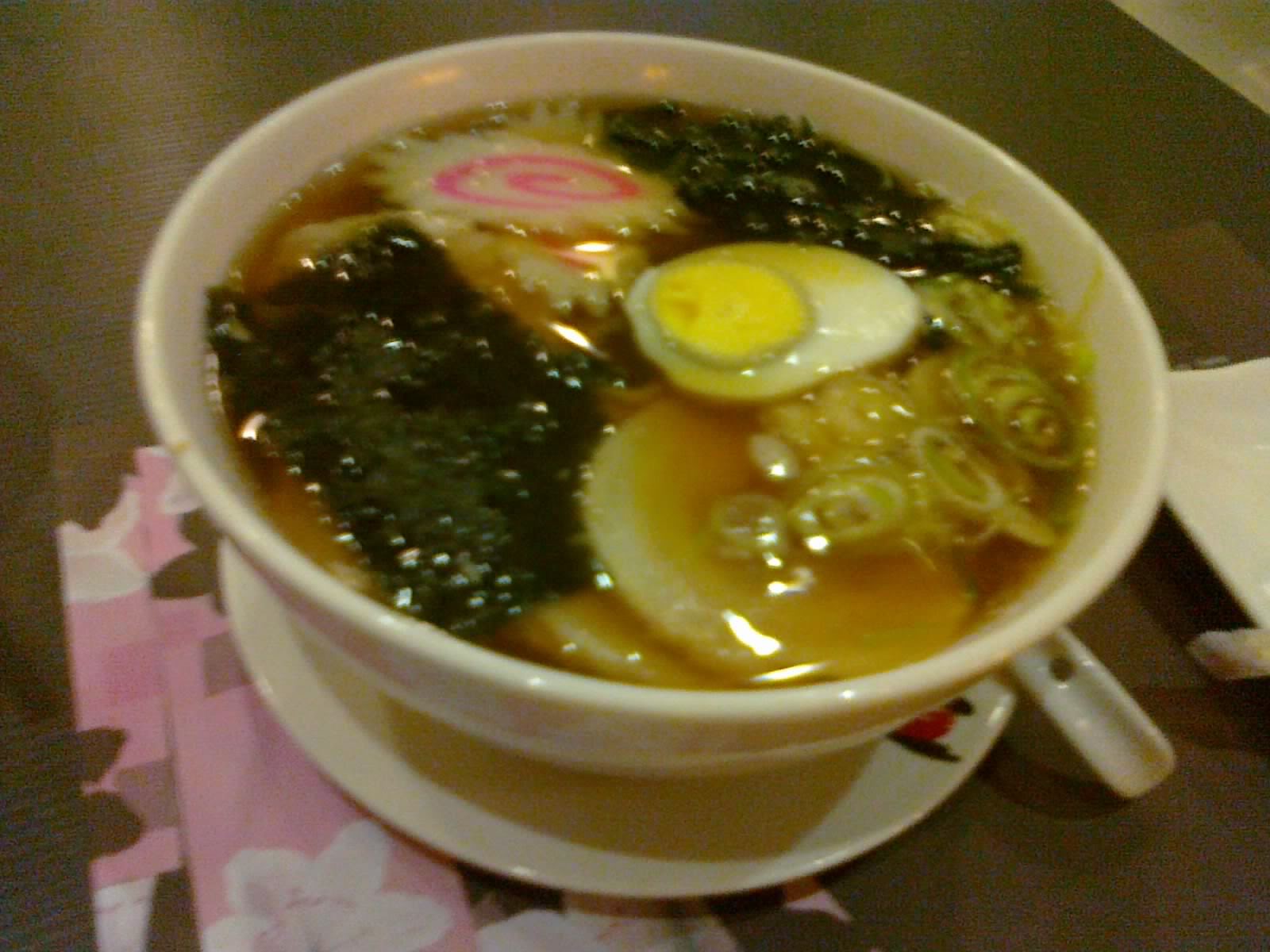 After a while—and I guess it's a pretty short wait for a Japanese resto with a lot of customers—my ramen came. It was a generous bowl with your usual toppings—nori, spring onions, narutomaki, half a hard-boiled egg, some other greens, and pork. The soup was a soy base, so it's a bit on the salty side, but it was pretty mild. It's not as good as the ones I particularly took liking of, such as Bubble Tea's. I would've liked my pork to be more succulent, as the one here was a bit bland and tough. Other than that, this was a pretty good soup for its price, considering Bubble Tea had a huge price increase.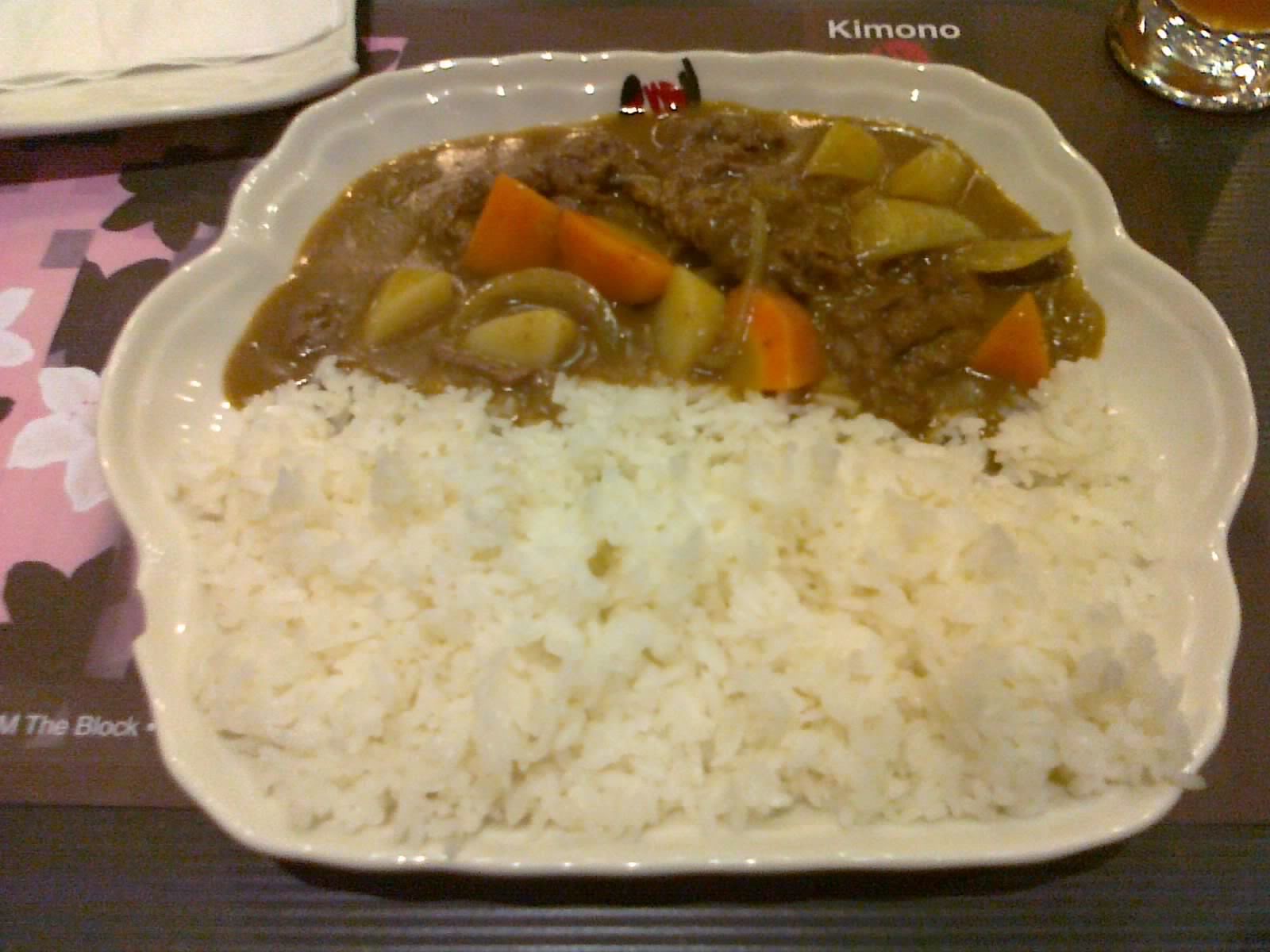 Beloved's order had a generous amount of rice. I might comment that there's less curry than I would've liked, but it was a pretty big plate, so I can't really confirm. Again, the meat was a bit on the tough side, but I guess the curry sauce makes the dish okay. It's not your usual Japanese curry that's a bit mild—this one's hotter than usual. Not that it makes it bad in anyway—certainly better than the one I had at Teriyaki Boy.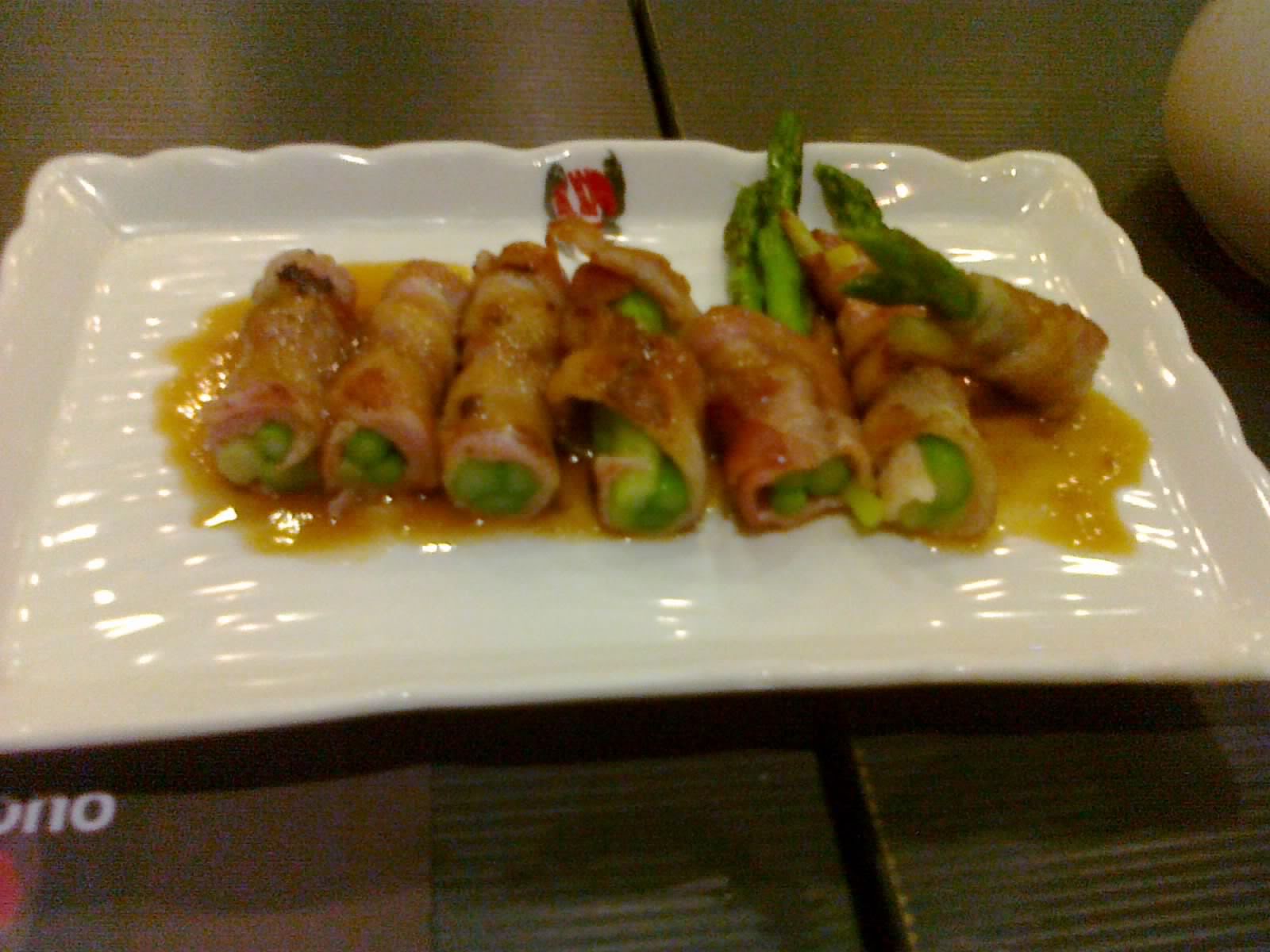 Our last order was our best plate. Well, not that bacon-wrapped asparagus has failed me aside from the one at Teriyaki Boy, which didn't have any sauce in it. This one visibly has sauce, which makes the plate. You have the crunchiness of the asparagus and the awesomeness of bacon. While the bacon can stand for itself, the asparagus sometimes has this "I hate vegetables" taste that I can't describe. While the taste of asparagus doesn't really bother me, the sauce here compensates for it greatly—it has a rich, sweet taste that masks entirely the presence of any vegetable in this dish.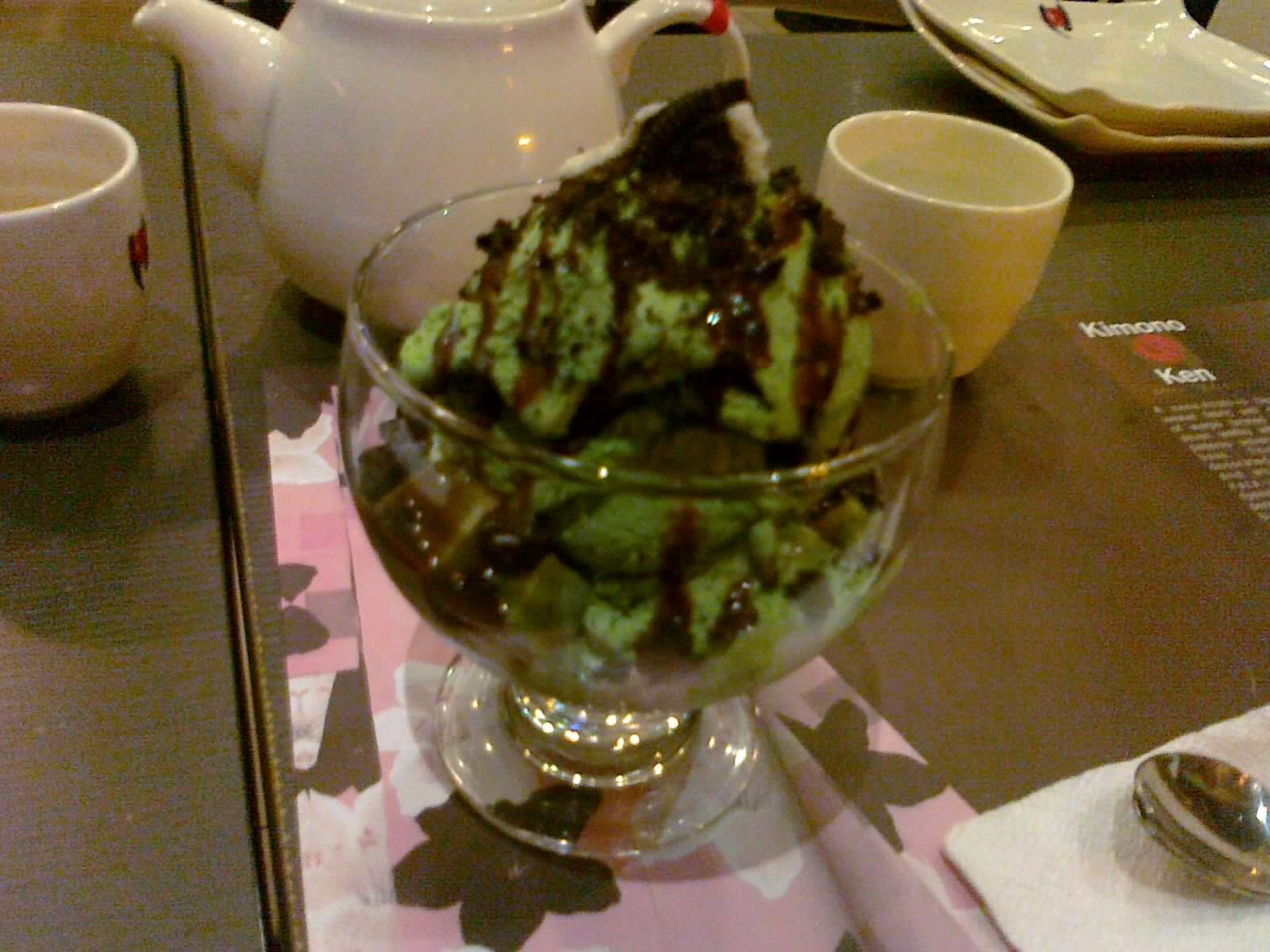 While that was our last plate, we did order dessert because we were still hungry. We ordered their Green Tea Jelly (100 Php). It was jelly made of green tea, topped with green tea ice cream, topped with chocolate syrup, topped with crushed Oreos. Haters of the bitter green tea taste probably won't appreciate the way I did this dessert, especially since the green tea jelly was devoid of any sweetness whatsoever. The presence of Oreos and chocolate syrup doesn't hide any of the bitterness of the ice cream and the jelly. While I would've wanted my jelly to have a firmer "coffee jelly"-like texture, I took a liking to it, and I recommend this to any green tea lovers such as myself.
I guess if you don't order their sashimi, Kimono Ken can be a pretty decent value. While their food wasn't the greatest we had, they were pretty good, with the exception of the bacon-wrapped asparagus, which was great. The servings weren't bad as well. I guess this is another one of the catch-all restaurants when you tire of the other countless Japanese restaurants in the area but still want Japanese. Unless their tempura, which I don't have any memory of having before and if I did, it probably wasn't good, turns out to be better than the one at Tempura Japanese Grill, I probably won't have a reason to prioritize Kimono Ken from the other Japanese restaurants in the street. However, it will always be in my list and would probably considered if I'm not particularly craving for sashimi.