Beloved and I had dinner at Mom and Tina's Bakery Cafe. Located at Beloved's new favorite food and drink street, in the same building of BonChon Chicken and Moshi Moshi, this cafe had a welcoming atmosphere to it when we first passed by. It reminded me of Mary Grace, where we had a wonderful experience. Hoping to get a similar one, we decided to try it out.
The place was packed full, only having a couple of tables free when we entered. This further heightened my expectations of the place. Seeing the prices on their menu items increased it further. Their pastas almost cost 200 Php apiece, and their other menu items, consisting of sandwiches and food you would expect from a cafe, aren't really the most affordable I've seen. Hoping for the best, I ordered their Sirloin Burger (295 Php), which comes in half-pound or quarter-pound versions; I took the larger. Beloved ordered their Lengua con Setas (395 Php). In addition, Beloved also asked for their Iced Mocha (95 Php) and I had their Bottomless Green Iced Tea (70 Php). Finally, since this was a bakery, and I thought it would be waste not to try any of their baked goods, Beloved also ordered their Beehive (65 Php).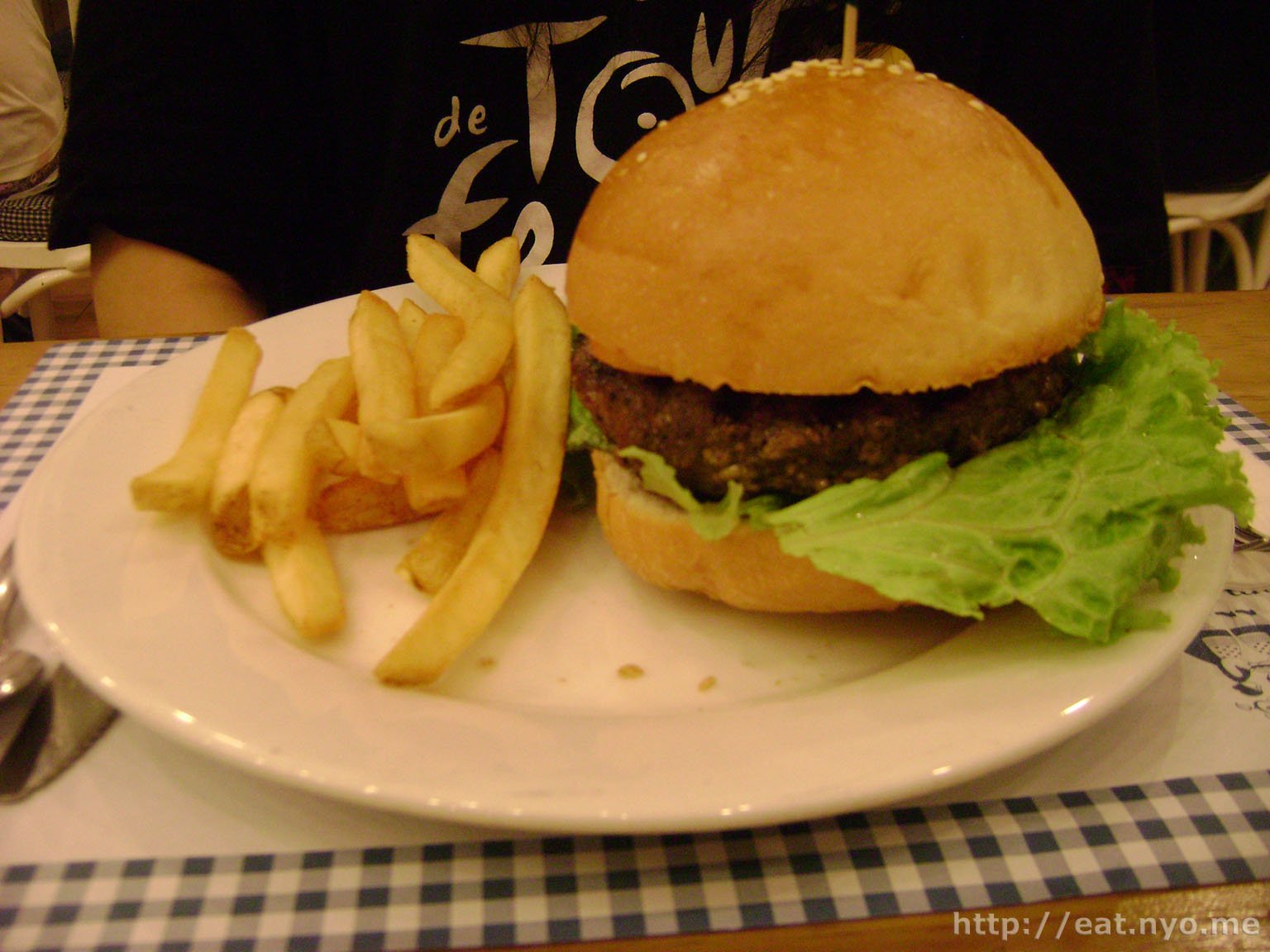 My Sirloin Burger, while not the largest I've had, admittedly is one of the most delicious in taste and fragrance. The beef, while not plentiful, was certainly juicy, and boy was it tasty. It had a crumbly texture, yet still holds itself whole. Also, it was cooked quite rare, still red on the inside. As if to boast its deliciousness, it didn't have any sort of sauce or condiments, and the only having a couple of slices of tomatoes and cucumbers, and a leaf of lettuce. Further, the bun they used, which I assume they made their own, had a crunchy outside and a soft, tasty inside. The fries that came along with it was very good too—crispy exterior and fluffy interior. My only complaint was the placement of the lettuce. Since it was blocking the lower bun, some of the juices dripped away when it could've been absorbed.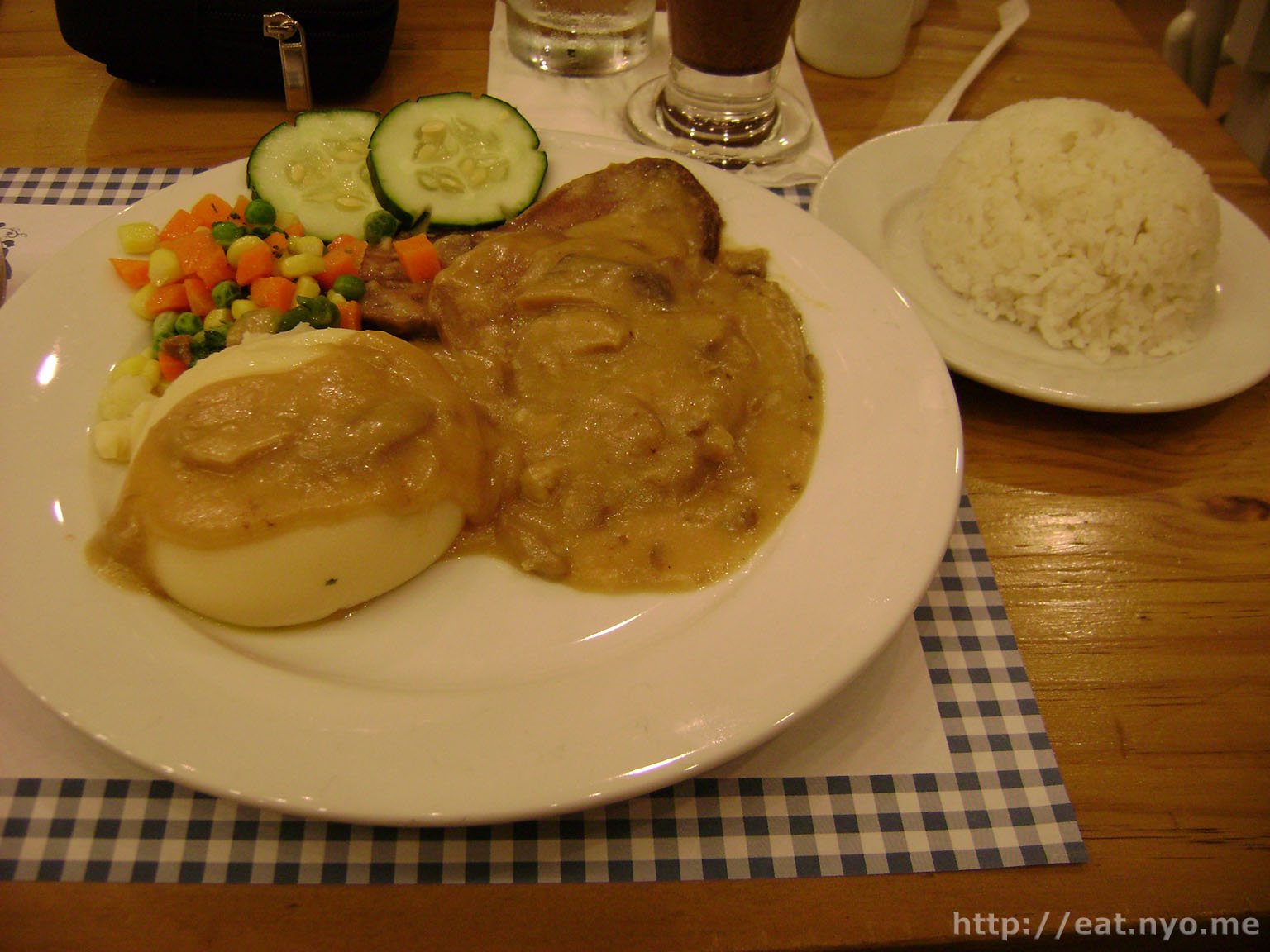 Beloved's Lengua con Setas was a generous plate of ox tongue smothered in mushroom gravy sauce. It also had quite the selection of veggies—corn, peas, carrots, cucumber, and chopped up broccoli—and both rice and mashed potatoes. I would've forgone the rice in this dish. That aside, Beloved claims it was very good, except for some parts where the supposed soft and tender tongue was a bit too tough.
As for dessert, well, I found out why Beloved chose this Beehive. I expected a honey sort of pastry. Instead, this was a chocolate cupcake covered in chocolate icing. And what makes it a "beehive" is the fact that there's a candy bee on top. I'm not really one to be asked for dessert, as I don't really have a sweet tooth, but I believe those who do would like it.
Our food wasn't bad, but, all in all, this place is no Mary Grace. I'll admit that it tastes good, but their prices weren't really student-friendly, which is what I would've expected if you're going to put up a resto here. Their servings also weren't really the biggest, especially for how they priced their food. However, again, I'll admit that our food was delicious, which in itself warrants Mom and Tina's Bakery Cafe a "worth a try".