Beloved celebrated her birthday with me at Four Seasons Buffet & Hotpot located at the Manhattan Parkview in Cubao a couple of weeks ago. We've actually been here before, a lot of times already, in fact, and among the buffet places that offer a free-on-your-birthday promo, this is Beloved's favorite. Ever since it opened a couple of years ago, we've celebrated Beloved's birthday here two years running now.
Four Seasons is ran by the same group that runs Vikings and Niu, and some features of these buffets are present, like a carving station and unlimited beer. However, the main focus on this buffet is their shabu-shabu. And, unlike their other buffets, this place has raw meat and vegetables that's meant to be cooked on your table with your choice of soup, something like Seoul Garden without the grill but with a much wider range of choices.
We didn't reserve a slot, which I recommend doing even if it's a weekday, as the place usually gets packed, especially if you don't go on the opening time. Still, we managed to get in queue early as we were there right before opening. We took advantage of their Birthday promo, as I mentioned earlier, which allows for the celebrant to eat for free on her birthday as long as she brings another paying customer. This promo is perfect and best value when done in a date, which I recommend for any branch of this group of restaurants. Once we got in, I had Beloved go around and take pictures of the relevant food stations and get her first plate while I empty my bowels in their roomy W.C.'s for the upcoming feast.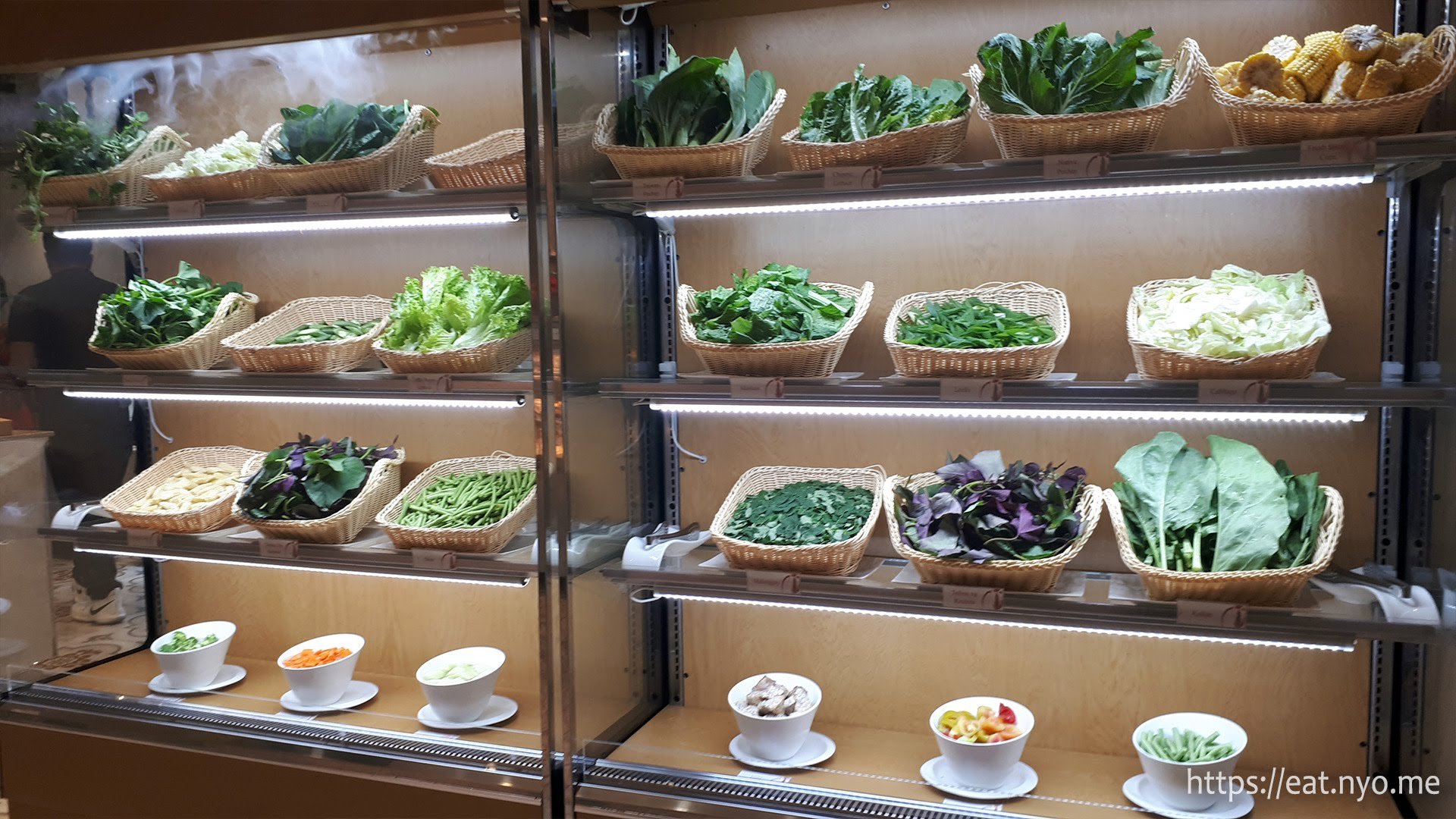 What I like about Four Seasons is their large selection of fresh vegetables that can be used for your hot pot. There's pechay or bok choy, different kinds of lettuce and cabbage leaves, corn—both young and cob, broccoli, kangkong, green beans, spinach, and other leaves. There's also an assortment of mushrooms: button, enoki, and tenga ng daga that day. In addition, there's other goodies like tofu and bamboo shoots which is almost all that you can ask for in a hotpot. Theoretically, there's enough here to make a sinigang hot pot.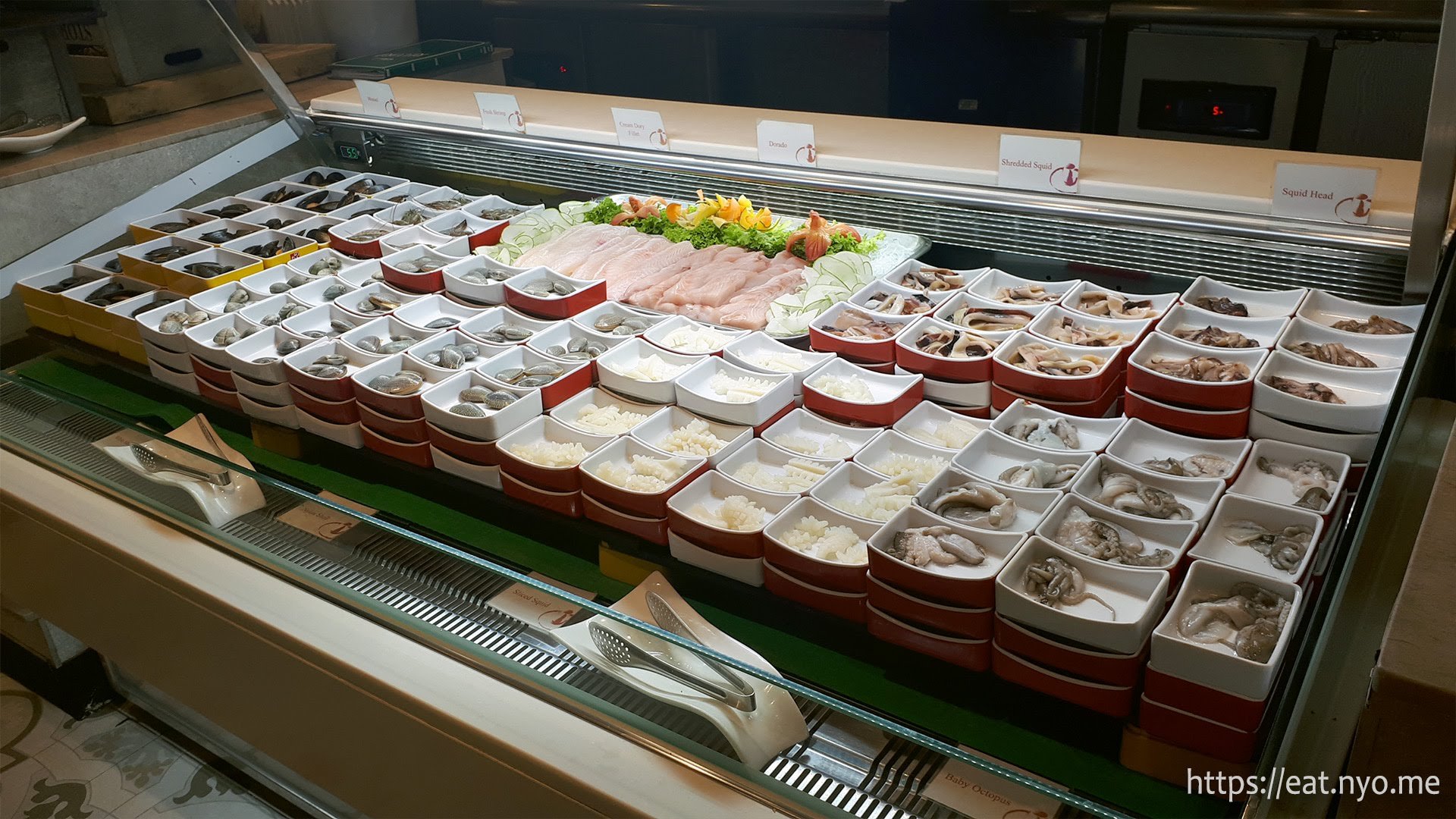 Now it's not all vegetables—there's also fresh seafood. This ranges from fillets of fish, shellfish, cuts of squid and other cuttlefish, shrimps, and sometimes crab. Aside from the crab, which at the beginning of the buffet was not present, all of these are uncooked and are expected to be cooked in your table's hot pot.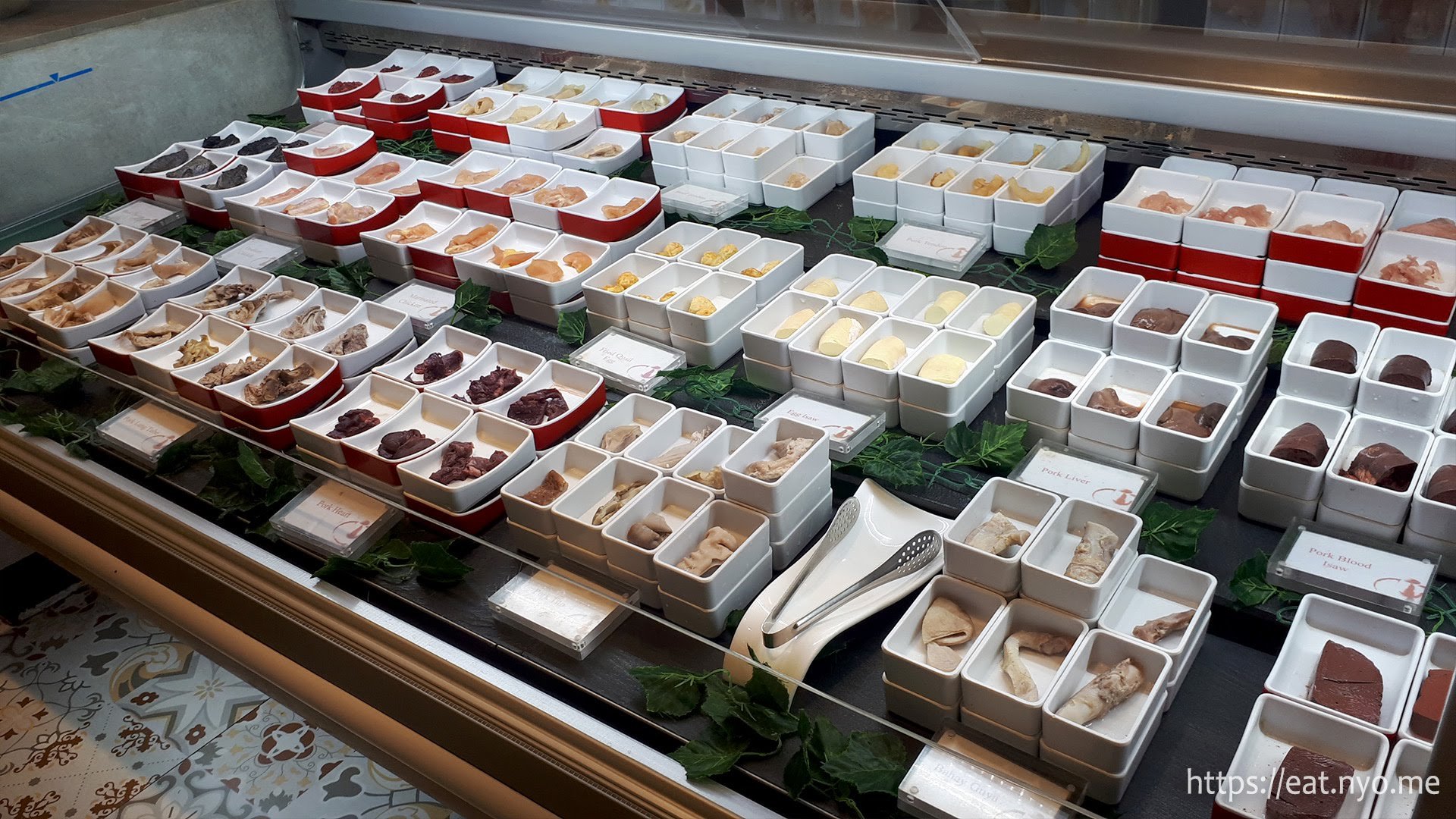 There's also refrigerated meats that are similarly meant for hot pots. A lot of innards—liver, blood, tripe, and intestines, there's also cuts of chicken (even black chicken) and pork. I don't bother too much with this station, honestly and Beloved only goes here for the occasional beef tongue.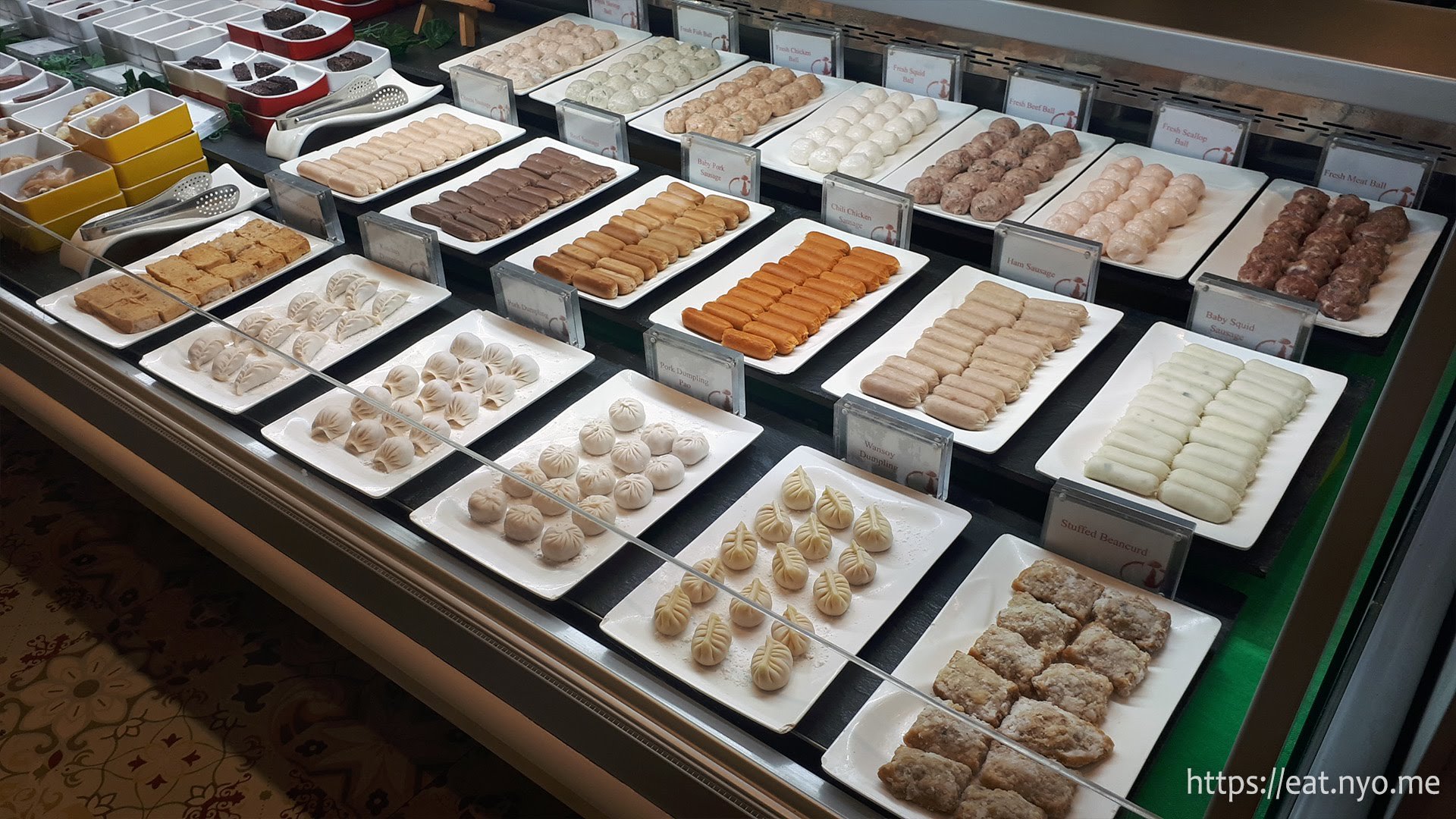 Penultimately, at least for their "hotpot-ables" there's a wide assortment of balls, sausages, dimsum. Now, this part we like to go to. Unlike store-bought balls, the balls here are made from fresh seafood or meat paste. We love getting their scallop, fish, squid, crab, and lobster balls. We also get the occasional dumplings and I like their stuffed beancurd too. While we don't get the sausages, I expect them to be quite similar to the ball version, just maybe with a casing.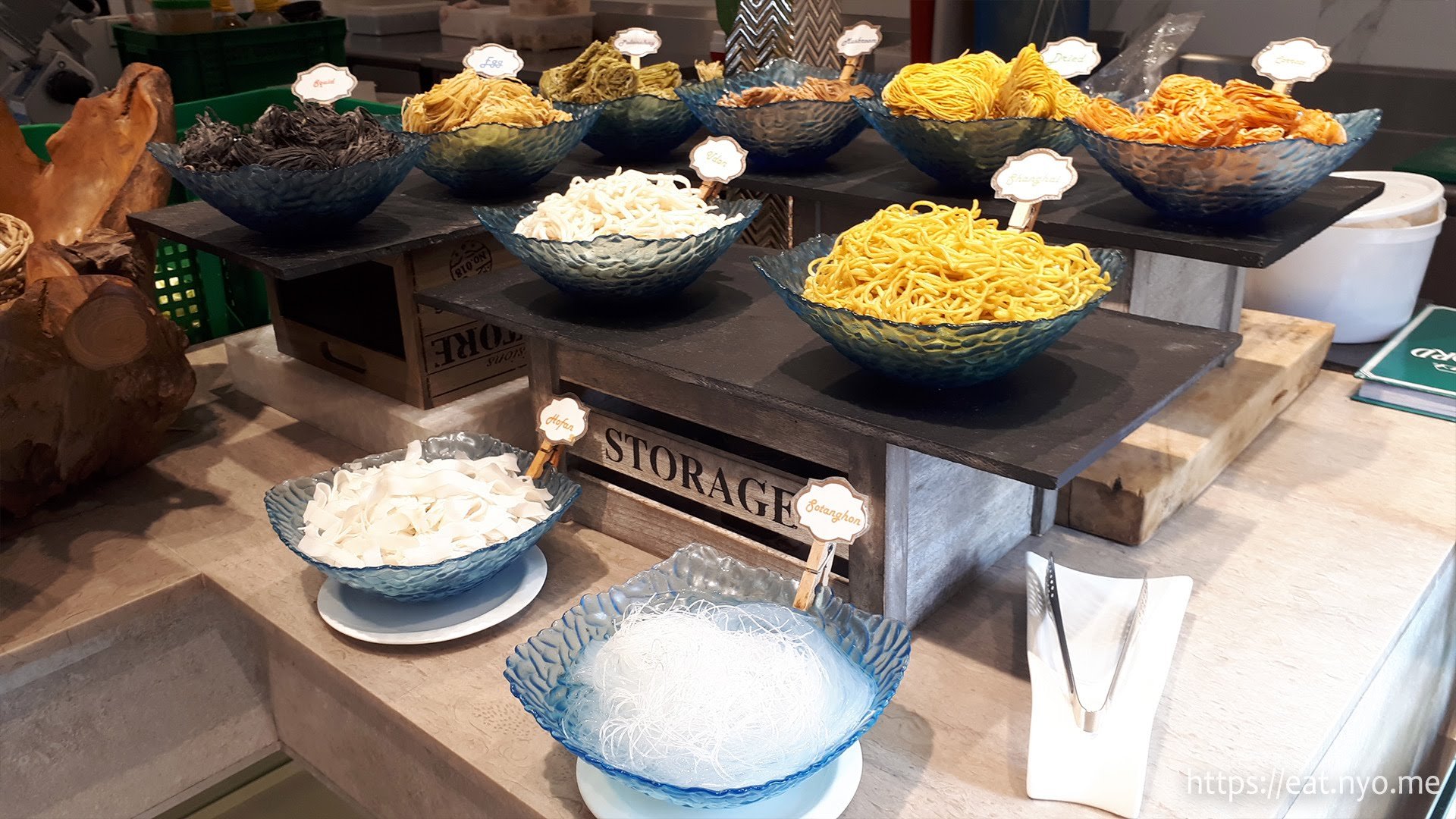 Finally, there's also the noodles and sliced meats section. For the noodles, there's a lot of variety in here in base ingredient used, thickness, and color. I don't get these myself, but Beloved does help herself to some. As for the sliced meats, there's some various slices of beef and pork where you place an order and they bring the slices to your table. I got a sampler of all their beef slices; more on this later.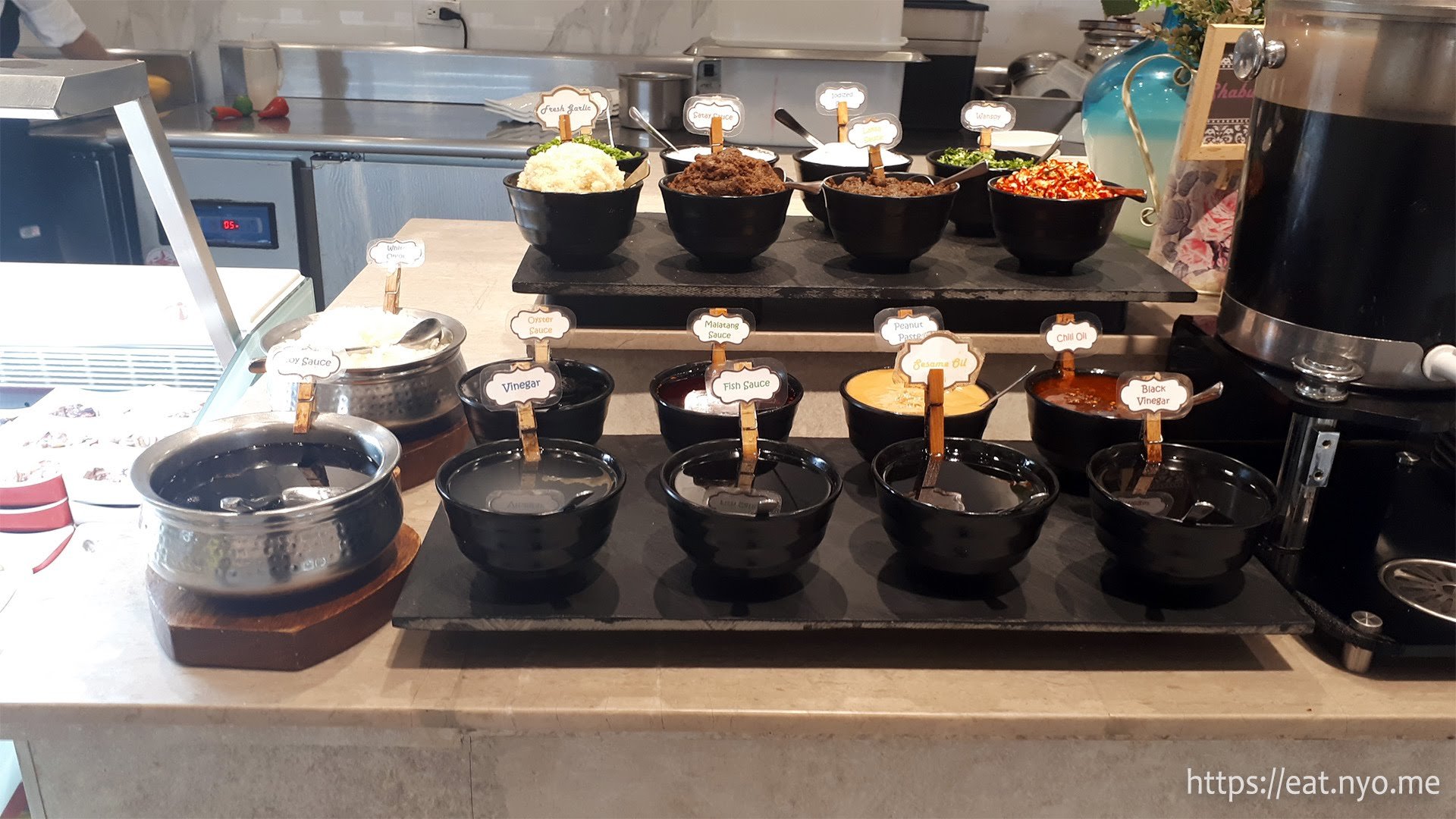 While not technically a part of their hot pot stations, there's an assortment of ingredients used for different sauces. I suggest making a couple for your table to be used for your entire dinner. My personal mix is a simple one with soy sauce, oyster sauce, green, garlic (a lot of garlic), and a bit of vinegar and sesame oil. I create another with the same ingredients, but at the end adding some chillies and chili oil. If you're lost, there's a poster that has a "Four Seasons" mix, with a recommended mixture of these sauces on one of the columns.
Now, that's not all what Four Seasons has to offer. In a way, it's its own "Little Vikings". There's stations of other dishes ranging from sushi to Chinese food to a carving station.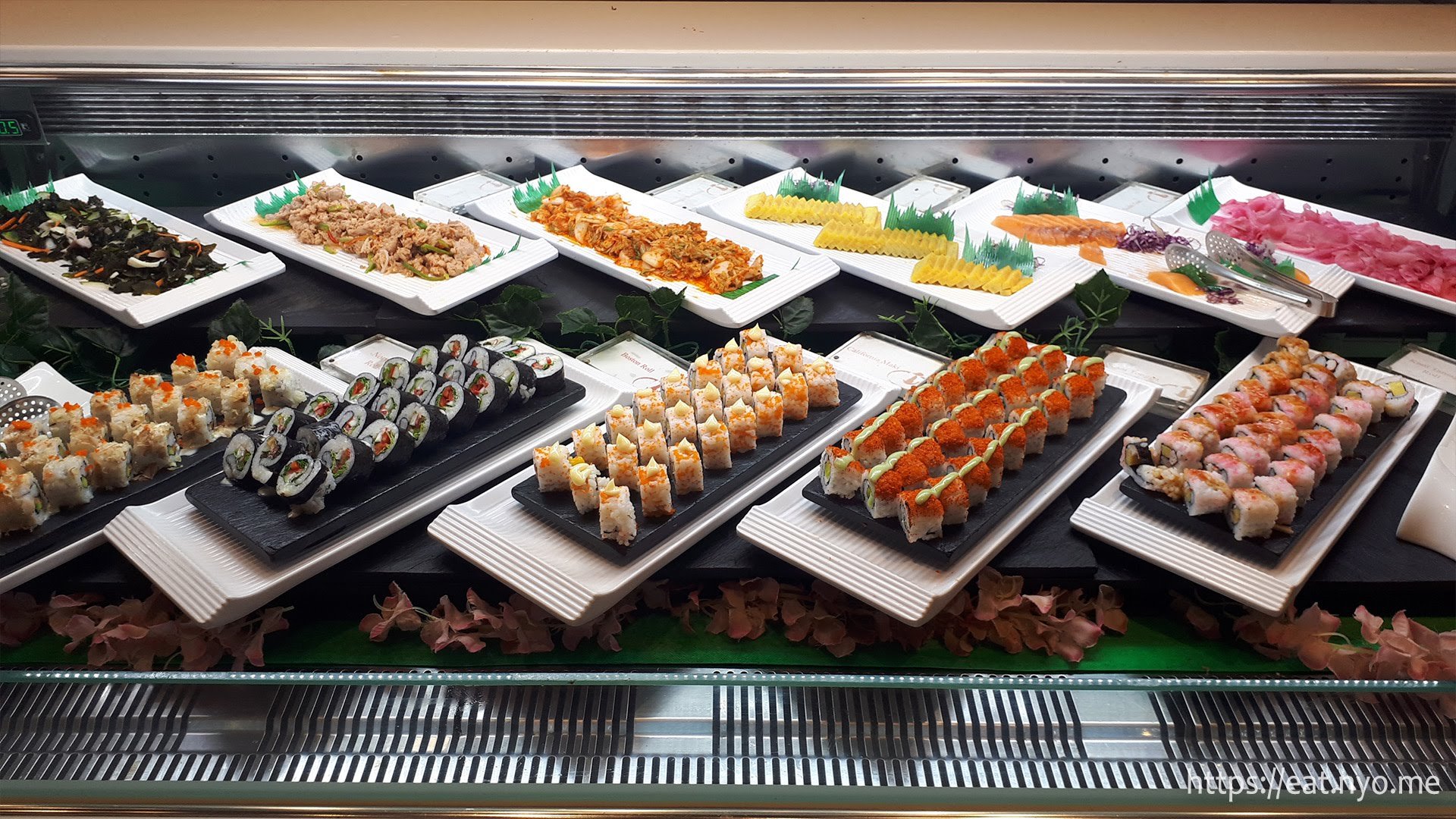 Pictured above is their sushi/sashimi section, where I suggest skipping the sushi and just have the in-demand salmon sashimi despite the appetizing appearance; or maybe just have one or two rolls or nigiri. Get their pickled radish and ginger for palate cleansing here. Right beside it is the also in-demand tempura section, which features the almost-always-empty shrimp tempura along with other variants like fish and vegetable.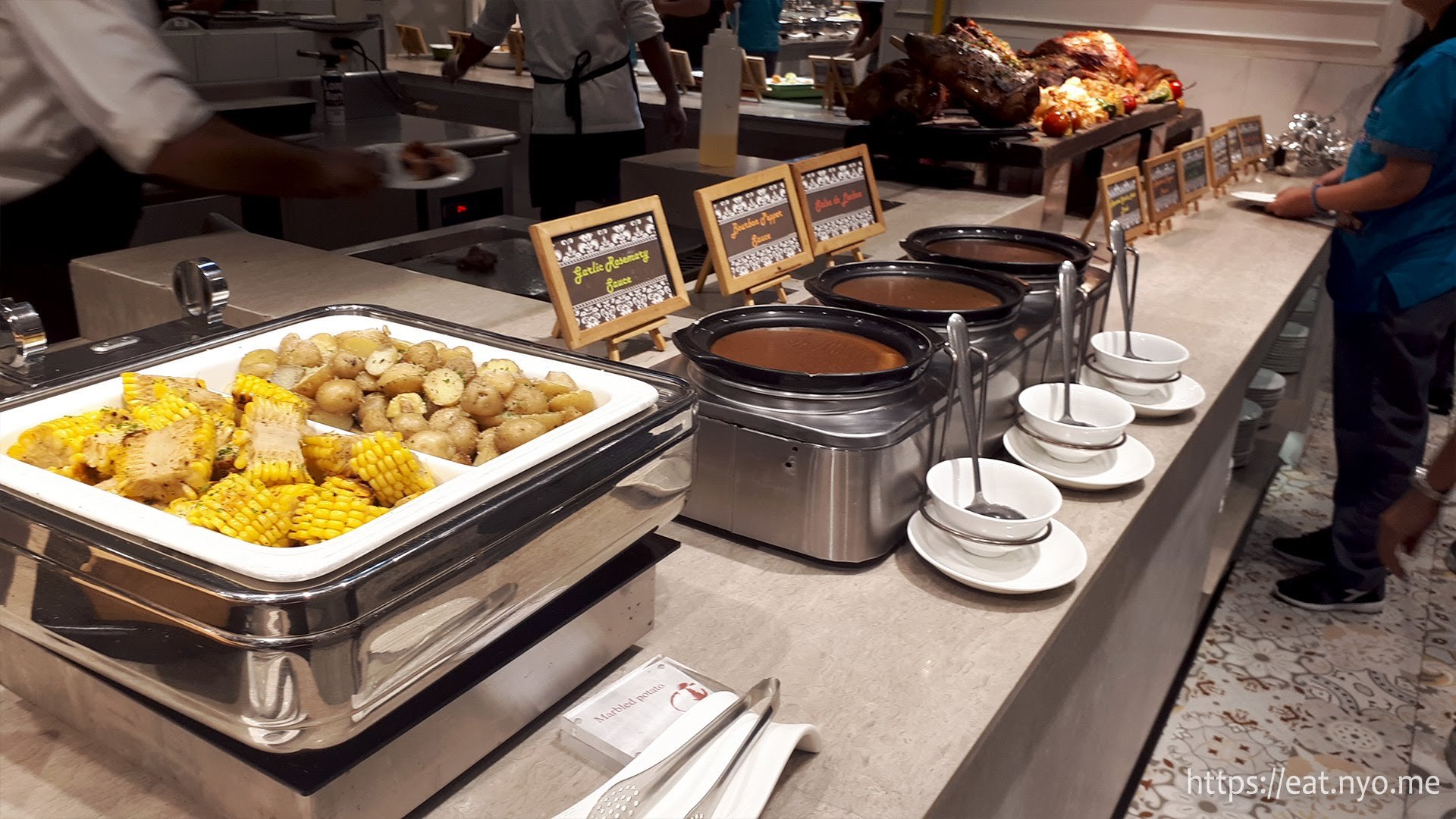 The roast and carving station features three to four different roasts, usually a beef roast, a pork roast, a poultry roast, and a lamb roast. There's also some sides and sauces that goes well with these roasted delicacies. We didn't bother with this station the day we went, but if you've been to a Vikings buffet, you're essentially getting something similar.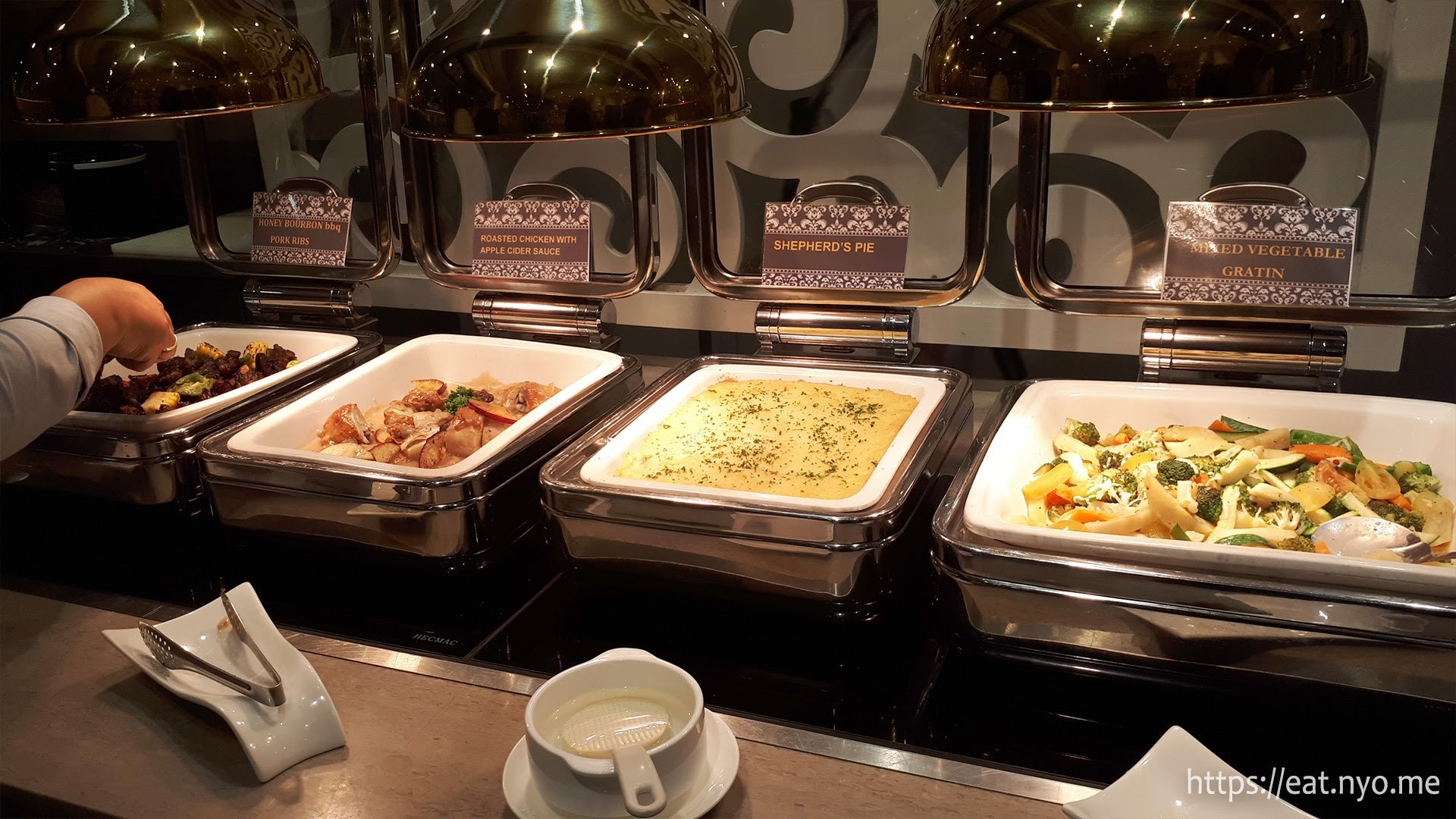 There's also some cooked food from various cuisines—Filipino, Chinese, Spanish, French, and even Italian (pizzas and pasta). Similar to the roasts, we don't really bother with these when we go here.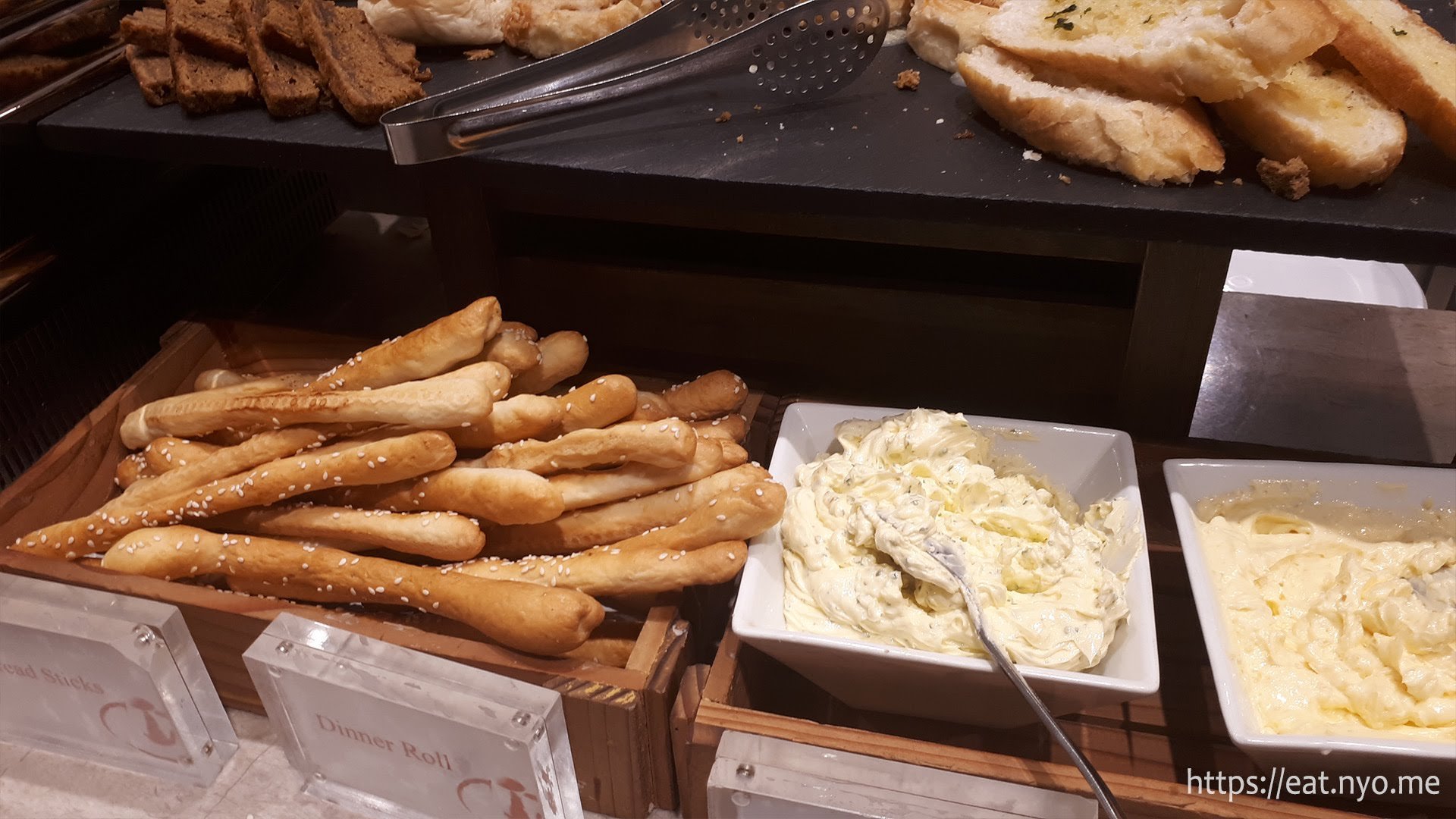 What I do bother with is their salad and bread sections, but perhaps not the way they meant to. This is one of the few places that I can papak olives, both green and black, and sliced cheeses. While perhaps not as varied as what you can get from Vikings, there's enough to tickle my palate.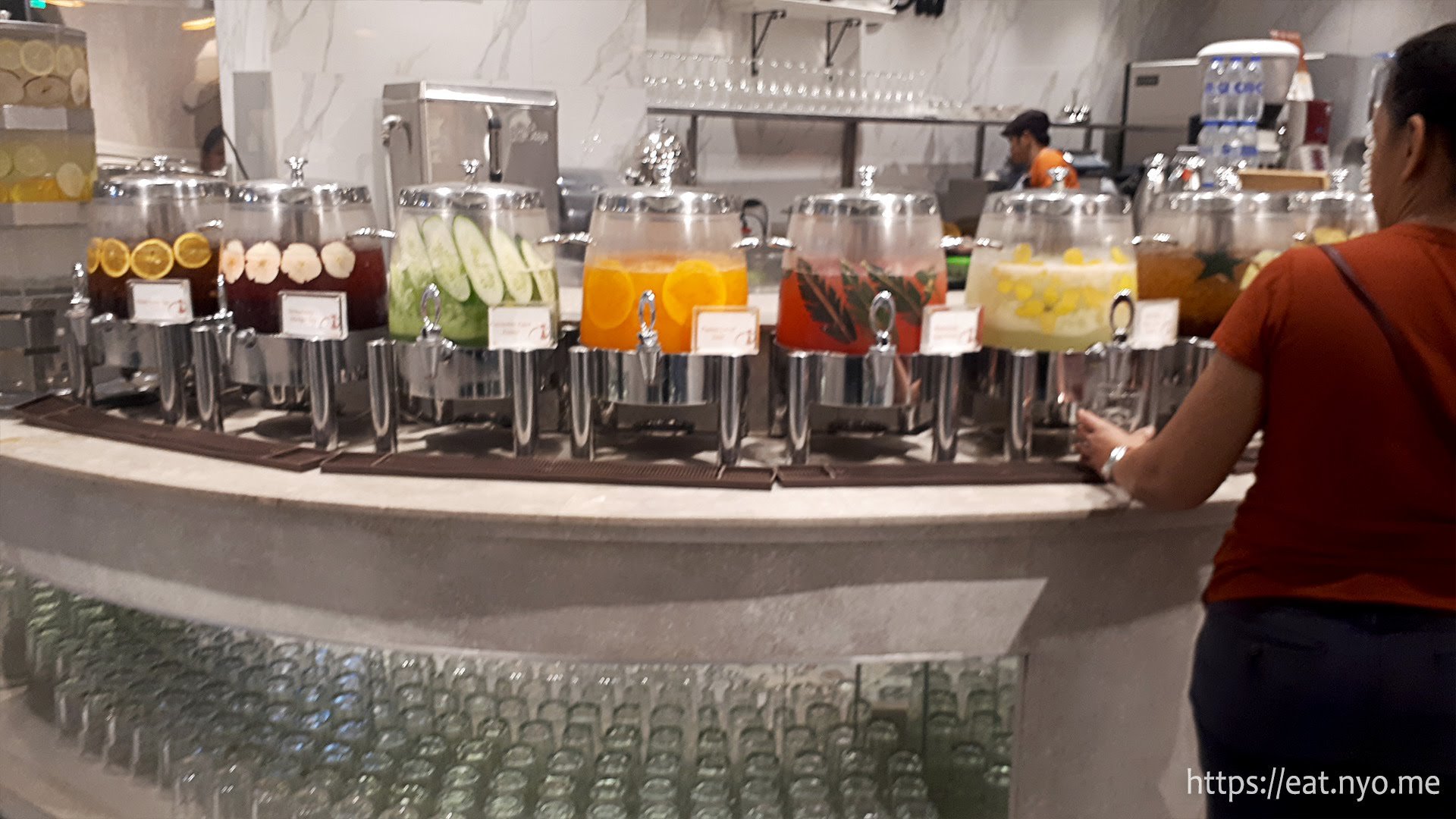 Oh, and there's also the drinks. There's actually beer and sometimes sake here, but we don't bother. Beloved noticed there's no "Four Seasons" drink in Four Seasons… maybe it's out of season? Anyway, I suggest sticking with water and maybe their coffee too.
When you get to your table, you are asked what kinds (up to two) of soup to have with your hot pot. There are quite a few variants, basically any soup you can expect. There's vanilla (not flavor) pork, chicken, and fish. There's even soup bases like sinigang, sukiyaki, and miso. Based on research HaiDiLao is a chain of hot pots, which I guess they get their other specialty soups—tomato, pickled vegetables, mala, clear, and mushroom. Finally, there's saté, or satay, which is what we got along with their HaiDiLao mushroom soup.

The first platters I got were a bunch of greens, bamboo shoots, corn, mushrooms, and dumplings for cooking, and the in-demand tempura and sashimi. Beloved got a couple of their nigiri sushi, salmon sashimi, seaweed, and birds nest soup. She also got a lot of balls and bamboo shoots for the hotpot, along with a nest of flat, yellow noodles.
We dumped everything in our hotpot. When we felt like it's cooked enough, we fish out what the stuff we want. Beloved likes to get some soup as well.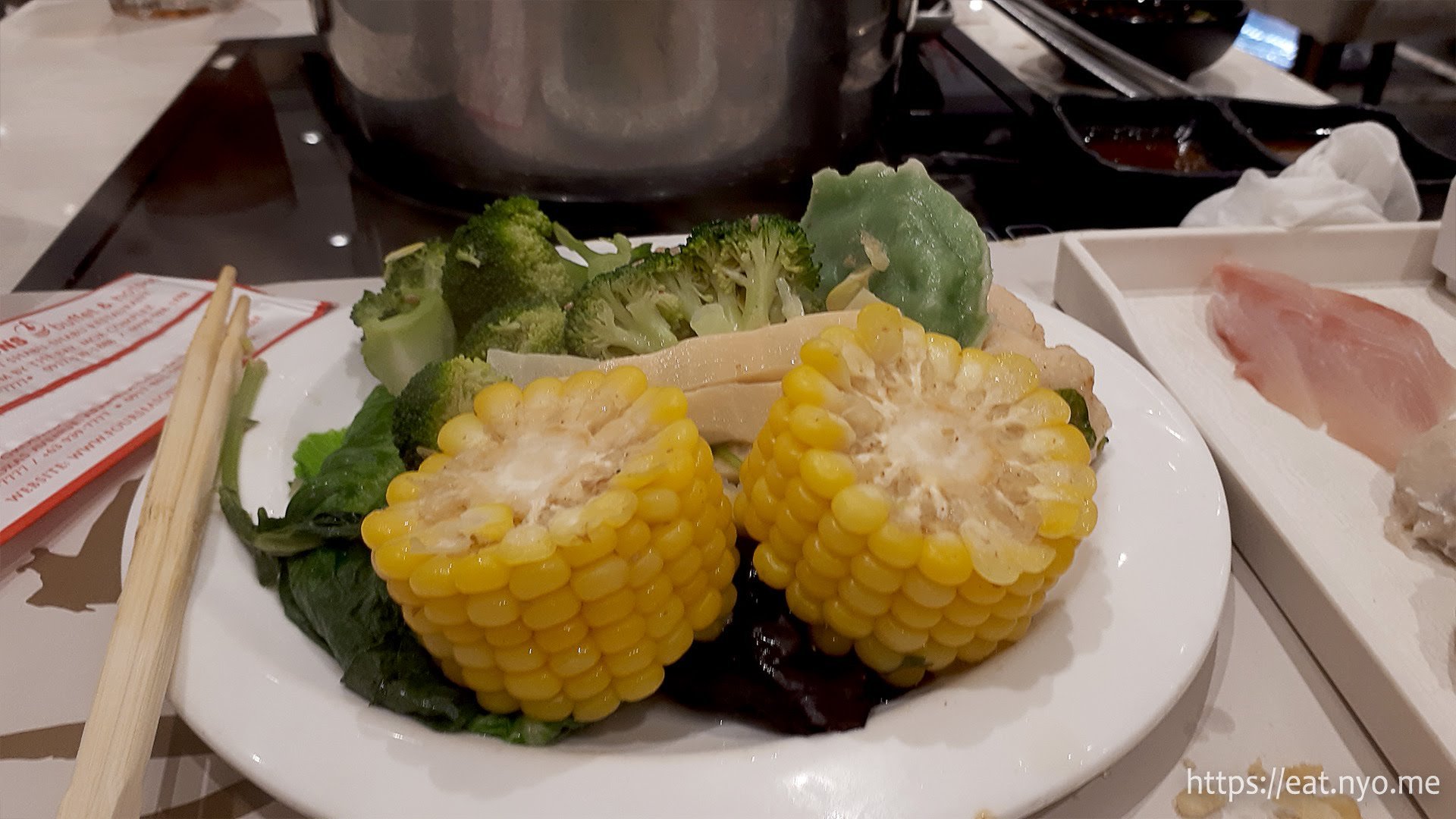 Since the temperature can be managed (keep it at 3-5, simmering but not roiling), it's hard to get things overcooked, but it does take a bit especially for the harder stuff like broccoli and corn. Your patience will be rewarded with as much as you can muster.
My next victims consisted of some of their cuttlefish, lobster balls, and fresh fish. Beloved got even more balls, a weird tofu-fish cube, cuttlefish, and even more mushrooms and bamboo shoots. This was also around the time my first order of their sliced meats arrived.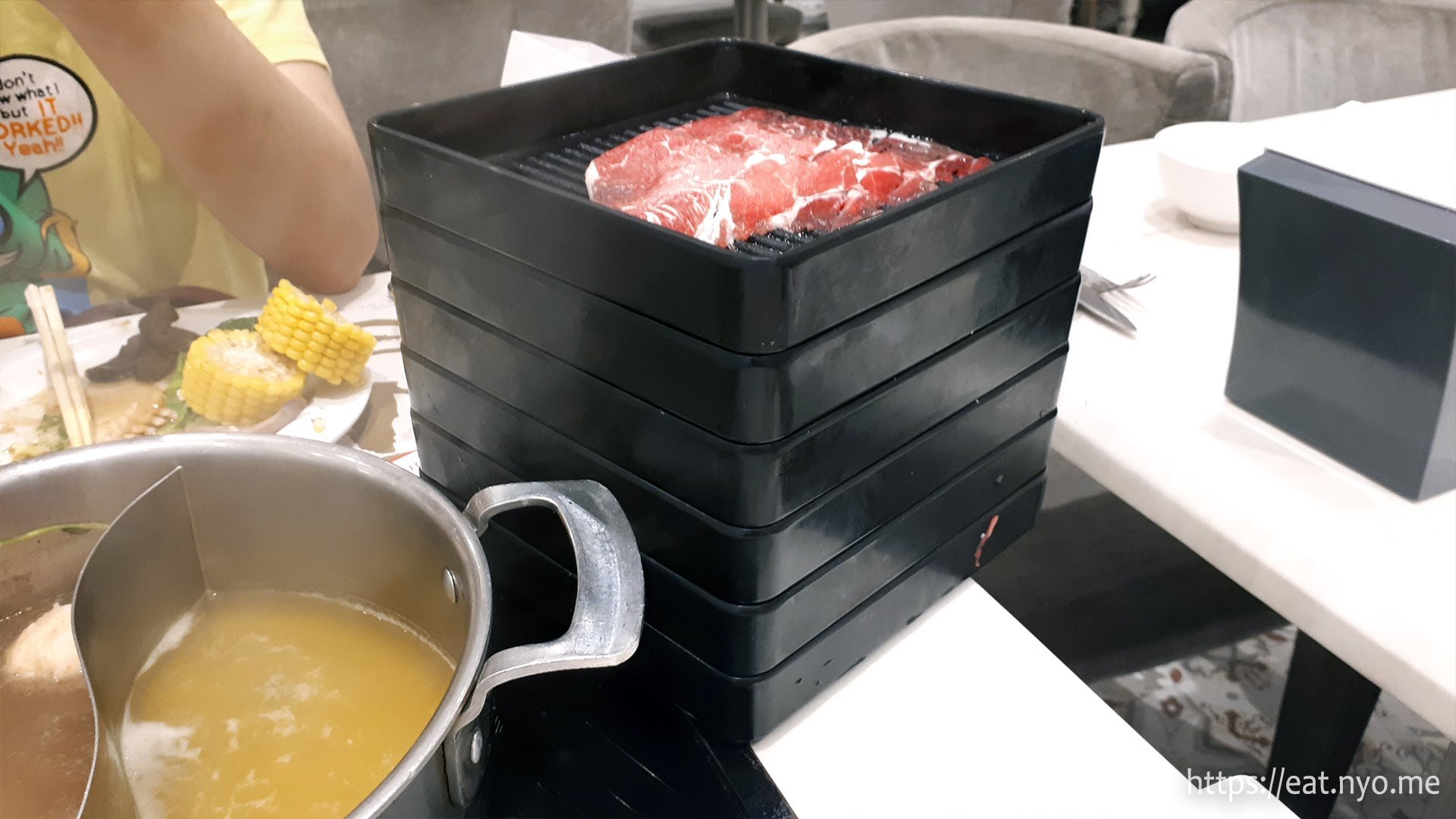 There were three different cuts of their beef that night and I got two orders of each. Even though this looks a lot, there were only a few slices per container, enough for one person. A couple of them had quite a nice amount of fat, though not too marbled, while the other two were a bit on the leaner side, which I don't recommend as much. We've applied the lessons we've learned from Ganso-Shabuway, even if the beef here is not as high quality and not as marbled, to only cook it a few seconds as shown below:
This in particular is my favorite part of Four Seasons. While definitely not the best tasting beef I've had, the fact that I can get a lot of it along with veggies makes it worthwhile. However, you have to order in advance and order a lot, as it does take a while for the meat to get sliced and brought to your table.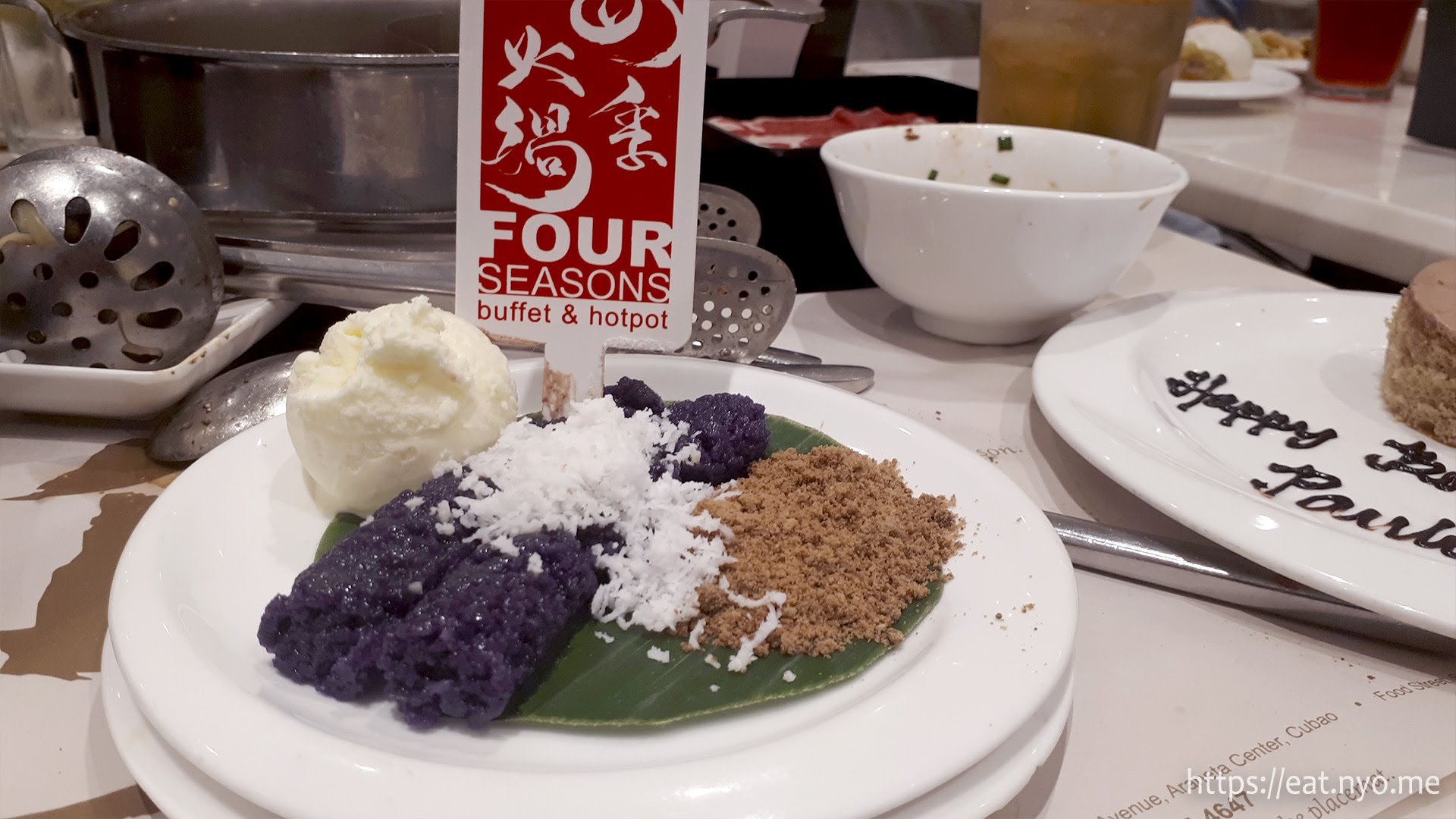 After a while, we got a bit cloy from all the protein and veggies that both Beloved and myself had a dessert intermission. Similar to any Vikings buffet, their dessert station have almost everything you can ask for—fruits, pastries, cakes, tarts, puddings, crepes, ice cream, yogurt, halo-halo, and even puto bumbong. You can even combine them, as Beloved did, garnering strange looks from the dessert servers.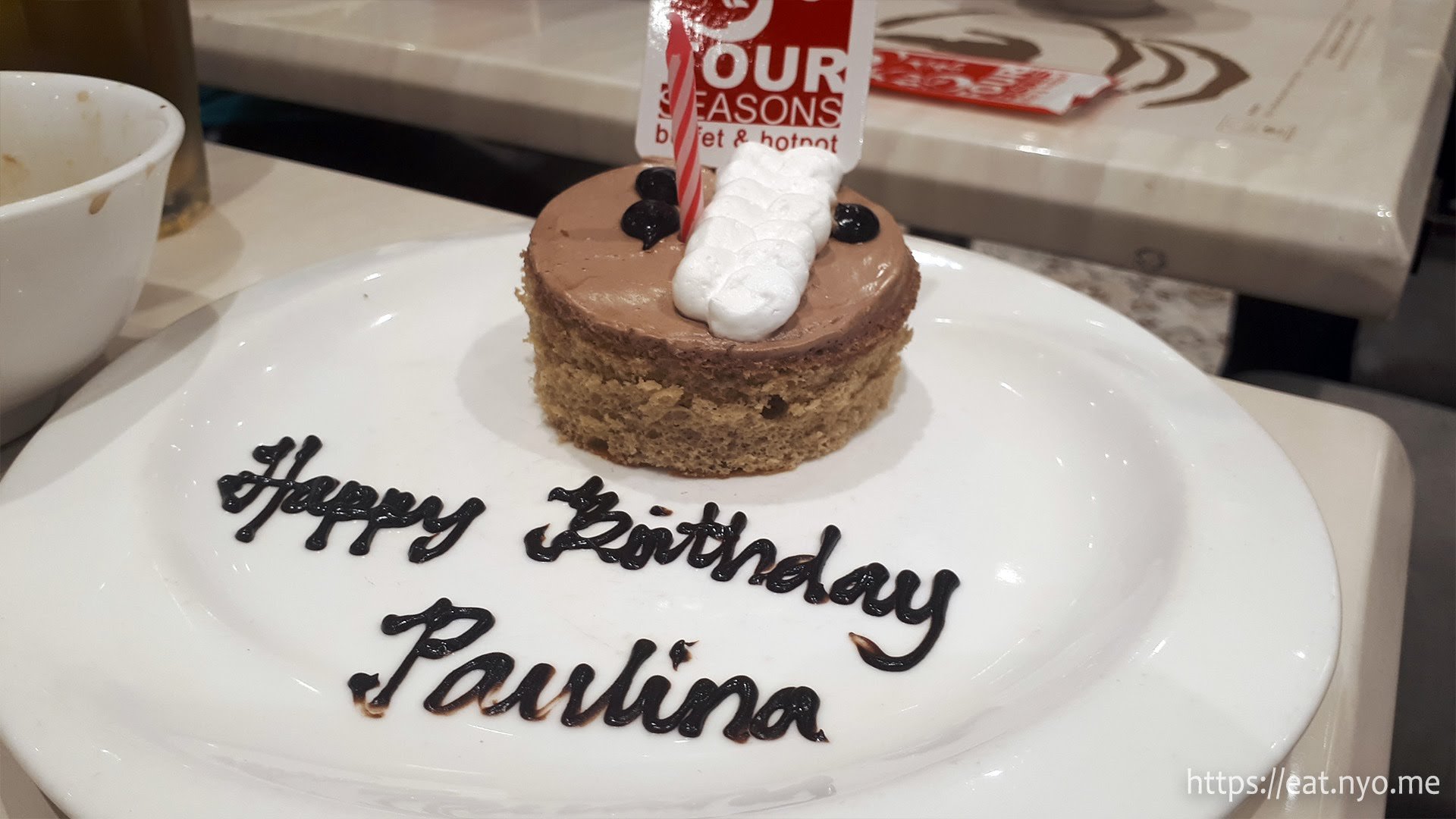 You might have noticed the cake and decor from the previous picture. As per Vikings buffet tradition, celebrants are given cake. We honestly don't like it, as it's not thick and moist, but more like mousse or icing. They don't mind if you don't eat it, don't finish it, or have it to go.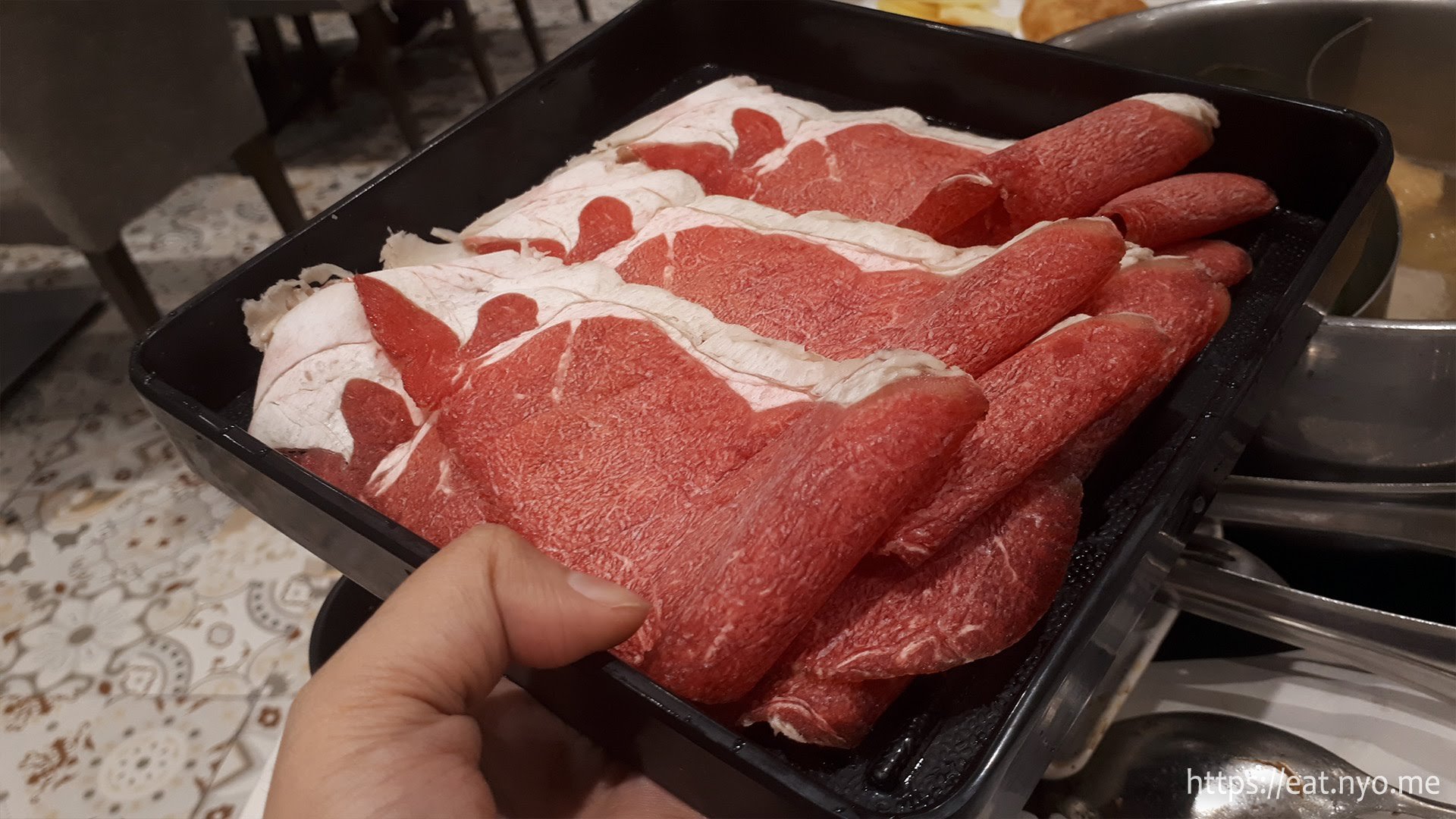 My second batch of sliced beef arrived around the time this was all happening. I only got their striploin, the one with the most amount of fat. This time, they only gave one container with four orders of the aforementioned cut. Sadly, it seems this was fresh from the freezer as it was still quite cold and had some ice crystals on it. We couldn't apply the cook-only-for-ten-to-twenty-seconds like we did on the thawed cuts and had to leave it in the soup for a minute or so.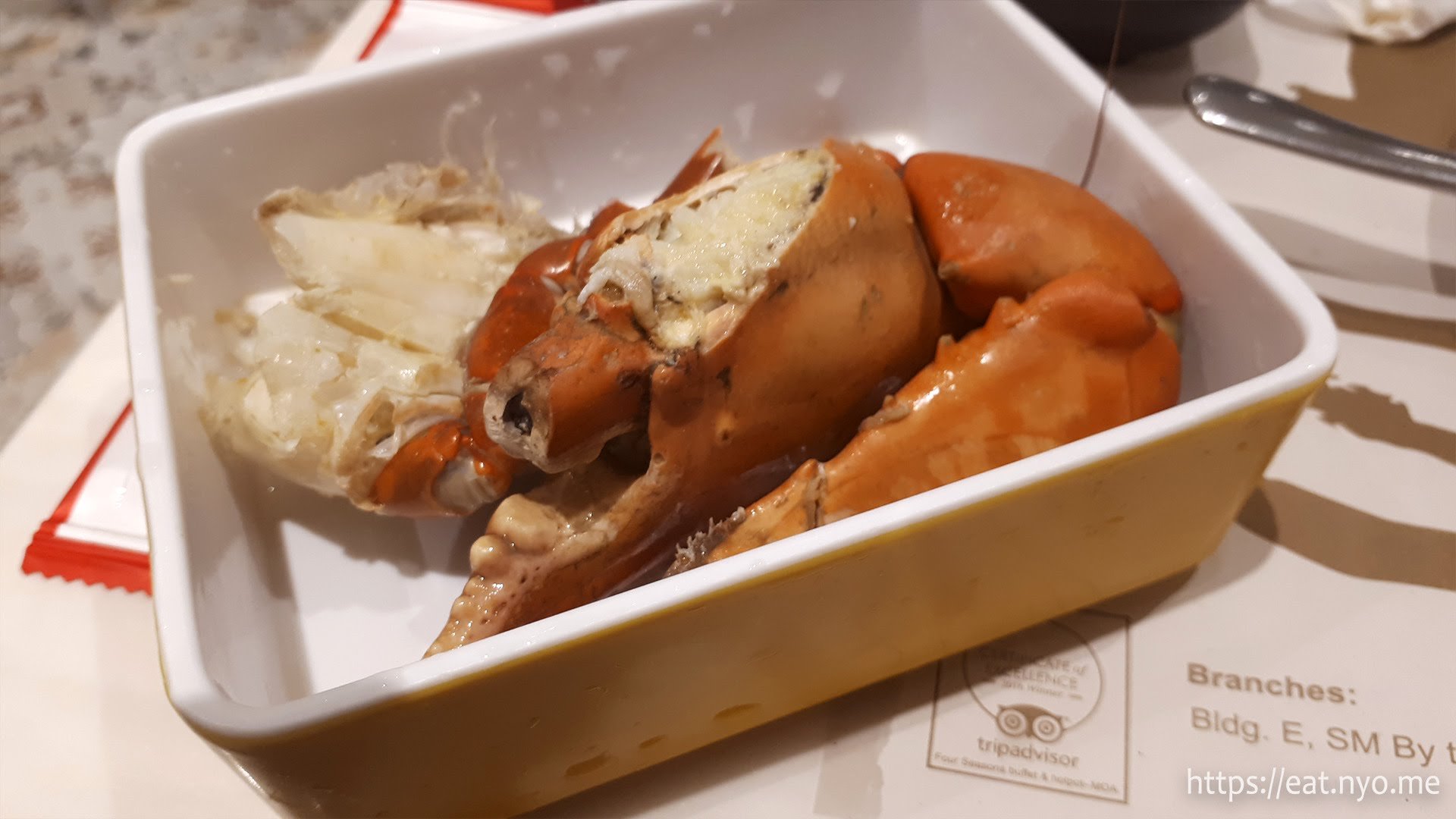 Around that time, Beloved noticed that there were crab claws in the seafood section and she got one for me. Although it's already pre-cooked, it will still need a fresh hot bath to reheat and enjoy. It's pre-cracked and I was able to open it up mostly with the back of my spoon, but there's a stubborn bit that required a shell cracker.

While this was not the complete meal, as I still had some greens, more meat, more balls, and some bread, cheese, and olives, eventually, dinner had to end. Beloved ended hers with a blueberry crepe topped with vanilla ice cream. I ended mine with a nice bowl of yogurt topped with a lemon bar—a sour combination that Beloved frowns on.
This is our usual Four Seasons Buffet & Hotpot experience. While not as novel as our first few times, it's become tradition for me and Beloved to celebrate here, as Beloved loves her balls and this is one place she can get a lot of the best kind. I'm happy to oblige since we essentially only paid a little below 1,000 Php for the feast, given that it's one free if you eat on your exact birthday. This goes for almost all Vikings buffet and we even (ab)used this promo on two different Vikings buffets on the same day a couple of years ago. If you have a date on your birthday and you like the idea of unlimited shabu-shabu with above-average choices, Four Seasons is definitely a fine choice.