My Betrothed and I had afterbrunch at Tendon Kohaku a couple of days ago prior to watching Avengers Endgame with friends. We visited this place before and this entry wouldn't make sense without reading that first. We weren't really planning on going here, and would've originally gone into Coco Ichibanya next door. I wasn't also planning on blogging this so soon, especially since I have a couple of items in the backlog. However, the reason becomes clear after the cut.
I talked about how we enjoyed Tendon Kokaku the first time we visited, but commented some suggestions that might make us frequent the place. One of it is having a "create your own bowl" where I'd pick mostly veggies and a couple of prawn tempuras. While this wasn't the case, they did have a limited time offer rice bowl (or don) which only contained veggies, hence the decision going here.
So I got just that—their Vegetable Tendon (310 Php) in their original sauce. While I wanted a couple of pieces of prawn, which was sort of available in their menu through their assorted tempura skewers, we opted ordering another one of their new offerings and one of our old orders instead—their Katsudon (320 Php) which she had spicy and Kitsune Udon (280 Php) respectively. We opted for the multi-grain rice option for both our rice bowls (+30 Php each). Finally, we were given two glasses of cold tea, sencha I believe, on the house which was perfect for the hot weather.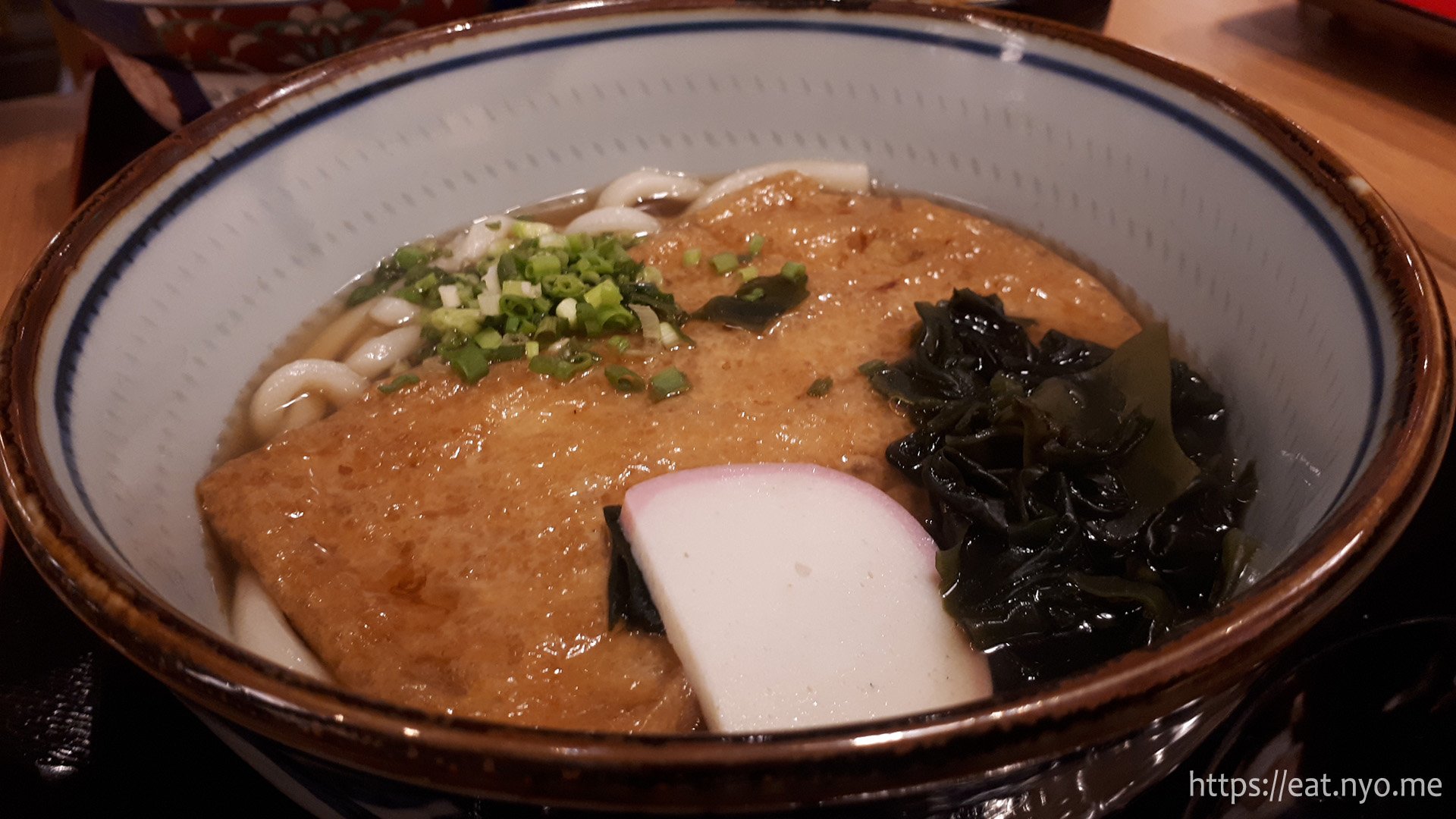 The Kitsune Udon was still same as before. I took the abura-age as a protein to my rice bowl while my Betrothed took most of the chewy-slurpy noodles. This was still overall a pretty good dish. Ultimately, though, this just made my Betrothed crave for better udon that we went to Marugame Udon the following day. Admittedly, though, had we not ordered this, we probably wouldn't have gotten full.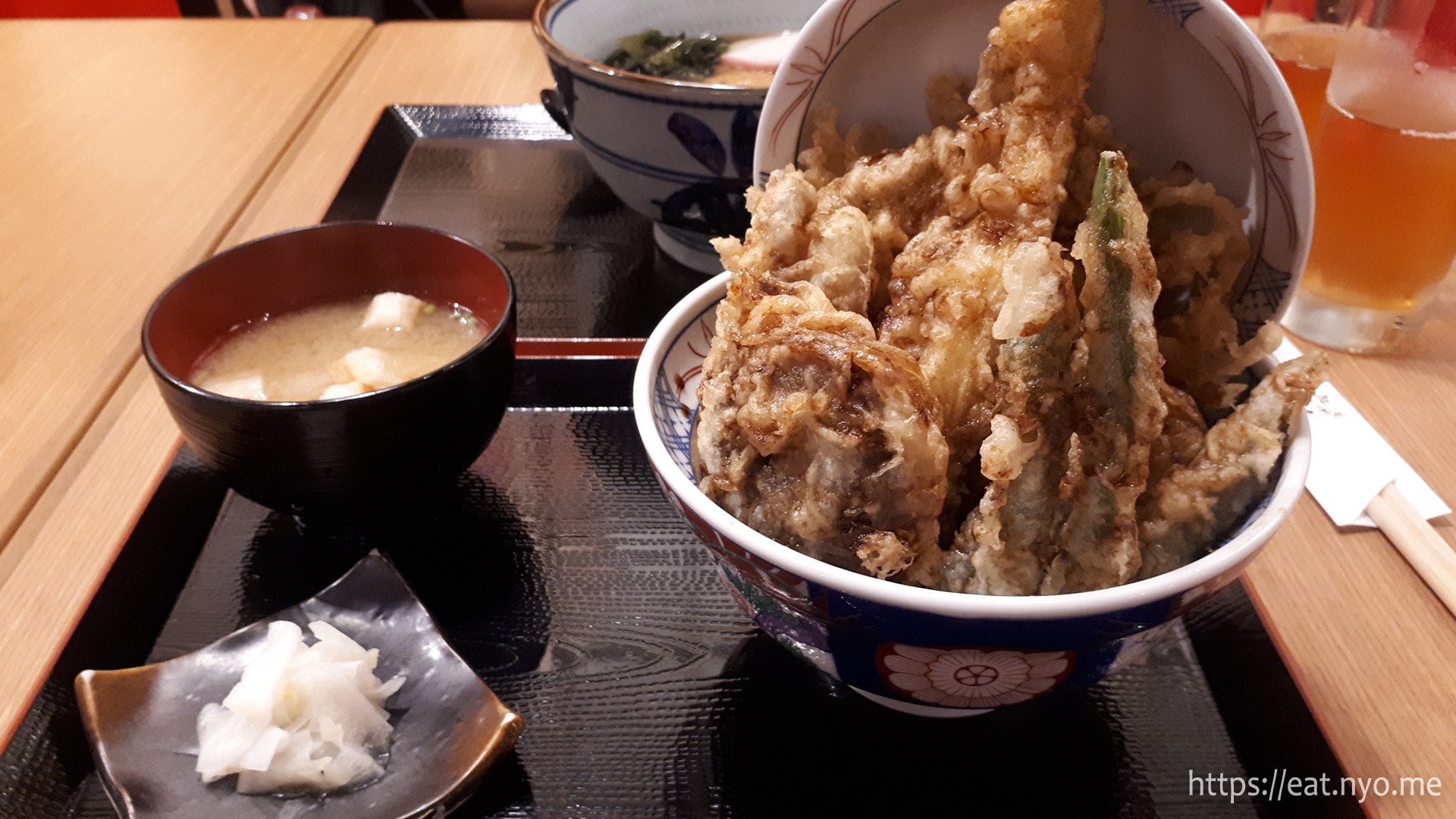 Anyway, the prime reason we went here, my Vegetable Tendon delivered quite nicely. The veggies are quite varied: there were enoki mushrooms, red pepper, eggplant, pumpkin, shitake mushroom, zucchini, okra, beans, and young corn. Most of the taste were from the savory-sweet crunchy tempura layer, as expected. However, each of the veggies maintained most of their expected tastes. Standouts were the two mushrooms which were both savory, but quite different. The enoki were battered nicely into individual strands that it made it seem like crunchy mushroom noodles; the shiitake was just nice and fat and savory. The young corn was also a standout in that it was quite sweet, maybe too sweet. Admittedly, I added some soy sauce and red pepper powder to improve the taste of some of the included veggies, particularly the zucchini, which was sliced into a long strip and the pumpkin, which although was sweet I felt was a bit too thick and needed some balancing. Perhaps it would've been better if it was cut into smaller, more manageable pieces. What I appreciated most from the dish was that the tempura batter was not at all overpowering in both taste and oiliness. The primary effect it had was the nice initial crunch and the mild savory-sweet backdrop, making each of the individual veggie portray their natural flavors.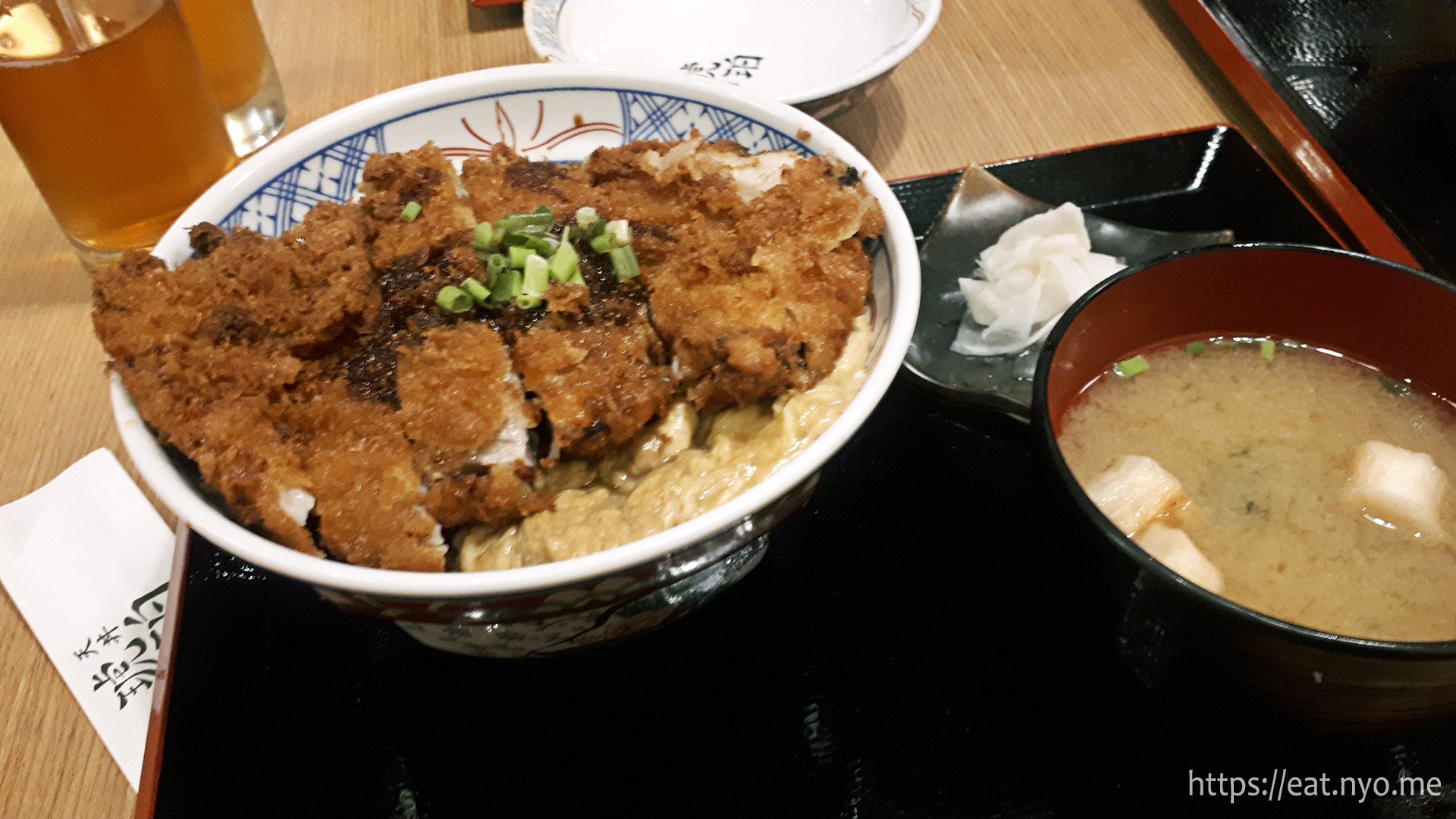 My Betrothed's Katsudon was a surprisingly good bowl of tonkatsu or porkchop with egg in their spicy sauce. My Betrothed enjoyed the egg more than the pork though. It was wet but not runny, perhaps the only way she'd like scrambled eggs. It was also mixed with seasoning so it was tasty on its own. As for the pork, it was okay. It's not the best we've had, especially when you compare to melt-in-your-mouth butabara or black pig offerings from competitions like Yabu or Katsu Sora. Perhaps it's comparable to the more affordable offerings of the latter place. This dish made me wonder, though, if pork is not suitable for tempura-style cooking, as it seemed a bit out of place in a restaurant that serves mostly everything else tempura-style.
While it was still an expensive afterbrunch, topping at over 1k after service charge, I found it worth it. We'd spend about as much anyway had we eaten elsewhere in this mall. My Betrothed jokes that I might have influenced the store to offer such a bowl. While I certainly think otherwise, and although this doesn't bump up my rating from one to two thumbs, I certainly appreciate that this option is now available, albeit at a limited time. And since this is a limited time offer, I can see myself going here again while the offer stands and I happen to be in Vertis North (and not craving for Ippudo). So while this window of opportunity is present, I urge veggie and/or tempura lovers to try Tendon Kohaku.